May, 9, 2014
May 9
10:00
AM ET
IRVING, Texas -- The defense-needy
Dallas Cowboys
opened the draft by selecting offensive lineman
Zack Martin
with the No. 16 pick in the first round.
For all of those who were upset the Cowboys did not take QB
Johnny Manziel
, there were an equal amount of people upset the Cowboys did not take a defensive player. Any defensive player.
Ware
Hatcher
With a defense that ranked last in the league in 2013 and lost free agents
Jason Hatcher
(the leading sacker in '13) and
DeMarcus Ware
(the franchise's all-time leader in sacks), there was a level of confusion over the Cowboys' pick.
"We felt like we had needs going into this draft," coach Jason Garrett said, "You want to address your needs, but you want to address your needs with the best players available. We felt like we did that."
The Cowboys have 11 more picks. They have one each in today's second round (No. 47) and third round (No. 78). Maybe now is when the Cowboys will stress defense, defense, defense.
"I would say right now we need a defensive player more than we need an offensive player," owner and general manager Jerry Jones said.
The Cowboys lost out on the top safeties on their draft board, especially with
Jimmie Ward
going in the first round to the
San Francisco 49ers
. The top two safeties,
Calvin Pryor
and
Ha Ha Clinton-Dix
, went to the
New York Jets
at No. 18 and the
Green Bay Packers
at No. 21, respectively. The
Arizona Cardinals
took
Deone Bucannon
at No. 27.
Several defensive line options remain, including
Demarcus Lawrence
,
Kony Ealy
,
Timmy Jernigan
and
Scott Crichton
. The Cowboys had each of them in for a visit to Valley Ranch before the draft. Of the group, Lawrence would fill the more pressing need at right defensive end.
"It's no secret we'd like to have some defense in this draft," Jones said.
But he would not rule out the best-player-available theory the Cowboys used in the first round.
"I think we're going to go down just like we made [the Martin] decision," Jones said. "We're going to see what player is there available for us. We're going to see what trades are there, and I wouldn't want to bet a lot that we might not take an offensive player."
March, 13, 2014
Mar 13
2:00
PM ET
IRVING, Texas -- ESPN Insiders Mel Kiper and Todd McShay don't always seem to agree on much, but they agree on the
Dallas Cowboys
' selection with the 16th pick in the first round of the draft: Florida State defensive tackle
Timmy Jernigan
.

There is no doubt the Cowboys need to address the defensive line in the draft. The apple of many eyes for the Cowboys is Pitt's
Aaron Donald
, but he's slotted to the
Chicago Bears
at No. 14 in
Kiper's latest mock
.

Donald looks to be the better fit in what defensive coordinator Rod Marinelli wants. And basically what Marinelli wants is a pass rushing menace in the middle of the line.
I said this when reacting to McShay's selection, but I don't know if the Cowboys view Jernigan as a 3-technique. And if they view him more as a nose tackle, then they will not pick him with their first pick for the same reason they didn't take
Sharrif Floyd
last year.
In his first two mock drafts, Kiper had the Cowboys selecting Alabama safety
Ha Ha Clinton-Dix
. He's slotted to the
St. Louis Rams
at No. 13 in this mock.
The names that could draw the most interest from the Cowboys among those picked after No. 16 are Notre Dame tackle
Zack Martin
, LSU wide receiver
Odell Beckham Jr.
and Louisville safety
Calvin Pryor
.
A lot of things will change between now and May. Who knows, maybe the Cowboys will get greedy in free agency when it comes to defensive linemen and not be forced to go that route in the first round.
February, 25, 2014
Feb 25
2:00
PM ET
PHILADELPHIA -- The NFL scouting combine is wrapping up Tuesday in Indianapolis. Here's how some of the players we identified as possible
Philadelphia Eagles
picks fared in the annual NFL job fair.
Wide receivers
[+] Enlarge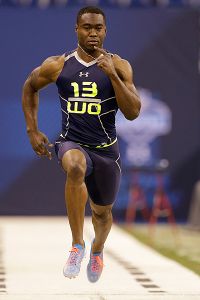 AP Photo/Nam Y. HuhBrandin Cooks might be out of the Eagles' reach after his fast time in the 40-yard dash at the combine.
Brandin Cooks
of Oregon State might have moved up beyond the Eagles' grasp by running the 40-yard dash in 4.33 seconds. That was the second fastest time overall, behind only running back
Dri Archer
. Combined with Cooks' incredible numbers from last season -- 128 catches, 1,730 yards -- the 5-foot-10, 189 pounder likely sealed his first-round status.
Kelvin Benjamin
of Florida State was as big as advertised -- 6-5, 240 pounds. His 40 time of 4.61 wasn't especially impressive, but did we mention he's 6-5?
Odell Beckham Jr.
, the LSU wideout projected to the Eagles in Mel Kiper Jr.'s most recent (pre-combine)
mock draft

, ran a 4.43. That increases his added value as a possible return man.
Vanderbilt's
Jordan Matthews
, who goes 6-3, 212 pounds, ran the 40 in 4.46, and also impressed by doing 21 bench press reps. Receivers don't have to lift bales of hay, but upper-body strength helps when blocking or trying to get off the line against press coverage.
Edge rushers
Dee Ford
, the Auburn defensive end projected to the Eagles by NFL Network's Mike Mayock, proclaimed himself a better player than
Jadeveon Clowney
, then did not participate in drills because of a medical issue. Ford said he was told not to work out because of a 2011 back injury. You have to wonder if that concern will drop Ford on draft boards.
Anthony Barr
of UCLA is considered the second best outside linebacker prospect after Buffalo's Kahlil Mack. The Eagles would only have a shot at Barr if he slipped a bit. His disappointing bench press result (15 reps) probably wasn't enough to overshadow his 4.66 speed. (Mack ran a 4.65 and did 23 reps.)
Stanford's
Trent Murphy
worked out with the linebackers, not the defensive linemen, and remains an intriguing option for the Eagles. The 6-5, 250-pound Murphy ran a 4.86.
Defensive backs
The top two safeties, Lousiville's
Calvin Pryor
and Alabama's
Ha Ha Clinton-Dix
, ran identical 40 times of 4.58. They didn't separate themselves from each other, but the blazing speed at cornerback could potentially sway a DB-needy team or two to go that route and drop the safeties a few spots.
Justin Gilbert
of Oklahoma State is one of those corners. Gilbert ran a 4.35 Tuesday. At 6-0, 202 pounds, that gives him an enviable combination of size and speed.
Michigan State corner
Darqueze Dennard
was
projected to the Eagles

by Todd McShay. After running a 4.42, the 5-11, 199-pound Dennard might also have moved up beyond the No. 22 spot.
February, 19, 2014
Feb 19
3:00
PM ET
PHILADELPHIA -- In a perfect world, the
Philadelphia Eagles
would find their choice of a playmaking safety, a disruptive edge rusher and an explosive wide receiver waiting when they're on the clock with the 22nd pick in the 2014 NFL draft.
The draft isn't like a menu, however. It is just as likely the top two safeties will be gone, there won't be a pass-rusher worthy of the pick and the depth at wide receiver will convince general manager Howie Roseman to address that position in a later round.
It could be that the draft board presents a handful of high-value cornerbacks when the Eagles are on the clock. So it is very likely Roseman and his staff will look closely at the crop of corners at the scouting combine in Indianapolis.
Some names to watch:
Darqueze Dennard, Michigan State.
The 5-11, 195-pound Dennard is universally acclaimed as one of the top two or three corners in this year's draft. He had four interceptions as a senior. The concern about him is his speed, so he can really help himself with a strong performance at the combine.
ESPN's Todd McShay had Dennard going to the Eagles in
his most recent first-round mock draft

. McShay describes Dennard as a "proven commodity with adequate size, good top-end speed and very good instincts and fluidity in coverage." At NFL.com,
Mike Mayock has Dennard
as his top-rated corner and
Nolan Nawrocki
calls him "a big, strong, athletic, instinctive press-man corner."
Justin Gilbert, Oklahoma State.
In his
first mock draft for SI.com
, Don Banks has the Eagles selecting Gilbert at 22 (Banks has Dennard and the top two safeties off the board).
"Gilbert would add to the overall depth of the secondary and give the Eagles one of the top two cover men in the draft," Banks writes. "If a safety like Louisville's
Calvin Pryor
gets past Green Bay at No. 21, he'd be an even more attractive option."
ESPN's McShay

has the 6-foot, 200-pound Gilbert, who had seven interceptions in 2013, as his top corner: "Gilbert is a ball-hawking playmaker with good size for the cornerback position, with the ability to press in man-to-man coverage or sit back in zone. He is also willing and capable in run support," McShay writes.
Lamarcus Joyner, Florida State.
We talked about him in
Tuesday's post about safeties
. At 5-9, the playmaking Joyner would be a nickelback or deep safety in the Eagles' scheme.
Jason Verrett, Texas Christian.
At 5-9 and just 174 pounds, Verrett is probably a long shot for the Eagles given Chip Kelly's specs for the position. But Verrett is an active, playmaking type of corner.
McShay calls him

the "quickest man-to-man cover corner in this class."
Bradley Roby, Ohio State.
He's listed at 5-10 and 5-11 by different sources, so the first order of business in Indy will be getting accurate measures.
Nawrocki at NFL.com
says Roby has a "small, wiry frame and his size is just adequate" while
Banks at SI.com
writes "he's big and physical enough to handle press coverage." This is what the combine is all about.
Others to watch:
Kyle Fuller
, Virgnia Tech;
Marcus Roberson
, Florida,
Loucheiz Purifoy
, Florida.
February, 18, 2014
Feb 18
12:10
PM ET
PHILADELPHIA -- The scouting combine begins Wednesday in Indianapolis. The Eagles will be taking it all in, checking the measurable and interviewing potential draftees. They have players they're especially interested in seeing up close, but general manager Howie Roseman isn't sharing that kind of info.
Based on their needs and the players available, we'll take a look at some prospects of interest every day until the combine is over. Let's start with the Eagles' most glaring need position, safety.
Ha Ha Clinton-Dix, Alabama.
ESPN draft experts
Mel Kiper Jr.

and
Todd McShay

both have the 6-foot-1, 208-pound Clinton-Dix going to Dallas at 17 in their latest first-round mocks.
Mike Mayock of NFL Network
has Clinton-Dix as his second highest rated safety behind Louisville's
Calvin Pryor
.
"He doesn't have elite man-to-man coverage skills but has good range in zone and is an aggressive, efficient run supporter," McShay writes. Kiper says Clinton-Dix gives "the added bonus of being able to help out closer to the line of scrimmage. While he's great in single high, you can bring him up and he won't shy away from contact."
Calvin Pryor, Louisville.
Mayock's top-rated safety is 6-2, 208 pounds. Kiper describes Pryor as a "downhill safety who will fly up to the line of scrimmage and make plays. While he's got work to do in coverage, he's instinctive and athletic enough to get better there."
NFL Network's Nolan Nawrocki
describes Pryor in words that should appeal to Eagles fans: "A big, physical, hammering run defender brings an enforcer mentality to the box and an intimidating, punishing presence to the back end. Is arguably the most violent hitter in this year's draft class and should make his presence felt readily in the pros."
Lamarcus Joyner, Florida State.
Joyner is listed as a cornerback in most roundups, but Mayock projects him as a safety/nickelback type. Because he's only 5-8, the Eagles would probably not seriously consider him as a corner. But
Kiper has him as his third-ranked cornerback

and Nawrocki describes him as playing "bigger than his size." Also a return man.
Deone Bucannon, Washington State.
If the Eagles go elsewhere in the early rounds, the 6-1, 216-pound Bucannon could be a second-day option. Nawrocki describes him as "old school" and a classic strong safety type. Had six interceptions as a senior.
Jimmie Ward, Northern Illinois.
The 5-11, 192-pound Ward had seven interceptions in 2013. Kiper describes him as a riser "who isn't a big player but is a very good one and looks as if he can start early. Likely a second-rounder."
Eagles-eye view:
In the first year under Bill Davis, the Eagles didn't really have a free safety and a strong safety.
Nate Allen
tended to play deeper and either
Earl Wolff
or
Patrick Chung
was closer to the line, but that was subject to change.
It isn't clear whether that was Davis' preference or he was simply getting by with the personnel on hand. What is clear is that the proliferation of spread offenses and athletic tight ends requires a group of versatile, athletic defensive backs who can cover as well as tackle.
That is what the Eagles will be looking for in Indy this week.
February, 18, 2014
Feb 18
10:00
AM ET
IRVING, Texas -- The NFL scouting combine serves as a get-to-know-you session for teams and prospects, so with that, we offer up a
photo gallery
of 10 players the
Dallas Cowboys
could have an interest in over at ESPNDallas.com
Not to spoil it, but with a tremendous need on defense, nine of the 10 are on that side of the ball and are considered first- or second-round picks, so clearly the Cowboys won't be able to get their hands on more than one, possibly two, if they do some maneuvering.
Defensive linemen, like
Aaron Donald
, are scheduled to do their bench-press test on Sunday and on-field drills on Monday. Defensive backs, like safeties
Ha Ha Clinton-Dix
and
Calvin Pryor
, work out last, on Monday and Feb. 25.
For the full schedule of workouts,
click here
.
February, 17, 2014
Feb 17
10:00
AM ET
IRVING, Texas -- The
Dallas Cowboys
head to Indianapolis this week for the NFL scouting combine.
So far this offseason we have brought you a cursory look at the needs of the Cowboys and the early mock drafts of ESPN Insiders Mel Kiper and Todd McShay.
The combine brings the draft season into focus with more than 300 prospects on hand for medical exams, position testing and interviews with the teams. The combine can sway opinions on players, despite what teams say, but perhaps the most valuable tool from the weeklong session are the 60 official interviews and the other conversations scouts and coaches have with players.
The Cowboys' needs are fairly obvious. They need defense, and lots of it. Defensive end, defensive tackle, safety and linebacker are all needs. But they cannot ignore other spots on a roster that has contributed to three straight 8-8 finishes. Choosing an offensive lineman in the first round for the third time in four years should not be ruled out, especially with how well
Tyron Smith
and
Travis Frederick
have worked out.
To give you a working list of prospects, we offer up
Kiper's Top 10 at each position

heading into the combine. What is particularly interesting to the Cowboys is the switch at safety.
In his first two mock drafts, Kiper has had the Cowboys drafting Alabama safety
Ha Ha Clinton-Dix
. Heading into the combine, he has moved Louisville's
Calvin Pryor
to the top spot at safety over Clinton-Dix.
January, 15, 2014
Jan 15
3:00
PM ET
When I took a look at some of the Eagles' first-round draft possibilities the other day, I couldn't help but notice some big wide receivers that might be around for the 22nd pick.
Sure, the Eagles need defensive help more urgently, but GM Howie Roseman and coach Chip Kelly are committed to taking the best player on their board. And Kelly surely wouldn't mind if that player happened to add an element missing from his array of offensive weapons.

So it seems perfect that
Mel Kiper's first 2014 mock draft

has the Eagles taking Florida State's 6-foot-4
Kelvin Benjamin
. It was Benjamin who caught Jameis Winston's game-winning touchdown in the national championship game against Auburn -- exactly the kind of red zone target
Nick Foles
could use.
In his mock draft, Kiper has the two top safeties -- Alabama's
Ha Ha Clinton-Dix
and Louisville's
Calvin Pryor
-- off the board when the Eagles pick. Texas A&M's
Mike Evans
, another of the big-bodied wide receivers I mentioned, is also gone.
That leaves the Eagles choosing from among some intriguing players --Benjamin, Notre Dame defensive end
Stephon Tuitt
and Michigan State cornerback
Darqueze Dennard
among them.
If that scenario presents itself, it wouldn't be surprising at all if Roseman and Kelly went for Benjamin, who caught 54 passes last season -- 15 of them for touchdowns.
The Eagles' wide receiver situation will be a lot clearer by the May draft.
Riley Cooper
, who had a breakout season, will be an unrestricted free agent. So will
Jeremy Maclin
, who tore his ACL in training camp and missed the entire season.
Jason Avant
has one more year left on his deal, but could be a salary-cap casualty.
Decisions on those three players will go a long way toward deciding who will join
DeSean Jackson
in the wide receivers meetings. Losing any of them could make the position a priority, rather than a luxury, when the draft rolls around.
NFC EAST SCOREBOARD
Saturday, 12/20
Sunday, 12/21