May, 16, 2013
5/16/13
12:30
PM ET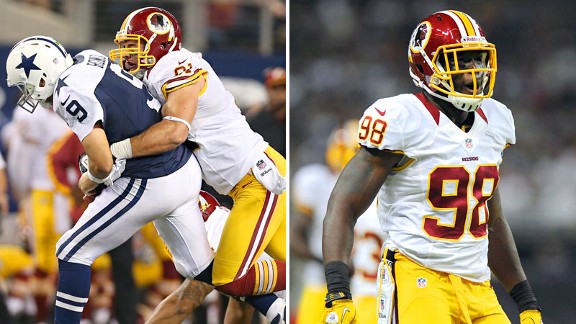 USA TODAY SportsThe Redskins are counting on Ryan Kerrigan, left, and Brian Orakpo to torment QBs this season.
As this
Washington Redskins
offseason unfolds, the former first-round pick on whom everyone will be focused will be
Robert Griffin III
, the dazzling young quarterback who followed up his rookie season with reconstructive knee surgery in January. But there are two other former first-rounders who hold the key for the Redskins on the defensive side of the ball. If the Redskins are to defend their NFC East title,
Brian Orakpo
and
Ryan Kerrigan
could be just as important to the effort as Griffin and his recovering right knee.
Ever since Mike Shanahan and Jim Haslett arrived in 2010 and changed the Redskins to a 3-4 defense, the outside linebacker position has taken on increased importance. Orakpo and Kerrigan are the starters at outside linebacker, and as such are tasked with the pass rush. The team has invested a first-round pick in each of them and constructed a defense designed to maximize their ability to get to the opposing quarterback. This means the plan is not simply to have a good pass rush, but a dominant one. Haslett's scheme calls for Orakpo and Kerrigan to be speedy, relentless predators who harass quarterbacks on every play and roll up the sacks. And 2013 is the year for them to flourish in that scheme.
Orakpo, the 13th overall pick in the 2009 draft, turns 27 in July, and as of now is heading into the final year of his contract. He could, conceivably, get an extension from the Redskins prior to the start of the season, but that's no sure thing. Drafted to be a dominant pass-rusher, Orakpo has flashed that ability during his career, averaging 9.5 sacks in his first three seasons before last season was cut short by a Week 2 pectoral muscle injury.
Prior to last season, the questions about Orakpo were whether he could elevate his game from very good to to great -- joining the elite pass-rushers in the league with a double-digit sack total. He hasn't had that since his rookie season, when he was a defensive end in a 4-3 scheme. Though Pro Football Focus ranked him as the No. 4 rush linebacker in the league in 2011 (behind only
Aldon Smith
,
DeMarcus Ware
and
Cameron Wake
), nine sacks didn't feel like enough for a player drafted that high and playing in a defense designed to make stars out of outside linebackers.
On the other side is Kerrigan, the No. 16 overall pick in the 2011 draft. The night the Redskins picked Kerrigan, their vision was of a hyper-athletic, two-pronged pass-rush that would force teams to pick their poison. Commit extra blockers to Orakpo, Kerrigan and his incredible raw pass-rushing instincts would get you. Commit extra blockers to Kerrigan, and Orakpo feasts. Kerrigan collected 7.5 sacks as a rookie and 8.5 more last season, in spite of having to play without Orakpo in the final 14 games. With the fear of Orakpo removed, teams were able to commit those extra blockers to Kerrigan all season long. Though he flashed his playmaking ability, the Redskins didn't get the consistent, week-to-week quarterback pressure on which their defense is designed to rely.
Washington finished the 2012 season with 32 sacks, more than only eight other teams in the league. The Redskins' pass defense ranked 30th in the NFL for the season, and during the seven-game win streak that delivered the division title it relied on the ability of the coaches and defensive backs to design and adjust to game plans that would change from week to week or even, sometimes, from quarter to quarter. They were able to play well enough against the pass to win games, though they all admit they would rather give up fewer yards this season through the air than 4,511.
That will have to start up front. The Redskins return basically the same secondary they had last season. They hope
Brandon Meriweather
can be healthy and give them what they need at strong safety, and it's possible that one or more of the mid-round rookies they drafted could help, but those are not sure things. That's why they need Orakpo back healthy (as well as defensive lineman
Adam Carriker
, who suffered a season-ending injury in that same game) and they need Orakpo and Kerrigan to play to their draft pedigrees -- i.e., dominate.
The NFC East has long been known for its pass-rushers, and even in recent seasons it has boasted some of the top pass-rush performances in the league. Everyone knows about the way the Giants sacked quarterbacks en route to two Super Bowl titles in five years. Everyone knows Ware is one of the best. The Eagles led the league in sacks two years ago.
It's time for the Redskins to take their place in that pass-rush hierarchy. With Kerrigan and a healthy Orakpo starting at outside linebacker, they have the talent to be the best pass rush in the division, and one of the best in the league. In 2013, if the Redskins want to remain a playoff team, Orakpo and Kerrigan are going to have to make the leap from good to elite.
February, 28, 2013
2/28/13
11:17
AM ET
This scouting combine story
from Todd Archer
tells us that the
Dallas Cowboys
were planning a switch from a 3-4 defense to a 4-3 defense even before the 2012 season ended. According to coach Jason Garrett, they believe they have the right kind of personnel to make the switch:
"You just go through all those scenarios and at the end of it we felt good about, 'Hey, we can do this and it won't take us three years to do this,'" coach Jason Garrett said. "And we certainly want to continue to add pieces to it and make that defense better, but we felt good about the flexibility and versatility of the guys we already have."

Monte Kiffin and defensive line coach Rod Marinelli agreed with Garrett's analysis after they joined the staff. They used players such as Simeon Rice, Warren Sapp, Derrick Brooks and Brian Urlacher as frames of reference for DeMarcus Ware, Jay Ratliff, Sean Lee and Bruce Carter.
Well, yeah. I mean, if all of those guys at the end of that sentence play like all of the guys at the beginning of that sentence, then yeah, the Cowboys will really have something. But there are some "ifs," and most of them are tied to health. For instance, I think Lee can be a brilliant playmaking middle linebacker in a 4-3. But he has to stay on the field, and he's had trouble doing that. And then there's this later in the story from former Cowboys exec Jeff Ireland, comparing Ware to
Cameron Wake
, who moved from a 3-4 outside linebacker to a 4-3 end last year for Ireland's Dolphins:
"We felt like when Wake was in a three-point stance he probably was a better rusher than he was in a two-point stance," Ireland said. "I don't know that about DeMarcus. I'd have to study that, but I'm sure he's equally efficient in a three-point or two-point stance, so I don't think it will be that tough."
Ware is a very interesting part of all of this. Again, I don't think it's a question of his ability to perform effectively in a 4-3 but rather his ability to hold up physically while playing closer to the ball and mixing it up more directly with bigger offensive line bodies. Ware has shown some signs the past couple of years that his body could be beginning to break down, and if that is a trend and not an aberration, then a move like this isn't going to help with it.
This transition to the 4-3 is one of the very interesting stories of the Cowboys' offseason, so we'll continue to examine it as it goes along. I think they have the right kinds of players to pull it off, but a lot depends on who goes, who stays and who shows up to play it once the salary cap is straight and free agency and the draft have settled.