April, 21, 2010
4/21/10
9:00
AM ET
By
Matt Mosley
| ESPN.com
»
NFC Draft Tale
:
East
|
West
|
North
|
South
»
AFC
:
East
|
West
|
North
|
South
I've heard so many versions of the story where the Cowboys had a near-miss in the first round of the 2002 draft that I decided to go back for clarification Tuesday. Former assistant director of pro personnel Bryan Broaddus still marvels at how owner Jerry Jones was on the phone with Vikings vice president for player personnel Frank Gilliam, Chiefs general manager Carl Peterson and Jaguars coach Tom Coughlin at the same time.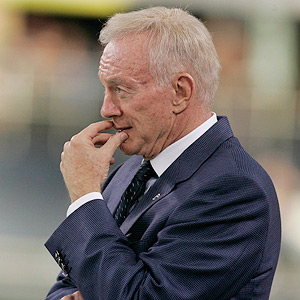 Tim Heitman-US PRESSWIRECowboys owner Jerry Jones was cool and collected despite almost missing a draft pick in 2002.
Jones, who had the No. 6 overall pick, was trying to determine who the Vikings were planning to take at No. 7 before swapping picks with the
Kansas City Chiefs
(No. 8). Jones found out the Vikings were not going to take Oklahoma safety Roy Williams (they picked
Bryant McKinnie
), so he traded down to No. 8 and selected Williams. We all know that Williams eventually flamed out in Dallas, but he was considered an excellent choice at the time. The Chiefs selected defensive tackle
Ryan Sims
No. 6 overall and the Jaguars took Tennessee defensive tackle
John Henderson
at No. 9.
"It was pretty impressive to see how calm Jerry was while working all those phones," Broaddus told me Tuesday. "You knew right then how good a negotiator he was."
But the Cowboys almost forgot to turn in their trade, which nearly allowed the Vikings to nab the sixth pick. A talented young scout from SMU named Chris Hall strolled into the draft room and asked whether the Cowboys had reported the trade to the league office. And that's when Stephen Jones, Jerry's son, took matters into his own hands.
"Jerry went to sleep at the wheel," former Cowboys scouting director Larry Lacewell told me a couple years ago. "And all the sudden someone shouts that we only have 10 seconds left."
According to Broaddus and at least two other eyewitnesses, Stephen dived across the table to grab the phone and inform the league about the trade. Jerry reportedly sat there with his arms crossed watching the whole thing play out. He'd likely been in tougher spots than this in the oil business.
"That's as close as I ever saw us come to losing one," said Lacewell, who remains close to the Jones family.
With the third-round pick the Cowboys acquired from the Chiefs in that trade, they selected Ohio State cornerback
Derek Ross
, who didn't pan out. But looking back, the Cowboys are just fortunate they submitted the trade on time. Vikings officials were rushing toward the table to make that No. 6 pick, but Stephen Jones' diving play saved the day.
October, 17, 2008
10/17/08
5:12
PM ET
By
Matt Mosley
| ESPN.com
Posted by ESPN.com's Matt Mosley
Philadelphia Daily News columnist Paul Domowitch thinks that the Eagles completely dropped the ball not going after Chiefs tight end Tony Gonzalez. He actually makes some pretty solid points.
Where they are woefully lacking in production, though -- in both the passing and running games -- is at tight end," writes Domowitch. Their three tight ends have combined for just 16 receptions for 132 yards and two touchdowns. Since Week 2, they have just nine catches for 78 yards.

Poor tight-end play, particularly by Smith, is a big reason the Eagles have converted just six of their last 17 red-zone opportunities into touchdowns. It was Smith who ran that lame slant route Sunday against San Francisco that caused an interception in the red zone. The often-ineffective blocking by the tight ends also is a big reason the Eagles' ground game has been so inefficient this season. They are averaging just 3.6 yards per carry.
According to Domowitch, the Eagles offered a conditional fourth-round pick for Gonzalez, which didn't cause Chiefs general manager Carl Peterson to blink. At 32, Gonzalez is still one of the best receiving tight ends in the game. I've gotten to know L.J. Smith a little bit, and I think he was on his way to becoming a solid tight end in this league. But if that's going to happen now, it won't be in Philadelphia.
The Eagles missed a great opportunity to upgrade their struggling offense. They sat by and watched while Jerry Jones improved his team with Roy Williams. I think the Eagles will regret not being more aggressive when they had the rare chance at the trade deadline.
October, 16, 2008
10/16/08
11:30
AM ET
By
Matt Mosley
| ESPN.com
Posted by ESPN.com's Matt Mosley
It's been fascinating to watch this Tony Gonzalez situation play out over the last few days. In an interview with FoxSports.com's Jay Glazer on Wednesday, Gonzalez called out Chiefs general manager Carl Peterson, saying he was misled regarding a potential trade to a playoff contender such as the Giants or Eagles.
"Last night I talked to Carl and I point-blank asked him what it would take to get it done," Gonzalez told Glazer. "I wanted to know if it could happen with a fourth. He started talking about a second and a fifth like the Shockey deal. Nobody is going to trade a second for a 32-year-old tight end. All along Carl said he would do something that works for both parties. Then he talked about how he traded a third for Willie Roaf, and he made it pretty clear to me that's what was going to get it done. That was certainly fair."
As you all know, the deadline passed without Gonzalez finding a new team. And in his report, Glazer says that two teams offered third-round picks as the deadline approached. I'll try to find out if either NFC East team I mentioned offered a third. If one of them did, it's amazing that Peterson didn't pull the trigger. The Chiefs are awful, and trading Gonzalez would've been a good gesture for a guy who's given everything he has to the organization. And if he really had a chance at a third-rounder, Peterson made a serious mistake. He's trying to rebuild a team through the draft, but he decided to keep an aging veteran over a third-round pick. Does that make sense to you?
I think Gonzalez could've given the Eagles the red zone threat they desperately need, although L.J. Smith actually found the end zone Sunday. In New York, Gonzalez would've brought some firepower to a position that's been somewhat lacking this season. But the one thing we know about Kevin Boss is that he can block. It's amazing how well the team runs to his side.
OK, much more to come. I also have a podcast to bang out with Jeremy Green. I'm guessing he might ask about the current situation in Dallas.