December, 17, 2009
12/17/09
10:41
AM ET
By
Matt Mosley
| ESPN.com
So obviously the Redskins had a plan in place before Vinny Cerrato's resignation. Former Buccaneers general manager Bruce Allen will replace Cerrato,
according to ESPN's Adam Schefter
. Allen is the son of former Redskins head coach George Allen, and he's been an executive with both the Raiders and Buccaneers organizations over the years.
Allen obviously grew up as a Redskins fan and his family is revered by the organization. He worked with Jon Gruden at both of his previous stops, so you can imagine where all the speculation is headed. Gruden
recently signed a multiyear extension with ESPN
in his role as an analyst on "Monday Night Football."
I thought the Redskins would take a run at former Broncos coach Mike Shanahan, but now it seems like Gruden would be the most likely candidate. Allen's star obviously faded toward the end of his time in Tampa, but he's respected by scouts across the league and I think most people would view this is a pretty obvious upgrade over Cerrato. Here's what Allen said in a statement released by the Redskins:
"This is an extraordinary opportunity with one of the world's most successful sports franchises. I love everything about this assignment; I know what it means to be dedicated to the Redskins. I can't wait to get to work."
The real question is whether Redskins owner Dan Snyder will give Allen the breathing room he needs to run this organization's football side. If Snyder's willing to do that, I think this thing has a chance to work.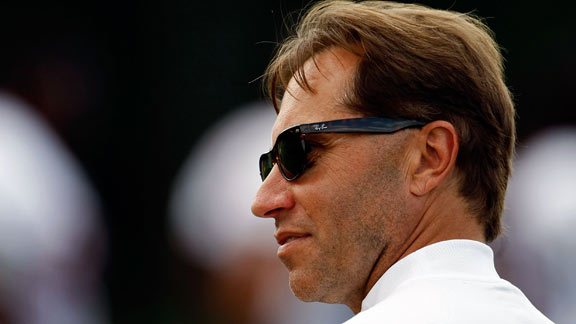 December, 17, 2009
12/17/09
9:57
AM ET
By
Matt Mosley
| ESPN.com
I think fans in Washington had almost given up on the idea of Redskins executive vice president of football operations Vinny Cerrato leaving the team after all these years. And let's not for a minute pretend that this was his decision, although the club
is officially calling this a resignation
.
[+] Enlarge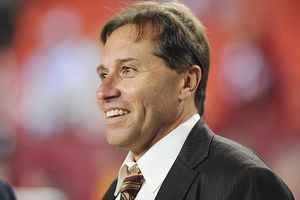 Al Messerschmidt/Getty ImagesVinny Cerrato was first hired by the Skins in 1999.
Cerrato and owner Dan Snyder have been the best of friends over the past decade. Marty Schottenheimer once ran Cerrato off for a season but Snyder quickly fired the coach and re-hired Cerrato to head up his personnel department. I thought Cerrato's best bet for keeping his job was for the club to make a run at Mike Shanahan, the man he once worked with in San Francisco.
But as I've suggested in this space and in numerous chats this season, the dynamic between Snyder and Cerrato had changed this season. With each loss, Snyder became increasingly frustrated with his right-hand man. On the surface, Cerrato's idea to bring in Sherm Lewis as the playcaller has actually helped the offense. But it was still an embarrassing situation once Lewis revealed to the organization that he'd been calling bingo at a senior citizens center. It emphasized how removed from football he'd been over the past five years and it gave critics even more ammunition with which to go after the Redskins organization.
Cerrato did some good things over the past decade. Obviously, it looks like linebacker
Brian Orakpo
is going to be a good player for a long time and Cerrato was the driving force behind signing All-Pro defensive tackle
Albert Haynesworth
in free agency. Unfortunately, though, Cerrato will be remembered for not addressing the offensive line over the years. It's an area that has failed the Redskins over the past decade, in part, because of inattention to it in the draft. Snyder's approach was to throw big money at free agents and largely ignore the importance of the draft. Cerrato was the man who carried out the plan.
I think Snyder probably saw the Browns pursuit of Mike Holmgren and realized that he couldn't waste any more time. I'm not saying he's going after Holmgren, but he knows he needs to start laying the groundwork for a new regime. That's probably why he went ahead and made the move with three games left.
"Of course, I am disappointed with this year's results, but I strongly believe that with outstanding draft picks and encouraging performance by our younger players, we have laid a strong foundation for the franchise," Cerrato said in the statement Thursday.
He mentioned Joe Gibbs, Greg Blache and Sherm Lewis as coaches he enjoyed working with but noticeably left off Jim Zorn. We'll be back with more analysis throughout the day.

NFC EAST SCOREBOARD
Friday, 8/15
Saturday, 8/16
Monday, 8/18