August, 9, 2012
8/09/12
8:00
AM ET
Yes, the training camp trips are over for this year. Just in time to catch the Eagles and the Redskins tonight in their preseason openers. I enjoyed my travels. Learned a lot about our teams. Ate too much food. Didn't get enough sleep. Had a blast. But as always, it's good to be home. I present you with your home-cooked Thursday links.
New York Giants
Justin Tuck
got a kick out of
Clay Matthews
' comments that the Packers "
beat themselves
" in their playoff loss to the Giants last year. Just so ridiculous. I mean, no team played its best football against the Giants in last year's playoffs, and you know why? Because the Giants played absolutely great. They beat the Packers by 17 points, in Green Bay. Matthews has nothing to talk about.
The Giants made their assistant coaches available this week.
Here's tight ends coach
Mike Pope on
Martellus Bennett
,
Bear Pascoe
,
Adrien Robinson
and the idea that the Giants ask their tight ends to be blockers first before they can think about using them as receivers.
Philadelphia Eagles
Michael Vick
was close with Garrett Reid, and would do anything for Andy Reid, and so it's no surprise that he's emotional about Garrett's death Sunday. Vick said Wednesday that he would
dedicate the season
to the memory of his coach's son.
Sheil Kapadia took a shot at a
53-man roster projection
. His doesn't include
Chris Polk
,
Joselio Hanson
,
Chad Hall
or
Colt Anderson
. Interesting stuff. Anderson was pretty important to them as a special-teamer last year, but if he can't do anything else, you do have to wonder.
Washington Redskins
Rich Campbell's
five questions
about tonight's Redskins preseason opener touch on
Robert Griffin
III,
Chris Cooley
, the safeties, the offensive line and the running backs. I'd say that about covers it. I know I'm going to watch.
Mike Jones writes that the competition for starting spots at safety remains
wide open
, and that some names you might not expect are in the mix.
Dallas Cowboys
Brandon Carr
tells Calvin Watkins he's still "
a work in progress
," which is of course always a good frame of mind in which to keep oneself. Personally, I thought he looked like one of the best players on the field in the practices I watched this week.
And Tim MacMahon writes that the injuries the Cowboys have had to cornerbacks
Morris Claiborne
and
Mike Jenkins
have
hampered
defensive coordinator Rob Ryan's creativity this camp.
June, 4, 2012
6/04/12
10:16
AM ET
Last week, we began a position-by-position look at each team in the division -- one post per team throughout a given day on the same position group. Today, for no real reason, I have decided to look at wide receivers. And also for no real reason, I've decided to start with the
Philadelphia Eagles
. Looks at the other three teams' wide receiver situations will follow as this day goes along.
Projected starters:
DeSean Jackson
,
Jeremy Maclin
Reserves:
Jason Avant
,
Riley Cooper
,
Chad Hall
,
Mardy Gilyard
,
Marvin McNutt
,
[+] Enlarge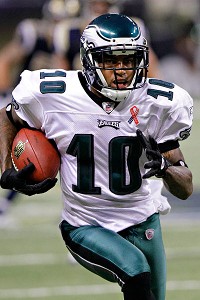 AP Photo/Seth PerlmanDeSean Jackson leads one of the best receiving corps in the league in Philadelphia.
Potential strength:
The starters, if fully healthy and productive, have the potential to rank among the very best in the entire NFL. Jackson and Maclin have blazing speed and offer quarterback
Michael Vick
a pair of dynamic downfield options who are very dangerous with the ball in their hands. The belief is that Jackson will be at his best this year now that he's got his long-term contract and Maclin will be closer to the player he was in 2010 now that the health concerns of last summer are well behind him. Avant has proven himself as a slot receiver and had his best year in 2011. But as long as Jackson and Maclin are both on the field, the Eagles' wide receivers are as potentially excellent a group as any team in the league has.
Potential weakness:
The criticism of the Eagles' wide receiver group has, for some time, been that it is not at its best in the red zone. Neither Jackson nor Maclin is especially tall for a wide receiver, so there has been a sense that the team needs to find and/or develop a big wideout who can create mismatches in the end zone. Cooper has the size to be that guy, but he hasn't developed the way the Eagles hope that he might in that role, and he could get a push from sixth-round draft pick McNutt, who is of similar size. Hall is another guy who's been around a while and hasn't shown much in his supposed all-purpose role. There's an opportunity for one of the newer receivers on the roster to challenge him for his spot as well.
Keep an eye on:
Gilyard, who has experience as a return man. In the fight for the No. 4 and 5 wide receiver spots on the Eagles' roster, an edge is likely to go to any player who can help on special teams. (This is why McNutt is no lock to overtake Cooper, for example.) The Eagles have been using Jackson less and less in the return game over the past couple of years, and it's likely that's because they want to maximize his ability to help them as a receiver. Assuming Jackson doesn't start returning punts with the frequency with which he did prior to 2011, Gilyard could make his impact in the return game.
August, 18, 2011
8/18/11
11:11
PM ET
Observations from the Eagles' 24-14 preseason loss at Pittsburgh.

I'm going to start with the good news, Eagles fans. Ready?
LeSean McCoy
looked really good,
Jason Babin
got a sack and
Michael Vick
made one heck of a tackle on
Troy Polamalu
after his third interception of the first half.
Mike Kafka
threw the ball extremely well in the fourth quarter after everybody stopped caring.
Oh, and the coaches now have a whole bunch of really awful-looking, mistake-riddled tape on which to base some real serious lessons this week in meetings and practice.
Other than that, pretty ugly. We can sit here and say everything we want to say about how it's only preseason, the games don't count, some teams devise game plans while others go vanilla and it's a bad idea to draw sweeping, upsetting conclusions based on preseason games. All of that stuff is true and must be said before we delve into what we saw. But the fact is that the Eagles looked bad, in almost every possible way, in Thursday night's exhibition loss to the Steelers. And since I am tasked with offering you an evaluation of what I saw, I have no choice but to detail the ugliness.
1. Bad matchup.
The Eagles' new defense, under Juan Castillo and Jim Washburn, is predicated on aggressiveness, especially by the defensive line. This makes
Ben Roethlisberger
the worst possible quarterback for the Eagles to face. He dances through and around pressure, stays upright far longer than he's supposed to, keeps plays alive forever and generally feasts on defenses that don't show enough patience. All of this was on display Thursday, as Roethlisberger was three steps ahead of Castillo and the Eagles' defense at every turn. He drew them offsides with a hard count. He stepped up to avoid pressure. He pump-faked. He handed the ball off to
Rashard Mendenhall
and watched him gash the Eagles' backup defensive tackles and suspect linebacker corps. The Eagles helped him out, as when
Asante Samuel
guessed wrong on a route and
Antonio Brown
got past him and caught a 29-yard touchdown pass. And I'm willing to bet, when they gather for their defensive meetings in the coming days, the Eagles hear a little bit about how to control their aggressiveness a little bit better.
2. Casey Matthews may not be the answer.
The Eagles' defensive play calling was very basic, perhaps because they're trying not to overtax their rookie middle linebacker. This is a key element of preseason evaluation. The Steelers looked as though they devised specific offensive plays to beat the Eagles, and the Eagles looked as though they did not prepare specifically for the Steelers. Happens all the time in preseason, and it's a big reason not to draw big conclusions from these games. But even with the basic play calling, Matthews looked slow and confused at times, and physically overmatched at others. The decision to start Matthews at middle linebacker is a surprising one by the Eagles, especially in light of all of the work they did to upgrade at other spots on defense. You wonder if the way he played Thursday might make them look around to see if there's a veteran on the market who can help, but on the other hand, they don't seem to be placing a very high value on the linebacker position in general. On one third down in the first quarter, they loaded up with three safeties and four cornerbacks, leaving
Jamar Chaney
as the only linebacker on the field. Their strengths are at corner and defensive end, so they'll lean on those. But when you have a back who can get through the line as quickly as Mendenhall can and it's up to the linebackers to make a play to stop him ... that's where Matthews and the Eagles look shaky.
3. Asante Samuel has to learn to play without Quintin Mikell.
Samuel bit on a move and a fake that Brown and Roethlisberger didn't make on that 29-yard touchdown. It was a pure guess, and a bad one -- the kind that's worth taking if you know you have a responsible veteran safety backing you up. But the safeties were elsewhere on that play, and the new scheme plus the absence of the veteran Mikell (who signed with the Rams) could mean Samuel has to take more responsibility for playing the receiver he's covering instead of trying to jump a route to get an interception.
4. Vick was very, very, very not good.
The bad throws were one thing, but the worse part was that he just didn't do a good job of reading the defense. He struggled against the blitz, which was supposed to be his area of focus this preseason. He never saw
Ryan Clark
on his first interception. He threw behind
Chad Hall
on the second. And the third was a bad decision -- he shouldn't have thrown the ball downfield after that play broke down as badly and as many times as it did. "Obviously, tonight, I didn't make the best decisions," Vick told Fox's Pam Oliver during a fourth-quarter sideline interview. That included the hit on Polamalu, which was very impressive but must have terrified his coaches. No reason for Vick to take a risk like that in a game whose outcome doesn't matter. He's too important to the Eagles to try something like that, and he's at least as lucky he didn't get hurt as the Eagles are that this game didn't count.
5. The defensive line misses its starting tackles.
Antonio Dixon
and
Mike Patterson
are out due to injury and illness, and that's part of why the run defense looked so vulnerable. I imagine the linebackers will look better once they're at full strength in the middle of the line. But if those guys are going to be out for an extended period of time (as is surely possible with Patterson, at least), this could continue to be a problem.
6. Ronnie Brown is going to be a huge asset
in the backup running back role. He's a starting-quality running back whose role is to give the electrifying McCoy a rest. So, when McCoy is on the sideline, the Eagles are still going to be better at running back than many of their opponents are when their starting back is playing. Brown looks great so far this preseason, which brings up another as-yet unmentioned point: The work-in-progress offensive line didn't look too bad. Okay, so Point 6 wasn't really a bad-news point. But hey, it's true.
7. Can Howard Mudd really not coach from the press box?
Poor guy really has a hard time getting around on those bad legs of his. Don't know why they wouldn't let him coach from up there. Unless he doesn't want to. I admit I don't know.
In conclusion, it's like this: As the Giants did Saturday, the Eagles looked lousy in almost all respects Thursday. So I point this out, as I did with the Giants on Saturday. What I am
not
saying here is that the Eagles are in trouble as a result of anything we saw Thursday. The sky is not falling. This game matters not at all, except as a potential learning opportunity. Did it point to some potential trouble spots? Sure. But it doesn't mean the team isn't as good as people thought it would be. It just means the Eagles had a bad night in August. Kind of like the Steelers had last week against the Redskins. And you saw how they bounced back from that.
March, 23, 2011
3/23/11
1:00
PM ET
By
Matt Williamson, Scouts Inc.
| ESPN.com
Scouts Inc.'s Matt Williamson examines the wide receivers of each NFC East team. Today: Philadelphia Eagles.

The Eagles might have the most explosive group of wideouts in all of football.
DeSean Jackson
, with his league-leading 22.5 yards-per-reception average, is probably the most dangerous wide receiver in the game today. He is pure electricity, but Jackson did catch only 47 passes this past season. In half of the 2010 games, Jackson caught three or fewer balls. With his skill set, that is unacceptable. He needs the football.
This crew does have a weakness near the goal line. Jackson and
Jeremy Maclin
are not big or physical, and they don't play big. Maclin is better in this regard and seems to be improving. He did catch 10 touchdowns in 2010 and certainly was more consistent than Jackson. Overall, it is pretty difficult to criticize the Eagles' starting pair of wideouts. They are exceptional. Do not think for a minute that Maclin can't blaze past most corners to get deep and create big plays.
Jason Avant
is an underrated contributor who is sure-handed and reliable. He does his best work out of the slot and is a good complement to Jackson and Maclin.
Riley Cooper
and
Chad Hall
are also intriguing. Cooper has enough size and skill to take a substantial step forward in his second season. Meanwhile, Hall is a jack-of-all-trades who could see a greatly expanded role in this offense. Getting the football in Hall's hands should be more of a priority, but in an offense loaded with playmakers, that might not be so easy to accomplish.
Scouts Inc. watches games, breaks down film and studies football from all angles for ESPN.com.
November, 28, 2010
11/28/10
3:25
PM ET
By
Matt Mosley
| ESPN.com
CHICAGO --
Philadelphia Eagles
defensive end
Juqua Parker
will be inactive for Sunday's game at Solider Field. Parker made the trip, but he's not able to go because of a hip flexor. Here are the rest of the Eagles' inactives:
WR
Chad Hall
, CB
Asante Samuel
, CB Brandon Hughes, T
Austin Howard
, DE Juqua Parker, G
Reggie Wells
, TE
Garrett Mills
, QB
Mike Kafka
Bears inactives: QB
Caleb Hanie
, S
Craig Steltz
, CB
Joshua Moore
, RB
Kahlil Bell
, G/C
Edwin Williams
, TE
Desmond Clark
, DE
Barry Turner
, DE
Corey Wootton
November, 15, 2010
11/15/10
7:33
PM ET
By
Matt Mosley
| ESPN.com
LANDOVER, Md. -- Obviously, everyone in the press box has been consumed with the news of
Donovan McNabb
's five-year, $78 million contract extension. But I'm told there's still a game to play.
As we already knew,
Washington Redskins
running back
Clinton Portis
(groin) will sit out tonight's game. Here are the rest of the Skins' inactives:
John Beck
,
Kevin Barnes
, Portis,
Chad Simpson
,
Perry Riley
,
Derrick Dockery
,
Anthony Bryant
and
Jeremy Jarmon
No surprises for the
Philadelphia Eagles
:
Mike Kafka
,
Chad Hall
,
Nate Allen
,
Ellis Hobbs
,
Daniel Te'o-Nesheim
,
King Dunlap
,
Reggie Wells
,
Garrett Mills
.
OK, it looks like McNabb's agent Fletcher Smith is about to address reporters, so I'm off to visit with him.
November, 7, 2010
11/07/10
4:02
PM ET
By
Matt Mosley
| ESPN.com
PHILADELPHIA -- Eagles running back
Jerome Harrison
is active for the first time since being acquired by the club Oct. 13. The man who once ran for 286 yards in a game for the
Cleveland Browns
had trouble picking up the Eagles' offense, but now he's apparently good to go.
He'll be primarily used in the passing game, but I wouldn't expect him to receive more than four or five touches in his first game with the Eagles. Rookie linebacker
Keenan Clayton
will also be making his debut for the Eagles, and I'm sure he'll have a large role on special teams.
I'm joined at the Linc today by AFC South blogger Paul Kuharsky, who will provide expert analysis on the Colts. He just explained to me why they're wearing 1955 Colts throwback unis today. From my seat, they look more like Michigan State than the Colts. Now, here's a look at the other inactives for the Eagles:
QB
Mike Kafka
, WR
Chad Hall
, RB
Joique Bell
, CB
Ellis Hobbs
, DE
Daniel Te'o-Nesheim
, T
King Dunlap
, G
Reggie Wells
, TE
Clay Harbor
September, 4, 2010
9/04/10
7:40
PM ET
By
Matt Mosley
| ESPN.com
Check
here
for a full list of the
Philadelphia Eagles
' roster moves.

Biggest surprise:
At the last minute, the Eagles were able to move
Stacy Andrews
and his reduced (but still too large) salary to the Seahawks for a seventh-round pick in 2011. Andrews had been a huge disappointment for the Eagles and now they feel fortunate to receive anything in return for him. Of the cuts, safety
Quintin Demps
was probably the biggest surprise. He ended up in Andy Reid's doghouse last season, but he made strides this offseason in having a better attitude. But with rookie
Nate Allen
claiming the starting safety spot, Demps apparently became expendable. He was a decent return man, but not good enough to warrant a roster spot. Guard
Max Jean-Gilles
was released, but he'll be brought back Sunday. The Eagles missed the 6 p.m. ET trade deadline on Andrews, so that's why that happened with Jean-Gilles.
No-brainers:
I lot of folks were pulling for
Chad Hall
as a return man, but he simply didn't have enough success in the preseason. Wide receiver
Jordan Norwood
catches everything, so he'll be a good practice squad candidate. Tight end
Cornelius Ingram
will probably make it through to the practice squad as well. You knew it was a bad sign for
Macho Harris
recently when he was bouncing between positions. Looked like a player at this time last year but he never took the next step.
What's next:
General manager Howie Roseman will be on the hunt for safeties and cornerbacks. I like the trade for defensive end
Antwan Barnes
from the Ravens. He was an excellent fourth-round pick for the Ravens in '07 and he has a lot of explosion coming off the edge. He'll be a good fit in the Eagles' up-the-field pass-rush, according to some AFC scouts I spoke to Saturday. Unlike the Cowboys, I think the Eagles will continue to churn the bottom of this roster. We'll keep you posted throughout the rest of the holiday weekend. It's interesting that the Eagles kept six cornerbacks and the Cowboys three. The Eagles only kept two tight ends, so they'll be looking around for help at that position.
August, 28, 2010
8/28/10
1:29
AM ET
By
Matt Mosley
| ESPN.com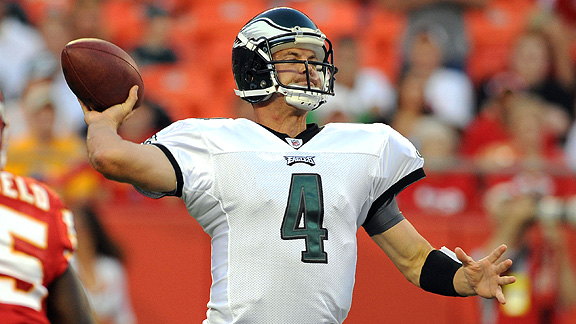 John Rieger/US PresswireKevin Kolb was just 11- for-25 for 103 yards against the Chiefs, and he was sacked four times.
If Andy Reid was trying not to show anything on offense in Friday's preseason game in Kansas City, he did a remarkable job. The Eagles lost their most explosive player,
DeSean Jackson
, on their first possession to what Reid called a neck strain and then defensive end
Trent Cole
was carted off the field with an ankle injury. Neither injury looks too serious, although Cole will have an MRI on Saturday. Here's some observations I've made after watching a replay of the game:
Scary injury to Chiefs rookie linebacker Cameron Sheffield in the third quarter. I sort of lost interest in the game after that. Sheffield wasn't moving his arms or legs as he was carted off the field. Hoping we have some encouraging news on him soon.
Perhaps the Eagles gave up on Andy Studebaker too quickly. He had two sacks in the first half for the Chiefs and celebrated as if we were in Week 8. And early in the fourth quarter, it was Studebaker who forced Kevin Kolb to unload the ball before he was ready in the red zone.
Cornerback Asante Samuel's been looking for a 5-foot-7 player to tackle for years. Rookie Dexter McCluster gave him that opportunity late in the second quarter. That was a pretty nice hit, although the flexing after the tackle was a bit much. McCluster's going to be a fan favorite in Kansas City. Probably the most entertaining player on the field once Jackson made his exit.
I liked how rookie defensive end Brandon Graham stood his ground when Todd Haley tried to run the ball into the end zone in the second quarter. He then came back with a nice bull rush on the Chiefs' right tackle. Ernie Sims should've had the interception on the awful pass from Matt Cassel. He threw a touchdown on the next play. Looked like Quintin Mikell and Samuel were trying to decide who's fault it was. I thought Samuel was out of position on the play.
How do you not throw those crossing patterns to Jeremy Maclin all the time? It's impossible to cover. I didn't think Maclin was aggressive enough in going for some of Kolb's passes. On the deep ball in the first half, Maclin allowed Brandon Carr to rip the ball away. Then Maclin dropped a ball late in the first half when he felt Carr closing fast.
Left tackle Jason Peters picked up right where he left off last season with some untimely false starts. The second false start knocked the Eagles out of field goal position.
Late in the first half, Todd Haley called a delayed draw to Jamaal Charles and defensive end Darryl Tapp really made a weak attempt on the tackle. On the same drive, Ernie Sims couldn't make a play on Charles in the open field after he caught a swing pass from Cassel. I kept reading how Sims was destroying his teammates in camp, but Chiefs running backs were bouncing off him for additional yardage Friday.
Somebody better teach Kevin Kolb how to slide -- and I mean now. He moves really well, but he can't keep leading with his head or we'll be seeing a lot of Michael Vick this season.
Best literary retweet of the evening: Daily News beat man Les Bowen retweeted this from HighCheese: "Kafka known for ability to portray despair, not lead football team out of it."
Chad Hall was shaky on punt returns in the second half. Hopefully he'll make it to the practice squad because there's not going to be a spot for him on the 53-man roster.
Kolb made a really poor decision to throw it up for grabs on the interception in the third quarter. Maclin didn't have a chance to make the play because he was bracketed by a cornerback and safety. Easy pick for Kendrick Lewis, a fifth-round pick out of Ole Miss.
Rookie linebacker Jamar Chaney took a really poor angle on the Thomas Jones touchdown run in the third quarter. Looked like the big tight end Leonard Pope held Quintin Demps on the play. Chiefs broadcasters laud Jones for his willingness to bypass autographs seekers in order to spend extra time in the weight room. Someone get this man an Ed Block Courage award.
I was not impressed with Bobby April's coverage units. McCluster gave the Eagles fits on kickoff returns.
Rookie cornerback Trevard Lindley has shown flashes, but I didn't like him in run support in the fourth quarter. McCluster made one little inside move and Lindley went flying out of the picture. On another McCluster run in the fourth quarter, defensive end Ricky Sapp allowed himself to be driven off the ball, leaving a large running lane.
Really nice play by defensive end Eric Moncur to bring down McCluster in the backfield in the fourth quarter. The play pushed the Chiefs out of field goal range.
Rookie left tackle Austin Howard has been impressive this preseason, but he was beaten badly on an inside move by a reserve Chiefs defensive end and Mike Kafka was sacked. In other rookie news, linebacker Keenan Clayton made a really nice open-field tackle to force the Chiefs to punt in the fourth quarter.
August, 14, 2010
8/14/10
8:00
AM ET
By
Matt Mosley
| ESPN.com
We weren't able to catch the Eagles-Jaguars exhibition live in the Dallas area, but I stayed up for the replay.
Kevin Kolb
had a nice first outing and he showed a lot of poise. Sorry, I can't muster up much disappointment about the red-zone performance. Tight end
Brent Celek
will make that catch in the back of the end zone in the regular-season. The fact that the Eagles won, 28-27, is just a side note. Here are my observations from the game:
We were quickly reminded that DeSean Jackson is perhaps the most exciting player in the league on Kolb's first throw. He hit Jackson in stride on a quick slant, and the Jaguars linebacker never had a chance. Jackson's a matchup nightmare for any team, but the Jags seemed especially overmatched.
You might have been surprised to see how mobile Kolb was on Friday night. He does a really nice job of always keeping his eyes looking downfield as he escapes the pocket. He doesn't have a lot of speed, but he's actually pretty elusive. I didn't see any evidence of "happy feet" in the first quarter. Both Kolb and Michael Vick did a nice job using their legs.
Speaking of Vick, he looks like a completely different player than last season. That touchdown run was vintage Vick in that he broke containment and then turned on the afterburners down the sideline. The Jaguars defensive linemen had no chance when Vick decided to take off. He was so much more decisive in Friday's game than he was at this point last season.
Jeremy Maclin looks so much smoother in his route running. On that first pass from Kolb, he sort of lulled the Jags to sleep and then he exploded across the middle. He and Kolb seem to already have a nice rhythm. If Kolb's able to hit Jackson and Maclin in stride most of the time, this offense will put up huge numbers. The one thing Kolb can't do is stare down a receiver in the red zone. He did that with Jason Avant on that first drive. Fortunately, Avant was able to break up a possible interception.
Give cornerback Asante Samuel credit for popping big tight end Marcedes Lewis early in the game. He's normally averse to contact, but he made a really nice play on third down. The first-team defense didn't get a lot of reps, because they played too well. Two three-and-outs is a good way to begin the preseason.
Trevard Lindley prevented a long kick return early in the game with a really nice open-field tackle. I think general manager Howie Roseman has to feel pretty good about getting him in the fourth round. Lindley and free-agent rookie safety Kurt Coleman are both very aggressive players who play with a ton of confidence. Coleman's in the process of playing his way onto the 53-man roster.
I'd love to see Chad Hall make this team, but you have to put Jackson back there on punt returns during the regular season. I heard the Philadelphia broadcasters talking about letting someone else do it to prevent an injury to Jackson. That doesn't make sense to me. Jackson's gamebreaking ability makes it worth the risk.
You have to give it up for the first-team offensive line. Seemed like Kolb and Vick both had plenty of time in the pocket. By the way, Vick's pass to Riley Cooper was a thing of beauty. Cooper's acting like he belongs. It's going to be impossible to keep him out of the rotation once the regular-season begins. Three catches for 61 yards in his first preseason game. Just a very impressive rookie. He and Bengals' rookie Jordan Shipley have really stood out to me.
Surely the Jags will have a better plan against the Eagles in a game that counts. Giving Jackson a free release is like begging him to beat you. The 26-yard catch and run was pretty impressive, but the end-around was the play of the night. Jags cornerback Derek Cox is trying to have film of that play destroyed, because Jackson made him look silly with that little stutter-step.
LeSean McCoy did a nice job between the tackles. I thought he was a little too quick to bounce runs outside last season. On Friday, he lowered his shoulder and churned out yards in the first quarter. It wasn't a huge night or anything, but I saw some good signs. The huge night belonged to Martell Mallett. Some players just take it to the next level when the lights come on, and Mallett was that guy.
I know Joselio Hanson wants to be competing for a starting job, but he can't bite on those double moves. Luke McCown, who hails from Jacksonville, Texas, made Hanson look really bad on a long touchdown pass. And if Hanson's going to interfere, you better pull the guy to the ground. Really poor technique. Geoff Pope also got burned on a deep ball from McCown.
Left tackle Austin Howard basically took over the game in the second quarter. He had at least two pancake blocks in the game and his footwork was outstanding. I was amazed to see how technically sound he looked. And at 330 pounds, he was doing an excellent job of anchoring.
Akeem Jordan was ready to play. Loved seeing him knife through on what might have been a run blitz early in the game. It's hard to complain about anything the first-team defense did.
Jonathan Tamari of the Inquirer felt like center Mike McGlynn had a solid effort. The announcers sort of acted like he has the starting job sewn up until Jamaal Jackson returns, but I'm not so sure.
March, 11, 2010
3/11/10
7:31
PM ET
By
Matt Mosley
| ESPN.com
The
Philadelphia Eagles will host
running back
Justin Fargas
and wide receiver
Hank Baskett
on campus Friday. Fargas, 30, had a 1,000-yard season in '07 but his numbers fell off significantly in '09 with the Raiders. I've talked to Cowboys running backs coach Skip Peete about Fargas in the past and he loved him when the two were together in Oakland. The Eagles were reportedly interested in 33-year-old
Kevin Faulk
before he re-signed with the Patriots.
Baskett is a former Eagles player who spent the past season with the Colts. He'll always be known as the guy who mishandled the Saints' onside kick in the Super Bowl, but he's a very capable player. Baskett had 72 catches for 1,080 yards and six touchdowns in three seasons with the Eagles. With the
Reggie Brown
trade this week, the Eagles needed to add some depth at receiver.
They also signed former Air Force running back/receiver Chad Hall, who's been on active duty the past two seasons. Once Hall negotiates his release from the Air Force, he should be able to join the Eagles' offseason conditioning program. But something tells me Hall's kept himself in pretty good shape at Hill Air Force Base in Salt Lake City.