March, 7, 2014
Mar 7
4:40
PM ET
Scratch the
Jacksonville Jaguars
off
Michael Vick
's list of possible employers.
That was the immediate take after the Jaguars signed quarterback
Chad Henne
to a
two-year contract
Friday. The nature of the deal and, frankly, the nature of Chad Henne suggest the Jaguars plan to draft a quarterback in May and use Henne as an interim starter in 2014.
Vick
Henne
That is not the kind of role Vick really wants, obviously. He has been a franchise quarterback, in attitude and usually in job description, for most of the years since he was drafted first overall by Atlanta in 2001. Vick's plan is to leave Philadelphia, where he was displaced by
Nick Foles
, and go somewhere he can start for another two or three seasons.
That place probably wasn't going to be Jacksonville. But each time a team with an obvious need at quarterback fills that need, Vick's options shrink. The list of likely possibilities includes Oakland, Minnesota, the
New York Jets
, Tampa Bay and Buffalo.
The other striking thing about Henne's deal is how it sets the market for veteran stopgap types. Henne will reportedly get $4.5 million guaranteed and a total of $8 million from the Jags.
Vick earned over $50 million in bonuses and salary over the past four seasons. That sounds like a lot, and it is. But he has also been dealing with the demands of the bankruptcy court, which has forced him to pay back his many creditors after his conviction on charges related to his dogfighting operation.
Vick reportedly emerged from bankruptcy only late last year. So he is surely looking for another big payday before his playing days are over. He will be 34 in June, so this is his last chance.
Did the Jaguars ever consider Vick? Did they prefer Henne because of football reasons and familiarity? Or did they figure Vick was holding out for a more prominent role than they were prepared to offer him?
The answers to those questions could provide clues about how Vick is seen around the league. The old truism that it only takes one team has never been more applicable than it is with Vick.
The Eagles were the only team willing to take a chance on him when he was reinstated by commission Roger Goodell in 2009. Will there be another team willing to give him a starting job in 2014?
It will be one of the most-watched stories in free agency. With Vick, that's the one thing you can be sure about.
August, 24, 2013
8/24/13
10:55
PM ET
The
Philadelphia Eagles
returned to the site of their Super Bowl XXXIX loss for a preseason game against the
Jacksonville Jaguars
. It was the ghosts of 2012, not 2004, that haunted their starters in a come-from-behind
31-24 win
. Some thoughts:
" The third preseason game had some of the flavor of a regular-season game. The Eagles had better hope that flavor was pure vanilla.

It would take some of the sting out of the Eagles' ragged offensive play if coach Chip Kelly was holding back most of the good stuff in his playbook. If not, there was some real reason for concern here.
For starters,
Michael Vick
looked very much like the guy who held the Eagles' starting-quarterback job the last two years rather than the guy who was competing for it in the first two preseason games. Vick threw two terrible passes off his back foot (well, he was almost on his back the second time) while under pressure. One was intercepted, the other was ruled a sack. That sack came late in the first half when the Eagles needed to take advantage of a long return by
Damaris Johnson
.
Vick completed 13 of 15 passes for 199 yards while competing with
Nick Foles
in the first two preseason games. After being named the starter, he completed 15 of 23 for 184 yards, one TD and one INT.
" There was little evidence of the go-go pace that Kelly demands from his offense. The Eagles did not huddle, but there were long delays as plays were signaled in and the players sorted themselves out into the proper alignments. Vick has not really executed that fastbreak offense in this preseason. On the play before that late first-half sack, the ball was snapped with one second left on the play clock. Vick ran around, couldn't find a receiver and threw the ball away.
" Last year, running back
Bryce Brown
showed amazing quickness to the corner but came down with a bad case of the fumbles. In the third quarter, Brown sped around the right corner, then fumbled the ball through the end zone for a turnover. The fumble killed an opportunity for the Eagles to answer the Jaguars' long, second half-opening TD drive. Brown ran four yards for a touchdown in the fourth quarter.
" That late TD came at the end of the Eagles' best sustained drive of the game to that point. Foles was at quarterback for that one. Foles also managed the uptempo, go-ahead scoring drive that began on the Eagles 1 and ended with a
Chris Polk
TD run.
Foles completed 10 of 11 passes for 112 yards. To be fair, the Jaguars backups were playing defense on both of those drives.
" For the first time, the offensive line was complete. Left tackle
Jason Peters
took the field for the first time since the end of the 2011 season. For the first time, however, the line looked confused and unable to figure out its assignments. Early on, especially, Vick seldom had a clean pocket and resorted to running for his life. That has been a bad combination over the past few years, with Vick turning the ball over or getting hurt with great frequency.
" The Eagles defense had some great moments.
Connor Barwin
batted a pass in the air and caught it as he landed on his back. That gave the offense great field position, which Vick took advantage of for the first team's only touchdown. Barwin,
Trent Cole
,
Cedric Thornton
,
Vinny Curry
and
Mychal Kendricks
all disrupted the Jaguars offense at different times.
" The Eagles defense had some very 2012 moments.
Chad Henne
carved the Birds up on Jacksonville's first possession. It ended with a blown coverage: Henne found
Justin Blackmon
all alone between safety
Patrick Chung
and cornerback
Bradley Fletcher
. It looked like many of the league-high 33 passing TDs allowed by the Eagles last season.
"
Jordan Todman
's 63-yard touchdown run was another bad flashback to 2012. Todman ran off left tackle, then cut to his right. Both Eagles safeties,
Patrick Chung
and rookie
Earl Wolff
, took terrible angles and were unable to slow him down, let alone hit him. Todman got outside to the right and was gone.
Wolff replaced the mediocre
Nate Allen
in the first half but did little to stand out in a positive way.
Kenny Phillips
, the free agent brought in to challenge Allen for the starting job, said he expected to play after dealing with a sore quadriceps. Phillips did not play. Considering Chung's performance on the Blackmon and Todman TDs, there is real concern about both safety spots.
" Return man Damaris Johnson had an eventful night. He fumbled the ball away on a punt return, then got stopped inside his own 10 on a kickoff return. Later, he broke two long returns, 61 yards on a kickoff and 37 on a punt. The Eagles would love the undersized wideout to provide big-play potential on returns so they can avoid putting
DeSean Jackson
at risk.
August, 24, 2013
8/24/13
11:42
AM ET
It is no surprise the
Philadelphia Eagles
' quarterback competition was the dominant story of Chip Kelly's first training camp. The untold story is the lack of other spirited battles for starting jobs, especially on the defense.

New coordinator Bill Davis is expected to start the same 11 players in Jacksonville on Saturday night as he started last week against Carolina. And with the exception of cornerback
Cary Williams
, who was sidelined with an injury, Davis started the same group against New England on Aug. 9.
"This is a big preseason game for us," Davis said this week. "In the evaluation process, every game weighs a little heavier than the practices, obviously, because of the speed at which you play, and the tackles and all that. But this is a big preseason game to help us determine who the starters will be and the backups."
Especially, it turns out, the backups.
Williams and
Bradley Fletcher
appear to have the starting cornerback jobs sewn up.
Brandon Boykin
went into camp as the nickel corner, and he's still there. Neither
Brandon Hughes
nor
Curtis Marsh
(who had surgery on a broken bone in his hand this week) seriously challenged the top three.
Nate Allen
remains a starter at safety. Injuries have kept veteran
Kenny Phillips
from taking the job, and fifth-round pick
Earl Wolff
doesn't appear ready yet.
Patrick Chung
has never budged from the top of the depth chart at the other safety spot.
The starting front seven has looked the same throughout the preseason, as well. The good news there is along the line, where
Bennie Logan
,
Vinny Curry
and
Damion Square
have played their way into what could be a solid rotation.
The linebacking situation is another matter. It is a position that has vexed the Eagles nearly as much as safety over the past five years. There is a chance the four starters --
Connor Barwin
and
Trent Cole
on the outside,
DeMeco Ryans
and
Mychal Kendricks
on the inside -- will be adequate. But the Eagles' Friday trade of running back
Felix Jones
for linebacker
Adrian Robinson
shows how much they need depth and competition there.
Can Phillips make a late push to replace Allen? Can Logan slip ahead of veteran
Isaac Sopoaga
at the nose tackle spot? Does former first-round pick
Brandon Graham
need to make some plays in order to show he's completed the transition from defensive end to outside linebacker?
This game in Jacksonville is the last real chance Davis will get to see his first team in extended live action. It doesn't help that the Eagles will be facing backup quarterback
Chad Henne
and a rebuilding Jaguars team. If the Eagles looked better against
Cam Newton
than
Tom Brady
, they should look much improved against Henne.
September, 2, 2010
9/02/10
11:31
PM ET
By
Matt Mosley
| ESPN.com


The
Dallas Cowboys
rested their starters against the
Miami Dolphins
, but there were still some interesting developments Thursday evening. Third-team quarterback
Stephen McGee
won't make it to the practice squad after going 27-of-42 for 304 yards and a touchdown. If the Cowboys want to keep him, they'll have to hold a spot for him on the 53-man roster.
Here are some observations from the Cowboys' 27-25 win.
Apparently the Cowboys wanted to get left guard Montrae Holland a little more work in the preseason. From what I'm told, he has a 50 percent chance of starting against the Redskins with starter Kyle Kosier trying to return from a right MCL sprain. On an early third-and-1, the Cowboys' offensive line didn't get any push and Tashard Choice was tackled at the line of scrimmage. Holland was called for two false starts on the second drive of the game. The Cowboys need Kosier to return in a hurry.
I liked how outside linebacker Victor Butler pursued the running game from the backside. He came racing from the backside to knock down Ronnie Brown after a short gain. Butler also made some nice plays in coverage. Of the young backup linebackers, Butler's playing with the most confidence. On the Dolphins' first scoring drive, it was Butler who forced the field goal attempt by batting down a Chad Henne pass. Perhaps he's fired up about his alma mater Oregon State playing at Cowboys Stadium on Saturday.
Rookie safety Akwasi Owusu-Ansah appeared to bust coverage against Davone Bess in the first quarter. It was an easy throw for Chad Henne on third-and-long. Owusu-Ansah was fortunate to hop to his feet following a clothesline from Tim Dobbins on a punt return early in the game.
Tashard Choice was the Cowboys' best offensive player Thursday. Watching him take a short pass and turn it into a 34-yard play was pretty remarkable. Choice couldn't find any holes in the running game. It's time for the Pat McQuistan era to end. The reserve guard doesn't play with any power and he doesn't move his feet very well in pass protection.
It's obvious that Stephen McGee and Martellus Bennett have some nice chemistry. Bennett does a really nice job of getting separation downfield. If his head is in the game, he could help this team in a big way. I was really impressed with a play that McGee made late in the first quarter to find Manuel Johnson. He extended the play with his legs and did a nice job of throwing on the run. On the next play, McQuistan was beaten badly off the snap. He has really awful balance. And on the next play, Alex Barron was beaten on a speed rush by linebacker Cameron Wake.
Rookie linebacker Sean Lee is having trouble shedding blockers. On the long run by Ricky Williams at the end of the first quarter, Lee got sealed by wide receiver Marlon Moore. It looked like defensive end Jason Hatcher was trying to come up the middle on a stunt and he got stoned by the center. Beautiful play by the Dolphins, but Lee has to be more physical than that. But he fought back and had a fumble recovery to end the same drive. Butler took over the game in the first half against the Dolphins' starters. Nice strip-sack of Henne early in the second quarter.
That was a gorgeous throw from McGee on the 43-yard touchdown pass to Sam Hurd. Hurd did a really nice job of accelerating when the ball was in the air. Cornerback Sean Smith had good coverage until just before the ball arrived. Going to be tough to cut Hurd after watching that play.
Second-year linebacker Jason Williams tried to cover a running back on a wheel route late in the first half and he never attempted to play the ball. Williams was called for pass interference.
Big confidence booster for David Buehler to nail the 51-yard field goal at the end of the half. Wade Phillips gave special teams coach Joe DeCamillis a fist bump and appeared to shout, "Yeah baby!" Really good night for Buehler. He also made a 45-yard field goal. I still want to see what he does in the regular season, but this was an excellent tuneup for him.
After tonight's game, I feel like Butler can give the Cowboys between seven to 10 plays per game and he could fill in nicely if someone gets injured. It looked like DeMarcus Ware loved watching Butler fly around Thursday evening.
Sean Lee showed some excellent closing speed to sack Tyler Thigpen in the third quarter.

I liked the way Manuel Johnson fought for the football tonight. The former Oklahoma receiver probably doesn't have a spot on this team but he gave some other teams something to think about. Speaking of other teams, I know a couple of scouts from around the league who are very interested in Cowboys rookie cornerback Bryan McCann. He'll get scooped up if the Cowboys try to sneak him through to the practice squad. Early in the fourth quarter, McCann didn't take away the inside against Marlon Moore and was burned for the touchdown. Terence Newman met McCann on the sideline to explain what he should've done.
Quite a battle between Hurd and Jesse Holley on Thursday. Hurd had the big touchdown catch, but it was Holley who made play after play in the second half.
Herb Donaldson might be a good practice squad candidate. He had some nice runs in the second half.
I thought reserve cornerback Cletis Gordon had a rough night. He was beaten for a long pass by Roberto Wallace late in the third quarter and he just seemed a step slow in this game. And late in the game, Wallace reached up and caught one over Gordon's head. He just didn't make plays on the ball at all. And this is after he had a ton of interceptions in training camp. Really nice second half for Wallace. He beat rookie cornerback Jamar Wall on a back-shoulder route on the goal line.
August, 6, 2010
8/06/10
2:12
PM ET
By
Matt Mosley
| ESPN.com
ASHBURN, Va. -- If
Albert Haynesworth
ever qualifies to participate in one of Mike Shanahan's practices, I actually think he'd enjoy himself. Shanahan asks his players to pour everything they have into morning sessions before hosting jog-throughs in the afternoons. And judging from his red-faced appearance at today's news conference, the head coach is about ready for this episode to end.
The MRI on Albert Haynesworth's knee came back negative, and the Washington Post's Jason Reid reported Friday morning that the defensive lineman's
tearing it up on the treadmill
. So why can this man not make it through two 300-yard shuttle runs that were easily handled by ESPN's
Mike Golic
? Your guess is as good as mine. One reporter excitedly noted that Haynesworth had appeared to increase his work in individual drills Friday.
"He's been doing the same thing," snapped Shanahan. "He's been getting a few reps and individual work -- the same thing he's been doing."
When I sit down with Shanahan this evening, I'm not going to lead with Haynesworth. I'm going to ask the coach to compare this Redskins team to some of his Broncos teams. And I'm curious to pick his brain about why he thought
Donovan McNabb
was the perfect fit for the Redskins. The guy's not known for his accuracy, and that's something Shanahan values. Now let's take a look at what caught my eye in practice Friday morning:
I talked to one longtime Redskins reporter who actually thinks Larry Johnson will have more carries than Clinton Portis this season. I don't see that happening unless Portis suffers an injury, but it's obvious that Johnson's feeling really good early in camp. He's finishing off every run and he's actually shown a burst at times. He also appears to be really comfortable with his new surroundings. On the other hand, it's hard to imagine Willie Parker making this roster. He's not getting many reps and it just doesn't look like Shanahan's giving him much of a chance. Ryan Torrain is receiving more carries than Parker from what I can tell.
Mike Shanahan doesn't miss a beat during practice. During drills, he'll stand away from everyone and just study different things. He also takes mental notes of which players don't hustle between drills and calls out their names at the end of practice. Those players are forced to run extra sprints. As one local beat reporter put it, "The adults are in charge again." I liked Jim Zorn, but he probably gave his players too much latitude.
Lorenzo Alexander and Andre Carter have a nice little battle going on at left outside linebacker. Alexander has been running with the first team, but Carter, 31, will get plenty of playing time. You knew Carter would have a little trouble in coverage, but he's actually been step for step with running backs on a couple of occasions. No matter who wins the starting role, the other guy will receive plenty of playing time. By the way, Carter told me after practice that he thinks David Diehl's the best left tackle he's faced in the Beast.
Defensive coordinator Jim Haslett is the best thing that could've happened to Carlos Rogers' career. The cornerback thought his career in Washington was over, but now Haslett believes he can turn him into an Antoine Winfield-type player. Haslett will take advantage of Rogers' size and he'll send him on a lot more blitzes.
Brian Orakpo told me after practice that Haslett's playbook has at least 20 more blitzes than Greg Blache's version. He said it was a little overwhelming at first, but now he's not thinking as much.
Kedric Golston and Adam Carriker were running with the first-team defense Friday. It looked like the Redskins were working on their dime package, which features two down linemen. If Haynesworth passes the conditioning test in the next month or so, he'll likely see a lot of time at right defensive end.
Torrain could end up serving as the third-down back, but he can't drop a perfect swing pass as he did Friday.
When former Cowboys receiver Joey Galloway broke free on a deep ball, Haslett just about lost it. "How many [expletive] times do we have to do this?" he shoutd in the general direction of safety LaRon Landry. By the way, Landry has a very difficult time not destroying receivers across the middle -- even when players are in shorts. In Friday's morning session, Landry pulled up at the last possible moment when Chris Cooley caught a McNabb pass across the middle. It looks like one of Cooley's brothers (Taylor?) was conducting some interviews for the tight end's blog after practice. They were focusing on Santana Moss.
Cornerback Justin Tryon made a nice recovery on a fly pattern to Roydell Williams. At this moment, Moss and Galloway are your starting wide receivers. I think it's the weakest part of this team, but Moss tried to convince me otherwise during a 20-minute visit following practice.
If you need a Rudy type player to root for, let me point you in the direction of former Kansas State receiver Brandon Banks. At 5-foot-7, Banks isn't exactly a red-zone target. But he's quick and appears to have good hands. I'm interested to see if he can make some plays in the preseason. I'd love to see the little fella get some reps returning punts. He's not very sturdy, though. He caught a short pass Friday and then a shove from cornerback Kevin Barnes almost sent him into a crowd of corporate folks. I think a stiff wind might have the same effect on young Banks.
John Beck rolled right and fired a bullet to tight end Lee Vickers in team drills. Former TCU linebacker Robert Henson reacted with some loud expletives because he came close to breaking up the pass. Perhaps Henson realizes that Baylor quarterback Robert Griffin will do something similar to his Frogs in Week 3. Beck botched a handoff to Portis in Friday's practice. He didn't last with the Dolphins because of a side-arm motion that led to a lot of balls being deflected. If Dolphins quarterbacks coach David Lee can't fix a problem, then I'm skeptical of the quarterback having much of a future in the league. Lee has worked with Tony Romo, Chad Henne and Tim Tebow (Senior Bowl).
Haslett is trying to change the mentality of this defense. You'll hear the word "strip" over and over again in practice. Haslett wants one defender to strip the ball and another to come over the top and go for the scoop. There's an emphasis on takeaways in almost every drill.
Shanahan thinks that Jammal Brown and Malcolm Kelly will return to practice Monday, but he's not certain about that. I get the feeling that the Redskins are starting to lose patience with Kelly, who is nursing a tight hamstring. Late in Friday's practice, the receiver would've broken away from the peloton had he not been on a stationary bike. It's not like the guy has a bad attitude or anything. McNabb and Moss have both taken a special interest in the former Oklahoma star, but he has a hard time staying on the field.
Grapevine, Texas, native Richard Bartel continues to throw the ball well in practice. Everyone's focused on Beck since he arrived, but Bartel's the backup who seems to take advantage of every rep.
Brian Orakpo said he had some lofty personal goals for this season, but he's not willing to go on the record at this point. He spent much of our conversation talking about the Big 12 finding a way to stay together. With Nebraska defecting to the Big 10, Orakpo says this year's game between his Texas Longhorns and Adam Carriker's Cornhuskers will carry added significance. "I'm still trying to recover from when they almost beat us," said Orakpo, referring to the Big 12 title game.
Safety Kareem Moore is having an excellent training camp and it will be tough to keep him off the field. The Redskins have actually developed some nice depth at safety. But on that topic, I'm not sure what's happened to Chris Horton. Two years ago, he took the league by storm when injuries forced him onto the field. Now, he's barely getting any reps in practice.
I thought left tackle Trent Williams looked pretty quick in team drills. He tweaked his hip a little bit in practice, but Shanahan thinks he'll be fine.
March, 16, 2010
3/16/10
1:00
PM ET
By
Matt Mosley
| ESPN.com
»
NFC Big Question
:
East
|
West
|
North
|
South
»
AFC
:
East
|
West
|
North
|
South
Should the Redskins select a quarterback at No. 4 overall?
[+] Enlarge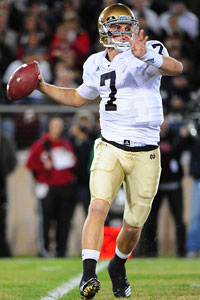 Kyle Terada/US PresswireJimmy Clausen will likely be available when the Redskins pick at No. 4.
Now that conventional wisdom (and mock draft specialists) point to the
St. Louis Rams
selecting Oklahoma's
Sam Bradford
No. 1 overall, the Redskins are in an interesting position. With Oklahoma State left tackle
Russell Okung
likely available, the Redskins could go a long way in replacing Pro Bowler
Chris Samuels
, who recently retired because of a neck injury.
Okung's probably the safest pick at No. 4 overall -- and I think it would be the wisest selection. But Mike Shanahan knows more than anyone the importance of the quarterback position, and it's hard to tell if he's sold on
Jason Campbell
. He's reportedly watched hours of film on
Jimmy Clausen
, so I'm sure he's formed a pretty strong opinion of the former Notre Dame quarterback. We keep reading that Clausen's alleged cockiness put off some teams at the combine, but I haven't heard that complaint from anyone in the Redskins organization.
ESPN draft gurus Mel Kiper and Todd McShay are split on Clausen. Kiper has the Redskins selecting Clausen at No. 4, but McShay's never been sold on him. The big thing Clausen has going for him is that he's played in Charlie Weis' pro-style offense and he's comfortable taking snaps from center. Players such as Bradford,
Tim Tebow
and
Colt McCoy
are having to make some major adjustments in terms of their drops, but Clausen's been doing it for years.
Redskins general manager Bruce Allen and Shanahan haven't made any knee-jerk moves in trying to change the culture of the organization. If you look at what Bill Parcells and the Dolphins did when they first got to South Florida, they took the best left tackle in the draft in
Jake Long
. He'll likely start at that position for the next eight or nine seasons. They eventually selected
Chad Henne
, but the Dolphins didn't rush the process. It was
Chad Pennington
who led the team to the playoffs in '08.
Taking Clausen in the first round might be the most exciting move the Redskins could make, but acquiring a cornerstone of the offensive line will provide a better foundation. You guys on board with Okung at No. 4 or do you want Clausen? Use the "comments" section to answer The Big Question.
February, 27, 2010
2/27/10
4:23
PM ET
By
Matt Mosley
| ESPN.com
INDIANAPOLIS -- In the months leading up to Cowboys training camp in '03, a quality control coach named David Lee helped quarterback
Tony Romo
overhaul his throwing motion. Bill Parcells had taken one look at the undrafted player out of Eastern Illinois during a May minicamp and declared that he'd have too many passes batted down because of his three-quarter delivery.

Tebow

Romo
Lee, who played quarterback for Vanderbilt in the 1970s when Parcells was the defensive coordinator at the school, told Romo that he should wait until after training camp to make any major changes. Romo was so desperate to make the team that he practically begged Lee to teach him a more orthodox delivery. He would call Lee at 9 in the evening and ask him to meet him at Valley Ranch to work on the new delivery. And we all know the rest of that story.
But as luck would have it, Lee, now the Dolphins' quarterbacks coach, ended up working with
Tim Tebow
at the Senior Bowl. On Friday, Tebow stood in front of about 150 reporters and credited Lee for helping lay the foundation for his new delivery. He knows what Lee did for Romo and is now doing for
Chad Henne
.
"David is one of the best fundamental quarterback coaches anywhere," Dolphins general manager Jeff Ireland told me Thursday. "Tim will take all of what David taught him and know exactly what he needs to work on. I don't think anyone can truly appreciate how fortunate he was to work with David in Mobile."
Many of you will recall that it was Lee's idea to install the Wildcat formation in Miami, which contributed to an amazing turnaround for the Dolphins in '08. But his expertise is with quarterbacks. Just ask Romo.
April, 1, 2009
4/01/09
4:00
PM ET
By
Matt Mosley
| ESPN.com
Posted by ESPN.com's Matt Mosley
The Beast had a chance to have breakfast with former Cowboys assistant Tony Sparano at the recent NFL owners' meeting in Dana Point, Calif. We covered several topics, but his eyes lit up when Tony Romo's name came up. Sparano, now the Dolphins head coach, was calling plays for the Cowboys when Romo replaced Drew Bledsoe six games into the 2006 season. Asked whether he knew if Romo was truly ready to be the starter at that point, Sparano had this to say:
"We knew when we put Romo in, yeah," Sparano said. "Honestly at that point with Tony, every time you put him in a game something good happened.

"We had a lot of experience with him, more than we have with our quarterback right now in Chad Henne. We had Tony a couple of years in the preseason and Tony got a lot of playing time that way. Nothing against Drew Bledsoe at the time, but you could just see where we were. We were 3-3 I believe ... and it was just the right time."
At this point, I asked Sparano if Romo's one of those players coaches needed to stay on top of in terms of limiting mistakes.
"Tony is a pretty easy guy to coach," Sparano said. "He's an intelligent guy and he really is a competitor. If you're walking down the hall with Tony Romo, he's going to try to beat you to the door. It was always easy to motivate Tony from my end."
Bill Parcells used to talk about how important it was to "coach Romo all the way through the game." Even after he exploded onto the national scene, Parcells constantly reminded him of his humble beginnings. And Sparano had his own way of keeping Romo grounded. Someone told me a story about something that happened one day in practice in '06. When Romo made a poor throw, Sparano walked up behind the huddle and wondered aloud whether the quarterback had been thinking about his girlfriend at the time, Carrie Underwood.
With Parcells and Sparano gone, there doesn't appear to be anyone at Valley Ranch willing to remind Romo that he wasn't always on the cover of People Magazine.