August, 15, 2012
8/15/12
5:15
PM ET
Sometimes I just have to shake my head.
Every time a player of whom anyone has ever heard of gets cut, fans want to know if their team will go and sign him. So I guess it's no real shock that
Dallas Cowboys
fans, unnecessarily panicked about the No. 3 wide receiver situation, would ask whether the team would be interested in former Dolphins receiver
Chad Johnson
. The Dolphins, who need receivers about 500 times worse than the Cowboys do, just released Johnson after he was arrested last weekend on domestic violence charges. And while he would make no sense whatsoever for the Cowboys to even consider, somehow Jason Garrett found himself answering a question about his team's interest in Wednesday's news conference.
Per Tim MacMahon
:
"We haven't had any discussions about Chad Johnson," Garrett said.

Rough translation: There is a zero percent chance of Ochocinco joining the Cowboys.
Seriously, folks. Enough. Nothing's changed since the last time Johnson was on the market except his last name and his police record. Only one of those changed for the better, and it wasn't the right one. There's no chance whatsoever that the Cowboys, who already have
Dez Bryant
, would want to have to stand there and explain why they seem to be collecting receivers who've been arrested on domestic violence charges in the past couple of months.
Johnson also has not become any younger since the last time he was available, nor has he been a good NFL player since 2009. There's nothing whatsoever to suggest that he's a better option than
Kevin Ogletree
or
Andre Holmes
or
Cole Beasley
or any of the other guys currently competing for the Cowboys' No. 3 receiver spot. He's not good, he's a huge potential headache, and there would be no reason for the Cowboys to even consider it. I doubt they did, and I have no problem believing Garrett spoke for the entire organization when he shot it down without hesitation.
No word on whether he was also asked if they had any interest in
Isaac Bruce
or
Rod Smith
.
Here's
some actual, real, relevant news
about the Cowboys' receiving corps.
March, 15, 2012
3/15/12
9:30
AM ET
Man, do I get
LaRon Landry
questions.
Washington Redskins
fans want to know if they're bringing him back.
Dallas Cowboys
fans want to know if they should sign him to play safety.
Philadelphia Eagles
fans want to know if they're taking a look. The answers, best as I can tell, are as follows:
No, no and only if it's really cheap. Landry is an injured player, folks. And if there's an early market for his services, it's because some team is willing to take a very big risk.
I guess Landry has fans' attention because he's a big name. And in spite of the fact that memories only go back six days in the NFL, there are some images still stuck in people's brains about big plays Landry used to make once upon a time when he was a healthy player. Oh yeah, when he's on the field, there are few safeties in the league scarier than Landry. There is no doubting that.
[+] Enlarge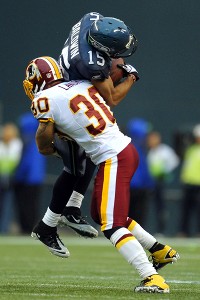 Steven Bisig/US PresswireLaRon Landry's days in D.C. appear to be coming to an end.
But the reason he's on the market -- and the reason the Redskins are talking to people like
Brandon Meriweather
while Landry is trying to get visits to other places -- is that he can't get on the field, and the Redskins are sick of wondering from week to week whether they can count on him. Hampered by Achilles and groin injuries, Landry played in eight games for the Redskins in 2011, was credited with just 35 tackles, no passes defensed and no interceptions. That doesn't scream, "Pay me!!!," especially when he played in only nine games the year before. The Achilles is still hurt, and he has refused to have surgery to repair it, which makes him an injured player, which explains why he's not on some big, happy tour of various team sites and sifting through huge contract offers.
So if you're a Redskins fan, you ought to say goodbye. The current coaching staff has had enough of waiting for Landry to show them what he can do -- and that he can do it reliably over the course of a full season. They have moved on. They used their franchise tag on
Fred Davis
instead and are looking at other options for the secondary.
And if you're a Cowboys fan, don't get your hopes up. The Cowboys don't appear to be going the big-name, low-production route this year. They're targeting guys they like for their specific need positions, and
Brodney Pool
is the safety coming in for a visit today.
And if you're an Eagles fan, keep expectations low. Yes, it's possible they'd take a look at Landry, but only if his price remains very low and he's willing to come in on a short, make-good deal that pays off only if he plays and produces. The Eagles have talented young safeties who need to play and develop, and while they might be willing to take a chance on Landry's talent, they're unlikely to do so at the expense of their long-range plan.
This post by AFC East blogger James Walker
Wednesday says the Patriots and the Jets have some interest in Landry. It mentions the Eagles, too, at the bottom, but those two AFC East teams feel like more likely destinations. Rex Ryan loves him a big name, even if the production no longer matches up. You could see him taking a shot. And the Patriots? Well, Landry would feel like a very Patriot move. I could just imagine them signing him, late in the market, to a low-guarantee, high-incentive deal and everybody saying, "Wow, that Bill Belichick may have got himself a steal right there." You know. Like they said last year when he got
Albert Haynesworth
and
Chad Ochocinco
.
Fact is, whoever signs Landry may get themselves a steal, if he can finally stay healthy and put together a full season. But at this point, on the third day of free agency, with so many other healthier options available, it's hard to see how it's worth the risk. For anybody.
June, 24, 2009
6/24/09
11:00
AM ET
By
Matt Mosley
| ESPN.com
| | |
| --- | --- |
| | |
| | ESPN.com Illustration |
| | There are many memorable moments from the last 10 years to savor. |
Posted by ESPN.com's Matt Mosley
This decade has brought us some amazing moments in the NFL, many of which have been captured during ESPN.com's all-decade week. And if something remarkable happens in '09 (such as the Lions making the playoffs), we reserve the right to amend some of our results.
So far, you've read about the all-decade defensive and offensive teams for the years beginning with 2000 and ending with the '08 season. I spent a good portion of the NFL owners' meeting and my subsequent vacation trying to identify some of the most memorable characters and moments from the decade.
After consulting with coaches, scouts, media guides and fellow bloggers, I've compiled a list of things that stood out over a nine-year period. Please act responsibly as we continue to celebrate ESPN.com's all-decade week -- otherwise known as a blogger's summer oasis.
| | |
| --- | --- |
| | |
| | John David Mercer/US PRESSWIRE |
| | David Tyree's 32-yard circus catch kept the Giants' game-winning drive alive in Super Bowl XLII. |
Play of the decade: In Super Bowl XLII, New York Giants quarterback Eli Manning appeared to be going down for a sack late in the fourth quarter when he somehow escaped and hurled the ball in the general direction of reserve wide receiver David Tyree. Even with Rodney Harrison ripping at him, Tyree somehow trapped the ball against his helmet and came down with it. It was one of the greatest plays in league history -- and it gave Tyree the basis for his first book. There were a lot of memorable plays in the decade, but nothing could match the Manning-to-Tyree special.
Personnel man of the decade: Indianapolis Colts president Bill Polian is ranked pretty high, but everyone you talk to across the league mentions Scott Pioli first. Now the GM for the Kansas City Chiefs, Pioli joined Bill Belichick in building the team of the decade, the New England Patriots. According to one longtime scout, "No one in the league does a better job of scouting their own team, and Pioli was orchestrating all of that."
The Patriots have had the magic touch when it comes to reclamation projects such as Corey Dillon and Randy Moss. But much like the Baltimore Ravens, they always seem to know when it's time to say goodbye to a player. Pioli has a keen eye when it comes to projecting players in Belichick's defense. Now we'll see what he can do with the Chiefs.
Scandal of the decade: Let's stay with the Patriots on this one. The Michael Vick dogfighting story was stunning, but Spygate was bigger because it threatened the integrity of the league. There were so many different layers to the story and it cast doubt on a head coach and his team's remarkable run. Belichick is still regarded as the mad genius in New England, but his violation of league rules will have a lasting impact on his legacy -- unless you're a Patriots fan.
| | |
| --- | --- |
| | |
| | Matt Campbell/AFP/Getty Images |
| | Tom Brady's apparent fumble was overturned and the Patriots beat the Raiders 16-13 in overtime. |
Most memorable off
iciating call: We know what San Diego Chargers fans are thinking, but when thinking back over the decade, the "tuck rule game" has to be the signature call. It was Jan. 19, 2002, and it appeared Oakland Raiders cornerback Charles Woodson had just sealed a trip to the AFC title game by sacking Tom Brady and knocking the ball loose. Instead, Brady's fumble was overturned because of the little-known "tuck rule," which was quietly enacted in 1999. The rule still doesn't make a lot of sense. But it helped launch the Patriots' dynasty. Anyone remember New England's starting wide receivers in the game? That's right, David Patten and Troy Brown.
Best owner: Sort of hard not to give it to Patriots owner Bob Kraft, but let's give a lifetime achievement award to Pittsburgh Steelers co-owner Dan Rooney. After all these years, he's still perhaps the most respected voice in the room. But Kraft wins the all-decade award. He brought a fan's perspective to ownership, and that's what breathed life into the franchise. And he gave Belichick another head-coaching opportunity after a failed stint with the Cleveland Browns.
Best NFL commercial: Since Peyton Manning starred in 82.7 percent of all NFL commercials, it's hard to pass him over. His work for MasterCard stands above the rest. The one where he's doing some yoga with Brian Urlacher and Michael Strahan has stood the test of time -- at least in our minds.
Most prolific locks: The faux-hawk tried to make a comeback, but Troy Polamalu may be the most identifiable player in uniform because of his unwieldy look. Polamalu achieved it by not getting his hair cut this decade.
Funniest player: The NFL doesn't really have an answer to Charles Barkley, although Clinton Portis had a nice run a few years ago when he came up with several alter egos. Let's give it to one of Portis' teammates, tight end Chris Cooley. Occasionally he crosses the line (accidentally publishing a picture of his manhood on The Cooley Zone blog), but he's consistently funny. Still love that he walked out to midfield a couple of years ago and introduced himself to the opposing captains as "Captain Chaos." There's not enough of that type stuff going around.
Best touchdown celebration: Terrell Owens and Moss had their moments, but Chad Ochocinco is by far the best. He has played golf with the pylon (no longer allowed) and he has donned a replica Hall of Fame coat after a touchdown on "Monday Night Football."
| | |
| --- | --- |
| | |
| | AP Photo/David Kohl |
| | Chad Ochocinco had a number of the most memorable touchdown celebrations in the last 10 years. |
Best first-down celebration: No one celebrates a new set of downs like Dallas Cowboys wide receiver Roy Williams. He takes the ball and delivers an emphatic first-down signal. It's not as good as Ed Hochuli's "Guns of Navarone" approach, but Williams doesn't hold anything back.
The most troubled player award: Adam "Pacman" Jones became the poster child for Roger Goodell's tough stance on player (mis)conduct. Pacman is an "Outside the Lines" report waiting to happen.
Most feared player: Until the horse-collar rule put him out of business, former Cowboys safety Roy Williams was well on his way to winning this title. But his descent into mediocrity was steep. Rodney Harrison of the Patriots wins the award. He was regarded as a dirty player by some, but his presence definitely made receivers think twice about going across the middle. John Lynch was a feared player early in the decade, but Harrison eventually surpassed him. James Harrison is closing fast as we prepare to close the books on the decade.
Best assistant coach: It's a tie between two elder statesmen, Steelers defensive coordinator Dick LeBeau and Eagles defensive coordinator Jim Johnson. We're all pulling for Johnson as he battles cancer. He's been remarkably consistent over the years and I put him and LeBeau just barely ahead of former Bucs defensive coordinator Monte Kiffin.
May, 22, 2009
5/22/09
12:59
PM ET
By
Matt Mosley
| ESPN.com
Posted by ESPN.com's Matt Mosley
So we spent all that time obsessing about Braylon Edwards playing for the New York Giants or Philadelphia Eagles -- and we get this? In an offseason full of blockbusters (T.O., Cutler, Plax), the Edwards saga has pretty much fizzled out. It would probably take a major injury in another camp to fire up the trade talks again.
The Eagles and Giants both took wide receivers in the first round, so it's unlikely they'll make a play for Edwards at this point. And now it turns out Edwards never (wink, wink) wanted out of Cleveland in the first place. In theory, we've been trained to distrust anyone who doesn't want out of Cleveland, but perhaps Edwards is the exception.
"I didn't get excited [about the rumors]," Edwards said, according to the Cleveland Plain Dealer. "One, they were rumors and there was nothing to hold on to. And two, I felt like if I would have left Cleveland for any reason, I would have left with a bad taste in my mouth."
That last sentence seems redundant, but we get the picture. Edwards apparently realizes the trade is not happening at this point, so he's trying to make things less awkward with his teammates. The lesson in all of this is that it's better to be a disgruntled left tackle (Jason Peters) or quarterback (Jay Cutler) than a wide receiver (Edwards, Chad Ochocinco, Anquan Boldin).
I think Edwards would've been a better fit with the Giants than the Eagles. And I think it's the other way around for Anquan Boldin. In reality, teams were amazed with what Detroit was able to get from the Cowboys in the Roy Williams deal.
And that became the jumping-off point for Edwards' and Boldin's reps. Only one man, though, was willing to pay that price -- and he lives in Dallas.