March, 7, 2014
Mar 7
1:30
PM ET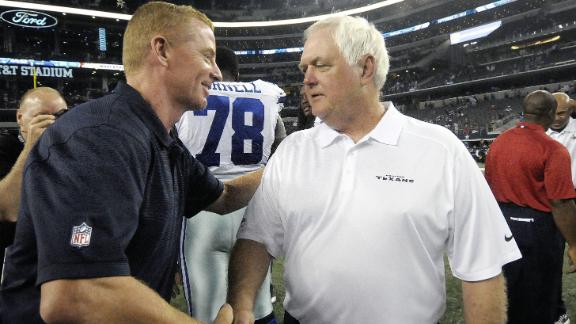 IRVING, Texas -- Wade Phillips has the second-best winning percentage of any coach in
Dallas Cowboys
' history. Better than Tom Landry's. I think Phillips might know that.
On Thursday, Phillips
tweeted this
:
Jason Garrett is tied with Wade Phillips for 56 games as the @dallascowboys head coach. Phillips: 34 - 22; Garrett: 29 -27. #suprisesMe

— Wade Phillips (@sonofbum) March 6, 2014
And later followed up with
this addendum
:
My surprise was that Jason and I had coached the same number of games. Not the record - time passes quickly -I wish Jason & Cowboys well

— Wade Phillips (@sonofbum) March 7, 2014
Like most things with Phillips, he lacked context.
When Phillips took over in 2007 as head coach, he inherited a team from Bill Parcells that was ready to win. QB
Tony Romo
was going into his first year as a full-time starter. The defense had DE
DeMarcus Ware
at his best. WR
Terrell Owens
was putting up big numbers.
The Cowboys went 13-3 and had the best record in the NFC. Phillips was the perfect antidote to Parcells and the players responded. Well, they did to a point. The Cowboys were not the same after beating the
Green Bay Packers
to move to 11-1 and effectively clinch home-field advantage.
They got lucky to beat the
Detroit Lions
the following week. They lost two of their last three games, but they were in shutdown mode against the
Washington Redskins
with nothing to gain from a win.
Other than momentum they had lost.
The Cowboys lost to the
New York Giants
in the divisional round at Texas Stadium, and the Giants went on to win the Super Bowl.
That's basically when the Romo narrative started. Maybe you heard that Romo went to Cabo during the wild-card weekend. Did it affect the outcome of the Giants' game? Of course not, but the perception machine was rolling, and has been rolling ever since.

You can track most of the Cowboys' woes to that lost opportunity. If they simply beat the Giants and make the NFC Championship Game, things would be different. Could they have beaten the Packers for a second time at Texas Stadium? It's the best what-if of the Romo era.
In 2008, the Cowboys acted as if they were predestined to not only make the playoffs but win the Super Bowl. Go back and watch the "Hard Knocks" episodes, and you see a team full of itself. They finished 9-7, missed the playoffs and were a mess late in the season.
Phillips could not pull it all together and looked inept as he attempted to deal with the fallout from the
Adam "Pacman" Jones
' incident. Phillips earned a reprieve in 2009 when Dallas posted an 11-5 record, won the NFC East title, and recorded a playoff win -- but that was the high point.
The Cowboys went 1-7 to start the 2010 season, including an embarrassing home loss to the
Jacksonville Jaguars
and a gutless loss to the Packers (45-7) the following week. After that game, Jerry Jones made the switch to Garrett, and the Cowboys are 29-27 since and have not made the playoffs.
Garrett did not inherit a team ready to win the way Phillips did in 2007. By the time Garrett took over, the Cowboys were growing old on the offensive line, and there were too many people (especially those in offices at Valley Ranch) who believed they had the best talent in the league.
The head coach of the Cowboys has tremendous sway with Jones. The Cowboys did not take
Randy Moss
in 1998 at least in part because then-coach Chan Gailey didn't want Moss.
On that premise, the 2008 draft -- with Dallas' two first-round picks -- was a mess because the Cowboys didn't even attempt to re-sign those first-rounders (
Felix Jones
and
Mike Jenkins
) when their contracts expired. The 2009 draft was a colossal failure in part because Jones was convinced that it could be a "special-teams draft," which is as ludicrous as the "draft for backups" the team had when Barry Switzer was the coach in 1995.
This is not in defense of Garrett. He has made plenty of mistakes on the field and in the draft.
Phillips has had a tremendous career in the NFL that has spanned decades. He is a terrific coordinator, but is he in the same conversation as guys like Dick LeBeau, or even Monte Kiffin? I'm not sure a Phillips defense scared offenses the way LeBeau's defenses in Pittsburgh and Kiffin's defenses in Tampa Bay did. Phillips was a good head coach but could not get his teams in Denver, Buffalo or Dallas past a certain point.
Phillips knows his resume inside and out. He can cite team stats and all the Hall of Famers he has coached.
He can claim his tweet was more about the number of games he and Garrett have coached, but it looked more like a passive-aggressive shot at the guy who replaced him, and a way for him to remind everybody of his record.
By the way, his winning percentage is .607. Landry had a .605 winning percentage.
January, 25, 2013
1/25/13
12:46
PM ET
IRVING, Texas -- Cowboys owner and general manager Jerry Jones has said many times his biggest regret was firing Chan Gailey after only two seasons.
PODCAST
Ed Werder joins Ben and Skin to talk about Troy Aikman's recent comments about Jason Garrett, the ties the new Cowboys coaches have with Jon Gruden and Jerry Jones' continued unwillingness to fire Garrett.

Listen

Gailey went 18-14 from 1998-99 and the Cowboys went to the playoffs both times, but Jones decided to make a move anyway and hired Dave Campo, who delivered three straight 5-11 seasons.
Jones felt he wasn't fair to Gailey and perhaps listened to the players too much in deciding to fire him.
Jason Garrett is 16-16 in two full seasons as the Cowboys' coach and missed a chance to make the playoffs both times with Week 17 losses with the NFC East title on the line. But Garrett will get a third year as coach in 2013.
At least in some form he will get that chance.
[+] Enlarge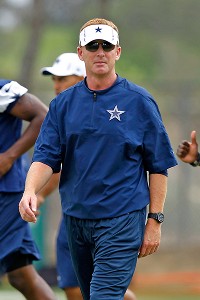 AP Photo/James D SmithJason Garrett will have to deal with the shadow of Jon Gruden in his third season.
With Jones promising to make things "uncomfortable" at Valley Ranch this offseason, he is not exactly being fair to Garrett, either.
You can be tired of all the "process" talk, but how Garrett was (is?) trying to build the program is correct. It takes some time to put things in place, but this is a win-now league. Jones gave Garrett two years and now it is as if he is saying, 'We tried it your way, but now we're going back to my way.'
Jones can say Garrett is OK with giving up the play-calling even if it sounds ridiculously far-fetched, since the day after the Washington loss Garrett said he would likely keep on calling the plays.
When Bill Callahan was hired as offensive coordinator last year, Garrett said he could envision a time in which he gave up the play-calling, but there is no way he wanted it to happen this way. He would have wanted to do it the way Sean Payton did in New Orleans -- minus the serious leg injury -- after building up years of work with coordinator Pete Carmichael. Callahan was not in a passing game meeting in 2012.
I don't doubt that Garrett was on board with making a change at defensive coordinator or with the hiring of the assistants, but this defensive staff has everybody connecting the dots to Jon Gruden in 2014, or maybe even Lovie Smith.
Garrett had to deal with the shadow of Payton for the second half of last season when it looked like Payton could have opted out of New Orleans.
Now Garrett might have a staff with four former Gruden assistants on board in Callahan, Monte Kiffin, Rod Marinelli and Rich Bisaccia, who could be the special teams coach, and he will have to deal with the shadow of Gruden this season.
It doesn't matter that Gruden might not have the best of relationships with some of his former assistants or that people want to overlook how bad things got under Gruden after Tampa Bay won the Super Bowl.
It's the perception that Garrett is teetering on the edge that will become an almost story with his firing almost an inevitability.
Maybe Jones isn't doing Garrett much of a favor at all by giving him the third year he never gave Gailey.
August, 28, 2012
8/28/12
4:37
PM ET
So, our man Herm Edwards has released his
ranking of the NFL's head coaches

. He has them in tiers, with the coaches ranked by overall wins within each tier, and the first tier is "Hall of Fame Worthy" guys -- coaches who, in Herm's words, are "on the path to Canton when they retire." He has ranked six coaches in this tier, and three of them coach in the NFC East. They are Mike Shanahan of the
Washington Redskins
and Tom Coughlin of the
New York Giants
, each of whom has won two Super Bowl titles, and Andy Reid of the
Philadelphia Eagles
, who as we all know has yet to win one.
Now, Herm's a guy who's done this job and obviously has tremendous respect for the men who do it. He's also very enthusiastic and tends to think the best of people. I like that about him. Wish I had a little bit more of that, frankly. But there are only 21 coaches currently in the Pro Football Hall of Fame. That works out to about 2.5 per decade, and so six Hall of Famers currently holding the jobs would put us in something of a golden era of coaching. Possible, but statistically improbable. Of Herm's six, the only one about whom I'd feel extremely confident as a Canton candidate is New England's Bill Belichick.
As for our three guys:
Coughlin has a good case, based on the two Super Bowls he's won with the Giants and the work he did building the franchise in Jacksonville prior to his time in New York. Assuming he keeps winning, adding to his 153-121 career record and maybe makes another Super Bowl run, I'd think he's going to get a long look from the voters when the time comes.
Shanahan has the two Super Bowls from his time in Denver, and there are some innovation elements on his resume with regard to zone-blocking, etc. But his coaching success is very much tied to John Elway, and I think he needs to accomplish something in Washington if he's to burnish his credentials to the point where he's a sure thing for Canton. Winning a Super Bowl with the Redskins would surely do it. Building a consistent contender and winning team would help even without the title.
As for Reid, you know I have nothing but respect for the job he's done with the Eagles and his abilities as a coach and a personnel man. I think his record holds up against that of anyone currently coaching. He's 136-90 and has nine playoff appearances in 14 years. In the salary cap era, what he's done in Philly is remarkable. However -- and Reid himself knows this -- he's not getting a sniff in that Hall of Fame voting room if he doesn't end up with a Super Bowl title on his resume. May not be fair, but that's the way these things work.
Jason Garrett of the
Dallas Cowboys
, after a year and a half on the job, is in Herm's "Jury is still out" category, along with guys like Chan Gailey, Pete Carroll and
Mike Munchak
:
The big problem in Dallas in expectations. There are always expectations with that star on the side of the helmet. And Garrett didn't live up to them last season, missing the playoffs.

He'll realize that he needs to balance the offense, running the ball more, and coach the other side of the ball, as well. In only his second full season as a head coach, he'll protect the defense more this season.
So there you have it. Read through it all if you have Insider access. And if you don't... why not? Get it. There's lots of good stuff in there.
October, 30, 2011
10/30/11
10:30
AM ET
As you get ready for the
Washington Redskins
' game against the
Buffalo Bills
this afternoon in Toronto, here's one reason for Redskins fans to be feeling good and one reason for concern:


Feeling good:
The Bills are not a good defense against the run, allowing 136 yards per game on the ground to opponents. The Redskins' offense operates best when it's committed to the run. Even with starting running back
Tim Hightower
out for the season, they have two backs in
Ryan Torain
and
Roy Helu
who should be able to pile up yards and help them control the clock against the Bills.
Cause for concern:
Buffalo doesn't yield many sacks, as quarterback
Ryan Fitzpatrick
is good at getting rid of the ball quickly and Chan Gailey has excelled at designing protections for him. So a Washington defense that's been shaky against the run and relies on getting to the quarterback could struggle if it doesn't find a way to contain star Buffalo running back
Fred Jackson
. The Redskins are leaning on their defense more than ever now with all of those offensive starters down with injuries. They'll need to limit Buffalo's scoring to have a chance.
August, 24, 2010
8/24/10
4:15
PM ET
By
Matt Mosley
| ESPN.com
I don't recall Chan Gailey chasing off any hecklers when he was head coach of the
Dallas Cowboys
, but I sort of admire what he did following the Bills' final practice of training camp Tuesday. AFC East blogger Tim Graham
has an excellent take on the story
.
"Yes, NFL players should be expected to endure harsh -- even juvenile -- criticism. But that doesn't mean the players have to genuflect in appreciation," writes Graham. "The Bills are starting over almost from scratch as an organization. A feisty attitude they won't smile through the insults is an encouraging departure from the nonchalant tone their shrugmeister former coach, Dick Jauron, fostered."
By the way, the ol' shrugmeister himself now advises Eagles defensive coordinator
Sean McDermott
on a daily basis. Asked to respond to this story Tuesday afternoon, Jauron simply shrugged and continued eating dried fruit snacks. (This did not actually happen).
But speaking of heckling, I noticed that the fans in Oxnard, Calif., were a bit more aggressive than usual last week. Training camp offers fans a rare opportunity to mix with players in a more intimate setting, and some of them can get a little carried away. But the worst heckler in Cowboys training camp was special teams coach Joe DeCamillis, so Wade Phillips didn't really seem to notice the fans.
Do you guys feel like fans should be allowed to say whatever they want in training camp as long as they pay the $10 parking fee? Should bloggers be protected from hecklers as long as they don't post too many Cowboys entries in a 24-hour period?
July, 30, 2010
7/30/10
10:00
AM ET
By
Matt Mosley
| ESPN.com
ESPN.com contributing writer Johnette Howard thinks that Cowboys owner Jerry Jones is the closest thing we have in professional sports
to the late George Steinbrenner
. But she's surprised that Jones seems to be downplaying his club's shot at winning another Super Bowl.
Jones
"Who is this guy soft-pedaling the 2010 Cowboys' chances of winning it all and talking instead about the unpredictable 'journey' that all NFL seasons become?" asks Howard. "Nobody should buy this judicious Jerry. He will not last. And it doesn't become him, anyway. Somewhere down the road, Jones will forget his humility and snap back to who he really is. He is still the man who once dismissed a past bit of bravado by telling a magazine interviewer, "That was just the whiskey talkin'," and maintained that vanity is a good thing because "It makes you go the extra mile."
I wouldn't worry about Jones cutting back on the hyperbole. Believe me, he's spent the last three years daydreaming about the Cowboys playing a Super Bowl in his beloved stadium. Jones and Steinbrenner had a unique relationship that actually led to them becoming business partners. But Jones can't approach The Boss when it comes to impulsive decisions.
If Steinbrenner had been the owner of the Cowboys, I think Wade Phillips would've been fired following the '08 season. In retrospect, that would've been the wrong move. But at the time, it seemed like the right thing to do. Jones still regrets giving up on Chan Gailey so fast, and that's one of the reasons Phillips is still in Dallas.
Steinbrenner and Jones shared a passion for winning, but it always seemed to me that Jones had a little more fun along the way. But if you're making the argument that Jones is now the most recognizable owner in professional sports, you may have a point.
Can you name another owner who might be considered for a guest spot on HBO's "Entourage"? Ralph Wilson, anyone?
February, 25, 2010
2/25/10
10:14
AM ET
By
Matt Mosley
| ESPN.com
INDIANAPOLIS -- We are only minutes away from the official opening of the NFL combine here at Lucas Oil Field. San Francisco general manager Scot McCloughan is about to take the main podium and he'll be followed by Hall of Famer Mike Singletary. Here's the rest of the schedule this morning:
10:30 a.m. ET: Jim Schwartz, head coach of the
Detroit Lions
10:45: Chan Gailey,
Buffalo Bills
head coach
11:00: Kevin Colbert, director of football operations for the Steelers
noon: Jeff Ireland,
Miami Dolphins
general manager
2:15: Scott Pioli,
Kansas City Chiefs
general manager
I'll ask Schwartz about how he thinks
Albert Haynesworth
will do in Jim Haslett's 3-4 scheme. Schwartz coached Haynesworth when he was the defensive coordinator for the Titans. Mike Singletary should have some thoughts on a couple of linebackers the Giants will be observing at this combine.
Chan Gailey can talk about what he learned during his head-coaching experience with the
Dallas Cowboys
. And I'll ask Jeff Ireland who should get the credit for "discovering" Cowboys wide receiver
Miles Austin
. Ireland was serving under Bill Parcells and Jerry Jones when Austin was signed as an undrafted free agent in 2006.
Schwartz is a guy I used to talk to a lot when he was with the Titans. He does a great job of explaining complicated defensive schemes to dense reporters such as myself. OK, I'm off to visit with my childhood hero, Singletary. He once broke eight helmets while playing linebacker for Grant Teaff at Baylor -- in one season.
January, 19, 2010
1/19/10
3:58
PM ET
By
Matt Mosley
| ESPN.com
Pardon me if I was a little startled by the news Monday that the
Buffalo Bills
were going to hire Chan Gailey as their next head coach
. What, was Bruce Coslet not available?
[+] Enlarge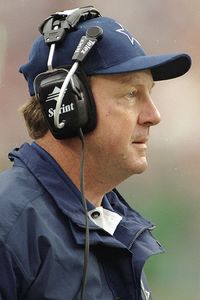 Getty ImagesGailey led the Cowboys to the playoffs in both seasons he served as the head coach.
It appears that the Bills swung for the fences -- and then settled for a weak grounder to short. To label this an uninspiring hire is an injustice to the uninspiring men who preceded Gailey in Buffalo. One of those men, Wade Phillips, just led the Cowboys to their second division title in three seasons.
Gailey took over a star-studded (if aging) Cowboys team coming off a 6-10 season and led them to the playoffs in 1998 and 1999. Owner Jerry Jones was so impressed with Gailey's 18-14 record that he fired him after a playoff loss to the Vikings and replaced him with Dave Campo. No one really likes to say this in polite company, but quarterback Troy Aikman clashed with Gailey and wanted him gone. And Jones didn't hesitate in pulling the trigger. Here's what
Jones said at the time
:
"This decision I had to make is about football,'' Jones said in Jan. 2000. ''It wasn't about egos. Chan Gailey, relative to when he accepted this job, burned the midnight oil. He worked hard, he was diligent, he was honest. He did everything I imagined."
And it turns out that Jones was still thinking about the Gailey firing when he decided to retain Wade Phillips following the '08 season's December-January collapse. Something about continuity. Here's what Jones said about his decision to fire Gailey earlier this month:
"The most unfair that I've ever been in anything in sports and maybe in other parts was dismissing Chan after two years,"
Jones said
. "That wasn't right. ... That is one thing I look at today in my mirror and say you just weren't as fair as you needed to be there to the team, the fans and certainly to Chan to make that change after two years."
So there you have it. The lesson Jones learned from the Gailey firing is one of the main reasons Phillips is still around. That and the fact that Jones hates the idea of coaches sitting at home while he pays them $3 million. And by the way, Gailey was making $500,000 per year as the head coach of the Cowboys when he was fired in 2000.
The club's offensive coordinator, Jason Garrett, makes roughly $3 million per year now. For any Bills fans who may stumble onto this blog, Gailey is a remarkably nice man. He has no business being a head coach in this league, but I can pretty much assure you that he won't be accused of striking an assistant coach at any point in the near future.
If I'm someone like Leslie Frazier, this hire really ticks me off. Some of these assistants have worked their tails off to position themselves for a head-coaching opportunity. And they're passed over for a man who flamed out in Dallas a decade ago.
November, 26, 2009
11/26/09
11:14
PM ET
By
Matt Mosley
| ESPN.com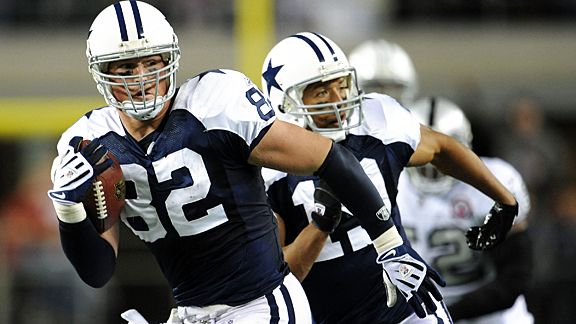 Ronald Martinez/Getty ImagesJason Witten caught five passes for 107 yards in Thursday's win over the Raiders.
ARLINGTON, Texas --
Jason Witten
has missed one game in his career, and that's because his broken jaw had been wired shut in his rookie season in 2003. But when he sprained his left foot in the first half of Sunday's win over the Redskins, there was a good chance he was going to sit out the Thanksgiving game.
And that's why Witten visited offensive coordinator Jason Garrett's office numerous times this week to make sure he wasn't left out of the game plan. The Pro Bowl tight end left Cowboys Stadium in a walking boot Thursday evening, but not before he had five catches for 107 yards in the Cowboys'
24-7 win over the Raiders
.
"He was adamant right from the start that he was playing," said Garrett. "He must have come by my office or circled around my office probably around 20 times during the last three days. 'Coach, you know I'm playing.' I kept telling him, 'Look at the game plan. There are a lot of Witten plays in the game plan. Don't worry, we know you're playing.' It's just what he's all about. That guy tries to be great every day, every play and with everything he does."
The Cowboys overwhelmed the Raiders' talented defense with big plays in the running and passing game. Their most catalytic wide receiver,
Miles Austin
, returned to form with seven catches for 145 yards and a touchdown, but Witten remains
Tony Romo
's most reliable weapon. His average-per-catch is down this season, but he's still the player defensive coordinators worry about the most.
[+] Enlarge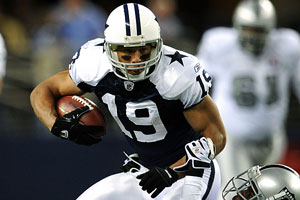 Ronald Martinez/Getty ImagesMiles Austin torched the Oakland secondary for 145 yards and a touchdown.
And I think his willingness to play through a painful foot injury meant a lot to an offense that had scored a combined 14 points in the previous two games. He'd never admit it publicly, but the thought of playing a game with
Martellus Bennett
and
John Phillips
riding herd over the team's much-publicized double-tight end formation had to scare Garrett. Witten has a calming influence on Romo and this offense as a whole.
After the game, Witten said he felt guilty about keeping athletic trainers Jim Maurer and Britt Brown at work so long this week. He admitted that he was nowhere close to being ready to play Monday, but by Tuesday he started to feel some improvement. Coach Wade Phillips asked Witten several times during the week how he was feeling and told him he needed an honest answer.
"Today during pregame he said he didn't really feel it," Phillips said. "He said he was ready to play. He said he wouldn't lie to me, so I think it wasn't quite as bad as we first thought. He and Tony are a heck of a combination."
Added Romo: "The fact that he is as competitive as he is makes him twice the talent. ... He was playing. I told him he was playing."
Romo and Witten know all too well that the big-boy portion of the schedule is about to arrive. The Cowboys may have a head of steam heading into December with an 8-3 record, but they know it's a month that has haunted them for years. Since taking over as quarterback in 2006, Romo is 5-10 in December and January, including two playoff losses. Dating back to the Chan Gailey glory years (1999), the Cowboys are 17-29 in December.
Unfortunately, you can only play the Raiders once every few years. After a 10-day grace period, the Cowboys will play the Giants, Chargers and Saints. At the end of that stretch, the Cowboys will either be ready to roar into the playoffs or searching for wild-card crumbs. Some players claim that this team is different than the ones in the past that have struggled during the holidays, but there's only one way to find out.
"They are a close-knit group," Phillips said of the '09 edition. "Our guys are not selfish. They are very focused. I could tell it this week and I think they will continue that. They are the kind of group you love to coach. It is not a big ego group, but it is a group that pulls together and pulls for each other on offense, defense and special teams."
Perhaps Phillips is onto something. Coming off a 13-3 season in 2007, last year's team had a sense of entitlement unparalleled in this league. On more than one occasion, I heard players talk about wanting to flash forward to the playoffs. This team has attempted to stay in the present, and with eight wins, that strategy seems to be paying off.
When the Raiders briefly tried to make a game of it in the second half, Romo connected with Witten on a crossing route that went for 44 yards and set up the Cowboys' third touchdown. As he raced down the middle of the field, there was no way to detect that he'd barely been able to put any weight on his left foot three days earlier. It was one of five plays for the Cowboys that went for more than 40 yards, and it ended any hope of a
Bruce Gradkowski
-inspired comeback.
I'm pretty sure the Cowboys had enough talent to beat the Raiders without Witten, but it's a chance they never wanted to take.
May, 21, 2009
5/21/09
1:40
PM ET
By
Matt Mosley
| ESPN.com
| | |
| --- | --- |
| | |
| | Mark J. Rebilas/US Presswire |
| | Each season Tony Romo has been the starting quarterback for the Cowboys has ended in a devastating loss. |
Posted by ESPN.com's Matt Mosley
CARROLLTON, Texas -- A couple of years ago, the scene at the Cowboys' temporary practice home Tuesday might have made quarterback Tony Romo do a double take. But now he knows the drill.
At least 30 reporters jockeyed for position around a kicking net in anticipation of Romo's post-practice news conference. Meanwhile, All-Pros such as DeMarcus Ware and Jason Witten walked toward the team bus without interruption. I have a good friend in the business who says the NFL is all about the quarterback. And with the Dallas Cowboys, that's most certainly the case now that the most controversial receiver in the game has been banished to the Canadian border.
| | |
| --- | --- |
| | |
| | NFL.com Video |
| | Cowboys coach Wade Phillips discusses why he believes Tony Romo is poised for his best season. |
Romo stepped onto the makeshift podium at a local high school stadium and faced the questions he had to know were coming. It was his first public appearance since the Cowboys' humiliating 44-6 loss to the Eagles on the final Sunday of the '08 season. On that afternoon, a battered Romo had tried to lend perspective to an outcome that was still too fresh in the minds of Cowboys fans. In about 10 minutes time, he undid a lot of the goodwill that he'd earned by pretty much saving the franchise midway through the '06 season.
Romo delivered a "life goes on speech" that didn't exactly comfort Cowboys followers. In fact, his words had the exact opposite effect. Utter embarrassment and anger seemed like the appropriate responses to such a thorough beating, but Romo preached patience and understanding. And that was before he got around to pointing the finger at offensive coordinator Jason Garrett.
With that in mind, Romo fielded questions Tuesday about Jerry Jones' new "Romo friendly" manifesto, which the owner has attempted to explain in a variety of ways. The phrase has been repeated continually on local talk radio shows and blogs. It seemed logical to ask Romo for his definition of the "Romo friendly" offense. Unfortunately, Romo's Bloglines account must be down. With a straight face, he said he'd never heard of the phrase -- and then refused to speculate as to what it might mean.
| | |
| --- | --- |
| | |
| | Aaron M. Sprecher/Icon SMI |
| | The Cowboys cut Terrell Owens in March, a year after paying him a $12 million signing bonus. |
Confused reporters (redundant) took a moment to let that sink in and then rallied with questions about Terrell Owens' departure. Even in the couple of one-on-one interviews he has granted, Romo has been curiously vague on this issue. He certainly didn't come out and call for T.O.'s release publicly, but then, he didn't exactly rush to the player's defense.
"That's not up to any of us players to decide," Romo said of T.O.'s release Tuesday. "That's why we're players. The organization and management decides those things. We're all at risk every offseason, depending upon everything. You always want to go out there and try to have all the guys you play with every year. That just doesn't happen. We have to go with the guys we have here now, go forward and keep improving."
Romo's assertion that players don't have a say in personnel decisions probably caught Troy Aikman by surprise. In reality, Romo knows how much power he wields in the organization. And he understands that Jones' decision to release T.O. had a lot to do with him. I don't think Romo called the owner and recommended the move, but there are certainly other channels to convey those thoughts.
Whether he chooses to admit it or not, Romo had lost the locker room to Terrell Owens, one of the most divisive (and talented) players in the history of the league. T.O. remained on his best behavior (by his standards) right up until the point he got paid last offseason. But when T.O. reportedly felt that Romo and his pal Witten were freezing him out of the offense, he did what he does best: He helped turn his teammates against them.
And if you don't believe it, I suggest you visit with Jeff Garcia and Donovan McNabb at a time that's convenient for them. But before this becomes a T.O. bashing column (am I too late?), let me say that Romo bears much responsibility for what happened last season. For starters, there's no one on the Cowboys' coaching staff whom he listens to, which leads to a lot of his careless throws. You think he'd still be playing like this if Bill Parcells (or Tony Sparano for that matter) were still in Dallas? Not on your life.
And regarding all the backstabbing going on in the locker room last season, Romo could've done something to head it off at the pass. If you don't have a strong head coach -- and the Cowboys don't -- someone in the locker room better carry a large hammer. Romo could've gone to T.O. privately and told him to cut the nonsense, but to my knowledge, that never happened. He simply tried to ignore T.O. -- and that strategy backfired.

Tony Romo
#9 QB
Dallas Cowboys


2008 STATS
YDS
CMP%
TD
INT
RAT
3,448
61.3%
26
14
91.4
In a sense, T.O.'s gone because Romo didn't know how to keep him in check. Most so-called experts (including me) seem to think the addition by subtraction move will eventually pay off. But if it doesn't, the finger will be pointed squarely at Romo. I still think he'll take the Cowboys deep into the playoffs at some point -- and perhaps to a Super Bowl. He has some remarkable leadership qualities and he's a tireless worker.
Unfortunately, though, he's not much of a listener. It's great to be able to tune out distractions, but Romo runs the risk of tuning out everyone. Since Parcells, Sparano and former quarterbacks coach David Lee have left the building, Romo doesn't have anyone willing to put him in his place.
All three of his seasons as the starter have ended with devastating losses. But he's not the first quarterback to have that happen. Romo's stats rival those of any quarterback in the league, but he won't be taken seriously until he wins a playoff game.
His new mantra is that the Cowboys will live in the present instead of constantly trying to look ahead to the playoffs. That's probably a pretty good place to start.
Until he has some playoff success, Romo's career will be heavier on style than substance. Can he change that perception?
We're about to find out.
February, 20, 2009
2/20/09
2:01
PM ET
By
Matt Mosley
| ESPN.com
Posted by ESPN.com's Matt Mosley
In an effort to plug the leaks that have made Ed Werder the most feared man at Valley Ranch, Dallas Cowboys owner Jerry Jones has put a gag order on all his employees, including head coach Wade Phillips. For those of us who cut our teeth during the Parcells era in Dallas, the silencing of assistant coaches isn't a new concept. In fact, I came to embrace the concept.
The more Parcells did to muzzle his assistants, the more they wanted to talk. And some of my best sources at Valley Ranch were cultivated during that time period. (Never mind the fact that most of them are employed elsewhere now.)
But the Phillips gag order is highly unusual. In fact, I called around to some of my colleagues in the business this morning (Farmer, Chadiha, Darlington, Archer) to see if they'd ever heard of something like this. Well, they haven't.
Could you imagine what Parcells' response would've been had Jones told him that he was forbidden to speak to reporters at the combine? He would've laughed at him and then walked over to say hello to Gary Myers and Peter King. Even puppet head coaches Chan Gailey and Dave Campo were never subjected to something like this.
Jones thinks he's circling the wagons, but what he's really doing is further marginalizing his head coach. And quite honestly, Phillips was doing just fine on his own.
In his state-of-the-team address following the season, Phillips promised to change his approach. No more Mr. Softy was his rallying cry. But by becoming perhaps the first head coach in the league's modern history to be silenced, he looks as powerless as ever.
The Countdown to Continuity continues in Dallas. Isn't this fun?