August, 16, 2010
8/16/10
2:19
PM ET
By
Matt Mosley
| ESPN.com
OXNARD, Calif. -- While reporters raced toward Cowboys offensive line coach Hudson Houck on Sunday seeking comment on
Marc Colombo
's knee injury, I took the opportunity to catch up with running backs czar Skip Peete. His kid brother, Rodney, is more of a household NFL name, but Skip carved out a nice reputation in the league while supervising talented Raiders backs such as
Napoleon Kaufman
,
Charlie Garner
,
Tyrone Wheatley
and
Justin Fargas
.
He was rotating three running backs in Oakland before that sort of thing became fashionable around the league. Now he's doing the same with the Cowboys' talented trio of
Marion Barber
,
Felix Jones
and
Tashard Choice
. And if you stop by training camp in the next two weeks, take a peek at
Peete's Five Fingers "coaching" shoes
.
On Sunday afternoon, Peete told me that he wasn't overly concerned about the lack of production in the running game in the preseason game against the Raiders, because the Cowboys "didn't scheme for what the defense is doing."
He thinks the running game is on pace to be better than '09, and a big part of that is the offseason work of Barber and Jones. Barber dropped 10 pounds and looks much more elusive. Jones has added at least five pounds and hasn't lost any speed.
Here's the column
I wrote about Barber in June
. At that point, Peete was trying to convince him that it's OK to give up on a run every now and then. He believes that Barber has absorbed more punishment than necessary because of his bruising mentality. Peete told me Sunday that the next step for the Cowboys' backs is "turning 10-yard runs into 50-yarders." He believes that Jones can become even more of a home-run threat.
Peete also enjoys the psychological aspect of his job. He reminds his backs that the team always comes before their individual success, and for the most part, they've bought into that philosophy. Of the three backs, Choice has the most reason to feel frustration. He's talented enough to start for some teams in the league, but he's fortunate if he gets five carries in a game for the Cowboys. Peete said the fact that all three backs had to share carries in college makes his job a little easier. Choice had to play second fiddle to
Adrian Peterson
before transferring to Georgia Tech. Barber split time with
Laurence Maroney
at Minnesota, and Jones was overshadowed at times by
Darren McFadden
at Arkansas.
"Everyone has a role in this system, and they all need to occupy that role," said Peete. "That will make us all successful. But I certainly know that most backs want to have a full-time role at the end of the day. We just make sure the communication is there."
Peete also gave me some great insight on what Mike Shanahan looks for in running backs -- other than advanced age. I'll roll that out at some point this week. In other news, the Beast will react to the "huge" Giants-Jets matchup soon after it ends. After the final whistle, please start hitting "refresh" every 5-10 seconds. Thanks for your continued support. Our West Coast bureau has really been given a nice reception here at Cowboys camp.
June, 3, 2010
6/03/10
2:45
PM ET
By
Matt Mosley
| ESPN.com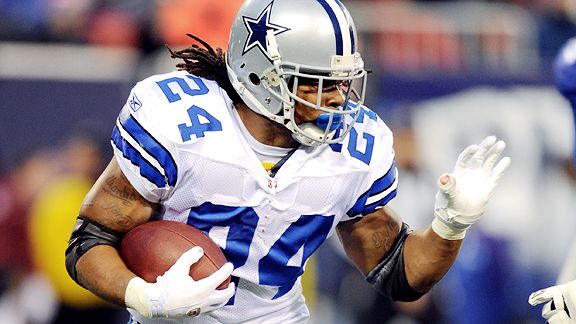 Rich Kane/Icon SMIThe Cowboys hope a trimmed down Marion Barber will be able to return to his 2007 form.
ARLINGTON, Texas -- I've put in a request to the league asking for
less
access to Cowboys owner Jerry Jones. By my count, we've heard from him three times in the past two weeks -- and he's delivered wildly different messages each time.
From what I can tell,
Felix Jones
pretty much became the starting running back in March, lost the job to the svelte
Marion Barber
during last month's one-day owners meeting and then regained it after a remarkable showing in OTAs on Wednesday. If you're in the market for good sound bites and awkwardly long eye contact, Jerry's your guy. If it's clarity you're seeking, I'd probably point you in a different direction.
A week after strongly indicating the Cowboys would likely stick with the rotation of Barber/Felix Jones/
Tashard Choice
, the Cowboys' master of suspense said Wednesday that "nothing's set in stone" and that he looked forward to a lively competition in training camp. Things really took an interesting turn when he suggested that undrafted rookie
Lonyae Miller
of Fresno State would also be in the thick of things. Miller averaged 5.6 yards per carry and had 20 touchdowns in college, but he was overshadowed by first-round pick
Ryan Mathews
.
But the most compelling storyline at OTAs this side of
Dez Bryant
is Barber's new look. The man who was nicknamed "the Barbarian" for his punishing style has lost at least 10 pounds and I've actually seen him sidestep defenders in practice. As most of you know, Barber cashed in on a superb '07 season with a lucrative long-term contract and the starting job. And he hasn't been the same since.
September, 30, 2009
9/30/09
7:33
PM ET
By
Matt Mosley
| ESPN.com

Posted by ESPN.com's Matt Mosley
IRVING, Texas -- With Cowboys running back
Felix Jones
likely out with a left leg injury and
Marion Barber
still fighting a left quad strain, there's a good chance second-year back
Tashard Choice
will get the majority of the carries against the Broncos on Sunday. When Choice arrived at his locker Wednesday, a large group of reporters were waiting. He was very animated and said the fact that he slipped to the fourth round of the '08 draft remains a constant source of inspiration for him.
Choice admitted that he's pressed a little bit when he knows he's only going to get three or four carries and talked about how much better he performs when he can get in a rhythm. And he showed that last season during a three-game stretch against the Steelers, Giants and Ravens in which he rushed for 279 yards. It's obvious that
Tony Romo
already has a ton of confidence in Choice because he looks for him a lot when he's in trouble. Here's what Choice had to say Wednesday when asked about being drafted in the fourth round.
"It pisses me off to be honest with you," Choice said. "It pisses me off all the time. My mindframe is to show them you messed up on Tashard."
Even though he's the third running back, Choice carries himself like he's a starter. He moved his stuff into T.O.'s old locker and replaced him as the team DJ. He has a ton of confidence and he may end up being the team's best all-around back. Marion Barber is obviously a punishing inside runner and Felix Jones is capable of scoring from anywhere on the field.
Choice has the power to run inside, but he also has deceptive speed and acceleration. The fact that he catches the ball so well also is a big part of the offense. And fortunately for the Cowboys, there appears to be no jealousy among the running backs. When Felix Jones was sidelined with a knee injury against the Panthers, he continued to encourage Choice every time he came off the field.
Cowboys running backs coach Skip Peete had this to say about Choice:
"He was one of the most complete backs in that draft. Everyone said he lacked speed, but he's capable of doing just about everything. He's an inside runner, he's an outside runner, he's capable of [pass] protecting and obviously he can run pass routes and catch the ball. The only knock he had coming out was that he was not a burner, but there have been a lot of good backs in this league who were not burners."
Peete has some experience when it comes to managing talented running backs. At one point he coached Tyrone Wheatley, Charlie Garner and Napoleon Kaufman with the Raiders. Peete told me in training camp that Choice would have a chance to make a huge contribution this season. It's just happening sooner than some of us thought.