January, 27, 2014
Jan 27
9:00
AM ET
IRVING, Texas -- The
Dallas Cowboys
did not know what they had when they signed
Dan Bailey
as an undrafted free agent.
They did not know what they had in him with a week to go in the preseason, either. By that time the Cowboys had five kickers on the roster:
David Buehler
, who held the kicking job in 2010, Bailey,
Shayne Graham
,
Kai Forbath
, an undrafted free agent like Bailey but injured, and veteran
Dave Rayner
.
[+] Enlarge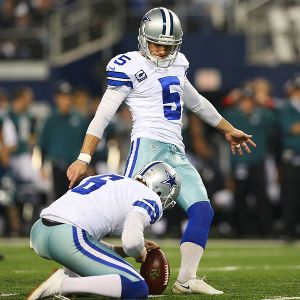 Ronald Martinez/Getty ImagesDan Bailey has made 88 of 98 field goal attempts in his three seasons.
The Cowboys missed three out of four field goal attempts in the final preseason game against the
Miami Dolphins
; one from Buehler and two from Rayner.
By not kicking that night, Bailey elevated himself.
About to enter his fourth season, the Cowboys
rewarded Bailey last week
with a seven-year, $22.5 million deal that makes him among the top 10 highest-paid kickers in the NFL. And for those believing the Cowboys made more of a mess of their salary cap with the signing, Bailey's cap number in 2014 is less than what it would have been if they had given him the second-round tender as a restricted free agent.
"That was a huge advantage looking back at it now, to go up against guys like Shayne and they brought in Dave Rayner, guys that have been kicking in the league a while and been real successful," Bailey said. "At the time, I was just trying to keep my head down and do my own things. I think it was invaluable to get that competition early on to nail down the job."
It taught Bailey that every kick is a new chance. A previous make does not guarantee success. A previous miss does not guarantee failure.
Bailey has made 89 of 98 field goal attempts in his career. He has missed just two kicks in each of the last two seasons. The pressure of winning the job out of a lockout as an undrafted rookie helped prepare Bailey for end-of-game moments. His eight game-winning kicks in three seasons are a franchise record.
"I don't think it changes too much," Bailey said of any added pressure because of the contract. "You're only as good as your last kick. That's the nature of the league. You have to bring your 'A' game every day to practice, to the game, even off the field. You've got to do the right things. I don't think it'll have too much of an impact. I think I take pride on being mentally strong enough to put that on the back burner and focus on the task at hand."
Bailey's leg strength was a question when he arrived, but he had a career-high 52 touchbacks in 2013 after just 54 in his first two seasons. He also made 6 of 7 attempts from 50 yards or more after making only 5 of 9 tries in his first two years from 50 yards or more.
"A lot of it had to do with just improving my leg strength and explosiveness, that stuff I did in the offseason, but just as much as that it was just a mentality," Bailey said. "We practice a lot of those in camp and in practice and even in the offseason. Just getting back there and kicking long field goals, it was creating more of a comfort level for myself to know those kicks do come up in games."
For the first time in his career, Bailey will not have Chris Boniol as a kicking coach. Boniol and the Cowboys agreed to part ways in the offseason, leaving Bailey and punter
Chris Jones
to improve without the watchful eye of an NFL veteran.
"He was a great asset to have," Bailey said. "He was a guy I looked up to because he'd been literally in the same shoes I've been in."
January, 16, 2014
Jan 16
11:00
AM ET
IRVING, Texas --
Dallas Cowboys
tight ends coach Wes Phillips is interviewing with the
Washington Redskins
, according to multiple sources.
Phillips is among a handful of Cowboys assistants with expiring contracts. He has been with the club since 2007 when his father, Wade, was named head coach. In 2013 Wes Phillips was the tight ends coach after serving as the assistant offensive line coach in 2011 and '12. He also spent time working with wide receivers and special teams in his time on the staff.
In 2013, Cowboys TE
Jason Witten
caught 73 passes for 851 yards and had eight touchdown catches, the second-best single-season total of his career. As a group, the tight ends caught 94 passes for 1,058 yards and 10 touchdowns.
The Cowboys have yet to announce any changes to the coaching staff, although the team and assistant special-teams coach Chris Boniol mutually agreed to part ways two weeks ago. Like Phillips, Boniol had a one-year contract.
The Redskins hired Jay Gruden as head coach (to replace Mike Shanahan) and promoted tight ends coach Sean McVay to offensive coordinator.
January, 16, 2014
Jan 16
10:00
AM ET
IRVING, Texas -- With the NFL's game of musical chairs involving head coaches just about over -- except for the uber-patient
Cleveland Browns
-- let's look at the effect the new names in new spots will have on the
Dallas Cowboys
.
The Cowboys will face three teams with new head coaches in 2014: Jay Gruden with the
Washington Redskins
, Bill O'Brien with the
Houston Texans
and Ken Whisenhunt with the
Tennessee Titans
.
In 2013, the Cowboys went 1-4 against teams with new coaches. The lone win was the October meeting against Chip Kelly's
Philadelphia Eagles
, but they returned the favor in the more-important Week 17 rematch that won the NFC East.
The Cowboys also lost to Kansas City's Andy Reid, San Diego's Mike McCoy and Chicago's Marc Trestman.
Gruden and O'Brien will be head coaches for the first time in the NFL. Whisenhunt had a six-year run with the
Arizona Cardinals
.
The Cowboys went 0-3 against Whisenhunt. Two of the losses came in overtime and the third was by a point. And they were three of the strangest losses. In 2008, they lost on a blocked punt for a touchdown in overtime. In 2010 they lost in part because
David Buehler
missed an extra point. In 2011 they lost in overtime in a game in which many believe Jason Garrett iced
Dan Bailey
at the end of regulation.
(Personal aside: I don't believe that was the case. The play clock was running down and Garrett called the timeout at the request of special-teams coaches Joe DeCamillis and Chris Boniol. Bailey's first miss of that season at San Francisco came with the operation rushed because of the play clock. Now back to your regularly scheduled programming.)
O'Brien was the
New England Patriots
' offensive coordinator in 2011 when
Tom Brady
beat the Cowboys on a final-minute touchdown pass 20-16. The Texans have the top pick in the draft and a team that could be in line for a quick turnaround.
Gruden was the
Cincinnati Bengals
' offensive coordinator when Bailey won the game on a last-second field goal after
Andy Dalton
was limited to 206 yards passing. The Redskins folded under Mike Shanahan and have a ton of needs, but the return of a healthy and motivated
Robert Griffin III
could change their fortunes quickly.
The Cowboys could have six more games against teams that will lose assistant coaches in 2014.
As of Thursday, the only assistant the Cowboys have lost is Boniol, who oversaw one of the best kickers in the NFL. Maybe that will change too. Maybe.
January, 8, 2014
Jan 8
5:34
PM ET
IRVING, Texas – The first change in the
Dallas Cowboys
coaching staff for 2014 has happened with assistant special-teams coach
Chris Boniol
and the club agreeing to part ways.

Boniol's contract was set to expire after he signed a one-year deal. He will attend the Senior Bowl in Mobile, Ala., and hopes to remain in the NFL.
"It's been a great time, blessed to have been around some great people and good players," Boniol said. "And I'm grateful for the opportunity Jason [Garrett], Stephen [Jones] and Jerry [Jones] have given me."
Boniol joined the Cowboys in 2010 and worked with then special-teams coordinator Joe DeCamillis for three years. Rich Bisaccia took over as special-teams coordinator in 2013 after DeCamillis left for the
Chicago Bears
.
Carlos Polk, who was with the Cowboys through the season as an intern, could be made Bisaccia's assistant. Bisaccia interviewed for the
Washington Redskins
head coaching vacancy and has been mentioned as a candidate for the
Tennessee Titans
opening.
Boniol had a three-year run as the Cowboys' kicker, winning a Super Bowl in 1995 while making 81 of 93 field goal attempts. He has coached
Dan Bailey
to three of the best seasons in team history for a kicker. Bailey has made 89 of 98 attempts in his career and has missed just two in each of the past two seasons.
Punter
Chris Jones
averaged 45 yards per punt with a 39.1-yard net average in 2013.
"They're great guys, work their butts off, love those guys like my own," Boniol said. "Real proud of them and what they've accomplished as players and people. It's been a joy to watch them grow and mature as athletes and young men. It's people like them that I'll miss."
Cowboys coaches are off this week. Last year the Cowboys made two coaching staff changes in running backs coach Skip Peete and defensive coordinator Rob Ryan two weeks after the 2012 regular season ended.
June, 8, 2010
6/08/10
1:00
PM ET
By
Matt Mosley
| ESPN.com
»
NFC Big Question
:
East
|
West
|
North
|
South
»
AFC
:
East
|
West
|
North
|
South
Why are the Dallas Cowboys not concerned about the kicker position?
[+] Enlarge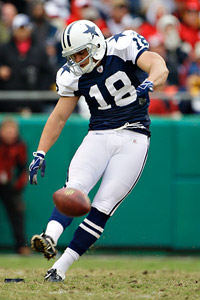 AP Photo/Charlie RiedelDavid Buehler excelled at kickoffs last season, but is untested on field goals.
I can't for the life of me figure out why Cowboys owner Jerry Jones and coach Wade Phillips feel so comfortable heading into training camp with unproven kicker
David Buehler
as the presumed starter. The Cowboys know what it's like to be held hostage at that position, because it hasn't been that long since
Mike Vanderjagt
flopped in Dallas.
Bill Parcells had a terrible time deciding on a kicker as he went through the likes of
Billy Cundiff
,
Jose Cortez
and
Martin Gramatica
. In '09, Buehler had tremendous value as a kickoff specialist. He led the league in touchbacks and he also played a role on the kickoff return and punt coverage units. Now, the Cowboys are asking Buehler to take over place-kicking duties, which doesn't appear to be his strength. At a recent workout inside Cowboys Stadium, Buehler missed badly on a couple of attempts.
Former Cowboys kicker Chris Boniol has signed on as a consultant, but apparently his advice hasn't sunk in yet. I think Buehler is a remarkable talent who will eventually have success as a kicker in this league, but it's unwise to hand him the job without serious competition.
It almost seems like Jones and Phillips are trying to build Buehler's confidence with positive quotes to the media, but those will only get him so far. Buehler still seems like a developmental kicker at this point in his career. A team with legitimate Super Bowl aspirations can't leave the kicking game to chance. Yet the Cowboys seem completely at ease with Buehler. Surely special-teams coach Joe DeCamillis has someone else in mind if Buehler's not ready for prime time.
The Cowboys watched the talented
Nick Folk
have a meltdown last season, and former Redskins kicker
Shaun Suisham
was not the answer. With that in mind, it's hard to believe Dallas is placing so much trust in Buehler. Nothing against blind faith, but that's not the approach I'd take in a season that holds such promise.
Both the Cowboys and Redskins are likely to begin the 2010 season with unproven kickers. And I think that's a recipe for failure. You can get by at times with a shaky place-kicker, but at some point it could become a problem. Now I'm curious to see what you think. Am I wrong to think that Buehler's a huge question mark heading into training camp? Should I go at least two weeks without writing about this issue?
I'm OK with that.
May, 25, 2010
5/25/10
1:00
PM ET
By
Matt Mosley
| ESPN.com
»
NFC Big Question
:
East
|
West
|
North
|
South
»
AFC
:
East
|
West
|
North
|
South
Why have the Dallas Cowboys placed so much trust in kicker David Buehler?
Former USC kicker David Buehler led the league in touchbacks his rookie season with 29. He also participated on the punt team and the kick return unit. He's a fearless player who lives for open-field tackles, but I'm not sure how that translates to calmly nailing a field goal to win a game.
[+] Enlarge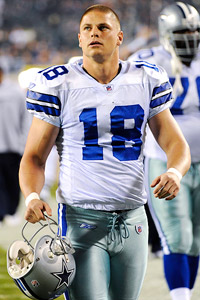 Howard Smith/US PresswireThe Cowboys are looking at David Buehler as their full-time kicker in 2010.
For whatever reason, the Cowboys are convinced that Buehler's ready to take over after watching
Nick Folk
and
Shaun Suisham
make a mess of things last season. Dallas missed a league-leading 11 field goals (tied with Houston) in 2009. And when it gave Buehler a chance to wrest the job from Folk in practice, he was understandably all over the map. Everyone wants to talk about the safety and left tackle spots, but I think the Cowboys could be leaving themselves exposed at place-kicker.
Buehler's a tremendous weapon as a kickoff specialist, but asking him to attempt clutch field goals is a different thing. In March, former Cowboys kicker Chris Boniol joined the coaching staff to work with Buehler on a "part-time" basis. The two have spent countless hours together at Valley Ranch focusing on technique. He's convinced Buehler that he can dial it down a bit with his big leg in hopes of finding accuracy.
"He can do it," Boniol told me after Monday's organized team activities session. "But he has to prove it day in and day out. There are a lot of guys who can do it. David can't aim one direction and kick the hell out of the ball like he does on kickoffs. We've worked on how to control his power and his ball flight."
I feel like Boniol is a little more realistic about Buehler's future than owner Jerry Jones and coach Wade Phillips. For some reason, Jones and Phillips have basically handed Buehler the job on a wing and a prayer. I think he has a ton of potential, but the Cowboys would've been wise to sign a veteran just in case Buehler couldn't make the adjustment. The good news, though, is that he apparently has nailed all of his attempts in the four OTA sessions.
Phillips thinks it's important for him to make field goals with his teammates standing around. But we won't have a definitive answer on Buehler until he makes a few in front of 70,000 folks or so.
NFC EAST SCOREBOARD
Saturday, 12/20
Sunday, 12/21