NFC East:

Chris Gronkowski
September, 3, 2011
9/03/11
6:49
PM ET
Click
here
for a complete list of the
Dallas Cowboys
' roster moves.

Biggest surprise:
I guess they released four fullbacks, including
Chris Gronkowski
, meaning they kept none. They're obviously deep at tailback with
Felix Jones
,
Tashard Choice
,
DeMarco Murray
and
Phillip Tanner
and at tight end as well, so they either didn't see the need to use a fullback this season or are content with the idea of picking one off the scrap heap within the next couple of weeks. Other than that, I didn't find any of the cuts especially surprising.
Igor Olshansky
started 28 of their 32 games the past two seasons, so he's the biggest name among the cuts. But we'd seen this one coming for a while. It was clear that new defensive coordinator Rob Ryan preferred
Kenyon Coleman
at defensive end, and that the Cowboys weren't going to be afraid to cut ties with established veterans.
No-brainers:
Kickers
Shayne Graham
and
Dave Rayner
had their chances to win jobs but couldn't, so they're gone and the Cowboys will go with
David Buehler
for kickoffs and
Dan Bailey
for field goals.
Lonyae Miller
showed promise early but was passed by Tanner for the lone spot in the crowded running back field.
Akwasi Owusu-Ansah
clearly wasn't panning out at safety in spite of being the team's fourth-round draft pick in 2010.
What's next:
With only five wide receivers on the roster, the Cowboys could theoretically hunt around for veteran help there. But they may believe the receiving ability of their tight ends and running backs minimizes the importance of adding there. They will surely continue looking for a kicker, because
they're obviously not satisfied with what they have, and they may be on the lookout for added depth in the secondary. They kept 10 offensive linemen, but that doesn't mean it's impossible to see them bringing someone in from the outside if they can find a reliable veteran backup for some of their young starters.
October, 27, 2010
10/27/10
1:00
PM ET
By
Matt Mosley
| ESPN.com
»
NFC Stock Watch
:
East
|
West
|
North
|
South
»
AFC
:
East
|
West
|
North
|
South
FALLING
1. Wade Phillips, Dallas Cowboys head coach:
I didn't have room to mention every player on defense, so their coordinator will have to do. The Cowboys had a 20-7 lead over the
New York Giants
after
quarterback
Tony Romo
left the game. Phillips basically needed his highly ranked defense to win the game for him. What followed over the next two quarters was an embarrassing performance. Phillips tried to blame it on all those three-and-outs from
Jon Kitna
and the offense, but we all know better. The Cowboys' defense disappeared at the worst possible moment.
2. Ellis Hobbs, Philadelphia Eagles cornerback:
Titans wide receiver
Kenny Britt
burned Hobbs and rookie safety
Nate Allen
throughout the second half. Hobbs was still backpedaling when Britt was racing past him for big plays. We'll never know why defensive coordinator Sean McDermott didn't do more to help Hobbs in this game. But hey,
Asante Samuel
and
Quintin Mikell
shut down
Nate Washington
on the other side. The sight of those two players bracketing Washington in the fourth quarter was quite ridiculous based on what was actually going on at the time. I still haven't heard a reasonable explanation from McDermott for his approach to stopping Britt.
3. Chris Gronkowski, Dallas Cowboys fullback:
When you blow a blocking assignment that leads to your star quarterback being knocked out for a couple months, you deserve some recognition. Gronkowski was apparently so anxious to catch a pass that he forgot to check for incoming linebackers such as
Michael Boley
, who had a clean shot at Romo.
[+] Enlarge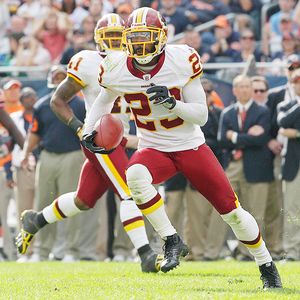 AP Photo/Charles Rex ArbogastDeAngelo Hall recorded four interceptions in Sunday's win.
RISING
1. DeAngelo Hall, Washington Redskins cornerback:
Earlier in the week, Hall and defensive coordinator Jim Haslett reportedly had a dispute while watching film of a loss against the Colts. Maybe they should try that more often. Hall was brilliant against
Jay Cutler
and the
Chicago Bears
with four interceptions, one of which he returned 92 yards for a touchdown.
2. Albert Haynesworth, Washington Redskins defensive tackle:
Obviously it was his best performance of the season against the Bears. His one-man goal-line stand against Cutler completely changed the game. And Haynesworth also picked up a sack. He was the most dominant defensive player in that game Sunday. Haslett's done a nice job of getting him in situations that remind him of his Titans days.
3. Hakeem Nicks and Steve Smith, New York Giants wide receivers:
Nicks and Smith overwhelmed the Cowboys' defensive backs. I've been saying this might be the best trio of wide receivers (
Mario Manningham
's the third) in the league, and they certainly lived up to that type of billing Monday. Smith's acrobatic catch across the middle in the first half set the tone for the rest of the game. And Nicks has become one of the most dangerous receivers in the league after the catch. Now, if they could both stop tipping balls ...
October, 26, 2010
10/26/10
3:00
AM ET
By
Matt Mosley
| ESPN.com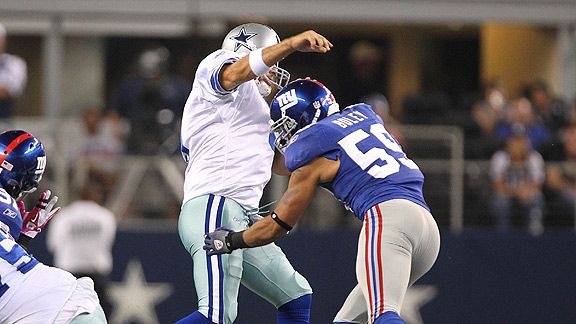 Matthew Emmons/US PresswireMichael Boley's hit knocked Tony Romo out of Monday's game with a broken left clavicle.
ARLINGTON, Texas -- As he ran off the field following the extra point that put the Cowboys up 20-7,
New York Giants
defensive end
Justin Tuck
was actually laughing. The Giants had already turned the ball over three times and allowed a 93-yard punt return for a touchdown and Tuck wondered what else could go wrong.
"Honest to God, I was laughing like crazy," Tuck told me following the Giants'
41-35 win
over the Cowboys on Monday night. "I knew if we could survive that start, [the Cowboys] would have no shot. I mean, what else could happen to us at that point?"
The Giants absorbed the Cowboys' best blow and then ran off 31 unanswered points to put the Cowboys out of their misery -- at least for the 2010 season. The biggest blow came with 12:20 left in the second quarter. Dallas quarterback
Tony Romo
delivered a pass to
Miles Austin
just before being blasted by Giants linebacker
Michael Boley
. Replays showed Cowboys fullback
Chris Gronkowski
abandoning his post in favor of a short pass route, allowing Boley a clear path to the quarterback.
The Cowboys were winning 10-7 at the time, but the sound of silence from 90,000-plus fans told the story. Romo has a broken left clavicle and owner Jerry Jones said he's likely out 6-8 weeks, which is long enough to rule out any late-season heroics for this team. It was a clean hit by Boley, and Romo became the fifth quarterback the Giants have knocked out of a game this season.
"When he hit the ground, I heard a little scream," Boley said of Romo. "So I knew something was up. But I didn't think he was going to lay down. I thought it was just a normal hit. After I got up and started running, I looked back after the play was over and he was still down."
The only team to make the playoffs after a 1-5 start was the 1970
Cincinnati Bengals
. And with
Jon Kitna
now at the helm in Dallas, something tells me those Bengals can break out the champagne -- if they're into that sort of thing.
We'll never know whether the Giants (5-2) would've won with Romo in the lineup for four quarters, but they're not interested in looking back. They'll enter the bye with a four-game winning streak and a one-game lead in the NFC East over both the Redskins and Eagles. In the watered-down NFC, this is what passes for an elite team. Even coach Tom Coughlin took a moment to crow about his team's performance.
"As I said to our team, tonight there were times where we were as good as there is in the NFL, in both phases," said Coughlin.
Asked if he recalled winning a game in which his team had five turnovers and allowed a 93-yard return, Coughlin deadpanned, "I don't think so. I can't remember. Thank God I don't remember many 93-yard returns."
Quarterback
Eli Manning
had two of his first three passes intercepted by a Cowboys team that entered the game with only two on the season. Both of the interceptions were tipped by Giants receivers, so it's not like the quarterback was awful. After
Dez Bryant
's punt return put the Cowboys up 20-7, Manning went to work.
Cowboys cornerbacks
Terence Newman
and
Mike Jenkins
were both nicked up in the first half, so
Orlando Scandrick
was forced to play more than usual. Manning showed him no mercy on short touchdown passes to
Hakeem Nicks
and
Steve Smith
. On Smith's 14-yard touchdown in the second quarter, he simply exploded off the line and raced past Scandrick for an easy touchdown. Both Smith and Nicks surpassed 100 yards receiving in the game, combining for three touchdowns.
"We certainly were aware of it," said Coughlin when asked about the injured Cowboys corners. "When we're running the ball, we can get a guy blocking the safety, the corner has to make the play.
Brandon Jacobs
on a corner is a matchup in our favor."
The Cowboys' defense has a way of reviving careers, and that's what it did for Jacobs in allowing him to bounce outside for a 30-yard touchdown run in the third quarter to stake the Giants to an insurmountable 38-20 lead. Don't be fooled by the final outcome of the game, because those Cowboys points in the fourth quarter were nothing more than window dressing.
Despite their shaky start, the Giants were the best team on the field. It's a credit to their players that a 20-7 deficit never appeared to faze them. And though it's still early, at least one player was daydreaming about a return to Cowboys Stadium.
"I'd like to play here again in February," Tuck told me.
And that would be a reference to Super Bowl XLV. Let's just call it the Jerry Jones doomsday scenario.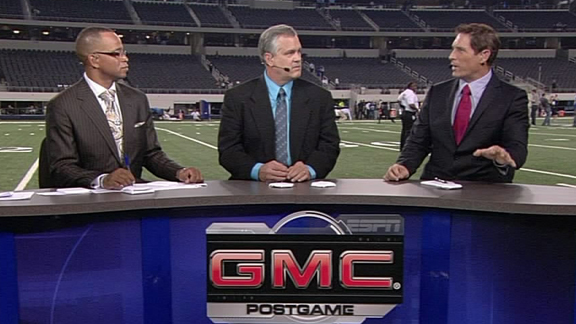 October, 10, 2010
10/10/10
3:28
PM ET
By
Matt Mosley
| ESPN.com
ARLINGTON, Texas -- No huge surprises with the inactives for Cowboys-Titans this afternoon. Here's the list:
Dallas Cowboys:
Emergency QB
Stephen McGee
, S
Michael Hamlin
, FB
Chris Gronkowski
, LB
Brandon Williams
, C
Phil Costa
, T
Sam Young
, T
Robert Brewster
, DE
Sean Lissemore
Tennessee Titans:
QB
Rusty Smith
, WR
Justin Gage
, CB
Jason McCourty
, S
Robert Johnson
, LB
Rennie Curran
, G/C
Leroy Harris
, T
Mike Otto
, DT
Sen'Derrick Marks
Kenny Britt
will take over for Gage in the Titans' starting lineup. Britt had more targets last week, so it shouldn't be a huge adjustment for him. In fact, I think Britt might be the Titans' most dangerous receiver today. We'll keep you posted.
Lot of folks at Cowboys Stadium keeping one eye on the Texas Rangers, who are playing the Rays down the street. The Rangers are trailing 5-1 as we speak. Still have no clue why Ron Washington removed Darren O'Day after facing one hitter last night.
But I'll save that anger for the radio.
April, 30, 2010
4/30/10
8:04
PM ET
By
Matt Mosley
| ESPN.com
IRVING, Texas -- The
Dallas Cowboys
have 24 players attending their 2010 rookie minicamp this weekend, but all eyes were on wide receiver
Dez Bryant
during Friday's morning practice. The good news for Cowboys fans is that Bryant made several nifty catches, including one where he reached up and snatched the ball with one hand. I also observed Bryant adjusting to a deep ball nicely when one of the quarterbacks threw it over his wrong shoulder.
He was the most talented player on the field, which is a good thing since he was the only first-rounder to make an appearance Friday. But now the bad news: In the eight Cowboys rookie minicamps I've covered over the years, I've never seen a player struggle this much from a conditioning standpoint. Wide receivers coach Ray Sherman made sure that Bryant had plenty of reps in each drill. And it only took about 45 minutes for Bryant to walk over to the sideline and attempt to puke.
Several cameramen gathered later to say that Bryant only had "dry heaves," but it was obvious that he was out of football shape. He later claimed to enjoy the whole experience since it had been so long since he'd scrimmaged.
"Just getting back in the flow,"
Bryant told reporters after his first practice
. "As the days go on, you will see a lot of progression."
One of the lesser-known wide receivers in camp was overheard shouting at Bryant during practice, "These people didn't come out here to see me. Let's go!."
Wide receivers coach Ray Sherman, who's tutored some of the best in the league, said he wasn't concerned about Bryant's conditioning -- or lack thereof. He even compared Bryant to
Cris Carter
and former Cowboys great
Michael Irvin
at one point.
"He's in a class of his own, though" said Sherman. "He's gonna be a special player. There's no doubt in my mind."
Bryant said he was relieved to find out the Cowboys have some similar routes to the ones he ran at Oklahoma State. He planned to spend a lot of time in his new playbook in order to learn the different terminology. On Friday, offensive coordinator
Jason Garrett
was purposely throwing a lot at Bryant to see how he responded. And like Sherman, he didn't appear to be concerned that Bryant struggled with his conditioning. The Cowboys believe that some time with strength and conditioning coach Joe Juraszek will eventually do the trick.
LB Lee wears a brace:
Former Penn State linebacker
Sean Lee
, a second-round pick, wore a brace on his left knee during Friday's practice. He had told Dallas-Fort Worth's 103.3 ESPN earlier this week that he would not wear a brace, but he was overruled by the Cowboys' medical staff. Lee had tore his anterior cruciate ligament in '08 and missed that entire season. He wore a brace throughout his senior season at Penn State, but was hoping to lose it for good.
"I hope I don't have to wear it [in 2010]," said Lee after practice.
He said that doctors and trainers wanted to be cautious since he was playing on a different surface than he's accustomed to. I asked Lee to come up with the most important thing he learned from legendary coach Joe Paterno.
"Just the extreme passion that he brings," said Lee. "He's 83 and he still coaches with a sense of urgency. And just all the intangibles. He wants us to succeed on the field, but he also wants us to be good young men."
Other notes:
Tough day for the young quarterbacks on the roster. Eastern Washington's Matt Nichols has a live arm, but he didn't know where his throws were going. The wide receivers dropped so many balls I stopped counting...My pick to click (as far as undrafted players go) is former Fresno State running back Lonyae Miller. He had the misfortune of playing behind first-rounder
Ryan Mathews
, but it's obvious the guy has some ability. He'll definitely be a practice squad candidate...I enjoyed watching fullback Chris Gronkowski in drills. He appears to have fairly soft hands, but more importantly, he fired off the ball and brought a lot of aggression in blocking drills...I'll have reports on the Redskins and Eagles throughout the weekend...Oh, and here's
the latest on the Scott Sicko saga
. He's "incredibly happy" to be a Cowboy after initially telling SI.com's Peter King that he was turning down all offers to play in the league after being passed over in the draft.