April, 21, 2010
4/21/10
9:00
AM ET
By
Matt Mosley
| ESPN.com
»
NFC Draft Tale
:
East
|
West
|
North
|
South
»
AFC
:
East
|
West
|
North
|
South
I've heard so many versions of the story where the Cowboys had a near-miss in the first round of the 2002 draft that I decided to go back for clarification Tuesday. Former assistant director of pro personnel Bryan Broaddus still marvels at how owner Jerry Jones was on the phone with Vikings vice president for player personnel Frank Gilliam, Chiefs general manager Carl Peterson and Jaguars coach Tom Coughlin at the same time.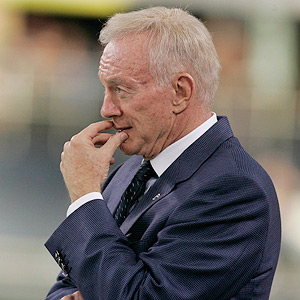 Tim Heitman-US PRESSWIRECowboys owner Jerry Jones was cool and collected despite almost missing a draft pick in 2002.
Jones, who had the No. 6 overall pick, was trying to determine who the Vikings were planning to take at No. 7 before swapping picks with the
Kansas City Chiefs
(No. 8). Jones found out the Vikings were not going to take Oklahoma safety Roy Williams (they picked
Bryant McKinnie
), so he traded down to No. 8 and selected Williams. We all know that Williams eventually flamed out in Dallas, but he was considered an excellent choice at the time. The Chiefs selected defensive tackle
Ryan Sims
No. 6 overall and the Jaguars took Tennessee defensive tackle
John Henderson
at No. 9.
"It was pretty impressive to see how calm Jerry was while working all those phones," Broaddus told me Tuesday. "You knew right then how good a negotiator he was."
But the Cowboys almost forgot to turn in their trade, which nearly allowed the Vikings to nab the sixth pick. A talented young scout from SMU named Chris Hall strolled into the draft room and asked whether the Cowboys had reported the trade to the league office. And that's when Stephen Jones, Jerry's son, took matters into his own hands.
"Jerry went to sleep at the wheel," former Cowboys scouting director Larry Lacewell told me a couple years ago. "And all the sudden someone shouts that we only have 10 seconds left."
According to Broaddus and at least two other eyewitnesses, Stephen dived across the table to grab the phone and inform the league about the trade. Jerry reportedly sat there with his arms crossed watching the whole thing play out. He'd likely been in tougher spots than this in the oil business.
"That's as close as I ever saw us come to losing one," said Lacewell, who remains close to the Jones family.
With the third-round pick the Cowboys acquired from the Chiefs in that trade, they selected Ohio State cornerback
Derek Ross
, who didn't pan out. But looking back, the Cowboys are just fortunate they submitted the trade on time. Vikings officials were rushing toward the table to make that No. 6 pick, but Stephen Jones' diving play saved the day.
May, 5, 2009
5/05/09
10:45
AM ET
By
Matt Mosley
| ESPN.com
| | |
| --- | --- |
| | |
| | AP Photo/Tony Gutierrez |
| | The Dallas Cowboys' practice field bubble lies on the ground after it collapsed following a storm in Irving, Texas, on Saturday. |
Posted by ESPN.com's Matt Mosley
IRVING, Texas -- As the skies over the Dallas Cowboys' Valley Ranch headquarters grew ominous Saturday afternoon, the obvious decision was to hold practice indoors. As is the custom during a rookie minicamp or any other practice, a member of the Cowboys' public relations staff escorted reporters past the outdoor practice fields toward the club's 80,000-square-foot indoor facility, where players and coaches had already gathered.
There was no indication that in less than an hour, many of them would be fearing for their lives. What follows is an attempt to piece together what happened in those chaotic moments after winds of up to 70 mph treated an enormous structure as if it were a toy. In conversations with reporters, video journalists and members of the Cowboys' organization, we've tried to reconstruct some of Saturday's events. Because club employees have been told not to speak to the media, they've been granted anonymity for this story.
Cowboys Facility Collapse
• VIDEO: Footage from collapse
• PHOTOS: The collapse
At about 3:15 p.m. local time Saturday, heavy rains began pounding the fabric-covered indoor facility at Valley Ranch. People who are used to being in the facility during rainstorms immediately recognized a louder roar than usual. A group of reporters and cameramen from four local TV affiliates was in its normal position near the south end zone while players went through team drills. As the rain continued to pelt the facility, Todd Archer of The Dallas Morning News remarked to public relations assistant Jancy Briles, "I wonder what this thing's wind resistance is?"
In a few moments, he would have his answer. The first major sign of trouble was the violent swaying of lights high above the field. At that moment, several people in the building became concerned that one of the lights -- about 3 to 4 feet in diameter -- might drop on a player or coach. Fox 4 cameraman Larry Rodriguez looked up and spotted Cowboys videographer Sam Cromley 40 feet above the field on a hydraulic lift.
"Sam's platform was waving back and forth like a flag," Rodriguez said. "And pretty soon after that, the whole building started to shake. It felt like you were in a ship."
The team's director of videography, Robert Blackwell, ordered Cromley to come down, but it was too late. As the roof and walls began to fold like an accordion, Cromley remained on the platform and basically rode it down to the ground. In some of the video footage captured by local TV affiliates, you can hear Cowboys assistant linebackers coach Dat Nguyen yelling, "Sam, Sam, Sam" as he rushed over to help Cromley escape from underneath the facility's vinyl covering.
Nearby, one offensive lineman could be seen wrapping his arms and legs around one of the few poles that hadn't fallen. He apparently thought a tornado had hit the building, and he was holding on for dear life. For some, the most haunting thing was the initial sound they heard when the building began to implode.
"To me, it sounded like bubble wrap," said Rodriguez, who suffered a laceration on his hand that required nine stitches. "You could just hear everything popping and snapping around you."