October, 17, 2012
10/17/12
12:02
PM ET
It has been more than 24 hours since
Philadelphia Eagles
coach Andy Reid fired defensive coordinator Juan Castillo, and Reid has made no announcement concerning an offense that's scoring fewer points per game than any team but the
Jacksonville Jaguars
. Reid said Tuesday that he would continue to look at everything, and strongly suggested more changes were on the way during the team's bye week, so it's possible there's still news to come on the other side of the ball. But I'd like to take this time to answer some of the most common questions I've been getting about the Eagles' offense over the past 24 hours.
1. Why fire Castillo and not offensive coordinator Marty Mornhinweg?
Well, technically, Reid still could. But I don't think he will, and there are a number of reasons why the Mornhinweg and Castillo cases are different. First, and most importantly, I think Reid likes Mornhinweg as an offensive coordinator. They've worked well together for the last seven years and have accomplished a lot together. I think Mornhinweg is the guy Reid would choose to be his offensive coordinator over other available candidates. I do not think the same was true of Castillo, the converted offensive line coach. Reid spoke with former Giants defensive coordinator Steve Spagnuolo about a job on the staff last offseason and hired
Todd Bowles
, who was a ready replacement on staff when Reid decided to fire Castillo. There is no Bowles equivalent on the offensive side of the Eagles' coaching staff, and that's because Reid has more faith in Mornhinweg than he apparently had in Castillo. Also, Reid is an offensive coach himself, and it's possible that firing the offensive coordinator could be construed as a greater admission of a failure by Reid himself than would the firing of the defensive coordinator.
2. Will Reid make a change at quarterback?
Michael Vick
's turnover issues have been the most glaring and crippling problem for the Eagles' struggling offense this year, and when asked directly about his quarterback situation Reid said he had not yet decided. It is entirely possible that he will bench Vick -- entirely possible that he's been giving rookie
Nick Foles
more work in closed practices than any of us realize, and that he'll announce at some point in the next week that Foles is the new starting quarterback. My educated guess, though, is that Vick starts the Atlanta game in 11 days but that one or two turnovers could get him benched, even mid-game. And if it happens, it might not even be a permanent benching but rather the latest effort to snap Vick out of the problem. Because Reid's coaching for his job, and he's not turning a still-breathing season over to Foles unless he really believes Foles gives him the best chance to win games right now.
3. If not quarterback or coordinator, what other changes could be made?
I expect some changes on the offensive line before the next game.
Reports indicate
that they are bringing in former Bears first-round pick
Chris Williams
, who was once a highly-regarded left tackle prospect but was cut this week. If they like what they see, they could give Williams a shot at left tackle. They could move
Todd Herremans
inside to replace the struggling
Danny Watkins
at right guard and play Williams or
King Dunlap
at right tackle. They could bring in someone else whose name hasn't been mentioned yet. I have a hunch the five guys who start on the offensive line against the Falcons might not be the same five that started against the Lions. The Eagles' line has been lousy, and they need to find a combination that works.
So those are a few thoughts, for those who have been asking. I will of course continue to keep you updated on all of this as best I can as the week unfolds.
April, 4, 2012
4/04/12
10:12
AM ET
Continuing our team-by-team series on the history of the specific draft picks each NFC East team has this year, we take a look today at the
Dallas Cowboys
, who have eight picks in this year's draft.
Turning up some interesting trivia in these. For instance, the Cowboys have the 186th pick, which produced Deacon Jones, and the 152nd pick, with which the
Houston Texans
last year took a quarterback who a few months later started their first two playoff games in franchise history.
PICK 14
(14th pick, first round)
Last five players taken
2011 --
Robert Quinn
, DE, Rams
2010 --
Earl Thomas
, S, Seahawks
2009 --
Malcolm Jenkins
, DB, Saints
2008 --
Chris Williams
, T, Bears
2007 --
Darrelle Revis
, CB, Jets
Cowboys' history of No. 14 picks
The Cowboys have never had the No. 14 pick.
Hall of Famers picked No. 14
Jim Kelly (1983), Gino Marchetti (1952), Len Ford (1948, AAFC)
Other notables
Jeremy Shockey
(2002), Eddie George (1996), Dick Stanfel (1951)
PICK 45
(13th pick, round 2)
Last five players taken
2011 --
Rahim Moore
, DB, Broncos
2010 --
Zane Beadles
, G, Broncos
2009 --
Clint Sintim
, LB, Giants
2008 --
Jordon Dizon
, LB, Lions
2007 --
Dwayne Jarrett
, WR, Panthers
Cowboys' history of No. 45 picks
1968 -- Dave McDaniels
Hall of Famers picked No. 45
Dave Casper (1974)
PICK 81
(19th pick, third round)
Last five players taken
2011 --
DeMarcus Van Dyke
, DB, Raiders
2010 --
Earl Mitchell
, DT, Texans
2009 --
Roy Miller
, DT, Buccaneers
2008 --
Early Doucet
, WR, Cardinals
2007 --
Jay Alford
, DT, Giants
Cowboys' history of No. 81 picks
1984 -- Fred Cornwell
1982 -- Jim Eliopulos
1981 -- Glenn Titensor
1977 -- Val Belcher
Hall of Famers picked No. 81
None, though Art Shell was the 80th pick in 1968 and Joe Montana was the 82nd in 1979.
PICK 113
(18th pick, round four)
Last five players picked
2011 --
Chimdi Chekwa
, DB, Raiders
2010 --
Aaron Hernandez
, TE, Patriots
2009 --
Vaughn Martin
, DT, Chargers
2008 --
Dwight Lowery
, CB, Jets
2007 --
Brian Smith
, DE, Jaguars
Cowboys' history of No. 113 picks
1989 -- Keith Jennings
1984 -- Steve Pelluer
1975 -- Kyle Davis
Hall of Famers picked No. 113
None. But Steve Largent was picked 117th in 1976 and George Blanda was picked 119th in 1949.
PICK 135
(40th pick, fourth round)
Last five players picked
2011 --
Ricky Stanzi
, QB, Chiefs
2010 --
Dominique Franks
, DB, Falcons
2009 --
Troy Kropog
, T, Titans
2008 --
Josh Sitton
, G, Packers
2007 --
Joe Cohen
, DT, 49ers
Cowboys' history of No. 135 picks
1983 -- Chuck McSwain
Hall of Famers picked No. 135
None. Closest were Jackie Smith and Roger Staubach, who were picked No. 129 in 1963 and 1964, respectively.
PICK 152
(17th pick, round 5)
Last five players picked
2011 --
T.J. Yates
, QB, Texans
2010 --
Otis Hudson
, G, Bengals
2009 --
James Casey
, TE, Texans
2008 --
Letroy Guion
, DT, Vikings
2007 --
Antonio Johnson
, DT, Titans
Cowboys' history of No. 152 picks
1984 -- Eugene Lockhart
1969 -- Rick Shaw
Hall of Famers taken No. 152
None. Closest I found was Arnie Weinmeister, No. 166 in 1945.
PICK 186
(16th pick, round 6)
Last five players taken
2011 --
D.J. Smith
, LB, Packers
2010 --
Clifton Geathers
, DE, Browns
2009 --
Robert Henson
, LB, Redskins
2008 -- Colt Brennan, QB, Redskins
2007 --
Thomas Clayton
, RB, 49ers
Cowboys' history of No. 186 pick
2003 -- Zuriel Smith
1976 -- Greg Schaum
Hall of Famers picked No. 186
Deacon Jones (1961)
PICK 222
(15th pick, round 7)
Last five players taken
2011 --
Anthony Gaitor
, DB, Buccaneers
2010 --
Marc Mariani
, WR, Titans
2009 --
Pat McAfee
, P, Colts
2008 -- Chester Adams, G, Bears
2007 -- Derek Schouman, FB, Bills
Cowboys' history of No. 222 picks
1984 -- Mike Revell
1978 -- Homer Butler
Hall of Famers picked No. 222
None. Closest was Andy Robustelli, picked 228th in 1951
September, 21, 2010
9/21/10
1:00
PM ET
By
Matt Mosley
| ESPN.com
»
NFC Decisive Moments
:
East
|
West
|
North
|
South
»
AFC
:
East
|
West
|
North
|
South
Lots to choose from this week, but I'm going with a decisive moment that turned Sunday's game around for the
Chicago Bears
and allowed offensive coordinator Mike Martz to plant seeds of doubt in coach Wade Phillips' mind. Trailing 7-3 in the second quarter, the Bears were finally on the move. On the first three series, quarterback
Jay Cutler
had been battered behind an offensive line that had already lost left tackle
Chris Williams
to injury.

Cowboys coach Wade Phillips dialed up a blitz with "zero" coverage that did not feature his usual free safety help in the middle of the field. Martz, who had already told Cutler to stop worrying about seven-step drops that took too long to develop, called for an empty backfield with four wide receivers and a tight end. Safety
Alan Ball
lined up across from tight end
Greg Olsen
, who would soon end up with a 39-yard touchdown to give the Bears a 10-7 lead.
Cowboys inside linebackers
Bradie James
and
Keith Brooking
bunched together and showed blitz up the middle. James would later tell ESPN 103.3 that he called a "check" that not everyone heard. Brooking held up on the blitz at the last second, but it was too late because Olsen came free across the middle. Since Ball was the player chasing Olsen, some of us assumed it was his fault. But Phillips said that Olsen wasn't Ball's responsibility.
In his weekly Scout's Eye report
for ESPNDallas.com, former Cowboys and Eagles scout Bryan Broaddus points out that James is normally quite vocal with his calls. Why wouldn't he have been more demonstrative in that situation?
It was a decisive moment in Sunday's game because it caused Phillips to back off some of the aggressive blitzes that allowed him to bother Cutler early in the game. The Cowboys did a nice job against the Bears on third downs (1-of-11), but they simply gave up too many big plays on the other downs. Martz made a really nice adjustment and the Cowboys didn't respond.
September, 19, 2010
9/19/10
9:09
PM ET
By
Matt Mosley
| ESPN.com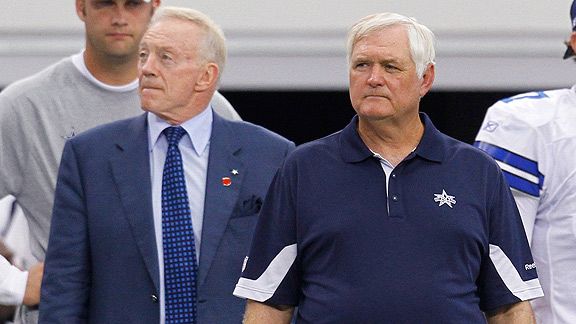 AP Photo/Tim SharpWade Phillips and the Cowboys are 0-2 with unexpected issues on defense.
ARLINGTON, Texas -- A week after Cowboys head coach Wade Phillips and offensive coordinator
Jason Garrett
fought over who should take the blame for a bone-headed play call, they made it easier for all of us Sunday. Both coaches flopped in the Cowboys'
27-20
loss to the
Chicago Bears
, but it was Phillips' vaunted defense that took the biggest fall.
This defense hadn't allowed a touchdown in three consecutive regular-season games, but Bears offensive coordinator Mike Martz seems to have the Cowboys' number. He was the architect of a game plan that baffled the Cowboys late in the 2006 season and nudged Bill Parcells toward another retirement. Lions quarterback
Jon Kitna
, now the Cowboys' backup, would famously say that linebacker
Bradie James
appeared completely lost in that game.
Early in Sunday's game, Bears quarterback
Jay Cutler
was running for his life as outside linebackers
DeMarcus Ware
and
Anthony Spencer
raced past offensive tackles. To make matters worse, the Bears lost starting left tackle
Chris Williams
in the first quarter. After the third consecutive three-and-out series, Cutler shouted, "Can't we block anybody?" as he arrived on the sideline.
Cowboys first-round pick
Dez Bryant
returned the ensuing punt 62 yards for a touchdown and there were no signs of what was about to happen. Martz changed the game plan on the fly and told Cutler to stop worrying about seven-step drops and just get the ball out immediately. When Phillips sent inside linebackers James and
Keith Brooking
on a blitz up the middle, Cutler hit tight end
Greg Olsen
in stride for a 39-yard touchdown. Everyone with the Cowboys agreed it was a blown coverage, although Phillips did offer safety
Alan Ball
an alibi.
When a reporter timidly suggested the Cowboys might have shown blitz too early on the play, Phillips deadpanned, "
Really
?"
The Bears don't make their assistant coaches available after games, but Cutler (and several Cowboys defenders) gave Martz his props. The Bears don't have a true No. 1 receiver, but Cutler thinks that can be a positive.
"I think it's almost even a bigger advantage to have what we have and have a lot of weapons," the Bears' quarterback said. "It keeps teams off balance. They don't know where we are going or what we are doing in some of these formations or where we are headed, so it is working out to our advantage, and we have a guy like Mike Martz who knows how to take advantage of all that."
Phillips couldn't get over the fact the Bears were 1-of-11 on third downs but still managed to make some huge plays against his defense. The one conversion came on third-and-15 with the Bears trailing 14-10. Bears wide receiver
Johnny Knox
raced past Pro Bowl cornerback
Mike Jenkins
and Cutler delivered a gorgeous ball for a 59-yard completion. Jenkins jumped up looking for a teammate to blame, but Phillips indicated to me after the game that the Cowboys were in man-to-man coverage.
Cowboys history buffs/apologists will point to the 1993 team beginning the season with two losses before winning the Super Bowl. But a young player named
Emmitt Smith
ended his holdout in Week 3 of that season, and he's not walking through that door.
[+] Enlarge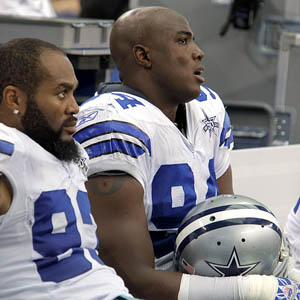 AP Photo/Sharon EllmanAnthony Spencer (left), DeMarcus Ware and the Dallas defense couldn't solve Mike Martz's schemes.
In the postgame locker room, Cowboys defensive line coach Paul Pasqualoni gathered
Marcus Spears
,
Igor Olshansky
,
Jay Ratliff
and
Stephen Bowen
for a brief session. All of them still looked shell-shocked by what had happened and could offer little explanation for why the Bears were able to expose them with so many big plays. Across the room, cornerback
Terence Newman
offered the strongest comments of the afternoon, indicating there had been failures in practice leading up to Sunday's game.
"I think that things kind of got let go in practice. It's things that … it's not our coaches. They don't really know some of the things that were going on," said Newman. "But as players, we have to crack down and make sure that some of the stuff that has been going on, doesn't go on. We have to make it a game situation in practice. That's just what it is. We go hard in practice, but maybe our intensity needs to go up a little bit. We got to do that as players and not worry about the coaches."
It was Newman's missed tackle in the fourth quarter that allowed
Devin Hester
to race down the sideline for 38 yards and set up the Bears' game-sealing touchdown. Newman said the defensive backs talked on Saturday night about establishing an identity, but the search will continue as the Cowboys prepare for a trip to Houston to play an explosive Texans team.
With two strong AFC South opponents looming, the Cowboys are staring at an 0-4 start. It's too early to declare the season over, but get back to me next Sunday afternoon.