September, 2, 2014
Sep 2
7:59
AM ET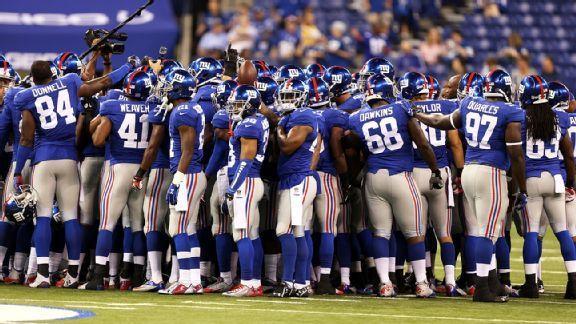 ESPN.com
New York Giants
reporter Dan Graziano makes his game-by-game picks for the 2014 season.
Week 1: at Detroit Lions
The Giants are coming off a mess of a preseason, undermanned and overwhelmed, with the offensive line still a mess and the new offense not clicking at all. No one will pick them to win this game. Except me. Prediction: Win
---
Week 2: Arizona Cardinals
This one's a comedown off the Week 1 surprise, as Arizona's banged-up defense still manages to flummox Eli Manning and collect a few interceptions. It's a bummer of a home opener as reality begins to set in. Prediction: Loss
---
Week 3: Houston Texans
Houston's defense is as liable as Arizona's to make life miserable for Manning and the offensive line. But Houston has bigger questions on offense than even the Giants, and this is a win for the New York defense against Ryan Fitzpatrick. Prediction: Win
---
Week 4: at Washington Redskins
The short week and Washington's stellar crew of offensive weapons prove too much for the Giants to overcome. Will Beatty still sees Brian Orakpo in his nightmares. Prediction: Loss
---
Week 5: Atlanta Falcons
The pattern continues, and the Giants overcome two Osi Umenyiora sacks to outscore the Falcons with a furious Manning comeback in the final minutes. The Giants poke their heads over the .500 mark as they make the turn into the most brutal stretch of their schedule. Prediction: Win
---
Week 6: at Philadelphia Eagles
The Giants don't have Matt Barkley to kick around this time when they visit the City of Brotherly Love. Chip Kelly and the Eagles show them what a truly innovative offense looks like. Prediction: Loss
---
Week 7: at Dallas Cowboys
The season-long debate about what gives when an anemic Giants offense meets a pathetic Cowboys defense tilts in Dallas' favor in the first meeting. Tony Romo & Co. have more than enough weapons to outscore Manning and his bunch, and the Giants hit the bye with a 3-4 record. Prediction: Loss
---
Week 9: Indianapolis Colts
After a long break before the Monday night home game, the Giants get taken apart by Andrew Luck, Hakeem Nicks & Co. at MetLife Stadium for a third straight loss. The offense is starting to run more smoothly, but it still doesn't have enough playmakers to outscore one of the league's better offenses. Prediction: Loss
---
Week 10: at Seattle Seahawks
You're kidding, right? Prediction: Loss
---
Week 11: San Francisco 49ers
The Giants have obviously handled the Niners in recent years and in some high-profile situations. But by this point in the season, San Francisco's defense is back to full strength, and the 49ers can't afford to lose ground to the Seahawks by failing to beat the team Seattle just beat the week before. Prediction: Loss
---
Week 12: Dallas Cowboys
A sixth straight loss is by no means out of the question here, as Romo and his crew still have the potential to outscore anyone in a given week. But from this far out, I'll forecast that something goes wrong for Romo late in this game, and the Giants get a gift. Prediction: Win
---
Week 13: at Jacksonville Jaguars
This is where the schedule starts to soften up, when the Giants start playing teams that insist on not starting their best quarterback. It's unfortunate they're 4-7 at this point and just about out of the playoff hunt, but they will get it going against the bottom-feeders. Prediction: Win
---
Week 14: at Tennessee Titans
I think the Titans are going to be dreadful this year, and by December they won't be very difficult for anyone to beat, even at home. A third straight victory keeps the Giants' hopes alive. Prediction: Win
---
Week 15: Washington Redskins
Have to be honest: The NFC East is so unpredictable that, when doing these predictions, I just decided to give the Giants a 3-3 division record with victories in all three home games and losses in all three road games. It's as fair a way as any to do it, I believe. Prediction: Win
---
Week 16: at St. Louis Rams
After moving back to .500 with four straight wins, the season falls apart at the hands of the St. Louis pass rush. An offensive line that has once again been the Giants' biggest problem all year can't protect Manning in a must-win game. Prediction: Loss
---
Week 17: Philadelphia Eagles
Tom Coughlin's teams can always find a way to play for pride. The Giants' playoff hopes are extinguished, but they still manage to end the season on a high note and with a .500 record. Prediction: Win
---
Predicted Record: 8-8
June, 10, 2009
6/10/09
5:46
PM ET
By
Matt Mosley
| ESPN.com
Posted by ESPN.com's Matt Mosley
Philadelphia Daily News beat writer Les Bowen bumped into agent Drew Rosenhaus in the parking lot at the NovaCare complex Wednesday afternoon. Rosenhaus confirmed that the Eagles had reached a contract agreement with his client, rookie tight end Cornelius Ingram.
And it's always fun to see Drew Rosenhaus photographed with the Burger King mascot, who is now based in L.A. I'm not allowed to reveal his identity, but I went to school with the Burger King at Baylor. Seriously. He played wide receiver on a couple of those great Chuck Reedy teams.
Oh wait. Chuck Reedy didn't have any great teams?