August, 22, 2013
8/22/13
10:40
PM ET
ARLINGTON, Texas -- One of the reasons why Jason Garrett likes to have a training camp practice at AT&T Stadium is for the current players to mix and mingle with the former players and learn the history of the
Dallas Cowboys
franchise.
Cliff Harris spoke at the dinner following the two-hour practice and was one of six members of the Ring of Honor in attendance, along with Roger Staubach, Lee Roy Jordan, Rayfield Wright, Mel Renfro and
Charles Haley
.
Players representing every era of Cowboys' football were on hand, as well, including Butch Johnson,
Jay Novacek
, Billy Joe DuPree, John Fitzgerald and
Ken Hamlin
.
"I want to get my helmet and go through some of these exercises with some of these guys," said Wright, a Hall-of-Fame offensive tackle who played for the Cowboys from 1967-80.
Wright was looking forward to talking to some of the offensive lineman at the dinner.
"There's just little techniques that you could communicate with some of the young guys," Wright said. "We have the talent, skills and ability. These guys have great talent. They're a lot bigger than we were when I played the game. But they have great talent and if I had the opportunity to sit down and just talk to some of these guys on a personal, one-on-one level, it would be fantastic for me."
June, 22, 2012
6/22/12
2:25
PM ET
Yes, the NFC East position series rolls on, a fine way to pass a slow offseason Friday. We're doing cornerbacks today, and this stop takes a look at those of the
Philadelphia Eagles
.
Projected starters:
Nnamdi Asomugha
,
Dominique Rodgers-Cromartie
Reserves:
Joselio Hanson
,
Brandon Boykin
,
Brandon Hughes
,
Curtis Marsh
,
Trevard Lindley
,
Cliff Harris
[+] Enlarge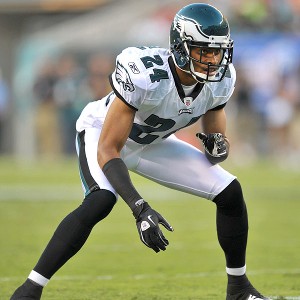 Drew Hallowell/Getty ImagesEagles cornerback Nnamdi Asomugha is at his best in man coverage.
Potential strength:
Asomugha was signed as a marquee free agent last year, and should be one of the strengths of the entire team. As you know if you watched, he obviously had his moments, but he also had some rough spots. The conventional wisdom is that the Eagles played too much zone coverage last season, and that went away from Asomugha's strengths in an effort to minimize
Asante Samuel
's weakness. But with Samuel gone, it's possible the Eagles will play more man coverage, where Asomugha shines. With a full year in his new surroundings behind him, and assuming the coverage schemes are tweaked to make him more comfortable and use him the way he should be used, Asomugha should find himself in position to re-establish himself as one of the league's elite cornerbacks.
Potential weakness:
The departure of Samuel not only eats at the team's depth at the position, it deprives them of the cornerback who actually played the best for them last season. Samuel's playmaking was an asset, and it remains to be seen whether Rodgers-Cromartie, whom they got in return for
Kevin Kolb
last year and is earning rave offseason reviews, can be the same kind of player. But the big question is that the nickel corner spot, where Hanson wasn't as good last season as he'd been the year before, and now faces a challenge from the rookie Boykin. With Samuel gone and Hanson a question mark, have the Eagles left themselves too thin at a critical position?
Keep an eye on:
Harris. He was looked at as a first-round talent during a brilliant 2010 season at Oregon, but his 2011 season disappeared in a haze of suspensions and legal troubles. So he wasn't drafted, but the Eagles took a shot on him as an undrafted free agent. If he can keep himself out of trouble and focus on football, he could turn out to be a huge steal. He was an elite playmaker at a top college program just two years ago. And if not, no harm done. Lots of upside with this young man, and he's a guy to watch. ("Guy to Watch!")
July, 8, 2010
7/08/10
12:00
PM ET
By
Matt Mosley
| ESPN.com
A weeklong look at current or former players or coaches with Hall of Fame potential in the division.
Cowboys
: Cliff Harris, free safety
[+] Enlarge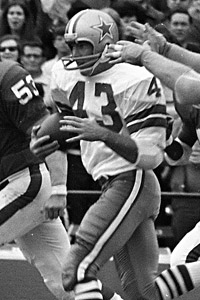 AP PhotoCliff Harris was the safety by which others were measured for years after he retired.
Claim to fame
: Member of the 1970s all-decade team. Wasn't drafted out of Ouachita Baptist University in Arkansas, but immediately won the free safety role. Nicknamed "Captain Crash," he was one of the most feared defenders in the game.
Case for enshrinement
: He was a finalist in 2004 and certainly deserves to be in the Hall. For years, safeties entering the league were compared to Cliff Harris. He was the rare player who was excellent against the pass but could also blow up running plays. He took Tom Landry's complicated flex defense and added his own spin. Harris, a highly intelligent player, finally made it into the club's hallowed Ring of Honor in 2004.
Harris studied opponents for hours at a time and he punished wide receivers who ventured over the middle. Cardinals great Larry Wilson, who's in the Hall of Fame, has said that Harris was the best safety he'd ever watched. Harris went to six Pro Bowls and he and Ken Houston were considered the best safeties from the '70s.
Case against enshrinement
: It's tough to build a case against Harris. But the fact that he had only 29 career interceptions probably works against him. Wilson had 52 and Houston finished with 49. Harris walked away from the game after the '79 season when he was still going to Pro Bowls (age 31). I'm sure he could have collected 10 to 15 more interceptions.
And those Super Bowl losses to the Steelers in the '70s didn't help matters. If the Cowboys win one of those games, they probably would have two or three more players in the Hall than they have. I think Harris would've been one of those players.
Bottom line:
In a lot of ways, Harris redefined how the safety position was played, and that should be rewarded by the selection committee.
Best player who will never make it:
For my money, it's Drew Pearson. His stats don't hold up in this era, but he played a huge role in Roger Staubach's success. And though he had only a couple of 1,000-yard seasons, he made clutch catches seemingly all the time. Ask Redskins fans from the '70s if they think Pearson belongs in the Hall of Fame.
Eagles:
Donovan McNabb
, quarterback
Claim to fame:
Took over as the full-time starter in 2000 and took the Eagles to five NFC title games and one Super Bowl in that decade. Has been selected to six Pro Bowls and has the fourth lowest interception percentage of all time. Became the first NFL quarterback to throw 30 touchdowns and fewer than 10 interceptions in 2004. The best quarterback in the history of the Eagles.
Case for enshrinement:
His numbers compare favorably to Hall of Famer
Jim Kelly
, who never won a Super Bowl. And McNabb put up monster numbers with average to subpar wide receivers (except for
Terrell Owens
).
DeSean Jackson
was a rookie when McNabb led the Eagles to the NFC title game in '08. Other than the Patriots, the Eagles were the most dominant team of the past decade and McNabb played a huge role in their success. McNabb also compares favorably to Hall of Famer
Steve Young
, although he's missing one very important piece of jewelry. McNabb's one of only six quarterbacks to pass for 25,000 yards and rush for 3,000. And his lower-body strength still makes him one of the most difficult quarterbacks in the league to sack. McNabb's lost some of his athleticism, but he still has a cannon for an arm.
Case against enshrinement:
Those five NFC title games we discussed? Well, the Eagles lost four of them. And it's not as if McNabb strung together excellent performances in those games. He'll also be remembered for throwing three interceptions against the Patriots in the Super Bowl following the '04 season. It was the beginning of the end of the McNabb-T.O. relationship.
I think McNabb will always be appreciated more by the national media more than the folks in Philly. Every game has been dissected, so Eagles fans simply got to know him a little too well. His career has honestly been more consistent than
Kurt Warner
's. But Warner has the ring and he finished strong with the Cardinals.
Bottom line:
Another trip to the Super Bowl would help his cause immensely, but he's already in the Canton conversation.
Best player who will never make it:
Wide receiver Harold Carmichael's numbers might not look special compared to
Randy Moss
and Owens, but he was an elite receiver from his era. His numbers completely trump Hall of Famer Lynn Swann's. Carmichael finished with 254 more receptions and 28 more touchdowns than Swann. Of course, Swann has the four rings and that's the biggest reason he's in Canton.
Giants:
Tiki Barber
, running back
[+] Enlarge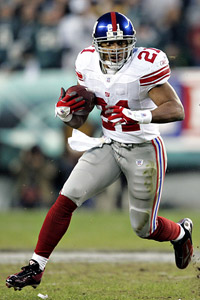 James Lang/US PresswireTiki Barber finished his career with five consecutive seasons of at least 1,200 yards rushing.
Claim to fame:
For the record, I'd originally chosen former defensive end
Michael Strahan
, but his "no-brainer" status for the Hall doesn't lend itself to a good argument. Barber may have left a sour taste with his early retirement, but he put up some impressive numbers. As Daily News columnist Gary Myers once pointed out, Barber may have left 3,000 yards on the table. He's the greatest running back for one of the most storied franchises in the league. Doesn't that count for something?
Case for enshrinement:
He finished strong with five consecutive seasons of at least 1,200 yards rushing. And his 15,632 yards from scrimmage (rushing and receiving) ranked him 10th on the league's all-time list upon his retirement following the '06 season. In 154 regular-season games, Barber averaged 101.5 yards from scrimmage per game. That puts him in an elite group with the likes of Walter Payton and
Barry Sanders
.
Barber led the franchise in all-time receptions with 586 at the time of his retirement. And he was still on top of his game when he walked away after '06 -- as evidenced by a 200-yard performance against the Redskins. He was the Giants' leading rusher in 80 consecutive games from 2002 until 2006, which speaks to his consistency.
Case against enshrinement:
Super Bowl rings talk, and Barber retired a season before the Giants broke through in '07. And he certainly left a lot of yards on the table when he walked away at age 31. There's a chance that he could've had at least two more highly productive seasons. Like
Emmitt Smith
, he had the ability to avoid the big hits that knock running backs out of games. Barber was one of the best backs in the league over his final five seasons, but I suspect that won't be enough. And it doesn't help that
Ricky Watters
is ahead of him on the all-time rushing list. Watters isn't getting in the Hall -- and Barber probably will meet the same fate. By the way, can any of you make a case against Strahan? I'd be interested to see what that looks like. I guess you could point out the fact that
Kevin Greene
has nearly 20 more career sacks. But that's about as far as I got.
Bottom line:
Barber's early retirement probably cost him a shot at the Hall.
Best player who will never make it:
I realize that
Phil Simms
has said he wouldn't elect himself, but I think he deserves honorable mention. He took a beating his first few years in the league and then had to deal with Bill Parcells, a man who chews up quarterbacks. What Simms did in Super Bowl XXI was remarkable. His 22-of-25 performance earned him the Super Bowl MVP. Simms was a huge part of Parcells' success with the Giants, so I'd have no problem with him being in the Hall of Fame.
Redskins:
Gary Clark
, wide receiver
[+] Enlarge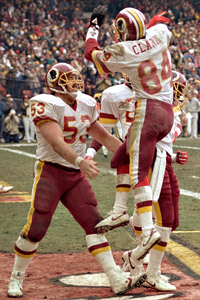 AP Photo/Scott StewartGary Clark caught 65 touchdowns during 11 NFL seasons.
Claim to fame:
He didn't have the longevity of
Art Monk
, but he was brilliant during his eight seasons with the Redskins. In the late '80s and early '90s, I thought he overtook Monk as the best receiver on the team. He could stretch the field with his speed, but he was also willing to go across the middle -- as evidenced by his annual appearances on the All-Madden team.
Case for enshrinement:
The thing that always jumps out at me is that Clark had 65 touchdowns in only 167 games. Art Monk's in the Hall of Fame with 68 touchdowns in 224 games. But I don't want to turn this into an anti-Monk argument. I think they probably both deserve to be in the Hall.
The fact that Clark was the top receiver on what I thought was the best Redskins team ever ('91) holds a lot of weight with me. He caught 70 passes for 1,340 yards and 10 touchdowns that season. Clark also had seven catches for 114 yards and a touchdown in the Super Bowl win over the Bills.
Clark was a player who inspired all of his teammates. And as of a couple of years ago, he was still inspiring the Redskins.
Santana Moss
told me about a time when Clark showed up to practice and told him to kick it into gear. Moss went on to finish the season strong after that talk in '07. Of all those great players from the Gibbs I era, Clark's the guy who always stands out to me. Perhaps he's hurt by the fact that Monk and
Ricky Sanders
were both so good.
Case against enshrinement:
He simply didn't do it for long enough. And one of his Super Bowl rings came in a strike-shortened season. If he'd played 16 games in the strike-shortened '87 season, I believe Clark would have had another 1,300-yard season. Those were pretty rare in those days, but he made it look easy.
Clark got a late start because he spent a couple of seasons in the USFL. Those are two years he could've put up big numbers for the Redskins in the mid-'80s. But to nearly reach 11,000 yards in a relatively short career (compared to Monk's) is pretty remarkable.
Bottom line:
Despite his brilliance, he just doesn't have the numbers to get in.
Best player who will never make it:
I hope I'm wrong about this one, but it's unlikely left tackle
Joe Jacoby
will enter the Hall. The Hogs finally have a representative with Russ Grimm. I think those dominant teams of the '80s that blew open holes for John Riggins deserve more, but it probably won't happen. Jacoby was a trailblazer of sorts because he didn't get in a three-point stance on obvious passing situations. He was one of the first players to do that, and it soon caught on around the league. I think it's pretty much a wash when you put Grimm and Jacoby next to each other, but that's just me. I'm also a big fan of defensive end
Charles Mann
's work in the '80s and early '90s.
Now, let's hear some of your arguments.
February, 10, 2010
2/10/10
11:40
AM ET
By
Matt Mosley
| ESPN.com
Let's take a quick look at the headlines from around the division. Things are fairly quiet this week, but that could change in a hurry.
Cowboys
Eagles
Giants
Redskins
December, 24, 2009
12/24/09
10:24
AM ET
By
Matt Mosley
| ESPN.com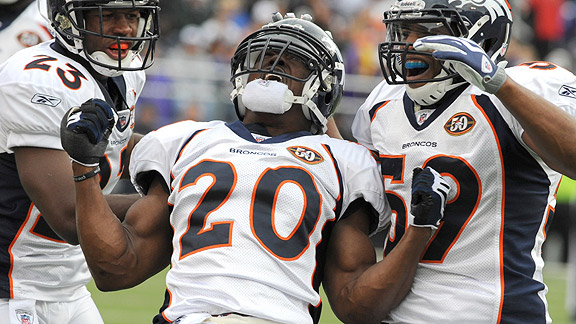 Al Messerschmidt/Getty Images
Brian Dawkins returns to Philadelphia this weekend and while Eagles fans may honor him, in the end they will be hoping for Broncos' breakdowns on defense.
In deciding which game to cover this weekend, I weighed the return of
Brian Dawkins
to South Philly against another trip to Landover, Md., to see a Redskins team that rolled over and played dead for the Giants on Sunday night. I feel pretty good about my decision to visit the Linc.
Both teams have something other than Bruce Allen to play for and I think the return of Dawk is going to be something to behold. In his 13 mostly brilliant seasons with the Eagles, his pre-game ritual of basically losing it for about three or four minutes was one of the most entertaining things in the league. I'm not sure if Dawkins will end up in the Hall of Fame, in part, because safeties really have a tough time (see Cliff Harris) breaking through. But Dawkins is one of the most beloved athletes in Philly sports history because of the passion that he brought to the field. He had a blue-collar approach to the game and this fanbase fell in love with him from the start.
Some reunions are completely overblown because players are well past their prime. When
Emmitt Smith
returned to Texas Stadium as an Arizona Cardinal, you almost felt a little sorry for him. He was soon knocked out of the game by safety Roy Williams, marring an already awkward reunion. (He'd made his infamous "diamond in the trash" comment about his final years in Dallas).
The return of Dawk feels different. He's galvanized a Broncos defense that had been former coach Mike Shanahan's downfall. Sometimes players roll their eyes when a veteran from another team shows up and tries to immediately become a vocal leader. But Dawkins arrived with so much credibility as a star in the league that it's been a natural transition. We can discuss
whether the Eagles erred in letting him walk
, but it really doesn't matter at this point.
He's one of the best players on a team that is fighting for a wild-card playoff spot. The Eagles have already qualified for the playoffs, so they're now focused on landing an opening-round home game. I realize there's a chance they could surpass the Vikings for the No. 2 seed, but that remains a long shot.
For Eagles fans, I believe this may be the most anticipated game of the season -- as longtime Philly sportswriter Les Bowen has stated. There's no word on any sort of ceremony for Dawkins before the game but you have to believe the Eagles will do something more than simply announce his name. So far this week, the Pro Bowl safety has held his emotions in check. He's steadfastly refused to revisit the negotiating process, which seems like the right approach. Eagles coach Andy Reid has heaped praise on Dawkins all week, but he's reminded everyone that this game isn't about individual matchups.
"Our team understands that we're not playing Buck and Dawk, we're playing the
Denver Broncos
," Reid said Wednesday, including former Eagles running back
Correll Buckhalter
. "They know that they need to study the team, as opposed to studying those two players."
I think there will be thunderous applause for Dawkins when he's introduced before the game. But after that, Eagles fans will get back to cheering for laundry. That's the way it should be. The way Dawkins would want it.
November, 30, 2009
11/30/09
8:00
AM ET
By
Matt Mosley
| ESPN.com
The Dallas Morning News asked 20 current and former staffers to come up with the top 50 Cowboys in the organization's first 50 years. Coaches, players, owners and administrators were all considered.
Here's the list
. And it should come as no surprise that
the late Tom Landry finished No. 1 overall
. I don't know how it could be any other way.
Here's the breakdown of the top 10:
1. Tom Landry
2. Roger Staubach
3. Emmitt Smith
4. Bob Lilly
5. Troy Aikman
6. Tony Dorsett
7. Randy White
8. Michael Irvin
9. Mel Renfro
10. Tex Schramm
Owner/general manager Jerry Jones checks in at No. 17, one spot ahead of safety Cliff Harris.
Jason Witten
is the highest-ranked current Cowboys player at No. 29 -- and I have no problem with that. He's been one of the top tight ends in the league since his 2003 rookie season.
DeMarcus Ware
is No. 36, but he'll probably end up much higher -- when the DMN does its 75-year list. Quarterback
Tony Romo
checks in at No. 47 and left tackle
Flozell Adams
rounds out the list at 50. I like the fact that Danny White cracked the top 30. He took a lot of abuse, but if he wins one of those three NFC title games, his legacy is completely different. His reputation also took a hit during the strike, but that doesn't change what he accomplished on the field.
I think Charles Haley ended up at No. 31 because he was only with the Cowboys from '92-'96, but the fact that he was a big part of three Super Bowl titles should've put him higher on the list. His behavior off the field is well-documented, but he was a brilliant pass-rusher who deserves to be about five spots higher.
I also think Cornell Green's too low at No. 25. I've had a lot of former players tell me that Green was one of the best defensive backs in league history. He got his hands on everything, but he dropped a lot of potential interceptions. I'm shocked that the late Mark Tuinei, the left tackle on those 90s Super Bowl teams, didn't receive a single vote. That makes no sense to me. Kicker Rafael Septien received a few votes, but a man who played 15 seasons at offensive tackle was shut out?
The selection panel came up with only a single vote for the great defensive coordinator, Ernie Stautner. Linebacker Ken Norton and defensive tackle Leon Lett didn't show up on the list, but both are worthy. Some people will argue that
Terrell Owens
should've been on the list. I'm not buying that one because he was only with the Cowboys for three seasons and the team didn't win a playoff game during that time.
It's pretty remarkable that two Hall of Famers -- Bob Hayes and Rayfield Wright -- didn't even crack the DMN's top 10. The only thing I'd change about the top 10 is that I'd probably put Bob Lilly in front of Emmitt Smith. I know that sounds crazy to some of you, but this list was about "greatest Cowboys," not the greatest NFL players. When I think about the players that have defined this franchise, Lilly comes before Smith in my opinion. They don't call him "Mr. Cowboy" for nothing.
What did you guys make of the list?
February, 3, 2009
2/03/09
4:40
PM ET
By
Matt Mosley
| ESPN.com
Posted by ESPN.com's Matt Mosley
In a blog entry Tuesday, Dallas Morning News columnist Jacques Taylor makes the point that no more Tom Landry-era Cowboys will make the Pro Football Hall of Fame now that Bob Hayes has been voted in.
He thinks that linebacker Chuck Howley and receiver Drew Pearson are the only two others from that era who belong in the Hall. I think safety Cliff Harris is also deserving of the honor. He just missed becoming a finalist in 2004, and he'll have a chance to be nominated by the senior committee.
Harris was a four-time All-Pro and he went to the Pro Bowl six consecutive seasons. He was also named to the All-Decade team for the '70s. He's hurt by the fact that the Hall hasn't been a welcoming place for safeties over the years. But the undrafted player out of Ouachita Baptist University made a huge impact on the game.
And don't forget about Cornell Green. He was a sensational defensive back who never received enough attention. If he'd had decent hands, there's no telling how many interceptions he would've finished with.