July, 11, 2014
Jul 11
10:00
AM ET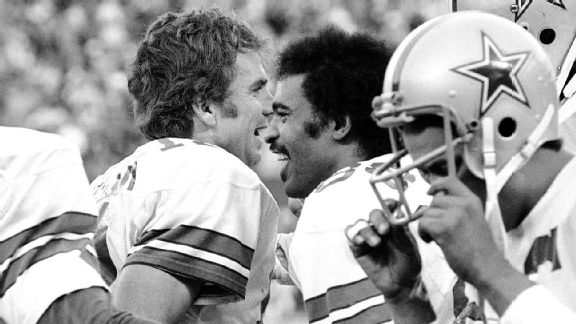 AP Photo/Bill Kostroum
Score:
Cowboys 17, Vikings 14
Date:
Dec. 28, 1975
Site:
Metropolitan Stadium
With nearly 40,000 votes cast, Roger Staubach's Hail Mary pass to Drew Pearson was voted as the most memorable play in
Dallas Cowboys
' history by the ESPN.com readers.
Troy Aikman's fourth-quarter pass to Alvin Harper in the 1992 NFC Championship Game against the
San Francisco 49ers
that set in motion the 1990s dynasty finished second. Bob Lilly's sack of Bob Griese in Super Bowl VI was a distant third even if it propelled the Cowboys to their first championship.

The voters got this one right. Staubach is the most iconic player in franchise history, and that play is frozen in time. It was one of the most iconic plays in NFL history and introduced "Hail Mary," into the league's lexicon. You cannot write the history of the NFL without that play.
To recap the play: With time running out in a 1975 divisional playoff game against the
Minnesota Vikings
, the Cowboys had the ball at midfield and needed a miracle. They had dominated statistically, but the Vikings had a 14-10 lead.
Staubach pumped to his left after taking the shotgun snap, in hopes of moving safety Paul Krause away from the sideline. As he pumped, Staubach said he nearly lost the ball and as a result the pass was underthrown.
Subsequently, Pearson had to pull up and either knocked Nate Wright down (Minnesota's version) or made an excellent adjustment to the ball (Dallas' version) to score the winning touchdown, pinning the ball against his right hip.
Some of you wondered why Tony Dorsett's 99-yard run, Emmitt Smith's carry in which he broke Walter Payton's rushing record or his stiff-arm of Lawrence Taylor playing with a separated shoulder, Clint Longley's Thanksgiving Day heave against the Redskins or even Leon Lett's miscue in Super Bowl XXVII didn't make the list.
Two of my personal favorites: Marion Barber's run out of the end zone against the
New England Patriots
breaking seven tackles and
Tony Romo
's first-down scramble vs. the
St. Louis Rams
after a shotgun snap sailed over his head didn't make the list either.
There needed to be some historic value to the play. The Hail Mary had that, so did Aikman-to-Harper and Lilly's sack.
But there's no question which play had the most value.
July, 11, 2014
Jul 11
10:00
AM ET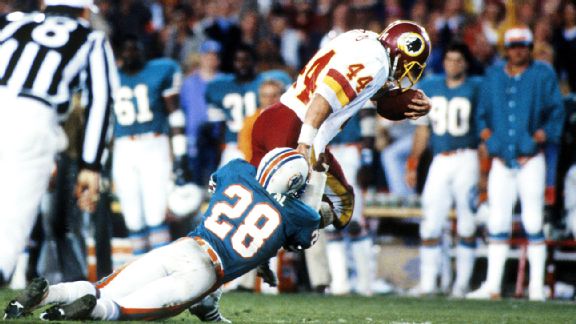 Manny Rubio/USA TODAY Sports
Score:
Redskins 27, Dolphins 17
Date:
Jan. 30, 1983.
Site:
The Rose Bowl, Pasadena, California
From the moment this project was announced, and before I tweeted a word on it, there was only one play in my mind that deserved top billing. When a team hasn't won an NFL title in more than 40 years ... and it trails by four points in the ultimate game ... and it's fourth-and-1 ... and the running back goes the distance? How exactly do you top that?
Fortunately and wisely, the fans agreed with my take. Which is why John Riggins' touchdown run against Miami in Super Bowl XVII was the runaway choice for the top spot. Riggins' run received 76 percent of the more than 30,000 votes and was solidly ahead shortly after the choices appeared on the blog.

Thing is, there were a few choices that didn't even make the list: Mark Moseley's 42-yard field goal in the snow to clinch a playoff spot in 1982; Clint Longley's bomb on Thanksgiving Day (not all memories are good ones); Sean Taylor's return of a blocked field goal attempt in the final seconds that led to a winning Redskins field goal over Dallas; Ken Houston's stop of Dallas running back Walt Garrison at the goal line; Joe Theismann's broken leg; and either of the two Santana Moss touchdown catches in the Monday night comeback win over Dallas. There are others as well.
But the right three were on the board. A Hall of Famer in Darrell Green making one of the biggest plays of a 20-year career. That garnered 16 percent of the vote. A clinching touchdown on an unlikely play -- an interception return by defensive tackle Darryl Grant -- to win the NFC Championship Game at home, providing a moment that likely still brings chills to those in attendance. But it wasn't big enough, receiving just 8 percent of the votes.
Riggins' run happened in the ultimate game. It happened on a fourth down. It gave Washington the lead. Shall I keep going? Based on the votes, the answer is no. You got it. And you got it right.
@john_keim These are great memories, but the list is (1) 70 Chip with John Riggins in Super Bowl and (2) everything else :)

— Dave Scarangella (@DullesDistrict) July 10, 2014
July, 7, 2014
Jul 7
10:00
AM ET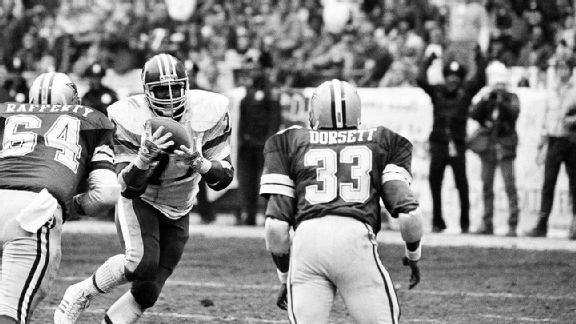 AP Photo
»
VOTE HERE
»
NFC Plays:
East
|
West
|
North
|
South
»
AFC:
East
|
West
|
North
|
South
This is the first of three plays nominated as the most memorable play in team history. In the next two days, we'll feature Darrell Green's punt return to beat the Chicago Bears in a 1988 playoff game and John Riggins' fourth-down, game-winning touchdown run in Super Bowl XVII against Miami. Please vote for your choice as the Redskins' most memorable play.
Score
: Redskins 31, Cowboys 17
Date
: Jan. 22, 1983
Site
: RFK Stadium
The day, and the game, were big enough already. Fans inside RFK Stadium started the chant long before kickoff, energizing the players and creating a lifelong memory. The chant, which started earlier that postseason in wins over Detroit and Minnesota, is brought out on occasion -- "We want Dallas!" -- but never was it said with more gusto than on Jan. 22, 1983, in the NFC Championship Game against the Cowboys.
There was a sense of excitement, a sense that perhaps the franchise was in the early stages of a good run under second-year coach Joe Gibbs.

What did it mean to the players, hearing the chant in the locker room?
"It sent a chill down your spine," Hall of Fame guard Russ Grimm said in "America's Rivalry" (a book I helped write).
Redskins fans who lived through the 1950s and '60s were used to disappointment. More accurately: They were used to bad football. From 1950 to '70, the Redskins managed three winning seasons. But a strong run in the 1970s under coach George Allen elevated expectations.
However, although they got close -- a Super Bowl loss that capped Miami's perfect 1972 season -- they never pushed through. And they had not been to the postseason since 1976.
So, with 7 minutes, 12 seconds left against Dallas, the Redskins clung to a 24-17 lead, but the Cowboys had hope. With backup quarterback Gary Hogeboom having earlier entered for a concussed Danny White, they had moved the ball and, after all, they had won six straight over their hated rivals. Fans were understandably nervous, still stung by the memory of another Cowboys backup passer: Clint Longley and his 50-yard bomb to beat the Redskins on Thanksgiving Day 1974.
But in this game, from their own 20, the Cowboys called for a screen that Washington had correctly anticipated. That led defensive tackle Darryl Grant to run to the area he knew the ball would be thrown. And when rushing defensive end Dexter Manley tipped the ball, Grant plucked it out of the air and high-stepped 10 yards into Redskins history. It's easily one of the most memorable plays in franchise history for what it represented and when it occurred. It clinched a victory and sent Washington to its second Super Bowl. Grant's spike landed on the cover of Sports Illustrated.
And the city, and franchise, started a party that lasted a decade.
@john_keim Grant TD most memorable cause that game biggest (?) win in franchse history. All thought 'Boys would win. Charlie Brown syndrome.

— Ben Standig (@BenStandig) July 2, 2014
September, 26, 2008
9/26/08
11:40
AM ET
By
Matt Mosley
| ESPN.com
Posted by ESPN.com's Matt Mosley
September, 11, 2008
9/11/08
12:00
PM ET
By
Matt Mosley
| ESPN.com
Posted by ESPN.com's Matt Mosley
Partly because the NFC East has been together so long (forget the Cardinals), it has the best rivalries in the league. If you ask this question in Philly, you'll automatically hear Eagles-Cowboys, but the Redskins-Cowboys rivalry has deeper roots.


Cowboys coach Tom Landry and Redskins coach George Allen helped make this such a special game that the rivalry remained even when both teams went through rough periods. Former Cowboys quarterback Roger Staubach will still tell you that he hates the Redskins, and at the center of it all, was Allen. The Cowboys once rented out an entire floor of a hotel because it was next to their practice facility. Landry and GM Tex Schramm were convinced that Allen had placed spies in the building.
Former Cowboys Cliff Harris and Charlie Waters once told me that Landry asked players to stop practicing any time he saw helicopters flying above. Allen loved causing the paranoia. At one point, he claimed that he had seen a Cowboys scout hiding in a tree during practice.
On the field, the two teams played some unforgettable games. Perhaps the most famous was when a rookie named Clint Longley replaced an injured Roger Staubach on Thanksgiving Day 1974 and threw two touchdowns in the second half, the last with less than a minute left, to beat the Redskins, 24-23. It was less than two weeks after the Redskins had beaten the Cowboys, 28-21, at RFK and it only added to the rivalry's lore.
Now, I'm anxious to hear what you consider the biggest rivalry in the division. Do the Giants, Eagles and Redskins all view the Cowboys as their biggest rivals? Let me hear from you.
Intensity Index: 2 (It's not as heated as it was in the 1970s and 80s, but it still packs a punch).