April, 17, 2014
4/17/14
11:20
AM ET
IRVING, Texas --
Josh Mauro
was like a lot of kids growing up in the area. He was a huge
Dallas Cowboys
fan. He even attended the final game at Texas Stadium, a loss to the
Baltimore Ravens
in 2008. He hoped one day he would wear the star on his helmet.
[+] Enlarge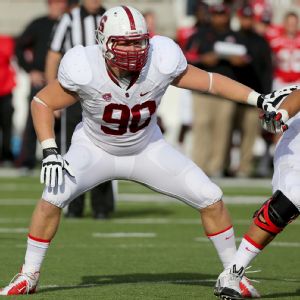 George Frey/Getty ImagesTexas native Josh Mauro had a breakout season for the Stanford Cardinal in 2013.
Today Mauro, who played defensive line at Stanford after leaving Hurst L.D. Bell, is at Valley Ranch with other Dallas Day hopefuls -- working out for the team while his immediate family watches. Mauro will be joined by other locals like TCU safety Elisha Olabode, Missouri quarterback James Franklin (Corinth), Abilene Christian receiver Taylor Gabriel (Mesquite), Miami defensive back Kacy Rodgers (Southlake Carroll) -- whose dad was the Cowboys defensive line coach from 2003-07 -- and North Texas running back Zach Orr (DeSoto).
"It's kind of like a dream come true," Mauro said. "Playing Pee Wee football and high school, you see the Cowboys and it's like a dream to think you could play for them. This isn't a sign-up for the Cowboys, but to even have the opportunity to work out for them is something special."
Mauro, 6-foot-6, 280 pounds, played defensive end, defensive tackle and even some nose tackle for Stanford. He had 51 tackles, 12.5 tackles for loss, four sacks, six quarterback hurries, two forced fumbles and an interception for one of the best defenses in college football in 2013.
He knows the Cowboys have defensive line needs, too. He knows
DeMarcus Ware
is now with the
Denver Broncos
,
Jason Hatcher
is with the
Washington Redskins
and
Anthony Spencer
remains unsigned. He is aware they signed
Henry Melton
.
"You're talking two, possibly three starters up front in that defense that aren't there anymore," Mauro said.
Mauro met with Cowboys assistant defensive line coach Leon Lett and other coaches at the NFL scouting combine in February. He played in the East-West Shrine Game and worked out in California, with former Stanford players like
Andrew Luck
,
Coby Fleener
and other current NFL players.
"It's a great work environment, just getting to be with guys that are like minded and in the NFL," Mauro said. "I've been able to learn a lot from them."
ESPN Insiders have him as the 21st ranked defensive end, but his versatility puts him on the radar of 4-3 and 3-4 teams. Having played in a multiple defenses used at Stanford also helps. When he arrived at Stanford, Vic Fangio was his coordinator. Fangio now runs the
San Francisco 49ers
defense. Josh Tarver took over for Fangio, and he now runs the
Oakland Raiders
defense. Derek Mason took over for Tarver and he is now the head coach at Vanderbilt.
"Say a team runs a 3-4, the guys they'll have aren't just the typical big, block squares just two-gapping," Mauro said. "It's a passing league. You've got to be able to play different personnel. Look at a team like New England. They might have one down lineman and standing up the other 10 guys. The game is so different. It's not the traditional tight end, two backs, two wide receivers. It could be three, four, five wide receivers. The name of the game is to get to the quarterback. I've been able to do that at Stanford from a lot of different positions. Nowadays getting to the quarterback whether it be from the nine technique or nose guard, you've got to be able to create mismatches for people in different positions."
He worked out for the
Atlanta Falcons
and will work out for the
New York Giants
next week, followed by visits with the 49ers and Raiders.
"I still remember we wrote our goal letters at every training period at Stanford," Mauro said. "My first goal was to eventually become a starter at Stanford, an All-American defensive end and be a future first-round pick. Now coming out of high school that was a very, very ambitious goal and I wasn't heavily recruited. I had a few offers, but I always set the bar high so even if I fall short of my expectations I'd still end up in a good place. I always believed in it. Three years in the program I hadn't played very much. The fourth year I came in off the bench and was the energy guy … . My fifth year I ended up starting 11 games and was productive and helped one of the best defenses in the nation. Everything is kind of surreal. You couldn't plan it out. You just always have to believe in yourself if no one is believing in you."
April, 28, 2012
4/28/12
1:40
PM ET
The
New York Giants
drafting for need? Quick, somebody check and make sure death and taxes are still OK.

The Giants love to take the best player available, stressing value and using the draft as a means of building and maintaining a deep roster rather than drafting to fill immediate needs. But they've made four picks now, and each of the four appears to have at least something to do with filling a current roster hole.
The latest was the 32nd pick in the fourth round, which the Giants used to take tight end
Adrien Robinson
from Cincinnati. Yes, they already signed
Martellus Bennett
in free agency, but remember, they lost two tight ends to torn ACLs in the Super Bowl, so there was room for another. After using their first three picks on a running back, a wide receiver and a cornerback -- all positions from which they lost 2011 contributors to free agency -- they used their fourth to help fill a hole created by injury.
It's not strictly a need pick, though. Since it's the Giants, it's still a smart value pick. Remember, there was talk during mock-draft season of the Giants taking a tight end such as
Coby Fleener
or
Dwayne Allen
in the first or second rounds. But the Giants didn't think taking a tight end that early would have maximized the value of those early-round picks, and it's possible they had their eye on Robinson as a mid-round value pick all along. Robinson has great athletic ability, great speed and great size (6-4, 267) for the tight end position. He may be a project tight end, but the Giants love their tight ends coach and they love the track record their coaching staff and veteran players have of developing draft picks into contributors to championship teams.
April, 26, 2012
4/26/12
11:18
PM ET
NEW YORK -- Man, did the
New York Giants
have some options with the final pick in the first round of the NFL draft Thursday night. Wide receivers, offensive linemen and pass rushers still abound. They very well could have traded back into the early part of the second round, picked up an extra pick and still taken someone very useful, such as wide receiver
Stephen Hill
or tackle
Cordy Glenn
or even a pass rusher like
Courtney Upshaw
.

Wilson
But the Giants, before they went on their magical run and won the Super Bowl, were the No. 32 ranked rush offense in the NFL in 2011. And that 32nd-ranked rush offense lost to free agency a back --
Brandon Jacobs
-- who accounted for about 40 percent of their carries. So, while the Giants aren't a draft-for-need kind of team, it makes a lot of sense that they decided to take a running back.
The Giants selected Virginia Tech's
David Wilson
to be Jacobs' replacement, but don't expect a running back like Jacobs. Wilson is a little guy -- about 5-foot-9, 206 pounds -- whose scouting report says he has outstanding top-end speed but still needs to work on his inside running and his initial burst. He's every-down capable, having racked up 334 touches last year with the Hokies, and that matters, since
Ahmad Bradshaw
always seems to be battling those foot injuries. And he's an outstanding athlete who qualified for the NCAA championships in the triple jump in 2010.
My guess is that the Giants were looking at Boise State running back
Doug Martin
, and the Buccaneers traded up into the back end of the first round and took Martin one pick before the Giants' turn. But it's entirely possible, knowing the Giants, that Wilson was the guy on whom they had their eye all along. The Giants like to bring guys into their system and develop them under their coaching staff and among their veteran players. So if Martin isn't an impact guy right away in 2012 -- if he's merely in the mix of Bradshaw backups with guys like
Da'Rel Scott
and
D.J. Ware
-- that doesn't mean he doesn't have big-time potential down the road.
Ultimately, this is more of a "need" pick than the Giants tend to make in the draft, but if they thought someone like Hill or Glenn or Upshaw or Stanford tight end
Coby Fleener
was well ahead of Wilson in terms of value, I'm sure they would have taken him. The Giants clearly think highly of Wilson.
April, 25, 2012
4/25/12
10:00
AM ET
We had our chat Tuesday. We have it every Tuesday at noon ET, and if you didn't know that you really should drop by one of these Tuesdays. The chats are one of my favorite parts of the week, and I like to help myself get to sleep at night by believing my regular readers feel the same way. In order to accomplish this, I make it a rule never to read the comments at the bottom of
the transcript of my chat
.
Anyway, some highlights from this week's edition:
Dr. King from Dallas
is one of these "
Tony Romo
can't perform in big spots" people and asked me why the
Dallas Cowboys
"waste time with a QB like Romo just because he has sexy stats, when you can find a lot of QBs who win when it counts?"
Dan Graziano:
Because that's a bunch of garbage, "can win when it counts." Too much goes into that other than QB performance. Did Romo fail to win the Week 17 game in NJ because he's not a good clutch player, or because the defensive players kept letting fullbacks jump over them? These arguments get too simplistic. Give me the excellent quarterback and I'll take my chances that eventually things break right in the clutch.
Steve from Delaware
cited some mock drafts that have Stanford's
Coby Fleener
going to the
New York Giants
at No. 32 and asked whether I think the Giants really would take a tight end in the first round.
DG:
I do not, Steve. They did take
[Jeremy] Shockey
in the first round once upon a time, but that was because they believed him to be a special case. It's possible they feel that way about Fleener, but I'd be surprised.
Steve from Bristol
asked about the
Washington Redskins
' free-agent approach. Steve is of the opinion that, looking at the players they've signed at wide receiver and the secondary, that the Redskins are taking a quantity-over-quality approach, hoping competition will make some of these guys better.
DG
: I can see where you're coming from, but they actually targeted
Pierre Garcon
and
Josh Morgan
as guys they believed could grow and thrive in their system. So it's not just that they were trying to build up quantity, play the percentages and hope something came of it. I think they really see those guys as good fits for the offense they plan to run with
RG3
. And as guys who can grow with him.
*Editor's note: I do agree with Steve that the quantity/competition idea is at work in their plans for the secondary, where they didn't really get any of their top choices.
And
Phil from Hauppauge, N.Y.
, asked this: "Given
Michael Vick
's age, history of injury, and failure to develop the analytic part of his game, have we already seen the best he has to offer the Eagles?"
DG
: Yes, it's possible that we might have. It's possible -- even likely -- that he'll never again approach his 2010 production. But that doesn't mean that analytic part can't improve, or that he can't protect the ball better this year and play better than he did in 2011.
Check out that link up there for the whole transcript, and feel free to drop by next Tuesday. We'd love to have you.
April, 23, 2012
4/23/12
4:40
PM ET
My
New York Giants
fans who sat through the whole ESPN blogger mock draft on Monday weren't thrilled when I traded away the No. 32 pick instead of selecting a player with it. But I maintain that, given the way the draft had unfolded to that point and what the offer was, it was a no-brainer decision that the Giants themselves would have made in the same exact spot. I'll take you through my reasoning.
I wasn't going to trade up with the Giants. It didn't seem like a very Giants thing to do, and after they've already traded away their fifth-round pick for
Keith Rivers
, I don't believe Jerry Reese is going to be keen on the idea of giving up more picks to move up. So I sat at 32 and had a short list of players in mind that made sense for the Giants at that spot. One was Stanford tackle
Jonathan Martin
-- a player who's dropped a bit and who I believe could fall to the Giants at 32 in real life. But Jamison Hensley took Martin for the Browns at No. 22.
Another one of those players -- Syracuse defensive end
Chandler Jones
-- was picked by Mike Sando for the Seahawks at No. 27. I like Jones for the Giants if he gets to 32 because he's a pass-rusher who went to the same school Tom Coughlin went to. Feels like a Giant to me, but he was gone.
Another player on whom I had my eye was Stanford tight end
Coby Fleener
. I have my doubts as to whether the Giants would really pick him at 32, but I'm sure they'd consider it, given his abilities and their need at the position. Anyway, Sando took him, too, to the Seahawks at pick No. 31.
After that happened, I decided I'd take Ohio State tackle
Mike Adams
. I also think this is a realistic pick for the Giants, even though they haven't taken an offensive lineman in the first round since 1999. Adams is another upside guy who's likely higher than 32 on the Giants' board and happens to fit a need. He would be in a competition for the starting right tackle job right away, with a good chance to win it, and could develop into a left tackle down the road if things don't work out with
Will Beatty
.
So I was typing away on the pick of Adams to the Giants at 32 when James Walker (on behalf of the
Buffalo Bills
) offered a second-round pick (No. 41 overall) and two fourth-round picks. This was too much value to pass up. The Giants move down only nine spots -- to a spot where Adams might still be there and, if he's not, they could still have interesting options at linebacker (
Lavonte David
) pass-rusher (
Andre Branch
), running back (
Lamar Miller
,
Doug Martin
), safety (
Harrison Smith
) or even wide receiver (
Kendall Wright
). Good value awaits at 41 and they now have four fourth-round picks with which to add depth or move up and do some interesting things in the second or third rounds. Simply too good an offer to pass up, especially with no one there screaming to be picked.
So what do you think, Giants fans? How'd your favorite pineapple do? Do you like the deal or no? And if not, who would you have picked?
April, 19, 2012
4/19/12
10:13
AM ET
Mel Kiper Jr.'s latest mock draft goes three rounds deep, and for this particular exercise Mel is not predicting which teams
will
take which players. He's gone through and made the picks based on what he would do if he were running each particular team. He calls it his
"Grade A" draft
, which means the draft each team would have to have to earn a grade of "A." It's insider, so I'll give you the names but you'll have to pay to read the explanations. The comments here are mine.

Washington Redskins
Round 1:
Robert Griffin III
, QB, Baylor
Round 3:
Zebrie Sanders
, OT, Florida State
As we have said here many times, if the Redskins start thinking offensive line once they've officially selected their franchise quarterback, they have the right idea.

Dallas Cowboys
Round 1:
Mark Barron
, S, Alabama
Round 2:
Andre Branch
, OLB, Clemson
Round 3:
Justin Bethel
, CB, Presbyterian
Defense, defense, defense. That's what the Cowboys need -- quality and depth at every possible defensive position. This would give them a safety, a pass-rusher and a cornerback. Cowboys fans would be overjoyed.

Philadelphia Eagles
Round 1:
Fletcher Cox
, DT, Mississippi State
Round 2 (46):
Zach Brown
, LB, North Carolina
Round 2 (51):
Dwayne Allen
, TE, Clemson
Round 3:
Kirk Cousins
, QB, Michigan State
Chatter lately is that they might have to move up for Cox, but Mel says he doesn't have him rated high enough that he believes they will. He'd be their perfect pick, and Cousins in the third would be a nifty developmental QB prospect behind
Michael Vick
. A linebacker and a tight end in between -- Grade A indeed.

New York Giants
Round 1:
Coby Fleener
, TE, Stanford
Round 2:
David Wilson
, RB, Virginia Tech
Round 3:
Donald Stephenson
, OT, Oklahoma
Remember, this isn't what Mel thinks will happen, but what he'd do if he were in charge of the Giants. These are all need picks, and the Giants don't generally draft for need. These could also coincidentally be the best value picks at these spots, and if they are the Giants' draft would look great. But we'll see. I find it hard to believe they don't take a defensive player at all in the first three rounds.
April, 12, 2012
4/12/12
11:45
AM ET
We did this for the
Dallas Cowboys
on Wednesday, and it only seems fair to keep it up for the other teams in our division (other than the Redskins, whose draft scenarios are too simple to warrant a whole post). Let's look at
Todd McShay's latest mock draft

and the various scenarios he lays out for the
New York Giants
with the 32nd pick.

His No. 1 scenario for the Giants is that they take Ohio State tackle
Mike Adams
at No. 32. If he falls this far, Adams would be the perfect combination of value and positional need -- nearly an ideal pick for the Giants, who could start him at right tackle right away and possibly develop him into a left tackle if things don't work out with
Will Beatty
over there.
Scenario No. 2 for the Giants, Todd says, would be to "take advantage of value and make a luxury pick for a player such as Stanford TE
Coby Fleener
or Nebraska OLB
Lavonte David
."
This is a fun idea, and Super Bowl champions often do find themselves making "luxury picks" because they don't usually have many holes to fill. The Giants, at 9-7, had the worst regular-season record of any Super Bowl champion in history, so it's reasonable to assume they have more holes to fill than have most teams that have picked last in the first round. The good thing in this case is that players like Fleener and David would address specific holes the Giants do have, while also offering excellent value for the pick. Fleener would be a great hedge against the health of
Jake Ballard
and
Travis Beckum
(not to mention the as-yet-unrealized potential of
Martellus Bennett
), and David would add depth to their corps of very young linebackers, increasing the odds that the group eventually produces a starter or two.
And the third and final scenario Todd lays out is that they trade down, taking advantage of some team's desire to move up and pick a quarterback at the tail end of the first round and amassing picks later in the draft. This would be enticing for the Giants, and they're sure to be getting calls late on that Thursday night.
April, 4, 2012
4/04/12
5:57
PM ET
Yeah, that's right. Two rounds. But it's Insider, so you have to pay to read it, which we appreciate. Rather than give the whole thing away, I'll give you a little bit of a tease of what you'll find if you buy the Insider subscription and use it to read Mel Kiper Jr.'s
latest mock draft

.
Washington Redskins
Well, yeah, he has them taking Robert Griffin III in the first round and they don't have a second round pick because they traded it to get
Robert Griffin III
. So, not a lot of mystery there.
Dallas Cowboys
Mel's still giving the Cowboys Alabama safety
Mark Barron
at No. 14 overall. In the second round, he has them taking an offensive lineman. That's really all I can tell you at this point.
Philadelphia Eagles
Defensive tackle
Fletcher Cox
from Mississippi State is the pick at No. 15, according to Mel. The Eagles have two second-round picks, and our guru says they will be a linebacker and a tight end, in that order. No names, folks. Either buy the Insider or guess.
New York Giants
Mel's giving them Stanford tight end
Coby Fleener
, even with
Mike Adams
still on the board. In the second round, he has the Giants taking a running back to replace Brandon Jacobs.
March, 31, 2012
3/31/12
11:00
AM ET
It's Saturday, which makes it the day I have to take my kids to swim lessons, which makes it the day I understand why some people drink alcoholic beverages before noon.
It also makes it mailbag day.
Andrew from New York, N.Y.,
admits he's a
Philadelphia Eagles
fan and therefore likely biased, but he says this to me: "I simply don't understand how you can report what Redskins sources say as the final word on McNabb's work ethic."
Dan Graziano:
I didn't, Andrew.
I presented and acknowledged both sides
. Which
Donovan McNabb
pointedly did not, even leaving himself and his own win-loss record off his list of failed post-Elway Mike Shanahan quarterbacks. I would welcome a chance to discuss it with McNabb, and I let the producers of First Take know this, but they were not interested in having me on.
Dale from Novato, Calif.,
asks whether, if the
Dallas Cowboys
drafted a first-round cornerback, that would mean they're planning to part ways with
Mike Jenkins
after this season.
DG
: Dale, I don't think it would automatically mean that, but as you point out, Jenkins does come with some injury questions. They love the way he played last year when healthy, but he wasn't healthy nearly enough. So if they were to draft a cornerback in the first round this year, they'd obviously be sending a message to Jenkins as well as covering themselves in case he can't get through the year healthy and they decide the best thing is to move on to other options. Better to address this now by thinking ahead then wait until next year when they have a clear problem/need at the position. And in this day and age, there's really no such thing as too many defensive backs.
Chris from Charleston, S.C.,
tells me that the reason
Victor Cruz
crushed
Brian Orakpo
in the Madden 13 cover vote was that
Washington Redskins
fans were voting against Orakpo because of the "Madden Curse." Chris is of the belief that I've not heard of this "Curse."
DG
: Chris, I have heard of the Madden Curse, and of the idea that fans are voting against, rather than for, their favorite players in an effort to avoid having them land on the cover and end up "cursed." I just think it's foolish, and didn't see the need to acknowledge it in my post on the subject. We've reached an odd place in sports-fan history if this is really something about which people feel that strongly.
Tony G from Hamilton, Ontario,
wants to know why the
Arizona Cardinals
are drafting ahead of the Dallas Cowboys when they had identical records and the Cardinals won the head-to-head matchup.
DG
: Tony G, head-to-head result is not the tiebreaker for determining draft position. They use relative strength of schedule, and Arizona's was weaker, so their 8-8 record is deemed, for purposes of the draft, to be worse than Dallas' 8-8 record.
Ian from ODU
wants to know if I think the Eagles would take Courtney Upshaw, the Alabama LB/DE, with their first-round pick (No. 15 overall) in next month's draft.
DG
: Ian, my sense is that Upshaw will be gone by then, making this a moot issue. But if he is there, I'm still not 100 percent sure they take him. Upshaw is being looked at as a pass-rusher, and unless they were going to use him at defensive end in their 4-3 (where they're pretty well stacked with
Trent Cole
and
Jason Babin
), he might not be a fit for them. He's probably better suited to a 3-4 team as an outside linebacker who can get after the quarterback. The linebackers in Philadelphia's system aren't responsible for the pass rush.
Paul from Indiana Harbour Beach, Fla.,
likes Stanford tight end Coby Fleener for the
New York Giants
when they pick at No. 32 in the first round.
DG
: Could definitely happen, Paul, and I agree with you that someone of Fleener's talents could make magic with
Eli Manning
. But since they've already signed
Martellus Bennett
and they surely expect
Jake Ballard
,
Travis Beckum
or both back at the end of this season if not before, I'm not certain they're looking at tight end as a long-term need position. The Giants will take the best available player still on their board at that spot, and if it's Fleener, I don't think they'd hesitate to do it. But I wouldn't be surprised if the highest player on their board at that point plays offensive tackle or defensive line. They really need a tackle, and they really love to draft defensive linemen.
Ahsen from MD
wants to know why the Redskins didn't receive any compensatory draft picks for losing
Carlos Rogers
in free agency last year.
DG
: Ahsen, you only get compensatory picks if your total net loss in free agency is deemed to have exceeded your net gain. So while the Redskins lost Rogers and others last year in free agency, the players they signed --
Stephen Bowen
,
Barry Cofield
,
Josh Wilson
, etc -- were deemed by the NFL's formula to have been worth more than the total value of the free agents they lost. Hence, no compensatory picks.
Teon Wilson from Richmond, Va.,
wants to know if it's realistic for the Cowboys to trade for Eagles cornerback
Asante Samuel
.
DG
: A couple of people I spoke with in Palm Beach this week told me they wouldn't be surprised to see the Eagles trade Samuel within the division. Nevertheless, I would. I don't think their need to trade him is so pressing that they'd send him someplace where he'd play against them twice a year. He's still pretty good. My guess is the price for Dallas would be higher than it would be for, say, an AFC team.
Nick from Rutgers
wants to know why the Giants aren't at the top of the Breakfast Links posts anymore.
DG:
We went back to alphabetical order once the new league year started. New year, standings reset. But I liked doing the links in standings order, and plan to do so again beginning in Week 2 of the 2012 season.
And to answer some questions that came in numerous times from numerous sources:
I don't know when the arbitrator will decide about the Redskins/Cowboys cap penalties.
No, I am not crazy.
Sorry, but unless you're a Redskins fan, I simply do not know which player your team will pick in the first round of the draft.
Enjoy your weekend.
March, 7, 2012
3/07/12
2:03
PM ET
Sure, the attention of the NFL world is on Indianapolis today. But I'm a heck of a lot closer to Radio City Music Hall, and I'm thinking about the draft. That may be because
Mel Kiper Jr.

and
Todd McShay

have unveiled their latest mock drafts today. They're Insider, but I'm allowed to tell you who they have for your favorite teams as long as I whisper and you promise not to tell anyone else. We do these rundowns in draft order.
6. Washington Redskins:
Mel and Todd both leave open the strong possibility that the Redskins trade up, get the No. 2 overall pick from St. Louis and draft
Robert Griffin III
. But since that hasn't happened yet, they have to mock it as though the Redskins are still at No. 6. So Mel has them taking LSU cornerback
Morris Claiborne
and Todd has them taking Iowa tackle
Riley Reiff
. Todd's reasoning is that, if they don't get Griffin, they'll have secured a veteran quarterback in free agency and will want to protect him. Mel mentions the same possibility in his recap, but I agree with him that Claiborne would be a nice pick, especially if the Redskins have addressed offense sufficiently in free agency. What's interesting to me is that Mel has Texas A&M quarterback
Ryan Tannehill
going 12th and Todd has him going 8th, and if he can go that high, what's stopping him from moving all the way up to No. 6 in the next eight weeks?
14. Dallas Cowboys:
Everybody agrees that the Cowboys need secondary help above all else. Mel's sticking with Alabama safety
Mark Barron
as the Cowboys' pick here, while Todd gives them North Alabama cornerback
Janoris Jenkins.
This is a personal preference deal. The Cowboys can't go wrong if they pick the best available defensive back at No. 14, even if they've already signed one or two in free agency. They have room for several. I am interested to see, however, if they go for a pass-rusher like Alabama's
Courtney Upshaw
if he's still available, as he is on Mel's mock but not on Todd's.
15. Philadelphia Eagles:
Both mocks have Boston College linebacker
Luke Kuechly
long gone by this spot, so Mel gives the Eagles LSU defensive tackle
Michael Brockers
and Todd gives them Memphis defensive tackle
Dontari Poe.
The reasoning is that the Eagles were soft up the middle in 2011, and they were. And if there's not a good-value linebacker available, the odds would favor Andy Reid taking a defensive lineman here. He's set at end and needs beef in the middle. Possible wild cards: If
DeSean Jackson
is traded, they could go wide receiver here. And it's not ridiculous to imagine them taking a quarterback if Tannehill's still on the board.
32. New York Giants:
Agreement here, as Mel and Todd both give the Giants Stanford tight end
Coby Fleener
after also agreeing that he's become the top tight end on the board. That'd be both a need and a value pick for the Giants, who lost two tight ends to serious knee injuries in the Super Bowl. But if there's a player the Giants had ranked much higher than 32 and he's still sitting there when it's their turn to pick, bet on them taking that player, regardless of position.
February, 24, 2012
2/24/12
8:00
AM ET
Friday links. You know what to do.
New York Giants
Still even after a full day at the combine, there are almost no Giants links. The newspapers that cover the team regularly seem only to care that the Knicks lost to some Florida team. I have Alex Marvez writing about
Brandon Jacobs
' potential
future in wrestling
-- a story that includes quotes from TNA Wrestling president Dixie Carter, which made me wonder if it was the same Dixie Carter who used to be on "Designing Women." But I looked it up and that Dixie Carter died in 2010. This is a different Dixie Carter, and as we've established over and over again, there's a lot of stuff about which I know pretty much nothing. Like why
LaRon Landry
would take a photo of himself in a mirror with his iPhone when the iPhone camera is reversible. But that's a different story, from a different day.
And Ohm Youngmisuk's got something on the
Giants flavor
of the coaching staff former Rutgers coach Greg Schiano is building in Tampa Bay, including Thursday's news that Schiano was denied permission to talk to Kevin Gilbride Jr., who may be in line for a promotion on the Giants' staff.
Philadelphia Eagles
Eagles GM Howie Roseman continues to say
upbeat, positive things
about
DeSean Jackson
's future with the team. This either because he believes it or because he doesn't want to tip his hand to potential trade partners or because you're only supposed to use the franchise player designation as a step toward a long-term deal and he wants some quotes in the paper that make it look as though that's his intention. Could be any one of those things, or both of the last two. We'll know somewhat soon, I guess.
Roseman also spoke of the Eagles' need to start getting
bigger contributions
from some of the defensive players they've drafted in early rounds in recent years. Certainly, if
Brandon Graham
,
Jaiquawn Jarrett
and
Nate Allen
could make significant leaps in production in 2012, the Eagles would benefit a great deal.
Dallas Cowboys
The Cowboys have
begun speaking
with the agent for linebacker
Anthony Spencer
. The Cowboys' decision on Spencer -- i.e. whether to franchise him, re-sign him or let him walk as a free agent -- is one of the most important they face in the early part of this offseason, and they need to get that decision made sooner rather than later so they can operate the rest of their plan.
Cowboys coach Jason Garrett outlined the way the duties of the
team's new secondary coaches
will be split up, which is nice, but I think probably not as important as the decisions yet to come on who will be playing defensive back in that secondary.
Washington Redskins
The
Minnesota Vikings
are making no secret of their desire to
trade down
from the No. 3 pick in the draft, and if there were three stud quarterbacks available in this year's draft, I'm sure the Redskins would be happy to do it. But you have to get up to No. 2 to make sure you get Robert Griffin III, and the Rams are likely to drive a hard bargain for that pick. The Redskins could find themselves dealing with Minnesota at some point, but only if the Rams keep the pick and draft a player at No. 2 on draft night.
The Redskins aren't likely to be in the market for a tight end early in the draft, but Skins fans may get a kick out of knowing that Stanford tight end Coby Fleener's name was
inspired
by that of former Redskins lineman
Joe Jacoby
.