NFC East:

Cordarrelle Patterson
December, 12, 2013
12/12/13
12:00
PM ET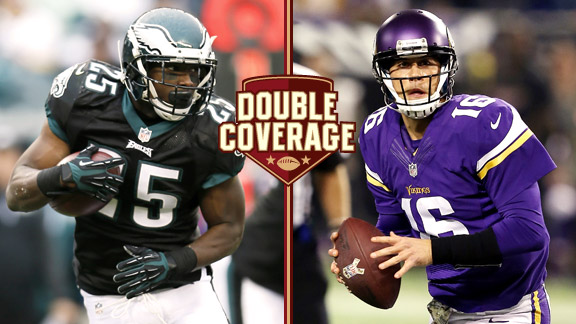 AP PhotoLeSean McCoy and the explosive Eagles offense visit Matt Cassel and the struggling Vikings.
The
Minnesota Vikings
and
Philadelphia Eagles
couldn't be in much different places than they were a year ago.
In 2012, the Vikings made a seven-game improvement, winning their final four games and riding
Adrian Peterson
's 2,097-yard season to a 10-6 record and a playoff berth. The Eagles, meanwhile, lost nine of their final 10 games, finished 4-12 and fired longtime coach Andy Reid. This season, it's Philadelphia that's racing toward the playoffs, with a new quarterback (
Nick Foles
), one of the most exciting offenses in football and an 8-5 record. The Vikings haven't been able to settle on a quarterback, have blown five leads in the last minute of games and might be preparing to part with coach Leslie Frazier after starting the season 3-8-1.
To get you ready for the game, ESPN.com Vikings reporter Ben Goessling and Eagles reporter Phil Sheridan discuss the matchup and the rapidly changing directions of both teams:
Ben Goessling:
Phil, it's been surprising to see how much better the Eagles' offense has worked under Nick Foles than
Michael Vick
, considering how well Chip Kelly's system seemed to suit Vick. What is Foles doing to make it work so well, and just how bad of a matchup is this for the Vikings' defense?
Phil Sheridan
: At the moment, I'd have to say the Eagles' offense is a tough matchup for any defense. Their past two opponents, Arizona and Detroit, came in as well-regarded defenses. The Eagles scored 24 points on the Cardinals by early in the third quarter and then exploded for 34 second-half points in the snow Sunday against the Lions. The Eagles are able to run or pass at a high level right now, which makes them just plain tough to defend.
As for Foles and Vick, it does seem counterintuitive that a running threat wasn't as effective as the relatively slow-moving Foles in Kelly's offense. But Foles is good at several key facets of what Kelly wants done. He's become adept at keeping the tempo up in the no-huddle. He's been accurate in the passing game. And he's made good decisions when Kelly's play call presents him with an option.
Kelly gave a hearty endorsement of
Toby Gerhart
, whom he faced while he was at Oregon and Gerhart played at Stanford. Kelly said he thought Gerhart could be an impact player who just happens to be stuck behind one of the great backs of all time. What's the deal? Can Gerhart replace Peterson and keep the Vikings' offense going?
Goessling:
It depends on his health. He's dealing with a hamstring issue of his own, so if Peterson does indeed miss the game because of his sprained foot, Gerhart might not be able to handle the same kind of workload as Peterson. He's only got two games of 20-plus carries in the NFL, but then again, as Kelly said, he's certainly built to take a pounding. He's a stout, physical back who runs well between the tackles and does a solid job picking up blitzes. Plus, he's not exactly afraid to embrace the idea that he's auditioning for other teams before he hits free agency in March. He certainly isn't going to be a featured back in Minnesota behind Peterson, and while I'm sure the Vikings would like to keep him, he might find better opportunities elsewhere.
What's the key to solving the Eagles' defense? The Vikings probably won't be at full strength this week, given their running back situation and the fact they've been shuffling through quarterbacks all year. What do they need to do to move the ball and avoid the turnovers the Eagles have been creating lately?
Sheridan:
It is still possible to move the ball on the Eagles. They give up a lot of yardage and are vulnerable to runs after the catch in the short- and intermediate-passing game. I was fascinated to see if they could handle
Calvin Johnson
and
Reggie Bush
on Sunday. But the weather limited Johnson and Bush didn't play at all, so that riddle remains unsolved. Teams have been able to move the ball but have bogged down or turned it over in the red zone. If the Vikings can find ways to score from inside the 20, they can stay in the game.
One key for opponents is not falling behind. Green Bay, Washington and Arizona did, and that allowed the Eagles' defense to concede rushing yards and go hard after quarterbacks. That has led to turnovers as much as anything.
Not so long ago, it was intimidating for opposing offenses to come into the Metrodome and deal with
Jared Allen
coming off the edge with all that crowd noise behind him. Is Allen still that kind of force, and has the atmosphere changed with the team struggling this season?
Goessling:
Allen hasn't been the same guy this season. He'll still play hard, and he's as relentless in his pursuit of a quarterback outside the pocket as anybody you'll find in the league, but he just looks like he's lost a step. He isn't as quick around the edge as he used to be, and he's gotten lost when he's been double-teamed. The guy who has brought more of the Vikings' pass rush this season is right end
Brian Robison
, who got a contract extension from the team during the season. He's not quite as quick off the edge as Allen was in his prime, but he might be a better edge rusher now, and he's good at knowing when to disengage from his blocker, step back and deflect a pass.
The Metrodome has lost a little of its edge in recent weeks with the Vikings struggling, but I wouldn't sleep on the fans there: If the game is close Sunday, they'll still get loud. They've only got two more games to crank up the volume in that old Teflon-coated warehouse before it's torn down, so I'd expect the noise level to be there, if partly for nostalgic reasons.
From afar, it would seem like the Eagles have every reason to be confident heading into the final stretch of the season. How far do you think they're capable of going in the playoffs?
Sheridan:
That's a heck of a question, because the whole idea of the playoffs seemed so remote just a few weeks ago. Gradually, as the Eagles got within striking distance of the Cowboys in the NFC East, it seemed like a good first season for Kelly if the Eagles could get a taste of the postseason.
Now? After five wins in a row, they are in sole possession of first place in the division. Foles and
LeSean McCoy
are putting up epic numbers. The defense hasn't allowed more than 21 points in nine games. That sounds to me like a team that can win a home playoff game. Can they go to Seattle or New Orleans and win? That seems like a stretch, but the Eagles keep raising their own ceiling.
Leslie Frazier's first NFL coaching job was here in Philadelphia as an assistant on Andy Reid's staff. He seems to be in a tough spot there, with the kind of quarterback issues that undermine even good coaches. Is the feeling that Frazier is to blame for this season, and what kind of job security does he have?
Goessling:
I certainly wouldn't put it all on Frazier -- the quarterback situation has been a mess, and the Vikings have also paid dearly for GM Rick Spielman's decision to cut
Antoine Winfield
and go almost completely with young defensive backs. That's had as much to do with the Vikings' defensive issues as anything else, and when you've got problems at quarterback and in the secondary, you're going to have a really hard time in today's NFL. Players are still playing hard for Frazier, but the Vikings have blown five leads in the last minute, and coaching issues seem to have contributed to at least a couple of those breakdowns. What's more, Frazier didn't get a contract extension after the Vikings' surprise playoff berth last year, so to come back, he'd either have to coach into the final year of his deal or get an extension. Neither one of those seem as likely as him paying the price for the Vikings' many issues this year.
November, 4, 2013
11/04/13
8:00
AM ET
ARLINGTON, Texas -- A review of four hot issues from the
Dallas Cowboys
' 27-23
win
against the
Minnesota Vikings
.
[+] Enlarge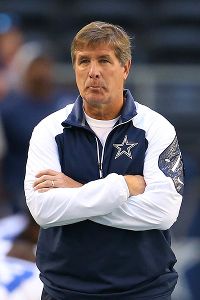 Matthew Emmons/USA TODAY SportsBill Callahan's offense hasn't been able to replicate the success it had after exploding for 522 yards against the Broncos in Week 5.
Sputtering on offense:
Remember when the Cowboys put up 522 yards on offense against the
Denver Broncos
on Oct. 6? Seems like forever ago. The talk out of that game was that the Cowboys had found an offensive identity. That has not turned out to be true. Against some of the bottom-of-the-barrel defenses fielded by the
Washington Redskins
,
Philadelphia Eagles
,
Detroit Lions
and Vikings, the Cowboys have topped 350 yards just once -- with 350 against the Vikings. The Cowboys have struggled on third downs (5-of-14 against Minnesota). The running game was nonexistent (nine attempts).
"There's a word we use and our players understand and it's execution," coach Jason Garrett said. "We as coaches have to constantly give our players a chance to execute and put them in plays where they can be successful."
Bill Callahan's first year as a playcaller has hit a bump. He and
Tony Romo
have to find a way to get the rhythm they had against the Broncos. Having it happen against a New Orleans team whose offense will score points this week would be preferable.
Hurry back, Morris Claiborne:
The Vikings knew where rookie cornerback
B.W. Webb
was on Sunday. The
New Orleans Saints
will know it, too. Webb, who was playing the slot with
Orlando Scandrick
playing outside due to Claiborne's hamstring strain, had a difficult matchup in
Greg Jennings
, who caught six passes for 56 yards, including a 27-yarder. It was the most extensive action of Webb's career and he will have to grow up fast. In the fourth quarter he was able to knock down a pass on the Vikings' final drive. With only
Micah Pellerin
, fresh up from the practice squad, in reserve, the Cowboys need Webb to perform better if they want to contain a passing offense like the Saints'.
Opportunistic defense:
The Cowboys' defense will never win a beauty contest but it has shown to be opportunistic.
Nick Hayden
's fumble recovery in the end zone was the fourth defensive score of the season for the Cowboys. The last time the Cowboys had five defensive scores in a season came in 1999 when they finished 8-8 and made the playoffs under Chan Gailey. So far this season the Cowboys have had touchdowns from
Brandon Carr
(49-yard interception return),
Barry Church
(27-yard fumble return),
Sean Lee
(52-yard interception return) and Hayden.
Changing their ways:
After seeing
Cordarrelle Patterson
return kickoffs 8 and 9 yards deep in the end zone, the Cowboys altered their game plan on the Vikings' return specialist.
Dan Bailey
's opening kick of the second half was high and barely to the end zone, which Patterson booted out of bounds. They squibbed their next two kicks, including the final kickoff after taking the lead to make sure Patterson did not beat them. Bailey had been a touchback machine in the first eight games, but the Cowboys were wise to make the switch on Patterson if he was going to continue to flip field position.
October, 31, 2013
10/31/13
8:00
AM ET
IRVING, Texas –
Dan Bailey
is tied for second in the NFL in touchbacks this season with 34. And to think the
Dallas Cowboys
kept a kickoff specialist in 2011 because they didn't think Bailey had a strong-enough leg.
Bailey admits he has added leg strength in his three seasons to help on kickoffs.
Patterson
Bailey
"It was just a big focus for me in the offseason," Bailey said. "I wanted to get a little bit stronger and I thought as far as my game goes that was the area I could improve the most. I feel like I can always improve all areas. I just felt like that needed a little more attention. So far this year I feel good on kickoffs. I feel like I've been hitting the ball well."
Bailey faces his biggest challenge this season in the
Minnesota Vikings
'
Cordarrelle Patterson
, who leads the NFL with a 39.1-yard kick-return average and has touchdown returns of 109 and 105 yards.
"Patterson is a fantastic kickoff returner," Cowboys coach Jason Garrett said. "He's taken two of them back. He took one back 109 yards last week, so that's certainly been a real weapon for their football team. Dan has been fantastic this year. … He kicks them consistently long and deep and high and hard for those guys to bring them back."
The Cowboys have not necessarily kicked away from returners this year.
"In this league every return man is good," Bailey said. "Some are slightly better than others, but everybody is pretty much capable of having that home-run play. We prepare for him just like we prepare for anybody else. I wouldn't say we give him any special attention. We're going to do our best to execute our game plan as best we can, and I'm sure they're going to do the same thing. I think it'll be a good challenge."