January, 5, 2014
Jan 5
2:00
PM ET
PHILADELPHIA -- There's an old saying that sums up a superior head coach: He can beat your team with his team, and he can take your team and beat you coaching his team.
That comes close to describing what happened to Eagles coach Chip Kelly in his first NFL playoff game Saturday night. Kelly's otherwise impressive debut season ended by getting schooled by Saints head coach Sean Payton and his staff.
The Eagles were the team with the No. 1 rushing attack in the NFL. Payton turned the tables, running the ball down the Eagles' throats. The Eagles' defense prided itself on stopping the run first, but it was the Saints' defense that rendered
LeSean McCoy
a non-factor for much of the game.
The Saints focused on stopping McCoy and
DeSean Jackson
, the Eagles' two most dangerous weapons. Kelly couldn't find a way to unleash them or to beat the Saints with other players.
[+] Enlarge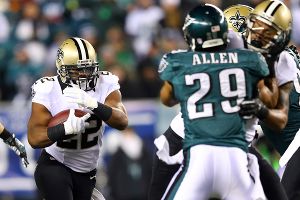 Elsa/Getty ImagesMark Ingram and the Saints found plenty of room to run Saturday night.
The Eagles focused on stopping Saints tight end
Jimmy Graham
and had some success. But it was beside the point, because Payton shredded the Eagles with
Mark Ingram
and
Khiry Robinson
.
"They were running downhill," Kelly said. "If you told [me] going in we were going to hold Jimmy Graham to three catches, I thought that would be a pretty good deal. But give them credit. They did a really good job of running the football against us, which was a little bit uncharacteristic of us. We've done a pretty good job of that all year long."
Not Saturday. The Saints rushed for 185 yards, averaging 5.1 yards per carry.
"That is on me," defensive coordinator Bill Davis said. "I made the calls so their passing game wouldn't result in big plays. There was a lot more split safety and pass-oriented calls. Some of the runs leaked out. I could have called more of a run-heavy defensive game and shut that down, but we were trying to keep the points down and the big plays off us."
The Saints scored 26 points – 20 in the second half – and had four plays of more than 20 yards.
On the other side of the ball, the Eagles couldn't really explain why McCoy was held to 77 yards on 21 carries. That's 3.7 yards per carry, 1.4 yards below his regular-season average.
"Early on, there was some miscommunication," center
Jason Kelce
said. "The first two drives in particular, guys didn't understand where the point [of attack] was or who they had [to block]. There would be lanes open, but they would close right away."
That sounds like the trenches-level view of an offense that was confused and surprised by what the defense was doing. And that is coaching.
"I'll give credit to [Saints defensive coach] Rob Ryan," Kelly said. "Rob did a nice job. They had a really good game plan."
Coaching is also about adjusting within the game. In the first half, the Eagles had targeted Jackson only once. The ball was thrown well over his head.
"We tried," Kelly said. "The first couple of plays at the beginning of the second half were trying to get the ball to him, but we took sacks again and didn't get the ball out in time."
The Eagles' first two possessions after the coaches made halftime adjustments netted minus-9 yards. The Saints' first two possessions of the second half netted 119 yards and two touchdowns.
The Eagles' two second-half touchdown drives consisted mostly of two jump balls thrown to Jackson. When Saints rookie cornerback
Keenan Lewis
got hurt, quarterback
Nick Foles
attacked his replacement,
Corey White
. Jackson caught the first one for a 40-yard gain. White committed a 40-yard pass interference penalty on the second.
The penalty set up the Eagles' go-ahead touchdown with just under five minutes left in the game. They never got the ball back. Just as the Eagles had sustained long time-killing drives in Green Bay and Tampa, when the opponent knew they were running and couldn't do anything about it, the Saints ran the clock down to zero and won the game.
"That was the story of the game," Eagles linebacker
Connor Barwin
said. "This was the wrong time to give up [rushing yards]. It was way too much and it showed on that last drive."
Payton didn't beat Kelly with his own team, but he came close. He beat Kelly with his own philosophy.
January, 4, 2014
Jan 4
11:23
PM ET
PHILADELPHIA -- A few thoughts on the
Philadelphia Eagles
'
26-24 playoff loss
to the
New Orleans Saints
Saturday night:
What it means.
Chip Kelly's impressive first season as coach of the Eagles ends with an erratic performance in a playoff loss. Kelly's offense was thrown out of rhythm all game by the Saints' defense and was never able to gets its uptempo, aggressive approach into gear. Quarterback
Nick Foles
' dream regular season ended with an inconsistent performance. Foles wasn't to blame for the loss, but he didn't deliver the heroics necessary to beat
Drew Brees
and the Saints. The Eagles can feel good about their progress from a 4-12 record in 2012 to a 10-6 record and a division title, but they also know they let a winnable home playoff loss slip away.

Game changer.
Foles threw an ill-advised pass to
Jason Avant
in the third quarter. Avant had to turn and jump and was an easy target for Saints cornerback
Keenan Lewis
. Lewis drilled Avant, knocking the ball loose. But Lewis also knocked himself out of the game with a head injury. Moments later, Foles threw a jump ball to
DeSean Jackson
, who had been held without a catch up until that point. The 40-yard gain kick-started the Eagles' comeback from a 20-7 deficit to a 24-23 lead.
Corey White
, the victim on that completion, committed a 40-yard pass interference penalty to set up the Eagles' go-ahead touchdown.
Happy returns.
Big special teams plays made a huge difference in the fourth quarter. Jackson, frustrated on offense much of the game, danced down the left sideline for 29 yards to give the Eagles good field position. They turned it into a field goal, closing to within 20-17. After the Eagles scored a touchdown to take a 24-23 lead,
Darren Sproles
got outside on the kickoff return. He might have gone the distance, but
Cary Williams
dragged him down from behind. The 39-yard return and 15-yard horse-collar penalty gave the Saints the ball at the Eagles 48 for their game-winning drive.
Stock watch.
Steady: Chip Kelly. Let's put it this way. Kelly coached a much better season than he coached in this particular game. There's no shame in getting outmaneuvered by a couple of veteran coaches like Sean Payton and Rob Ryan. But there's no denying that's what happened, either. The Saints couldn't get anything going in the first half. It took a field goal as time expired for them to get to six points. But they came out sharper and better prepared in the second half, building that 20-7 lead and then driving for the game-winning field goal in the final minute.
What's next.
The Eagles will go into the offseason knowing they have a coach and quarterback they can win with, and that is a huge step. They also know where their biggest needs are. The future is bright, even if the Eagles missed an excellent opportunity to do something special in this postseason.