NFC East:

Cowboys-Vikings 011710
January, 17, 2010
1/17/10
8:40
PM ET
By
Matt Mosley
| ESPN.com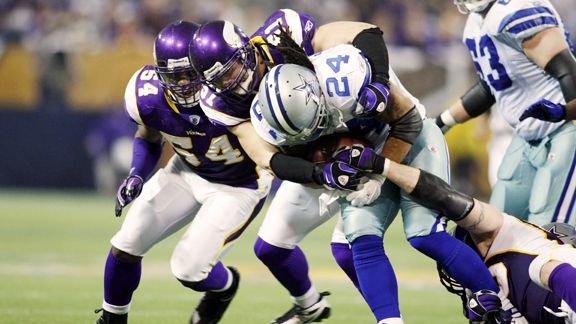 Bruce Kluckhohn/US PresswireMinnesota's defense limited Marion Barber and the Dallas ground game to 92 yards.
MINNEAPOLIS -- So much for that hot team theory. The Vikings may have stumbled through the month of December, but they buried the formerly red-hot Cowboys in a
34-3
win that felt like it was over by halftime.
A week after their major breakthrough against the
Philadelphia Eagles
, the Cowboys looked overmatched in the Metrodome. Even coach Wade Phillips, a man who can find a silver lining in the darkest of moments, wasn't able to offer a defense for the Cowboys' tepid showing in a divisional playoff game. It was the second-worst playoff loss in franchise history, surpassed only by a 38-6 loss to the
Detroit Lions
in 1991.
"It's like an elevator falling all the way from the top; it's tough when it's over," said a grim-faced Phillips. "I was surprised, but they have a good football team."
In the aftermath of a beatdown punctuated by Brad Childress amusing himself with an unnecessary call for a touchdown late in the fourth quarter, it seems odd to say that the Cowboys were ever in the game. But Dallas actually had a shot to grab the momentum in the first quarter. As he'd done during the Cowboys' four-game winning streak, quarterback
Tony Romo
led the offense into Vikings territory on the first possession of the game. The Cowboys' plan all week was to treat that opening possession as if it were the most important drive in the game.
The strategy worked until Vikings defensive end
Ray Edwards
raced past right tackle
Marc Colombo
and stripped the ball from Romo. The Vikings recovered at their 35-yard line and averted an early Cowboys score. After forcing a three-and-out, the Cowboys moved to the Vikings' 30-yard line and elected to attempt a 48-yard field goal instead of going for it on fourth-and-1.
Shaun Suisham
, who replaced the wayward
Nick Folk
last month, smothered the ball wide left and it would be fair to say the Cowboys never posed another serious challenge.
[+] Enlarge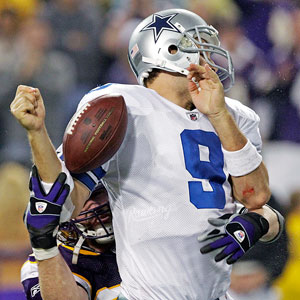 AP Photo/Paul SancyaThe Cowboys could have limited the Metrodome crowd noise by scoring on Dallas' first possession.
"Obviously, we need to get points out of those drives," said Romo. "It's not on any one person but we all need to play better. When you go into a place like this, points matter."
What Romo is saying is the Cowboys missed a huge opportunity to limit the home crowd's influence early in the game. I think the Metrodome is louder than the Superdome, a place where the Cowboys had one of their biggest wins of the season. Even the PA announcer sounded as if he was taunting the Dallas offense as the Vikings' front four took over the game.
In my talking points for Sunday's matchup, someone forgot to tell me that Edwards was one of the best pass-rushers in the league. And to think, I wasted so much time on the Williams Wall and
Jared Allen
, who didn't have much of an impact until Cowboys left tackle
Flozell Adams
left the game with a right calf strain with 7:18 left in the first half. On the first two plays after Adams' departure, Allen tackled
Felix Jones
in the backfield and then caused a Romo fumble, which led to a Vikings field goal and a 17-3 lead. For unknown reasons, tight end
Jason Witten
ended up "blocking" Allen one-on-one on those two plays. I asked Adams' replacement
Doug Free
if he was supposed to be helping Witten against Allen, but he said he wasn't sure what happened. It seemed like a pretty good description of how most of his teammates felt following the loss.
The aforementioned Edwards had three sacks, six hurries, a forced fumble and five tackles. I didn't see a lot of No. 91 jerseys inside the Metrodome, but they'll probably be taken off the discount rack this week. Colombo has been the emotional leader of the Cowboys' offensive line since Bill Parcells salvaged his career, but he was physically whipped by the younger, faster Edwards on Sunday. Edwards finished the regular season with 8.5 sacks but he's often in the sizable shadow of Allen.
"He has played at a high level this year, just in terms of production," Childress said of Edwards. "But he showed up and he is always making plays and chasing the football. He's an extra heartbeat guy."
After the game, Childress took the opportunity to beat his chest and talk about the "nonsense" of the Cowboys being the hottest team in the playoffs. Down the road, the Cowboys will be able to look back at '09 as a successful season. They won a playoff game for the first time in 13 years and young players such as
Mike Jenkins
and
Miles Austin
have an opportunity to be stars in this league for a long time. Though he hasn't come right out and said it, owner Jerry Jones is going to bring back Wade Phillips for at least one more season. Phillips' defense was one of the best in the league over the past month and there's no need to make significant changes to the unit. I asked Phillips if he considered this a successful season.
"Well, our goal was to win it all and this isn't a success," said Phillips. "I do think we did a lot of great things and I thought winning the division was important and winning the playoff game at home was important. We need to get back to that point again next year."
The defense played well enough to give the Cowboys a chance at a comeback in the third quarter, but
Brett Favre
simply overwhelmed them in the first half. On his first of three touchdown passes to
Sidney Rice
, Favre launched a deep ball that was so precise that Cowboys safety
Gerald Sensabaugh
had no clue the ball had been caught. After the game, inside linebacker
Keith Brooking
wasn't looking for a silver lining.
"I don't consider this season a success," he told ESPN.com. "We took some steps in the right direction, but I wouldn't call it a successful season. You dive into the NFL season every year and then it comes to an abrupt halt like this. I'll go home tomorrow and ask my wife, 'What the hell do I do now?'"
It's a question a lot of Cowboys fans will be asking as well.
January, 17, 2010
1/17/10
3:16
PM ET
By
Matt Mosley
| ESPN.com
MINNEAPOLIS -- I'm normally the first man in line to criticize the work of Brad Childress, but I think he made a wise decision in punting rather than having
Ryan Longwell
attempt a 53-yard field goal. And not simply because the punt took a Vikings bounce at the 2-yard line.
Childress is scared to give the Cowboys any spark at this point in the game. If Longwell misses, the Cowboys would've had good field position with about five minutes to go in the third quarter. Several ESPN.com writers disagreed with this opinion, but I'm sticking with it.
In case I don't have another chance to say this,
Mat McBriar
is an absolute weapon for the Cowboys. He keeps them in games at times when folks don't even notice.
January, 17, 2010
1/17/10
2:12
PM ET
By
Matt Mosley
| ESPN.com

Adams
MINNEAPOLIS -- Cowboys left tackle
Flozell Adams
has left the game with a right calf strain and his return is questionable, according to the club. He was replaced by
Doug Free
on the Cowboys' last possession. Free filled in at right tackle for seven games during
Marc Colombo
's injury absence, but he's not seen any time on the left side.
For unknown reasons, tight end
Jason Witten
ended up one-on-one with
Jared Allen
on the Cowboys' last possession. I have no clue what that was about. May have been miscommunication. Let's talk soon.
January, 17, 2010
1/17/10
1:37
PM ET
By
Matt Mosley
| ESPN.com
MINNEAPOLIS -- On
Brett Favre
's 47-yard touchdown pass to
Sidney Rice
, the Cowboys had safety
Gerald Sensabaugh
in one-on-one coverage. The Vikings will take that matchup all day long. And this is what the Cowboys feared the most: falling behind and allowing this crowd to take over.
On the touchdown pass, it looked like
Terence Newman
passed off Rice to Sensabaugh after about 20 yards. Sensabaugh actually had good coverage on Rice, but he never looked back and found the ball. Even when Rice was dancing into the end zone, Sensabaugh still looked like he was clueless.
I'll try to find out after the game if that was all Sensabaugh's fault.
January, 17, 2010
1/17/10
12:55
PM ET
By
Matt Mosley
| ESPN.com
MINNEAPOLIS -- We're 15 minutes away from kickoff and it's already loud in the Metrodome. I just
bumped into this guy
in the tunnel, and he's about to lead the Vikings onto the team on a motorcycle. I made brief eye contact with Vikings owner Zygi Wilf, but he darted in the other direction.
I've covered playoff games inside the Metrodome, but I've never sensed this type of energy for a game. The Vikings just showed a video on the video board of
Jared Allen
saying that Jessica Simpson "makes his ears bleed." Perhaps he didn't get the word that
Tony Romo
dumped Simpson (and her father, Joe) several months ago.
And Vikings mascot, Ragnar, just hog-tied a man posing as Romo. These folks are taking it to a different level. In other news, I'm told that
Marion Barber
will be playing at "90 percent" in today's game. That's about 15 percent higher than he was heading into last week's playoff game against the Eagles.
Back with more in a moment.
January, 17, 2010
1/17/10
12:02
PM ET
By
Matt Mosley
| ESPN.com
MINNEAPOLIS -- Greetings from the Metrodome, where fans have just been warned that pyrotechnics will be used throughout the game. This is somewhat concerning to me, but I'll just roll with it for now.
Now let's look at today's inactives list. No surprises here. For the Cowboys, special teams ace
Pat Watkins
has returned from a sprained knee and he replaces rookie safety
Michael Hamlin
on the active list.
Cowboys:
Emergency QB
Stephen McGee
, CB
Cletis Gordon
, S Michael Hamlin, LB
Jason Williams
, G
Montrae Holland
, C
Duke Preston
, T
Pat McQuistan
, LB
Curtis Johnson
Vikings:
Emergency QB
Sage Rosenfels
, WR
Jaymar Johnson
, CB
Karl Paymah
, TE
Garrett Mills
, LB
J Leman
, C
Jon Cooper
, DE
Jayme Mitchell
, DT
Letroy Guion
January, 17, 2010
1/17/10
8:00
AM ET
By
Matt Mosley
| ESPN.com
MINNEAPOLIS -- Who says you have to wait until Sunday to paint your face purple? As I explored the downtown area Saturday night, I saw dozens of Vikings fans in full costume. Let's hope Sunday's matchup is a lot more competitive than the two games Saturday. Now let's take a look at what folks around the country are saying about Cowboys-Vikings:
Dallas Morning News' Tim Cowlishaw is picking the Vikings to win -- because of running back Adrian Peterson.