July, 24, 2010
7/24/10
8:15
PM ET
By
Matt Mosley
| ESPN.com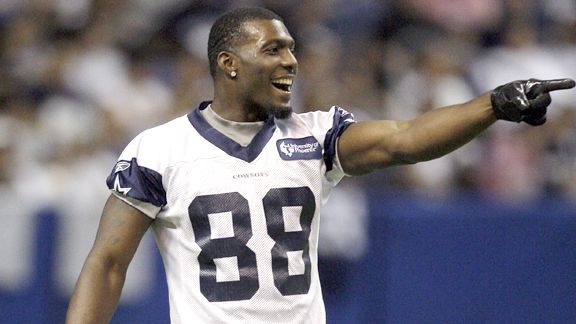 AP Photo/Tony GutierrezDez Bryant made a splash during the first day of training camp -- showing up 45 minutes early and making acrobatic catches.
SAN ANTONIO -- The
Dallas Cowboys
' first training camp practice was scheduled to begin at 2:15 p.m. local time, but first-round pick
Dez Bryant
took the field 45 minutes early to the delight of fans and I'm sure his coaches. As he's done since his first rookie camp, Bryant stole the show with an array of acrobatic catches. He spiced up even the most routine warm-up drill by reaching up and snagging the corner of the football with his left hand as if it were a Nerf.
At least one reporter (from the Dallas-Fort Worth CBS affiliate) was already asking folks to lay odds on when Bryant would replace Roy Williams in the starting lineup. Imagine what we'll be saying after Bryant's
second
practice, which is scheduled for Sunday. The former Oklahoma State wide receiver was just thrilled to be playing football again. After Bryant made a remarkable catch along the sideline, Wade Phillips' legendary father, Bum, cut off his conversation with Jerry Jones and began clapping like a fan. Believe it or not, though, there were other players on the field Saturday. Let's get to the observation deck:
[+] Enlarge

AP Photo/Tony GutierrezFans gave Tony Romo the loudest ovation of the day when the quarterback took the field.

The loudest cheers of the day were reserved for quarterback Tony Romo, who ran a warm-up lap as he took the field at 2:29 p.m. local time. A few minutes earlier, Miles Austin walked onto the field to a large ovation and acknowledged the crowd with an exaggerated wave of his arm. I had a long visit with Austin after practice about how his life has changed over the past year. It appears that he and Bryant will have a spirited competition to see who can make the toughest catches in practice. Austin told me that he's looking forward to a preseason matchup with the Dolphins because he wants to catch up with the man who gave him a chance in the league, Bill Parcells.
It didn't take long to realize that someone was missing from the tight ends group. Martellus Bennett, who has a lot to prove after a disappointing 2009 season, is on the non-football injury list with an ankle sprain. Bennett suffered the injury while running some routes at Valley Ranch on his own last week, but the Cowboys don't seem overly concerned. The athletic training staff had already set up shop in San Antonio, so the tight end wasn't able to get the same type of treatment that he normally would have received. He'll be day-to-day, and quite honestly, he's not in position to miss any days based on his tepid performance during the past season. It's odd that Phillips failed to mention Bennett's injury during Friday's opening news conference...
Second-year tight end John Phillips had an impressive first practice. He caught a couple of passes across the middle and he outperformed the other tight ends on a blocking sled. He's added some muscle and he looked dominant in blocking drills.
It's only the first practice, but Patrick Crayton had a bad drop on an inside route during drills. It will be an interesting battle for the fourth receiver spot between Crayton and Kevin Ogletree. Another possible candidate, Sam Hurd, missed practice because his wife had a child Friday. And since Phillips became a grandfather six days ago, I'm thinking he'll cut Hurd some slack.
Had a good conversation with right tackle Marc Colombo. He's obviously in much better condition than the last time we saw him in a regular-season game against the Vikings. Colombo told me that he'd lost 12 pounds. "I decided to get in shape and kick some [expletive]," said the right tackle/heavy metal guitarist.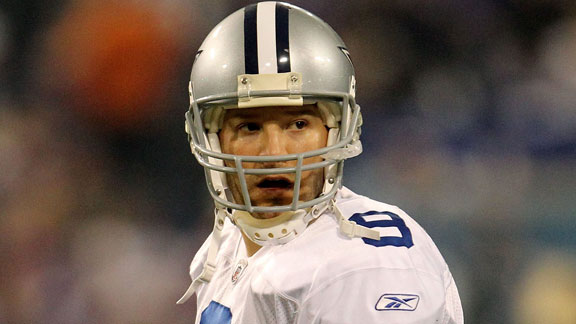 January, 17, 2010
1/17/10
12:02
PM ET
By
Matt Mosley
| ESPN.com
MINNEAPOLIS -- Greetings from the Metrodome, where fans have just been warned that pyrotechnics will be used throughout the game. This is somewhat concerning to me, but I'll just roll with it for now.
Now let's look at today's inactives list. No surprises here. For the Cowboys, special teams ace
Pat Watkins
has returned from a sprained knee and he replaces rookie safety
Michael Hamlin
on the active list.
Cowboys:
Emergency QB
Stephen McGee
, CB
Cletis Gordon
, S Michael Hamlin, LB
Jason Williams
, G
Montrae Holland
, C
Duke Preston
, T
Pat McQuistan
, LB
Curtis Johnson
Vikings:
Emergency QB
Sage Rosenfels
, WR
Jaymar Johnson
, CB
Karl Paymah
, TE
Garrett Mills
, LB
J Leman
, C
Jon Cooper
, DE
Jayme Mitchell
, DT
Letroy Guion
January, 9, 2010
1/09/10
6:54
PM ET
By
Matt Mosley
| ESPN.com
ARLINGTON, Texas -- As we've already told you,
Michael Vick
is active for tonight's game and I would expect for him to play a fairly significant role in the game plan. The Cowboys spent more time in the film room preparing for Vick this week because they felt like the Eagles would be in more of a desperation mode in this game. Now let's take a look at the inactives for both teams:
Cowboys:
QB
Stephen McGee
, S
Pat Watkins
, CB
Cletis Gordon
, LB
Jason Williams
, G
Montrae Holland
, C/G
Duke Preston
, T
Pat McQuistan
, LB
Curtis Johnson
Eagles:
QB
Kevin Kolb
, CB
Geoffrey Pope
, FS
Quintin Demps
, T
King Dunlap
, C
Dallas Reynolds
, WR
Kevin Curtis
, TE
Martin Rucker
, DT
Trevor Laws
November, 26, 2009
11/26/09
3:54
PM ET
By
Matt Mosley
| ESPN.com
ARLINGTON, Texas -- Cowboys tight end
Jason Witten
(foot)
will play against the Raiders today
and he appears to be getting a good push off the line as he warms up right now.
Witten, considered to be one of the toughest players on the team, vowed to play against the Raiders, but the team's medical staff was very concerned about his mid-foot sprain, which is located halfway between his big toe and his ankle.
No one is worried about Witten's ability to run in the open field, but there was concern that he'd have trouble firing off the ball. We'll definitely keep our eye on Witten early in the game to see if he's limited in any way. Here are the inactives for today's game:
Cowboys
: QB
Stephen McGee
(emergency), S
Ken Hamlin
, CB
Cletis Gordon
, LB
Jason Williams
, G
Montrae Holland
, C/G
Duke Preston
, T
Marc Colombo
, LB
Curtis Johnson
, LB Slade Norris
Raiders
: WR
Todd Watkins
, LB
David Nixon
, T
Khalif Barnes
, T
Erik Pears
, WR
Javon Walker
, WR
Nick Miller
November, 22, 2009
11/22/09
12:13
PM ET
By
Matt Mosley
| ESPN.com
We've been hearing it all morning, but the Redskins have made it official that defensive tackle
Albert Haynesworth
will not play today against the Cowboys. It's obviously a huge blow for a team that depends on Haynesworth to be a disruptive force in the middle of the defense.

Haynesworth
Haynesworth will be replaced at defensive tackle by
Kedric Golston
. But here's the one silver lining: A former NFL scout just informed me that he thinks the Cowboys will be able to play a "pocket-controlled" game, which means they'll have a better opportunity to keep
Tony Romo
from extending plays with his feet.
The thought is that Haynesworth is so disruptive that he would force Romo to constantly leave the pocket. But that's about the only positive news I can offer Redskins fans right now.
In other news,
Fred Smoot
will start in place of
Carlos Rogers
at cornerback for the Redskins. Rogers was pulled for a series last week against the Broncos and he was pretty vocal about it.
Here are the other inactives:
Cowboys: QB
Stephen McGee
(emergency), S
Ken Hamlin
, CB
Allen Rossum
, LB
Jason Williams
, G
Montrae Holland
, C/G
Duke Preston
, T
Marc Colombo
, LB
Curtis Johnson
Redskins: CB
Kevin Barnes
, RB
Clinton Portis
, FB
Eddie Williams
, TE
Chris Cooley
, LB
Robert Henson
, T
Mike Williams
, DT Albert Haynesworth, DE
Renaldo Wynn
October, 25, 2009
10/25/09
3:32
PM ET
By
Matt Mosley
| ESPN.com
Posted by ESPN.com's Matt Mosley
ARLINGTON, Texas -- Hello and welcome to today's live blogging experience. I'll be bouncing back and forth between the Beast and
NFL Nation Live
. Fortunately, we'll have this game covered from every angle. NFC South blogger Pat Yasinskas has you covered from the Falcons' standpoint and I'll try to take care of the Cowboys' angles.
We're also pleased
to have ESPNDallas writers
Calvin Watkins and Tim MacMahon in the house. No surprises on the inactives, but I'll give them to you anyway:
Cowboys:
Emergency QB
Stephen McGee
, S
Mike Hamlin
, LB
Jason Williams
, G
Montrae Holland
, C/G
Duke Preston
, T
Pat McQuistan
, WR
Kevin Ogletree
, LB
Curtis Johnson
Falcons:
Emergency QB
John Parker Wilson
, S
William Moore
, RB
Jerious Norwood
, FB
Ovie Mughelli
, S
Antoine Harris
, OT
Garrett Reynolds
, G
Quinn Ojinnaka
I'll be paying close attention to Cowboys wide receiver Roy Williams the first time he takes a shot. I think it's important for him to catch an early ball and take a hit. Once he does that, I think he'll be ready to go. The Falcons are under-staffed in the secondary today and I've always thought cornerback
Chris Houston
was a little soft.
October, 4, 2009
10/04/09
3:25
PM ET
By
Matt Mosley
| ESPN.com

Posted by ESPN.com's Matt Mosley
DENVER -- Cowboys coaches and athletic trainers were gathered around running back
Marion Barber
(left quad) as he worked out a couple hours before the game. The Beast reported last night that
Tashard Choice
would get the majority of the carries. And unless Barber made some incredible progress, I expect that to hold up.
Here are the inactives for both teams:
Cowboys:
QB
Stephen McGee
(emer.), RB
Felix Jones
, S
Mike Hamlin
, G
Montrae Holland
, C
Duke Preston
, T
Pat McQuistan
, WR
Kevin Ogletree
LB
Curtis Johnson
Broncos:
QB
Tom Brandstater
(emer.), CB
Alphonso Smith
, ILB/FB
Spencer Larsen
, G/C
Ben Hamilton
, DL
Chris Baker
, T
Brandon Gorin
, WR
Brandon Lloyd
, OLB/DE
Jarvis Moss