October, 4, 2013
10/04/13
7:30
AM ET
The Washington Redskins viewed him as a No. 1 receiver even if others disagreed. A year ago the Redskins went 9-1 with Pierre Garcon, who signed here in 2012 after four years with Indianapolis. This season, with no more toe issues, he's been the most consistent player offensively, with a team-best 29 catches for 339 yards and two touchdowns – he's on pace for 116 catches, which would be 46 more than his career high. Garcon also made news this summer when he said the Redskins' offense could be the best ever. Last week he said he thinks they can still be that good: "We have a lot of good players. We have a lot of athletes. It's a tough task; we still have time to turn it around."
Are you playing the way you want to play?
[+] Enlarge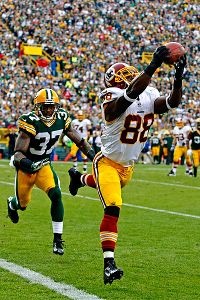 AP Photo/Matt LudtkePierre Garcon shattered his previous career highs for catches and yards in 2013.
Pierre Garcon:
It's a start. It's good to get the ball and catch the ball and make plays. There's a lot of things I can do better. We're all coming back from injuries, [
Robert Griffin III
] is coming back and still getting the system down and trying to do different things we did from last year. Guys are picking up on our scheme. It's a good start. There are things we can improve on, but there are some positives we can build on.
Where did you build on last season?
Garcon:
Just learning the playbook, getting more comfortable to understand what the coach wants and sees and what the coach wants us to accomplish on certain plays. The physical part is nothing outrageous, it's just being in shape and strong and playing for 60 minutes.
Do you like when people say you play angry?
Garcon:
Yeah, I don't mind. I don't really care what they say. You can't look at compliments too much. You just have to be happy with yourself. You have to go out and play hard. If I'm showing my teammates I'm giving everything I've got, that's what matters.
Do you allow yourself to look at your numbers?
Garcon:
You see the numbers because we're all looking at football numbers. We know who has talent and who doesn't have talent and who can get better and what we can get better at. Some guys have great numbers and aren't that great, and some guys have bad numbers and are great.
Which category are you?
Garcon:
I'm just trying to keep my job. That's my number one thing.
What did you learn from playing with guys like Dallas Clark, Reggie Wayne, Marvin Harrison, Peyton Manning?
Garcon:
Everything. Playing Division III football to NFL wide receiver is a lot different, having to run routes and learn coverages and get off press and get off everything. So I had to learn everything. I learned from them and took notes and did what they did and stayed with it and continued to work with it even after I left.
For a Division III guy, that was a good spot to go then, right?
Garcon:
That's what helped me get to where I'm at now. I got from D-III to watching a lot of guys, a lot of Pro Bowlers and watched them do what they did. I continued to grow. I'm sure they're proud of me now.
Did you see them do things right away that you knew you needed to learn or did it take time?
Garcon:
You know right away with those guys, Marvin and Reggie, they're doing what they want to do, so you watch them. The coach tells us to watch the guy ahead of you like they tell any rookie. So you watch what they're doing and pay attention to them. I watched everything they did and I asked them what they were watching in a defense, what they see and how they run routes, how they do everything and how to communicate with the quarterback. I took whatever they knew and put it to myself and added a little juice to it.
At what point did you feel like you were ready to take off?
Garcon:
I've been feeling like I was ready to take the next step. Things happen and injuries happen. You can't dwell on injuries. Every game I can't wait to play, can't wait to show what I can do. I try to take advantage of every snap I get. I'm still learning and trying to get better.
What are you still learning?
Garcon:
Learning to see what kind of leverage the defense is playing and how they're playing, how to get in and out of breaks, making clean breaks, catching with your hands and seeing the coverage before it happens. The little things.
September, 5, 2012
9/05/12
1:00
PM ET
We do "Final Word" on Fridays, when we offer our famous "five nuggets of knowledge" about the division's games that week. I'm going to do that Friday, have no fear, but by then only two of the NFC East's four teams will have yet to play their Week 1 games. So, with the
Dallas Cowboys
and the
New York Giants
set to kick off the NFL season Wednesday night in New Jersey, I thought I'd offer five nuggets of knowledge about tonight's game, with the help of ESPN Stats & Information:
The worth of Witten.
Over the past three years, according to Stats & Info's "next level" numbers, Cowboys quarterback
Tony Romo
has completed 73.5 percent of his passes to tight end
Jason Witten
. During that same time period, the only higher percentage among quarterback-tight end combos was the 75.3 percent that
Peyton Manning
completed to
Dallas Clark
in Indianapolis. Witten is doubtful for tonight's game with a spleen injury.
[+] Enlarge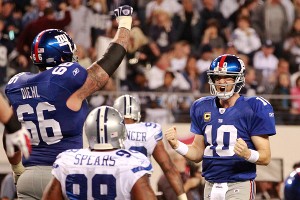 Tim Heitman/US PresswireEli Manning has feasted on Cowboys defenses, throwing 31 touchdown passes in 15 career games against Dallas.
Breaking the Boys.
Giants quarterback
Eli Manning
has 31 career touchdown passes in 15 career regular-season games against the Cowboys. That's his highest total against any opponent, and only three quarterbacks in NFL history have thrown more touchdown passes against the Cowboys: Jim Hart (35 in 24 games), Phil Simms (34 in 23) and Sonny Jurgensen (33 in 22).
Wednesday wonder.
According to the Elias Sports Bureau, there has not been an NFL game played on a Wednesday since Sept. 22, 1948, when the Rams beat the Lions 44-7. The NFL's kickoff game has been held on Thursday nights in recent years, but this year's was moved to Wednesday so as not to conflict with President Barack Obama's acceptance speech Thursday night at the Democratic National Convention. On a personal note, after tonight, I will have covered an NFL game on every day of the week other than Friday. Yes, I was at the Tuesday night game between the Vikings and the Eagles in Philadelphia two years ago.
Beginner's luck?
The Cowboys and the Giants have played five times in season openers, and the Cowboys are 5-0 in those games (by a combined score of 194-72, by the way!). The last time they met in a season opener was 2007. The Cowboys won that game 45-35 and went on to finish 13-3 and win the NFC East. But they would lose a home playoff game that season to the 10-6 Giants, who went on to win the Super Bowl.
Keep 'em in coverage.
Don't expect the Cowboys to blitz much tonight. Dallas sent five or more pass-rushers on just 34.5 percent of its opponents' pass plays in 2011, and their numbers when they did so ranked near the bottom of the league. While they've upgraded at cornerback with
Brandon Carr
and
Morris Claiborne
, that doesn't necessarily mean they should be more aggressive in this game against Manning. The Giants quarterback threw 18 touchdown passes last year when teams sent five or more pass-rushers at him -- the most of any quarterback in the league against the blitz.
March, 13, 2012
3/13/12
4:50
PM ET
Former
Indianapolis Colts
wide receiver
Pierre Garcon
has announced on
Facebook
and
Twitter
that he is signing with the
Washington Redskins
.
"It's a great signing by the Redskins," former Colts GM Bill Polian said on NFL Live. "He's got great size, great speed. Played at Division III Mount Union College, just now coming into his own in the NFL. He's got world-class speed. In the west coast offense, where they look for guys who can catch the ball across the middle and run with it after the catch, Pierre Garcon is a perfect fit."
Former Charger
Vincent Jackson
was the best player left on the free-agent wide receiver market and the No. 1 guy on the wish list of most Redskins fans. But this quick move by Washington indicates that perhaps Jackson's talks with the
Tampa Bay Buccaneers
are pretty far down the road.
Garcon has had his moments, to be sure, but he's never been a real No. 1 wide receiver and there's nothing to prove he can handle that kind of role. He flourished at times with
Peyton Manning
throwing him the ball, but he was operating in a system in which he was usually no better than the No. 3 target behind
Reggie Wayne
and tight end
Dallas Clark
.
As Rich Campbell of the Washington Times pointed out in the wake of this news, Garcon averaged 5.2 yards after the catch in 2011, compared with 3.7 for Jackson and 3.8 for Washington's
Santana Moss
.
Shanahan did tell me in December that he was looking for a playmaker who could catch the ball on a slant and "take it the rest of the way," and that YAC number indicates Garcon could be such a guy. He turns 26 in August and could break out if given the opportunity as a No. 1.
April, 15, 2011
4/15/11
1:00
PM ET
By
Matt Williamson, Scouts Inc.
| ESPN.com
Scouts Inc.'s Matt Williamson examines the tight ends of each NFC East team. Today: New York Giants.

Kevin Boss
is an underrated all-around player, but New York has to be last on this list because Boss could become a free agent. It would surprise me if Boss weren't retained, but that possibility lowers the Giants' ranking. Boss is a big, able receiver who has a little field-stretching ability (15.2 yards per catch) and has the skill set to thrive in the red zone. He runs better than many realize. Boss can move the chains and be a factor in the middle of the field. He started last season very slowly, but then quickly picked up the pace in a big way before injuring his hip. As New York's dynamic wide receivers went down, Boss' receiving contributions went up -- proving his ability to help the Giants (or another team) in this capacity. But it also cannot be overlooked that Boss had way too many dropped passes last season. New York's receivers need to help
Eli Manning
more than they did.
The Giants had high hopes for
Travis Beckum
as a receiving threat in the mold of a
Dallas Clark
, but that has yet to come to fruition. When the Giants did use Beckum, they often detached him from the formation. He needs to do a much better job exploiting favorable matchups, and he isn't much of a blocker.
Dallas tops this list easily and probably is stronger at the tight end position than any team in football. After Dallas, there could be an argument made for the Eagles at No. 2 based on
Brent Celek
's 2009 production, but his downturn was just too dramatic to ignore, which places the Eagles third behind Washington. New York brings up the rear.
Scouts Inc. watches games, breaks down film and studies football from all angles for ESPN.com.
December, 3, 2010
12/03/10
4:00
PM ET
By
Matt Mosley
| ESPN.com
»
NFC Final Word
:
East
|
West
|
North
|
South
»
AFC
:
East
|
West
|
North
|
South
Five nuggets of knowledge about Week 13.
[+] Enlarge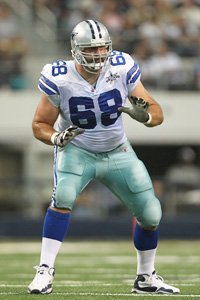 Matthew Emmons/US PresswireDoug Free will have his hands full with Colts DE Dwight Freeney.
Cowboys left tackle Doug Free needs to have his best game of the season.
Most left tackles need some help against Colts All-Pro defensive end
Dwight Freeney
, but I don't think Free will have that luxury. Right tackle
Marc Colombo
will need a lot of help against
Robert Mathis
on the other side. I actually think Free's up to the task. He'll have to get out of his stance quickly and get an immediate punch with his arms to force Freeney to re-start. As most of you know, Freeney will try to get to the outside and turn the corner on Free. He's been the Cowboys' best offensive lineman this season and I think he'll have a strong performance against Freeney. Is that a stone-cold lock of a prediction? Absolutely not.
It's time for the Giants to actually do something with their opening possession.
Offensive coordinator Kevin Gilbride spent a lot of time this week talking about how he likes to get a feel for defenses on the first series of games. The Giants finally scored on their first possession against the Jaguars, but it was only a field goal. The Eagles scored on their first three possessions against the Texans, but the Giants almost always wait until the second half to get going. They've been dominated in the second quarter. The defense has given up 82 points, and the offense hasn't always responded in the first half. With a beat-up team like the Redskins, you can't let them hang around. Just look at what almost happened to the Eagles on Thursday night. Gilbride needs to spend less time setting things up and more time dictating the action. I realize it's tough without
Hakeem Nicks
and
Steve Smith
in the lineup, but the Giants have enough weapons to get things done, as they showed in the fourth quarter against the Jaguars. Maybe they can get
Kevin Boss
going a little bit earlier in this game.
The Redskins have to unleash the pass-rush on Eli Manning early in this game.
If Washington can bring some pressure up the middle and get in Manning's face, it will cause problems.
Mario Manningham
's really the only wide receiver he has faith in, and I think
DeAngelo Hall
has a chance to lock him down. But if Manningham gets the ball on a quick screen, the Redskins have to run everyone to the ball. Manningham has deceptive speed and he's good at making defenders miss. This is also a game where the Skins have to get back to creating takeaways. They were on a torrid pace early in the season, but things have tailed off. Outside linebacker
Brian Orakpo
has to be thinking about the strip because Manning has some ball-security issues at times.
The Cowboys' safeties will be under a lot of pressure against the Colts.
Peyton Manning
looks for
Pierre Garcon
on a lot of vertical routes, but
Reggie Wayne
will look to get loose across the middle. It's important for
Alan Ball
and
Gerald Sensabaugh
to be more disciplined than ever. The Colts are looking for a safety to take one false step. If that happens, they're ready to pounce. And I had a chance to watch tight end
Jacob Tamme
in person against the Eagles. He doesn't have the speed of
Dallas Clark
, but he's a sure-handed receiver who can break tackles if the Cowboys aren't careful. Manning's like most quarterbacks in that he hates having anyone in his face. If nose tackle
Jay Ratliff
and defensive end
Stephen Bowen
can collapse the pocket in the pass rush, I think they can cause some mistakes. Manning took way too many hits against the
San Diego Chargers
. In Sunday's game, the Cowboys need to use a similar approach. If you allow Manning to find a rhythm, it could be a long day. But without any semblance of a running game, it makes him a little bit easier to defend.
Can McNabb continue his dominance of the Giants?
McNabb is 11-7 lifetime against the Giants, but he was wearing a different uniform all those years. He's won four consecutive games over the Giants while throwing to quality receivers such as
DeSean Jackson
,
Jason Avant
and
Jeremy Maclin
(in '09). I think McNabb has a comfort level against the Giants' personnel, but defensive coordinator Perry Fewell has changed things up. I think he'll throw a lot of different looks at McNabb, and I'd look for him to send
Deon Grant
and
Antrel Rolle
on some safety blitzes early in this game. If the Skins can block it up, McNabb will have a chance to make plays downfield. He needs
Santana Moss
to come up big for him, but I think
Terrell Thomas
will be ready for the challenge at cornerback. Without a running game, McNabb's a sitting duck. Maybe "sitting" isn't fair because of his mobility, but you get the picture. The Giants will try to make the Skins one-dimensional early in this game.
October, 23, 2010
10/23/10
1:55
PM ET
By
Matt Mosley
| ESPN.com
This is a pivotal week in the NFC East. The
New York Giants
can finish off the
Dallas Cowboys
, and the Eagles have a chance to emerge as an elite team in the conference. The
Washington Redskins
are hoping
Jay Cutler
will play fast and loose with the football, which is his normal routine. Now, let's see what's on your mind in this week's special Texas Rangers World Series tribute edition:
Jeff from Emporia, Kan., wonders why his Redskins keep injuring players:
As a Redskins fan, I'm hesitant to point this out. The Skins have a nasty habit of injuring key players on the other team. The recent injury of
Dallas Clark
is just the latest example, but
Jermichael Finley
also comes to mind.
Steven Jackson
,
Michael Vick
,
Andre Johnson
. Even dating back to last year,
London Fletcher
managed to give both
DeSean Jackson
and
Brian Westbrook
concussions. I've seen it week in and week out for the past couple of years.
Mosley:
It would be one thing if Fletcher had a reputation for being a dirty player, but that's not the case. I was at that game where Westbrook made contact with Fletcher's knee. There was nothing intentional about that play at all. And with Vick's injury, you had a quarterback hurtling toward the end zone. I've seen some dirty plays this season around the league, but I really don't get the sense that Jim Haslett's defense is going out of its way to injure players. I think the fact that some marquee players have suffered injuries against the Skins is making this more of a story than it needs to be.
---
Jeff from Gainesville, Va., wants to discuss Sports Illustrated's overrated players poll:
Here's some feedback on that overrated players poll: I wish Romo was being overrated. He's a great QB and he makes some great plays.
Eli Manning
, he doesn't scramble well but when he has good protection, he is great and he usually has his way with the Skins every season (I hope not this year). I think
Albert Haynesworth
can be great, but he's not playing that way now. He's overpaid but he is still a difference maker...not the best fit in DC currently but he does always draw two players to block him. I'm hoping he turns it around and has a great rest of the season, but I doubt that happens.
Mosley:
Manning and
Tony Romo
play in a ton of national TV games and they're talked about constantly in two top-five markets. I think players vote for them, in part, because they constantly have to see them. As I stated earlier in the week, Manning suffers in these type of player surveys because he's constantly compared to his older brother. Romo achieved fame before he'd achieved much success. And that's been a hard thing for him to overcome perception wise. But Manning has a Super Bowl ring and I think Romo will lead the Cowboys to more playoff wins, although it might not be this season. Haynesworth's paycheck far exceeds his production, so that's a pretty easy call.
---
Nick from Boston has a reasonable request this afternoon:
Dear Matt, can we change the name "turnover ratio?" "Ratio" means division, and the stat we look at is usually a difference. How about "turnover differential?" Maybe it's just because I teach math, but this drives me bananas. Also, thanks for the NFC Yeast (it's rising!) coverage. I think you're pretty good at being impartial, and I'm an Eagles fan.
Mosley:
Nick, I will take this under advisement. I also prefer "turnover differential," so I'll try to banish "turnover ratio" from the Beast discourse. Your question was almost mathematically eliminated from today's mailbag, but we decided to make room at the last moment.
---
J.J. from Washington, D.C., wants to talk about Andy Reid's decision-making process:
Matt, while I am a passionate Eagles fan, I am not always a passionate Andy Reid fan. Some weeks ago I thought about taking you to task for your comments about Andy and his approach to
Kevin Kolb
and Michael Vick. To put it simply, and rebut your comments, Andy's job is NOT about taking care of a QB (no matter who). His job is about winning games. The QB coach and maybe the OC can worry about how the QB feels or doesn't feel. Andy's job (as is any senior manager or exec) is to produce results from his organization. What Andy has done with his QB decisions is do exactly that, but MUCH more importantly, he has produced those results while trading away the previous franchise QB (which I disagreed with) AND having the No.1 QB get injured. So whether I agree with Andy's decisions, his job is to make sure the Eagles win games and perform. Reid's decisions have allowed that to happen even with changes/injuries that could easily have had very different results. Regardless of how his quarterbacks felt about it.
Mosley:
Thanks for your THOUGHTFUL comment, J.J. I actually think Reid spends more time worrying about how his quarterbacks will "feel" than you think. Reid had an extremely close relationship with
Donovan McNabb
, so that was a tough decision for everyone involved. Reid may come across as cold and calculating, but he's quite attached to some of his players. The Eagles' head coach will likely have another tough decision to make when Vick's healthy again. And every player in that locker room will be monitoring Reid's every move. It's extremely important for coaches to show their players how much faith they have in their starting quarterback. Right now, the Eagles have two viable starting quarterbacks. And some players definitely have their preferences. This will be a very interesting thing to watch.
---
Devin from Sydney, Australia, has a question about the Giants:
Matt, the blog formerly known as the Beast (it will one day return) has helped my move abroad and 4 a.m. kickoffs! Got another Giants question. The Defense, especially
Jonathan Goff
, has been doing well covering TEs, which has traditionally been a weak spot. How do you think the Giants LBs and DBs will fare against the richness of TEs in the divison?
Mosley:
I know for a fact that Giants general manager Jerry Reese keeps Cowboys tight end
Jason Witten
in mind when he's scouting free agents and college players. The Giants were awful at safety last season, but now that's a position of strength. The Giants believe that
Antrel Rolle
's capable of covering Witten in space. And Goff is highly intelligent player who has done a nice job in coverage as well.
Brent Celek
,
Chris Cooley
and Witten are too talented to be completely shut down, but I think the Giants are better at safety than at any time in the past five or six years.