December, 26, 2012
12/26/12
7:45
PM ET
»
NFC Pro Bowl
:
East
|
West
|
North
|
South
»
AFC Pro Bowl
:
East
|
West
|
North
|
South
Perfect sense:
Washington Redskins
quarterback
Robert Griffin
III ranks second in the league in passer rating behind Green Bay's
Aaron Rodgers
and has 26l touchdowns (20 passing, 6 rushing) against just five interceptions. He has led the Redskins to the cusp of a division title in his first season, finished second in the NFC in fan voting and is a worthy and unsurprising selection as a reserve quarterback. The only other rookie quarterback ever to be selected to the original Pro Bowl roster (i.e., before people start dropping out and being replaced by alternates and such) was
Dan Marino
. ... I think Griffin's left tackle,
Trent Williams
, also made perfect sense, and he made it as a reserve tackle in his third season and one year after serving a four-game drug suspension. Williams has come a long way. ...
Lorenzo Alexander
is a special-teams ace, and his versatility there and at linebacker has been a major asset for the Redskins this season, as it is every season. Good to see him get recognized. ... The
New York Giants
'
Jason Pierre-Paul
and the
Dallas Cowboys
'
DeMarcus Ware
are no-brainers as NFC starting pass-rushers. Even though neither has the sack numbers they'd like to have, they're still disruptive forces who command the attention of blockers and can dominate games. ...
Jason Witten
remains as reliable a tight end as there is in the league, especially in what's been a bit of a down year at the position. Witten has 103 catches for 983 yards to lead all tight ends in both categories.
Made it on rep:
Giants guard
Chris Snee
is not having his best season, and I don't think he's even the best guard in the NFC East. I think the
Philadelphia Eagles
'
Evan Mathis
has outplayed him, especially considering Mathis has lost all four of his offensive linemates to injury, but the Eagles have no Pro Bowlers at all. ... Giants wide receiver
Victor Cruz
is sixth in catches, ninth in receiving yards and fifth in touchdowns among NFC wide receivers. He's not a bad pick, but at least one other from this division could have made it ahead of him, as we'll address in the next portion of this post.
Got robbed:
Cowboys wide receiver
Dez Bryant
has scored at least one touchdown in each of his past seven games. He has six more catches, 271 more yards and three more touchdowns than Cruz. He's even playing with a broken finger. (Not that you get extra consideration for that, but while we're listing his accomplishments ...) Bryant has simply been a better player this year than Cruz, but Bryant is likely a victim of the fact that many of the impressions that lead to this voting are made early in the season and his season didn't turn otherworldly until mid-November. It was already a good season before that, though, and right now the only wide receivers better in the NFC are
Calvin Johnson
and maybe
Brandon Marshall
. ... Mathis, linebacker
DeMeco Ryans
and kicker
Alex Henery
are the Eagles who might have merited consideration, but linebacker is an overloaded position in the NFC and Henery lost out to a guy (
Blair Walsh
) who's 9-for-9 from 50-plus yards. Henery hasn't made any from that distance. ... You could argue that
Anthony Spencer
is having the better season at outside linebacker than teammate Ware. ... Redskins running back
Alfred Morris
is third in the NFC in rushing yards and has 10 rushing touchdowns and might have a gripe about
Frank Gore
's making it over him. ... Redskins center
Will Montgomery
surely should have made it ahead of Green Bay's
Jeff Saturday
.
Click here for the complete Pro Bowl roster.
May, 7, 2012
5/07/12
10:16
AM ET
Your first reaction is "non-story."
Washington Redskins
coach Mike Shanahan came out Sunday and said top draft pick
Robert Griffin III
was his
starting quarterback
, and yeah, sure, we all already knew that. They traded three first-round picks and a second-round pick for him, and it's not as though they already had Dan Marino and Joe Montana on the roster if you know what I'm saying. So of course Griffin's the starter. They'd burn the place down if he started
Rex Grossman
in the opener, and Shanahan knows that.
So why is it a story? I mean, other than the fact that it's May 7? Here are three reasons I think there's value in Shanahan saying what he said Sunday:
[+] Enlarge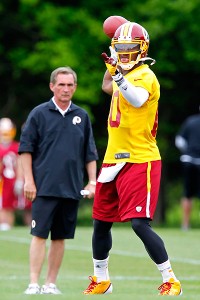 Geoff Burke/US PresswireMike Shanahan got to see his prize quarterback, Robert Griffin III, on the practice field for the first time last weekend.
1. The perpetual hunt for new customers.
I know it's tough to imagine, but not everyone is as obsessed with sports as those of us who write about it for a living or spend huge chunks of our workdays reading NFL blogs on ESPN.com. There are people who haven't been living and dying with every RG3-related move over the past few weeks, and for whom the idea that the rookie is going to be the Redskins' starting quarterback wasn't obvious. Part of what Shanahan and the Redskins are trying to do right now, in addition to win more games and get back to the playoffs, is repair and rebuild a relationship with a fan base. There's a great deal of excitement right now in Washington about Griffin, and it makes sense to try to capitalize on that by finding ways to get the word out to potential buyers of tickets and jerseys who may have been busy paying attention to other things during the NFL offseason. Four months before the start of the season and six months before the presidential election, Shanahan grabbed himself part of a Washington, D.C., Monday morning news cycle. How many tickets will that sell? Well, it didn't cost him anything to say it, so if the answer is "one," then why not?
2. This Kirk Cousins "controversy" foolishness.
Again, everyone who's been paying attention to the Redskins knows that Shanahan didn't draft Kirk Cousins in the fourth round to compete with Griffin for the starter's job. But a large part of the discussion about the Redskins last week was devoted to the idea of a potential controversy or competition involving those two players, and this was a chance for Shanahan to turn the conversation back in his preferred direction. Maybe somebody (heck, maybe Griffin!) heard all of the silly debate that went on last week about the Cousins pick and took it the wrong way. This was a chance to leave no doubt.
3. He's genuinely excited.
Shanahan's famous for not revealing much, especially emotionally. But he's very much in love with his new young quarterback. And while I've preached on here many times that we're not supposed to take what these coaches and GMs say publicly at face value without asking serious questions about why they're saying it, I can promise you that Shanahan's excitement over Griffin is sincere. I believe he very much enjoyed having him on the practice field for the first time and imagining the impact Griffin's abilities can have on what he's hoping the Redskins are about to become. He was asked a question and he answered it, which is the simplest explanation for why he said what he said. But I think part of the deal is how fired up this coach is about this player.
April, 23, 2012
4/23/12
11:38
AM ET
Former
Philadelphia Eagles
safety
Brian Dawkins
, who spent the final three years of his career with the Broncos much to the chagrin of Eagles fans, has
announced his retirement
from the NFL. Since the news is not a surprise, the accolades began to pour in instantly.
Rich Hofmann writes
that the next stop for Dawkins is the Pro Football Hall of Fame in Canton, Ohio. Jeff McLane writes that the Eagles have issued an invitation for Dawkins to come back to Philadelphia and
officially retire as an Eagle
. Ashley Fox, who was a columnist at the Philadelphia Inquirer before she was our NFL columnist, recalls that newspaper ranking Dawkins the fifth-greatest Eagle of all time when it did an issue some years back on the 75th anniversary of the team.
Davis
"He was the perfect match of personality with the fan base," Ashley said this morning when I called her looking for help on a Dawkins retirement post. "Because he cared as much as they did. He gave it all up on game day and became this hard-hitting enforcer even though that really wasn't his personality off the field."
Eagles fans, players and coaches loved Dawkins. One of the most popular questions I got from Eagles fans over the past year was whether they'd ever consider bringing him back. In spite of drafting safeties in the second round of each of the last two drafts, the Eagles have not been able to fill the on-field and off-field voids left by Dawkins when he was allowed to leave via free agency following the 2008 season.
Players who are parts of championship teams tend to be the players who are universally loved forever by that team's fans. Rare is the player who makes that kind of indelible mark without the aid of a championship ring. Don Mattingly with the Yankees springs to mind, adored by fans for whom he was the one shining light in a rare down era. Maybe
Dan Marino
with the Dolphins, for his sheer excellence. Dawkins is such a player in Philadelphia. I imagine the ovation for him whenever he shows up at an Eagles game will be deafening. He made his mark in Philadelphia, which has missed him for three years and seemingly always will.
December, 13, 2011
12/13/11
1:00
PM ET
»
NFC Stock Watch
:
East
|
West
|
North
|
South
»
AFC
:
East
|
West
|
North
|
South
FALLING
1. Rob Ryan.
The
Dallas Cowboys
' defensive coordinator was a hot name on the head-coaching rumor mill a couple of weeks ago. But lately, Ryan's defense hasn't been able to stop anyone. He seems to blitz when he shouldn't blitz, to not blitz when he should ... the kinds of things that happen when your coverage in the secondary is failing you. And it's failing Ryan big-time right now.
Terence Newman
has regressed throughout the season.
Mike Jenkins
looks like an injury waiting to happen. And the guys behind the starting corners aren't playing well at all. Of all the Cowboys' collapses this year, the one that might haunt them the most if they don't end up in the playoffs is blowing a 12-point lead in the final six minutes against the Giants on Sunday night.
2. New York Giants secondary:
The Giants as a whole are rising, as they're back on top of the division by virtue of a tiebreaker and in spite of the four-game losing streak they just ended. But if you watched Sunday's game, you noticed the Cowboys weren't the only team in it that couldn't get a stop on the back end. Giants coach Tom Coughlin called his team's coverage issues a "grave concern," and the Giants need to get some things fixed in the secondary these next two weeks against
Rex Grossman
and
Mark Sanchez
before they see
Tony Romo
& Co. again in what could be a critical Week 17 rematch.
3. Santana Moss, Redskins receiver.
Normally one of the
Washington Redskins
' most solid and reliable offensive performers, Moss cost his team a chance to send Sunday's game against the Patriots into overtime. An offensive pass interference penalty moved the Redskins back as they were driving for the tying touchdown, and Grossman's final throw of the game went off Moss' hands and into the arms of Patriots linebacker
Jerod Mayo
for an interception that ended all hope. It hasn't been the greatest year for Moss, who missed games earlier in the season with a broken hand, but Sunday was a low point.
RISING
[+] Enlarge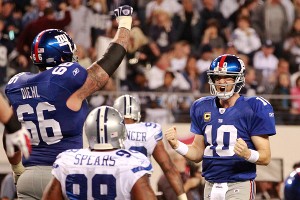 Tim Heitman/US PresswireGiants QB Eli Manning is having a stellar second half of the season, passing for over 4,000 yards.
1. Eli Manning, Giants quarterback.
He's been here before, but Manning just keeps on rising and rising and rising. His 400 passing yards in his latest comeback victory established a new single-season career high. He's over 4,000 yards for the third year in a row and one of four quarterbacks who are threatening to surpass
Dan Marino
's single-season NFL record of 5,084 yards. If
Aaron Rodgers
hadn't already locked up the award, Manning would be in the MVP race. He's led five game-winning touchdown drives this year for a team that has only seven wins. If the Giants' run game can look as good as it looked Sunday behind a resurgent
Brandon Jacobs
, the way Manning's playing could make them one of the best offenses in the league in the final month.
2. Felix Jones, Cowboys running back.
Sadly for Cowboys rookie running back
DeMarco Murray
, his season is over because of a severe ankle injury he suffered in the first quarter of Sunday's loss. That means a lot more carries for Jones, who was the starter earlier this season before he got hurt and Murray took over. Jones looked fresh and spry and more than capable Sunday. The problem now is that they have practically nothing behind him, so the priority has to be keeping Jones from getting hurt. I imagine the Cowboys will throw the ball more over their final three games, but when they run, they'll ask Jones to do the running.
3. Philadelphia Eagles defense.
They totally cooled off a red-hot Miami team Sunday, knocking quarterback
Matt Moore
out of the game and shutting down the Dolphins after an early
Brandon Marshall
touchdown. First-year defensive coordinator Juan Castillo is working new guys into new roles and expanding what the defense is capable of doing. It was the best the defense has looked all year and the way the Eagles had hoped they'd be able to play consistently this year. The talent is there, and if the scheme and focus issues are settled, it may be enough to carry the Eagles to a strong finish, even if it is too little too late.
June, 24, 2011
6/24/11
10:59
AM ET
Looking for ways to improve their dismal punt return game, the New York Giants plan to hire former Dolphins, Jets and Patriots special teams whiz Larry Izzo, according to
The Star-Ledger's Giants beat whiz Mike Garafolo
. Izzo is a 14-year veteran who went to three Pro Bowls as a special teamer. Mike says Izzo will work as an assistant to special teams coach Tom Quinn, attempting to help "improve the team's return game (last in punt returns, next-to-last in kick returns last season) and help a punt-coverage unit that allowed the second-highest average in the NFL (14.9 yards per return) and a pair of touchdowns in 2010."
Izzo was one of those cult-hero players around whom legends would spring up, mainly because he never looked the part of the big, bad NFL star but managed to make so many who did look bad. I was covering the Dolphins in 1996, which was Jimmy Johnson's first year as coach and Izzo's first year in the league. During a preseason meeting, Johnson was going through film with the team and talking about what had to be done in order to make the team. "Make plays," Johnson said, then showed a clip of Dan Marino making one of his brilliant touchdown throws. "Dan Marino makes plays," Johnson said. "Dan Marino is on the team."
The next clip was of Izzo making an insane special teams tackle in a preseason game. Remember, this was an undrafted free agent of Rice who'd been an afterthought among anyone (inside or outside that room) who was paying attention to the potential roster. "Larry Izzo makes plays," Johnson said. "Larry Izzo is on the team." The meeting ended shortly thereafter.
That story is true. It's also the way Izzo found out he made his first NFL roster. As Izzo's career blossomed over the next decade, I never forgot the day the 1996 Dolphins were told the only two players who'd made the team so far were Dan Marino and Larry Izzo. The guy built an NFL career on fierce determination. Having him around can't be a bad thing for a special teams unit that needs more intensity.
December, 8, 2010
12/08/10
11:15
AM ET
By
Matt Mosley
| ESPN.com
I wanted to let you know about a cool event that will be making stops in Nassau, N.Y., Philadelphia and Providence, R.I., for three days in January (18th, 19th and 20th). NFL fans will have an opportunity to participate in question-and-answer sessions with former players such as John Elway, Dan Marino and Shannon Sharpe. I'm also told some NFC East legends will be in attendance, but those names haven't been released.
Tickets go on sale for the Inside the Game Tour on Monday, Dec. 13.
Check out insidethegametour.com
for more information on how to purchase tickets. I know that Joe Buck and Peter King helped put this thing together, so it should be pretty entertaining.
April, 13, 2010
4/13/10
9:55
AM ET
By
Matt Mosley
| ESPN.com
And no, I'm not talking about their lack of a Super Bowl ring. Soon after the Eagles sent
Donovan McNabb
to the Redskins for a second-round draft pick in 2010 and a potential third-rounder in 2011, the folks at Football Outsiders
broke out their calculators and went to work
.
Aaron Schatz, the patron saint of FO's similarity scores system, compared McNabb's past three seasons to the three-year spans of quarterbacks who put up similar numbers. Dan Marino's 1990-92 seasons quickly caught Schatz's attention. And Archie Manning,
Brett Favre
, Phil Simms and Jim Kelly were also in the mix. This information is so privileged that we make you pay (a reasonable amount) for it via Insider status. But here's an excerpt from Schatz's fascinating study, which was published April 5:
When you look at their numbers, you wonder whether McNabb will give the Redskins that much more than they got from Jason Campbell, writes Schatz. Let's imagine McNabb's 2010 season will look like the average performance of those 10 similar players in the season following the three-year span listed above. Those players averaged 13 games, primarily because of injuries, but we prorated the average to 16 games. We then compared these expected numbers to Campbell's stats in 2009.

The McNabb comparables ended up with a better touchdown-interception ratio (22-to-14, compared to Campbell's 20-to-15); the yardage (3,411 for the McNabb comparables to 3,618 for Campbell) and completion percentage (60.8 for McNabb comparables, 64.5 for Campbell) don't match what Campbell did this past season. Yes, McNabb averaged more than 8 yards per attempt this past season, but that was a yard more than what he averaged in 2007 or 2008, and he doesn't get to bring DeSean Jackson with him to Washington.
Of course, Campbell had the lowest average per attempt in the league in '09, in part, because he was playing behind an inferior offensive line that forced him to unload the ball early. But FO's research seems to indicate that McNabb's presence alone won't lift the Redskins into the playoff conversation.
In '09, he was surrounded by a talented receiving corps and he played behind a decent offensive line. Perhaps Mike Shanahan's commitment to the running game will take pressure off McNabb, but I'm not sure this will go smoothly. What do you guys think?
October, 30, 2008
10/30/08
2:00
PM ET
By
Matt Mosley
| ESPN.com
| | |
| --- | --- |
| | |
| | Jed Jacobsohn/Getty Images |
| | Eli Manning is not the type to rest on his laurels after winning a Super Bowl. |
Posted by ESPN.com's Matt Mosley
IRVING, Texas -- If someone told you on Nov. 11, 2007, that Eli Manning would be the MVP of Super Bowl XLII, you probably would've laughed. On that fall afternoon, Manning threw two interceptions and was sacked five times in a 31-20 loss to the Cowboys at Giants Stadium.
The New York tabloids responded with subtle headlines such as "Out-Manned," and talk radio revisited the 2004 draft for the 300th time. But Manning's numbers weren't the only thing that frustrated Giants fans. It was the fact that he looked so feeble in comparison to Cowboys quarterback Tony Romo, who threw for 247 yards and four touchdowns.
Romo's ability to improvise -- a sidearm fling for a touchdown with a defender in his face -- and his charisma caused critics to judge Manning even more harshly. The Giants had given up so much for what was supposed to be NFL royalty, while the Cowboys lucked into a franchise quarterback.
The loss that day ended a six-game winning streak and dropped the Giants to 6-3. No one could've watched Manning that day and predicted he would be leading his team to a Super Bowl title three months later.
Now the roles have been reversed. The Cowboys will arrive in the Meadowlands on Sunday as a battered team that is simply trying to hold on until reinforcements arrive in two weeks. Romo is recovering from a broken right pinkie, and won't even attempt to play Sunday. But even when he returns against the Redskins after a bye week, he's facing questions that no longer surround Manning. Until he wins a playoff game, it's hard to consider Romo an elite quarterback.
In his absence, the Cowboys have made a mockery of the position. Offensive coordinator Jason Garrett convinced owner Jerry Jones that his good pal Brad Johnson could be an adequate fill-in if something happened to Romo. But in two games, Johnson has been the opposite (inadequate). His mastery of the horizontal passing game has Giants defensive coordinator Steve Spagnuolo licking his chops. The fact that a grass-roots campaign for journeyman Brooks Bollinger is under way speaks to the futility of Johnson.
Oh, and I'm starting to think that Jones is leading the campaign. I've heard from Valley Ranch sources that the Cowboys' owner was furious that he was sold a bill of goods on Johnson. And in an embarrassing slip during Terrell Owens' local radio show, Hall of Famer Michael Irvin pretty much confirmed that. For those of you who haven't seen the YouTube clip, Irvin leaned over and mentioned to T.O. that Jones had called him Sunday night to tell him how upset he was about Johnson's play. About that time, a startled T.O. reminded Irvin that the mics were still hot.
As I told Irvin on Wednesday, it might be the first time T.O. has been involved in a conversation where he's the actually the voice of reason. But enough about the Cowboys.
Anyone who thought Manning would rest on his laurels after winning a Super Bowl hasn't spent any time with him. He and his bride-to-be made a quick escape to a tropical island for a couple of weeks, and then he returned home to focus on the 2008 season. (We won't bring up the "Sex and the City" movie premiere in New York).
Some of the greatest quarterbacks -- John Elway, Dan Marino -- spend most of their careers chasing the validation that comes with winning a Super Bowl. But in a sense, Manning won a Super Bowl before any of us were convinced he was an elite quarterback. To Manning's credit, that point is not lost on him. Standing there listening to him talk after the stunning win over the Patriots, I was struck by how he talked about wanting to figure out why the Giants didn't play that way throughout the 2007 season.
He celebrated his accomplishment -- his first title at any level -- and then started identifying the flaws in his game. When Manning showed up at training camp in Albany, N.Y., one of the things he wanted to focus on was the deep ball. He was frustrated that star receiver Plaxico Burress was out with another injury, but he spun it into a positive by spending more time with young receivers such as Steve Smith, Domenik Hixon, Sinorice Moss and Mario Manningham.
When I asked him Wednesday about Burress' recent suspension and subsequent benching, he talked about his faith in other receivers. By his genteel standards, he almost came across as defiant.
"We have a lot of wide receivers, and I have total confidence in them," he said. "It's not like we haven't felt that, in the first quarter of the last game and the Seattle game when he didn't play, that we couldn't still run our offense and be just as effective."
At this point last season, Manning had thrown nine interceptions and fumbled three times. Heading into Sunday's game, he has nine touchdowns and four interceptions, three of which came in the Giants' only loss. So what changes has Manning made?
"I think maybe now I'm not trying so hard to make plays that are not there," he said. "Really just trying to play the game and understand the situation of what's going on."
A year after looking overwhelmed in that loss to the Cowboys, the Giants have an enormous advantage at the most important position on the field.