NFC East:

Daniel Te'o-Nesheim
November, 15, 2010
11/15/10
7:33
PM ET
By
Matt Mosley
| ESPN.com
LANDOVER, Md. -- Obviously, everyone in the press box has been consumed with the news of
Donovan McNabb
's five-year, $78 million contract extension. But I'm told there's still a game to play.
As we already knew,
Washington Redskins
running back
Clinton Portis
(groin) will sit out tonight's game. Here are the rest of the Skins' inactives:
John Beck
,
Kevin Barnes
, Portis,
Chad Simpson
,
Perry Riley
,
Derrick Dockery
,
Anthony Bryant
and
Jeremy Jarmon
No surprises for the
Philadelphia Eagles
:
Mike Kafka
,
Chad Hall
,
Nate Allen
,
Ellis Hobbs
,
Daniel Te'o-Nesheim
,
King Dunlap
,
Reggie Wells
,
Garrett Mills
.
OK, it looks like McNabb's agent Fletcher Smith is about to address reporters, so I'm off to visit with him.
September, 19, 2010
9/19/10
12:24
PM ET
By
Matt Mosley
| ESPN.com
With the loss of center
Jamaal Jackson
for the season, the Philadelphia Eagles will be forced to take more offensive linemen to the game.
As the Inquirer points out
. Guards Reggie Wells and Max Jean-Gilles, both inactive last Sunday, will dress against the Lions.
If Mike McGlynn runs into trouble at center,
Nick Cole
will move from his right guard spot and likely be replaced by Jean-Gilles. Because of the offensive line situation, veteran defensive end Darryl Tapp is having trouble finding a uniform on Sundays. And we're still waiting to see third-round pick Daniel Te'o Nesheim take the field in the regular season.
The Eagles and Cowboys are both one loss away from full-out panic mode. I'm in Arlington, Texas, for Bears-Cowboys, but I'll have one eye on Eagles-Lions.
September, 12, 2010
9/12/10
3:11
PM ET
By
Matt Mosley
| ESPN.com
The
Philadelphia Eagles
have made veteran defensive end
Darryl Tapp
inactive for this afternoon's game
against the
Green Bay Packers
. Tapp and third-round draft pick
Daniel Te'o-Nesheim
will not be in uniform. I thought the Eagles would try to come at Packers quarterback
Aaron Rodgers
in waves, but it looks like
Trent Cole
and rookie
Brandon Graham
will have to do the heavy lifting.
The fact that Tapp and Te'o-Nesheim aren't huge factors on special teams probably played a role in Andy Reid's decision.
Moise Fokou
's a proven special-teams player and he'll also be able to contribute as a pass-rusher. Does this mean the Eagles have already soured on Tapp?
No one from the Eagles has said anything to that effect, but you know that old saying about actions speaking ...
April, 28, 2010
4/28/10
12:13
PM ET
By
Scouts Inc.'s Matt Williamson
| ESPN.com
The Eagles are stockpiling undersized upfield defensive ends at an alarming rate this offseason. It started with the trade for
Darryl Tapp
, a deal in which they shipped out a player with the same skill set in
Chris Clemons
, though they clearly upgraded in the process. They also added a relative unknown in
Alex Hall
, who fits this mold as well.
[+] Enlarge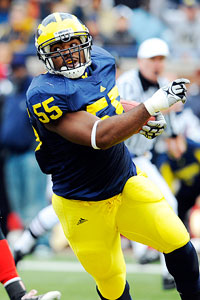 Eric Bronson/Icon SMIFirst-round pick Brandon Graham tops a group of young pass-rushers in Philly.
But in the draft, it got a little bit crazy. The Eagles paid a premium price to move up in the first round to select
Brandon Graham
, a tremendous pass-rusher who many thought could play outside linebacker in an odd front. Obviously the Eagles are expecting a lot from Graham, and I see him as one of the most NFL-ready players in this draft class. He should pay immediate dividends. But the Eagles didn't stop there. They selected Daniel Te'o-Nesheim in the third round and
Ricky Sapp
in the fifth. All three of them are edge players who are a little light to play a traditional 4-3 defensive end spot, but have upfield ability. How all these players will specifically fit in is pretty much an unknown at this point, but there are plenty of options.
The Eagles are a diverse defense that loves having versatile players with speed. Their previous strongside linebacker,
Chris Gocong
, was a defensive end in college and fit this mold. But now they are looking for more of a dynamic playmaker at that position and are hoping that someone from this large group steps up.
Moise Fokou
is a pretty solid outside linebacker but doesn't offer the potential as a pass-rusher that the newly acquired defenders do. Plus, I would think the Eagles want Fokou to move to the weak side to compete with newly acquired
Ernie Sims
, which would be a better fit for Fokou.
Trent Cole
fit a similar mold coming out of college and many projected him as a 3-4 outside linebacker. Now he is a fixture at right defensive end in Philadelphia and frankly, one of the most underrated players in football. At left defensive end, the Eagles have preferred to use a heavier player -- more of a true 4-3 base end, such as
Juqua Parker
and
Victor Abiamiri
. But they are not limited to that. In essence, there are three positions in the Eagles' base defense in which players such as the ones we are referring to can contribute -- and quite possibly thrive. Graham very well could take over the starting left end spot by opening day.
Also, having so many players with pass-rushing ability on the roster gives the Eagles a lot of personnel options on third down. They can bring in several of these players and confuse an offense's protection schemes by keeping them all mobile pre-snap in two-point stances. This type of player can be very valuable in all facets of special teams as well.
While Philadelphia may have gone a little bit overboard with their recent acquisitions of smaller defensive end types, it is hard to be overly critical of having an abundance of young pass-rushers with the potential to develop. And this is a team that has shown that it knows how to use such defenders quite well. The Eagles' run defense was stellar last season, but now this heavy-blitz scheme needs to get back to wreaking havoc on opposing quarterbacks. The late Jim Johnson would be proud of what Philadelphia has done with its roster to make that happen and it surely was done very much in his lasting image.
April, 24, 2010
4/24/10
10:01
AM ET
PHILADELPHIA -- The Eagles have nine picks remaining in the final four rounds -- more than any other team. Philadelphia came into the draft on Day 1 with a chance to control its fate, and it can finish in the same fashion. The question is, what happened in between? Why did the Eagles intentionally miss most of the second and third rounds?
Head coach Andy Reid came into Round 2 of the draft with two highly-coveted second-round picks in what is being called a very rich draft class, especially on defense, where the Eagles need help. But instead of coming away with two players capable of at least competing for a starting job, they chose only one -- safety
Nate Allen
of South Florida, who is considered a tweener. He is a corner or safety who may not be ready to start at either need position.
Then new general manager Howie Roseman, not liking what he saw on the second-round board, started moving down and down, accumulating more late-round picks. But the result did not go over well in this town. The Eagles watched the rest of the league make 49 selections -- in other words, about a draft round and a half -- before Philadelphia finally picked another player, defensive end
Daniel Te'o-Nesheim
of Washington, who is considered a solid special-teams player at best.
Coming into the draft, Roseman said the Eagles would be aggressive . They started the draft with 10 picks and seven in the top four rounds, which was more than any other team. Few interpreted that aggressiveness to mean moving back in the heart of this draft and passing on so many potential impact players. So far, the Eagles have taken just three of the first 98 players after starting the draft with five of the first 87 picks.
"What you do is you sit and evaluate the strengths of the draft by round," Reid said. "We felt the latter part of the second round and into the third round and fourth rounds were the strengths of this draft."
Here's the problem with that explanation: The Eagles didn't pick a single player in the latter part of the second round or the early third round. Philadelphia picked Allen with the so-called "Donovan pick" -- the 37th pick it got from the Redskins for
Donovan McNabb
. And then the Eagles went dark, making no picks until the 22nd pick of the third round.
What really happened was this: After packaging their two third-round picks and their No. 24 pick in the first round to jump to No. 13 to make
Brandon Graham
the first defensive end taken in this draft, the Eagles explored moving back into the first round to take one of the top-rated corners left on the first-round board. Reid admitted late Thursday night that that was a possibility. But they didn't want to depart with both their second-round picks, according to league sources.
As a result, there was a run on cornerbacks late in the first round, including
Kyle Wilson
of Boise State (Eagles defensive coordinator Sean McDermott ran his pro day), who went to the Jets, and
Devin McCourty
of Rutgers (defensive assistant Dick Jauron worked him out), who went to New England. In all, five cornerbacks were picked in the first round. Five more were selected in the second and third round, while the Eagles did not pick one -- even though they don't have a starting right cornerback right now.
Longtime starter
Sheldon Brown
was dealt to Cleveland. Veteran
Ellis Hobbs
is coming back from neck surgery. Reid insisted that Allen, who played mostly safety at South Florida, would be an option at corner. Reid rarely starts rookies. Are the Eagles after a veteran corner? Rumors were rampant Friday night that the Eagles were snooping around with the Raiders to see if Pro Bowl corner
Nnamdi Asomugha
was available. "No, that's not where we're at," Reid said Friday night.
So, in the fourth round Saturday morning, the Eagles now have four picks. If they don't pick a cornerback -- Owusu-Ansah Akwasi of Division II IUP is apparently on their radar -- there will be a lot more head scratching in Philly.
April, 23, 2010
4/23/10
10:02
PM ET
By
Matt Mosley
| ESPN.com
The Eagles spent most of the day moving down to acquire extra picks, but they finally selected Washington defensive end
Daniel Te'o-Nesheim
in the third round (86). The Eagles acquired that pick from the
Green Bay Packers
when they traded out of the No. 71 overall pick.
The Eagles did manage to use their
Donovan McNabb
pick (37) to select South Florida safety
Nate Allen
. No pressure on Allen at all. The Eagles now have nine picks Saturday: Nos. 105, 121, 122 and 125 in the fourth round. Then they go 134 and 146 in the fifth, 200 in the sixth round and 243 and 244 in the seventh. Pretty busy day for the Eagles -- and it will start early. It hasn't taken general manager Howie Roseman long to develop a reputation for working trades. He was all over the map today.
Andy Reid's currently appearing on ESPN's Glowpoint technology. He just made a T.O. joke, which was nice. Said he used to have a T.O. and now he has a new one in Daniel Te'0-Nesheim. He was also asked about McNabb and
Kevin Kolb
.
"He doesn't have to be Donovan McNabb," Reid said of Kolb. "He'll put his own name on it."
Reid was wearing a large Hawaiian shirt and said that it was big enough to fit Sal Paolantonio into it. Seriously. I'll be back with a Giants column in a bit.
By the way, Te'0-Nesheim had 30.5 sacks and 50 tackles behind the line of scrimmage at Washington. Pretty remarkable college career. He's 6-3, 263 pounds. The Eagles favor smaller rushers with speed.

NFC EAST SCOREBOARD
Thursday, 8/21
Friday, 8/22
Saturday, 8/23