November, 21, 2012
11/21/12
5:00
PM ET
»
Final Word
:
Texans-Lions
|
Redskins-Cowboys
|
Patriots-Jets
Three nuggets of knowledge about the Redskins-Cowboys Thanksgiving Day game:
The history:
The
Dallas Cowboys
have won five of their past six Thanksgiving Day games, the only loss in that stretch coming against the
New Orleans Saints
in 2010. This will be the eighth time the
Washington Redskins
have played a Thanksgiving game, and the seventh time they've done so against the Cowboys. And while they did beat the Lions 20-0 on Thanksgiving in 1973, they are 0-6 all-time against the Cowboys in Thanksgiving games. The previous time they played one was 2002, when the Cowboys beat them 27-20.
[+] Enlarge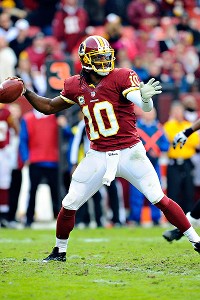 Brad Mills/US PresswireWhen the Eagles didn't send extra pressure in Week 11, Robert Griffin III made them pay for it.
To blitz or not to blitz?
The Cowboys must decide how they want to put pressure on Redskins rookie quarterback
Robert Griffin III
, and it won't be an easy decision. Through the first nine games, the book on Griffin was that he'd pick you apart if you sent extra pass-rushers, but that he struggled against standard pressure and the key was to contain him in the pocket and limit his options. However, in Sunday's victory against the Eagles, Griffin was 11-for-12 for 184 yards and three touchdowns against four or fewer pass-rushers. That's a 91.7 percent completion rate, and according to ESPN Stats & Information, a significant improvement from his 67 percent completion rate against standard pressure in his first nine games. In those, he averaged 7.4 yards per attempt and threw just three touchdowns and three interceptions against four or fewer. Sunday, his average was 15.3 yards per attempt, and he did not throw an interception.
Coverage improving:
In their first seven games this season, the Redskins allowed eight opposing players to rack up 100 receiving yards in a game. That included staggering totals such as
A.J. Green
's 183 for the Bengals in Week 3;
Danny Amendola
's 160 for the Rams in Week 2;
Percy Harvin
's 133 for the Vikings in Week 6; and the Week 4 game in which two Tampa Bay receivers reached the century mark. However, in their past three games, no opposing player has more than 82 yards against the Redskins' defense. What does this mean for Dallas pass-catchers
Miles Austin
,
Dez Bryant
and
Jason Witten
, who have combined for seven 100-yard receiving games this season? History says at least one will have a big game, but it's also possible the Redskins' coverage schemes have improved enough to limit the damage.
September, 17, 2012
9/17/12
11:00
AM ET
The biggest mistake the
Washington Redskins
made Sunday, and the one that will get the most attention going forward, was
Josh Morgan
's late-game loss of temper that turned a borderline 47-yard game-tying field goal attempt into an impossible 62-yard one. Morgan was humiliated and contrite and likely knows he'll suffer the scorn of Redskins fans when he runs onto the field for the home opener Sunday.
[+] Enlarge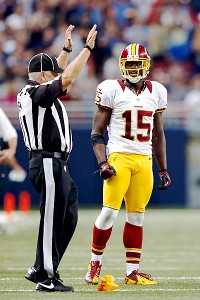 Jamie Squire/Getty ImagesJosh Morgan's penalty was just one of many that cost the Redskins.
But while Morgan's mistake may ultimately have been the costliest, it was merely the last in a long line of Redskins mistakes that helped cost them a Week 2 game they should have won in St. Louis.
Robert Griffin
III was breathtaking once again, but his second-quarter interception was a bad-decision, trying-to-do-too-much play -- the kind for which
Michael Vick
gets roundly ripped several times a week. It helped the Rams cut a 21-13 lead to 21-16 just before the end of the first half.
The Redskins were penalized 11 times for 96 yards in the game, which (doing some quick math here) means 10 penalties for 81 yards before Morgan lost it at the end. The majority of the penalties came after halftime, as the Redskins were blowing the lead and falling behind. Five of them were either false starts by the offense or offsides by the defense -- avoidable, unforced discipline penalties the likes of which make coaches crazy. Yeah, you're playing in a dome, but you need to stay on the right side of the line.
For the second time in as many games, the Redskins had a punt blocked. This one led to the touchdown that gave the Rams the 31-28 lead in the fourth quarter.
Little stuff, but lots of it, and the Redskins aren't the kind of team that can afford it. The Eagles make their mistakes, but they have this incredibly deep, tough, physical defense that never gets tired and can throttle the opposing offense and give Vick time to find his way back into the game. The Giants make their mistakes, but they have a two-time Super Bowl-MVP quarterback who can win games by himself in the fourth quarter like some kind of magician.
The Redskins? They have a good-looking defense that has some holes. Especially in the secondary, where Rams receiver
Danny Amendola
found every hole there was and some no one had even known about on his way to 15 catches for 160 yards. The Redskins have a rookie quarterback who looks like everything we've been told he'd be but is still learning on the job and will be better on the weeks when things go right. Down the road, will Griffin be the kind of quarterback who can rescue the Redskins from their mistakes? They believe so. But in Game 2 of his NFL career, it's too much to ask.
The Redskins should have played better, and they probably let some of the Rams' extracurricular aggressiveness get to them. And the losses to injury of
Brian Orakpo
and
Adam Carriker
surely affected things they were able to do on defense. But they only lost this NFL road game by three points, and you have to believe cutting out just a couple or three of those many mistakes could have swung it the other way for them.
September, 17, 2012
9/17/12
8:00
AM ET
Good Monday morning to you. Little bit of a "market correction Sunday," unfortunately for the fans of two of our teams and fortunately for the fans of one. I think the Cowboys' and Redskins' losses were bad losses and the Giants' and Eagles' wins were tough, if ugly, wins. We knew the Giants were tough. We had plenty of reason, after last year, to think the Eagles weren't. They have shown in their first two games that, in spite of quite a number of other flaws, they're at least tougher this year than they were in 2011. And that's something on which they can build.
In case you're new, when we're in season we do the breakfast links in order of division standings. With a three-way tie for second, I'm using division record as the tiebreaker. The Redskins haven't played a division game. The Cowboys beat the Giants in the only division game so far this year. That explains the order. Now, links.
Philadelphia Eagles (2-0)
Bad things happen in life, some of them our fault and some out of our control. All any of us can do after the bad things happen is handle them the best we can. This is what Phil Sheridan believes Michael Vick has shown in his first two games, recovering from a mess of turnovers to
lead a pair of game-winning drives
. Vick is obviously not playing well, but he's 2-0. And I have to believe Eagles fans would rather that be the case than the opposite.
The Eagles' defense has been absolutely stellar in both games. A lot has to do with the veteran leadership (and excellent play) of new middle linebacker DeMeco Ryans. But they've also been getting big-time contributions from rookies Mychal Kendricks and Brandon Boykin, as
Geoff Mosher writes
.
Dallas Cowboys (1-1)
If you brought home a report card like the one
Tim MacMahon handed the Cowboys
after Sunday's loss in Seattle, your folks wouldn't let you out of the house for a month. The D-minus for the passing offense qualifies as the lone "bright spot." I do find it interesting that they didn't blitz the rookie quarterback Russell Wilson after blitzing Eli Manning more last week than they did last year. In general, it seems the Cowboys prefer not to blitz, but I thought the point was that this year they'd do it more because of all that improved coverage in the secondary.
The Golden Tate hit on Sean Lee was out of line, and the Cowboys
expect that Tate will be fined
for it. Good for Lee for playing it down. Guy's a professional. Also, he's a linebacker who got walloped by a wide receiver. Can't imagine he was too fired up to discuss that, whether it was legal or not.
Washington Redskins
The Redskins' defensive front seven is a critical element to their team, and likely its biggest strength.
As Jason Reid writes
, key injuries to Brian Orakpo and Adam Carriker altered a lot about the way the Redskins were able to attack the Rams' offense Sunday. We await word on the severity of the injuries, but extended missed time for either or both would be difficult for the Redskins to overcome. Mike Jones writes that
it doesn't sound good
for either guy.
If the front seven isn't dominant, the secondary is exposed, and
my goodness
did the Rams' Danny Amendola expose it.
New York Giants
What we wrote about Vick up in the Eagles links is certainly something that applies to Eli Manning's Sunday as well. Manning had a rough start but ended up with (gulp) 510 passing yards and three touchdowns. All summer, the Giants said they didn't want to ask Manning to have to come back and win games with his arm over and over again this year. But they sure do
love knowing that he can
.
The Giants' offensive line had to shuffle some things when right tackle David Diehl went out with a knee injury. Will Beatty was
happy for the chance
to get some snaps, though not happy about the reason he got them. We await word on the severity of the Diehl injury and the way the Giants plan to use their tackles in the coming weeks. Remember, they have the Thursday night game this week.
August, 26, 2012
8/26/12
8:00
AM ET
I don't know. Maybe the preseason is finally getting to me. Maybe I was brainwashed by the beautiful California weather at their training camp. Maybe they just looked really good against a lousy
St. Louis Rams
team in their
20-19 preseason victory
Saturday night. Maybe it's all of the above, but as crazy as this looks to me even as I type it, I kind of like this
Dallas Cowboys
' defense.


The cornerbacks are covering their men.
Brandon Carr
was a star of last week's game, and rookie
Morris Claiborne
made plays on second and fourth downs on a goal-line stand Saturday. Safeties
Barry Church
and
Gerald Sensabaugh
are both playing well, patrolling their zones and making their tackles. The linebackers (of which injured
DeMarcus Ware
was not one on this night) have been active and aggressive, led by
Sean Lee
on the inside.
Jason Hatcher
was back on the defensive line and disrupting things in the backfield. Coordinator Rob Ryan was showing off more options, scheme-wise, for the pass rush, and the improved coverage on the back end has been helping with with that. The only points the Rams scored in the first half were on field goals of 52 and 55 yards.
Now, the postgame news of
Jay Ratliff
's ankle sprain certainly puts a damper on things for the Cowboys going forward, as it sounds like the season opener is in doubt for him. And yeah, I know those guys on the back end were covering
Donnie Avery
and
Danny Amendola
and that it's going to be 100 times tougher 10 days from now when it's
Hakeem Nicks
and
Victor Cruz
instead. I get it. I write all the time that we can't draw long-range conclusions from preseason games, and I'm not doing that. But it's completely fair to like the way the Cowboys' defense has performed on the practice field and in these preseason games. And if they're building confidence based on those performances, that's the kind of thing that could conceivably carry into the regular season. So, good for them. Neither matters in the long run, but playing well in preseason is better than playing poorly in the preseason.
Here's what else I saw Saturday night:
Tony Romo
was excellent, dodging the rush, extending plays and completing 9 of 13 passes for 198 yards, including touchdowns of 61 and 38 yards to
Dwayne Harris
. Romo's starting receivers in this game were Harris and
Kevin Ogletree
, and his starting tight end was
John Phillips
. Romo is ready to start the season.
So is Harris, by the way. Ogletree went into the game the favorite to be the No. 3 wide receiver, and he might still be, but Harris more than made his case. Yes, the touchdowns were partly the result of poor tackling by the Rams in the secondary, but Harris made the catches and the plays, he looks good in the return game and he made a key block on a
DeMarco Murray
run one play before his 61-yard touchdown catch. He's certainly made the team, I'd have to think, and he could continue to play himself into more time. Ogletree led the team in targets with six, and he caught five passes for 75 yards, so you can't exactly consider him out of the picture. He had a bad third-down drop, but he caught a ball up the right sideline that you couldn't help but thing looked like the one
Miles Austin
didn't catch in the first Giants game last year. You know the one I mean. I know you do.
Murray also looked very good against the team that let him rush for 253 yards in his starting debut last year. Murray had 26 yards on five carries and 16 yards on two catches before leaving the game with a hand injury that he said afterward is not serious. Next you'll see him is Sept. 5 in the Meadowlands, I'd imagine. The Cowboys plan to run a lot of their offense through Murray this year.
I'm sorry, but the offensive line still looks awful to me, and I commend Romo and Murray for succeeding in spite of its performance.
David Arkin
can actually snap the ball to the quarterback now, but he still doesn't look strong enough to hold up at center. The guards looked like they were getting pushed back into the pocket all night.
Doug Free
is a mess, and even
Tyron Smith
got beaten on the outside by
Robert Quinn
on a play early in the game. If the best thing you can say about the offensive line is that it'll be better when
Phil Costa
gets healthy, you've got a problem. At offensive line, I believe the Cowboys have a significant problem.
The Ratliff injury is a big deal if it lingers deep into the regular season. The Cowboys expect to know more about its severity Sunday. My guess is
Josh Brent
would fill in at nose tackle, but it could also be
Sean Lissemore
. Lissemore is also in the mix at defensive end.
I'd take
Bruce Carter
over
Dan Connor
as the starting inside linebacker next to Lee. Connor may look better going forward, and maybe they can use him in certain pressure packages. But Carter looks faster and better in coverage, and I think that's going to matter more at that spot.
Felix Jones
made a nice blitz-pickup block on Harris' second touchdown, but he whiffed badly on one later that resulted in a
Kyle Orton
sack.
Phillip Tanner
also missed in blitz pickup with Orton behind him. Orton has to be wondering what he did to make the backs not like him.
Rookie tight end
James Hanna
continues to look good as a receiver, and
Adrian Hamilton
continues to make plays on defense. Remains to be seen what roles the team will have for them this year.
Special-teams ace
Danny McCray
left with a neck injury, but he told reporters after the game that he should be fine.
September, 6, 2009
9/06/09
4:32
PM ET
By
Matt Mosley
| ESPN.com

Posted by ESPN.com's Matt Mosley
The
Philadelphia Eagles
have added four players to their practice squad: WR
Danny Amendola
, G
Paul Fanaika
, G
Mike Gibson
, TE
Rob Myers
.
Amendola turned some heads during the preseason, but for now he's better off on the scout team. Fanaika's a seventh-round pick out of Arizona State. Pretty powerful guy, but he needs time to develop. Spent too much time on the ground during his three years as a starter for Arizona State.
Mike Gibson was a sixth-round pick who played right and left tackle at Cal. The Eagles like his toughness. He played through a torn labrum in '06, refusing to have surgery until after the season. The Eagles have four more spots to fill on the practice squad, although they're not required to fill all of those.
September, 3, 2009
9/03/09
10:49
PM ET
By
Matt Mosley
| ESPN.com

Posted by ESPN.com's Matt Mosley
| | |
| --- | --- |
| | |
| | Jim McIsaac/Getty Images |
| | Michael Vick ran for a 2-yard touchdown, but was sacked four times Thursday night. |
I know it's hard for many of you to accept this, but the Eagles' preseason has come to a close. In what may have been the most entertaining preseason finale of the evening, the
Jets beat the Eagles
, 38-27.
Michael Vick
had several snaps in the first half and then he took over full-time for most of the second half.
He was 7-of-11 for 26 yards and an interception. He also ran for his first touchdown as an Eagle. Vick looked pretty explosive on several running plays, but he got in trouble in the second half when he raced around and was sacked for a 22-yard loss. He fumbled on the play, but he made the recovery. He's still rusty, but he doesn't look that much different than the player we saw in Atlanta in 2006. He's definitely going to be a weapon for the Eagles.
How did you guys think
Kevin Kolb
looked? I thought he looked solid at times, especially when he threaded the needle on a touchdown pass to former Cowboys tight end
Tony Curtis
. Excellent throw. I think the Eagles may have been showcasing Kolb tonight in case a team's interested in trading for him.
Here are some things that caught my eye regarding Vick's evening:
I think Vick looks pretty comfortable on those little swing passes and wide receiver screens. He and Brandon Gibson have already developed a nice chemistry. Unfortunately, running back Lorenzo Booker has a difficult time winning one-on-one matchups with safeties in the open field. Vick does a good job of getting the ball to Booker in spots where he doesn't have to slow down.
On a third-and-8 early in the second half, Vick tried to hit Danny Amendola on a deep ball down the left sideline. It's not like Amendola's a big target, but Vick could've done a better job of disguising where he was going with the ball. It's obvious he hasn't lost any arm strength, but he hung the ball up too long, allowing the Jets safety to race over and make a play on the ball. Vick had the one interception in the first half. He was trying to make a play. I can live with that in his first extended action since Jan. '06.
On the 22-yard loss, Vick simply tried to do too much. He's still one of the most exciting players in the league to watch, but when you've raced around for 25 yards or so, you have to throw the ball away. Vick took a huge loss on the play, and the Jets ended up with great field position after a nice punt return. One of the announcers said, "The electricity of Michael Vick can come back to haunt him." I don't know about that, but it wasn't a good play. The other huge mental mistake he made came in the second half when he took a delay of game down near the goal line. He simply didn't have good awareness on the play, but Andy Reid and Marty Mornhinweg need to help him there. Why do the Eagles have so much trouble getting into plays in the red zone? Feel free to answer.
On a third-and-6 in the third quarter, Vick drove the ball to Amendola on an underneath route. Vick's getting a lot of zip on his short passes, and that's allowing the receivers to quickly get upfield. Late in the first half, Vick rolled left and lofted a pass to Gibson in the end zone. It was almost a great play, but Gibson couldn't get his feet down. The ball seemed to float a little bit on Vick, but it was still an athletic play.
On his touchdown run, Vick faked the handoff and simply raced up the middle. Even on a short play like that, you can tell how much pressure he puts on a defense. I think he's going to be highly effective inside the 10-yard line, where the Eagles have really struggled. We'll see how Donovan McNabb reacts when he's replaced by Vick inside the 10-yard line.
Early in the fourth quarter, Vick didn't see anything and he took off running. He ended up with 16 yards and he froze at least one defensive back. I just keep thinking about how much time opposing defensive coordinators are going to spend getting ready for Vick. And that will take time away from preparation for the Eagles' base offense.
I'm not sure who missed the Jets' MarquesMurrell when he blitzed off the end. No one had a clue he was coming. He nailed Vick and caused a fumble. Vick has to do a better job protecting the ball, but he really didn't have much of a shot on that play.
If not for that big sack, Vick would've ended up with more than 50 yards rushing. Even after the two-year layoff, he's once again the best running quarterback in the league.
Vick took some punishment in Thursday's game. Fullback Kyle Eckel completely whiffed on one play, allowing Vick to get sacked in the fourth quarter. Eckel has to be better than that. It was a delayed blitz and he just didn't see the linebacker coming. The good news is that Vick took that hit and another hard one from a safety, and he jumped up pretty quickly after both of them. He needs to be more decisive when he's in the pocket. He took a couple hits that weren't really necessary.
All in all, I was pretty impressed with Vick. The decision making will get better. The athleticism is already there. If used properly, Vick is going to make some big plays this season. Will there be a quarterback controversy at some point? I would never bet against it.
August, 10, 2009
8/10/09
7:00
PM ET
By
Matt Mosley
| ESPN.com
Posted by ESPN.com's Matt Mosley

BETHLEHEM, Pa. -- Quite an eventful day here in Lehigh Valley, where even on a Monday morning, thousands of Eagles fans poured into training camp. It has to be one of the most serene places in the league, what with the lush, green meadows and trees dotting the mountainside. Almost made myself cry during that last sentence.
Why don't we get away from my postcard from Bethlehem and actually talk some football. The morning session was dominated by the defense, and there's a rookie linebacker named Moise Fokou who Eagles fans are going to be rooting for. The seventh-round pick out of Maryland is always flying around the ball and he'll be tough to keep off the final roster. For more on Fokou and other players you'll actually recognize, continue reading:
When I brought up the fact that rookie Jeremy Maclin had muffed one punt and mishandled another at the end of the morning session, he glared at me before saying, "It won't be an issue." In my book, a first-round rookie putting the ball on the ground is a worthy topic -- but that's just me. In my five-minute visit with Maclin, it's obvious that he has a ton of confidence. When I asked him if he'd be OK with the coaches not starting him at first, he quickly replied, "I didn't come here to sit on the bench." I didn't really see Maclin do a lot in the morning session, but a sixth-round pick named Brandon Gibson out of Washington State kept making play after play.
Rookie free-agent tight end Eugene Bright is sort of an interesting story. He was a defensive end at Purdue, but the Eagles signed him in April to play tight end. He said he played two games at tight end in high school in Pennsylvania, but never thought he'd end up there in the pros. But with the season-ending injury to Cornelius Ingram and Matt Schobel missing time with an injury, Bright is getting a long look. He dropped a couple passes early in camp, so he started carrying a football with him at all times. He says he catches an extra 200 passes a day that way, and that the quarterbacks constantly want to throw to him away from the practice fields. Bright got the idea from one of America's true film classics, "The Program," in which the immortal Omar Epps fumbled so much that coaches made him carry a ball around campus. Playing the role of Darnell Jefferson, Epps held onto the ball in games and eventually attracted the attention of Halle Berry. "I rented the movie when I was at Purdue, and it's obviously stuck with me," Bright said.
To be fair, I saw Quintin Demps muff a punt, too. But on defense, Demps looked really comfortable opposite Quintin Mikell and made a nice interception on an ill-advised throw from Donovan McNabb. I think Demps will win the starting job, but the Eagles were wise to sign a quality backup like Sean Jones from the Browns.
Second-year linebacker Joe Mays appears to be making the most of his opportunity now that middle linebacker Stewart Bradley's out for the season. Mays was very active in blitz packages and he showed some really good range in dropping back into coverage. Also the type of kid who's really easy to root for. Not very tall at 5-11, but he's stacked. Sort of built like Skins linebacker London Fletcher.

I think Brent Celek will be the latest entry in what has to be the best tight end division in football. Martellus Bennett is playing to rave reviews in San Antonio and Jason Witten's the best tight end in football right now. The Redskins' Chris Cooley and the Giants' Kevin Boss are both very productive, although Cooley's obviously the bigger weapon. Celek's a very unassuming guy, but you can tell he's highly intelligent. He's been studying tape of Witten and Cooley to see what makes them so successful. He said the way Witten "sets people up at the top of his routes" is what sets him apart.
It didn't take long to identify the best player in this camp right now. His name is DeSean Jackson and no one can defend him at this point. He's making All-Pro cornerback Asante Samuel look silly in practice -- on a routine basis. Jackson looks bigger than last season, and I don't think he's lost any speed. Seriously. No one in camp can cover him.

Former Cowboys practice squad wide receiver Danny Amendola had an excellent morning practice. He runs smooth routes and he made a couple tough catches on low throws.

Donovan McNabb is still having fun after all these years. On one play, he took off running down the sideline. But just as a defender assumed he would step out of bounds, McNabb tip-toed down the sideline. The fans went nuts, and McNabb had a good laugh as he jogged back to the huddle.
Defensive end Chris Clemons, the former Raider, broke through for at least one sack in the practice and his quickness in drills was pretty impressive. Still looks too skinny to me, but he had a good practice.
Former Charges linebacker Matt Wilhelm stuffed the run a couple times and he looks like he could definitely contribute. At the rate they're going, the Eagles are going to need a lot of depth at linebacker. And based on Monday's practice, they might be in better shape than a lot of people think.

Asante Samuel rarely speaks to the media, but he's the most vocal defender on the field. When cornerback Sheldon Brown made a really nice play on the ball, Samuel came racing in from the sideline shouting at the top of his lungs.

There's been a Winston Justice sighting early in camp. I think most fans and reporters just assu
med he'd never be heard from again after his nightmare experience against the Giants a couple years ago, but he's shown up with a different mindset in this camp. I don't want to go too far, but it's safe to say that Winston Justice is actually displaying some confidence in this camp. If Shawn Andrews can't go, the Eagles may need Justice.

When Maclin sort of threw Sheldon Brown to the ground after a pass breakup, someone from the stands shouted, "Maclin, that's our Pro Bowler! Take it easy!"

Kevin Kolb was throwing the ball pretty well this morning before he sprained his MCL. He'll miss Thursday's preseason game, but the Eagles are saying he'll be day to day after that.
Rookie cornerback Macho Harris out of Virginia Tech made some nice plays on the ball in one-on-one drills with the receivers. All in all, the defense really dominated the offense. McNabb admitted as much and vowed to change that in the near future. Speaking of McNabb, it's ridiculous how many weapons he has at receiver right now. Watching Jackson, Maclin, Avant and Kevin Curtis go about their business convinces me that this is the best receiving corps in the NFC East.

I like Eldra Buckley at running back. I don't know if he has a chance to make the team, but he's willing to dole out some punishment when he sticks his nose in the hole. He spent last season on the Chargers' practice squad. Another good underdog story.

Jason Peters looked fine to me during team drills. Very athletic and he can engulf a defensive end. Watched him do it twice Monday morning. And Stacy Andrews may be the tallest right guard I've seen. At 6-7, he cast a pretty long shadow. And on the left side, reserve offensive tackle King Dunlap is the same way. He's one of those guys who could be pretty effective if the light ever comes on. If memory serves correct, he just didn't want to work that hard at Auburn. I'll ask around and see if he's changed that at all. Pretty impressive looking guy. The Eagles have six offensive linemen on the roster 6-5 or taller.
August, 31, 2008
8/31/08
9:03
PM ET
By
Matt Mosley
| ESPN.com
Posted by ESPN.com's Matt Mosley
The Cowboys have room for one more player on their eight-man practice squad, and I'm told that it will be quarterback Richard Bartel, who had an excellent showing in the final exhibition game against the Vikings.
Brooks Bollinger didn't play well for the Vikings in that game, but he'll probably be added to the Cowboys' 53-man roster after the season-opener against Cleveland. At that point, Bartel will be released from the practice squad. If the Cowboys signed Bollinger now, his salary for the 2008 season would be guaranteed.
It's a little surprising to see that the Cowboys would let another talented young quarterback get away. Last year, they tried to sneak Matt Moore through to the practice squad, but the Panthers signed him and he eventually became their starter.
Bartel has size (6-3, 233) and a live arm. Bollinger (6-1, 205) has more experience after playing for the Jets and Vikings over the past five seasons. He and Cowboys backup Brad Johnson played together in Minnesota.
Here's the rest of the Cowboys' practice squad:
DE Marcus Dixon
For those of you who've been e-mailing me about Erik Walden, he was claimed by the Kansas City Chiefs. I know a couple of people at Valley Ranch who weren't happy about Walden getting cut in the first place.
August, 30, 2008
8/30/08
2:52
PM ET
By
Matt Mosley
| ESPN.com
Posted by ESPN.com's Matt Mosley
After talking to a couple people with the Cowboys, here's a list of the guys who I think will be cut. Coming down the stretch, cornerbacks Evan Oglesby and Alan Ball were in a dogfight for a roster spot. Still don't have a great feel for what will happen there, but a conversation last night led me to believe there was hope for Ball. But he's still getting cut on my list:
The Mosley cuts:
Todd Lowber, WR (not even "Hard Knocks" could save this talented but RAW kid.)
Danny Amendola, WR (prime practice squad candidate.)
Mark Bradford, WR (not familiar with his work.)
James Marten, G (this is the only slight surprise. Marten was a third-round draft choice in 2007.)
Adam Stenavich, G (Adam, we hardly knew ya. He was cut to make room for Larry Allen to retire as a Cowboy.)
Ryan Gibbons, C (no real need for a third-team center.)
Rodney Hannah, TE (did some really nice things late in camp. If you can keep him on the practice squad, do it. Great size and played under an excellent college coach named Art Briles.)
Drew Atchison, TE (nice effort during camp, but not enough.)
Julius Crosslin, FB (never met him.)
Alonzo Coleman, RB (flashed at times in practice and might help on practice squad.)
Keon Lattimore, RB (Ray Ray's going to be upset.)
Junior Siavii, NT (Cowboys hoping to drum up some trade interest. This guy could help someone.)
Marcus Dixon, DE (never could get on the field because of an injury.)
Darrell Robertson, LB (had his moments, but this team's OK at linebacker.)
Tyson Smith, LB (best known for getting lit up by Marion Barber on "Hard Knocks.")
Tearrius George, LB (flashed against the Vikings the other night, but a little too late.)
Erik Walden, LB (If Alan Ball and Evan Oglesby both make the team, something has to give. And even though Walden has some huge supporters at Valley Ranch, I'm afraid he'd be the guy to go.)
Dowayne Davis, SS (It's too bad because he did some serious damage during camp. And I love his name.)
A lot of people have third-team quarterback Richard Bartel getting cut, but as of this morning, he was on the 53-man roster.
August, 22, 2008
8/22/08
9:57
PM ET
By
Matt Mosley
| ESPN.com
Posted by ESPN.com's Matt Mosley
IRVING, Texas -- Cowboys wide receiver Isaiah Stanback was injured on the opening kickoff of the second half and just made his way to the Cowboys' locker room. He didn't appear to be favoring either leg, so I don't think anyone is that concerned. Rookie Danny Amendola from Texas Tech has replaced Stanback.