June, 10, 2013
6/10/13
11:58
AM ET
There hasn't been much change this offseason for the defending division champion
Washington Redskins
, but two of the most significant departures they'll feel as they begin their minicamp this week are on special teams. Longtime coordinator Danny Smith left for Pittsburgh and longtime special teams captain
Lorenzo Alexander
signed with Arizona in the hopes of playing more linebacker.
Rich Campbell of the Washington Times
has a story
about the scheme changes on special teams under new coordinator
Keith Burns
. Example:
Tight end Niles Paul, Washington's third-leading special teams tackler last season behind Alexander and Reed Doughty, explained how Burns has assigned those on the kickoff coverage team different responsibilities than they had under Smith.

As a result, the Redskins will have four "people coming in hot to the ball making the play" instead of the two they had last season.

"It's different rules," Paul said. "You're in different areas. Now I have the freedom to kind of roam, so I'm loving that one."
Should be interesting to watch and see what the differences are, especially for those fans who were quick to criticize Smith for the Redskins' poor results on special teams. But I still think special teams more often than not comes down to individual effort, and for that reason I expect that Alexander's departure will have a greater impact than that of Smith. Alexander was the unit's inspirational leader, hardest worker and most serious and devoted practitioner. Doubtless, the players who played special teams with Alexander will continue to play the way he helped teach and inspire them to play. But it remains to be seen whether the Redskins' special teams unit can replace Alexander's production and energy.
January, 31, 2013
1/31/13
8:00
AM ET
NEW ORLEANS -- Getting there... Only three (and I guess a half) more days of hype before the big game. Then we can get back to focusing on all the stuff in our links.
Washington Redskins
The Redskins will indeed need a new special teams coach in 2013, as Danny Smith is
leaving
to take the same position with his hometown
Pittsburgh Steelers
.
Ryan Kerrigan
enjoyed his
first Pro Bowl experience
and left Hawaii determined to make it something he does more than once in his career.
New York Giants
Mario Manningham
thinks his decision to sign with the 49ers after helping the Giants beat them in last year's NFC Championship Game was a decision a lot of people would have been
scared to make
.
And speaking of that NFC Championship Game, infamous 49ers return man
Kyle Williams
says he was
shocked
that the Giants' players weren't disciplined for the comments they made about targeting him due to his concussion history. I think his point is not without validity.
Dallas Cowboys
The question of whether to keep
Anthony Spencer
is multi-layered and rooted in the cost of the decision. ESPNDallas.com debates it in this week's
Hot Button.
Calvin Watkins believes the Cowboys have the personnel to help them in their switch to a 4-3 defense under new coordinator Monte Kiffin, and he explains his reasoning
here
.
Philadelphia Eagles
The Eagles are managing to conduct their search for a defensive coordinator in the
utmost secret
, with the help of at least one of the candidates who's here in town.
Chip Kelly's offensive staff, however, is taking shape, and it appears Virginia offensive coordinator Bill Lazor is coming aboard as
quarterbacks coach.
January, 28, 2013
1/28/13
3:15
PM ET
It does not appear as though the
Washington Redskins
are planning to make any major coaching staff changes this offseason. Defensive coordinator Jim Haslett did a fine job holding together a consistently undermanned defense down the stretch. Offensive coordinator Kyle Shanahan had an excellent year and also has the advantage of being the son of the head coach. If Mike Shanahan were going to fire coordinators, he likely would have done so by now, in order to grant them the best possible opportunity to land new jobs before other teams filled out their 2013 coaching staffs and to give himself the largest possible pool of replacements.
But
this news
that special teams coordinator Danny Smith had been granted permission to talk to the
Pittsburgh Steelers
about their special-teams coordinator job indicates at least that the Redskins may be open to change if change presents itself. As noted in the story, Smith was denied permission to interview with the Steelers two years ago. The fact that he's being allowed to do so now for what would appear to be a lateral move indicates that the Redskins might be willing to make a change at that spot if someone else wanted to take Smith from them.
Redskins fans seem dissatisfied with Smith, of course, but many also feel the same way about Haslett. My personal experience tells me that almost no fan base likes its coordinators. Smith is a hard worker and well regarded around the league, and it's no surprise that the Steelers would have interest in bringing him on board. My guess is that the Redskins would be fine with bringing him back next year, but since he's interviewing elsewhere you have to at least think they'd be OK with going in a different direction.
January, 5, 2010
1/05/10
10:18
PM ET
By
Matt Mosley
| ESPN.com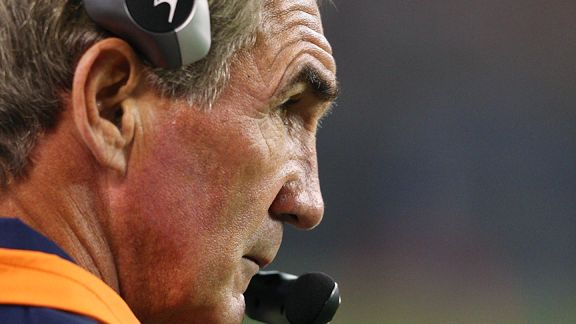 Joe Robbins/Getty ImagesOne of Mike Shanahan's challenges will be to make sure Dan Snyder feels involved in decisions.
Now that
we know
Mike Shanahan is going to be the coach of the
Washington Redskins
, it's time to look at five of his top priorities. Bruce Allen might have the title of general manager, but it looks as if Shanahan will have final authority on football decisions. If that's really the case, here are five things he needs to address -- in no particular order:
Figure out what he's going to do at quarterback:
Dan Snyder and his old pal Vinny Cerrato made a mess of this situation last offseason by pursuing every quarterback not named
Jason Campbell
. Allen has been complimentary of Campbell's work, but this is something Shanahan needs to figure out. I talked to Campbell about Shanahan last week, and he expressed excitement about the coach's credentials. Shanahan obviously won the two Super Bowls with
John Elway
, had some success with
Jake Plummer
and appeared to have
Jay Cutler
headed in the right direction. I think Shanahan will look to draft a quarterback and groom him for the future, but you don't want to throw a kid to the wolves behind this offensive line. If Shanahan believes Campbell could elevate his game, I think it behooves him to invest some time in him. Campbell had the best statistical season of his career while playing behind perhaps the worst collection of offensive linemen in the league. I'd like to see what a quarterback guru such as Shanahan could accomplish with Campbell, who has handled this entire situation with a lot of grace.
Assemble a talented coaching staff:
I think Shanahan brings a great deal of energy to the job after having a season off. But it's not like he played golf the whole time. He spent a lot of time visiting other coaches and watching film at an office in Denver. I have to believe he has basically had a coaching in staff in mind for the past six or seven months. His son, Kyle, will serve as offensive coordinator and there's a lot of speculation that Bengals defensive coordinator Mike Zimmer will fill the same role for the Redskins. Keep your eye on whether Shanahan retains any members of the previous Washington regime. It will be an indicator of how much say Snyder has retained. Snyder loved special-teams coordinator Danny Smith and he's also fond of secondary coach Jerry Gray. My guess is Shanahan will pretty much clean house.
It's time to rebuild the offensive line:
This goes hand in hand with the quarterback situation. You can't ask Campbell to endure another season behind this collection of former undrafted rookies and aging players. It as if your best offensive lineman
Chris Samuels
will probably retire because of a neck injury, and it's not like you received outstanding play from your other veterans.
Randy Thomas
is too old to count on, and
Casey Rabach
is just a serviceable center at this point. I supposed
Derrick Dockery
was your best lineman this season after Samuels was injured, but that's not saying much. Free agency is going to be limited because of the potential for an uncapped season. With the No. 4 pick overall, you need to take a long look at the left tackles in the draft. I know everyone will talk about Jimmy Clausen, Colt McCoy and Sam Bradford, but you don't have to pick a quarterback at that spot. Hopefully Shanahan and Allen will have a logical plan in place. Picking two wide receivers and a tight end in the same round isn't the way to go -- even if you argue that they were the "best players on the board."
It would be nice to figure out the running back situation:
Starting running back
Clinton Portis
has talked about his uncertain future. He's set to make more than $7 million next season (Shanahan money), and at least $6 million of it is guaranteed. I know Shanahan once traded Portis from the Broncos, but I don't think he would have any trouble coaching him. The issue is that Portis talks a better game than he plays these days. He missed pretty much the entire second half of the season with a concussion -- yet he found time to criticize Campbell in recent days. He's a mouthy guy who loves to go behind the coach's back directly to Snyder. If Snyder allows Shanahan to dump Portis, I think that would be a good sign for the organization.
And that brings us to our fifth item, which deals with Snyder:
All this talk of "ultimate say in football decisions" sounds good in theory, but we know how much Snyder likes to be involved. Shanahan needs to do a good job of making Snyder feel like he's involved in decisions. Snyder gave Joe Gibbs a lot of authority, but that was a different situation. He had idolized Gibbs as a kid and was sort of in awe of him. That won't be the case with Shanahan. The last time Snyder hired a coach with a similar demeanor to Shanahan's (Marty Schottenheimer), things ended pretty quickly. If Snyder doesn't give Shanahan and Allen enough breathing room, this could be another failed hire.
January, 4, 2010
1/04/10
7:50
PM ET
By
Matt Mosley
| ESPN.com
The Washington Post
had been reporting
that the Redskins could introduce Mike Shanahan as their new head coach as soon as Tuesday, but the newspaper's Web site
is now saying that offensive line coach Joe Bugel's likely retirement
could delay the announcement.
The thought is that owner Dan Snyder would prefer to honor Bugel on Tuesday and perhaps make an announcement about Shanahan on Wednesday. A club source has told me within the past hour that it would not surprise him if the Skins waited until Wednesday to introduce Shanahan.
Snyder sent his private jet to pick up Shanahan on Monday and the two are expected to meet well into the evening,
according to ESPN's Adam Schefter
. New general manager Bruce Allen is expected to be part of those discussions. The Denver Post reported two weeks ago that Shanahan was already in discussions with the Redskins.
At this point, it's hard to imagine there being a snag. The only head coach Snyder has hired with more pedigree than Shanahan is Joe Gibbs. And Gibbs' second tenure wasn't close to being as successful as his first run. Shanahan is expected to hire his son, Kyle, as offensive coordinator and it's likely that Bengals defensive coordinator Mike Zimmer will be his defensive coordinator.
It's hard to imagine anyone from Jim Zorn's staff being retained. Snyder is a big fan of special teams coach Danny Smith and secondary coach
Jerry Gray
, but that doesn't mean either assistant is safe. You can bet that Shanahan's basically had his staff in place for months. And Snyder is expected to give him plenty of leeway when it comes to decision-making power.
Will Snyder stay out of Shanahan's way and let him choose his own course? I'll believe it when I see it.
December, 22, 2009
12/22/09
9:31
AM ET
By
Matt Mosley
| ESPN.com
ARLINGTON, Va. -- As we continue to sit on a tarmac in northern Virginia, my thoughts have drifted once again to the Redskins' fake field goal attempt at the end of the first half that's certain to be added to NFL blooper reels. I've long been fascinated with the swinging gate on extra point attempts, but Skins special teams coach Danny Smith has taken his trickery to another level.
First, the Redskins showed the Giants exactly what they planned to do on the fake. And when the Giants called timeout, Smith and head coach Jim Zorn cooperated by staying in the same formation.
[+] Enlarge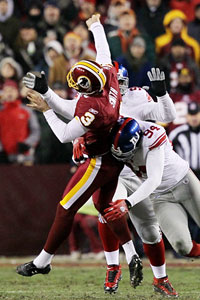 Al Bello/Getty ImagesRedskins punter Hunter Smith was crushed as he released the ball that was eventually intercepted.
When seven Redskins players sprinted over the left side, chuckles were heard throughout the press box. Next, holder
Hunter Smith
, the point man in Smith's magic show, took the snap and desperately fired the ball into what appeared to be quintuple coverage.
The ball was intercepted and the Skins were booed lustily as the home team departed the field. In a season full of indignities, the botched fake has to rank in the top five. I thought for a moment that owner Dan Snyder might fire Zorn at halftime. At least one Giants player I talked to was quite amused that the Redskins stuck with the same play. He happened to be among the three Giants who converged upon Smith just before his heave.
Here's how Zorn described the play: "It was good defense. That's what hurt that play. I contemplated going back, after [Tom Coughlin] called timeout, and kicking the field goal. The play was unique enough to where I didn't think they saw what we were really trying to do and when they smelled it out pretty quickly, we didn't really have a chance to get it started."
I would've much preferred an explanation from Zorn such as: "We were simply trying to entertain the viewers at home."
For whatever reason, the Redskins simply don't match up well against the Giants, which is to say they don't belong on the same field with them.
After five weeks of watching the Skins push some good teams to the brink, maybe this is the reminder fans needed of how much needs to be done. It's hard to imagine any members of the current coaching staff returning -- and that's probably the most hopeful message I can leave you with this morning.
OK, I've been asked to turn off my electronic device. I'll check in from Dallas later this afternoon.
December, 21, 2009
12/21/09
10:12
PM ET
By
Matt Mosley
| ESPN.com
LANDOVER, Md. -- Just when you thought the Redskins could not embarrass themselves any more than they already had, special teams coach Danny Smith dialed up one of the most ill-conceived fake field goals in recent memory. Punter/holder
Hunter Smith
took a direct snap after kicker
Graham Gano
went in motion and then launched a pass to no one. Giants cornerback
Bruce Johnson
intercepted the pass and returned it 49 yards to end the half.
I guess it was an appropriate ending to a lackluster half of football from Washington. The Giants can call this final score. Redskins quarterback
Jason Campbell
is out with a shoulder injury and the fans at FedEx booed the team off the field.
October, 18, 2009
10/18/09
4:16
PM ET
By
Matt Mosley
| ESPN.com
Posted by ESPN.com's Matt Mosley
I guess we shouldn't be shocked to
see the Redskins lose
to a once-winless team at this point in the season. It's one of the few things we can count on with this team. Coach Jim Zorn benched starting quarterback
Jason Campbell
at halftime, but the move didn't really inspire the team or his play calling.


This is an awful team right now, and it's not like a coaching change is going to change the Redskins' fortunes. Still, I'm not sure how owner Dan Snyder could stick with Zorn at this point. Snyder and his right-hand man, Vinny Cerrato, haven't given Zorn a public endorsement, in part, because they wanted to see how things played out. Well, losing at home to the Chiefs rivals ending the Lions' losing streak earlier in the season.
There's absolutely no reason to think the Redskins could turn their season around now -- especially with a game against the Eagles coming up next Monday. I think Snyder wanted to wait until after the Eagles game to make a change so that the interim coach would have the bye week to work with. He may not have that "luxury" now.
On Sunday, the Redskins' patchwork offensive line couldn't get any push against the Chiefs. And when the Skins had to settle for short field goals, you had the feeling something like this would happen. Backup quarterback
Todd Collins
provided a brief spark, but he couldn't get anything accomplished when the game was on the line.
The defense kept the Skins in the game, but the offense couldn't generate anything in the second half.
Clinton Portis
had 109 yards rushing on 15 carries. He broke away on a 78-yard romp, but the Skins still couldn't capitalize with a touchdown.
If a change is made in the next day or so, I wouldn't be surprised to see Jerry Gray named as interim head coach. The wild-card pick would be special-teams coach Danny Smith -- just because everyone in the organization loves him. If Gray becomes the interim coach, Sherman Lewis would probably take over as the play-caller. Just another awful day all the way around for Redskins fans.