NFC East:

Darren McFadden
July, 27, 2014
Jul 27
6:00
PM ET
EAST RUTHERFORD, N.J. -- The NFL wasn't the first place
Rashad Jennings
found himself overlooked. By the time he'd been a seventh-round pick and a backup to
Maurice Jones-Drew
in Jacksonville and
Darren McFadden
in Oakland, Jennings had already made his peace with the idea that nothing was going to come easy for him.
"I've never stopped growing," the
New York Giants
' new starting running back said before a practice last week. "I had to, because when I was a little, short, fat, overweight kid, dorky with glasses, I had to figure something out. It's a blessing not to be the most talented guy when you roll out of bed, not to be the fastest guy. It keeps that chip on your shoulder."
Jennings
Signing the 29-year-old Jennings was one of the first things the Giants did in their incredibly busy free-agent season. Rather than let the market sort itself out, they jumped to get Jennings, who tore them up a bit as Oakland's starter in Week 10 last year and impressed them as someone who hasn't yet had a chance to showcase his full range of skills because he's played behind others. They see him as a do-everything type of back, who can carry a starter's workload, can catch the ball out of the backfield and can be used at the goal line as well.
Now, he may not have to do all of those things, because right now they have
David Wilson
and
Andre Williams
and
Peyton Hillis
as options as well. And if everyone stays healthy, the running back group should be deep enough to help the coaches keep everyone fresh and put them in the best possible positions to succeed. But Jennings is ready for whatever they want to throw at him.
"This opportunity is great," Jennings said. "I have prepared to start every day since I've entered the league. I've been like that since college. I am not taking this for granted. I'm humble."
He looks good on the field so far in training camp in a variety of roles. He seems to have fit in quite nicely in the locker room. He has an engaging personality and a great deal of confidence, which he says is brought on by his devotion to year-round training and nutrition.
"What separates guys as they continue to play is what they do in the offseason," Jennings said. "I train year-round. And the way I eat, the way I sleep, the nutrition, massage, M.A.T., chiropractor, all those little things. If it works a little, I want a lot of it."
I had to look up M.A.T., but I'm pretty sure he's referring to muscle activation techniques, which is a process that measures and develops the efficiency of a person's muscle contraction. This is a dude who is
paying attention
to his body and making sure it's in the best possible condition to take advantage of the opportunity now in front of him. He said sitting behind Jones-Drew and McFadden gave him time (and motivation) to work on his fitness, nutrition and wellness techniques, and that the timing of his opportunity to be a full-time starter has therefore actually worked out well.
"I got a chance to mature," Jennings said. "I got a chance to learn how to take care of my body, and I've been blessed to have a chance to allow my body to catch up with my maturity."
Now, those things are intersecting with opportunity. Jennings has a chance to be the man in the ground game for a Giants offense that's ready to look at lot different than it did last year. He's been waiting -- and working -- for this chance for a long time.
November, 28, 2013
11/28/13
1:24
PM ET
ARLINGTON, Texas – Welcome to AT&T Stadium where the
Dallas Cowboys
hope to take sole possession of first place in the NFC East with a win against the
Oakland Raiders
.
At 6-5 off Sunday's win against the
New York Giants
, the Cowboys share the top spot with the
Philadelphia Eagles
but own the tiebreaking edge thanks to their October win against the Eagles.
Quick turnaround:
The Cowboys spent about three hours on the practice field leading into kickoff -- without helmets -- in getting ready for the Raiders.
The challenge this week is more mental than physical. Adrenaline can carry the players through the short week, but knowing exactly what Oakland does on both sides of the ball is a little different.
"They do a lot of stuff," quarterback
Tony Romo
said. "They send a lot of different pressures, a lot of exotic looks and it will be a great challenge for us. We've got to have great communication. We've got to do some things to combat that."
The unknown QB:
Rookie
Matt McGloin
will be making just the third start of his career. The Raiders are 1-1 with McGloin as the quarterback and he has four touchdown passes and on interception.
Oakland is mostly a running team but lose some juice with McGloin at quarterback over Terrell Pryor.
Rashad Jennings
is the leading rusher, averaging 5.1 yards per carry and
Darren McFadden
could make his first appearance in three weeks.
"He's a young guy who has command," coach Jason Garrett said. "For a guy who hasn't played that many snaps and is in his first year playing, he plays with confidence. He seems to understand what they're trying to do. He throws the ball and makes some positive plays for them both underneath, down the field. They want to run the football but he does a good job in a complimentary role but also when the burden is on him he's done a nice job."
According to Elias, the Cowboys are 3-1 against rookie quarterbacks on Thanksgiving, beating Tampa Bay's
Bruce Gradkowski
in 2006, Chicago's
Craig Krenzel
in 2004 and
Kent Graham
of the New York Giants in 1992. The only loss came last year to Robert Griffin III and the
Washington Redskins
.
November, 27, 2013
11/27/13
7:00
PM ET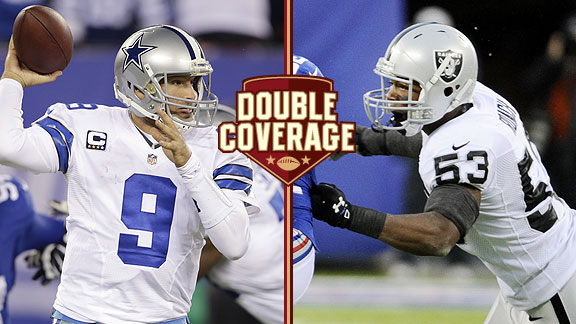 AP PhotoTony Romo's Cowboys host Nick Roach and the Raiders in a Thanksgiving Day duel.
IRVING, Texas -- For the second time in five years, the
Dallas Cowboys
and
Oakland Raiders
meet on Thanksgiving at AT&T Stadium.
The Cowboys won the 2009 matchup 24-7 with
Tony Romo
throwing for 309 yards and two touchdowns and
Miles Austin
catching seven passes for 145 yards. Since that game Austin has had more yards in a game just twice.
ESPN.com's Raiders reporter Paul Gutierrez and Cowboys reporter Todd Archer bring you this week's holiday version of Double Coverage.
Todd Archer:
The Cowboys are bad in most areas defensively, but they have given up 200 yards rushing in three games this season. The Raiders' strength, from afar, seems to be their running game. What makes it so good and how has it differed with
Terrelle Pryor
out?
Paul Gutierrez:
Hey, Todd, it's not just Pryor being out, but also
Darren McFadden
, who has missed three straight games and four overall with a strained right hamstring. He said Monday night he hopes to play after practicing (limited) for the first time since Nov. 1. The run game, though, has not missed a beat with underrated
Rashad Jennings
picking up the slack. In the past four games, he has run for 413 yards while averaging 5.7 yards per carry. In fact, the running game has been so surprisingly solid without McFadden and Pryor that the play-action pass game has picked up with undrafted rookie
Matt McGloin
under center.
Speaking of passing games ... no doubt Tony Romo can rack up stats, but has he decided to assume more of a leadership role yet as the QB of America's Team, or is that just not in his makeup?
Archer:
He has developed over the years as a leader, but there's no question that this has been "his" team the past three seasons. He is the veteran. He is the guy the Cowboys look to. The guys on this team now don't know of the Romo who burst on the scene in 2006 or had to deal with the
Terrell Owens
stuff. He's the guy who led the lockout practices and has been the big voice in the room. This year he has been given the added responsibility of being more involved in the game plan. The Cowboys' past two wins have come on last-minute drives led by Romo to beat Minnesota and the
New York Giants
. I don't think there's anybody questioning his leadership anymore. And if they did, well, the $106 million extension Jerry Jones gave him in the offseason should be more than enough proof to those guys that this is Romo's team.
Let's stick with the quarterback theme. Before the Cowboys lucked into Romo, they ran through a ton of guys after
Troy Aikman
's departure. Is there any reason to believe McGloin or Pryor can be a solution or do the Raiders need to go after one of these guys in next April's draft?
Gutierrez:
Well, the way I put it earlier in the season, before Pryor hit his purported ceiling and sprained his right knee, robbing him of his greatest strength (running) while accentuating his biggest weakness (passing), if Pryor was not the Raiders' Mr. Right, he was their Mr. Right Now. McGloin is a pure quarterback, a pocket passer whom Dennis Allen prefers for what he wants to accomplish offensively. It's hard to give Allen and GM Reggie McKenzie much credit for their evaluation of QBs, though, what with their misses on
Matt Flynn
and
Tyler Wilson
, not caring much for Pryor early on and then, similar to the Cowboys with Romo, stumbling upon McGloin. But it's hard to see them going all in with the undrafted rookie from Penn State, too. At least hard at the moment. Unless McGloin continues to improve and wins a few games, it would behoove the Raiders to draft another QB if they see one as a can't-miss prospect. I know, I know, they really wanted USC's
Matt Barkley
but Philadelphia traded in front of them so they traded back and selected Wilson. Oops. There is no doubt, though, that this Raiders regime prefers McGloin as a prototypical QB over the more electric Pryor.
No matter who is under center for Oakland, though, the Raiders' QB is going to have to keep an eye on
DeMarcus Ware
. Is he rounding back into shape as a dominant pass-rusher, or is he more decoy as he rehabs from his quad strain?
Archer:
I think he's still feeling his way through it. The fact that he made it through the Giants game healthy was a plus. He has been dinged up in just about every game with stinger and back strains earlier in the season before the quadriceps injury. We'll see how he fares on a short week, but the defense is a lot better with even the threat of Ware on the field.
Jason Hatcher
had two sacks against the Giants at least in part because of the attention Ware received. Ware has talked about wanting to make up for lost time. He has five sacks so far, his fewest this late in a season since his rookie year in 2005. Thursday would be a good time to look like the DeMarcus Ware of old.
This game is a homecoming of sorts for guys like
Mike Jenkins
,
Andre Gurode
,
Kevin Burnett
and Tony Sparano, but it's a real homecoming for Dennis Allen. How is he perceived in Oakland and will McKenzie be more patient with him than, say, Al Davis would have been?
Gutierrez:
The jury, so to speak, is still out on Allen in the streets of Silver and Blackdom. Of course, when the Raiders win a game, he's the man. When he loses, the fans turn on him and start pining for Jon Gruden ... again. But isn't that the nature of the beast? Even Allen himself said this was a results-oriented business. Of course, he was referring to the quarterback position at the time, but it still applies. Make no mistake about it, Allen is McKenzie's "guy" and he's going to roll with him and have patience with him. The plan coming in was to give Allen at least three years to right this ship and really, the only thing that could damage Allen's chances of lasting another year would be if the team quit on him, like it did last November before playing hard again at the end. Then again, it might not be McKenzie's choice. Owner Mark Davis is a more patient owner than his father and wants McKenzie to handle all football-related decisions. But a year after stating he was fine with just about anything but regression, Davis wants progress. Stagnancy won't cut it, either. So, stay tuned.
Sticking with the coaching theme, is Jason Garrett in Jerry World for the long haul, or was Jerry Jones' support merely the dreaded vote of confidence?
Archer:
Jerry has publicly backed Garrett, but he's also been a guy who's said, "Just because I say something, doesn't mean it's true." I do know this: He wants Garrett to be the guy. He desperately wants it to work. I really believe that. He believes in Garrett's approach and how he builds a team. Garrett will provide some blow-back to Jerry but not as much as, say, a Bill Parcells. Garrett knows what makes Jerry work and knows how to work around it to a degree or push Jerry in a certain direction. Honestly, Cowboys fans should want the Garrett deal to work out because it might be the best combination to mitigate the bad parts of Jerry and keep the good parts of Jerry.
February, 19, 2013
2/19/13
1:30
PM ET
What do the
Philadelphia Eagles
need to get with the No. 4 overall pick in April's draft? A superstar.
Yeah, I know: "Who doesn't?" "Being a little non-specific there, aren't we, Dan?" "Thanks for enlightening us." But I'm not trying to be overly simplistic as much as I'm trying to drive home a point for Eagles fans who aren't used to this. Throw out everything you've ever heard or thought about drafting for need. It doesn't apply here. The pressure is on Chip Kelly and Howie Roseman to use that No. 4 pick to find a crucial, building-block player who can be one of their team's anchors for years to come. That's what picking in the top five means. That's the only priority.
[+] Enlarge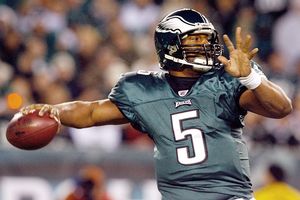 Jim McIsaac/Getty ImagesThe last time the Eagles had a top-five draft pick, they used it on quarterback Donovan McNabb.
The last time the Eagles picked in the top five was 1999. They had the No. 2 pick that year. They took Syracuse quarterback Donovan McNabb, who won 101 games (including nine playoff games) and five division titles in 11 years as their quarterback. That's called nailing it. That's the kind of thing the Eagles need to be trying to do this year.
And no, it doesn't have to be a quarterback. This draft does not appear, from three months out, to have the franchise-quarterback talent at the top that last year's did. Maybe by April 25 the Eagles have convinced themselves that someone like
Geno Smith
or
Matt Barkley
or
Mike Glennon
is their quarterback of the future and they use the pick on him. There's enough time for the landscape to shift like that. But they shouldn't force a quarterback into that pick, because they can't afford to miss here.
The Eagles' goal with this year's first-round pick is to find a player -- be it a tackle, a defensive back, a defensive lineman, a quarterback, whatever -- who they believe can be a reliable, star-caliber contributor for them for the next decade. You don't get the No. 4 pick because you're in a great place in your franchise's history. You get it because you just went something like 4-12, and the system is designed to help keep you from going 4-12 over and over again. You get it because you need help -- and not just position-of-need help but franchise-altering help. The Eagles already know this about where they are, and it's why they changed head coaches for the first time in 14 years. Now it's about building a roster with which Kelly can succeed.
The Eagles have eight picks in this year's draft, and they would do well to use the final seven to address the many needs they have on defense, to build and add depth along the lines, to maybe find a receiver they can develop ... the usual draft stuff. But the No. 4 pick in the first round is not usual. You don't often find yourself picking there. Current NFL players who were picked No. 4 overall include
A.J. Green
,
Trent Williams
,
Darren McFadden
and
Philip Rivers
. High-level contributors. Long-term studs. Pro Bowlers.
That's the goal for the Eagles with their first-round pick this year. That's the pressure that is on their decision-makers as they head to the scouting combine this week and begin assessing their options in earnest. They need to make a list -- and the nice thing is that it doesn't need to be any longer than four names -- of players they can plug into their lineup for years to come and expect them to dominate for them. Because the most important thing for the Eagles to do with this pick is to get a difference-maker to hasten their turnaround and help sustain it. If they nail their first top-five pick since 1999, then that's what they'll have. If not ... well, they could find themselves back in the top five again sooner than they'd like to.
February, 9, 2013
2/09/13
10:40
AM ET
The Twitter mailbag has had a couple of weeks off, first due to vacation and then due last week to the fact of Hall of Fame and awards announcements. But it is back, and as ever I thank you for your submissions. Remember, you can always tweet a question for the Twitter mailbag just by using the hashtag #nfceastmail at any time during the week. I round them up on Fridays and post them and their answers on Saturdays. Like this.
@billycuth:
Do you see the Eagles staying at 4 or trading down?
@ESPN_NFCEast:
Anything's possible, but if I'm the
Philadelphia Eagles
, the only way I'm trading out of the No. 4 overall draft pick is if I decide I need to move up a spot or two to get the quarterback of my dreams. And since that guy doesn't appear to be in this draft, I stay put at No. 4. That No. 4 pick is a pretty good pick. A partial list of players who were picked fourth overall since the turn of the century includes
Matt Kalil
,
A.J. Green
,
Trent Williams
,
Darren McFadden
,
Philip Rivers
and
Justin Smith
. You can get a really good, franchise-altering player at No. 4, and that's what I think the Eagles should do. Whether it's a defensive lineman like Star Lotulelei, an offensive lineman like Luke Joeckel or even a quarterback like Geno Smith, I think the Eagles are in a spot to draft someone who will be a significant building block for their future.
---
@1calledsteve:
what are the odds with the new cap space, the gmen will sign phillips, cruz and nicks?
@ESPN_NFCEast:
The
New York Giants
' cuts this week of veterans
Ahmad Bradshaw
,
Chris Canty
and
Michael Boley
were designed to create salary-cap relief, and you are correct that they're thinking about free-agent safety
Kenny Phillips
and star wide receivers
Victor Cruz
and
Hakeem Nicks
, all of whom need new deals. Add to that offensive linemen
Will Beatty
and
Kevin Boothe
, who are free-agent eligible, and the Giants have a great deal of work to do just to keep the guys they want to keep. I think Phillips is 50-50. His injuries this past year could end up making him easier for the Giants to keep, as he could have a harder time getting the kind of deal he'd like to get on the open market, and could return to New York for something like the Giants' price. But he is a great player, and if someone out there is willing to look beyond the 2012 injuries, the Giants could get outbid. There's no rush yet on Nicks or Cruz, as Nicks has a year left on his deal and Cruz can be tendered as a restricted free agent, but the Giants would love to get those contracts done sooner rather than later if they can, to avoid ugliness. My guess is they get deals done with both receivers this offseason, but I can't handicap their chances of keeping Phillips at this point.
---
@MD_In_MD:
could D. Hall really play safety? He would be responsible for a lot of open field plays which he doesn't excel at
@ESPN_NFCEast:
This is an idea we've kicked around some in recent weeks -- the idea of the
Washington Redskins
moving
DeAngelo Hall
from cornerback to free safety and pursuing cornerback options on the offseason market instead of safety options. I do not know if it's something the Redskins would consider. I do not know if it's something to which Hall would agree. Whether they move him to safety or keep him at corner, the Redskins are likely going to ask Hall of take a pay cut, and I don't know if he's going to be okay with that, either. But in theory, I like the idea, and it's because I think Hall still does retain his open-field playmaking ability. I think it's in tight coverage where he struggles at times (although not in Week 17 against
Dez Bryant
, I'll grant you). If the Redskins' coaches can sell Hall on the idea of playing free safety, I believe they'd have an energized player who would operate at a high level and embrace the new challenge and the freedoms it offers in the Redskins' system. But that's an "if" at this point.
---
@A_Martinez4:
what do you feel the biggest need for
#dallas
is? O line or d line? Or another position?
@ESPN_NFCEast:
I think the
Dallas Cowboys
' needs on the offensive line are more significant than their needs on the defensive line. I think they need a center, at least one guard and a right tackle. Now, by necessity, some of those answers might have to come from within the current roster. But if I were the Cowboys, I'd make upgrading at least one of those spots my top priority in free agency or the draft. The problem, however, is this switch to a 4-3 defensive alignment under new coordinator Monte Kiffin. If salary-cap problems keep them from bringing back
Anthony Spencer
, their need on the defensive line becomes more significant, and they might have to alter their priorities. A classic pass-rushing defensive end might then become their first-round draft target. And if that's the case, then they'd better have found a top guard or tackle in free agency, or else the offense will face many of the same problems it faced last season. It's a complicated offseason ahead for the Cowboys, who don't have easy answers everywhere.
September, 27, 2012
9/27/12
1:00
PM ET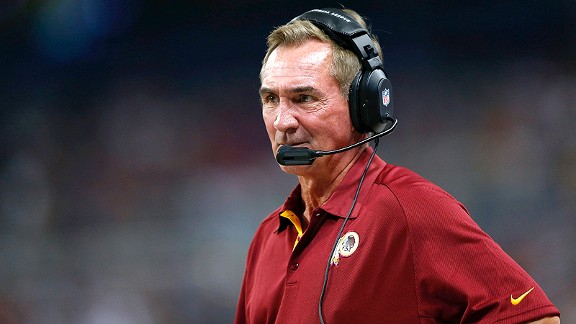 Jamie Squire/Getty ImagesThe 2012 Redskins put up offensive numbers that compared favorably to coach Mike Shanahan's Super Bowl title teams.
If you thought you were excited about
Robert Griffin III
, you're starting to realize that was nothing compared to the way
Washington Redskins
coach Mike Shanahan felt about him. In Griffin, for whom he traded three first-round picks and a second-round pick, Shanahan saw a quarterback who opened up nearly limitless offensive possibilities. And in the first three games of the season, Shanahan has tried quite a number of those possibilities, with great success.
Griffin right now is the 16th-leading rusher in the NFL. His 209 yards on the ground put him ahead of star running backs such as
Darren McFadden
and
Michael Turner
, and 128 yards ahead of the next two quarterbacks on the list --
Michael Vick
and
Cam Newton
. Griffin is an excellent runner with speed and vision, and it would be unwise not to take advantage of his talents in this department.
Of course, Griffin is also the No. 6-rated passer in the league with a mark of 103.5 that's higher than those of
Tom Brady
,
Eli Manning
,
Tony Romo
and
Aaron Rodgers
. He's only 18th in passing yards, in large part due to the absence of injured top wide receiver
Pierre Garcon
since the first half of the first game of the season, but he's fourth in yards per attempt, so when he does throw it, he's productive.
All of this adds up to the somewhat surprising fact that the Redskins have scored more points (99) through three weeks than any team in the league, and all of that is, yes, very exciting. But it's important for Shanahan not to get carried away with the excitement and expose Griffin to too much unnecessary risk.
As thrilling as it must be to have what he has at quarterback, Shanahan must remember that his team is one that isn't all the way there yet. Deficiencies remain, especially on defense and on the offensive line, and unless the Redskins account for them by resisting the temptation to devise game plans as though anything's possible, Griffin could find himself exposed to enough injury risk to threaten not only his rookie season but his long-term health.
[+] Enlarge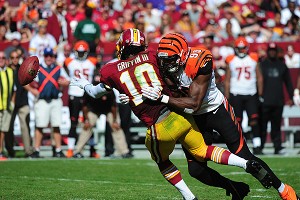 Scott Cunningham/Getty ImagesIf Robert Griffin III continues getting hit at the current pace, he may not make it through the season.
The Washington Times reports that
Griffin underwent (and passed) a concussion test
at one point during Sunday's game against the Bengals -- a game in which the Times says he was knocked to the ground 28 times. According to Pro Football Focus, Griffin is facing pressure on 37 percent of his dropbacks, which is the ninth-highest figure in the league. But he also has eight more carries than any quarterback in the league and is exposing himself to hits on every one of them.
Shanahan defended the designed runs after Sunday's game, saying Griffin had been hit on just four of 20 carries in the first two weeks.
"Even though it's a designed run, he doesn't always get contacted," Shanahan said. "But it does present a big problem to the defense. Now, if he had those designed runs and he was getting hit quite a bit, obviously you couldn't do that. But I think designed runs really keep a defense off balance."
Of course they do, and that's why it's so tempting to keep using them. Running the triple option with
Alfred Morris
lined up at fullback and
Brandon Banks
at halfback is going to keep defenses off balance, too. It's going to confuse the heck out of them. And that's going to result in more yards and more points for the Redskins. Every coach in the NFL loves feeling as though he's outsmarted and outschemed the guy in the headset on the other sideline, and Griffin's ability to understand and operate such a thrilling array of offensive possibilities has to have Shanahan up all night with excitement about what they can accomplish together.
But it's important that Shanahan keep this in perspective. It's important, as he draws up more new, fun ways to use Griffin, that he keep in the back of his mind the fact that he also has a torn-up defense that's going to give up more points most weeks than whatever offense he dreams up is able to score. He has to remember that Griffin is still taking snaps behind an offensive line that isn't all it could be -- that his star left tackle is banged up, and his right tackle is a career backup who's trying very hard but in general isn't going to be able to keep the league's best pass-rushers from getting their shots at the franchise's most important player.
In the end, as he continues to draw up game plans for Griffin and the offense for the rest of the season, Shanahan always must keep in mind Griffin's importance to the future of the Redskins. Griffin doesn't want to be reined in. He wants to stand there after the game and talk about how tough he is and how opposing defenses determined to hit him over and over again aren't going to deter him.
Even that's fun about this guy -- he's got determination and toughness to go along with all of the exciting skills. It would be easy and understandable to get caught up and just run with it, throwing the kitchen sink at him and trying every new offensive wrinkle a coach could fit into 16 games.
But Shanahan's job is to not get caught up. It's to keep the big picture in mind. It's to prioritize Griffin's safety into some of these game plans. In doing so, he may limit what his enthralling young quarterback can accomplish in his first season. But he may also ensure that the young man is still upright and able to accomplish far more in the seasons to come.
June, 25, 2012
6/25/12
10:30
PM ET
We'll wrap today's run of fantasy football video content with this roundtable discussion about
Dallas Cowboys
running back
DeMarco Murray
. He took the NFL and fantasy worlds by storm last season once he got the job as the Cowboys' starting running back, and before he broke his ankle in the December game against the Giants he'd emerged as a top fantasy option. He says he's healthy and will have no training camp limitations. So if we take him at his word, where do we draft him?
Eric Karabell starts off the discussion by saying he won't rank Murray in the top 10 because he fears a timeshare with
Felix Jones
. I think such fear is unfounded. When everyone was healthy last year, Murray was clearly the starter and Jones clearly the backup. Murray even showed enough pass-catching ability to keep Jones on the bench in those situations. So assuming he gets and stays healthy, I don't think there's any fear about Murray as the clear No. 1 back in Dallas.
Christopher Harris ranks Murray No. 9 among running backs. He has reservations because of the extent to which Murray's numbers were inflated by the one huge game against the Rams (as were the numbers of any good back who played the Rams, hello,
Ryan Torain
). And he qualifies his ranking by pointing out the questionable value of the other backs around him in the rankings (injury-recovery cases
Darren McFadden
and
Jamaal Charles
, to name two). But he says he's "willing to take a chance on the upside," and I agree. I think Murray should be viewed as a very good second-tier option after the elite guys are off the board. He plays in one of the league's top offenses. He performed as one when given the chance, and if he's healthy he has that experience on which to draw. I'd shy away a bit in keeper leagues, because I have this fear that he's not the kind of back that holds up long-term. But in the short term, I think Murray can be extremely productive, and he has a rare quality among fantasy running backs: There's no real threat to his starting job.
March, 22, 2012
3/22/12
2:03
PM ET
Man, running back really is a funny position these days in the NFL, isn't it? Last week,
Mike Tolbert
, who has 303 carries and 19 touchdowns over the past two seasons, signed a free-agent deal to be a fullback on a
Carolina Panthers
team that has two starting-caliber tailbacks. Thursday,
Michael Bush
, who had 977 rushing yards and 418 receiving yards in 2011,
signed a free-agent deal
with the Bears, who have designated star running back
Matt Forte
as their franchise player.
[+] Enlarge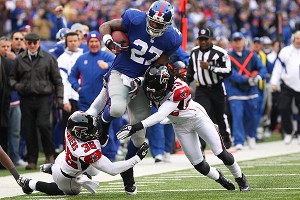 Debby Wong/US PresswireIn an odd year for free-agent running backs, it's possible Brandon Jacobs could return to the Giants.
I have
New York Giants
asking me what all of this means for
Brandon Jacobs
, who was released a couple of weeks ago after he and the Giants couldn't agree on the size of the pay cut he would take in order to remain on the team. A lot of people think the slow and weird running back market means Jacobs is likely to return to the Giants, since it portends a lack of opportunity to find a better deal elsewhere. I think that's possible, but I don't think it's that cut and dried. I think it comes down to whether there's a team out there that has a specific role in mind for Jacobs.
Of the top 15 running backs (
according to our Scouts Inc. grades
) who hit the open market when free agency opened last Tuesday, Bush is just the fourth to sign. And all four have been backs who spent 2011 in time-share or backup roles. (Jacobs ranks No. 3 on this list, since I'm not counting the two guys at the top who got franchised and therefore didn't hit the open market.)
What's it all mean? Well, teams have come to realize that there's not much value in throwing big free-agent bucks at running backs when good ones can be found in the middle and late rounds of the draft. But it also shows that running back beauty today is very much in the eye of the beholder.
If you're a free-agent running back on this year's market, you need to hope some team has a very specific role or job in mind for you. The Panthers wanted Tolbert because they saw in him a fullback who could pick up big yards for them in short-yardage spots or at the goal line. The Bears wanted Bush because ... well, they always seem to want a high-profile backup behind Forte since they don't like to give Forte the goal-line carries. Also, it's possible Forte could hold out, demand a trade or refuse to sign his franchise tender. Forte's unhappy in Chicago, and the Bears helped their leverage by signing a guy who showed he could handle starter's duties last year in Oakland when
Darren McFadden
got hurt.
Jacobs wouldn't have fit either of those roles, which is why he's not a Panther or a Bear. But that doesn't mean there's not a team out there who sees Jacobs as a fit for what they need in their backfield. He brings some things other running backs don't bring. He's by far the biggest and most physical back on that Scouts Inc. list, taller and heavier than even the guys who are being signed for fullback roles. He's as physical a runner as there is in the league, and he's got open-field speed that befits a much smaller guy. No, he's not the same terrifying force he was earlier in his career, but he can help, as he did the Giants in 2011. He's also got two Super Bowl rings, which is something I'm fairly certain no one else on the list can claim. And yeah, that kind of thing does appeal to teams.
The Giants have a spot for him -- in the same championship time-share in which he spent 2011 with his buddy
Ahmad Bradshaw
. They haven't filled it yet, and as the central point of this post indicates, there's no rush for them to do so. If Jacobs decides he wants to go back and take the offer they gave him two weeks ago, there's a decent chance that spot will still be waiting for him. But he's not in any rush either. There are still teams with holes in their backfields, and one of those teams might just decide Jacobs is the guy they want. Running back is a strange and sl0w-moving market this year, and I don't think we can know anything just yet about where Jacobs fits into it, and whether he goes back to the Giants or not.
November, 11, 2010
11/11/10
10:49
AM ET
By
Matt Mosley
| ESPN.com
Both
Ahmad Bradshaw
and
Hakeem Nicks
have appeared on NFC West blogger Mike Sando's famous MVP Watch in recent weeks, but now
it's time
for
Eli Manning
to climb the charts. Manning shows up at No. 7 on this quarterback-heavy list. Only
Peyton Manning
,
Philip Rivers
,
Drew Brees
,
Joe Flacco
and
Tom Brady
stand in his way right now.
My only argument with Sando's list is that Peyton was allowed to stay at No. 1 following his mediocre performance in Sunday's 26-24 loss to the
Philadelphia Eagles
. Here's what Sando wrote about Eli:
"The Giants QB trails only Rivers and Brees in TD passes this season. Five consecutive Giants victories and three consecutive games with a rating in triple digits push Manning into the MVP conversation."
Sando moved Oakland running back
Darren McFadden
into the No. 9 spot on his MVP Watch, but I think Bradshaw's had the better overall season. If he has a big day Sunday against an injury-depleted Cowboys defensive line, he'll likely return to one of the most exclusive tops 10s in all of sports.
March, 31, 2010
3/31/10
1:00
PM ET
By
Matt Mosley
| ESPN.com
»
NFC History
:
East
|
West
|
North
|
South
»
AFC
:
East
|
West
|
North
|
South
»
Draft Watch
:
Biggest needs
(2/17) |
Busts/gems
(2/24) |
Schemes, themes
(3/3) |
Recent history
(3/10) |
Needs revisited
(3/17) |
Under-the-radar needs
(3/26) |
History in that spot
(3/31) |
Draft approach
(4/7) |
Decision-makers
(4/14) |
Dream scenario/Plan B
(4/21)
Each week leading up to the NFL draft (April 22-24), the ESPN.com blog network will take a division-by-division look at key aspects of the draft. Today's topic: History in that spot.

Dallas Cowboys
My colleague Mike Sando from the NFC West bureau has done some outstanding research on this very topic. Over the past 15 years, he's discovered
that running backs have been quite popular
at No. 27. From 1995-09, there were four running backs taken, three wide receivers and three offensive linemen. True to form, the Colts selected
Donald Brown
at No. 27 overall in '09 and there's a good chance he'll start for the next six or seven seasons.
In '08, the Chargers selected cornerback
Antoine Cason
at No. 27. He's had four interceptions and 10 pass breakups in his first two seasons. Teams at the bottom of the first round love it when cornerbacks slip a little bit. That's why I keep saying the Cowboys will keep a close eye on Rutgers cornerback Devin McCourty. And remember, you heard it here first. In '07, I took at trip to Tulsa, Okla., to do a story on a former team roper named
Robert Meachem
. He'd become a star receiver at Tennessee and the Saints selected him at No. 27 . Meachem was a huge disappointment in his rookie season, reporting to work out of shape. But now he's a key member of the Saints' elite corps of receivers. So in the past three years, you've seen teams connect on those late first-round picks.

New York Giants
Most people believe the Giants need to draft a linebacker in the first round. And as Sando's research indicates, that's been
a very popular position at the No. 15 spot
, where the Giants will be. In the past 15 drafts, teams have selected five linebackers at No. 15. Will Alabama's Rolando McClain still be available? We're about to find out. The Steelers selected Florida State linebacker
Lawrence Timmons
at No. 15 overall in '07 and I'd say that's worked out pretty well. The Chiefs took offensive tackle
Branden Albert
out of Virginia in '08 and last year the Texans went with former USC linebacker
Brian Cushing
. That's two excellent linebackers at No. 15 in the past three years. Bodes pretty well for Giants fans.

Philadelphia Eagles
For whatever reason, there's been
an inordinate number of defensive backs
taken at No. 24 overall. And it wouldn't surprise me to see the Eagles continue that trend. The team could take a safety or cornerback and feel pretty good about it in my mind. The Eagles have a lot of practice selecting in this range, so they won't get caught off guard. Last year, the Falcons took defensive tackle
Peria Jerry
out of Ole Miss in the No. 24 hole. And in '08, the Titans selected running back
Chris Johnson
, now the most prolific runner in the league. In '07, the Patriots drafted Miami safety
Brandon Meriweather
and turned him into a pretty versatile player. And how can anyone forget the No. 24 pick in the '05 draft? It was the ultimate green room debacle, Cal quarterback
Aaron Rodgers
. That's obviously worked out pretty well for the Packers.

Washington Redskins
There's no real consensus at the No. 4 pick over the past 15 drafts. But there's only been one quarterback taken No. 4 overall -- if you can believe that. The position is so valuable that the top player at that position (Sam Bradford this year) is almost always gone by No. 4. Last season, the Seahawks played it really safe with Wake Forest linebacker
Aaron Curry
, who's going to be an excellent player in the league for years to come. The Raiders selected Arkansas running back
Darren McFadden
No. 4 overall in '08 and you can't say that's really panned out for them. Of course, nothing they've done the past decade has really panned out for them. The Bucs took Clemson defensive end
Gaines Adams
No. 4 overall in '07 and we all know that his life ended tragically this past January. In '06, the Jets found an excellent left tackle in
D'Brickashaw Ferguson
of Virginia. The Redskins would be wise to follow the Jets' lead in three weeks. In '05, the Bears went with Texas running back
Cedric Benson
. But I wouldn't worry about the Redskins taking a running back at No. 4. There's no one good enough to tempt them at that spot. Shanahan would rather go with the old warhorses,
Clinton Portis
and
Larry Johnson
.