NFC East:

Darrius Heyward-Bey
April, 20, 2012
4/20/12
10:30
AM ET
Former
Indianapolis Colts
GM Bill Polian writes for ESPN now, which is especially handy this time of year because he's actually made NFL draft picks and can offer insight that schlubs like me can't offer. Today, Bill ranks the draft performance of each NFL team
over the past three years

. (Except the Colts, since he made those picks and doesn't feel he can be objective. Fair enough. If I were ranking the best ESPN.com NFL blog entries of the past calendar year, I'd have a hard time figuring out how to handle the NFC East ones.)
Anyway, Bill's got the
New York Giants
ranked among "The Best" in his rankings, behind only the Ravens, Lions and Packers. He picks a "best value pick" and a "cornerstone pick" for each team, and for the Giants he lists wide receiver
Hakeem Nicks
(29th pick, 2009) as the best value pick and defensive end
Jason Pierre-Paul
(15th pick, 2010) as the cornerstone. Based on the results alone, these are both very good picks for the Giants, and they offer different types of examples of the Giants' broad-thinking approach to the first round.
[+] Enlarge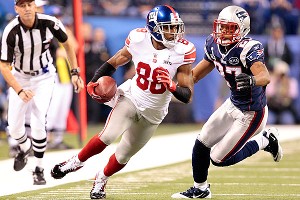 Mark Cornelison/Lexington Herald-Leader/MCTHakeem Nicks fell to the Giants at No. 29 in the 2009 draft thanks to the deep receiver class that year.
Nicks was the fifth of a whopping six wide receivers taken in that year's first round. The Giants, who take a best-player-available approach to the draft and almost never pick based on need, identified that this was a year in which those two concepts overlapped. They needed a receiver, and this was a first round that offered great value at that position. After
Darrius Heyward-Bey
went seventh to Oakland and
Michael Crabtree
went 10th to the 49ers, the Giants were locked in on
Jeremy Maclin
and reportedly
had a deal in place
to trade up to No. 20 to take him if he fell that far. Instead, the Eagles moved up and picked Maclin at 19. The Vikings took
Percy Harvin
at 22 and the Giants, with well-regarded Rutgers product
Kenny Britt
still on the board at 29, went with Nicks.
The Giants believed Maclin and Nicks were both top-15 value picks that had slipped into the second half of the round. They had them rated very closely together and believed each offered something special. With Maclin it was his raw speed and special-teams ability. With Nicks, it was his studious nature and everything they'd been told by his college coaches about his attention to detail and the level of responsibility he'd assumed as a leader of the wide receiver corps at North Carolina. They were ecstatic to get him at 29. If not for the saturation of first-round wide receiver talent in that particular year, they might not have been able to sniff either guy. They took advantage of a rare and exciting confluence of value and need to make that year's first-round pick, and it's paid off.
As for Pierre-Paul, we've been over this story a million times. The Giants were picking in the middle of the first round that year, and the value at that spot was going to be pass-rushers, which is their wheelhouse. Five defensive ends went in that year's first round, and the names of
Brandon Graham
and
Derrick Morgan
were being kicked around for teams in the middle of the first round. Pierre-Paul was a mystery man -- raw and inexperienced but unquestionably gifted as a pure athlete. Everybody saw the tape of him doing the backflips. No one -- not even the Giants -- knew for sure how that would translate into NFL football.
[+] Enlarge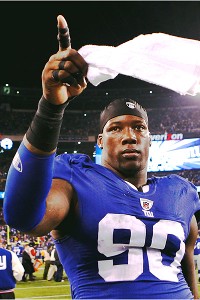 Tim Farrell/The Star-Ledger/US PresswireNot even the Giants could guess how quickly Jason Pierre-Paul would become one of the league's most disruptive pass-rushers.
But the Giants fell in love. Tom Coughlin went to watch Pierre-Paul work out. They decided that his talent was worth taking a chance on, given the strength of their belief in the ability of their coaches and their veteran players to groom great defensive linemen. Their need was at linebacker, but there was no linebacker in that year's first round that offered value at No. 15. And they didn't need a defensive end who could help right away, since they were already loaded at that position. So why not take the guy whose potential cornerstone talent you believed you could mold into a cornerstone player?
The Eagles traded up to get Graham at 13 -- a move that has subjected them to derision in light of Pierre-Paul's rapid ascent and Graham's health struggles (and the fact that safety
Earl Thomas
went one pick later). And with the seemingly more NFL-ready Morgan still on the board, the Giants picked Pierre-Paul. They didn't know he'd be one of the best defensive players in the league two years later. They thought maybe he could eventually be that, and that his potential combined with their program made him worth the pick. This was a pick that made more sense for the Giants than it might have made for any other team picking in that spot. They identified that, and again, it has paid off.
Anyway, the other teams in the NFC East are much further down the list, all in the bottom-17 portion of Bill's list labeled "The Rest of the Rest." He picks
Sean Lee
as the Cowboys' value pick and
Tyron Smith
as the cornerstone. The Eagles' value pick is
Jason Kelce
(sixth round!) and the cornerstone pick is
LeSean McCoy
. The Redskins' value pick is
Roy Helu
(fourth round!) and their cornerstones are
Brian Orakpo
and
Ryan Kerrigan
, though the Redskins are hoping the real cornerstone is the guy they're picking No. 2 overall next week.
June, 25, 2011
6/25/11
11:18
AM ET
See, how it works is, you e-mail the questions, I sort through them, delete all the profane and insulting ones and answer the ones I think are the most interesting. A democracy? No. Just a lil' ol' weekend mailbag.
tmcsfinest from Toronto
thrilled us all Friday morning with a stirring tale of his efforts to post a question on the mailbag. His problem apparently was that his question was too long, so he posted it instead as a comment on
a post about the Giants hiring
Larry Izzo
. Fortunately for him, I read almost all of the comments -- even the ones that have nothing to do with the post under which they sit. Unfortunately for him, he was right about his question being too long, so I can't copy/paste the whole thing here. Basically, he asks if I think it'd be smart for the Redskins to add to their wide receiving corps via trade or free agency, because what they have there isn't great and there are some interesting options on the market.
Dan Graziano:
No doubt, receiver is a need the Redskins should address if they can. The issue is that some of the names you suggest (
Lee Evans
,
Darrius Heyward-Bey
) likely wouldn't be big enough upgrades over what they already have to justify parting with resources to acquire them. Free agents such as
Braylon Edwards
and New York
Steve Smith
don't fit the No. 1 wideout description.
Sidney Rice
is an injury question, and
Vincent Jackson
and Carolina's
Steve Smith
will be pricey. Considering that no one they bring in will have an established NFL quarterback throwing to him, I'm not sure it's wise for Washington to deal away a bunch of picks for a star or commit long-term dollars to the relative flotsam that's out there on the free agent market when they're probably gearing up to position themselves to draft their quarterback of the future next spring. Yes, they need help at receiver. But given the probable price of upgrading, I wonder if they might just be better off bringing back
Santana Moss
and finding out a little bit more about what
Anthony Armstrong
's got.
---
Evan O'Gibney, a Long Branch, N.J. native, checks in from Baghdad
with a question about the Giants. Evan is "worried about the Giants" because "
Jerry Reese
is too conservative, Coughlin is starting to get surrounded by more players who weren't there when they won the big one and just see the hard-nosed coach and don't respond well.
Brandon Jacobs
is not worth the money he's making over the next two seasons and our O-line is all but about to start collecting social security. And I'm still not over the decision to not trade up to get
Rolando McClain
when ILB is by far our biggest need instead of getting ANOTHER DE. (i like JPP, but it wasnt the right move, backflips dont count in hall of fame votes)"
DG
: Couldn't have said it better myself, Evan. I don't like the way the Giants have made their offseason decisions the past couple of years. I've been clear on this. And I think, if they don't address that linebacker position in free agency and add some offensive line depth, they're setting themselves up for disappointment. But as you'll see if you check back on the comments in a few hours, there are many Giants fans who think I'm all about unwarranted doom and gloom. I'll just point out, again, that you and I have played in as many playoff games as the Giants have in the past two seasons.
---
Bill in D.C.
wonders what will become of
Barry Cofield
if he and the Giants part ways in free agency, and if I "think he could play the 5 technique in a 3-4? He seems to have the speed and size (6'4", 309) to do so. If so, he might make an interesting addition to the Dallas D line."
DG
: Cofield has played on the inside in the 4-3 in New York, and I confess I don't know much about the technical aspects of making a position switch like that. My gut tells me it'd be easier than, say, switching to 4-3 defensive end. And given the freedoms that talented players enjoy in Rob Ryan's scheme, it's possible the five-technique in Dallas won't be a traditional five-technique position. Certainly, if you put him on the same side as
DeMarcus Ware
, he might not have to worry as much about rushing the passer or keeping offensive tackles off his linebacker. It's an interesting thought, but I can't offer any insight into whether it's something Cofield himself would want to do.
---
Andrew in Dallas
wants to know, if the Eagles are going to have as much cap room as it appears they will, "why don't they re-sign some key players (like
DeSean Jackson
) to a contract with a lot of money this season to lower the price for later years? By front-loading the contracts, they could build in more room in later caps, in addition to locking up vital players."
DG
: In theory, sure. But the Eagles are thinking about winning this year, and I imagine they'd rather dole out up-front money to players who can help with that than worry about the long-term situation with Jackson. And Jackson's situation is its own mess, as I believe he plans to hit the open market with Drew Rosenhaus at his side and see what he can get. I'm not even sure Jackson would be interested in locking up long-term at a price the Eagles would find acceptable right now. In short, I think the Eagles are focused a lot more on a 2011 Super Bowl run than they are on cap room in future years.
Keep the questions coming, folks. And if they don't fit in the mailbag, as tmcsfinest showed, you can always just throw them into some random post during the week and hope I find them. It's a mixed-up, muddled-up, shook-up world...
April, 24, 2009
4/24/09
11:21
AM ET
By
Matt Mosley
| ESPN.com
Posted by ESPN.com's Matt Mosley
Cowboys
Eagles
Giants
Redskins
April, 10, 2009
4/10/09
10:10
AM ET
By
Matt Mosley
| ESPN.com
Posted by ESPN.com's Matt Mosley
Each morning, the Beast visits at least 15 Web sites and blogs looking for updated mock drafts. Today we turn to ESPN The Mag's Chris Sprow, who had the good sense to bring some of the top draft experts of our time together for an aggregate mock draft.
This is a feature that most people have to pay for, but for one day only, I'm pulling back the curtain. Todd McShay and Mel Kiper Jr. joined folks from CBS Fox, NFL Network and Yahoo to come up with this mock. According to this list, here's who would end up with Beast teams:
No. 13 Redskins select Tyson Jackson, LSU
No. 21 Eagles select Darrius Heyward-Bey, Maryland

No. 28 Eagles select Eben Britton, Arizona

No. 29 Giants select James Laurinaitis, Ohio State

February, 23, 2009
2/23/09
10:46
AM ET
By
Matt Mosley
| ESPN.com
Posted by ESPN.com's Matt Mosley
Cowboys
Eagles
Giants
Redskins