January, 11, 2012
1/11/12
8:00
AM ET
Good morning. Four days until the Giants' playoff game in Green Bay. The Cowboys are shuffling their coaching staff. The Eagles and Redskins are quiet, but we all know that never lasts. Let's have some links, shall we, and talk it all over?
New York Giants
Ohm writes that this year's Giants are trying to channel some of the "
road warrior
" mentality that the 2007-08 Super Bowl team had -- the "us against the world" attitude that helped them win four games away from home to claim the Lombardi trophy. These Giants haven't played a game away from MetLife Stadium since their Dec. 11 victory in Dallas, and the Packers have beaten them twice in the past 13 months. But they remain confident, which is one of their greatest assets right now.
Chase Blackburn was going to be a
substitute math teacher
but had to put that on hold when the Giants called in November to ask him to come back and play linebacker for them, Steve Politi writes.
Philadelphia Eagles
Jeff McLane says the speculation about potential changes to the Eagles' defensive coaching staff is
nothing more than that
at this point, especially while Andy Reid is on vacation and hasn't spoken to the media since the season ended. Could Steve Spagnuolo return as defensive coordinator? Sure. But Jeff's sources say it's "premature" to assume it'll happen.
And while DeSean Jackson looms as perhaps the most important roster decision the Eagles need to make this offseason, Paul Domowitch posits that the Eagles' offense could
survive just fine
if Jackson were to go elsewhere.
Dallas Cowboys
Todd Archer writes that the coaching moves the Cowboys made Tuesday -- replacing longtime offensive line coach Hudson Houck with Bill Callahan and replacing longtime secondary coach Dave Campo with Jerome Henderson -- may have come a year too late but were
wise decisions
. Not to discount the significant contributions Houck and Campo made to the organization, but these are the kinds of forward-looking moves the Cowboys need to make to address and correct their weaknesses.
Jean-Jacques Taylor says the success that former Cowboys coach Wade Phillips has had this year as defensive coordinator with the Houston Texans proves that
the players
, and not Rob Ryan's scheme, are the problem with the Cowboys' defense. Don't think there aren't roster moves coming with these coaching changes.
Washington Redskins
Linebacker Brian Orakpo had
surgery on his left shoulder
, which he injured in the season finale in Philadelphia. No word on how long it will take Orakpo to recover, but his Twitter review of the surgery certainly sounded upbeat. Who knows? Could be the pain meds talking. Brian, your words are hurtful!
Rich Campbell takes a look at the
personality contrast
between head coach Mike Shanahan and defensive coordinator Jim Haslett -- an odd couple that came in to Washington together and seems to be working together quite nicely as the Redskins rebuild their defense.
January, 10, 2012
1/10/12
8:53
PM ET
Chris Mortensen is
reporting on Twitter
that
Dallas Cowboys
offensive line coach Hudson Houck will retire after 29 years in the NFL and be replaced by Bill Callahan, who was most recently the offensive line coach of the
New York Jets
.
We've been talking about possible Cowboys coaching changes. It appears as though Dave Campo is out as secondary coach as well, after 18 years with the team. These two moves indicate a desire by head coach Jason Garrett to move on from some of the structure that was in place when he took over and put his own stamp on the coaching staff. Coaches who may have been retained largely out of habit are being scrutinized and evaluated the way coaches are with other teams, and it says something about the way Garrett wants to do business going forward.
The hiring of Callahan is especially interesting, however, in light of the questions that surfaced this season about Garrett's ability to handle the dual roles of head coach and offensive coordinator. Callahan was thought to be a candidate to take over as offensive coordinator in New York if the Jets were to move on from Brian Schottenheimer. He's been a head coach in the NFL and has experience calling plays. He brings a level of experience to the position that could be an asset to Garrett and could improve the overall in-game performance of the Cowboys' offensive coaching staff. It's a quality-focused move that indicates a potential departure from some of the Cowboys' more stodgy ways of doing business. Wouldn't be a surprise to see more to come.
January, 10, 2012
1/10/12
8:00
AM ET
Just feels like something's missing. A Tuesday with no Power Rankings. What do we have to get angry about? Well, there's the chat. And you know you can always count on the links.
New York Giants

Ian O'Connor chatted with Giants coach Tom Coughlin, who admits he
missed being in the playoffs "a lot."
I don't understand the deal with Greg Jennings and what he said on Twitter, because I heard a live interview with Jennings on the radio on Sunday morning in which he said the Packers don't even think about the 2008 playoff loss to the Giants. So I don't get what that's about. Regardless, Antrel Rolle, who never stops talking, says
the Giants are better now
than they were when the Packers beat them by three points on Dec. 4. And I think he's right.
Philadelphia Eagles

John Smallwood says it's
a mistake
to read Jeffrey Lurie's postseason news conference as a Super Bowl-or-bust ultimatum for Andy Reid. I'm not sure who read it that way. But I do think Reid's 2012 team needs to at least threaten the doggone thing or else Lurie's 2012 postseason news conference is going to have a different outcome for the Eagles' head coach. The Eagles will need to be one of the best teams in the league in 2012. A Super Bowl title, as Lurie knows, depends on too many capricious elements to serve as the basis for an ultimatum.
Sheil Kapadia has
a breakdown
of the Eagles' secondary performance in 2011 under coach Johnnie Lynn, who was fired Saturday.
Dallas Cowboys

Tim MacMahon reports that Cowboys secondary coach Dave Campo, who's been with the team 18 years,
won't be back in 2012
. As we've written here before, Jerry Jones is all-in on Jason Garrett as head coach, and it appears this offseason will offer Garrett the chance to make his own coaching staff a little bit.
Along those lines,
Calvin Watkins wonders
if former Dolphins head coach Tony Sparano, who has a good relationship with Garrett from the time they spent together on the Cowboys' staff, could return as an offensive line coach. Lots of shuffling still potentially in the works here.
Washington Redskins

Evan Bliss
hands out some awards
for the Redskins in the wake of their 2011 season. It's not pretty.
John Keim
reviews the offensive line
, and concludes that the Redskins will need to find a new right tackle and add depth behind the starters at the other positions. The line was an area of strength for the Redskins for much of the season, while it was healthy and not suspended.
November, 5, 2010
11/05/10
9:57
AM ET
By
Matt Mosley
| ESPN.com
The newest member of the ESPN.com community,
Ross Tucker
, played for Dave Campo's 2002
Dallas Cowboys
. He knows what it feels like to have a lame-duck head coach and he talks about the current Cowboys situation
in his latest mailbag column
:
"I was in this situation once, interestingly, in Dallas in 2002, and it is tremendously unpleasant for everyone involved," writes Tucker. "That was the season when Jones famously met with Bill Parcells in an airplane hangar in New Jersey while Dave Campo was still the head coach. The team facility was a morgue for the rest of the season after that news broke. The accountability immediately vanished for some players because they knew Campo was as good as gone, and as such, a number of players missed curfew the night before the final game in Washington. It was bad.
"I hardly ever call for coaches to get fired and almost never during the season, but in this case it must happen. And the sooner the better."
If the Cowboys lose in Green Bay on Sunday night, maybe Jones will make the move. But as stubborn as he's been throughout this process, there's no guarantee that happens. The biggest reason he should fire Phillips immediately is because of all those empty seats at Cowboys Stadium last Sunday. It's time to make a significant change to show this fan base that Jones understands what a complete and utter failure this season has become.
But don't forget that
Roy Williams
said the Cowboys are about to win nine straight ...
January, 19, 2010
1/19/10
3:58
PM ET
By
Matt Mosley
| ESPN.com
Pardon me if I was a little startled by the news Monday that the
Buffalo Bills
were going to hire Chan Gailey as their next head coach
. What, was Bruce Coslet not available?
[+] Enlarge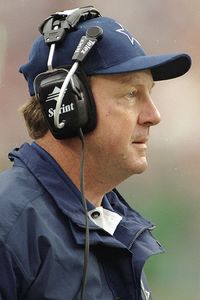 Getty ImagesGailey led the Cowboys to the playoffs in both seasons he served as the head coach.
It appears that the Bills swung for the fences -- and then settled for a weak grounder to short. To label this an uninspiring hire is an injustice to the uninspiring men who preceded Gailey in Buffalo. One of those men, Wade Phillips, just led the Cowboys to their second division title in three seasons.
Gailey took over a star-studded (if aging) Cowboys team coming off a 6-10 season and led them to the playoffs in 1998 and 1999. Owner Jerry Jones was so impressed with Gailey's 18-14 record that he fired him after a playoff loss to the Vikings and replaced him with Dave Campo. No one really likes to say this in polite company, but quarterback Troy Aikman clashed with Gailey and wanted him gone. And Jones didn't hesitate in pulling the trigger. Here's what
Jones said at the time
:
"This decision I had to make is about football,'' Jones said in Jan. 2000. ''It wasn't about egos. Chan Gailey, relative to when he accepted this job, burned the midnight oil. He worked hard, he was diligent, he was honest. He did everything I imagined."
And it turns out that Jones was still thinking about the Gailey firing when he decided to retain Wade Phillips following the '08 season's December-January collapse. Something about continuity. Here's what Jones said about his decision to fire Gailey earlier this month:
"The most unfair that I've ever been in anything in sports and maybe in other parts was dismissing Chan after two years,"
Jones said
. "That wasn't right. ... That is one thing I look at today in my mirror and say you just weren't as fair as you needed to be there to the team, the fans and certainly to Chan to make that change after two years."
So there you have it. The lesson Jones learned from the Gailey firing is one of the main reasons Phillips is still around. That and the fact that Jones hates the idea of coaches sitting at home while he pays them $3 million. And by the way, Gailey was making $500,000 per year as the head coach of the Cowboys when he was fired in 2000.
The club's offensive coordinator, Jason Garrett, makes roughly $3 million per year now. For any Bills fans who may stumble onto this blog, Gailey is a remarkably nice man. He has no business being a head coach in this league, but I can pretty much assure you that he won't be accused of striking an assistant coach at any point in the near future.
If I'm someone like Leslie Frazier, this hire really ticks me off. Some of these assistants have worked their tails off to position themselves for a head-coaching opportunity. And they're passed over for a man who flamed out in Dallas a decade ago.
November, 24, 2009
11/24/09
5:00
PM ET
By
Matt Mosley
| ESPN.com
For those of you who somehow missed the launch of ESPNDallas.com, I write a weekly column for the new site.
My latest installment
deals with Sunday's sideline confrontation between Cowboys cornerback
Terence Newman
and Dave Campo.
The column runs on Tuesday afternoons during the football season. Thanks for your continued support.
November, 24, 2009
11/24/09
2:45
PM ET
By
Matt Mosley
| ESPN.com
Cowboys cornerback
Terence Newman
talked for
the first time Tuesday
about his sideline confrontation with secondary coach Dave Campo in the first half of Sunday's 7-6 win over the Redskins. Newman used humor to dismiss the notion that he and Campo had any lingering issues.
"It's going down," Newman said. "It's going to happen in Vegas. It's going down. We've got Don King promoting. You know? Actually, Jerry Jones is taking over. We're going to have Jerry. I'm kicking Don out. We'll have Jerry promoting. We might have to move this whole thing to Cowboys Stadium. It'll be Pacquiao-Mayweather and Campo-Newman. We're going to make it happen."
Hey, don't give Jones any ideas. He's already in the process of trying to lure the Pacquiao-Mayweather fight to Cowboys Stadium. A Campo-Newman rematch would be an interesting bout on the undercard. And honestly, I'd have to go with Campo because Newman would have a tough time covering.
Sorry, it just slipped out. Let's get our game face on see what the Eagles are doing in the secondary.
November, 24, 2009
11/24/09
10:42
AM ET
By
Matt Mosley
| ESPN.com
The weekly Beast chat will begin promptly at noon ET. If you'd like to participate,
here's the link
.
Suggested topics:
Who will win the rematch between Dave Campo and Terence Newman.
What's up with Giants defensive coordinator Bill Sheridan's playcalling late in games?
Will the Skins be able to land Mike Shanahan?
Can the Eagles take care of business against the Redskins without some key members of the secondary?
Have Andy Reid and Marty Mornhinweg finally found the secret to the Wildcat formation?
We're going head to head with
former Cowboys coach Jimmy Johnson today
. Feel free to participate in both chats. Now I'm off to write my weekly column for ESPNDallas.com. Thanks for your time.
November, 23, 2009
11/23/09
6:27
PM ET
By
Matt Mosley
| ESPN.com
If you watched the Cowboys-Redskins game Sunday, you saw Pro Bowl cornerback
Terence Newman
give secondary coach Dave Campo a shove on the sideline during the first half. I've seen several replays of the incident and it looks like things escalated pretty quickly. I've covered the NFL for nine years and I've never seen a player get physical with an assistant coach on the sideline. But coach Wade Phillips acted as if it was business as usual when asked about the incident Monday.
"I don't need to go into detail of who said what, what happened to who, all those things, he said she said," Phillips said. "There wasn't anything big that happened that made a difference. We worked out what we had to work out on the sideline, and that's what we normally do. And that's what happens with a lot of teams a lot of times."
Newman has always been a class act, but there's absolutely no excuse in the world for shoving an assistant coach. Do you think Steelers coach Mike Tomlin would stand for something like that? Not in a million years. But Phillips wants to remain friends with his players, so he hates the thought of calling them out in public. Perhaps he disciplined Newman in private, but I have my doubts about that.
Tim MacMahon of ESPNDallas.com
hammered Phillips pretty hard
on his blog earlier this afternoon.
November, 23, 2009
11/23/09
11:52
AM ET
By
Matt Mosley
| ESPN.com
It was a good day for Beast teams other than the Redskins, and they actually did some nice things against the Cowboys. Let's take a quick look at what folks are saying in the aftermath of Sunday's games:

Cowboys
Eagles
Giants
Redskins

February, 20, 2009
2/20/09
2:01
PM ET
By
Matt Mosley
| ESPN.com
Posted by ESPN.com's Matt Mosley
In an effort to plug the leaks that have made Ed Werder the most feared man at Valley Ranch, Dallas Cowboys owner Jerry Jones has put a gag order on all his employees, including head coach Wade Phillips. For those of us who cut our teeth during the Parcells era in Dallas, the silencing of assistant coaches isn't a new concept. In fact, I came to embrace the concept.
The more Parcells did to muzzle his assistants, the more they wanted to talk. And some of my best sources at Valley Ranch were cultivated during that time period. (Never mind the fact that most of them are employed elsewhere now.)
But the Phillips gag order is highly unusual. In fact, I called around to some of my colleagues in the business this morning (Farmer, Chadiha, Darlington, Archer) to see if they'd ever heard of something like this. Well, they haven't.
Could you imagine what Parcells' response would've been had Jones told him that he was forbidden to speak to reporters at the combine? He would've laughed at him and then walked over to say hello to Gary Myers and Peter King. Even puppet head coaches Chan Gailey and Dave Campo were never subjected to something like this.
Jones thinks he's circling the wagons, but what he's really doing is further marginalizing his head coach. And quite honestly, Phillips was doing just fine on his own.
In his state-of-the-team address following the season, Phillips promised to change his approach. No more Mr. Softy was his rallying cry. But by becoming perhaps the first head coach in the league's modern history to be silenced, he looks as powerless as ever.
The Countdown to Continuity continues in Dallas. Isn't this fun?
October, 12, 2008
10/12/08
4:30
PM ET
By
Matt Mosley
| ESPN.com
Posted by ESPN.com's Matt Mosley
GLENDALE, Ariz. -- Not the start the Cowboys were looking for against the Cardinals. J.J. Arrington takes the opening kickoff back 93 yards for a touchdown. After watching several replays, it looks like rookie Mike Jenkins broke containment on the sideline. Anthony Spencer had the best shot at Arrington, but he barely slowed him down.
Rookie Orlando Scandrick and kicker Nick Folk were the safety valves, and they never had a shot. Looked like former Cowboys receiver Jerheme Urban did a nice job of sealing Scandrick the last 30 or 40 yards.
If the Cowboys lose this game, special teams coach Bruce Read is going to receive a ton of heat. Dallas has not been the same since Bruce DeHaven left to take a job with the Seahawks.
There are some people who were hoping Jerry Jones would fire Read and bring back former special teams coach Joe Avezzano, a mainstay during the Super Bowl years and a finalist for the head-coaching job that Dave Campo eventually received.
July, 11, 2008
7/11/08
2:05
PM ET
By
Matt Mosley
| ESPN.com
Posted by ESPN.com's Matt Mosley
In the state of Texas, there's no such thing as a football "offseason." High school kids have been participating in elaborate conditioning programs for years, but over the past decade, 7-on-7 tournaments have become a huge part of their summer routine.
In fact, it's such a big deal that a former Cowboys head coach will be coaching the defense for Coppell High School in a 64-team tournament at Texas A&M this weekend. Dave Campo, now the secondary coach for the Cowboys, has a son named Michael who plays for the team.
My former colleague and friend David McNabb was kind enough to tip me off on this story, which has also been featured on Rivals.com. Michael Campo grew up in the Coppell school system while his father was on his way to landing the Cowboys head-coaching job in 2001. It's pretty neat to see him have the opportunity to graduate from Coppell.
"I talked to Dave a couple weeks ago and he has such a love for coaching and teaching and the kids love listening to him," Coppell coach Bob Shipley said. "They had a meeting this week and Dave's already put in a couple of defenses he wants the kids to try."