March, 19, 2012
3/19/12
10:05
AM ET
This is why, regardless of how astronomical the price may have been, you can't say the
Washington Redskins
overpaid in the trade that scored them the No. 2 pick in this year's draft.

You following this quarterback stuff, Redskins fans? Are you watching what's going on
in Miami
, in
San Francisco
, in
Denver
, in
Tennessee
? In
poor, miserable Cleveland?
This is quarterback musical chairs, folks, and there aren't enough chairs for everyone. At least one of those teams is still going to be looking for a quarterback once
Peyton Manning
decides and
Alex Smith
figures out what he wants to do, and if you're a Redskins fan watching all of this, you should be thinking, "Whew. I'm really glad my team's not mixed up in that mess."
The Redskins know who their quarterback is going to be next year. Or at least they're sure it's going to be one they like. They assume the Colts will take
Andrew Luck
with the No. 1 overall pick and they'll take Baylor's
Robert Griffin III
with the second, but if something weird happens and the Colts take Griffin, they at least know they get Luck. There are, by most teams' evaluations, two franchise-caliber quarterbacks in this year's draft, and by dealing three first-round picks and a second-round pick to the Rams, the Redskins ensured that they'd get one of them.
By doing it a week and a half ago, they also ensured that they would not find themselves in Dolphins' current situation — spurned by Manning and
Matt Flynn
, trying to steal Smith away from the 49ers and
reportedly
talking to
David Garrard
in case Smith stays put. They ensured that they would not be the Broncos, who wait to find out whether they get Manning or whether they'll need to ask
Tim Tebow
to turn water into wine on a weekly basis for another year. They ensured that they would not be the Browns — the team they had to beat out to get the Rams' pick, a team that's now looking at another year with
Colt McCoy
and hoping it gets
Matt Barkley
in next year's draft.
This could have been your team, Redskins fans. Instead, Washington has a draft pick that ensures it will get a quarterback who projects as a long-term star. It has a backup it likes — one that ran the offense last year and is willing to help teach it to a rookie taking his place. The Redskins' quarterback situation doesn't make them an automatic 2012 contender — Griffin will be a rookie, after all, and the overhauled receiving corps has more potential than track record. But it's one about which the team and its fans can feel good. Such is not the case in places like Miami and Cleveland and whichever of those other teams fails to get Manning.
So yeah, they paid a fortune to get the pick, and it puts a lot of pressure on Griffin to become a star. But knowing that this was the alternative — to be sitting around on March 19 hoping you could maybe get Alex Smith or get by for another year with
Rex Grossman
and get a chance at Barkley — has to help you understand why they did it. And why they surely don't have any regrets.
March, 17, 2012
3/17/12
11:10
AM ET
All that's been on anyone's mind this week is free agency and college basketball. We'll skip the hoops questions in this week's mailbag and try and stick to that first thing. If you don't mind.
Barry from DC
is concerned that he hasn't heard more about the
Washington Redskins
trying to sign offensive linemen.
Dan Graziano:
Clearly, Barry, wide receiver was their first priority (after quarterback, of course, which is fixed through the draft). Then they got to work on the secondary. But I agree with you that right tackle and left guard remain areas of concern. Reports out of Washington say they had tackle
Demetrius Bell
in for a visit Friday, and everything I'm told indicates they're interested in tackle
Eric Winston
(though he spent a lot of time with the Chiefs this week). They weren't in the mix seriously for
Carl Nicks
or
Ben Grubbs
at guard. They may not land any big O-line names, but I know they're looking to add, and they're targeting guys they think can work well in their zone-blocking run game schemes.
Like a lot of people,
Jason from Bryn Mawr, PA
gives the
Dallas Cowboys
a lot of credit for the moves they've made so far in free agency. He wonders if the focused, targeted approach they're taking reflects coach Jason Garrett's influence on personnel decisions.
DG
: I do, Jason. I think you saw that begin last year, when the Cowboys cut players like
Roy Williams
and
Marion Barber
in order to go with more sensible options. I think you saw it this year with the overhaul of the coaching staff that got rid of some long-timers and replaced them with fresh faces. I believe Jerry Jones really wants Garrett to succeed and is willing to let him run the team his way, and I believe that means Garrett has a great deal of say in the kinds of players the team is pursuing. Things are making more sense in Dallas than Jones' old reputation usually leads people to believe they are.
George from Lexington, VA
is watching the
New York Giants
sign free agents "to modest contracts so that they can fill specific roles in their system" and asks whether their approach is at all similar to the Billy Beane Oakland A's model that inspired the book and movie "Moneyball."
DG
: I think it's an imperfect comparison, George. "Moneyball" is the story of a low-revenue team trying to find a way to compete in a game that has no salary cap and was at the time heavily tilted in favor of the high-revenue teams. The NFL's salary cap eliminates this problem by effectively eliminating the concept of low-revenue teams. All NFL teams are rolling in money, and those that don't spend as much as the others do so by choice. The Giants have been right up against the cap the last two years as a result of some big contracts that would make Billy Beane pass out, so part of the reason they haven't made big free-agent moves is because they're unable to. But I think the main reason the Giants are so comfortable with their simple moves is their belief in their coaching staff and the veteran-inspired environment in their locker room. They really believe they can find most of their solutions internally, because they believe their program develops prospects into good players. And they've been proven right a lot in recent years.
Now, when I do the mailbag, I like to make sure all four teams are represented. But man, was it hard to find a
Philadelphia Eagles
question this week. I scrolled back and scrolled back through Redskins question after Redskins question, and the first Eagles questions I found were from March 11!
Thomas Hanson from D.C.
asking if the Eagles would bring back
Kevin Kolb
as
Michael Vick
's backup if the Cardinals let Kolb go and
gwh from Downingtown, PA
asking if
Donovan McNabb
would be open to coming back as Vick's backup and if the Eagles would consider that.
DG
: Obviously, since these questions came in, Arizona has decided to stick with Kolb, so that's out. And I guess, if there is an NFL team out there that would consider giving McNabb a job (and we have no proof that there is at this point), the Eagles would be a leading candidate. I thought the two best backup quarterback options were
Jason Campbell
and
Kyle Orton
, but they got snatched up right away by the Bears and Cowboys. The Eagles make that position a priority, as you know, and they're surely looking around for better options than
Mike Kafka
and
Trent Edwards
. But the list of the remaining candidates isn't awe-inspiring.
David Garrard
may be the best of a bunch that includes
Rex Grossman
,
Shaun Hill
,
Jake Delhomme
,
Dennis Dixon
and old friend
Jeff Garcia
.
Anyway, Eagles fans, come on! Where are the questions?
June, 21, 2011
6/21/11
2:32
PM ET
We chatted
. We had a blast. We took questions from people in France. If you missed it, you're kicking yourself. If you were there, you're dying to relive it. Either way, I have you covered with some highlights:
Zack from NYC
thinks not enough attention is being paid to the Redskins' youth movement: "Instead of Portis/Slow Willie/
Larry Johnson
we are going in with Helu/Torain/Royster/K Williams. On the WR side we replaced 55 year old
Joey Galloway
with a potential stud in rookie Hankerson. Kerrigan substiutes in for 30+ yr old
Andre Carter
. Not to mention adding OJ Atogwe to the back line. Am I delusional to start to feel good about the redskins for the first time in years?"
Dan Graziano
: You're not 'delusional,' per se, and your assessment of the greening of the Redskins' roster is right on. But you have to remember that they're in the middle (actually, the early stages) of a rebuilding project there. And with their quarterback situation such a mess, it's hard to project real success for the Redskins in 2011.
Kujonicus
, playing off Monday's highly charged Giants offensive line debate, asked which position on the Giants' O-line I'd pick to upgrade, if I had to choose one:
DG
: I think Diehl is the guy who's slowed down the most, relative to what he was, and I think LT is where they'll need to upgrade the soonest. It's possible they think
Will Beatty
can do it, but I'm not sure he's shown that yet.
John from Tokyo and Craig from Boise
asked similar questions about the Cowboys' plans for the interior offensive line positions. John was upset that they passed on
Ben Ijalana
in the draft, and Craig wanted to know if they had a plan for a replacement if they end up releasing
Leonard Davis
.
DG
: The feeling seems to be that the Cowboys will bring back
Kyle Kosier
, possibly unload Davis and move
Montrae Holland
into a starting guard role. There is a lot of talent on the free-agent guard market, especially if the UFA rules go back to the way they used to be. But I'd be surprised if that's a place where Dallas allocated major resources. They might kick the tires, but the FA guards are going to be pricey, and the Cowboys have money to spend at safety and cornerback still.
Corey from D.C.
asked if I "think the Eagles will be more patient this season on offense, at least early in the season, by using McCoy more both running and on screens, moving the chains more efficiently via small-ball, which in turn will not only drive defenses crazy but also (and much more importantly) preserve Vick's health as much as possible?"
DG
: No, Corey. I do not. I think they live for the big play in Philly. I think they know they have the kinds of players who can consistently deliver the big play. And I think they'll lean heavily on Vick, Jackson, Maclin and McCoy to make as many of those big plays as possible.
And our old friend
st8prop from Atlanta
asked: "Which losing streak do you see ending this upcoming season? Giants' 6 game losing streak against the Eagles or Redskins' 6 game losing streak against the Giants?"
DG
: I think the Giants are more likely to beat the Eagles than the Redskins are to beat the Giants, because I believe the Giants will be a good team and the Redskins will not.
But that's just tip-of-iceberg stuff, folks. You really need to hit that link and go read back the chat transcript for the full experience. We even took fantasy questions, and I'm not just talking about the guy who asked if the Redskins could get
David Garrard
for
Albert Haynesworth
!
December, 28, 2010
12/28/10
3:00
PM ET
By
Matt Mosley
| ESPN.com
»
NFC High Energy
:
East
|
West
|
North
|
South
»
AFC
:
East
|
West
|
North
|
South
A look at a player who gave his team a significant boost in Week 16.
[+] Enlarge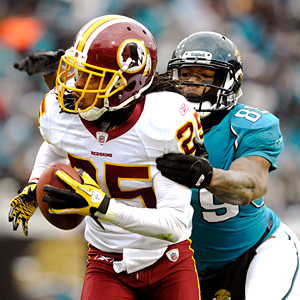 AP Photo/Phelan M. EbenhackKevin Barnes' interception in overtime set up Washington's winning field goal.
OK, I realize
Washington Redskins
"safety"
Kevin Barnes
made a couple of (glaring) mistakes against the Jaguars, but he fought through that and made the interception that set up the game-winning field goal in a 20-17 win. Barnes was a third-round pick by the Redskins in the 2009 draft and he really hasn't done much to distinguish himself. But with the Skins in bad shape at safety because of injuries, Barnes moved over from cornerback.
His teammates have bragged on the way he performs at cornerback in practice, but we haven't seen much evidence on the field. When Jags quarterback
David Garrard
dropped back to pass against a heavy rush, he tried to slip the ball to his talented tight end
Marcedes Lewis
. Barnes read the play all the way and was able to get inside position before making the grab.
Barnes later told reporters that he'd practiced against that play all week, so he knew exactly what to do. A guy like Barnes, who wasn't drafted by the Mike Shanahan regime, is playing for a roster spot next season. And I'd have to say he took a major step in the right direction this past Sunday.
The former Maryland star has always had the potential, but he wasn't really able to take it to the field. On Sunday, he displayed the ability to forget about his mistakes and stay focused with the game hanging in the balance. I started to go ahead and give the award to
Michael Vick
in anticipation of what he's going to do to the Vikings tonight, but Barnes seemed like the right choice.
Vick's had three NFC Offensive Player of the Week awards and a phone call from President Obama, so I think he needs a breather.
December, 26, 2010
12/26/10
6:17
PM ET
By
Matt Mosley
| ESPN.com
Let's take a quick look at how the Redskins
won their sixth game
of the season in Jacksonville:


What it means:
If the
Washington Redskins
could just take every game to overtime, they'd be in good shape this season. The Redskins (6-9) hurt the Jaguars' playoff hopes with a 20-17 win. It was the Skins' fourth overtime game this season, and they've won three of them. Quarterback
Rex Grossman
made some important throws, but you have to give the defense a ton of the credit. Washington was missing 13 of its 22 opening day starters. They had to start
Kevin Barnes
and
Macho Harris
at safety, and it was Barnes who made the interception that set up
Graham Gano
's game-winning field goal in overtime. The Redskins have lost all four coin flips heading into overtime, but they've managed to hold their own.
The backups:
Coach Mike Shanahan has been criticized for how he's handled a couple of high-profile players, and he's deserved almost all of it. But give Shanahan and defensive coordinator Jim Haslett credit for putting together a game plan that caused so many issues for the Jaguars. Outside linebacker
Rob Jackson
made the first start of his career for an injured
Brian Orakpo
, and he had a sack and forced a fumble. Barnes missed a tackle on
David Garrard
's game-tying touchdown run in the fourth quarter, but he bounced back with the huge interception.
What's up with Cooley?
Redskins tight end
Chris Cooley
should be Grossman's best friend these days, but he dropped four passes, including a certain touchdown, in the first half alone. It's remarkable that Washington was able to overcome such an uneven performance from one of its best players.
Moss is The Man:
Santana Moss
continues to be the most consistent playmaker on this team. He's now surpassed 1,000 yards. He had five catches for 85 yards. Kyle Shanahan has done a nice job of putting him in motion and lining him up in different spots. Moss never cares what the Skins' record is during the season. He played his heart out last season, and he's doing the same for the Shanahans now.
What's next?
The Redskins will host a
New York Giants
team that will likely be fighting for a playoff spot considering the way things are going Sunday in Green Bay. Everyone knew the Jags had more to play for than the Skins, but a lot of reserves went out and played an excellent game. Those players gave Shanahan something to build on as he prepares for the final game of the season. If the Redskins could upset the Giants, it could set the tone for the offseason.
November, 28, 2010
11/28/10
4:07
PM ET
EAST RUTHERFORD, N.J. -- Observations from the
New York Giants
'
24-20 victory
against the
Jacksonville Jaguars
.


What it means:
The Giants sleepwalked through the first half as the defense struggled badly early. The Jaguars aren't a sexy team but they are sound and solid and the Giants struggled to bring down
Maurice Jones-Drew
and
David Garrard
. They did wake up at halftime and came back at the end to pull out a much-needed 24-20 win after trailing 17-9 to start the fourth.
Kevin Boss
was the big hero with numerous big catches and a monster 32-yard catch and run for a touchdown. The defense got one last stop to keep the Giants' playoff hopes alive. But if they want to be a true contender, they are going to have to play better. Bottom line, the Giants got the job done and it wasn't pretty but they stopped a two-game losing streak.
Start me up:
Brandon Jacobs
got the start and ran well early. He gained 35 yards on the first drive. And then he didn't get a single carry the rest of the first half. The Giants had just four offensive drives in the half as Jacksonville ate up the clock. The Giants didn't run the ball on the second drive in the first quarter. In the second quarter,
Ahmad Bradshaw
rushed the ball on their one main drive of the quarter. They didn't get the ball back until 15 seconds left in the half for their fourth and final drive of the half.
Jacobs continued to run with power in the second half and finished with 87 yards on 14 carries. Bradshaw got nine carries for 49 yards as the Giants were forced to pass down in the second half.
D.J. Ware
saw limited action as a third-down back on passing downs. The Giants also tried to run behind an offensive line that was without left tackle
Shawn Andrews
, tackle
David Diehl
and center
Shaun O'Hara
and still had success at times.
Beating themselves:
The Giants came into this game stressing how they had to stop beating themselves with ridiculous turnovers and penalties. They had a fumble by
Derek Hagan
overturned on a Tom Coughlin challenge inside the 10 in the first quarter. However, a penalty did kill them when Boss was flagged for holding that nullified a nine-yard touchdown pass to
Mario Manningham
in the second quarter.
But in the third quarter, the Giants caught a break when they benefited from a tipped ball off the hands of a receiver and picked off a pass –- something that has plagued
Eli Manning
this season. Terrell Thomas' tipped interception set up a field goal to start the second half.
Aaron Ross
was called for a critical defensive holding penalty that gave the Jags an automatic first down on a third-and-10 from the Giants' 34 on the last drive. But the Giants defense stood tall and stopped the Jaguars to survive.
Super Mario:
Manningham may have had a touchdown in the first half taken away by penalty. But he beat a zone defense in the fourth quarter to score a touchdown that helped the Giants tie the game at 17-17 with 13:42 left. With
Steve Smith
and
Hakeem Nicks
both out due to injuries, Manningham was the lone playmaker left. The Giants started to use Boss more in the second half and it paid off as Boss had two huge catches on the Giants' scoring drive that tied the game.
Travis Beckum
also saw some time in the slot. Newly-signed wide receiver
Michael Clayton
played on a few snaps.
Where's the beef?:
The Giants defense entered the game fourth against the run but they couldn't stop Jacksonville from running all over them in the first half. The Jaguars rushed for 145 yards in the first half alone. They ate up 18:34 of the clock and limited the Giants to just four drives in the first half. The Giants are typically great at plugging gaps but they couldn't today. And it wasn't just Jones-Drew who did the damage.
Rashad Jennings
had 53 yards and a touchdown in the first half and they couldn't catch Garrard one week after doing a terrific job against
Michael Vick
. Garrard scored a touchdown in the first half as well. In the second half, the Giants did a much better job and blitzed a bit more.
Down 20-17, the Giants needed a stop and aided by a holding call against Jacksonville, defensive coordinator Perry Fewell's unit got a much-needed stop to give the Giants the ball back with under six minutes left.
And after the offense scored to go ahead, the Giants needed a game-winning stop and they got it when they pummeled Garrard at the end and forced a fumble.
Antrel Rolle
recovered to secure the victory.
What's next:
Get your cardiovascular on!
Donovan McNabb
and the Redskins are in town for their first encounter with the Giants this season. It will be the Giants' first look at McNabb in burgundy and gold with Mike Shanahan. It's a must-win if the Giants want to keep hopes of an NFC East title alive. They still have to face the Redskins in Washington in the final game of the year and need to stay close to Philadelphia.
November, 1, 2010
11/01/10
9:59
AM ET
By
Matt Mosley
| ESPN.com
Unless I've missed something over the years,
Jacksonville Jaguars
quarterback
David Garrard
isn't known for calling out opposing teams for their lack of desire. But following the Jags' 35-17 beat-down of the Cowboys in Arlington on Sunday, the quarterback seemed to agree with
what I wrote last night
.
Speaking to SI.com's Peter King on Sunday, Garrard
made an interesting observation about the Cowboys' effort
in Sunday's loss. Here's a portion of King's column, which has likely been delivered to owner Jerry Jones since he's not much for surfing the Internet:
"But everyone can see your Cowboys are not playing hard," writes King. "We saw it in the NBC viewing room Sunday, and Garrard saw it, too. He told me: "It just looked like they weren't into the game like an NFL team should be.'' Said he noticed a "woe-is-me'' attitude among some of [the Cowboys] players. You don't see that with a Baltimore or Pittsburgh. Andy Reid's teams don't do that. Your team's embarrassing. You said it yourself after the game. And at 1-6, there's no hope for the season. You've got to put Wade Phillips out of his misery, and you've got to do it now."
How can anyone disagree with Garrard's assessment? I think he's on the money, much like he was throwing the ball Sunday.
October, 31, 2010
10/31/10
7:25
PM ET
By
Matt Mosley
| ESPN.com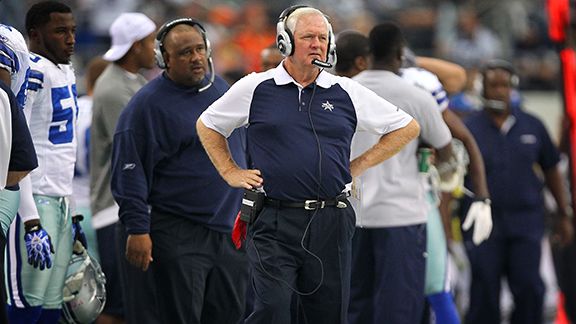 Matthew Emmons/US PresswireLittle went right for Wade Phillips and the Dallas Cowboys in Sunday's loss to the Jacksonville Jaguars.
ARLINGTON, Texas -- Last week, the
Dallas Cowboys
lost their starting quarterback. On Sunday, they simply lost their dignity in front of an alleged sellout crowd at Cowboys Stadium.
If the
35-17 loss
to the
Jacksonville Jaguars
isn't
the bottom,
I'm not sure where this free fall ends. But at least we can dismiss this notion of the players rallying around backup quarterback
Jon Kitna
in
Tony Romo
's absence. Kitna threw for 379 yards, but he was undermined by teammates who performed tip drills on behalf of the Jaguars, who had four interceptions.
Cowboys coach Wade Phillips looked more befuddled than usual following this loss -- and that's saying something. I honestly think Phillips would've fired himself Sunday -- if he had that type of authority in the organization. His defense was repeatedly embarrassed by Jacksonville quarterback
David Garrard
and wide receiver
Mike Sims-Walker
, who jump-started his Pro Bowl campaign with eight catches for 153 yards and a touchdown.
The Cowboys were helpless against the NFL's
25th-ranked offense
. Sims-Walker turned short passes into big gains and tight end
Marcedes Lewis
had two catches, both resulting in touchdowns. Players seemed sincere when they said Phillips hasn't lost the locker room, but the man in question wasn't as convincing.
"Well, I hope not," said Phillips with a blank expression. "We fought all the way the other games, but this game just got away from us and we couldn't get it back. ... I look at a lot defensively, a lot of the basic things that we've worked on, they scored on and that's what bothers me."
If Jerry Jones is thinking about changing his philosophy of not sacking head coaches during the season, now would be the time. Phillips has never been quality head-coaching material, but his credentials as a defensive coordinator have always been solid. But watching Garrard shred the Cowboys' secondary on his way to a near-perfect passer rating (157.8), it's hard to imagine how Phillips is still employed. Even the club's chairman of continuity, Jones, didn't exactly rush to Phillips' defense.
"There's no way that the result and the way we played tonight, there's no way that I can rest, sleep, figuratively speaking eat well with a diet of that right there," Jones told reporters. "There's no way. And if you look at it, if you look at what we're about -- our team, our stadium, the pride I have in this franchise -- you'd know it doesn't digest. It doesn't go down. We've got to do something that changes this on the field."
It's never a good sign when an owner
makes a passionate apology to fans
seven games into the season. This is a man who realistically thought he'd put a team together that had a chance of playing in the North Texas Super Bowl. Just the thought of that seems like a bad joke in light of Sunday's performance and the Cowboys' 1-6 record.
"I'm very, very, very sorry to our fans," said Jones, who's well aware that his Rangers neighbors were set to host Game 4 of the World Series. "You should have better than this."
But all Jones must do is look in the mirror as he grasps for answers. It's not like Phillips had a track record of prolonged success at his previous stops. Jones soothed his own ego two weeks ago by suggesting the Cowboys had beaten themselves and that a 1-4 record (at the time) wasn't indicative of how they'd played. But in losses to the Giants and Jaguars, the Cowboys have simply been overwhelmed on both sides of the ball.
[+] Enlarge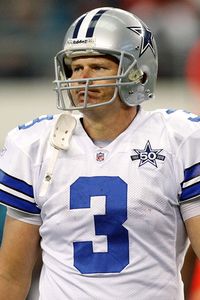 Tim Heitman/US PresswireJon Kitna threw four interceptions in Dallas' loss.
The Cowboys once had a coaching staff stocked with head-coaching candidates -- Sean Payton, Tony Sparano, Todd Haley -- but Jones didn't realize it at the time. His hand-picked successor for Phillips, Jason Garrett, no longer shows up on anyone's short list. After witnessing Sunday's performance in person, I subscribe to the change for the sake of change theory. Let Garrett or special teams coach Joe DeCamillis have a crack at this thing for nine games because this team's no longer performing for Phillips.
The Cowboys' ineptitude was on full display late in the first half when they had a third-and-goal at the Jaguars' 1-yard line with 15 seconds left. After
Marion Barber
was stoned for no gain, the Cowboys went with a similar play on fourth down. Left tackle
Doug Free
was blown up at the point of attack and tackle-eligible
Alex Barron
staggered toward the line of scrimmage, tripped near the goal line and failed to make contact with a defender.
Cowboys cornerback
Terence Newman
and defensive end
Marcus Spears
both had their head coach's back in the postgame locker room, but it doesn't really matter at this point. Even Phillips couldn't put a positive spin on this one.
"Everybody knows we have a lot of talented players, and that's the problem," said Phillips. "I have talented players and I'm not getting them to play well enough. To me, that's the root of the problem."
Well, at least someone's willing to admit it.
October, 31, 2010
10/31/10
4:18
PM ET
By
Matt Mosley
| ESPN.com
ARLINGTON, Texas -- Let's recap another shameful performance by the
Dallas Cowboys
in a
35-17
loss to the
Jacksonville Jaguars
. Someone forgot to send the memo that Jacksonville was capable of this type of dominance.


What it means:
If the Cowboys (1-6) aren't the worst team in the NFL, tell me who is. The Cowboys had hoped to rally around backup quarterback
Jon Kitna
, but he was undermined by dropped balls that ended up in the arms of Jaguars defensive backs and tackles. The Cowboys might not be mathematically eliminated from playoff contention, but they certainly waved the white flag Sunday.
Pathetic showing by Wade Phillips' defense:
I'm sure Phillips will brag about his players' "effort" following this game, but his defense was once again an embarrassment. The Cowboys' secondary did its best to get Jags wide receiver
Mike Sims-Walker
into the Pro Bowl based on his eight catches for 153 yards and a touchdown. Pro Bowl cornerback
Mike Jenkins
and his sidekick
Orlando Scandrick
were no match for Sims-Walker, who turned short catches into big yardage. The demise of Jaguars' quarterback
David Garrard
has been greatly exaggerated, to borrow one of Phillips' favorite Twainisms. Garrard was lethal in completing 17 of 21 passes for 260 yards and four touchdowns.
Where do the Cowboys go from here?
Time to warm up the NFL draft talk because the Cowboys might have a top-five pick. The Cowboys had one last chance to climb back into the game late in the first half, but
Marion Barber
was stoned at the 1-yard line. Left tackle
Doug Free
was obliterated on the play and tackle-eligible
Alex Barron
staggered and fell down at the point of attack, which is a decent description of the Cowboys' 2010 season.
Positives:
Strong day for Cowboys punter
Mat McBriar
.
What's next?
The league will not allow the Cowboys to forfeit their final nine games, so this sad march will continue into Green Bay -- on national television, I might add. This team has lost its star quarterback and on Sunday, its pride became the latest victim.The final indignity was seeing Kitna kneel to end the game.