August, 2, 2010
8/02/10
3:16
PM ET
By
Matt Mosley
| ESPN.com
It's with a heavy heart that I note
the release
of cult-favorite
Colt Brennan
in Washington. The former Hawaii quarterback won over Skins fans with his daring performance in the 2008 preseason, but we've known for some time that his days with the club were numbered. Brennan suffered a hip injury in last year's preseason and was placed on injured reserve.
He became expendable when
the Redskins traded
for former second-round draft pick
John Beck
, who started four games for the woeful '07 Dolphins. That leaves Mike Shanahan with
Rex Grossman
,
Richard Bartel
and Beck. Dolphins quarterback guru David Lee tried to work his magic with Beck, but it was obvious that
Chad Henne
had a brighter future.
I wouldn't be surprised if this is the end of the road for Brennan. He's a fiery competitor, but he doesn't appear to have the tools to make it in the league.
March, 31, 2010
3/31/10
4:37
PM ET
By
Matt Mosley
| ESPN.com
Dallas Cowboys
owner Jerry Jones has all but confirmed that his team will spend a portion of training in Oxnard, Calif., but today's
preseason schedule announcement
pretty much seals the deal. The Cowboys' third preseason game will be in San Diego, which means the club will likely spend the previous week a couple of hours down the road in Oxnard.
As we already knew, the Cowboys will open the preseason against the Bengals in the Hall of Fame Game on Aug. 8, in Canton, Ohio. They'll host the
Oakland Raiders
the following weekend at Cowboys Stadium and then likely depart for Oxnard. The fourth game will be Saturday, Aug. 28, in Houston. This game will be for the famed (wink) Governor's Cup.
The Cowboys will close the preseason at home against their old pals, the
Miami Dolphins
. They'll be able to reconnect with former coaches Tony Sparano, Bill Parcells, David Lee, Todd Bowles and Kacy Rodgers, as well as current Dolphins general manager Jeff Ireland and his right-hand man Brian Gaine.
Is anyone actually stoked about the preseason? Let me hear from you.
February, 27, 2010
2/27/10
4:23
PM ET
By
Matt Mosley
| ESPN.com
INDIANAPOLIS -- In the months leading up to Cowboys training camp in '03, a quality control coach named David Lee helped quarterback
Tony Romo
overhaul his throwing motion. Bill Parcells had taken one look at the undrafted player out of Eastern Illinois during a May minicamp and declared that he'd have too many passes batted down because of his three-quarter delivery.

Tebow

Romo
Lee, who played quarterback for Vanderbilt in the 1970s when Parcells was the defensive coordinator at the school, told Romo that he should wait until after training camp to make any major changes. Romo was so desperate to make the team that he practically begged Lee to teach him a more orthodox delivery. He would call Lee at 9 in the evening and ask him to meet him at Valley Ranch to work on the new delivery. And we all know the rest of that story.
But as luck would have it, Lee, now the Dolphins' quarterbacks coach, ended up working with
Tim Tebow
at the Senior Bowl. On Friday, Tebow stood in front of about 150 reporters and credited Lee for helping lay the foundation for his new delivery. He knows what Lee did for Romo and is now doing for
Chad Henne
.
"David is one of the best fundamental quarterback coaches anywhere," Dolphins general manager Jeff Ireland told me Thursday. "Tim will take all of what David taught him and know exactly what he needs to work on. I don't think anyone can truly appreciate how fortunate he was to work with David in Mobile."
Many of you will recall that it was Lee's idea to install the Wildcat formation in Miami, which contributed to an amazing turnaround for the Dolphins in '08. But his expertise is with quarterbacks. Just ask Romo.
January, 26, 2010
1/26/10
11:35
AM ET
By
Matt Mosley
| ESPN.com
In case you somehow missed it, former Florida quarterback
Tim Tebow
is the biggest story from this week's Senior Bowl in Mobile, Ala. Former Redskins/Texans general manager Charley Casserly, now with CBS,
told the Miami Herald
that he's spoken with two teams that think Tebow is a first-rounder. But it seems like most scouts around the league see Tebow going in the third round.
Our Todd McShay thinks that Tebow will be "overdrafted," which would likely place him in the second round. Fortunately for Tebow, he'll be working with Dolphins quarterbacks coach David Lee this week during Senior Bowl workouts. Lee brought the Wild Hog formation to Arkansas as the offensive coordinator under Houston Nutt and then he used it (Wildcat) to help Tony Sparano and the Dolphins reach the playoffs in '08.
But Lee won't be focused on teaching Tebow the Wildcat this week. He'll take a look at a throwing delivery that will be dissected by scouts from all 32 teams in the league and every so-called draft expert in the country. In 2003, Lee encountered an undrafted rookie from Eastern Illinois with uncanny footwork, but a highly questionable delivery. Bill Parcells took one look at
Tony Romo
's delivery and informed Lee, an offensive assistant at the time, that all of his passes would be batted down.
Lee was hesitant to completely overhaul a three-quarter delivery that had served Romo well since middle school, but the young quarterback begged him to make the changes. Lee helped Romo change his release point, making it much higher. In the summer of '03, Romo would call Lee's house at 9 p.m. and ask the coach to meet him up at the practice facility to play catch. Those sessions helped form the foundation for Romo's shocking rise to fame in 2006.
But Lee won't have three or four years to work with Tebow. He'll have to give him some pointers this week on shortening his windup and improving his footwork. Tebow's reputation as one of the greatest college quarterbacks of the past 50 years will be good and bad for him.
That big-time pedigree will probably allow him to go higher in the draft than most quarterbacks of his skill level. But he'll also be under a tremendous amount of scrutiny as he tries to transition into a pro-style offense. It's hard to believe now, but Romo spent his first three years in the league basically learning his craft in private.
Here's the one thing I know: Tebow's very fortunate to spend at least one week with Lee. By this Saturday, he'll have a much better understanding of the challenges ahead.
If you'd like to hear Lee explain the Wildcat,
check out the Shutdown Corner blog
. And here's a report from McShay saying that Tebow
really struggled with his footwork
on the first day of Senior Bowl workouts. McShay called it an "erratic" day.
December, 30, 2009
12/30/09
5:46
PM ET
By
Matt Mosley
| ESPN.com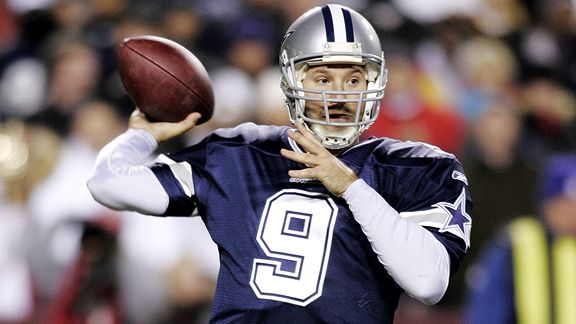 Icon SMITony Romo seems to have found a balance between between protecting the football and using his ability to make big plays in the passing game.
IRVING, Texas -- We spent the majority of training camp talking about how this was a different Cowboys team. And it was a rather obvious point when you considered that polarizing personalities such as
Terrell Owens
,
Tank Johnson
and Pacman Jones had been banished from the locker room.
Unfortunately, though, they don't hand out Lombardi trophies based on improved locker room chemistry. For the '09 Cowboys to be truly different from the teams that have spent the past 13 years dealing with playoff futility, we knew they had to exorcise their December demons and then win a couple of games in January. The arrival of blue-collar players such as linebacker
Keith Brooking
and defensive end
Igor Olshansky
via free agency seemed to suggest a different approach. From the start of training camp, the sense of entitlement that was captured on film by HBO's "Hard Knocks" heading into the '08 season seemed to disappear.
The Sultans of September seemed better equipped to hold up during the harsh winter months (I know it's Dallas, but just go with me). Brooking, whose successful run with the Falcons came to an abrupt halt, bristled at any mention of the Cowboys' past failures and seemed to convince his teammates to focus only on the present. But a team that surged into December with an 8-3 record suffered back-to-back losses to the Giants and Chargers, and once again they were hounded by questions. What happened next could end up being the turning point in this organization's dubious playoff winless streak.
Special-teams coach Joe DeCamillis, who has become the hammer that the cuddly Wade Phillips so desperately needed, showed the team a clip of Tony Dungy saying the Cowboys had "no chance" of beating the Saints in New Orleans. For whatever reason, the thought that a former NFL head coach would show them absolutely no respect angered the Cowboys to the point where they wanted to shut everyone up. The Cowboys scored 14 points on the previously unbeaten Saints before Sean Payton knew what hit him, and their confidence began to grow. It was certainly the biggest win of the Phillips era and it sent a message that the Cowboys might be a team to be reckoned with in the playoffs.
In trying to identify what makes this Cowboys team better-equipped for a successful playoff run than some of the talented teams of the past ('07), I think you have to point first to quarterback
Tony Romo
and then to Phillips' defense. Romo is playing as well if not better than any quarterback in the NFC right now. And it's a good sign that he elevated his game when the stakes became higher in December.
For all his gaudy numbers, Saints quarterback
Drew Brees
has fallen off over the past month. And the same goes for
Brett Favre
, though he certainly made some huge plays in the second half of the loss against the Bears.
Donovan McNabb
and
Aaron Rodgers
are also operating at a high level, but neither of those quarterbacks has protected the ball as well as Romo.
You could attribute Romo's December failures in '06 and '07 to a lack of experience, but last season he simply didn't give his team a chance to win games down the stretch. And his infamous postgame news conference following a season-ending 44-6 loss to the Eagles made some Cowboys fans wonder whether he truly hated losing enough to make some much-needed changes.
When he threw three interceptions in a Week 2 loss to the Giants this season, Romo became the symbol for all that was wrong with the team. But while he took heavy criticism from both the media and fans, Romo stuck with a plan that he brought into the season.
He focused on becoming a better game manager and the following week he didn't have a turnover in a 21-7 win over the Panthers. Had we just met Tony the bus driver? But as his numbers reflect, Romo never stopped using his rare improvisational skills to create big plays. Heading into Sunday's NFC East showdown with the Eagles, Romo has played nine games in which he hasn't thrown an interception, and he's lost only four fumbles.
In '08, he threw at least one interception in 10 of the 13 games he started and lost seven fumbles. He did not trust offensive coordinator Jason Garrett and he felt the need to take unnecessary chances because the Cowboys' defense gave up too many points. Bill Parcells had left word that Romo needed to be coached all the way through games because of his habit of trying to do too much on his own. Although I don't think Romo would admit this publicly, I think he stopped listening to the coaches once Parcells and former quarterbacks coach David Lee left the building.
Honestly, I'm not sure it was a coach who finally got through to Romo this season. I think he finally came to the conclusion that the only way the Cowboys could be successful was for him to strike a proper balance between protecting the football and using his ability to make big plays in the passing game. Romo has been coy about the actual changes that he made heading into this season, but backup quarterback
Jon Kitna
has his own opinions.
"I think he came to the understanding that with every decision he makes, 52 other guys on the roster have to live with that decision," Kitna said Wednesday. "I think that's why he's been more willing to take a sack this season and not try to do everything on his own."
And here's where the defense ties into Romo's development as a quarterback. His willingness to throw the ball away or take the occasional sack has a lot to do with his trust that Phillips' defense will do its job. Earlier in the season, the Cowboys' defense played well for three quarters and then surrendered late leads. That hasn't been the case in recent games -- as evidenced by the defense's ability to end the Saints' frantic rally in a 24-17 win.
Only the Jets and Ravens have surrendered fewer points than the Cowboys (250), and remember that those teams don't face as many high-powered offenses on a regular basis. I remember late in '06, Romo felt like he had to make a play on every possession in order to give the Cowboys a chance to win. That Cowboys defense was getting lit up by teams such as the Lions who already had been eliminated from the playoffs. Now the quarterback of that Lions team is watching Romo take some very important steps.
"He's done a great job protecting the football," said Kitna. "His ball-handling skills in the pocket are excellent and you can see him tucking it away a lot more. More than anything, he doesn't feel the pressure to constantly make a play."
And that's why I think the Cowboys are poised to win their first playoff game in 13 seasons.
May, 21, 2009
5/21/09
1:40
PM ET
By
Matt Mosley
| ESPN.com
| | |
| --- | --- |
| | |
| | Mark J. Rebilas/US Presswire |
| | Each season Tony Romo has been the starting quarterback for the Cowboys has ended in a devastating loss. |
Posted by ESPN.com's Matt Mosley
CARROLLTON, Texas -- A couple of years ago, the scene at the Cowboys' temporary practice home Tuesday might have made quarterback Tony Romo do a double take. But now he knows the drill.
At least 30 reporters jockeyed for position around a kicking net in anticipation of Romo's post-practice news conference. Meanwhile, All-Pros such as DeMarcus Ware and Jason Witten walked toward the team bus without interruption. I have a good friend in the business who says the NFL is all about the quarterback. And with the Dallas Cowboys, that's most certainly the case now that the most controversial receiver in the game has been banished to the Canadian border.
| | |
| --- | --- |
| | |
| | NFL.com Video |
| | Cowboys coach Wade Phillips discusses why he believes Tony Romo is poised for his best season. |
Romo stepped onto the makeshift podium at a local high school stadium and faced the questions he had to know were coming. It was his first public appearance since the Cowboys' humiliating 44-6 loss to the Eagles on the final Sunday of the '08 season. On that afternoon, a battered Romo had tried to lend perspective to an outcome that was still too fresh in the minds of Cowboys fans. In about 10 minutes time, he undid a lot of the goodwill that he'd earned by pretty much saving the franchise midway through the '06 season.
Romo delivered a "life goes on speech" that didn't exactly comfort Cowboys followers. In fact, his words had the exact opposite effect. Utter embarrassment and anger seemed like the appropriate responses to such a thorough beating, but Romo preached patience and understanding. And that was before he got around to pointing the finger at offensive coordinator Jason Garrett.
With that in mind, Romo fielded questions Tuesday about Jerry Jones' new "Romo friendly" manifesto, which the owner has attempted to explain in a variety of ways. The phrase has been repeated continually on local talk radio shows and blogs. It seemed logical to ask Romo for his definition of the "Romo friendly" offense. Unfortunately, Romo's Bloglines account must be down. With a straight face, he said he'd never heard of the phrase -- and then refused to speculate as to what it might mean.
| | |
| --- | --- |
| | |
| | Aaron M. Sprecher/Icon SMI |
| | The Cowboys cut Terrell Owens in March, a year after paying him a $12 million signing bonus. |
Confused reporters (redundant) took a moment to let that sink in and then rallied with questions about Terrell Owens' departure. Even in the couple of one-on-one interviews he has granted, Romo has been curiously vague on this issue. He certainly didn't come out and call for T.O.'s release publicly, but then, he didn't exactly rush to the player's defense.
"That's not up to any of us players to decide," Romo said of T.O.'s release Tuesday. "That's why we're players. The organization and management decides those things. We're all at risk every offseason, depending upon everything. You always want to go out there and try to have all the guys you play with every year. That just doesn't happen. We have to go with the guys we have here now, go forward and keep improving."
Romo's assertion that players don't have a say in personnel decisions probably caught Troy Aikman by surprise. In reality, Romo knows how much power he wields in the organization. And he understands that Jones' decision to release T.O. had a lot to do with him. I don't think Romo called the owner and recommended the move, but there are certainly other channels to convey those thoughts.
Whether he chooses to admit it or not, Romo had lost the locker room to Terrell Owens, one of the most divisive (and talented) players in the history of the league. T.O. remained on his best behavior (by his standards) right up until the point he got paid last offseason. But when T.O. reportedly felt that Romo and his pal Witten were freezing him out of the offense, he did what he does best: He helped turn his teammates against them.
And if you don't believe it, I suggest you visit with Jeff Garcia and Donovan McNabb at a time that's convenient for them. But before this becomes a T.O. bashing column (am I too late?), let me say that Romo bears much responsibility for what happened last season. For starters, there's no one on the Cowboys' coaching staff whom he listens to, which leads to a lot of his careless throws. You think he'd still be playing like this if Bill Parcells (or Tony Sparano for that matter) were still in Dallas? Not on your life.
And regarding all the backstabbing going on in the locker room last season, Romo could've done something to head it off at the pass. If you don't have a strong head coach -- and the Cowboys don't -- someone in the locker room better carry a large hammer. Romo could've gone to T.O. privately and told him to cut the nonsense, but to my knowledge, that never happened. He simply tried to ignore T.O. -- and that strategy backfired.

Tony Romo
#9 QB
Dallas Cowboys


2008 STATS
YDS
CMP%
TD
INT
RAT
3,448
61.3%
26
14
91.4
In a sense, T.O.'s gone because Romo didn't know how to keep him in check. Most so-called experts (including me) seem to think the addition by subtraction move will eventually pay off. But if it doesn't, the finger will be pointed squarely at Romo. I still think he'll take the Cowboys deep into the playoffs at some point -- and perhaps to a Super Bowl. He has some remarkable leadership qualities and he's a tireless worker.
Unfortunately, though, he's not much of a listener. It's great to be able to tune out distractions, but Romo runs the risk of tuning out everyone. Since Parcells, Sparano and former quarterbacks coach David Lee have left the building, Romo doesn't have anyone willing to put him in his place.
All three of his seasons as the starter have ended with devastating losses. But he's not the first quarterback to have that happen. Romo's stats rival those of any quarterback in the league, but he won't be taken seriously until he wins a playoff game.
His new mantra is that the Cowboys will live in the present instead of constantly trying to look ahead to the playoffs. That's probably a pretty good place to start.
Until he has some playoff success, Romo's career will be heavier on style than substance. Can he change that perception?
We're about to find out.
January, 1, 2009
1/01/09
4:24
PM ET
By
Matt Mosley
| ESPN.com
Posted by ESPN.com's Matt Mosley
We interrupt your New Year's Day bowl game watching party to let you know the Rams have asked permission to speak to Cowboys wide receivers coach Ray Sherman about their opening at head coach. There's never been a better time to go from a position coach to head coach in the NFL.
Teams have paid close attention to what happened with Tony Sparano in Miami and John Harbaugh in Baltimore, and they're trying to identify the right fit. In the past, teams would either recycle former head coaches or pluck an offensive or defensive coordinator. Now, there's a thought that guys such as Sparano (offensive line in Dallas) and Harbaugh (secondary in Philly) can make the leap to head coach. Of course, Sparano had a season of play calling under his belt before Jerry Jones brought in Jason Garrett.
Now some folks on Sparano's staff in Miami are beginning to receive interest. Todd Bowles was an excellent secondary coach with the Cowboys and it looks like he'll land a couple of interviews. Quarterbacks coach David Lee is the man most responsible for the Wildcat formation that helped jump-start the Dolphins' season, and defensive coordinator coach Paul Pasqualoni is also a solid candidate.
December, 29, 2008
12/29/08
3:00
PM ET
By
Matt Mosley
| ESPN.com
Posted by ESPN.com's Matt Mosley
PHILADELPHIA -- The Cowboys rolled out their marketing campaign for the 2009 season only moments after their season-killing 44-6 loss to the Eagles on Sunday. For now, owner Jerry Jones is taking "Countdown to Continuity" for a spin.

Moments after the game, Jones embarrassed himself one last time this season by citing Wade Phillips' "experience" as the reason for bringing him back in 2009. The owner talked about the importance of continuity in reverent tones and pointed to how it had paid off for the Philadelphia Eagles.
But continuity for the sake of continuity is pointless. The Rooney family stuck with Bill Cowher through tough seasons in Pittsburgh because they believed in his approach to the game. After two years of watching Phillips coddle a bunch of egotistical players, why would Jones want to continue down this path? Phillips and offensive coordinator Jason Garrett failed on the biggest stage this season, but they've been asked to come back for an encore.

Jones, who met with Phillips on Monday morning, explained to me Sunday that one of his biggest regrets was firing Chan Gailey after two seasons in the late '90s. I quickly looked around to see if anyone else was laughing, but the man was actually serious. Phillips is being given a reprieve, in part, because another puppet head coach wasn't given a fair shake. Never mind that star quarterback Troy Aikman had no respect for Gailey, a man who rivaled Phillips in the charisma department. For some reason, Jones keeps talking about how difficult it is to go find a successful head coach. But in places such as Miami, Baltimore and Atlanta, first-year coaches have flourished. Unfortunately Jones never realized Tony Sparano's importance to the staff until he was coaching another owner's players.

I guess we shouldn't have been surprised to find players giggling in the locker room moments after Sunday's humiliating loss in Philly. It's not like the loss was all that fresh since they'd pretty much been eliminated from the playoffs by halftime.
As I've stated before, the Cowboys feel a sense of entitlement that has been forged by their owner and head coach. Unlike a lot of people, I still think Tony Romo will eventually win big games on a consistent basis, but his postgame performance Sunday was regrettable on so many levels. Maybe we should cut him some slack after he collapsed in the showers, but he elected to take part in a lengthy discussion with reporters. He's been able to maintain some of his glad-to-be-here charm while becoming a national celebrity, but on Sunday, he sounded like a big-league snob in defending his turnovers and pinning blame on the team's protection schemes.
December, 26, 2008
12/26/08
2:46
PM ET
By
Matt Mosley
| ESPN.com
Posted by ESPN.com's Matt Mosley
Sunday's Eagles-Cowboys game could've had it all, but the pesky Redskins got in the way. The Eagles (8-6-1) are now depending on the Oakland Raiders to help them out -- and that's never a good thing.
The Cowboys have owned the Eagles in December over the years, but Philly has won the last three played in this important month. The Cowboys are a win away from fueling a bunch of "dangerous" team stories -- especially since they took care of the Giants two weeks ago. As I've written all week, the Cowboys caught a huge break having Sunday's game moved from 1 p.m. ET to 4:15 p.m. In this special Cowboys-Eagles holiday edition, we'll deal with that particular issue and much, much more:
Hoozurmama from Far North Dallas, you're up first: Yesterday I was listening to "Galloway and Company" on the radio and you were discussing the line on the Cowboys-Eagles game. You said not to bet on the game because there may be an announcement made right before game time. It sounded as if you had some potential important injury information. I had to go into a meeting so I did not hear if you ever elaborated. Is that the case? I don't gamble so I'm curious just from a suffering Cowboy standpoint.
MM: Hoozur, as I wrote in the blog Monday, the Eagles will know before kickoff whether or not they have anything to play for. No matter what Andy Reid or his players might say, finding out that you've been eliminated from playoff contention is a huge emotional letdown -- especially right before a game. A lot of people will point to the Eagles' hatred for the Cowboys as reason enough not to count them out, but I still think the Cowboys caught a big break when the game was moved back. I had a solid run picking games against the line for the Dallas Morning News from 2003 to 2006, but I do not advocate gambling. If someone forced me to offer a little gambling advice, I might say something like, "Avoid this game like the plague." The Eagles couldn't even seize the moment against a Redskins team that had been in implosion mode for a couple of months. What makes us think they'd suddenly embrace the role of spoiler? And stop telling me how the three hours will allow Eagles fans to partake in more holiday sauce. The Linc isn't close to the Vet when it comes to the intimidation factor. Sorry, but it's true.
---
Erik in Arlington: The Cowboys stink on offense. Is it just a very poor game plan by Jason Garrett or are the players not executing? I feel like Garrett neglects the run, doesn't set up play-actions, and doesn't call pass plays that can make it easier on the quarterback (slants, hooks, etc.). Also, I heard a good point that Romo didn't once throw a hot route against the Ravens to beat the blitz. I think that T.O. is seriously in Romo's head and it's affecting his performance.
MM: First of all, T.O. and Roy Williams appear to be chasing cars instead of running routes. You should focus on Williams, and just watch how there's no purpose to what he's doing. There's a story on ESPN.com today talking about Williams' frustration with his role in the offense. He said the exact same stuff to the NFC Beast blog a couple of weeks ago, so none of this is new. The funny part, though, is that T.O.'s now speaking on behalf of Williams. I absolutely love it. He realizes his act has grown tired, so now he's taking up the Williams cause.
T.O.'s pretty limited in what he can do right now. He doesn't run good routes and then he couldn't pick up the ball when he beat the Ravens deep Saturday. How much blame should we place on Garrett? Well, quite a bit. I think we've all underestimated how important Tony Sparano was to this offense, and there are at least four players on offense who would back me up on that. Garrett's scared to crack down on Tony Romo for not protecting the ball and he can't seem to get in any play-calling rhythm. Tashard Choice has become the Cowboys' most effective weapon, but Garrett got away from him at crucial moments in Saturday's game. I don't see how you can replace Wade Phillips with Garrett at this point.
---
Jason from Bryn Mawr, Pa. has a Romo question: First, allow me to clarify that I am not saying that Tony Romo is a bad quarterback, I think he is a very good quarterback, BUT we have a large enough sample size to say that Romo might not be the top-tier quarterback that he was proclaimed early last season. Romo has often been compared to his idol Brett Favre and it's ironic that Romo's biggest weakness is also the weakness of Favre -- careless turnovers. If Favre was less turnover prone maybe the Packers would have won two to three Super Bowls instead of one. Given the sample size, I am no longer sure that Romo will learn to be more careful with the football. On a team that also doesn't commit 10 penalties per game, maybe Romo is good enough to win a title. But no team in the NFL is good enough to overcome both a turnover-prone quarterback and a team with a penchant for dumb penalties.
MM: Romo's numbers suggest that he's a top-tier quarterback in this league, but I see where you're coming from. First of all, it was Favre's carefree style that defined him and will help make him a first-ballot Hall of Famer. Romo hasn't won a playoff game yet, so he'll continue to come under a lot of scrutiny. He came across as cavalier in describing his two interceptions against the Ravens after the game. He's a little too defensive at times, which can be traced to his head coach. The bottom line is that Romo misses guys like Bill Parcells, David Lee and Sean Payton in his life. They didn't give a hoot about his celebrity status because they knew him when he was a humble kid from Wisconsin. Jason Garrett and Wade Phillips coddle players -- and Romo's not a guy who needs that. Some of the things that drive you nuts about Romo are the same things that make him a unique talent. If he wins a couple of playoff games, all this stuff will die down. But I still think he's a top-tier quarterback. Yes, he makes mistakes. But he has the type of mentality where he can bounce right back and make big plays. He's probably taking too much heat right now for what happened against the Ravens. He put them back in the game twice in the fourth quarter, but the defense cratered on two long runs.
---
Jeff from Albany, N.Y. writes: Matt, any word on what you think the Eagles will do with Donovan McNabb and Andy Reid after the season?
MM: Jeff, I'm getting a lot of e-mail calling for Reid's job, but he's the safest guy in the building. The only way you might see him leave is if he decides to take a Cowher-like sabbatical. But Reid's certainly not cut out for TV, and he's not a real couch potato -- despite what his figure might suggest. He's not going anywhere.
With McNabb, it's sounding more and more as if the Eagles will bring him back. There's still a lot of doubt surrounding Kevin Kolb, and that second half against the Ravens didn't help his cause. Of course, that's a tough situation to get thrown into. McNabb's going to start asking for a new contract (probably already has) and he might force the Eagles' hand at some point. Publicly, he'll continue to talk about wanting to come back. Privately, I think he'd love the opportunity to play in front of a fan base that might embrace him. Some of his teammates (Dawkins, Runyan, Trotter) over the years fell in love with the Eagles' diehard fan base. McNabb never understood why fans were
so tough on him, and he'd love to try out another destination. But be careful what you wish for. There's a curse that comes along with playing quarterback in Chicago and he might feel somewhat irrelevant joining the Vikings. This is a story we'll stay on top of throughout the offseason.
---
October, 27, 2008
10/27/08
2:11
PM ET
By
Matt Mosley
| ESPN.com
Posted by ESPN.com's Matt Mosley
At age 40, Brad Johnson has had a very nice NFL career that includes a Super Bowl ring. But to have any chance of winning against the Giants on Sunday, the Cowboys need to return Johnson to the sideline.

Johnson
On Sunday, Dallas kept its season alive despite the fact that Johnson threw for 122 yards -- on 33 attempts. I'm still checking to see if a quarterback has ever thrown for fewer yards on that many attempts. Acting on a hunch, I discovered that former Bears quarterbackShane Matthews once went 24-of-39 for 139 yards, but more on that at a later date.
According to ESPN's Ed Werder, the Cowboys may be exploring other quarterbacking options as we speak. A team source told Werder that Johnson "probably" would remain the starter against the Giants, but the team is concerned about Johnson's obsession with the horizontal passing game.
In case you haven't noticed, T.O., Patrick Crayton, Miles Austin and Roy Williams haven't made much of an impact over the past two games. Yes, I know Williams caught a touchdown pass, but he has two catches for 10 yards now. As Ed points out, none of the Cowboys' downfield "threats" have a catch of 20 yards or more since Johnson took over.
The best thing you can say about Johnson -- and this is important -- is that he didn't turn the ball over against the Bucs. But the Cowboys needed the best defensive performance of the Wade Phillips era to win, 13-9.
This defense isn't going to hold Eli Manning and the Giants to nine points. The Cowboys need an x-factor -- and that might turn out to be Brooks Bollinger. If it were up to me, I'd be on the phone with former Cowboys quarterbacks coach David Lee trying to figure out the Dolphins' "Wildcat" formation. The Cowboys have to explore every option to have any hope of upsetting the Giants in the Meadowlands.
If you trot Johnson out there to face defensive end Justin Tuck and the rest of the Giants defense, you don't have much of a chance. Now, I'm anxious to hear what you guys think.
September, 24, 2008
9/24/08
1:30
PM ET
By
Matt Mosley
| ESPN.com
Posted by ESPN.com's Matt Mosley
Now that we're three weeks into the season, some of you are starting to feel some anxiety about your teams. In some precincts (not in ours), fans are experiencing full-blown panic attacks.
Those poor Patriots were stunned by an ol' SEC trick that Dolphins quarterbacks coach David Lee had in his hip pocket. And Jets fans can't believe the Brett Favre honeymoon phase already has ended.
Teams in the NFC East have a combined 10-2 record. The word "panic" seems a little strong at this point, so we'll focus on potential "concerns."
The New York Giants (3-0) woke up with some concerns this morning. For reasons that we've yet to hear, star receiver Plaxico Burress decided to skip team meetings Monday. He also didn't pick up the phone when GM Jerry Reese and coach Tom Coughlin started calling. He's now been suspended for the Oct. 5 game against the Seahawks.
This is no time to panic, but it's not a good sign when your top receiver decides to flake out. We'll continue to monitor the situation throughout the afternoon.
In Philly, it looks like running back Brian Westbrook will miss Sunday's game in Chicago with an ankle injury. Correll Buckhalter and Lorenzo Booker should do an adequate job filling in, so I don't advise anyone to push the panic button.
The Cowboys are once again missing starting left guard Kyle Kosier, but Cory Procter will do a nice job filling in. The Redskins will be without defensive end Jason Taylor against the Cowboys. You'd love to have your top pass rusher against a guy like Tony Romo, but based on Taylor's play so far this season, this isn't anything to get worked up about.
As I stated recently in a column, this the best division in football. Let's wait a week or two before anyone panics.
September, 18, 2008
9/18/08
12:00
PM ET
By
Matt Mosley
| ESPN.com
Posted by ESPN.com's Matt Mosley
The fact that opposing defensive coordinators are already devising game plans around Eagles rookie wide receiver DeSean Jackson speaks to the impact he's had on the league. Other than the brilliant but ill-fated T.O. era, Eagles quarterback Donovan McNabb has spent his career throwing to players who would be third or fourth receivers on other teams.
The Todd Pinkstons and James Thrashes of the world served a purpose, but for the most part, McNabb has made do with somewhat average weapons on the outside. That's why it seems remarkable that after one regular-season game Jackson forced Cowboys defensive coordinator Brian Stewart to account for him on every play. In case you didn't know, defensive coaches loathe admitting that they're having to sell out to stop one player. That's not what Stewart did, but you get the feeling he might think about it in December.
The intent was to not let Jackson beat them deep under any circumstances, but there he was racing toward a 61-yard touchdown in the second quarter. The fact that he dropped the ball at the 1-yard line goes down as an embarrassing footnote, but it does nothing to diminish his immense talent. When's the last time an NFL receiver began his career with two consecutive 100-yard games? Does 1940 sound about right? (It was another Eagle, Don Looney.)
In most divisions, Jackson would be stealing all the headlines, but this is the Beast we're talking about. Other than the second-round receivers in Washington (so far), the Day 1 draftees look like keepers. Of course, people get fired if they're not, but that's another column.
| | |
| --- | --- |
| | |
| | Icon SMI |
| | Chris Horton, left, was named NFC defensive player of the week for his performance against the Saints. |
In Washington, a folk hero named Chris Horton has emerged. He woke up Sunday morning and received a text message from starting safety Reed Doughty telling him that he might be too sick to play. Horton destroyed everything in his path (including teammates) early in the preseason. He didn't care that he'd been taken five rounds after the underwhelming duo of Malcolm Kelly and Devin Thomas. The former UCLA player seemed to have a nose for the football, and that's a good thing for a defense that desperately needs to force turnovers.
In his first career start Sunday against the Saints, Horton finished with two interceptions and a fumble recovery in leading his team to a 29-24 victory. He was honored as the NFC defensive player of the week, and he's making it tough for defensive coordinator Greg Blache to keep him off the field.
Former Miami Hurricane Kenny Phillips is having a similar impact for the Giants, who made him the final pick in the first round. In the months that have followed, I've started to hear other teams' scouts talk about how they coveted Phillips. He hasn't cracked the starting lineup yet, but he takes the field in the dime package. GM Jerry Reese and Tom Coughlin know that he'll be starting for the next six or seven years, so there's no rush.
Phillips, though, was the buzz of training camp. He has the rare ability to make plays in coverage and then be physical near the line of scrimmage. In the tradition of other safeties from the U, he loves to punish opposing players.
"You don't like playing against guys like that," Plaxico Burress recently told the New York Times. "They can be in the middle of the field, the quarterback can look him off, throw to the other side of the field, and he's right there to put his helmet under your chin or pick the football off. There's only a few guys in the league that can do things like that."
When I sat down with Reese during training camp for an hour, the conversation kept turning back to Phillips. He sorts of glides around the field, but when the ball is thrown, he has what scouts refer to as "sudden speed." And the fact that he has excellent ball skills gives him the potential to be a six- or seven-interceptions-a-season guy.
The Cowboys made a decision in April to take a complementary back in Felix Jones over feature back Rashard Mendenhall out of Illinois. So far, it looks like a smart choice. Jones flashed his speed early in the preseason, but everyone had been waiting to see what he could do in the return game. The Cowboys haven't had a consistent threat in the return game in years. Maybe you could count Reggie Swinton, but even that's a stretch. With Jones returning kicks and Adam Jones punts, the return game appears to be a strength for the team.
Playing in his first Monday night game, Jones took one back 98 yards for a touchdown against the Eagles. Some Cowboys fans have worried about Jones getting hurt returning kicks, but it's tough to suffer an injury when no one touches you.
I've talked to former Arkansas coach Houston Nutt and offensive coordinator David Lee about Jones. They say the only thing more impressive than his speed and vision is the fact that he's an incredible person off the field. They told stories of how he would take $20 out of his scholarship check and then send the rest home to his parents. No telling what he does now that he's making millions.
If there's another division in the league right now in which rookies are making this type of impact, I'd love to hear about it. Coaches are supposed to be patient with playing rookies, but this bunch is making that impossible.
July, 24, 2008
7/24/08
2:12
PM ET
By
Matt Mosley
| ESPN.com
Posted by ESPN.com's Matt Mosley
Cowboys
Eagles
NFC EAST SCOREBOARD
Saturday, 12/20
Sunday, 12/21