June, 23, 2011
6/23/11
3:22
PM ET
Welcome to part five in our very popular (at least here on the NFC East blog) position-by-position look at four-year unrestricted free agency and its possible impact on NFC East teams. (We're really going to have to figure out a catchier name ...)
We'll look now at the safety position. The Redskins managed to address safety pre-lockout by signing O.J. Atogwe. And while the Giants are likely to lose
Deon Grant
, they appear set at the position with
Kenny Phillips
and
Antrel Rolle
and aren't as likely to use three safeties as much this year after taking cornerback
Prince Amukamara
in the first round of the draft. But the other two teams in the division could be looking for safety help, although to different degrees.
NFC East teams in need
[+] Enlarge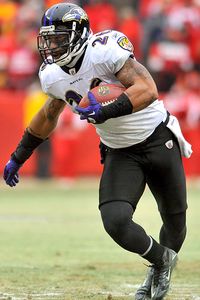 Denny Medley/US PresswireDawan Landry could be high on the wish list for both the Cowboys and the Eagles.
Cowboys
: Even if they do bring back
Gerald Sensabaugh
, they'll need to find a safety to replace
Alan Ball
, who's slated to move back to his backup cornerback role. And if Sensabaugh finds employment elsewhere, Dallas will need to find two safeties on the market. The need at this position could be the biggest factor that prevents the Cowboys from signing star cornerback
Nnamdi Asomugha
. If they got him, they'd have to fix safety on the cheap.
Eagles
: In spite of his popularity among fans and in the locker room, veteran strong safety
Quintin Mikell
appears to be out in Philadelphia. Philly is planning to go with second-year man
Nate Allen
at the free safety spot and could, theoretically, start
Kurt Coleman
at the other. But since neither seems like a sure thing, it's probably a good idea for the Eagles to at least look around for free-agent help.
UPDATE, 3:40 pm
: As our first commenter points out below, rookie Jaiquawn Jarrett should have been mentioned here. I'd add him to the "not a sure thing" group with Coleman and Allen, since I don't think they view him as a starter in 2011. But the presence of Jarrett and Allen along with Coleman could, indeed, lessen the Eagles' desire to commit long-term to a free-agent safety.
Top five potential unrestricted free-agent safeties
1. Eric Weddle
. The total package. Hits hard, tackles, plays the run well and is capable of making the big interception and running it back. The Chargers will make keeping him a priority, and if he hits the open market he's likely in line for a very big contract. Probably too rich for the Eagles' blood, but he'd qualify as a big splash for the Cowboys if they aren't in on Nnamdi.
2. Dawan Landry
. Playing opposite
Ed Reed
in Baltimore, Landry has been overshadowed. But he's improved every year in his coverage ability and has always been strong against the run. The Ravens are likely to let him go. Could be great in Philly or with the Cowboys, who could easily slide Sensabaugh to free safety if Landry came in to play the strong safety spot.
3. Danieal Manning.
He turned down an extension offer from the Bears just before the lockout, and as one of the players who was caught in the restricted free-agent trap imposed by last season's uncapped rules, he's looking for a pay day. Might appeal to the Eagles for his ability to handle kick-return duties as well as start at safety.
4. Michael Huff
. Came up with four sacks, three interceptions and three forced fumbles for the Raiders in 2010. He's going to draw enough interest that the Raiders won't be able to keep him. Multiple reports have indicated he's high on the Cowboys' wish list.
5. Mikell
. There's also been some talk in Dallas of pouncing on Mikell, should the Eagles let him go, as a means of getting over on a division rival. But Mikell, while older than anyone else on this list, could bring a leadership element to Dallas that the team could use as it works to recover from its disappointing 2010 season.
Predictions that mean nothing
: Cowboys sign Huff, Eagles look further down the list (Abe Elam?
Atari Bigby
?
Roman Harper
? There are lots of options.) as they pursue Asomugha for cornerback and address front-seven needs on defense.
March, 7, 2011
3/07/11
1:13
PM ET
A pair of accomplished safeties found new homes last week without even an invitation to visit Valley Ranch.
Cowboys fans can feel free to panic after
O.J. Atogwe
and
Bob Sanders
went off the market, but it's probably premature. There will be safeties available in free agency capable of filling the glaring void in the Dallas secondary, assuming there is free agency this offseason.
It's tough to blame the Cowboys for not taking a risk on Sanders, whose terrific career has been derailed by injuries. He's been healthy enough to play in only nine games in three seasons since being named the NFL's defensive player of the year.
I don't quite understand the Cowboys' lack of interest in Atogwe for the second consecutive season. He's a safety who is reliable against the run and pass and has a track record of forcing turnovers. However, even if the Cowboys were in pursuit of the soon-to-be 30-year-old, they probably would have been outbid by the Redskins. Danny Snyder, a man known to overpay in the free-agent market, gave Atogwe a five-year, $26 million contract.
If the Cowboys don't sign a safety, they deserve to be ripped for ignoring Atogwe. But that's not the case if they sign any of the following six players:
Michael Huff
,
Quintin Mikell
,
Eric Weddle
,
Danieal Manning
,
Dawan Landry
or
Brodney Pool
.
Just a hunch, but the Cowboys might have their hopes set on Huff, an Irving Nimitz and Texas product who has started to live up to his potential as a top-10 pick after a few disappointing seasons at the beginning of his career. Rob Ryan was the Raiders' defensive coordinator when they drafted Huff seventh overall in 2006.
Huff, 28, is an elite coverage safety with a knack for blitzing. He'd be a tremendous upgrade over
Alan Ball
.
Perhaps Huff could be paired with
Gerald Sensabaugh
, although the Cowboys aren't going to give the strong safety the lucrative long-term deal he wants in free agency. Maybe the Cowboys find their second starting safety in the draft.
Anybody who watched the Cowboys play last season knows that improving at safety ranks atop the offseason priorities. The fact that they were spectators while a couple of big-name safeties changed addresses shouldn't prevent them from addressing the problem.
NFC EAST SCOREBOARD
Saturday, 12/20
Sunday, 12/21