June, 5, 2013
6/05/13
8:00
AM ET
Happy Wednesday to all. Anybody else hoping Jerry Jones is giving interviews again today?
Links.
Philadelphia Eagles
I listened in on
Cary Williams
' post-practice
news conference
Tuesday, and I have to say it's refreshing to hear a perspective that doesn't conform to the established, macho NFL norm. The simple facts are that the practices Williams skipped were voluntary and that if he wanted to skip them
for any reason whatsoever
-- his daughter's dance recital or picking out sconces -- then he had the right to do so without everybody climbing all over his case about it. If Williams struggles this year and you want to blame it on insufficient May practice attendance, feel free, but I won't join you. I applaud someone whose priorities can occasionally stretch beyond his workplace.
If
DeSean Jackson
is going to fire Drew Rosenhaus as his agent, Rosenhaus is going to make him pay for it. A report from Yahoo! Sports says Rosenhaus is seeking $400,000 from Jackson to settle
unpaid loans
.
Washington Redskins
This time last year, a lot of Redskins fans were asking whether
Jarvis Jenkins
was ready to contribute more on defense after missing his rookie season with an injury.
Jenkins believes
the answer may finally be "yes" on a level for which Redskins fans were hoping.
Redskins general manager Bruce Allen had a special connection to the late Deacon Jones -- to the extent that he once referred to Jones as "
my oldest brother
." Allen was clearly affected by Jones' death earlier this week.
Dallas Cowboys
Todd Archer thinks the events of Tuesday, in which Jerry Jones and Bill Callahan revealed that Callahan is taking over offensive play-calling duties and Jason Garrett declined to confirm that, is the latest example of
owner-driven dysfunction
that makes it hard for the Cowboys' coach to do his job. As you know, I think everyone's overreacting as usual with the Cowboys. But I respect that Todd has spent far more time around the team than I have, and his analysis is always worth incorporating into our assessments of Cowboys matters.
Still recovering from a surgery that removed a cyst in his back,
Tony Romo
is
unlikely to be ready
for the Cowboys' mandatory minicamp next week. The Cowboys still expect Romo to be ready in time for training camp and the regular season without any trouble.
New York Giants
Former Giants great Michael Strahan called Deacon Jones "
one of those guys you never thought would die
," and shared some of his own memories of the sack artist he described as a mentor.
Talk about news you can use: What do you Giants fans think about the idea of
free parking on game days
? Could be a rare case of New Jersey politics working in favor of the regular ol' citizens.
April, 4, 2012
4/04/12
10:12
AM ET
Continuing our team-by-team series on the history of the specific draft picks each NFC East team has this year, we take a look today at the
Dallas Cowboys
, who have eight picks in this year's draft.
Turning up some interesting trivia in these. For instance, the Cowboys have the 186th pick, which produced Deacon Jones, and the 152nd pick, with which the
Houston Texans
last year took a quarterback who a few months later started their first two playoff games in franchise history.
PICK 14
(14th pick, first round)
Last five players taken
2011 --
Robert Quinn
, DE, Rams
2010 --
Earl Thomas
, S, Seahawks
2009 --
Malcolm Jenkins
, DB, Saints
2008 --
Chris Williams
, T, Bears
2007 --
Darrelle Revis
, CB, Jets
Cowboys' history of No. 14 picks
The Cowboys have never had the No. 14 pick.
Hall of Famers picked No. 14
Jim Kelly (1983), Gino Marchetti (1952), Len Ford (1948, AAFC)
Other notables
Jeremy Shockey
(2002), Eddie George (1996), Dick Stanfel (1951)
PICK 45
(13th pick, round 2)
Last five players taken
2011 --
Rahim Moore
, DB, Broncos
2010 --
Zane Beadles
, G, Broncos
2009 --
Clint Sintim
, LB, Giants
2008 --
Jordon Dizon
, LB, Lions
2007 --
Dwayne Jarrett
, WR, Panthers
Cowboys' history of No. 45 picks
1968 -- Dave McDaniels
Hall of Famers picked No. 45
Dave Casper (1974)
PICK 81
(19th pick, third round)
Last five players taken
2011 --
DeMarcus Van Dyke
, DB, Raiders
2010 --
Earl Mitchell
, DT, Texans
2009 --
Roy Miller
, DT, Buccaneers
2008 --
Early Doucet
, WR, Cardinals
2007 --
Jay Alford
, DT, Giants
Cowboys' history of No. 81 picks
1984 -- Fred Cornwell
1982 -- Jim Eliopulos
1981 -- Glenn Titensor
1977 -- Val Belcher
Hall of Famers picked No. 81
None, though Art Shell was the 80th pick in 1968 and Joe Montana was the 82nd in 1979.
PICK 113
(18th pick, round four)
Last five players picked
2011 --
Chimdi Chekwa
, DB, Raiders
2010 --
Aaron Hernandez
, TE, Patriots
2009 --
Vaughn Martin
, DT, Chargers
2008 --
Dwight Lowery
, CB, Jets
2007 --
Brian Smith
, DE, Jaguars
Cowboys' history of No. 113 picks
1989 -- Keith Jennings
1984 -- Steve Pelluer
1975 -- Kyle Davis
Hall of Famers picked No. 113
None. But Steve Largent was picked 117th in 1976 and George Blanda was picked 119th in 1949.
PICK 135
(40th pick, fourth round)
Last five players picked
2011 --
Ricky Stanzi
, QB, Chiefs
2010 --
Dominique Franks
, DB, Falcons
2009 --
Troy Kropog
, T, Titans
2008 --
Josh Sitton
, G, Packers
2007 --
Joe Cohen
, DT, 49ers
Cowboys' history of No. 135 picks
1983 -- Chuck McSwain
Hall of Famers picked No. 135
None. Closest were Jackie Smith and Roger Staubach, who were picked No. 129 in 1963 and 1964, respectively.
PICK 152
(17th pick, round 5)
Last five players picked
2011 --
T.J. Yates
, QB, Texans
2010 --
Otis Hudson
, G, Bengals
2009 --
James Casey
, TE, Texans
2008 --
Letroy Guion
, DT, Vikings
2007 --
Antonio Johnson
, DT, Titans
Cowboys' history of No. 152 picks
1984 -- Eugene Lockhart
1969 -- Rick Shaw
Hall of Famers taken No. 152
None. Closest I found was Arnie Weinmeister, No. 166 in 1945.
PICK 186
(16th pick, round 6)
Last five players taken
2011 --
D.J. Smith
, LB, Packers
2010 --
Clifton Geathers
, DE, Browns
2009 --
Robert Henson
, LB, Redskins
2008 -- Colt Brennan, QB, Redskins
2007 --
Thomas Clayton
, RB, 49ers
Cowboys' history of No. 186 pick
2003 -- Zuriel Smith
1976 -- Greg Schaum
Hall of Famers picked No. 186
Deacon Jones (1961)
PICK 222
(15th pick, round 7)
Last five players taken
2011 --
Anthony Gaitor
, DB, Buccaneers
2010 --
Marc Mariani
, WR, Titans
2009 --
Pat McAfee
, P, Colts
2008 -- Chester Adams, G, Bears
2007 -- Derek Schouman, FB, Bills
Cowboys' history of No. 222 picks
1984 -- Mike Revell
1978 -- Homer Butler
Hall of Famers picked No. 222
None. Closest was Andy Robustelli, picked 228th in 1951
September, 10, 2010
9/10/10
4:00
PM ET
By
Matt Mosley
| ESPN.com
»
NFC Final Word
:
East
|
West
|
North
|
South
»
AFC
:
East
|
West
|
North
|
South
Five nuggets of knowledge about the Week 1 games.
[+] Enlarge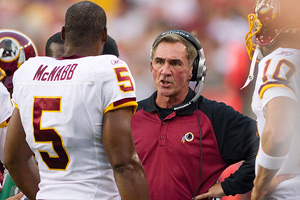 Maxwell Kruger/US PresswireQuarterback protection was a problem for the Redskins last season.
This will be the only Cowboys-Redskins preview in the blogging community not mentioning a certain defensive tackle.
That's because I think he'll be a non-factor in this game. I'll be zeroed in on what Mike and Kyle Shanahan do to make sure
Donovan McNabb
stays on his feet long enough to deliver the ball.
Trent Williams
is going to be a solid left tackle in this league, but there are easier ways to make your debut than facing outside linebacker
DeMarcus Ware
. The Skins are going to help Williams quite a bit early in this game and that could take away from what McNabb's able to accomplish with the talented tight end duo of
Chris Cooley
and
Fred Davis
. If the Redskins can give McNabb some time, I think
Santana Moss
will be a tough matchup for
Terence Newman
or
Mike Jenkins
. Kyle Shanahan wants to use Moss a lot like he used Houston's
Andre Johnson
and that's a scary thought for this secondary.
Justin Tuck was elected defensive captain by his teammates.
Sunday's game against Carolina is the game where Tuck and his defensive teammates can show they're ready to get back to the '07-'08 years. Tuck has promised to be a lot more vocal on and off the field and he'll be supported by the energetic new defensive coordinator Perry Fewell. I can't say enough about Fewell, who has completely changed the mindset with a lot of these players. He's going to hold his guys accountable, but he's also not going to beat them down constantly. I really like what he's done to fortify the rush defense. And it looks like Fewell has helped inspire Tom Coughlin. I had a long conversation with Coughlin in Albany, N.Y, during training camp and you could tell he thinks this team has a legitimate chance to do something special this season. I have them reaching the Super Bowl. However, I may change that pick if they struggle against the Panthers.
Kevin Kolb can't win this game against Green Bay on the first drive.
The previous sentence popped into my head when I couldn't sleep Thursday night and it's not quite as profound now that I see it in print. But you know what I'm saying. Kolb doesn't need to try to do anything heroic in his debut as the full-time starter for the Eagles. Simply feed the ball to your playmakers and make sure you hit them on the run. Kolb's going to have some rough days, but I also think he's capable of putting up some big numbers. He moves around a lot better than folks give him credit for and you'll see that against the overrated Packers.
Doug Free was thrown into an awful situation against Jared Allen in last year's divisional playoff game.
He'll be much better prepared for Washington outside linebacker
Brian Orakpo
on Sunday evening. Orakpo joined us on ESPN 103.3 in Dallas-Fort Worth on Thursday and wouldn't tip his hand on where he'd be lining up. There's some thought that defensive coordinator Jim Haslett might move him around a bit. Orakpo will try to use his speed early in the game before transitioning to his bull-rush technique. The players refer to that as "speed to power" and Orakpo can be dangerous in that mode. I think Free will hold his own. If he doesn't,
Tony Romo
could be in trouble.
Let's keep our eye on the Eagles' tweeting defensive end Brandon Graham.
The rookie defensive end had to stop by Andy Reid's office Thursday to explain why he tweeted his intentions to whisper in
Aaron Rodgers
' ear the word "sack." I'm not sure I recall Deacon Jones or Reggie White whispering anything in a quarterback's ears, but times have changed. I'm anxious to see how Graham performs in his first game. He can't get so amped that he forgets his technique early. But I could see him having a big debut -- especially since the Packers will be focused on trying to slow down
Trent Cole
. Graham's studied Broncos defensive end
Elvis Dumervil
on film and he's ready to showcase some of those moves Sunday.
NFC EAST SCOREBOARD
Saturday, 12/20
Sunday, 12/21