August, 7, 2013
8/07/13
11:00
AM ET
Look, I'm not saying
Arrelious Benn
was the second coming of
Herman Moore
, or that the
Philadelphia Eagles
' brave pronouncements about making up for their losses at wide receiver with extra help from their tight end group or their running back group don't make any sense. But with
Jeremy Maclin
and now Benn out for the season with torn ACLs, and with legitimate questions about whether
Riley Cooper
can really spend a full season in the same locker room with NFL teammates after being caught on camera angrily using the worst racial slur there is, the fact is that the Eagles are ridiculously thin at the wide receiver position.
[+] Enlarge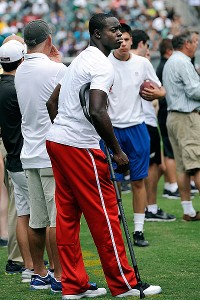 AP Photo/Michael PerezWith receivers Jeremy Maclin (pictured) and Arrelious Benn out for the season, the Eagles could be looking for help from the free-agent pool.
DeSean Jackson
is their best one.
Jason Avant
is a solid, if unspectacular, veteran. But other than those two, the seven remaining healthy wide receivers on the Eagles' roster have a combined total of 96 career NFL catches -- 46 of which belong to Cooper. Could the Eagles get more than expected out of guys like
Damaris Johnson
,
Russell Shepard
and
Greg Salas
? Sure, but it's a shaky bet to make.
Tim McManus looks at 10 wide receivers who are still available on the free-agent market at this very late date, and it's an uninspiring list. The top name is
Brandon Lloyd
, who had 74 catches and 911 yards for the Patriots last year. But something's off with Lloyd that is scaring teams away. Fact is, he'd have been one of the Eagles' top three receivers if he'd signed a month ago, and they weren't interested. I have to think that, if they liked Lloyd, he'd already be on their team.
Laurent Robinson
, the 2011 Cowboys touchdown maker, is also on this list but comes with major injury concerns due to concussion problems. Guys like
Deion Branch
and
Brandon Stokley
have put up decent stats in the league, but not without
Tom Brady
and
Peyton Manning
, respectively, throwing them the ball.
Chad "Ochocinco" Johnson
isn't what the Eagles need as they rebuild under Chip Kelly.
You get the idea. There's not much out there. And I fully understand why the Eagles wouldn't want to sign any of the receivers on this list. But it's Aug. 7, they haven't even played a preseason game yet and their wide receivers are dropping like flies. The reason they had so much volume at the position was to protect against injuries, and certainly there's no guarantee that there won't be any more injuries over the course of the next month. As much as they don't want to, the Eagles probably should hold their nose and take a flyer on someone like Lloyd or Branch or Stokley. Maybe call up the Redskins and find out what their plans are for
Donte' Stallworth
and
Devery Henderson
... something to address what's becoming a problem for a team that already has a huge question mark at quarterback and is hoping to run as many offensive plays as possible.
March, 16, 2012
3/16/12
10:26
AM ET

Something about the
Washington Redskins
' signings of wide receivers
Pierre Garcon
and
Josh Morgan
struck me earlier in the week, so I went back to the transcript of my interview with Mike Shanahan from December and found this quote about what he was looking for in a wide receiver:
"We've got to get a wide receiver that's a playmaker. You've got to have a No. 1, no question about it. We have [Santana] Moss and [Jabar] Gaffney, who's going to be right at 1,000 yards, but you're still looking for that guy that can go the distance and make plays, running the ball on a short shallow cross and go the distance. Everybody's looking for that."
Garcon has not, to this point in his career, been a No. 1. But he's young enough that the Redskins hope he can be. And he brings something to the table that touches on the latter part of that quote. He averaged 5.2 yards after the catch in 2011, and has averaged 5.1 yards after the catch for his career. Morgan averaged 6.8 yards after the catch on his mere 15 receptions in 2011, and his career average is 5.7.
Those are strong numbers, especially compared to the 4.4 YAC average Moss put up last season (down a full yard from his 2010 number) and Gaffney's 2.9. Shanahan's looking for receivers who can help out his rookie quarterback,
Robert Griffin III
, by making plays when they get the ball in their hands. And in Garcon and Morgan, he sees a couple such guys.
Eddie Royal
, whom the Redskins pursued before he agreed to terms with the Chargers on Thursday night, doesn't exactly fit the profile. He was a 3.7 YAC guy on his 19 catches in 2011, and is 4.7 for his career. But the Redskins believed he was a guy who could man the slot position for them and help in the return game. Moss remains on the roster for now and can work the slot, but if the Redskins are looking to get younger and are in the market for another wide receiver after Royal jilted them, you might want to look at some of the YAC numbers of the remaining available free agents to determine possible targets.
Arizona's
Early Doucet
averaged 6.4 yards after the catch in 2011. New England's
Deion Branch
averaged 6.5. Cincinnati's
Jerome Simpson
averaged 5.4. These aren't names that will fire up the season-ticket phone lines, but Shanahan clearly has specific reasons he targets certain free agents, and this year that YAC number seems to be a big factor for him with wide receivers.
January, 25, 2012
1/25/12
3:48
PM ET
If you are not aware of the ESPN.com Stats & Information blog, you should be. Our research people work their tails off, and this blog is a place for them to showcase their hard work without relying on clowns like me to give them credit when I use their information. One of their latest entries is a piece
on the Patriots' offensive formations
, and since the
New York Giants
have a big game coming up against the
New England Patriots
, I thought Giants fans might find it interesting.
This piece focuses on how often the Patriots line up in a 'Tiger' formation on offense — two receivers, two tight ends and one back. Patriots quarterback
Tom Brady
threw 382 passes out of such formations this year. The second-highest such number was 223 by San Diego's Philip Rivers. Wide receivers
Wes Welker
and
Deion Branch
and tight ends
Rob Gronkowski
and
Aaron Hernandez
were on the field together for 45.2 percent of New England's offensive snaps:
This personnel matchup favors the Patriots (statistically), as the New York Giants allowed a league-worst 86.7 QBR to opposing quarterbacks in two-receiver, two-tight end, one-back sets this season. In the New York's Week 9 victory at Foxboro, the Giants held Tom Brady to a 56.3 QBR, his third-lowest mark of the season. But when Brady had his 2 WR, 2 TE, 1 RB personnel on the field, his QBR was 19.9 points higher.
Scheme-wise, this shouldn't bother the Giants too much, since the way to combat the Tiger is to play five or more defensive backs in coverage and the Giants don't blitz much anyway. The Giants' biggest problem with this formation will be the same problem every team has against the Patriots — the physical mismatch the 6-foot-6, 265-pound Gronkowski presents against any defensive back in the league. He's got six inches and 60 pounds on any Giants cornerback, and he's got four inches and 50 pounds on safety
Kenny Phillips
, who's the biggest player in the New York secondary. The Giants will need to account for Gronkowski and the various ways the Patriots align all of these players by staying alert and flexible in their coverages, and they'll also need to make sure their front four defensive linemen get enough pressure on Brady to make sure he can't take advantages of whatever mismatches they're able to establish.
October, 3, 2008
10/03/08
4:00
PM ET
By
Matt Mosley
| ESPN.com
Posted by ESPN.com's Matt Mosley
Cincinnati Bengals (0-4) at Dallas Cowboys (3-1), 4:15 p.m. ET
This should be the game that puts the Cowboys back on track following last Sunday's 26-24 loss to the Redskins.
Terrell Owens
will have 100 yards and a couple of touchdowns by the time the first half ends. Then, the Cowboys can rediscover their running game with
Marion Barber
and
Felix Jones
in the second half.
Tony Romo
has been instructed to only check out of running plays if the Bengals put all 11 men on the line of scrimmage.
Chad Ocho Cinco said some outlandish things Wednesday in order to pump life into what looks like a dud of a game. The one thing the Cowboys have to fix is covering the deep ball. The Eagles, Packers and Redskins all hit on deep balls and Braylon Edwards dropped one that would've gone for a touchdown for the sadsack Browns.
The Cowboys will try to make life miserable for Carson Palmer, which won't be anything new for him. The Bengals did take the Giants to overtime in the Meadowlands two weeks ago, but they're about to run into an angry team. The Bengals don't have a running game, so they'll be one-dimensional from the start. The Cowboys are favored by 17, which is a huge number in the NFL. The one thing the Bengals have in their favor is that defensive coordinator Mike Zimmer knows their personnel better than anyone. Cowboys get back in the winning column, and T.O. skips the "serious conversation" with Romo after the game.
Seattle Seahawks (1-2) at New York Giants (3-0), 1 p.m. ET
The Seahawks get starting receivers
Bobby Engram
and
Deion Branch
back for this game, but it won't matter. The Giants' defensive line will take quarterback
Matt Hasselbeck
out of rhythm early, and he'll hold the ball too long. He trusts Engram, but he won't click with Branch.
As Giants center Shaun O'Hara pointed out earlier this week, the Meadowlands crowd could play a big role in this one. A lot of fans remember that the Qwest Field crowd induced the Giants into 11 false starts three years ago. The Giants want their fans to be loud, in part, because Hasselbeck loves to audible at the line of scrimmage. He's been known to check into running plays on third-and-6, which has actually worked well against aggressive teams such as the Giants.
As Tom Coughlin pointed out Friday, the Seahawks have scored 31 points in the first quarter in the past two games. Mike Holmgren does a better job than anyone at scripting the first 15 plays. The only problem is that the Seahawks have only scored three points in the third quarter all season. OK, I've done entirely too much research. Let's move on.
Washington Redskins (3-1) at Philadelphia Eagles (2-2) 1 p.m. ET

Can the Redskins do it two weeks in a row? I think it's possible -- especially if
Brian Westbrook
isn't at full speed. And I don't think he will be. He finally made it through a full practice Friday, but he's still a game-time decision. Eagles middle linebacker
Stewart Bradley
told me earlier Friday that the Eagles will have 15 different blitz packages out of their base defense and 11 more in their situational packages. Folks that's 26 blitzes in one game.
The average defensive coordinator might install five or six blitzes heading into a game. Wait, am I bogging down? The bottom line is that defensive coordinator Jim Johnson wants to bring pressure from all over the field against Jason Campbell. The Redskins' quarterback has shown that he can burn you if you let him find any type of rhythm. The Eagles don't want to allow that. I'll be there for all the action.

NFC EAST SCOREBOARD
Thursday, 8/21
Friday, 8/22
Saturday, 8/23