December, 29, 2013
12/29/13
9:17
PM ET
OAKLAND -- And now, the waiting game begins.
A second consecutive 4-12 season for coach Dennis Allen, in which the
Oakland Raiders
lost six straight to end the season and eight of nine overall, would have spelled doom under the late Al Davis. But with Mark Davis as a more "patient" owner, and a general manager in Reggie McKenzie who has called Allen "my guy" from Day 1, you have to wonder.

Allen
Does Allen, who was a rookie coach as Oakland began its self-described two-year "deconstruction" period in 2012, deserve a shot at returning, despite his platform of progress and discipline being shelled since Thanksgiving?
"Deserve" might be too broad a term; "fair" might be more accurate.
Davis said this week he was going to take a "wait-and-see" approach, that no decision had been made and he wanted to see how the Raiders played this weekend.
In the Silver and Black spectrum, the Raiders outscored the
Denver Broncos
in the second half on Sunday, 14-3.
In the Silver and Blechhh spectrum, they trailed at halftime, 31-0 (which is when
Peyton Manning
left the game), and fell to the AFC's top seed, 34-14.
Allen anticipates sitting down with Davis and McKenzie in the very near future, and believes he "deserves" to return.
"Yeah, I do," he said. "I expect to be back, and I'm looking forward to the opportunity to come back. Those are decisions that somebody else is going to make, but yeah, I expect to be back."
Asked if he considered the possibility that he was done, Allen did not flinch.
"That's a decision that's made over my head. I fully expect to be back. I fully believe that I deserve the opportunity to come back here and get a chance to, as we said, go through the deconstruction phase. I want to be part of the rebuilding phase."
Said quarterback
Terrelle Pryor
: "Personally, I love Coach Allen. He's a great leader. He's a great leader. The thing I really liked about him, he didn't change. When we started losing, he didn't change one bit. A lot of guys crack under pressure. I think coach Allen handled himself. We look at that stuff (as players). I think he did a phenomenal job this year. I have a lot of respect for Coach Allen ... I respect coach Allen, but that's really not my call. That's Mr. Davis' and Reggie's, and really, Mr. Davis'."
Left tackle
Jared Veldheer
, who will be an unrestricted free agent, said he also endorsed Allen.
"One of the biggest things we need is continuity," Veldheer said. "It would be very tough to see massive turnover."
December, 11, 2013
12/11/13
9:00
AM ET
IRVING, Texas -- Those of you wondering where Five Wonders went on Tuesday, fear not. It's here on Wednesday.
We just pushed it back a day with the
Dallas Cowboys
playing on ESPN's "Monday Night Football." And boy wasn't that an exciting contest?
Anyway, off we go ...
1. Jerry Jones said there will be changes on the defensive side of the ball after the debacle against the
Chicago Bears
. I wonder what they would be. And how big of a difference could they actually make? The scheme is the scheme. They can't become some blitz-happy team overnight. The personnel is the personnel. So does it make a difference if
J.J. Wilcox
starts over
Jeff Heath
at safety? Minimally. I'd look for
Sterling Moore
to be the nickel back if
Morris Claiborne
cannot return this week from a hamstring injury. Huge difference? Perhaps considering how lost
B.W. Webb
looks. Injuries could force a shakeup at linebacker. Does
DeVonte Holloman
get some time? He's not a weak-side linebacker by trade, but maybe it's time he plays instead of
Ernie Sims
or
Cam Lawrence
if
Bruce Carter
can't go. The defensive line does not have many options, but maybe
Drake Nevis
moves in for
Nick Hayden
. Again, we're not talking major changes.
[+] Enlarge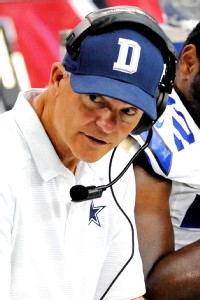 Casey Sapio/USA TODAY SportsWould Rod Marinelli be interested in rejoining Lovie Smith if Smith were to become a head coach again?
2. This isn't so much an "I wonder," but it is for those wondering if Rod Marinelli will join Lovie Smith should Smith return to the NFL as a head coach somewhere. From what I'm told, Marinelli signed a three-year deal with the Cowboys when he joined the team in the offseason. Technically Jones could allow Marinelli to join Smith if he wanted, but he does not have to. The promotion rule was dropped a long time ago. Since Jones would not let Joe DeCamillis leave for the
Oakland Raiders
two years ago to be with Dennis Allen or Tony Sparano to leave for the
New Orleans Saints
when Sean Payton took over in 2006, I can't see Jones letting Marinelli walk. The defensive line has been a drive-through of sorts because of injuries and Marinelli has made it work. It's not been perfect by any stretch but it's been fine.
3. With all of the talk about how well
Tyron Smith
has played this season, I wonder if the Cowboys will be more patient than normal in talking about an extension for Smith. Under the terms of the new collective bargaining agreement, the Cowboys have a fifth-year option on Smith in which they would pay him roughly the amount of the transition tag in 2015. They have to make their decision to use the option year in the spring and the money becomes guaranteed after the 2014 season. Maybe the Cowboys will wait because they will have to do something with
Dez Bryant
, who will be a free agent after next season. They could franchise Bryant and use the option year on Smith, but with salary-cap limitations I can see them being more willing to get a deal done with Bryant first. Because the option year is a new tool teams will have a difficult time navigating those negotiations on long-term deals. Bryant will be a more pressing deal to get done and the Cowboys will be able to keep Smith in their back pocket, so to speak.
4. I wonder how strongly the Cowboys attack the defensive line in the April draft. Marinelli played a big part in the team choosing to pass on
Sharrif Floyd
last April because they did not want to use a first-round pick on what they viewed was a two-down defensive lineman. A few years ago the Cowboys saw their offensive line grow old with
Marc Colombo
,
Leonard Davis
,
Andre Gurode
and
Kyle Kosier
. They cut Colombo, Davis and Gurode and bit the bullet.
Jason Hatcher
turns 32 next season and will be a free agent.
Anthony Spencer
turns 30 in December, is coming off microfracture surgery to his knee and is also a free agent.
DeMarcus Ware
turns 32 next July and has been slowed by nagging injuries this year. Their one building-block defensive lineman is
Tyrone Crawford
and he is coming off a torn Achilles. For as well as
George Selvie
has played this year, he is not a building-block player. He is solid, but you would feel better about him being a backup than a full-timer. The rest of the guys still have things to prove. If the last few years has been about rebuilding the offensive line, I wonder if it's time to start rebuilding the defensive line.
5. I wonder if assistant director of player personnel Will McClay becomes a sought after front-office personnel person. The NFL has tweaked its Rooney Rule and now teams will have to interview at least one minority candidate for their head coaching or general manager vacancy. Last year there were eight head coaching vacancies and seven general manager jobs and none went to a minority. McClay, who is African-American, was elevated to his current role in the offseason and has the run of the personnel department. He has yet to set up a draft board, but he has been responsible for a lot of the pro personnel work in recent years and has found players that have come off the street and contributed to the Cowboys' success. He was a former head coach with the Dallas Desperados and has also helped the coaches on game day. He has received interest from teams in the past, but the Cowboys have not let him leave. This time they may not have a choice.
November, 27, 2013
11/27/13
7:00
PM ET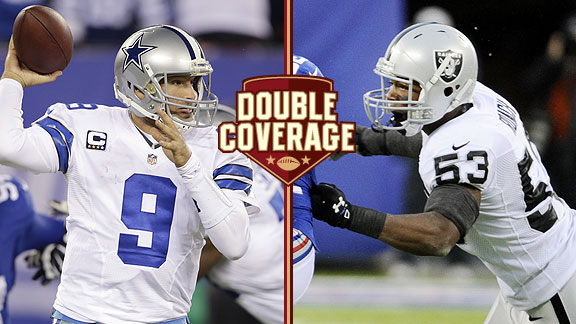 AP PhotoTony Romo's Cowboys host Nick Roach and the Raiders in a Thanksgiving Day duel.
IRVING, Texas -- For the second time in five years, the
Dallas Cowboys
and
Oakland Raiders
meet on Thanksgiving at AT&T Stadium.
The Cowboys won the 2009 matchup 24-7 with
Tony Romo
throwing for 309 yards and two touchdowns and
Miles Austin
catching seven passes for 145 yards. Since that game Austin has had more yards in a game just twice.
ESPN.com's Raiders reporter Paul Gutierrez and Cowboys reporter Todd Archer bring you this week's holiday version of Double Coverage.
Todd Archer:
The Cowboys are bad in most areas defensively, but they have given up 200 yards rushing in three games this season. The Raiders' strength, from afar, seems to be their running game. What makes it so good and how has it differed with
Terrelle Pryor
out?
Paul Gutierrez:
Hey, Todd, it's not just Pryor being out, but also
Darren McFadden
, who has missed three straight games and four overall with a strained right hamstring. He said Monday night he hopes to play after practicing (limited) for the first time since Nov. 1. The run game, though, has not missed a beat with underrated
Rashad Jennings
picking up the slack. In the past four games, he has run for 413 yards while averaging 5.7 yards per carry. In fact, the running game has been so surprisingly solid without McFadden and Pryor that the play-action pass game has picked up with undrafted rookie
Matt McGloin
under center.
Speaking of passing games ... no doubt Tony Romo can rack up stats, but has he decided to assume more of a leadership role yet as the QB of America's Team, or is that just not in his makeup?
Archer:
He has developed over the years as a leader, but there's no question that this has been "his" team the past three seasons. He is the veteran. He is the guy the Cowboys look to. The guys on this team now don't know of the Romo who burst on the scene in 2006 or had to deal with the
Terrell Owens
stuff. He's the guy who led the lockout practices and has been the big voice in the room. This year he has been given the added responsibility of being more involved in the game plan. The Cowboys' past two wins have come on last-minute drives led by Romo to beat Minnesota and the
New York Giants
. I don't think there's anybody questioning his leadership anymore. And if they did, well, the $106 million extension Jerry Jones gave him in the offseason should be more than enough proof to those guys that this is Romo's team.
Let's stick with the quarterback theme. Before the Cowboys lucked into Romo, they ran through a ton of guys after
Troy Aikman
's departure. Is there any reason to believe McGloin or Pryor can be a solution or do the Raiders need to go after one of these guys in next April's draft?
Gutierrez:
Well, the way I put it earlier in the season, before Pryor hit his purported ceiling and sprained his right knee, robbing him of his greatest strength (running) while accentuating his biggest weakness (passing), if Pryor was not the Raiders' Mr. Right, he was their Mr. Right Now. McGloin is a pure quarterback, a pocket passer whom Dennis Allen prefers for what he wants to accomplish offensively. It's hard to give Allen and GM Reggie McKenzie much credit for their evaluation of QBs, though, what with their misses on
Matt Flynn
and
Tyler Wilson
, not caring much for Pryor early on and then, similar to the Cowboys with Romo, stumbling upon McGloin. But it's hard to see them going all in with the undrafted rookie from Penn State, too. At least hard at the moment. Unless McGloin continues to improve and wins a few games, it would behoove the Raiders to draft another QB if they see one as a can't-miss prospect. I know, I know, they really wanted USC's
Matt Barkley
but Philadelphia traded in front of them so they traded back and selected Wilson. Oops. There is no doubt, though, that this Raiders regime prefers McGloin as a prototypical QB over the more electric Pryor.
No matter who is under center for Oakland, though, the Raiders' QB is going to have to keep an eye on
DeMarcus Ware
. Is he rounding back into shape as a dominant pass-rusher, or is he more decoy as he rehabs from his quad strain?
Archer:
I think he's still feeling his way through it. The fact that he made it through the Giants game healthy was a plus. He has been dinged up in just about every game with stinger and back strains earlier in the season before the quadriceps injury. We'll see how he fares on a short week, but the defense is a lot better with even the threat of Ware on the field.
Jason Hatcher
had two sacks against the Giants at least in part because of the attention Ware received. Ware has talked about wanting to make up for lost time. He has five sacks so far, his fewest this late in a season since his rookie year in 2005. Thursday would be a good time to look like the DeMarcus Ware of old.
This game is a homecoming of sorts for guys like
Mike Jenkins
,
Andre Gurode
,
Kevin Burnett
and Tony Sparano, but it's a real homecoming for Dennis Allen. How is he perceived in Oakland and will McKenzie be more patient with him than, say, Al Davis would have been?
Gutierrez:
The jury, so to speak, is still out on Allen in the streets of Silver and Blackdom. Of course, when the Raiders win a game, he's the man. When he loses, the fans turn on him and start pining for Jon Gruden ... again. But isn't that the nature of the beast? Even Allen himself said this was a results-oriented business. Of course, he was referring to the quarterback position at the time, but it still applies. Make no mistake about it, Allen is McKenzie's "guy" and he's going to roll with him and have patience with him. The plan coming in was to give Allen at least three years to right this ship and really, the only thing that could damage Allen's chances of lasting another year would be if the team quit on him, like it did last November before playing hard again at the end. Then again, it might not be McKenzie's choice. Owner Mark Davis is a more patient owner than his father and wants McKenzie to handle all football-related decisions. But a year after stating he was fine with just about anything but regression, Davis wants progress. Stagnancy won't cut it, either. So, stay tuned.
Sticking with the coaching theme, is Jason Garrett in Jerry World for the long haul, or was Jerry Jones' support merely the dreaded vote of confidence?
Archer:
Jerry has publicly backed Garrett, but he's also been a guy who's said, "Just because I say something, doesn't mean it's true." I do know this: He wants Garrett to be the guy. He desperately wants it to work. I really believe that. He believes in Garrett's approach and how he builds a team. Garrett will provide some blow-back to Jerry but not as much as, say, a Bill Parcells. Garrett knows what makes Jerry work and knows how to work around it to a degree or push Jerry in a certain direction. Honestly, Cowboys fans should want the Garrett deal to work out because it might be the best combination to mitigate the bad parts of Jerry and keep the good parts of Jerry.
November, 8, 2013
11/08/13
10:00
AM ET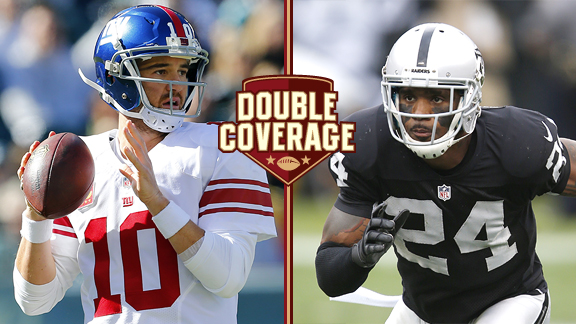 Getty ImagesEli Manning's Giants aim to maintain their momentum when Charles Woodson and the Raiders visit.
It will be a battle of teams looking to climb out of the cellar of their respective divisions as the 2-6
New York Giants
host the 3-5
Oakland Raiders
at 1 p.m. ET Sunday at MetLife Stadium in East Rutherford, N.J. The Giants have won two games in a row after an 0-6 start and are coming off their bye week. The Raiders just suffered their most embarrassing loss of the season, 49-20 at home to the
Philadelphia Eagles
.
Which last-place team will get the win Sunday at the site of Super Bowl XLVIII? ESPN.com Raiders reporter Paul Gutierrez and Giants reporter Dan Graziano break it down for you.
Dan Graziano:
Paul, I was a little surprised by how poorly the Raiders played Sunday. I knew they were a sub-.500 team, but I didn't think they were a terrible one. What was up with that defensive effort against
Nick Foles
and the Eagles?
Paul Gutierrez:
Dan, you're not the only one who was surprised by what the Raiders in general, and the defense in particular, put on the field against the Eagles. Everyone from coach Dennis Allen to veteran safety
Charles Woodson
wondered out loud if the defense got caught reading its clips from the week before. After all, the Raiders' D was playing lights out and was the team's strength, entering the game with the No. 10-ranked defense, despite 10 new starters.
Like boxing, styles make fights, and the Eagles' high-octane offense worked to near-perfection and dropped Oakland early and often. The Raiders were a step behind all game long, especially top draft pick
D.J. Hayden
, who was given the Elvis "Toast" Patterson treatment (I'm sure that name will elicit varied responses from Giants fans) by
Riley Cooper
and
DeSean Jackson
and gave up three completions to the two for a combined 139 yards and two touchdowns. In short, it was a complete meltdown by the entire defense, which had been feeling itself a little too much.
The Giants, though, seem to be heading in the opposite direction after that ghastly start. Do you get the sense they have righted the ship, or is it fool's gold after beating the hapless Vikings and then-hopeless Eagles?
Graziano:
It's unquestionably fool's gold. They beat the Vikings when Minnesota foolishly and inexplicably started an unprepared
Josh Freeman
at quarterback and beat the Eagles when they started a clearly injured
Michael Vick
and had to replace him with unprepared
Matt Barkley
. And it's not as though they looked especially good in either win.
Eli Manning
hit clumsy Minnesota defenders in the hands three times in that Monday night game and somehow still didn't get intercepted, and the Giants didn't score a touchdown in that 15-7 victory over the Eagles. They are a bad team with major problems at almost every position, and the fact that they've won two in a row after starting 0-6 doesn't make that go away.
That said, it's possible they'll get a gimpy
Terrelle Pryor
this week, right? (And maybe an
Aaron Rodgers
backup next week.) Pryor left against the Eagles with a knee injury. Do you expect that he'll play, and assuming he does, what kind of special problems does he present for a Giants defense that has been getting fat on the likes of Freeman and Barkley?
Gutierrez:
Pryor said after the game that his knee was fine, that treatment and ice and the like were all "precautionary," that his knee was not "wobbly" or anything like that. The Raiders were going to take him out of the game for those last two series of a blowout anyway. While Pryor did not speak at the facility Monday, he was walking around the locker room and was not wearing a brace. He should be ready to go.
Then again, if there is even the slightest hitch in his giddyup, that could spell trouble since his running game is his strength. The problems he presents defenses are not unique for a team like the Giants, who already face the read-option from Washington's
Robert Griffin III
(when healthy). But Pryor's combination of size and speed is what makes him unique, or did you miss his 93-yard touchdown run against the Pittsburgh Steelers in which he looked like he was coasting but actually was pulling away from defenders? Earlier in the year, the Raiders' coaches wanted him to run more to take advantage of his strength. Now, Allen said Pryor has to trust the process more, from the protection to his reads. This should be interesting to see how Pryor soaks it all in.
Then again, it will be interesting to see how the Giants' defense responds to Pryor. The Steelers and Eagles had some success in keeping him under wraps by putting a spy on him, challenging him to beat them with his arm. Would the Giants employ such a tactic and who would that spy be, or would they rather play him straight up?
Graziano:
It's a good question, though they don't seem interested in giving away the answer just yet. In the past year, they have played guys like Vick and RG III without a spy and have paid the price. Vick ran for 79 yards against them in the first half in Week 5 before pulling his hamstring.
If they do change it up and decide to spy Pryor, the most likely candidate would be linebacker
Jacquian Williams
, who has good sideline-to-sideline speed. They tend to like to use him to cover tough tight ends, but it's possible that the Raiders' receiving options will allow them to get everyone covered with their nickel-safety or nickel-corner package with Week 8 NFC Defensive Player of the Week
Terrell Thomas
covering the slot. That might free up Williams to spy Pryor, which I think would be a good idea. But the Giants can get stubborn at times, and it's possible they'll decide to play him straight up. I would like his chances of picking up yards on the ground on the outside if they did.
Manning hasn't thrown an interception in his past two games, but he still leads the league with those 15 he threw in the first six weeks. The Giants have been vulnerable to A-gap pressure due to the fact that they're using backups at center and right guard, and as a result, Manning has been uncomfortable in the pocket all season. The lack of a run game has hurt his play-action passing game too. Are the Raiders going to be able to pressure him better than they did Foles? Or will Eli have an easy day?
Gutierrez:
Using the past-is-prologue approach and sprinkling in the notion that hindsight is always 20/20, the Raiders simply have to put pressure on Manning. Allen acknowledged the Raiders did not bring enough pressure to disrupt Foles, and when they did, he simply rolled out and found a target downfield. The Raiders seemed to have learned their lesson, but we'll see. Against the Eagles, they went away from being their normal, blitz-happy selves by rushing just three at times and sitting back in coverage. Foles ate them up. And Foles is no Manning. (You can't spell "elite" without "Eli," right?)
I would expect defensive coordinator Jason Tarver to dial up the blitzes again and send anyone at any time -- unless the Giants start running a no-huddle, hurry-up offense to rattle the Raiders. Keep an eye on right defensive end
Lamarr Houston
, who leads the Raiders with four sacks but was slowed by a right hamstring issue against the Eagles. In fact, 11.5 of Oakland's 23 sacks have come from their front four.
The Raiders -- Hayden in particular -- had problems in coverage against the Eagles. Whom would the Giants deploy to take advantage of Hayden, who usually plays on the outside in nickel packages? Might the Giants put the physically imposing
Hakeem Nicks
out there?
Graziano:
Yeah, Nicks plays on the outside with
Victor Cruz
in the slot and
Rueben Randle
on the other side when they go three-wide. But Nicks hasn't been himself. He's still capable of outfighting defenders for the ball and could be a tough matchup for Hayden, but he doesn't seem able to separate anymore and has had uncharacteristic issues with drops. He won't admit it, but he's playing like a guy in his walk year whose long-term future is on his mind. It's been one of many problems the Giants didn't anticipate, and if he has a big game against the Raiders, it'll be his first. He still doesn't have a touchdown this season.
Anyway, nice chatting with you, Paul. Travel safely, and I look forward to seeing you at the game Sunday.
January, 23, 2011
1/23/11
4:05
PM ET
By
Matt Mosley
| ESPN.com
The
Philadelphia Eagles
continue to search for a replacement for Sean McDermott at defensive coordinator. Jeff McLane of the Inquirer says the team has compiled
a "detailed list of candidates"
from which to choose from, but we haven't seen much evidence.
There's a decent chance the Eagles will interview an assistant from the final four teams in the playoffs. Mike Trgovac is the Packers' defensive line coach, and he has experience in the 4-3 scheme. I'd be stunned if the Eagles decided to change from the 4-3 to the 3-4, as I've pointed out several times.
The Eagles were going to talk to Saints secondary coach Dennis Allen this weekend, so we'll see if anything comes from that. New Orleans coach Sean Payton went out of his way to praise Allen and indicate the 38-year-old was ready to become a coordinator.
The Saints did a tremendous job getting takeaways in '09, but they tailed off this past season.