August, 13, 2010
8/13/10
8:00
AM ET
By
Matt Mosley
| ESPN.com
ARLINGTON, Texas -- It's too bad we can't get those 60 minutes of our lives back. The Cowboys' first-team offense once again failed in the red zone, and the backups didn't do any better in a
17-9 loss to the Raiders
. With the Cowboys having played Sunday, it was obvious they didn't belong on the field Thursday night.
The defense certainly had its moments, but the story of the game (from my vantage point) is that
Tony Romo
was sacked three times and the running game was non-existent. Other than that, it was a wonderful night of football. The Cowboys have nine days before playing a preseason game in San Diego. Maybe we'll get a better feel for where this team is at that point. But in the interest of producing a blog entry before most of you arrive at work, here are a few observations from Thursday's contest:
[+] Enlarge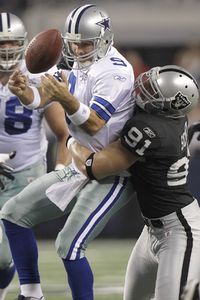 AP Photo/LM OteroTony Romo was sacked three times in Thursday's loss to Oakland.
The Cowboys were 0-for-4 in red zone efficiency, including a quick trip inside the 20 before Romo was sacked for a 9-yard loss. Dallas gave up six sacks in the game, three on Romo. The most disturbing to me was seeing Raiders defensive end Matt Shaughnessy beat Doug Free on a speed rush and then drag down Romo with one arm. Free was with Shaughnessy the whole time on the play, but he never delivered a solid punch. Shaughnessy's a nice second-year player out of Wisconsin, but he's not Trent Cole, Justin Tuck and Brian Orakpo. Free needs to clean things up before he meets any of those players. At least two of the three sacks on Romo were coverage sacks. He needs to do a better job of unloading the ball in those situations.

Linebackers Bradie James and Keith Brooking were both excellent in coverage in the first quarter. James was throwing his body all over the place and Brooking was superb in not letting anyone get separation from him. Brooking still moves really well. I hope Sean Lee is watching Brooking's every move right now. The rookie needs to get past this quadriceps injury and return to the practice field. Otherwise, he's not going to have a chance to earn time in sub packages. Bobby Carpenter was replacing Brooking in the nickel last season, but right now I wouldn't replace him with anyone.

Raiders safety Tyvon Branch was a mismatch for Jason Witten. The Pro Bowl tight end got plenty of separation and Romo hit him in stride for a big play on the first drive.

Miles Austin made a beautiful adjustment to a ball thrown slightly behind him in the first quarter for a 24-yard catch. Austin brought a lot of energy to the field Thursday and ran some excellent routes. On the twisting grab, he beat cornerback Chris Johnson. The Raiders are vulnerable on that side of the field.

Raiders defensive end Lamarr Houston had one of the sacks on Romo. He was able to sneak in the backside and crunch the quarterback. Romo didn't feel the pressure coming on the play. He just seemed content to stay in the pocket, and that wasn't helping matters. Of course, everyone in the stadium gasped when he took off running up the middle of the field on one play.

It was a good night for kicker David Buehler. He nailed a 42-yard field goal and then connected on two short ones. He also recorded three touchbacks. The 42-yarder was a good sign because that's a distance that plagued the team during a miserable stretch in '09. Buehler has all the confidence in the world. If he'll trust his leg, the distance will be there.

Cowboys cornerback Orlando Scandrick might be the best tackler of all the defensive backs. He does a really nice job of wrapping up and you don't see guys bounce off him. Scandrick decked wide receiver Louis Murphy early in the game. Then he absorbed a blow from James. The Cowboys were flying to the ball early.

The running game was awful, but I did see Marion Barber put a nice little move on cornerback Stanford Routt in the first quarter. He froze Routt with a little stutter-step. Barber stumbled after that and only gained 2 yards.

Romo and Austin have tremendous chemistry on the slant. On a third-down play, Austin got Johnson on his hip and then made a nice grab across the middle. Even when cornerbacks see it coming, they have an awful time getting inside position.

All the goodwill that Kevin Ogletree earned in the offseason is being wasted early in the preseason. He's not making contested catches and it just seems like there's a lack of concentration. I still think he'll make the roster as the fifth receiver, but he hasn't seized some of these extra repetitions that were created by Dez Bryant's absence.

Linebacker Victor Butler picked up a personal foul on a punt return. The officials will not have any tolerance this season for those blindside hits on defenseless players. There's just too much of a risk for head and neck injuries. Butler must have better awareness on that play.

In the first quarter, cornerback Terence Newman closed quickly to break up a Jason Campbell throw in the flat. Newman was in position to make the interception, but he opted for knocking down the ball with one arm. It was a very instinctive play and it caught Campbell by surprise.

Free-agent rookie Bryan McCann out of SMU had one really nice punt return (28 yards) late in the second quarter when he allowed Ogletree to set him up with a good block. McCann's also getting a lot of opportunities with the second-team defense. He was late on a Campbell throw to Murphy, but you can tell that he's not far away from making those plays. I get the sense that Wade Phillips is really pulling for McCann.

I was eager to see how former third-round draft pick Robert Brewster performed at left tackle against the Raiders. And once again, he turned in a dud. Not even the optimistic Phillips will be able to praise Brewster after Thursday's showing. His feet are stuck in neutral and there's absolutely no anchor. When you watch him, he's getting pushed directly toward the quarterback. He's most susceptible to an outside speed rush right now, and that's not a good sign. Brewster will keep getting chances, but I thought that was a poor showing. Brewster was also penalized for grabbing a defensive end as he raced past.

Butler does an excellent job getting pressure on the quarterback. He's so much more consistent this season in causing problems for the offensive line. And the other linebacker who caught my eye Thursday was Leon Williams. He's just a really tough player who brings some attitude to the field. Inside linebacker Jason Williams is still a work in progress, but he did race through and make a nice play against running back Michael Bush.

Safety Mike Hamlin suffered a neck strain and a concussion in the third quarter, according to ESPNDallas.com's Tim MacMahon. Some folks in the organization thought Hamlin might challenge Alan Ball for the starting role, but that hasn't happened so far in camp. The good news for the Cowboys is that Hamlin was the only player injured. That's a lot different situation than what took place against the Bengals.

Roy Williams and Romo weren't on the same page in the first quarter. On one play, Romo rolled right and wanted Williams to come back to him. Williams sort of posted up the cornerback along the sideline and hoped for the best. There wasn't any rhythm to his routes against the Raiders. By the way, Bryant gave Williams and the rest of the receivers some new shoes.

In one of the Cowboys' four trips inside the red zone, Jon Kitna rolled right and threw to Deon Anderson in the flat. It was a poorly conceived play on fourth-and-1. Linebacker Thomas Howard applied the pressure to Kitna.

I thought safety Danny McCray did a really nice job hustling over to break up a deep ball to Johnnie Lee Higgins. McCray's been a camp phenom, and I'm eager to see if he can keep it up in Oxnard, Calif., next week. The Beast will be on the ground in Oxnard beginning Sunday evening.

The Cowboys were 3-for-16 on third down. The lack of a running game put the Cowboys in third-and-long situations far too often. Losing in the preseason isn't a big issue, but this red zone issue is something that goes back to last season. The Cowboys need a touchdown from the first-team offense against the Chargers next Saturday.

Guard Pat McQuistan simply doesn't play with any power. Every time I watch him, he's getting thrown toward the quarterback. It's about time to move on without him. The Cowboys have invested a lot of time in him, but I don't think he'll ever be a starter. And he doesn't seem like a reliable backup. On the other hand, I like the backup center, Phil Costa. The guy will stand his ground and he seems to have a little attitude. Give me that guy over McQuistan any day. I also liked the way rookie Sam Young played.
February, 4, 2010
2/04/10
10:31
AM ET
By
Matt Mosley
| ESPN.com
FORT LAUDERDALE, Fla. -- Just when you thought Cowboys owner Jerry Jones had chased off the troublemakers at Valley Ranch, starting fullback
Deon Anderson
has been charged
with misdemeanor deadly conduct
for allegedly pulling a gun during a dispute at a Dallas area restaurant early Tuesday morning.

Anderson
Anderson was actually arrested at the scene over traffic warrants issued by the city of Irving, Texas, but the gun charge obviously takes this situation to a different level. A restaurant employee who filed a criminal complaint said Anderson retrieved a handgun from his car and threatened him with it, according to the police report. Police who were called to the scene of the disturbance retrieved a gun from some nearby shrubs and discovered it was loaded with a round chambered.
Anderson told ESPNDallas.com on Tuesday that his car wouldn't start after using the restauraunt's valet service and he wanted to know why. He said he did not put his hands on anyone and did not use profanity. But from the sound of these allegations, whether or not Anderson used foul language is the least of his worries.
I think the Cowboys should move quickly to cut Anderson. No matter how this ends up in the judicial system, it appears that Anderson used extremely poor judgment. He faces up to a year in jail and a fine of up to $4,000.
February, 3, 2010
2/03/10
10:39
AM ET
By
ESPN.com staff
| ESPN.com
Dallas Cowboys
New York Giants
Philadelphia Eagles
Washington Redskins
February, 3, 2010
2/03/10
9:26
AM ET
By
Matt Mosley
| ESPN.com
Dallas Cowboys
fullback
Deon Anderson
was
arrested early Tuesday morning
on traffic warrants after Addison, Texas, police were called to the scene of a disturbance between the player and employees of the BlackFinn restaurant. I didn't think an arrest over traffic warrants was worth mentioning last night, but the police report said two weapons were confiscated and Anderson's car was impounded for further investigation.
No charges have been filed in relation to the weapons at this time, but this investigation bears watching. Anderson told ESPNDallas.com that he exchanged words with a valet attendant and a security guard while attempting to start his car. The traffic warrants were from the city of Irving, so that's where he was booked into the jail at 5:21 a.m. Tuesday.
The Cowboys didn't have any response, but they acknowledged being aware of the arrest. We'll keep you updated on any developments in the investigation. To my knowledge, the 27-year-old Anderson hasn't had any scrapes with the law during his time with the Cowboys. He got in a fight with teammate
Flozell Adams
on the flight back from Philly last season, according to witnesses, but he laughed it off and said it wasn't a big deal.
December, 18, 2009
12/18/09
12:27
PM ET
By
Matt Mosley
| ESPN.com
The league sent over the Pro Bowl fan voting tabulations through Dec. 14 and it looks like the NFC East has fallen off the pace. I thought for sure that Eagles wide receiver
DeSean Jackson
would be among the top-10 in the overall (both conferences) totals but that's not the case. And the fact that
Brent Celek
's not among the top five tight ends in the NFC voting is a travesty.
Here's where you go to vote
.
Now let's update you on players from the NFC East who are at least in the top five at their respective positions:
Quarterbacks:
5.
Donovan McNabb
, Eagles: He's trailing
Kurt Warner
by about 60,000 votes. And
Drew Brees
and
Brett Favre
are in a tight race for the top spot.
Wide receivers:
2. DeSean Jackson, Eagles; 3.
Miles Austin
, Cowboys: Jackson has 377,807 votes but he's not going to catch
Larry Fitzgerald
. But it does look like he'll start for the NFC in the Pro Bowl unless Austin can make up about 39,000 votes on him. Of course, let's remember that the fan voting is only one-third of the process.
Tight ends:
4.
Jason Witten
, Cowboys: He has 243,220 votes and he'll get a strong push from the coaches and players. Right now he trails
Tony Gonzalez
,
Jeremy Shockey
and
Vernon Davis
. Shockey's had a nice season but he doesn't deserve to go in front of Witten. Eagles fans need to go online immediately and help out Celek. His numbers are off the charts this season.
Centers:
3.
Shaun O'Hara
, Giants; 4.
Andre Gurode
, Cowboys: With 204,300 votes, O'Hara is well behind
Jonathan Goodwin
from the Saints.
John Sullivan
of the Vikings is in first place.
Offensive tackles:
4.
Flozell Adams
, Cowboys: The players and coaches will give him a decent push but I don't think he'll make it this season. The Vikings' two tackles,
Bryant McKinnie
and
Phil Loadholt
are in the lead.
Guards:
5.
Chris Snee
, Giants: Even in a down season for the Giants, Snee has played pretty well. He should at least be two or three.
Fullbacks:
2.
Leonard Weaver
, Eagles; 3.
Deon Anderson
, Cowboys; 5.
Madison Hedgecock
, Giants. Weaver has brought another dimension to the Eagles' offense with his running ability. Anderson's a pretty good point of attack guy. Looks like Weaver has a lot of catching up to do on
Naufahu Tahi
of the Vikings.
Strong safety:
5.
Gerald Sensabaugh
, Cowboys: Pretty impressive in first half of season. Has played through a hand injury.
Cornerback:
1.
Asante Samuel
, Eagles: Close race between Samuel and the Packers'
Charles Woodson
. I expect Woodson to edge out Samuel once the coaches and players vote. But these will be your two starters. I thought
Mike Jenkins
or
Sheldon Brown
could've cracked the top five.
Defensive end:
3.
Osi Umenyiora
, Giants; 4.
Justin Tuck
, Giants: I like both of those players, but this is when you know it's about popularity. It's ridiculous that
Trent Cole
's not among the top five. And
Andre Carter
of the Redskins should be in there, too.
Defensive tackles:
3.
Albert Haynesworth
, Redskins: He's been pretty effective when he's actually in uniform. Absolutely ridiculous that
Jay Ratliff
's not on this list. The coaches and players will take care of him.
Free safeties:
5.
Ken Hamlin
, Cowboys: This is based on past accomplishments because Hamlin hasn't been a factor this season.
Inside linebackers:
4.
Keith Brooking
, Cowboys; 5.
London Fletcher
, Redskins: This is bound to upset Redskins fans. The guy's had another great season but the Susan Lucci of NFL linebackers could remain on the outside looking in. Even Lucci broke through at some point. Brooking's had an excellent season and deserves to be in the mix.
Kick returners:
2. DeSean Jackson, Eagles; 5.
Allen Rossum
, Cowboys: He's trailing
Percy Harvin
. I think Jackson is by far the best punt returner but the Pro Bowl voting doesn't draw a distinction between the two return jobs. Rossum had one return and pulled up lame on that one before eventually being released.
Outside linebackers:
1.
DeMarcus Ware
, Cowboys: Leads all outside linebackers with nearly 341,000 votes. I wouldn't mind seeing
Brian Orakpo
of the Redskins in the top five.
Lance Briggs
and
Clay Matthews
were Nos. 4 and 5.
Kickers:
2.
David Akers
, Eagles; 4.
Nick Folk
, Cowboys: Akers totally deserves it. Folk's fortunate to still be employed at this point in the season. Akers will have a lot of ground to make up on the Vikings'
Ryan Longwell
.
Punters:
2.
Jeff Feagles
, Giants; 4.
Mat McBriar
, Cowboys: McBriar's quietly having a huge season. Hopefully the coaches and players will recognize that.
Special teamers:
2.
Sam Hurd
, Cowboys; 5.
Chase Blackburn
, Giants: Hurd's overtaken
Pat Watkins
as the Cowboys' top special teams player this season. Blackburn's a solid special teams guy but I think
Bryan Kehl
has actually been better than him.
November, 26, 2009
11/26/09
5:04
PM ET
By
Matt Mosley
| ESPN.com
ARLINGTON, Texas -- The Cowboys have had a couple of big plays against the Raiders, but they only have three points to show for it. The holding penalty on fullback
Deon Anderson
on that last drive was huge.
Tashard Choice
had a long run to give the Cowboys the ball inside the Raiders' 10 yard line but the subsequent holding penalty forced the Cowboys to settle for a field goal.
One of the reasons it's difficult to score on the Raiders is that punter
Shane Lechler
is an unbelievable weapon. He can flip the field on you in a hurry. Early in this game, the Raiders have had some success in the running game. It looks like they're doing a nice job of moving defensive end
Marcus Spears
out of the running lanes.
The Raiders should have the ball deep inside Cowboys territory, but safety
Tyvon Branch
and defensive end
Trevor Scott
collided while both trying to intercept a
Tony Romo
pass that was telegraphed to Roy Williams.
December, 30, 2008
12/30/08
7:04
PM ET
By
Matt Mosley
| ESPN.com
Posted by ESPN.com's Matt Mosley
My former colleague Jean-Jacques Taylor made it back from Philadelphia in time to attend Cowboys safety Keith Davis' holiday birthday bash Monday night at the Ghostbar in downtown Dallas. Much like this former ESPN anchor, Taylor worked the "red carpet" at Davis' party, landing exclusives with Patrick Crayton, Deon Anderson, Bradie "Sandwich Board" James and Nick Folk.
It's nice to see that the Cowboys aren't taking Sunday's 44-6 loss too hard. You'd hate to see something like that affect their offseason. We'll keep you updated if any more parties for special teamers break out in the area.
Also make sure you observe the smile on Anderson's face when Taylor informs him of Wade Phillips' announcement that he's no longer Mr. Nice Guy. Patrick Crayton, not normally known for his tact during interviews, hops in to say that he's glad Phillips is changing his approach and hopes it leads to fewer penalties.
December, 30, 2008
12/30/08
6:42
PM ET
By
Matt Mosley
| ESPN.com
Posted by ESPN.com's Matt Mosley
You have to love the fact that Andy Reid keeps telling everyone he wasn't paying attention to the other games Sunday. He acknowledged that he heard some loud cheers while sitting in his office about 30 minutes prior to kickoff, but said he couldn't bring himself to watch any of the action.
But he still used those games as a motivating factor before the afternoon game against the Cowboys. The Eagles were about four or five minutes late running out of the tunnel Sunday because Reid wanted to wait until both the Bears-Texans and Bucs-Raiders games had been completed. Once the clock hit zero in the Raiders' improbable comeback win, Reid gave his team the signal to take the field.
Jerry Jones told me late Sunday night that he didn't think it was a case of the Cowboys not matching the Eagles' intensity early in the game, but he's absolutely wrong. That game Sunday was decided 10 minutes before kickoff. The Cowboys were looking for a reason to lay down one last time, and a remarkable turn of events provided that opportunity. The Cowboys weren't able to muster any fight until left tackle Flozell Adams and fullback Deon Anderson squared off on the flight home. Then linebacker Bradie James confronted a Cowboys fan/heckler wearing a sandwich board the following day.
Anyway, if the Eagles somehow make a deep playoff run, their fans will never forget those two early games Dec. 28th. I'm wondering if Reid's sent thank you cards or texts to Tom Cable and Gary Kubiak yet. If he hasn't, he should sit down and do that right now.
September, 21, 2008
9/21/08
9:42
PM ET
By
Matt Mosley
| ESPN.com
Posted by ESPN.com's Matt Mosley
GREEN BAY, Wis. -- With that 60-yard run, Felix Jones is the first Cowboys rookie to start his career with touchdowns in three games. From my seat high atop Lambeau Field, it looked like tight end Jason Witten did a superb job sealing Packers defensive end Cullen Jenkins to spring Jones.
Also let's bring up the fact that T.O. has two big hustle plays in this game. He raced all the way from the end zone to catch safety Nick Collins after a 61-yard interception return. The Packers only managed a field goal after that.
On the Jones run, T.O. raced from across the field to seal off the sideline for Jones. If Cowboys fans still think the club should've taken Rashard Mendenhall instead of Jones, I'm not hearing from any of them.
By the way, two nice plays by reserve tight end Tony Curtis tonight. With starting fullback Deon Anderson out for a couple of weeks with a knee injury, the Cowboys are rotating all three tight ends quite a bit. Witten's blocked a little more than he'd have to if Anderson was playing, but he's still making plenty of plays in the passing game.
September, 17, 2008
9/17/08
5:22
PM ET
By
Matt Mosley
| ESPN.com
Posted by ESPN.com's Matt Mosley

Anderson
We just heard from Cowboys head coach Wade Phillips (via news conference), who reports that starting fullback Deon Anderson will have arthroscopic knee surgery and miss two weeks. Using the Phillips injury formula, Anderson's career may be over.
But seriously, it wouldn't surprise me if Anderson misses a month. Wade's pretty optimistic when it comes to injuries. Dallas has three tight ends on the roster, and all them played against the Eagles. I don't see this as a big problem.
In some formations, you might even see Marion Barber line up in front of rookie Felix Jones. Phillips said during his news conference Wednesday that he'd like to see more of Jones at tailback. Guess he could simply walk down the hall and ask Garrett to increase Jones' workload at some point.
One more thing: In typical fashion, Phillips was very defensive about his defense's first-half performance against the Eagles. He pointed out the fact that the offense set up the Eagles for 14 of those points. Other than giving up the 60-yard bomb to DeSean Jackson, he thought the defense played pretty well.