December, 17, 2010
12/17/10
4:00
PM ET
By
Matt Mosley
| ESPN.com
»
NFC Final Word
:
East
|
West
|
North
|
South
»
AFC
:
East
|
West
|
North
|
South
Five nuggets of knowledge about Week 15
The Giants feel really good about their game plan for Michael Vick
. A lot of teams fear Vick, but the Giants seem to relish the opportunity to play against him. Vick didn't account for a passing touchdown the last time they played, and the Giants battered him and caused him to fumble twice, losing one. Giants defensive coordinator Perry Fewell learned from that experience and he's added some new wrinkles to his approach. Look for safety
Deon Grant
to play a large role in Fewell's blitz packages. The Giants have the ability to generate pressure without the blitz, but Fewell will bring a safety or a cornerback at times. The Giants have been excellent against the run (see
Adrian Peterson
), so I think
LeSean McCoy
will have most of his success in the passing game. He has 70 receptions and the Eagles love the screen game.
[+] Enlarge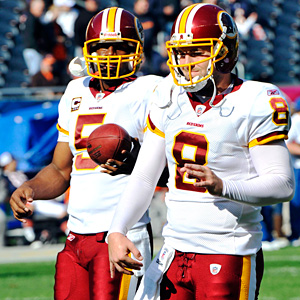 Rob Grabowski/US PresswireRedskins quarterback Donovan McNabb (left) has been benched in favor of Rex Grossman for Sunday's game against the Cowboys.
Will the Cowboys be able to slow down Rex Grossman
? The stunning news came down Friday morning that a healthy
Donovan McNabb
would once again be benched. The Cowboys have prepared for McNabb, but I don't think the prospect of facing Grossman is all that intimidating. At this point, it almost seems like the Shanahans get a kick out of shaking things up. I believe that Redskins offensive coordinator Kyle Shanahan has always been more comfortable with Grossman than McNabb. There have been reports that Kyle wanted to make this move about 13 weeks ago. Now his father will finally give him the chance. So much for that lucrative contract extension for McNabb. At this rate, it's hard to imagine his starting for the Redskins again. And while the Eagles respect McNabb too much to laugh about this, they certainly have to feel good about their decision. I sat down and watched a few plays from that loss to the Bucs. McNabb did have some awful throws that short-hopped receivers. He can normally play through those bad stretches, but the Shanahans are tired of waiting for him.
Eli Manning has to find someone he trusts on third down
. Manning has been really bad on third down this season, and a lot of that has to do with
Steve Smith
's being out with injuries. Since Smith's now been placed on injured reserve, Manning has to figure something out.
Hakeem Nicks
and
Mario Manningham
will need to concentrate more than ever because Manning can't afford any more deflections. (He's making enough mistakes on his own). This would be a good time for
Derek Hagan
to become a reliable third-down receiver. He's shown signs of being that player, but he's no Steve Smith. To me, Smith and the Eagles'
Jason Avant
are two of the best third-down receivers in the league.
Brian Orakpo loves playing against the Cowboys.
The
Washington Redskins
' outside linebacker and former University of Texas star grew up in Houston hating the Cowboys. He's the player who drew the infamous holding penalty on the Cowboys'
Alex Barron
in the season opener. As former NFL scout
Bryan Broaddus points out on ESPNDallas.com
, Orakpo does a really nice job of not allowing much of a hitting surface to offensive tackles. The Skins had the good sense to move Orakpo to the left side to face Barron last time. There's a good chance they'll do the same thing against right tackle
Marc Colombo
. Orakpo draws a lot of holding calls, and the Redskins basically count those as sacks. He causes offensive tackles to panic, and that's about the highest compliment you can pay a pass-rusher.
The Giants will try to exploit Eagles rookie middle linebacker Jamar Chaney.
With
Stewart Bradley
out for the rest of the regular season with a dislocated elbow, Chaney becomes the starter. He's a talented player, but you know that Giants offensive coordinator Kevin Gilbride will try to work him over.
You'll be able to tell early in this game how Chaney's going to play. It's a matchup the Giants will be looking at all afternoon. And if the Eagles' linebackers don't stay in their lanes against
Brandon Jacobs
and
Ahmad Bradshaw
, they'll be in for a long day.
Update:
Wow, thanks for all the comments regarding Chaney. I went off the rails for a minute. Appreciate the feedback.
October, 28, 2009
10/28/09
11:33
AM ET
By
Matt Mosley
| ESPN.com
Posted by ESPN.com's Matt Mosley
If I told you Cowboys quarterback
Tony Romo
had by far the best numbers against the blitz among NFC East quarterbacks, would you believe me? Well, that's exactly what the fine folks at ESPN's Stats & Information are telling me this morning.
Romo has the 10th best passer rating in the league (98.9) when teams bring at least one extra defender. Romo's thrown four touchdowns against the blitz and only one interception. Packers quarterback
Aaron Rodgers
is the best in the league against the blitz with a 136.7 rating. He's an astounding 40-of-51 for 706 yards, four touchdowns and only one interception.
If not for the dreadful work against the blitz by
Jake Delhomme
and
Derek Anderson
, Eagles quarterback
Donovan McNabb
would be the worst in the league with his 39.6 rating. He's 4-of-19 for 40 yards against the blitz. McNabb doesn't have nearly as many attempts against the blitz as other quarterbacks because he missed time with that rib injury. But he's about to make up for lost time when the Giants come to town Sunday. I think Bill Sheridan will send blitzes from all over the field. And
Osi Umenyiora
will be eager to face his old friend
Winston Justice
, the man who helped seal his first Pro Bowl appearance.
Giants quarterback
Eli Manning
is ranked 19th in the league with an 85.1 rating, but he's thrown for more touchdowns (7) against the blitz than any other quarterback. Only
Tom Brady
has attempted more passes against the blitz (98) than Manning's 96.
Redskins quarterback
Jason Campbell
checks in four spots behind Manning with a 77.9 passer rating. He's thrown for two touchdowns and three interceptions against the blitz. And by the way, Eagles backup quarterback
Kevin Kolb
checked in right behind Manning at No. 2o with an 83.7 rating. He threw for three touchdowns and three interceptions against the blitz.
Thanks once again to ESPN's Stats and Information group for passing this along. It's a tremendous resource for the Beast.
October, 19, 2008
10/19/08
3:26
PM ET
By
Matt Mosley
| ESPN.com
Posted by ESPN.com's Matt Mosley
LANDOVER, Md. -- Almost everyone in the FedEx Field press box has stopped what they're doing to watch the St. Louis beat up on Dallas.
It's 31-7 Rams in the third quarter, and you get the feeling some Redskins officials (and fans) are enjoying this one. Of course, the Rams stopped by FedEx Field last Sunday and beat the Redskins, 19-17.
Quarterback Brad Johnson has absolutely no shot right now. I think Flozell Adams just sacked him!
Anyway, the story from here is that cornerback Shawn Springs will miss the game, but Fred Smoot will be able to take his place. Carlos Rogers and Smoot are both banged up, so this could be a tough spot for the Redskins' secondary. Safety Chris Horton will start, but he's been slowed by an ankle injury.
The Redskins may get a lift from defensive end Jason Taylor, who has been fighting injuries throughout the season.
The most positive news for Browns fans is that tight end Kellen Winslow will play. I'm watching Derek Anderson warm up with Braylon Edwards at midfield as we speak. I think the Browns will try to take a couple of shots early in this one.
Antwaan Randle El, Santana Moss and James Thrash just came sprinting out of the Redskins' tunnel. Randle El was hopping up and down. Not sure if that's normal protocol for him.
Keep your eye on how many carries Clinton Portis has today. He was listed as doubtful this week, but no one expected him to miss the game.
I think Shaun Alexander is simply an insurance policy in this game. Rock Cartwright will get the carries when Portis needs rest. Washington Post columnist Mike Wise thinks Alexander might have something left in the tank.
October, 14, 2008
10/14/08
12:44
AM ET
By
Matt Mosley
| ESPN.com
Posted by ESPN.com's Matt Mosley


So much for the Giants running away with the NFC East. From the start, you could tell the Browns had more energy than the Giants. I thought the score late in the first half would give New York some momentum, but Eli Manning came back and threw an interception.
He'd done a superb job of limiting his mistakes in the first four games, but he had a miserable night against a pedestrian secondary. Even after all the mistakes, the Giants had a chance to get back in the game in the fourth quarter but the Browns' defense kept making big plays in the red zone.
Tom Coughlin said after the game that he didn't see this coming. The defense didn't put enough pressure on Derek Anderson, giving time to make plays downfield to Braylon Edwards. I was startled to see a graphic late in the game that the Giants didn't force a single punt in the game. This is one of the best defenses in football, but they were dominated by the Browns' offensive line Monday.
Cleveland did a great job of committing to the running game and Jamal Lewis finished with 88 yards on 21 carries. The running game opened up the play-action pass and Edwards finished with five catches and 154 yards.
The Giants thrive on sacks, but they were shut out Monday. The Browns used a lot of three-step drops in the first half to keep them off balance. The Browns couldn't afford to fall to 1-4, and they turned that desperation into a positive.
Overall, it was a pretty rough weekend for the NFC East. The Giants will host the 49ers next Sunday, so they should be able to improve to 5-1. Something tells me they won't get caught looking past San Francisco.
Derrick Ward and Brandon Jacobs combined to run for 168 yards but that wasn't enough to offset Manning's mistakes.