November, 27, 2010
11/27/10
3:52
PM ET
By
Matt Mosley
| ESPN.com
Hope you guys had a wonderful Thanksgiving. I'm preparing to board a flight bound for Chicago's O'Hare Airport because I hear it's a neat place to visit during the holidays. The Beast blog will be attending Sunday's Bears-Eagles game, but I'll also be observing the Redskins and Giants. Now, let's see if we have any leftovers in this week's special holiday Mailbag:
Drew in Chicago, what's on your mind?
Love the blog and honestly, you are the reason I come to ESPN.com. We have seen
Peyton Manning
time and time again make average receivers into major contributors in the Colts' offense. If Eli is able to do the same with Manningham, Calhoun, Hagan and Clayton in the coming weeks, do you think he silences the naysayers that still consider him to be a slightly above average QB? Or will he never be able to shed this stereotype simply because of the greatness of his brother?
Mosley:
Drew, thanks for the kind words. I think Eli will always carry the "overrated" tag, in part, because of his older brother's greatness. But I do think that putting this team on his back for a couple weeks with
Steve Smith
and
Hakeem Nicks
out with injuries could earn him a little more respect. It's not like Peyton had to go through long stretches without
Marvin Harrison
or
Reggie Wayne
over the years, so I'm not sure it's fair to say he's done it with "average" receivers. The Colts do a nice job identifying young receivers who fit their system.
Austin Collie
might not be a star for the
New York Giants
, but I'm not sure that makes him "average." Peyton's already done enough to be a first-ballot Hall of Famer in my opinion. I don't think Eli's anywhere close to that right now, but I do know they have the same amount of Super Bowl rings.
---
Jason from Bryn Mawr, Pa., has a question about how we perceive this 3-8 Cowboys team:
Ok, I know that this loss looked and felt different than losses earlier in season, but if we examine more closely, how much different is it really from the early season losses to Washington, Chicago, etc.? It obviously showed great character for the team to fight back after going down 17-0 early, but ill-timed penalties and another fluke turnover cost this team another game (just like Chicago and Washington).
Mosley:
The Cowboys lost those games you referenced when we still thought they were playoff contenders. That obviously changed when the players quit on Wade Phillips and themselves en route to a 1-7 record. Even though Jason Garrett led the Cowboys to consecutive wins, I don't think a lot of folks felt great about their chances of beating one of the NFC's best teams Thursday. I think being able to fight back from a 17-0 deficit and eventually take the lead will serve this team well in the future. Garrett's raised everyone's expectations again in only three weeks as the interim head coach, and that's why he has to be considered the leading candidate for the job right now. I realize there were some mistakes in this game by the Cowboys, but none of them had to do with poor effort. That was the biggest indictment of these players before the man from Princeton took over.
---
Tom in Seattle has a question about Kevin Kolb's trade value:
Just finished reading your thoughts on Kevin Kolb's
off-season trade value
and was a bit surprised by the relatively low value (2nd rounder) you think he has around the league. We're talking about a high second-round draft choice with four seasons of pro training in a complicated offense, along with a proven ability to excel (two NFC player of the week awards in six NFL starts). If you're a team in need of a starting quarterback, why use a first-rounder on an unproven commodity who will be paid franchise quarterback money?
Mosley:
Tom, it's a fair question. I just know that the Eagles were reportedly seeking two first-rounders for Kolb at one point last season, and that seems a bit steep. There are a few general managers out there who love Kolb (Tom Heckert in Cleveland, for example), but that team already appears to have a fine young quarterback in
Colt McCoy
. I think Kolb's a sure-fire starter in the league, but the Eagles need to have someone reliable behind Vick because he takes more punishment than a lot of quarterbacks. As ESPN's Adam Schefter suggested recently, it's likely the Eagles will be content to retain both quarterbacks in 2011. They'll slap the franchise tag on Vick (roughly $15 million) and then keep Kolb as his backup. That is, unless a team such as the Bills or Vikings decide they can't live without him.
---
Andrew from New York has an issue with Chris Canty:
Just to make sure, Chris Canty plays for the Giants defense, which has bragged about how many quarterbacks it has managed to injure this year, correct? The same one that had a stated goal of trying to knock
Michael Vick
out of the game? The first [Todd] Herremans play was certainly worthy of a call, but let's not blow this out of proportion -- or pretend that the Giants have clean hands.
Mosley:
Canty doesn't say a lot to reporters, but he chose to call out Herremans last week for what he perceived to be "dirty" play. Herremans was able to respond and everyone moved on with their lives. I think every team wants to get some shots on the quarterback, and most of them don't feel bad when the quarterback is forced out of a game. I've never thought the Giants were a particularly dirty team, but I understand where you're coming from. I haven't really noticed New York's defenders doing anything out of the ordinary when they've knocked quarterbacks out of the game. In the game against the Bears, they simply pounded
Jay Cutler
into submission with repeated sacks and hits. Linebacker
Michael Boley
broke
Tony Romo
's collarbone, but it didn't happen on a particularly violent play. He drove Romo to the turf on a legal hit.
---
Stephen in Philadelphia has a question about Cowboys wide receiver Kevin Ogletree:
Last year near the end of the season, Kevin Ogletree was starting to steal snaps from Roy Williams and actually made a few plays in those back to back games with Philly. I thought we had a future No. 2 WR on our hands. What happened with this guy?
Mosley:
I think Ogletree simply fell out of favor with Jason Garrett. The Cowboys needed him to be a contributor on special teams, but he wasn't getting it done. And he didn't have the type of training camp that everyone was expecting. Ogletree appears to have a lot of talent, but he loses focus at times and will drop easy balls. If you're doing that during preseason games, you're probably not going to see the field in the regular-season. If he doesn't make a major move this offseason, he won't be on the roster in 2011.
---
John from Niwot, Colo., has a Washington question:
The Redskins are an incredible 4-2 against teams with the same or better records than them this year, including a very close loss to the Colts. But they are 1-3 against teams with a worse record. In fact, the team the Redskins lost to have a combined 23-27 record while the teams they have beaten have a combined 29-21 record. What's up with that?
Mosley:
John, you've done entirely too much research on this issue. The Redskins are trying to make the transition to a 3-4 defense on the fly and adjust to a new quarterback. They dominated the Eagles at the line of scrimmage in their first matchup and then were overwhelmed in Game 2 at FedEx. (And Vick was knocked out before halftime.) I think some of this is to be expected. This is a hard team to get a read on because they just don't have any consistency. They went to Tennessee and won an important game. But I could totally see them getting embarrassed at home against the Vikings on Sunday. This is about a .500 team -- and that's quite an improvement over last season.
November, 24, 2010
11/24/10
2:59
PM ET
By
Matt Mosley
| ESPN.com
Philadelphia Eagles
cornerback
Asante Samuel
will
make a $40,000 contribution to the NFL's charity of choice
over the holidays. Samuel, who had two interceptions in a 27-17 win over the Giants on Sunday night, was fined for his helmet-to-helmet hit on New York's
Derek Hagan
.
Samuel's one of the best ballhawks in the game, but he's been mostly allergic to contact during his career. But he leveled Hagan after a short catch and was called for a 15-yard unnecessary roughness penalty. Coach Andy Reid appeared to be upset with the call during the game, but he didn't want to comment on it afterward. In real-time, it looked like Samuel led with his shoulder, but replays showed that he initially made contact with his helmet.
With the league taking a stronger stance against helmet-to-helmet hits, Samuel may return to his former approach.
November, 23, 2010
11/23/10
2:05
PM ET
By
Matt Mosley
| ESPN.com
The New York Giants will sign former Tampa Bay wide receiver Michael Clayton to a one-year contract Tuesday,
according to ESPN's Adam Schefter
. Clayton surpassed 1,000 yards and had seven touchdowns his rookie season in '04, but he was a huge disappointment after that. He just finished up the season with the UFL's Omaha Nighthawks.
It's been reported that NFL teams have to pay a $150,000 "transfer fee" to sign UFL players, but a Giants source told me Tuesday morning that wouldn't be the case with Clayton. He'll now join the Giants' thin rotation at receiver. Mario Manningham and Derek Hagan will likely start against Jacksonville on Sunday, but Clayton could quickly become the third or fourth receiver for New York.
I looked back at Clayton's career to see if he'd ever had success against the Giants, and he really hasn't. He had 39 yards receiving in that playoff loss to the Giants at the end of the '07 season. In his other games against New York, he was nearly shut down completely. After his rookie season, his best year came in '08, when he had 38 catches for 484 yards and one touchdown.
Unless the 28-year-old Clayton can turn the clock back about six years, I don't think you should expect a lot out of him this season.
November, 23, 2010
11/23/10
10:34
AM ET
By
Matt Mosley
| ESPN.com
The leg injury to star receiver
Hakeem Nicks
has once again sent the
New York Giants
scrambling for reinforcements. Last week they brought back veteran
Derek Hagan
, who has a good grasp of the offense. Now it looks like Hagan will be starting opposite
Mario Manningham
on Sunday against the
Jacksonville Jaguars
.
There's also a good chance the Giants will sign another wide receiver today. Mike Garafolo of the Star-Ledger
has provided a list of candidates
, and you'll notice former Eagle
Kevin Curtis
at the top of the free-agent portion. Former Tampa Bay receiver
Michael Clayton
, who just finished up his UFL season, is also on the list. Garafolo mentions that the Giants would have to pay a $150,000 "transfer fee" for the rights to Clayton, but a team source told me Tuesday morning that's not the case.
The UFL championship game will take place later this week, but Clayton's Omaha Nighthawks will not be involved. If the Giants want to sign Clayton to a free-agent contract, they believe they'll be doing it free and clear of any UFL obligations. We'll keep you posted throughout the day.
November, 17, 2010
11/17/10
9:59
AM ET
By
Matt Mosley
| ESPN.com
With
New York Giants
wide receiver
Ramses Barden
being placed on injured reserve with ligament damage and a fractured ankle,
Derek Hagan
was
signed to the 53-man roster
. It's not like Barden had been an impact player during his two years with the team, but he was about to get his chance prior to the injury.
Hagan's not going to be a huge factor in the passing game, but he knows the offense and can help on special teams. I'm anxious to see what
Duke Calhoun
can do as the third receiver.
August, 1, 2010
8/01/10
7:10
PM ET
By
Matt Mosley
| ESPN.com
ALBANY, N.Y. -- It only took about 10 minutes to realize that the 2010
New York Giants
training camp will have a completely different feel. New defensive coordinator Perry Fewell has been hailed for his enthusiasm, and he quickly lived up to his billing by leading his unit in a spirited game of "hot potato" with the football.
The single-elimination tournament forced players to launch the ball back and forth at each other, and the last two standing were safety
Sha'reff Rashad
and defensive end
Mathias Kiwanuka
. Fewell declared Rashad the winner because Kiwanuka threw the ball over his head. But the main thing was that every defender was shouting and laughing, which didn't bring back memories of the regrettable Bill Sheridan era.
[+] Enlarge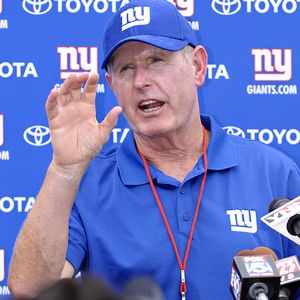 AP Photo/Hans PenninkCan Tom Coughlin right the ship before the it's too late?
"I hear that screeching," Coach Tom Coughlin said of Fewell's voice. "He's got good energy, great personality. Lively persona, energy in the classroom, energy on the field. The players had the spring with him, so they had an opportunity to get to know a little bit about how he coaches and how he approaches things. His enthusiasm is a good thing."
It appears Fewell will bring a lot more energy to the table, but general manager Jerry Reese said after practice that the players would ultimately have to be the ones to deliver.
"Bill Sheridan gets thrown under the bus," said Reese, who was sipping on Pedialyte to battle a stomach virus. "I don't care if Vince Lombardi's calling the plays, you have to go out and execute the plays."
The "hot potato" drill was the high point of the afternoon, because the rest of practice was pretty much a jog-through. But I still jotted down some observations for those of you who are still reading this entry:
I'm sure Coughlin loved watching cornerback Aaron Ross make some nice adjustments to the ball in interception drills. Ross spent most of last season's training camp nursing a hamstring injury, but he was one of the quickest players on the field in Sunday's practice. When he did drop an interception, he picked up the ball and spiked it into the ground. He just looked more intense then some of his teammates, and I think that has something to do with him missing so much time last season. And maybe the fact that he wants to play cornerback, not safety.
Defensive tackle Chris Canty appears to be in excellent condition and that's why he was singled out by Coughlin after practice. Coughlin used a different phrase to describe running back Gartrell Johnson's conditioning: "Rigor mortis." Needless to say, he was not impressed with how Johnson performed on his conditioning test.
Reese doesn't think rookies Jason Pierre-Paul and Linval Joseph need to be babied early in camp. He told us that both players will be thrown into the defensive line rotation from the start, and that he expects immediate results. I'll keep a close eye on those guys during Monday's sessions. They were mostly involved with the scout team Sunday.
[+] Enlarge

AP Photo/Hans PenninkGiants general manager Jerry Reese expects immediate results from first-round pick Jason Pierre-Paul, right.

I'm hesitant to tell you that Ramses Barden is once again off to a quick start. I sort of went overboard on Barden after watching him in camp last year, and then he couldn't get on the field during the season. He's now catching everything with his hands instead of his body and everything seems smooth. Reese said Barden can be a "difference maker" this season.
For a man who had ACL surgery about seven months ago, I thought 33-year-old Keith Bulluck looked pretty quick in drills. The Giants will bring him along slowly, but I do think middle linebacker is his job to lose. It had to be strange for him to start a training camp with another team after a decade with the Titans. When the horn blew to go to the next drill, you could tell that Bulluck was a little unsure what to do. But he's a highly intelligent player who will catch on quickly.
Some of my beat-writing buddies were so busy tweeting about how poorly rookie punter Matt Dodge was hitting the ball that they might have missed two consecutive 55-yard bombs with excellent hangtime.
Hakeem Nicks is so far down the road compared to last year at this time that it's silly. He does a nice job of staying low when he comes out of his breaks. Sort of reminds me of Terry Glenn in his younger days. Glenn was an excellent route runner when he first got to the Cowboys in 2003. Tony Romo used to marvel at how Glenn consistently got open against some of the top cornerbacks in the league. Nicks looks like he's run about 800 of those quick hooks this offseason.
Eli Manning hit Derek Hagan on a fly pattern down the right sideline. Manning actually threw a duck, but the ball reached its intended target. Manning's also on the Barden bandwagon: "Well he had a really good spring. Last year he didn't get a whole lot of playing time, when he did get in he made some things happen," Manning said before Sunday's practice. "But he had a really good spring, he's a smart guy, he understands the offense and what's going on, especially for a guy who hasn't had much playing experience. So it'll be good to get him in the preseason games and other games and see how he does. But he's a big target with big hands and he's excited about what he can do and how he can help improve our offense."
I think tight end Travis Beckum will be one of the breakout players from this camp. Reese and Coughlin have both bragged on him, and he's already displaying a lot more confidence. He's a big target with some speed. If Beckum can take the next step, he and Boss could be an effective duo.
Mario Manningham had his ups and downs last season, but on Sunday, he caught everything thrown his way. I like how all the Giants receivers are snatching the ball out of the air instead of letting it get into their bodies.
Cornerback Terrell Thomas might emerge as one of the better cover guys in the division. He had a solid season in '09 and he appeared to be closing fast on everything thrown in his direction Sunday. After Mike Jenkins and perhaps Asante Samuel, I think you have to think about putting Thomas in there. He has so much confidence right now.
For the Giants, this camp is going to be about reclaiming their identity as a physical football team. I heard that from almost everyone Sunday. And a lot of that starts with the running game. New York had to lean heavily on the passing game in '09 because the run wasn't working. The Giants made some changes in the offseason, but a lot of these guys were around for the embarrassment of '09. They're not going to dwell on that .500 season, but it's a decent point of reference. I also like the fact that none of the players and coaches are trying to pin everything on injuries in '09. Some of it had to do with the Giants flat-out stinking, and that's being acknowledged.
Some of you guys want to know how the offensive linemen look. I'll take a long look at those guys tomorrow. Let's hope Coughlin lets them bang around a little bit in the morning. Not much meat on the bone in Sunday's practice.
March, 4, 2010
3/04/10
9:49
AM ET
By
Scouts Inc.'s Matt Williamson
| ESPN.com

Dallas Cowboys
Potential unrestricted free agents
: G
Montrae Holland
Potential restricted free agents
: NT
Junior Siavii
, WR
Miles Austin
, DE
Stephen Bowen
, CB
Cletis Gordon
, DE
Jason Hatcher
, WR
Sam Hurd
, T
Pat McQuistan
, C
Duke Preston
, G
Cory Procter
, S
Gerald Sensabaugh
, DE
Marcus Spears
, S
Pat Watkins
, K
Shaun Suisham
.
What to expect
: Anything is possible with Jerry Jones in charge, and the Cowboys could make a big splash after an underwhelming offseason a year ago. But in terms of team needs and what is required to take the next step, Dallas really doesn't need much. A big-time impact safety makes some sense and could make a very good defense great, but that might be a project for the draft in a trade-up scenario for someone like Earl Thomas. But
Darren Sharper
might pique their interest. They also need to get younger along the offensive line, particularly at tackle, but that seems like a draft-day project, too. Maybe Jones gets real aggressive in the wide receiver market, as
Roy Williams
certainly is not living up to his billing, but the Cowboys are still rather stacked with pass-catchers. All in all, this is a team that is sitting pretty and doesn't have a prominent unrestricted free agent who is poised to leave.

New York Giants
Potential unrestricted free agents
: QB
David Carr
, LB
Danny Clark
, P
Jeff Feagles
, DT
Fred Robbins
Potential restricted free agents
: WR
Domenik Hixon
, TE
Darcy Johnson
, DE
Dave Tollefson
, G
Kevin Boothe
, S
C.C. Brown
, DT
Barry Cofield
, CB
Kevin Dockery
, WR
Derek Hagan
, WR
Sinorice Moss
, T
Guy Whimper
, LB
Gerris Wilkinson
.
What to expect
: Big things could be in the works here, as there are already rumors swirling that New York could be a prime suitor for linebacker
Karlos Dansby
. An impact linebacker is certainly near the top of their wish list and Dansby fits the bill. Plus, he is extremely versatile. Getting faster on defense is a huge priority with new coordinator Perry Fewell stressing the ability to cover a lot of ground. However, Dansby isn't really the thumper they need in the middle and is more of an outside linebacker for this system, although he would be great on passing downs. This is a group of decision-makers who might be starting to feel some heat, so do not rule out a big move or two.

Philadelphia Eagles
Potential unrestricted free agents
: DE
Jason Babin
, S
Sean Jones
, LB
Jeremiah Trotter
, LB
Tracy White
Potential restricted free agents
: LB
Akeem Jordan
, P
Saverio Rocca
, WR
Jason Avant
, C
Nick Cole
, LB
Omar Gaither
, LB
Chris Gocong
, CB
Ellis Hobbs
, G
Max Jean-Gilles
, TE
Alex Smith
, FB
Leonard Weaver
.
What to expect
: There are questions on the offensive line, but overall, the Eagles are in a prime situation to improve their defense, particularly up front and at safety. Remember, they have quarterbacks to dangle as trade bait and really do not have any unrestricted guys that they need to bring back. This is a possible landing spot for
Julius Peppers
and he would be terrific on the opposite side of
Trent Cole
, who is among the most underrated players in the game and could blow up with someone taking pass protection attention away from his side. Count on the Eagles being aggressive in the free-agent and/or trade market. It might just be enough to get them that ever elusive Lombardi trophy. Stranger things have happened.

Washington Redskins
Potential unrestricted free agents
: LS
Ethan Albright
, DE
Phillip Daniels
, T
Levi Jones
, C
Casey Rabach
,
P
Hunter Smith
, T
Mike Williams
, DE
Renaldo Wynn
, TE
Todd Yoder
.
Potential restricted free agents
: DE
Lorenzo Alexander
, T
Stephon Heyer
, LB
Chris Wilson
, QB
Jason Campbell
, S
Reed Doughty
, DT
Kedric Golston
, LB
Rocky McIntosh
, DT
Anthony Montgomery
, C
Will Montgomery
, CB
Carlos Rogers
.
What to expect
: This is a difficult team to get a grasp on in terms of what they might do in free agency, but I think it is safe to say that ownership will not hold Mike Shanahan and company back from opening up the check book and signing (and even overpaying) players whom they desire. It would be wise for Washington to have an excellent idea of what they are going to do with the fourth overall draft pick in terms of going quarterback or offensive tackle before really devising a free-agency plan. Rebuilding the offensive line is a must and Shanahan needs lighter, quicker (and younger) linemen than are on the roster. A running back they can trust wouldn't hurt either, although it looks as though
Clinton Portis
will return, which they may regret. But don't forget, this is a team that -- unwisely in my opinion -- is switching to a 3-4 scheme, so inside linebacker help is required, as are defensive linemen who fit the new scheme. The Redskins have a long wish list, but also have the ownership to endorse big spending when free agency opens.
September, 21, 2009
9/21/09
2:34
AM ET
By
Matt Mosley
| ESPN.com
| | |
| --- | --- |
| | |
| | Tim Heitman/US Presswire |
| | Eli Manning led the Giants on the winning drive as New York took control of the NFC East. |

Posted by ESPN.com's Matt Mosley
ARLINGTON, Texas -- As kicker
Lawrence Tynes
drilled a 37-yard field goal with no time remaining, the only sound in the packed press box was Giants co-owner John Mara slapping the back of his seat repeatedly. A crowd of 105,121 -- the largest in NFL history -- fell silent as Giants players and coaches raced onto the field to
celebrate a 33-31 win
.
Now the Giants begin the puff-pastry portion of their schedule with sole possession of first place in the NFC East. Before kickoff, they watched former president and Dallas resident George W. Bush and his wife Laura conduct the coin toss. Moments earlier, the Cowboys had unveiled their blue and white star at midfield following a video that compared their new stadium to lesser-known venues, such as The Great Wall of China and the Parthenon.
It was a perfect night for Cowboys fans -- right up until Giants quarterback
Eli Manning
trotted onto the field with 3:34 left in the game. Manning has made a habit of fourth-quarter comebacks, and the Cowboys left him entirely too much time when they took a 31-30 lead on
Felix Jones
' 7-yard touchdown run.
After a holding penalty put the Giants in a first-and-20 hole at their 15-yard line, Manning went to work. He said he tried to calm down his teammates by "not saying anything.'' On second-and-18, he scrambled to find a
Derek Hagan
for a 12-yard gain. With first-round pick
Hakeem Nicks
not suited up because of an injury and
Domenik Hixon
out of the game in the first half with a knee sprain, the Giants had to turn to Hagan. When the special-teams ace saw Manning in trouble, he came racing back toward him to make a play.
"Hagan earned a spot on this roster," Manning said after the game. "He did a really nice job on the scramble drill."
Manning then started firing passes to wide receivers
Steve Smith
and
Mario Manningham
, who combined for 284 yards and two touchdowns. At this rate, all the questions about the Giants' ability to replace
Plaxico Burress
' production will disappear by the end of this month. Smith and Manningham toyed with Cowboys cornerbacks
Orlando Scandrick
and
Terence Newman
. The deep balls that had been so hard to come by the last couple years were there for the taking against an overwhelmed Cowboys secondary.
The Giants had a third-and-4 at the Cowboys' 41-yard line with 39 seconds left when Manning delivered a ball toward Manningham that was tipped at the line of scrimmage by nose tackle
Jay Ratliff
. Manningham adjusted nicely and his 8-yard grab put the Giants in good shape.
"They came out with an all-out blitz," Manning said. "We had a slant backside to Mario. He got open, he won. He did a great job of staying with it and concentrating on getting the catch. It was a big play for us."
Manning was 25-of-38 for 330 yards and two touchdowns. He was frustrated by the Giants' lack of production in the red zone, but he never got greedy. Meanwhile,
Tony Romo
was having one of the worst performances of his career. The only reason the Cowboys had a chance to win the game was because they gashed the Giants in the running game for 251 yards.
Marion Barber
and Felix Jones were brilliant in locating seams in the Giants' defense -- and it certainly helped that Pro Bowl defensive end
Justin Tuck
was on the sideline with a shoulder injury following a
Flozell Adams
tripping penalty.
| | |
| --- | --- |
| | |
| | Ronald Martinez/Getty Images |
| | The Cowboys had success rushing the ball but the Giants intercepted Tony Romo three times. |
Romo had three interceptions, including one that was returned for a touchdown by undrafted rookie cornerback
Bruce Johnson
. But late in the third quarter, Romo and the Cowboys had a chance to put the Giants away. With a first-and-10 from the Giants' 46-yard line, Romo inexplicably threw a deep ball to
Sam Hurd
, who was bracketed by two defenders. Safety
Kenny Phillips
made the easiest interception of his career, which happened to be his second of the evening -- and the Giants were given new life.
Romo spent most of training camp promising that he would protect the ball this season, but he made too many careless throws Sunday night and ended up issuing an apology after the game.
"I'm really, really disappointed in myself right now," Romo said. "You work so hard on something and you try to do certain things to change them. It's disappointing and frustrating. I'm really not OK with it right now and I'll try to rectify tomorrow and tonight to get better and improve."
At least he didn't turn to his "life goes on" speech from last year's Philly game. But that was the only positive sign from Romo. On a night he simply needed to make the smart plays, he came up woefully short.
Jacobs sounds off on Jerry Jones:
Last week, running back
Brandon Jacobs
told me that the Cowboys should have scheduled the Lions instead of the Giants for the stadium opener. And Sunday, he tried to explain to me where his hatred for the Cowboys comes from.
"I hate the Cowboys straight up," Jacobs told me. "It's beginning to be a personal thing. And it's been like that since I was a kid. I've been wishing bad things on them for a long time. I was a hateful little kid. Everyone loves them, so I had to hate them."
Asked what he thought about the new stadium, Jacobs said: "It's a beautiful place. It was nice of Jerry to invite us down here. But he better be careful what he asks for next time. Last year, [Jones] said he wanted to play us on Broadway, and then he got his ass beat. They got whooped 35-14 on Broadway."
September, 11, 2009
9/11/09
10:26
AM ET
By
Matt Mosley
| ESPN.com

Posted by ESPN.com's Matt Mosley
As we've long suspected, it looks like
Steve Smith
,
Domenik Hixon
and
Mario Manningham
will begin the season as the Giants' top three wide receivers. But offensive coordinator Kevin Gilbride indicated Thursday that some of the other wide receivers could play a much larger role as the season unfolds.
"Certainly, a lot of questions have been answered in our minds," Gilbride said. "Please understand I don't want to necessarily acknowledge it to them exactly what we're doing and who's going to be where, but some things have clarified themselves and some things are definitely still ongoing. Quite candidly, I think some guys are in a position to play more this Sunday, but as the year goes on, maybe other guys will become more and more an integral part of what we're doing. At least that's kind of what I think is going to happen."
Reading between the lines: I think
Hakeem Nicks
will crack the starting lineup in October if he continues his steady rise. I think Smith and Hixon will do a fine job as the starters, but Nicks has game-breaking qualities. The Giants are fortunate to have enough depth to sort of bring Nicks and
Ramses Barden
along at their own pace. Of course, that could change in a hurry if Smith and Hixon don't make some plays early in the season.
As I watched former Rutgers star
Kenny Britt
line up for the Titans on Thursday, you could tell the team had no other choice but to lean on him pretty heavily. I think Gilbride will do that with Nicks at some point this season, but he doesn't want to rush it.
So which receivers do you think Tom Coughlin will take to the game Sunday? He's obviously not going to have all seven guys active.
Derek Hagan
's a good special-teams player, so I think he'll be active. Perhaps Barden's the odd man out early in the season. What do you guys think?
Sinorice Moss
?
September, 5, 2009
9/05/09
6:34
PM ET
By
Matt Mosley
| ESPN.com

Posted by ESPN.com's Matt Mosley

Biggest surprise:
I guess
Sinorice Moss
actually making the team would qualify as somewhat of a surprise. He thought his days with the team were numbered, but he had two touchdowns in the Giants' final preseason game. The fact that Moss and
Derek Hagan
are both on the final roster is pretty surprising. The Giants now have seven receivers on the 53-man roster. That could certainly change if they make a move before the season opener or immediately after. I'm mildly surprised by
Darcy Johnson
making the team over Mike Matthews, who has played in every game the past two seasons. Matthews was traded to New England for a conditional draft choice. Johnson has more athleticism and his blocking's improved. Interesting to see the Giants release both
Rhett Bomar
and Andre' Woodson. They were both pretty bad in the final preseason game. I'm sure general manager
Jerry Reese
will try to sneak Bomar through to the practice squad. I'm a little surprised about former Penn State defensive end
Maurice Evans
getting cut. I don't think the Giants will be able to get him on the practice squad.
No-brainers:
Cornerback
DeAndre Wright
looked OK early in camp, but he was exposed in the preseason. The Giants love to keep draft picks, but I'm not sure Wright will even be considered for the practice squad. He was outplayed by an undrafted player named
Bruce Johnson
, who made the 53-man roster. I also think safety
Travonti Johnson
is a no-brainer. Every time I looked up, Johnson was giving up a deep ball. And he didn't bring enough on special teams.
What's next:
The Giants will be scouring the waiver wires to see who ends up getting cut along the offensive and defensive lines. With defensive tackle
Jay Alford
out for the year and
Chris Canty
still nursing a hamstring injury, I think Reese will keep his eye on some rookes who were released from other teams. And it's not like they have tremendous depth on the offensive line. I think
Cliff Louis
had every chance to make the team, but he made far too many mental mistakes. And the penalties didn't help. Glad to see defensive tackle
Dave Tollefson
grab one of the final spots. Interesting to see
Leger Douzable
make the roster. He may have been the last man in -- or maybe it's Hagan.
September, 5, 2009
9/05/09
4:50
PM ET
By
Matt Mosley
| ESPN.com

Posted by ESPN.com's Matt Mosley
Super Bowl XLII hero
David Tyree
has
been released
by the
New York Giants
. The move shouldn't come as a surprise to anyone. Tyree didn't play at all in 2008 because of a leg injury and he got passed up by younger, faster wide receivers in this year's training camp.
I think the Giants gave Tyree every opportunity in the world to make this team, but the former sixth-round pick Tyree would've been too much of a luxury roster spot. The club obviously thinks they have younger players who can make up for what Tyree brought on special teams. And don't forget that he was a Pro Bowl player on special teams before he made that famous catch against his helmet.
If you look at the
Newark Star-Ledger's report
, it looks like
Sinorice Moss
and
Derek Hagan
will both make the 53-man roster. That means the Giants are keeping seven wide receivers. That's a pretty large number. I'd be surprised if the Cowboys kept more than five. And there's no way the Eagles keep more than six. Same goes for the Redskins.
The official cuts are due in a little more than an hour. We'll keep you posted.
August, 13, 2009
8/13/09
9:17
AM ET
By
Matt Mosley
| ESPN.com
Posted by ESPN.com's Matt Mosley
ALBANY, N.Y. -- It's too bad the Giants aren't playing a preseason game tonight. They desperately need to see some other uniforms. Coach Tom Coughlin had to separate two players Wednesday evening -- and they weren't even participating in a drill.
I've seen the Cowboys, Eagles and Giants during my ongoing NFC East training camp tour. Of those three teams, the Giants definitely seem to have the highest tempo in practice. In two practices Wednesday, the defense was dominant at times. Backup defensive end (he hates that phrase) Mathias Kiwanuka jolted Kevin Boothe so hard on one play that the 315-pound guard almost toppled over. Here's a look at some of the things that stood out to me Wednesday:
Every time I looked up, a guy wearing No. 29 was knocking the ball away from a receiver or making an interception. That would be Stoney Woodson, a seventh-round pick out of South Carolina. The rookie doesn't seem to be overwhelmed at all in his first camp. And he's seizing the opportunity to have more reps with starters Aaron Ross and Corey Webster out with injuries. Mike Garafolo is driving the Woodson bandwagon, but I've decided to hop aboard.
There's a lot more trash talking that goes on in Giants camp than the other two camps I've been in. The offense and defense really take things personally and it creates a highly competitive atmosphere. In Eagles camp, Asante Samuel was the one guy who was constantly running his mouth. Otherwise, it was fairly quiet. I know that Giants safety Michael Johnson got in someone's face Wednesday night. Still not sure what that was about. Practice ended with veteran offensive tackle Tutan Reyes wading into the middle of at least 25 defensive players and taunting them -- in a good-natured sort of way.
Have I mentioned that rookie wide receiver Ramses Barden has taken this camp by storm? You can tell that Coughlin's trying to play it down, but Barden's been the most impressive receiver on the field -- by a wide margin. Am I getting carried away after watching two practices? Maybe, but some of my guys on the beat such as Tom Rock (Newsday) and Garafolo (Star-Ledger) say that Barden's been doing this the entire camp. Rock kept describing one play to me where Barden went up in the back of the end zone, twisted his body back around and snagged a ball with one hand. Maybe Hakeem Nicks will catch up to him at some point, but right now Barden has earned more playing time than the first-rounder. OK, I'm finished gushing.
I don't know how Kevin Dockery can hold off Terrell Thomas for the nickel spot much longer. Dockery's a scrappy little guy who's making plenty of plays in camp, but Thomas is the smoother player. He doesn't rush anything, but when the ball's in the air, it's his. Everyone wants to talk about the reinforcements along the defensive line, but this team is stacked at cornerback.

Since many of you have been asking about the other receivers, it looks like fourth-year player Domenik Hixon wants to nail down a starting job. He'll still drop the occasional slant because of a lack of concentration, but he's a true deep threat who's getting a lot better at beating jams. I should also tell you that Derek Hagan, a fourth-year player out of Arizona State, is quietly putting together a solid camp. He's not dropping the ball, and that's a big step for him. Steve Smith and Nicks need to get healthy and stay on the field. Nicks returned to practice Wednesday night. Smith remained on the sideline with a knee injury. Oh, and David Tyree doesn't look all that rusty to me. He's the veteran of this bunch. And Sinorice Moss catches everything thrown his way. I loved watching him come back on the ball on an Eli Manning bullet in the evening practice.
The linebackers were going through a drill Wednesday evening where they lifted up a 30-pound sandbag and chucked it to the side.
Coughlin just about lost it when an offensive lineman didn't finish a block during 9-on-7 drills. "Finish the block, finish the block," he shouted while adding a certain expletive for emphasis. What happened to the calmer Coughlin that I kept reading about two years ago?

I think Kiwanuka's about to have the same type year Justin Tuck had in '07. He'll be the third man in the defensive end rotation, which means offensive lines will be worn down because of Tuck and Osi Umenyiora. I wouldn't be surprised if Kiwanuka finished with eight or nine sacks.

Safeties coach Dave Merritt is asking the defensive backs to treat everything like a live ball. When there's an incompletion, he wants his safeties to race over and scoop it up.
"We have to learn how to pick up a fumble," he shouted to Woodson at one point Wednesday evening. "Hot ball, hot ball!"
Dockery always seems to be in really good position, but he's still using the wrong hand at times when going after the ball.

Linebacker Chase Blackburn had the play of the day when he jumped high into the air to snag a David Carr pass during team drills. Tuck was heard on the sideline shouting, "Who said white men can't jump?"

For more information on Giants camp, I encourage you to read my Camp Confidential on Friday afternoon.
August, 12, 2009
8/12/09
4:34
PM ET
By
Matt Mosley
| ESPN.com
Posted by ESPN.com's Matt Mosley
ALBANY, N.Y. -- One of my favorite things to do in training camp is watch practice through a scout's eyes. I've watched college football with Dolphins general manager Jeff Ireland before, and he's always noticing things that go way beyond whether a guy catches the ball or misses a block.
On Wednesday, I had the opportunity to stand next to Giants general manager Jerry Reese for about 30 minutes during the team's morning session. He watched intently to see how this year's rookies reacted to certain situations -- and he attempted to temper my enthusiasm for third-round pick Ramses Barden, who's on the verge of being named camp MVP -- by me.
Anyway, here are the highlights from my epic interview with Reese:
| | |
| --- | --- |
| | |
| | AP Photo/Bill Kostroun |
| | Giants general manager Jerry Reese is keeping a close eye on the rookies. |
MM:
Is it just me or is Ramses Barden taking over this camp right now?
Reese: He's big and he catches everything. He's a quick learner and he's gigantic. He's got a huge strike zone. He had the stigma of the small school, but so did [Kevin] Boss. If a guy doesn't jump off the screen at a small school, he can't play at this level. Barden jumped off the screen. And he didn't look out of place at the combine. And if you talk to him, he's very bright. We expect him to play right from the start.
MM: Do first-round guys like Hakeem Nicks not know how to pace themselves in practice? Is that why so many receivers get hurt in training camp? I remember it happened to Malcolm Kelly and Devin Thomas for the Redskins last season.
Reese: Yeah, especially your No. 1s. They think they have to be better than anyone else and they get overcooked. All he can do is take mental reps. But it's tough having guys like that out because quarterbacks have to get used to their body language. [A tremendous catch by Derek Hagan interrupts Reese's train of thought.]
MM: How's Steve Smith responding to becoming one of the "veterans" of the receiving corps?
Reese: He's very confident. He was almost NFL-ready when he came out of USC. He's not afraid of competition. People keep talking about how Smith and Domenik [Hixon] only combined for 50 catches or something, but they were only part-time players. You may end up doubling some of those numbers this season. And (Mario) Manningham and Sinorice Moss had good springs. We threw the ball to Moss 12 times last season and he had 12 catches. There were no drops, no missed assignments.
MM: How has David Tyree looked after the long layoff?
Reese: He's still coming off the injury, but he's back in a good position. He's a true gamer. You have to remember that he went to a Pro Bowl as a special teamer.
MM: Who's your No. 2 running back right now?
Reese: (Ahmad) Bradshaw's definitely our No. 2 right now. But the other two guys are nipping at his heels. We want to make guys earn their jobs. That's a heated position battle right there. Andre Brown is everything we thought he would be. He reminded us of Derrick Ward and we were giddy when he was there in the fourth.
MM: Is picking up the blitz one of the toughest things for rookie running backs?
Reese: Yeah, you can just look at a guy like Brandon Jacobs and know that. When he first got up here, he just wanted to run the ball. But one of my favorite things from the throw to Plaxico (Burress) to win the Super Bowl was when Jacobs slid over and blocked No. 37 (Rodney Harrison). No. 37 was getting ready to hit Eli in the earhole. That play never happens if Jacobs doesn't pick him up.
MM: Looking back, what was the biggest factor in you guys faltering down the stretch last season?
Reese: We were fine for three-quarters of the season and then we got banged up on the line and didn't have the firepower to get after the quarterback. (Fred) Robbins was playing with two broken hands, Tuck's foot and knee were banged up and (Mathias) Kiwanuka was fighting through things. We couldn't get Donovan McNabb on third-and-20 [in the Divisional playoff game]. There were a lot of turning points in that game, but that was a big one.
MM: Why do you think Chris Canty's a good fit here?
Reese: We liked his versatility. And we played against him twice a year and he gave us headaches. He and Tuck can go inside or outside.
MM: What's going on with Eli Manning's contract?
Reese: I told our guys here that the contract wasn't done. I didn't care what they wrote, but it's not done. No contract is easy to do, and nothing surprises me when it comes to personnel. Until you have a name on the dotted line, it's not done.
MM: Will you get it done before the start of the season?
Reese: I'm hopeful that will happen, yeah.
MM: I keep hearing people say that Kenny Phillips will have a breakout season. What sets him apart from other safeties in the league?
Reese: First of all, he's having a great camp. He's got some star qualities. There's just a calmness about him. It never looks like he's straining hard. Everything comes easy for him.
MM: Are you still hopeful that Michael Boley can be a productive player this season?
Reese: Yeah, he's outstanding in coverage. We think he can help us cover the running back in Philadelphia (Brian Westbrook), the tight end in Dallas (Jason Witten) and
the tight end for the Redskins (Chris Cooley).
MM: Did it give the team a lift when Antonio (Pierce) wasn't indicted in the Burress case?
Reese: It gave us a little lift. It was a weight off his shoulders. We're happy he's here. It feels like he has something to prove.
MM: Why'd you finally decide to cut your losses with Plaxico?
Reese: You don't want to get rid of a good player. But you have to see the big picture. You've got these other 52 guys. We tried to make it work, but teams have to change sometimes.
MM: What did you learn from last season?
Reese: Well, I learned a lot of things. We got hit right out of the gate last year with a Hall of Famer retiring (Michael Strahan) and a Pro Bowler (Umenyiora) going down. We made it through three quarters of the season, but then we got worn down. I'll try not to let that happen again. We have to sustain the madness up front.
MM: What's the competition like between Rhett Bomar and Andre Woodson for the third quarterback spot?
Reese: Bomar looks like a rookie playing quarterback. But he's got good velocity on the ball. That will be a heated battle in the preseason. Bomar's just trying to figure everything out. Woodson's ahead of the curve because he's been around here. Both of them have good skill sets.