July, 9, 2014
Jul 9
11:30
AM ET
IRVING, Texas -- Rod Marinelli likes what he saw from his
Dallas Cowboys
defense in the spring.
The defensive coordinator liked that he has more players along the defensive line. He likes the linebackers' "movement skills." He likes how cornerbacks
Brandon Carr
,
Orlando Scandrick
and
Morris Claiborne
can play man-to-man. He likes the growth
J.J. Wilcox
made at safety opposite
Barry Church
.
[+] Enlarge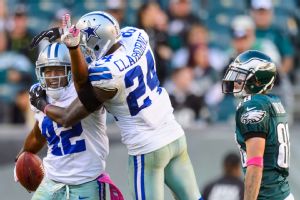 Howard Smith/USA TODAY SportsDallas defensive backs Barry Church and Morris Claiborne didn't have much to celebrate during 2013.
But there's something else Marinelli likes about the group.
"I think there's something to prove a little bit," Marinelli said. "Not something to prove from last year, but there are some guys coming here off the street with something to prove. There are some guys in contract years with something to prove. There are some guys coming out saying, 'I want to be a better player,' who have something prove.
"You get that many guys wanting to prove something, then you can become better. Right now what I like is how hard they're going after their craft."
Last season was a mess for the Cowboys' defense. It has been referenced so many times this offseason that "32nd-ranked defense" has been tattooed on everybody. The Cowboys gave up 6,279 yards in 2013 a year after giving up a franchise-record 5,687 yards. Five quarterbacks had four-touchdown games against the Cowboys. Two times in a three-week span, they allowed more than 620 yards. The
New Orleans Saints
had 40 first downs.
"It definitely bothers us," Church said. "I'm speaking for myself, but it definitely bothers me. But there's nothing we can really say or prove different. We were 32nd in the league and we weren't that good on the defensive side of the ball. This year, the only way we can counter that is by playing good and becoming one of the better teams in the league at taking the ball away and against the run and the pass."
It's not just the players. The tag falls on the coaches, too.
"Nobody wants to look at last year and take ownership of that, but we have to," secondary coach Jerome Henderson said. "And we've got to get better from there, and we cannot let that happen again."
Oh, and now the Cowboys have to show they can be better in 2014 without the franchise's all-time leader in sacks,
DeMarcus Ware
, who was cut, last year's leader in sacks,
Jason Hatcher
, who signed as a free agent with the
Washington Redskins
, and their best playmaker,
Sean Lee
, who suffered a torn anterior cruciate ligament in organized team activities.
But the sense is that Marinelli likes it this way. He had ubertalented defenses with the
Chicago Bears
with guys like Brian Urlacher,
Julius Peppers
,
Lance Briggs
and
Charles Tillman
. He won a Super Bowl with the
Tampa Bay Buccaneers
with guys like Warren Sapp, Derrick Brooks, Simeon Rice, John Lynch and Ronde Barber.
He doesn't have an Urlacher, Sapp, Brooks, Briggs, Rice or Lynch with this group.
He has
Henry Melton
, whom he coached to the Pro Bowl with the Bears, trying to prove he can come back from a torn anterior cruciate ligament. He has
Bruce Carter
trying to prove he is a big-time player in a contract year. He has Claiborne, a former sixth overall pick in the draft, trying to prove he is not a bust. He has Carr trying to prove he is worth the five-year, $50 million contract he received in 2012. He has
George Selvie
trying to prove he was not a one-year wonder after putting up seven sacks last season. He has
Tyrone Crawford
trying to prove he can come back from a torn Achilles.
He has low-cost free agents such as
Terrell McClain
,
Jeremy Mincey
and
Amobi Okoye
trying to prove they can be prime-time players. He has
Justin Durant
trying to prove he can be a middle linebacker and
Kyle Wilber
trying to prove he can be a strongside linebacker. He has Rolando McClain trying to prove that a player who has retired twice in the past year has the desire to keep playing. He has
DeMarcus Lawrence
trying to prove that a second-rounder can make an impact as a rookie. He has Wilcox trying to prove he can play strong safety.
He has guys like Church and Scandrick trying to prove that they can put up solid seasons in back-to-back years.
So much to prove. So much to forget.
"The first thing you do is you take it as coaches and players and you take accountability for it," Marinelli said. "And no excuses. Now we look forward. Now it's about the expectations of this group and with expectations you have to execute. It's that simple. That simple, yet that hard."
January, 7, 2014
Jan 7
1:15
PM ET
IRVING, Texas -- When the
Dallas Cowboys
made the switch to the 4-3 scheme last year, they thought they had the pieces in place to make a smooth transition.
Nobody could have seen what happened to the defense in 2013, finishing last in the NFL.
Carr
Revis
But when Monte Kiffin was hired last January, we all tried to make the pieces fit, comparing the Cowboys players to what Kiffin had during his run with the
Tampa Bay Buccaneers
or what Rod Marinelli had with the
Chicago Bears
.
DeMarcus Ware
would be
Simeon Rice
. Jay Ratliff would be Warren Sapp.
Bruce Carter
would be Derrick Brooks.
Sean Lee
would be Brian Urlacher.
The secondary was an issue. The Cowboys had man-to-man corners in
Brandon Carr
and
Morris Claiborne
, and they didn't really have a John Lynch at safety, but they liked
Barry Church
.
Kiffin told his guys to study up on what the
Seattle Seahawks
did defensively as a sign that they would not be a traditional Tampa 2 team.
Now that Lovie Smith has taken over the Buccaneers, the same comparisons are being made.
Gerald McCoy
will be Sapp.
Lavonte David
will be Brooks.
So who's
Darrelle Revis
?
"We're a 4-3 team," Smith said in his introductory news conference. "There's a reason why we have Tampa-2 associated to one of our coverages, but I just want you to know, especially [in reference to cornerback] Darrelle Revis, we don't play Cover-2 every snap. We have a place for a great cover corner that's physical and can do all things."
Now Revis is better than Carr and Claiborne. I'm not making the player-for-player comparison. If he's not the NFL's best corner, he is at least in the conversation, and he was coming off a knee injury. I'm making the style of play comparison.
But there was a frustration from Carr and Claiborne about the lack of man coverage the Cowboys were playing, especially early in the season. Players want to do what they do best, and too often they felt like they had to play off and soft in zone coverage.
So Smith might be able to promise Revis that he will be able to man his own island, but the proof will be when the games count, because coaches want to do what they know best.
That was part of the Cowboys' growing pains in 2013.
November, 19, 2013
11/19/13
9:00
AM ET
IRVING, Texas -- Refreshed off the bye week, Five Wonders is back and ready for action.
We'll start with this mini-wonder: Does anybody more than wonder whether the Dec. 29 meeting between the
Dallas Cowboys
and
Philadelphia Eagles
at AT&T Stadium will be to win the NFC East?
I wonder it, but only if the Cowboys beat the
New York Giants
this week.
On to the wonders:

• I wonder if the season is on the line Sunday against the New York Giants. The Cowboys would still be alive because of the state of the NFC East, but at 5-6 and reeling it would be hard to see a turnaround. They would have lost three of four and the only win came on a 90-yard drive in the final minute against the
Minnesota Vikings
. The Cowboys carry emotional baggage with them no matter how much Jason Garrett attempts to keep them in the present. Injuries have piled up again. Questions about the scheme have rumbled on both sides of the ball. There is a lot on the line this week. The Giants have won four in a row to claw back into the race after a 0-6 start. Their wins have not come against the best quarterbacks but winning breeds confidence and the Giants have confidence. Maybe the feeling comes from the 32-point loss to the
New Orleans Saints
before the bye, but the Cowboys sure seem fragile mentally right now as well as physically.
[+] Enlarge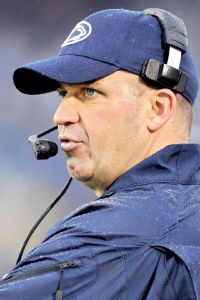 Abby Drey/Centre Daily Times via Getty ImagesIf the Cowboys fail to make the playoffs this season, Penn State coach Bill O'Brien could be an interesting choice to replace Jason Garrett.
• I don't believe owner and general manager Jerry Jones wants to replace Garrett. I truly believe he wants Garrett to be the Cowboys' head coach for a long time. But if the Cowboys don't make the playoffs this season, it would not surprise me if Jones made a move. That would be four straight seasons without a playoff appearance. Jones can sell anything, but selling a status quo wouldn't be easy. One thing I don't wonder about is if Lovie Smith would get an interview. I believe he would. But here's another guy I wonder about: Penn State coach Bill O'Brien. I don't know all of the particulars of the buyout at Penn State, but O'Brien was tempted by the NFL last season. His background with Bill Belichick and
Tom Brady
gives him a plus, and how he has handled the mess that has enveloped Penn State gives him a few more pluses. His time running the Patriots' offense, however, means more to me. The Cowboys drafted
Gavin Escobar
to be more of a "12 personnel" team but the Cowboys have not been creative enough in getting people involved. They are running the same plays they did with
Anthony Fasano
and
Martellus Bennett
as the second tight end and they were not able to produce. O'Brien made the
Rob Gronkowski
-
Aaron Hernandez
package work well with Brady. Do I believe O'Brien would get an interview? I don't know any of it, but I would have him on the list. Not that Jones would listen to me.
• The Cowboys drafted
Kyle Wilber
with the idea that he could play outside linebacker in a 3-4. With the move to the 4-3, he was moved to defensive end. Now he is playing some outside linebacker again because of an injury to
Justin Durant
. I wonder if Wilber is a man without a position. When
Anthony Spencer
went down in training camp with a knee injury, Wilber got the first look and then saw
Ben Bass
take some of his snaps. Then it was
George Selvie
who took them later on. When
DeMarcus Ware
got hurt in the season, Wilber took over but then saw
Jarius Wynn
take over the starting spot. Wilber always was a tweener, but the coaches have yet to feel like he can handle the full-time duty. If they did, they wouldn't be moving him around so much, especially because the defensive end spot is much more valued in this scheme than strong side linebacker.
• I wonder if we'll see a more engaged
Bruce Carter
now that
Sean Lee
is out of the lineup. There is no other way to say it then this: Carter has been a disappointment this season. The Cowboys did not need him to be
Derrick Brooks
in this defense, but they needed him to be productive. He had two sacks in the first two games. He had a pass deflection and a quarterback pressure. He has just two pressures and a pass deflection in the last eight games. He has one tackle for loss. The weak-side linebacker spot is designed to be the playmaker in this defense. When the Cowboys lost Lee last year to a toe injury, Carter stepped up his game before an elbow injury KO'd him for the year. The Cowboys need that Carter and not the Carter that ended the New Orleans game. We can pick on just about everybody on defense from that game, but Carter was ready for that game to end sooner than it did.
•
Back in June I wondered
if people were sleeping on just how effective
Lance Dunbar
would be when the season started. I pegged him in for 30 catches out of the backfield. I saw his speed and elusiveness as being a big part of a revamped offense. I was wrong. While not as big a disappointment as Carter, Dunbar has not been able to deliver on offense. He has four catches for 21 yards and 15 carries for 48 yards. Some of it is injury. Some of it is ball security. Some of it is scheme. Jerry Jones said he wanted to see Dunbar more involved. Bill Callahan said he would like to get Dunbar more involved. Sometimes there's just not enough of the football to go around. Dunbar has seen his role taken by
Cole Beasley
to a degree because of the use of the "empty" package. Maybe things change in the final six games, but I would be surprised.
July, 19, 2013
7/19/13
12:00
PM ET
NFC Eight in the Box:
East
|
West
|
North
|
South
»
AFC:
East
|
West
|
North
|
South
What are the three key camp issues facing each NFC East team?

DALLAS COWBOYS
Offense: Running game
Dallas averaged a paltry 3.6 yards per rush in 2012. In turn, the Cowboys too often got away from their run game and became too reliant on
Tony Romo
and this very good passing attack. The offensive line was mostly to blame for the ground struggles, but at least Dallas did use a first-round pick on
Travis Frederick
to improve the interior of the line. But
DeMarco Murray
is increasingly difficult to count on, having missed nine of 32 games in his two NFL seasons. Murray's yards per attempt also dropped from 5.5 to 4.1 in his second season.
Defense: Scheme change
New defensive coordinator Monte Kiffin is a smart man and surely will not rely on his usual Tampa 2 scheme as some might speculate. Still, after investing so heavily in
Brandon Carr
and
Morris Claiborne
as man-to-man corners, Dallas now -- just one year later -- will ask these two to operate much more out of their comfort zone. It will be interesting to see what percentage of man coverage Dallas plays this season.
Wild card: The linebackers
If Dallas does move to a predominant Tampa 2 scheme, two players who should benefit a great deal are
Sean Lee
in the middle and
Bruce Carter
at the Will linebacker spot. Both have outstanding range and playmaking skills. Lee could flourish much like
Brian Urlacher
did in his prime as an outstanding coverage linebacker, while Carter could have a
Derrick Brooks
-type impact as a run-and-hit defender.

NEW YORK GIANTS
Offense: Plenty to like
Few seem to be talking about it, but I expect the Giants' offense to produce an awful lot of points this season. With the addition of
Justin Pugh
, the offensive line should be upgraded. My only slight concern is at tight end, where
Martellus Bennett
's blocking will be missed. New starter
Brandon Myers
really isn't even comparable in that department. I am expecting a breakout season from running back
David Wilson
, with
Andre Brown
acting as a superb complement. Wide receiver
Rueben Randle
also should take monumental steps forward in his second season, and I have little doubt that
Eli Manning
is still an exceptional quarterback. What's not to like?
Defense: Back seven
While I am extremely high on the Giants' offense and think the defensive line will be improved, the back seven of this defense is worrisome. This just might be the worst group of linebackers in the NFL, and I expect
Kenny Phillips
to be missed at safety. Certainly the Giants have been successful defensively by dedicating resources to the defensive line, but this is a bit ridiculous.
Wild card: Defensive line
Can this deep and talented front make up for all the concerns behind it? I have my doubts, but that isn't a knock on this front four. Potentially, the Giants should go four deep at end and six deep at tackle with high-end talent. That is pretty amazing and should allow this group to constantly have fresh, hungry players on the field. Also,
Jason Pierre-Paul
should be healthier than he was a year ago, which is frightening.

PHILADELPHIA EAGLES
Offense: Jason Peters
Before his Achilles injury, I thought Peters was the best offensive lineman in the NFL. He missed the entire 2012 season, a year in which the Eagles' offensive line was simply horrible. Other injuries certainly factored into that ineptitude, but getting Peters back in the form we saw pre-injury would go a long way to making this a potentially excellent unit, especially with the addition of
Lane Johnson
. But therein lies the question: What kind of movement skills will we see from the 31-year-old Peters, a tight end in college who once possessed exceptional quickness, balance and agility?
Defense: Cole, Graham and Curry
By all accounts, the Eagles are going to be a predominant 3-4 defense under Chip Kelly. But
Trent Cole
,
Brandon Graham
and
Vinny Curry
are prototypical 4-3 defensive ends. Cole and Graham, who somewhat quietly played exceptional football during the second half of the 2012 season, are listed as outside linebackers in this 3-4, and Curry is listed at defensive end. It will be a shame if these three players are misused, and it will be interesting to see their role when camp opens.
Wild card: All new secondary
The Eagles' starting cornerbacks greatly underachieved last year, and the safety play was just terrible. The new Philadelphia regime completely revamped the back end of the defense, and it looks as though the Eagles will have four new starters in the secondary. Philadelphia had an inordinate number of mental errors last season; while it might take some time for this group to jell, it should be improved in that capacity as well as in its overall play.

WASHINGTON REDSKINS
Offense: Right tackle woes
Robert Griffin III
's immense abilities and Mike Shanahan's scheme masked a major deficiency at right tackle in 2012. The scheme won't change and Griffin will have even better on-the-field awareness in his second season -- even if he isn't as mobile while recovering from injury -- but Washington certainly realized this area of concern and brought in
Tony Pashos
and
Jeremy Trueblood
to compete with
Tyler Polumbus
. My fear is that none of the three is the answer.
Defense: O-Sack-Po?
Much like Peters for the Eagles,
Brian Orakpo
will be under a microscope when camp opens, as all eyes will be watching to see if he still has his same explosive movement skills post-injury. Far and away Washington's best pass-rusher, Orakpo and his edge presence were missed in a big way last season, and the Redskins were forced to blitz, exposing their weak secondary, much more than what would have been ideal.
Wild card: New DBs
Again much like in Philadelphia, the Redskins put many of their limited offseason resources into improving a poor secondary. A healthy Orakpo's pass rush certainly will help, but the Redskins could see as many as three rookies --
David Amerson
,
Phillip Thomas
and
Bacarri Rambo
-- playing prominent roles in their secondary early in the season. Rookie cover men rarely enter the league without their share of growing pains.
February, 28, 2013
2/28/13
11:17
AM ET
This scouting combine story
from Todd Archer
tells us that the
Dallas Cowboys
were planning a switch from a 3-4 defense to a 4-3 defense even before the 2012 season ended. According to coach Jason Garrett, they believe they have the right kind of personnel to make the switch:
"You just go through all those scenarios and at the end of it we felt good about, 'Hey, we can do this and it won't take us three years to do this,'" coach Jason Garrett said. "And we certainly want to continue to add pieces to it and make that defense better, but we felt good about the flexibility and versatility of the guys we already have."

Monte Kiffin and defensive line coach Rod Marinelli agreed with Garrett's analysis after they joined the staff. They used players such as Simeon Rice, Warren Sapp, Derrick Brooks and Brian Urlacher as frames of reference for DeMarcus Ware, Jay Ratliff, Sean Lee and Bruce Carter.
Well, yeah. I mean, if all of those guys at the end of that sentence play like all of the guys at the beginning of that sentence, then yeah, the Cowboys will really have something. But there are some "ifs," and most of them are tied to health. For instance, I think Lee can be a brilliant playmaking middle linebacker in a 4-3. But he has to stay on the field, and he's had trouble doing that. And then there's this later in the story from former Cowboys exec Jeff Ireland, comparing Ware to
Cameron Wake
, who moved from a 3-4 outside linebacker to a 4-3 end last year for Ireland's Dolphins:
"We felt like when Wake was in a three-point stance he probably was a better rusher than he was in a two-point stance," Ireland said. "I don't know that about DeMarcus. I'd have to study that, but I'm sure he's equally efficient in a three-point or two-point stance, so I don't think it will be that tough."
Ware is a very interesting part of all of this. Again, I don't think it's a question of his ability to perform effectively in a 4-3 but rather his ability to hold up physically while playing closer to the ball and mixing it up more directly with bigger offensive line bodies. Ware has shown some signs the past couple of years that his body could be beginning to break down, and if that is a trend and not an aberration, then a move like this isn't going to help with it.
This transition to the 4-3 is one of the very interesting stories of the Cowboys' offseason, so we'll continue to examine it as it goes along. I think they have the right kinds of players to pull it off, but a lot depends on who goes, who stays and who shows up to play it once the salary cap is straight and free agency and the draft have settled.
January, 24, 2011
1/24/11
3:45
PM ET
By
Matt Mosley
| ESPN.com
The
Chicago Bears
have now told us that quarterback
Jay Cutler
suffered a
sprain of the medial collateral ligament
in his left knee during a 21-14 loss to the
Green Bay Packers
on Sunday. But I'm pretty sure that diagnosis won't quiet the critics who felt like Cutler could've played through the injury in the second half.
ESPN's Michael Wilbon
compiled some of the tweets
that came rolling in from former and current players across the league. Former Buccaneers linebacker Derrick Brooks may have delivered the harshest commentary once it became official that Cutler couldn't return to the field:
"There is no medicine for a guy with no guts and heart," tweeted Brooks.
Now that news of the MCL sprain has arrived, I'm wondering if some folks will soften their stance toward Cutler. I asked Giants defensive tackle
Barry Cofield
what he thought of the situation and received a more diplomatic response.
"A wise man once told me that it's easy to be tough with somebody else's body," said Cofield via text.
And I think that's why Bears linebacker
Brian Urlacher
is so upset with the national response to Cutler's injury. First of all, Urlacher's being a good teammate. But he also wonders how folks watching the game from their homes can feel so certain about Cutler's lack of courage.
It will be interesting to see if Cutler's other teammates continue to stand beside him. Here's what one Bears legend had to say about the topic while appearing on "Mike & Mike" on ESPN Radio:
"I don't know if anybody can play the game when they're not 100 percent or not well," said Mike Ditka. "I can't speak for Jay Cutler. I can't speak for anybody.
"Myself, I would have had to have been paralyzed to come out of the game. I don't want to say that word. I would have had to be completely knocked out to come out of that football game."
And so a quarterback who already had a perception problem is at the center of another storm. And this one appears to have staying power.
August, 10, 2009
8/10/09
9:30
AM ET
By
Matt Mosley
| ESPN.com
Posted by ESPN.com's Matt Mosley
Ask and ye shall receive an NFC East mailbag. This one's been a long time coming and I appreciate your patience -- as always. I've made my annual pilgrimage to this delightful community (Bethlehem, Pa.) about an hour or so north of Philly and I'm prepared to talk all things Eagles for two consecutive days. But in the interest of a wider audience, I'm fielding mailbag questions on all four teams this morning. OK, let's start emptying the bag:
Bernard F. from Grand Prairie is concerned about the Eagles' depth at TE: Hey Matt, I am a huge Eagles fan living in Dallas. I think the Eagles may need to sign a tight end who will be released when the teams begin to cut players. Maybe a veteran tight end who can run down the seam.
Mosley: Bernard, the Eagles acted quickly in signing a free-agent rookie named Rob Myers, but you can bet that they will be watching the waiver wire pretty closely as we go along. No word on whether Jeff Thomason would leave his construction job again to help out the Eagles. But before you get too worked about Cornelius Ingram's season-ending knee injury, I don't believe the Eagles expected him to be a major contributor during his rookie season. For now, Myers is simply a training camp body who can eat up some reps. If the right player becomes available, Andy Reid will make a move. There's a former University of Houston player in Cowboys camp named Rodney Hannah who's probably not going to make the team. The Eagles know about him and they're impressed with his athleticism and 6-6 frame. That's just a thought.
---
Bill Moseley from Dallas is concerned about a certain former Cowboys receiver being mentioned too much: Matt, why does the media keep making T.O. the story when he's not. Stephen A. did it in 2004 when my Eagles made the Super Bowl while T.O. was hurt and you're doing it now. There are far more compelling stories to write than "Phillips takes jab at Owens."
Mosley: It's tough when your own family members start turning on you! Bill, I believe the Cowboys' release of T.O. was one of the biggest stories of the offseason and now it's interesting to see how the Cowboys compensate for his monster numbers. I don't think we've spent a ton of time on T.O. this offseason -- as evidenced by us pretty much ignoring his television projects. But when the mild-mannered Wade Phillips takes a little jab at T.O., I certainly think it's worth a blog entry. And judging by the response on the Beast, many of the readers agreed with me. But I understand your point. We'll try not to overdo with T.O. But if he says something about the Cowboys -- and you know he'll continue to do that -- we probably need to account for it. Thanks! Tell the other cousins I said hey.
---
Russ K. from Boston thinks the Beast has been a little Cowboys heavy recently -- and he's not alone: First of all, can you lay off the Cowboys a bit? It seems like every other link and article is about the Cowboys. Is it because the Cowboys get that much more media coverage? I find that hard to believe. Second, as a Giants fan I feel bittersweet about the Eli signing. I'm glad they signed him but I don't see how he got top quarterback money. He's barely a top five quarterback in my opinion. Did the Giants overpaying Eli ruin their chances to re-sign other players like Justin Tuck?
Mosley: I hear you loud and clear, Russ. When I'm in Cowboys camp, you're going to read a ton about the Cowboys. Beginning on Monday, you'll ready two solid days of Eagles coverage followed by my visits to the Giants' and Redskins' camps. We'll try to balance things out a little more for you guys, and I appreciate all the feedback -- even if it's negative. Regarding Manning's contract, I think that's the going rate for a top five or six quarterback in the league -- especially one who owns a Super Bowl ring. Nothing about those numbers surprised me that much. In fact, I thought the guaranteed portion might come in a little higher. Manning basically earned this money during a four-game stretch at the end of the '07 season. And he didn't do anything last year -- at least in my mind -- to lower his value.
---
Jason from Bryn Mawr, Pa., exceeded our word limit (150), but we'll give him some latitude since he made some interesting points: Matt, while the following statements may be true: "the Cowboys may have one of the most overrated offensive lines in the league", "the scary part is the Cowboys' lack of depth along the line", and "they've done a poor job drafting and developing offensive linemen over the years", the exact same quotes can be used in your pending camp review of the Philadelphia Eagles, yet I believe you ranked the Eagles as the best O-line in the Beast. It's unfathomable that many seem to be ready to return the Andrews Brothers to elite status when both missed all of last season. One (Stacy) was never elite to begin with and the other (Shawn) either has zero desire to play or has a back that won't allow him to play any longer. I am willing to grant Peters some benefit of the doubt, but am I willing to put all faith in a guy that openly admitted to less effort because he was upset at his contract status?! The Eagles' O-line also lacks the tremendous leadership and continuity provided by Runyan and Thomas. If the criteria works for one team, it should consistently apply to all.
Mosley: I admit the Eagles are having some issues on the offensive line right now, and that could certainly knock them down to the second or third best line in the division. But Stacy Andrews didn't miss all of last season. He started 15 games for the Bengals. Shawn Andrews missed most of the season, and you're correct to be very worried about his status. But the Eagles have done a better job of drafting and developing young linemen than the Cowboys. It's not even close. They took Shawn Andrews in the first round in '04 and he's been a three-time Pro Bowler. The Eagles signed Jamaal Jackson to a free-agent rookie contract in '03 and he's been the starter since '06. And starting guard Todd Herremans was a pretty good find in the fourth round of the '05 draft. Winston Justice was obviously a complete bust, but the Cowboys certainly have the lead in that category. They drafted Andre Gurode in '02 -- and that's pretty much it. Peters and Andrews are younger and much more athletic than Thomas and Runyan. But yes, the lack of cont
inuity is a fair point.
---
Chris from Clinton, Utah, has an Eagles question: Mr. Mosley, seeing that Stewart Bradley is now injured, do you think that the Eagles will pick up Derrick Brooks to play the right outside backer position and move Omar Gaither to the middle linebacker position like he was two years ago?
Mosley: Chris, Jim Johnson and the Eagles always favored younger, faster linebackers. That's why veterans such as Jeremiah Trotter were sent packing despite their leadership qualities. Brooks is an outstanding guy in the locker room, but the Eagles are more concerned about what guys can do on the field. The word on Brooks is that he's lost a step. That's not a good fit for Sean McDermott's defense. I'd be surprised to see a veteran like Brooks show up on the scene.
---
Nick from Sandy Hook, Conn., wants to talk about the Eagles' secondary: Hey Matt, before starting I'd like to note that Elizabeth Merrill's Jim Johnson piece was great and helped flesh out a man who'd spent most of his life avoiding fame and being known by his work. I'm wondering about that loss and the other tribulations (so many to choose from) and what you think they could do to the Eagles. The loss of Dawkins just excised the defense's emotional center. The loss of Stew Bradley sidelines one of the rising stars, the Maclin holdout makes him even less likely to contribute this year, and all that on top of Johnson. Do you think they're still a Super Bowl team, and does Reid have the leadership to turn those setbacks into determination?
Mosley: Nick, Elizabeth's an outstanding writer and I'm glad you mentioned the Johnson story. He obviously had a tremendous impact on the league. It's hard to project what sort of impact the loss of Johnson will have on the team, but I think he did such a great job teaching his young players that they'll be able to rally behind his replacement, Sean McDermott. I'm not going to overreact to Maclin missing a little more than a week of practices. I think he'll be up to speed by the end of the preseason. He's a highly intelligent guy, and he's a huge talent. And Reid pulled the right strings late in the '08 season, so he deserves the benefit of the doubt. I think the fact that Omar Gaither has been a starter for the Eagles really helps the situation. I'd be more worried if they were forced to lean completely on an inexperienced guy like Joe Mays.
---
Nirav from a county I didn't recognize wants to talk Redskins: I am a big fan of the Beast and read your blog daily. Thanks for the great work. My question is when the G-men won the Super Bowl two years ago, their defense seemed to get turnovers and create a short field for Eli and Co. With the additions of Haynesworth and Orakpo (who is looking great in camp by the way) and re-signing Hall, plus Landry and Horton at the safties and old reliable London, do you think the Skins have a chance to have a defense that can create turnovers, and thus, a short field for Jason Campbell and the Skins' offense?
Mosley: Well, that's why Albert Haynesworth and Brian Orakpo are in Washington. And yes, I think the Redskins can go from a solid defense to a dangerous defense. Everyone at Redskins Park will tell me this week about last season's top-five overall ranking on defense. But that's an empty ranking. Quarterbacks didn't fear the Skins because they didn't have any true threats coming off the edge. And the lack of pressure made it tough on the secondary. With Orakpo and Haynesworth collapsing the pocket, Hall, Horton, Landry and Rogers can take more chances. So yes, I think an improved defense could help make this a -- wait for it -- Campbell-friendly offense.
---
Josh M. from Eldorado, Texas, wonders why Miles Austin appears to be ahead of Sam Hurd at Cowboys camp: Why is Miles Austin ahead of Sam Hurd. The only thing I could think of is his speed. I was at training camp this past weekend and Hurd has some of the best hands on the team. I would rather have a guy in the game that could catch everything instead of out run everbody.
Mosley: Both of those guys have had excellent camps, Josh. And you're right about Austin's speed. He's really the only deep threat the Cowboys have, and he's also become a much better route runner. One more thing: Tony Romo absolutely loves him. I agree that Hurd has taken his game to the next level, but I think Austin's still ahead of him because of his big-strike ability. The Cowboys need a wide receiver on the field that teams fear -- or at least respect. The threat of Austin's speed can open things up in the running game.
---
Rob from Lake Worth, Fla., says I was right about something. Sir, step right up: Hey Matt, I was really hoping you would be wrong about Mike Williams. But Jason Reid is reporting that he is getting beat in drills by almost every defensive lineman he goes up against. Add to that his groin injury and things don't look too promising. Oh well. Keep up the good work.
Mosley: I think Williams' return is a cool story, but he's been out of the league way too long to be sharp at this point. And he carried around 450 pounds or so while he was out of the game. Even after shedding all the weight, your body's still going to suffer the effects of having been that large. Williams has shown a lot of determination, but anyone who thought he could challenge for significant playing time was being rather naive. I still think the Skins' offensive line is a huge concern.
---
Russell from Fort Worth wants to know about Jimmy Johnson's credentials for the Ring of Honor: How do you feel about Jimmy Johnson not being in the Cowboys' Ring of Honor? I mean...he is responsible for half of the Cowboys' Super Bowl titles. Some might say he is responsible for two or three of them. I say 2.5. Hasn't he earned the right to be enshrined among the greatest Cowboys? Also, why do you think Jerry Jones has decided not to induct anyone new this year? Wouldn't it be a great way to open the new stadium?
Mosley: One of the things that most of the Ring of Honor members have in common is longevity. Jimmy Johnson had an amazing run, but Jones' ego eventually got in the way. Johnson is the second greatest coach in Cowboys history behind Tom Landry, but there are others I'd like to see go in before him. And I agree with you that Jones should've put someone in this season. Before Jones puts Darren Woodson or Larry Allen in, I really wish he'd go back and take care of Drew Pearson. It's something the late Tex Schramm should've done a long time ago. And now Jones needs to right the wrong. Unfortunately, Pearson's penchant for being critical (honest) about the Cowboys hasn't helped. But again, he should go in before any of the younger guys.
August, 18, 2008
8/18/08
1:03
AM ET
By
Matt Mosley
| ESPN.com
Posted by ESPN.com's Matt Mosley
Obviously Saturday night's exhibition game between the Jets and Redskins was all about Brett Favre, but Jim Zorn was a lot more concerned about his quarterback Jason Campbell's performance in Washington's 13-10 victory at Giants Stadium. Campbell was only 4-of-10 for 28 yards, but what really bothered Zorn was the quarterback's failure to trust his instincts.
For those of you who didn't know, Zorn is attempting to balance his head-coaching duties with being a full-time quarterbacks coach. He might be one of the nicest coaches in the game, but because of his passion for the quarterback position, he sounds like a harsh critic. On Saturday, he was upset that Campbell didn't pull the trigger in the red zone when the Redskins had the ball at the Jets' 9-yard line.
"We had a route that Jason held the ball and we had a vertical outside that was an easy touchdown," Zorn said of Campbell. "Honestly, it was an easy touchdown and we just didn't see it. He didn't focus on it, and then he turned back in and tried to throw the ball over the middle to the tight end [and the route] wasn't there."
I think Zorn desperately wants Campbell to succeed, but he's not as patient as he comes across in interviews. He witnessed a quarterback who wasn't trusting his instincts Saturday, and that's not a good sign. Zorn also tapped the brakes on the Colt Brennan celebration, although he did like the way the rookie out of Hawaii performed at the end of the game.
Seems like defensive end Jason Taylor's foot could be an issue, but he certainly doesn't think so. And this just in: I'm told punter Durant Brooks has a slight edge over Derrick Frost in the hotly contested punting competition.
Jason La Canfora brings us up to date on what Jim Zorn said at his news conference Sunday.

NFC EAST SCOREBOARD
Sunday, 10/26
Monday, 10/27