February, 5, 2014
Feb 5
11:05
AM ET
IRVING, Texas -- The
Dallas Cowboys
will not know until a coin flip at the NFL scouting combine if they or the
Baltimore Ravens
will pick 16th or 17th in the
first round of the May draft
.
The only time the Cowboys used the 16th pick in the draft came in 1961 when they selected E.J. Holub in the second round. They have not taken a player with the 17th overall pick since cornerback Kevin Smith in 1992. Before that? In 1990 they took Emmitt Smith, who is now the NFL's all-time leading rusher.
What type of player has been available at Nos. 16 and 17? Here's a look at the past 10 years.
2013 –
EJ Manuel
, Buffalo;
Jarvis Jones
, Pittsburgh
2012 –
Quinton Coples
,
New York Jets
;
Dre Kirkpatrick
, Cincinnati
2011 –
Ryan Kerrigan
, Washington;
Nate Solder
, New England
2010 –
Derrick Morgan
, Tennessee;
Mike Iupati
, San Francisco
2009 –
Larry English
, San Diego;
Josh Freeman
, Tampa Bay
2008 –
Dominique Rodgers-Cromartie
, Arizona;
Gosder Cherilus
, Detroit
2007 –
Justin Harrell
, Green Bay;
Jarvis Moss
, Denver
2006 –
Jason Allen
, Miami;
Chad Greenway
, Minnesota
2005 –
Travis Johnson
, Houston;
David Pollack
, Cincinnati
2004 –
Shawn Andrews
, Philadelphia;
D.J. Williams
, Denver
2003 –
Troy Polamalu
, Pittsburgh;
Bryant Johnson
, Arizona.
Polamalu is by far the best player selected in either spot. He will be in the Hall of Fame. There are quality players in there like Williams, Greenway, Rodgers-Cromartie, Iupati, Solder and Kerrigan. Andrews had a pretty good short run as well. Kerrigan is solid and has done some good things versus the Cowboys. Coples has showed some pass rush his first two seasons. I expected more from Kirkpatrick, who was on the Cowboys' radar in 2012.
The Cowboys held the No. 18 pick in 2013 and traded down to No. 31 with the Niners where they took
Travis Frederick
. They felt they were in a position to trade down and still pick up a quality player. When they saw
Eric Reid
,
Justin Pugh
,
Kyle Long
and
Tyler Eifert
go off the board in the next four picks they were left sweating it out until they got Frederick.
April, 20, 2012
4/20/12
10:30
AM ET
Former
Indianapolis Colts
GM Bill Polian writes for ESPN now, which is especially handy this time of year because he's actually made NFL draft picks and can offer insight that schlubs like me can't offer. Today, Bill ranks the draft performance of each NFL team
over the past three years

. (Except the Colts, since he made those picks and doesn't feel he can be objective. Fair enough. If I were ranking the best ESPN.com NFL blog entries of the past calendar year, I'd have a hard time figuring out how to handle the NFC East ones.)
Anyway, Bill's got the
New York Giants
ranked among "The Best" in his rankings, behind only the Ravens, Lions and Packers. He picks a "best value pick" and a "cornerstone pick" for each team, and for the Giants he lists wide receiver
Hakeem Nicks
(29th pick, 2009) as the best value pick and defensive end
Jason Pierre-Paul
(15th pick, 2010) as the cornerstone. Based on the results alone, these are both very good picks for the Giants, and they offer different types of examples of the Giants' broad-thinking approach to the first round.
[+] Enlarge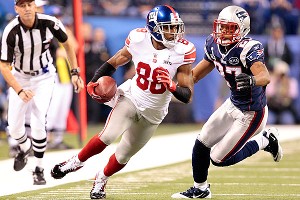 Mark Cornelison/Lexington Herald-Leader/MCTHakeem Nicks fell to the Giants at No. 29 in the 2009 draft thanks to the deep receiver class that year.
Nicks was the fifth of a whopping six wide receivers taken in that year's first round. The Giants, who take a best-player-available approach to the draft and almost never pick based on need, identified that this was a year in which those two concepts overlapped. They needed a receiver, and this was a first round that offered great value at that position. After
Darrius Heyward-Bey
went seventh to Oakland and
Michael Crabtree
went 10th to the 49ers, the Giants were locked in on
Jeremy Maclin
and reportedly
had a deal in place
to trade up to No. 20 to take him if he fell that far. Instead, the Eagles moved up and picked Maclin at 19. The Vikings took
Percy Harvin
at 22 and the Giants, with well-regarded Rutgers product
Kenny Britt
still on the board at 29, went with Nicks.
The Giants believed Maclin and Nicks were both top-15 value picks that had slipped into the second half of the round. They had them rated very closely together and believed each offered something special. With Maclin it was his raw speed and special-teams ability. With Nicks, it was his studious nature and everything they'd been told by his college coaches about his attention to detail and the level of responsibility he'd assumed as a leader of the wide receiver corps at North Carolina. They were ecstatic to get him at 29. If not for the saturation of first-round wide receiver talent in that particular year, they might not have been able to sniff either guy. They took advantage of a rare and exciting confluence of value and need to make that year's first-round pick, and it's paid off.
As for Pierre-Paul, we've been over this story a million times. The Giants were picking in the middle of the first round that year, and the value at that spot was going to be pass-rushers, which is their wheelhouse. Five defensive ends went in that year's first round, and the names of
Brandon Graham
and
Derrick Morgan
were being kicked around for teams in the middle of the first round. Pierre-Paul was a mystery man -- raw and inexperienced but unquestionably gifted as a pure athlete. Everybody saw the tape of him doing the backflips. No one -- not even the Giants -- knew for sure how that would translate into NFL football.
[+] Enlarge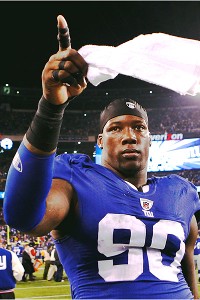 Tim Farrell/The Star-Ledger/US PresswireNot even the Giants could guess how quickly Jason Pierre-Paul would become one of the league's most disruptive pass-rushers.
But the Giants fell in love. Tom Coughlin went to watch Pierre-Paul work out. They decided that his talent was worth taking a chance on, given the strength of their belief in the ability of their coaches and their veteran players to groom great defensive linemen. Their need was at linebacker, but there was no linebacker in that year's first round that offered value at No. 15. And they didn't need a defensive end who could help right away, since they were already loaded at that position. So why not take the guy whose potential cornerstone talent you believed you could mold into a cornerstone player?
The Eagles traded up to get Graham at 13 -- a move that has subjected them to derision in light of Pierre-Paul's rapid ascent and Graham's health struggles (and the fact that safety
Earl Thomas
went one pick later). And with the seemingly more NFL-ready Morgan still on the board, the Giants picked Pierre-Paul. They didn't know he'd be one of the best defensive players in the league two years later. They thought maybe he could eventually be that, and that his potential combined with their program made him worth the pick. This was a pick that made more sense for the Giants than it might have made for any other team picking in that spot. They identified that, and again, it has paid off.
Anyway, the other teams in the NFC East are much further down the list, all in the bottom-17 portion of Bill's list labeled "The Rest of the Rest." He picks
Sean Lee
as the Cowboys' value pick and
Tyron Smith
as the cornerstone. The Eagles' value pick is
Jason Kelce
(sixth round!) and the cornerstone pick is
LeSean McCoy
. The Redskins' value pick is
Roy Helu
(fourth round!) and their cornerstones are
Brian Orakpo
and
Ryan Kerrigan
, though the Redskins are hoping the real cornerstone is the guy they're picking No. 2 overall next week.
April, 22, 2010
4/22/10
9:26
PM ET
By
Matt Mosley
| ESPN.com
No matter what you hear coming out of Giants camp, you have to believe the
Osi Umenyiora
may have come to a close. The Giants basically took a player in Jason Pierre-Paul who's a younger version of Umenyiora. My only problem with this pick is that it seems like sort of a project. I've always heard from scouts that you never take "projects" early in the draft.

Pierre-Paul
Pierre-Paul has all the ability in the world, but we haven't seen him do it for long. The guy started for half a season at South Florida. He's an explosive athlete with unusually long arms, but he doesn't really have a clue how to diagnose pulling guards and other fronts at this point. I think
Justin Tuck
and
Mathias Kiwanuka
are safe for now.
Folks compare Pierre-Paul to a young
Jevon Kearse
. Remarkable body length. He's definitely built like the kind of players Jerry Reese covets. Look at
Clint Sintim
from last season. Long, long arms. Remarkable speed for a big guy. This is a high-risk, high-reward type pick. A guy like Derrick Morgan is more complete at this point, but Pierre-Paul has the higher upside.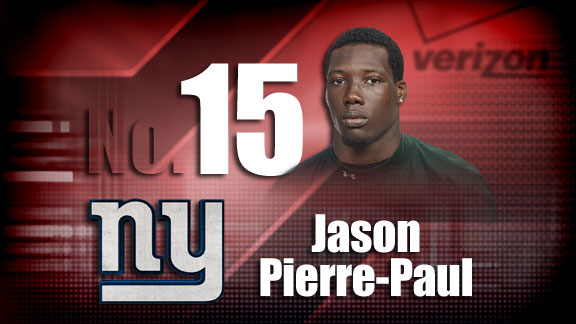 April, 22, 2010
4/22/10
8:46
PM ET
By
Matt Mosley
| ESPN.com
The
Dallas Cowboys
are shocked by what just happened in the draft. Cal defensive end Tyson Alualu is off the board at No. 10 to the Jaguars. Mel Kiper's generally pretty nice to teams, but he called this one a major "reach." The Cowboys were considering Alualu at No. 27. And some folks at Valley Ranch thought that was a bit high to take Alualu.
The Giants have to be thrilled with that pick. It keeps guys like Derrick Morgan and
Dan Williams
alive. And by the way, Michigan defensive end Brandon Graham can flat out go. He'd have to be in the mix with the Giants. This Alualu selection has sent ripples through the first round.
I'm absolutely stunned. The 49ers traded up to No. 11 to take Anthony Davis. That's who a lot of us thought the Raiders would take, if they were a normal organization.