NFC East:

desmond trufant
January, 9, 2014
1/09/14
8:00
AM ET
PHILADELPHIA -- The good news for
Philadelphia Eagles
coach Chip Kelly is he doesn't have to spend the next couple months traveling to high school kids' homes and recruiting them.
The bad news?
"It's a different league," Kelly said. "This isn't recruiting where you can go out and offer and try to get them to come. There's a selection in the draft process and we're not going to pick until the 22nd [spot in the first round]. There's 21 other guys that we may covet, but we don't have an opportunity to get them."
If a team drafted 22d every year and did well, it could be awfully good. Based on the last 10 years, drafting only players taken between No. 22 and No. 32 (the end of the first round), a team could have
Aaron Rodgers
at quarterback, wide receivers
Dez Bryant
and
Santonio Holmes
, running backs
Steven Jackson
and
Chris Johnson
, linebackers
Clay Matthews
and
Nick Perry
, safety
Brandon Meriweather
and defensive linemen
Cameron Jordan
and
Sharrif Floyd
.
You could do worse. Plenty of teams did do worse. Cleveland took two quarterbacks,
Brady Quinn
and
Brandon Weeden
, at No. 22.
Later we'll look at some possible players the Eagles could consider at No. 22 in this year's draft. For now, here's a quick look at the 22nd pick in each of the past 10 NFL drafts, along with a few players that were on the board at the time (I didn't go beyond the end of the first round out of fairness; just looking at first-round graded players):
2013: Cornerback
Desmond Trufant
from Washington, selected by Atlanta.
On the board: Defensive tackle Sharrif Floyd, WR/Returner
Cordarrelle Patterson
, defensive end
Datone Jones
.
2012: Quarterback Brandon Weeden from Oklahoma State, selected by Cleveland.
On the board: Linebackers
Dont'a Hightower
and Nick Perry, running back
Doug Martin
.
2011: Offensive tackle
Anthony Castonzo
from Boston College, selected by Indianapolis.
On the board: Offensive lineman
Danny Watkins
, defensive end Cameron Jordan, running back
Mark Ingram
.
2010: Wide receiver
Demaryius Thomas
from Georgia Tech, selected by Denver.
On the board: Wide receiver Dez Bryant, quarterback
Tim Tebow
, cornerback
Devin McCourty
.
2009: Wide receiver
Percy Harvin
from Florida, selected by Minnesota.
On the board: Offensive tackle
Michael Oher
, cornerback
Vontae Davis
, linebacker Clay Matthews.
2008: RB
Felix Jones
from Arkansas, selected by Dallas.
On the board: Running backs
Rashard Mendenhall
and Chris Johnson, cornerback
Mike Jenkins
.
2007: Quarterback Brady Quinn from Notre Dame, selected by Cleveland.
On the board: Wide receiver
Dwayne Bowe
, safety Brandon Meriweather, linebackers
Jon Beason
and
Anthony Spencer
, offensive tackle
Joe Staley
.
2006: Linebacker
Manny Lawson
from N.C. State, selected by San Francisco.
On the board: Offensive lineman
Davin Joseph
, wide receiver Santonio Holmes, running back
DeAngelo Williams
, defensive end
Mathias Kiwanuka
.
2005: Wide receiver
Mark Clayton
from Oklahoma, selected by Baltimore.
On the board: Cornerback
Fabian Washington
, quarterback Aaron Rodgers, wide receiver
Roddy White
.
2004: Quarterback
J.P. Losman
from Tulane, selected by Buffalo.
On the board: Defensive tackle
Marcus Tubbs
, running back Steven Jackson, defensive end
Jason Babin
.
December, 18, 2013
12/18/13
7:45
AM ET
1. Yes, the Redskins looked a little different with
Kirk Cousins
at quarterback than with
Robert Griffin
III. But to suggest they unveiled a whole new set of plays is just wrong. They scrapped the zone read and the pistol look, but the plays and routes are the same ones they've used all season. You're not going to use Cousins on the zone read, so you have him throw off more bootlegs, etc. It's what they did in Cleveland last year; I don't remember many people harping on this "different offense" theory after that game. If Griffin had been more accurate this season, you would have seen a lot more plays work.
2. Also: Atlanta's defense is bad. But the Redskins' offense did little in the second half until that final drive. That sort of gets lost in the whole narrative of this game. After halftime the Redskins went three-and-out; interception; three-and-out; three-and-out; fumble; interception. Then came their near game-winning drive. The fumble series was the only one prior to the last one in which they gained any first downs (four).
3. It helped that Cousins had time to execute deeper plays, such as the 62-yard pass to receiver
Aldrick Robinson
. Cousins faked a handoff, dropped and turned and stepped into his throw. He had a clean pocket, which, often times, Griffin did not. Anyway, it made a difference as he hit Robinson in stride. Another time Cousins looked left, right and then threw to
Alfred Morris
over the middle for 8 yards (on a first-and-18). Cousins took 3.3 seconds and wasn't hit.
4. The Falcons did a better job in the second half in coverage, partly by playing man on one side and zone on the other. When they just used zone, there were too many gaps to find.
[+] Enlarge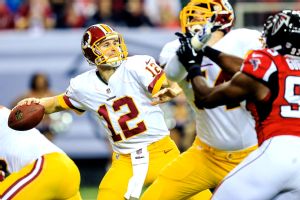 Daniel Shirey/USA TODAY SportsKirk Cousins completed 29 of 45 passes for 381 yards, 3 touchdowns and 2 interceptions against the Falcons.
5. On the first interception, the Redskins ran a two-man route off play-action. They're predictable in that they love running play-action from deep in their own territory. It often works. Not this time. Cousins looked to the left side for
Pierre Garcon
, but he never looked back until he passed the 20-yard line. Too late. So Cousins went back to Aldrick Robinson and made a bad throw. Simple as that.
6. His other interception was just a bad throw as well. Right read; guy was open; failed to lead him.
7. Cousins did have one missed opportunity. Looked like he was hoping to hit Robinson downfield, but the Falcons' corner had man coverage with safety help over the top. But Cousins took a bit too long to get away from Robinson. Had he done so, he would have seen Garcon breaking open over the middle. Instead, he eventually threw it away.
8. It absolutely helps Cousins that he doesn't run. Griffin can compensate for some sloppy technique at times with his ability to extend plays (I know, not a good year for him). Cousins can't do that, so he has to make sure he operates with more urgency in the pocket. As Griffin matures, that technique should improve. Has to. But I think he knows that.
9. On one play outside the pocket, Cousins, with a defender 5 yards from him, had to plant and throw to an open Moss for 16 yards. It's a throw Griffin has sometimes not made. But the hard part is playing that sort of "game" where you try to figure out what he would have done or if he would have had the same success. Impossible to know.
10. On the failed two-point conversion, the Redskins ran a rub route. It was the fourth play in a row they had done so and the Falcons adjusted. Receiver
Josh Morgan
looked open, but the problem was, he ran where he thought Garcon's man was going to be. But Garcon's man,
Desmond Trufant
, came up hard and covered him tightly. Morgan sort of hesitated before continuing on; he did not look ready to catch a pass.
11. I like how Cousins moved his feet in the pocket. When his body shifted one way, his feet did as well -- usually with a strong base -- so he was always ready to throw and could make an accurate delivery. On the 53-yard touchdown to receiver Pierre Garcon, Cousins slid left, pump faked, reset his feet and hit him in stride. By the way, on this play guard
Chris Chester
bumped a blitzing linebacker off stride to buy time. Chester missed a few run blocks early in the game, but he did a nice job here.
12. There's another footwork example that's better. With 2 minutes left in the game, Cousins looked right off the snap, then left, pumped the ball and jumped back to the right. His feet were moving with him the whole time, allowing him to make an accurate pass to Robinson for 11 yards on third-and-6. If you want to be a consistent passer, you must have consistent feet.
13. By the way, Cousins unloaded that pass -- again, going right to left and back to right and with a pump fake in there -- in 2.9 seconds.
14. Back to the film. The word decisive has probably been used 500 times to describe Cousins' performance. Make that 501 because he was, well, decisive with his reads and his throws. It enabled him to look quickly off primary targets. On the play in which
Santana Moss
fumbled in the second quarter, Cousins looked right, then back to his left and unloaded a nice pass to Moss for 17 yards -- all in 1.8 seconds.
15. Not sure what happened on the first quarter pass in which Cousins anticipated Robinson doing something different. The receiver kept running a go. But Cousins, maybe because the corner had leverage on him, threw it as if Robinson was going to stop 10 yards earlier.
16. The pressure on the sack-fumble was pretty quick: 2.4 seconds. There wasn't much Cousins could do; it was a three-receiver route and none of them were looking back at the ball when the ball was hit.
17. Cousins and tight end
Fred Davis
teamed up for a nice 23-yard touchdown. Credit Davis for selling the run on the bootleg. But the throw enabled Davis to run under it and made sure he was the only one with a chance to make the catch. A pretty play all around.
December, 16, 2013
12/16/13
7:50
AM ET
ATLANTA -- A review of four hot topics following the
Washington Redskins
' 27-26
loss
to the
Atlanta Falcons
:
Taking responsibility:
An underrated part of
Kirk Cousins
' game is his ability to say the right things. Cousins has made only two starts, but his handling of the postgame questions speaks volumes about his maturity. He's not afraid to put the blame on himself; it certainly was warranted on his two interceptions. No one else was at fault. He took the blame on the failed two-point conversion; Atlanta played it well, though, yes,
Josh Morgan
was open (
Pierre Garcon
was the primary read and
Desmond Trufant
blanketed him). So it's not all on Cousins. And when he talked about his successes, it was always about what the other guy did to help him --
Fred Davis
made a great catch; Pierre got open. It's not an act; this is how Cousins comports himself. I don't know what sort of quarterback Cousins eventually will become, but he has this part down pat.
[+] Enlarge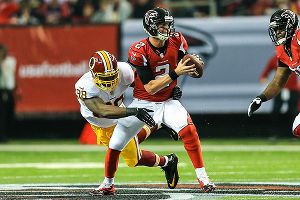 Daniel Shirey/USA TODAY SportsBrian Orakpo had another disruptive game, and he now has 58 tackles and 10 sacks.
Rak attack:
Linebacker
Brian Orakpo
had another terrific game. I know he's playing for a contract, but you can't discount his sacks either by just saying the season's over. If you do that, then you must discount other good performances, too. And no one else on defense is playing as well as Orakpo.
"I have to keep playing at a high level," Orakpo said. "I was able to get the tackle off his set, get his feet moving. He didn't know what change of direction I was going to go. I wouldn't say I was inside his head, but this game is about confidence and the confidence starts dwindling, that's when you take advantage."
Orakpo said he could tell left tackle
Lamar Holmes
' confidence had decreased: "I could tell because his feet were a little shaky as the game went on. At the beginning tackles have routine sets, but when your feet start moving too much that means you got him."
Turnover machine:
It's hard to underestimate the impact turnovers have had on the Redskins this season. They played well Sunday, except for the turnovers. Sadly for them, that's a difficult stat to overcome. They've turned the ball over 29 times, leading to 88 points -- the offense has scored just 74 points off turnovers. Last year, the Redskins turned it over 14 times and allowed just 51 points -- while scoring 113 points off opponent turnovers. That margin was third best in the NFL. In the past two seasons there have been 30 teams that have scored more points off turnovers than they've allowed; 22 have had winning records. The reasons for the turnovers must be fixed but there have also been some odd ones, like a couple involving running back
Alfred Morris
on Sunday. He wasn't hit that hard, yet still had the ball come free. Plays like that didn't happen last season, it seemed.
Toll of controversy:
There have been many crazy dramas surrounding the Redskins in the past 15 years, but this one probably has topped them all because of the big-name parties involved and the constant stream of reports. It's a good thing social media and blogs weren't around during the Steve Spurrier era or that would have felt as crazy as this one. It's hard to fathom how this season has unfolded and where it still might go. Though there appears to be at least one scenario under which coach Mike Shanahan returns, it still seems far-fetched to think all the parts will fall into place to make it work -- and then to think that will still result in a healthy organization. If it means giving him a contract extension, can you really justify that if they only win one more game? It would be tough to do minus all the drama, but with it? Even tougher. It's also hard to imagine the tension that exists between
Robert Griffin III
and Shanahan diminishing a whole lot, at least from the quarterback's perspective. The whole situation has weighed on players, with a number of them knowing their futures will be impacted by a coaching switch. In other crazy years, players knew from the beginning of the season that they were doomed and probably not good. So what transpired wasn't a surprise. That was far from the case in 2013, which is why for some the frustration level hasn't diminished a whole lot.
December, 15, 2013
12/15/13
9:38
PM ET
1.
Robert Griffin III
said all the right things Wednesday after learning he'd be shut down for the season. And he handled himself the right way Sunday. There's no doubt he knew the camera would be on him quite a bit. But he appeared to be in the game the entire time -- celebrating, upset when the two-point conversion failed, sitting next to offensive coordinator Kyle Shanahan and
Kirk Cousins
as they looked over snapshots during the game. It's exactly the way Griffin needed to behave.
2. I thought backup
Rex Grossman
was pretty good talking about how Griffin conducted himself Sunday. Here's what he had to say: "Great. It's a tough situation, but at the same time he's a good person and he has a bright future. He's the franchise quarterback. I think this situation is tough because it's so dramatic and he's handling it with class and going with it. It's not that big a deal, I think." Wait? Not a big deal? Here's why he said that: "Because he's going to have all the opportunity in the world to be as successful as he wants to be and he has a long time to get ready and his career is still [going up]. He understands that. Everybody does."
[+] Enlarge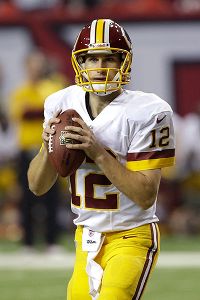 AP Photo/John BazemoreKirk Cousins had a nice day passing, throwing for 381 yards, but his three turnovers proved costly.
3. It's hard to praise Cousins for his performance without it sounding like a shot at Griffin. One doesn't have to be about the other. They're different. They have different strengths, which is why one offense will never look exactly the same for two quarterbacks. The zone read flourished last year; Cousins couldn't run it. Cousins is more comfortable in the pocket. Naturally, more plays will be called for him there. I'll say this: Atlanta's defense is really bad and the Falcons were using three rookies in the secondary. That's not taking anything away from Cousins because he still must execute and he did. He did that well, aside from a couple of plays (the turnovers, obviously). Those turnovers were the difference in the game and Cousins does throw picks. I remember one scout before the 2012 draft worrying about this part of his game. That must change. Anyway, seven turnovers in a game after having 14 all of last season. The Redskins should not have been in the game given that statistic.
4. But I liked how, on Cousins' 53-yard touchdown pass to
Pierre Garcon
, the ball landed in the receiver's arms right after he made his double move. No hesitation. I liked how Cousins used his eyes and didn't lock in on guys. He was decisive with his throws and was able to step into his passes. Cousins also usually gave receivers a chance to gain yards after the catch. He also avoided negative situations or third and real long. The Redskins were 5-of-10 on third downs with all but three for 6 yards or less. Makes a difference. Cousins helped by hitting checkdowns in certain situations, thanks to keeping his eyes downfield.
5. The problem with covering the
Washington Redskins
now is that so much of what goes on right now doesn't pertain to football. Rather, it's about reacting to various reports, or trying to find out what's true and what isn't. NFL Network reported today that Kyle Shanahan plans on setting out "on his own path next year." Shanahan denied this in a text Sunday night, saying it's "100 percent not true." But I do know that he's never liked when people refer to he and his dad as the "Shanahans". And that it would be good for him to be on his own, away from the questions that surround coaching for your father -- especially when you're not winning. He did a good job publicly trying to distance himself from the quarterback switch last week.
6. I don't blame Mike Shanahan for being annoyed with questions about his job status or situation. And he did answer a lot of these things publicly last week. But these stories keep getting leaked so the local media is then forced to ask about them. It's a bad cycle, but it starts with the leaks. Simple as that. You know why sports reporters get into this business? To cover games, not Watergate.
7. I had no problem with the Redskins going for the two-point conversion. You're 3-10, win the game when you have the chance. They had been picking apart the Atlanta secondary all game. They used a lot of screens and rub routes throughout the game and the Falcons did not handle them well. Naturally, on the two-point conversion they ran one that the Falcons finally defended. Cornerback
Desmond Trufant
didn't let himself get picked by
Josh Morgan
, instead clamping on to Garcon, the primary read.
8. However, Morgan appeared open. Cousins blamed himself for the play, something he does quite a bit. He's more honest about his bad plays than his good ones. "My initial reaction is I had Josh open on an offscheduled play and if I had set my feet, I may have been able to drill it into Pierre. That's a play I clearly didn't have a good enough feel for."
9. Give the Redskins' defense a lot of credit for how they played. Atlanta scored 20 points off turnovers , with one touchdown drive starting at the Redskins' 2. Atlanta started four drives in Washington territory (managing 20 points). The Redskins forced six punts and held Atlanta to 243 total yards. Linebacker
Brian Orakpo
had a terrific game with eight tackles, 1.5 sacks, three tackles for loss and two quarterback hurries working against left tackle
Lamar Holmes
. Orakpo used speed and power and set up Holmes well; he got him outside and then when Holmes set wide, Orakpo would get into his chest and cut inside. Defensive lineman
Chris Baker
played one of his best games -- maybe his best -- with four tackles and a hurry. He did a nice job shedding blocks, too, and making stops.
10. Running back
Alfred Morris
was too loose with the ball and it hurt Washington twice. His fumbles did not lead to points, but they occurred deep in Atlanta territory so they took away the Redskins' chance to score. Think another field goal would have made a difference? His game was like too many others: "Good game, but …" Morris finished with 98 yards on 18 carries and was terrific on the inside zone pitch; the Falcons linebackers overflowed and gave him cutback alleys. "A rope-a-dope deal," as
Logan Paulsen
called it. At times when the linebackers tried to read the play, it bought time for the offensive linemen to reach them.
April, 25, 2013
4/25/13
2:26
PM ET
Where they're picking:
19
Conventional wisdom tells us
the
New York Giants
are a "best-player available" team that uses the draft not to address specific areas of immediate need but rather to augment and maintain a deep roster from year to year. That means the player they take at 19 is probably going to be the highest remaining player on their board, and possibly someone who falls from a projected top-10 slot the way
Prince Amukamara
did two years ago. So the mock drafts have the Giants taking anyone from tackle
D.J. Fluker
to linebacker
Alec Ogletree
to cornerbacks
D.J. Hayden
or
Xavier Rhodes
or
Desmond Trufant
, but the Giants are generally content to wait and see what gem may fall into their laps.

History tells us
that, while the Giants do stick to their board, they do apply their own beliefs about position values when assembling that board. So that while someone like Ogletree or Fluker may be the objective "best player available" at 19, he may not be the highest-ranked player on the Giants' specific board. It has been 29 years since they took a linebacker in the first round and 14 since they took an offensive lineman. And while, yes, it had been 12 since they took a running back before they picked
David Wilson
last year, that was the 32nd pick in the round and their pre-2000 history shows that running back is a position that carries first-round value for them. They were able to ignore it for a while due to the success of
Brandon Jacobs
and
Ahmad Bradshaw
, who are now both gone. Recently, the Giants have seemed to like taking defensive backs. They've taken one with their first pick in four of the last eight drafts.
They probably won't
trade up. It would be unlike the Giants to identify a specific player or need and give up later picks in order to move up in the first round -- especially since their biggest needs are at positions to which they don't generally assign first-round value. That No. 19 spot feels like a comfortable spot for the Giants, who will likely find a player who can develop in their system and work his way into a starting job over the next year or so.
They could shock us by
taking Notre Dame's
Manti Te'o
. He'd be their first first-round linebacker since Carl Banks, so it would be a heck of a statement about what they think of him as a prospect. But it would be shocking for a number of reasons that have nothing to do with the Giants' draft history or established organizational philosophy about linebackers. Te'o comes with weird off-field baggage, the likes of which the Giants don't need in their market. He's tested poorly in the pre-draft process and he was beaten like a rug in his last college game. Some have connected Te'o with the Giants during the mock-draft period, but I'd be surprised if they broke a 29-year first-round linebacker drought for him.
My prediction:
I took cornerback
Desmond Trufant
for the Giants in the ESPN blogger mock draft earlier this week, and the reason I made that pick was because he was the highest-ranked defensive back left on the Scouts Inc. board at that time. If cornerback
Dee Milliner
or safety
Kenny Vaccaro
drops this far, I believe the Giants will run to the podium to draft him. Otherwise, Trufant, Rhodes, Hayden ... all good guesses, as are the Florida State defensive linemen.
April, 23, 2013
4/23/13
5:52
PM ET
Alec Ogletree
was sitting there at No. 19 when it came time to make the pick for the
New York Giants
in this year's ESPN.com
blogger mock draft
. And man, could the Giants use him. Heck, if I were running the Giants, that's probably the pick I'd make if the draft fell just that way. But I don't run the Giants. Jerry Reese does, and he apprenticed under Ernie Accorsi, and that's the way deep-rooted organizational principles live through the decades. The last linebacker the Giants took in the first round was Carl Banks in 1984. That's not a coincidence. That's 29 years' worth of evidence that they just don't assign first-round value to players who play that position.

Trufant
So linebacker was out, and since we were rolling with trends and history anyway, I figured why not pick the position to which the Giants consistently assign first-round value -- defensive back. There were some good ones available at this point. Only one cornerback (
Dee Milliner
) and one safety (
Kenny Vaccaro
) had been taken. I went with Washington's
Desmond Trufant
, mainly because he was the highest-rated corner after Milliner on the Scouts, Inc. draft board. It's entirely possible that, should they find themselves in this situation Thursday night, the Giants will have
D.J. Hayden
or
Xavier Rhodes
or
Jamar Taylor
rated ahead of Trufant and pick one of those guys. I do not know how they have the defensive backs ranked on their board. I just know that they've used their first pick on a defensive back in four of the past eight drafts, so it made sense to me to take one there this time around.
I thought about
Bjoern Werner
, the Florida State pass-rusher. I thought about
Sylvester Williams
, the North Carolina defensive tackle. Defensive line is another position on which the Giants like to use first-round picks, and either would have made sense there. My point was that, in predicting the Giants' first-round pick, it's important to understand the way they think. Yes, they believe it's important to take the best player still available on their board. But when they craft their board, the Giants tend to assign less value to some positions than to others. So while someone like Ogletree might look like the best player available at 19 to you or me, he likely doesn't look that way to the Giants, who believe they can find good value at linebacker in later rounds.