July, 18, 2014
7/18/14
11:00
AM ET
IRVING, Texas -- Examining the
Dallas Cowboys
' roster:
QUARTERBACKS (2)
The
Kyle Orton
watch is over now that the Cowboys released the veteran backup. The timing of it is a surprise, and Jason Garrett spoke optimistically all offseason about Orton's return. Now the Cowboys turn their attention to Weeden as Romo's backup. Weeden had a productive spring, running the first-team offense as Romo recovered from back surgery. The Cowboys haven't kept a third quarterback since 2011, and
Caleb Hanie
and
Dustin Vaughan
will have work to do to crack the 53-man roster
RUNNING BACKS (4)

The last two spots could be up in the air. Randle, a fifth-round choice, will be pushed by free-agent pickup
Ryan Williams
in the preseason. Williams, a former second-round pick, was not able to stay healthy in Arizona. The Cowboys have given him a chance to win a backup job. Clutts did a nice job as a late-season pickup in 2013. He is more versatile than undrafted rookie
J.C. Copeland
, but I don't think having a fullback on the 53-man roster is set in stone.
WIDE RECEIVERS (5)

I debated whether to go with a sixth, but later on you will see why I stuck with five. It is possible the Cowboys will look for a veteran in the final cuts if they feel limited by their depth because of injury, but I think they like the overall group. They will work their No. 3 receiver role on a rotation basis, but Beasley could emerge as a bigger threat on third down. There will be a lot of eyes on Williams, who takes over the No. 2 role on a full-time basis. Bryant is set for another Pro Bowl-type season.
TIGHT ENDS (3)

Witten remains near the top of the game at his position. His total catches were down last year, but his touchdowns were up. Escobar's role figures to expand, especially as a No. 3-type receiver. Hanna has the inside track on the third spot, but I have a feeling the Cowboys will be looking for more of a traditional blocker, especially if they want to get away from the fullback spot to open up a role elsewhere.
OFFENSIVE LINE (9)
The top six are set, with Bernadeau or Leary fighting it out for the left guard position and the loser becoming the top backup on the interior. Parnell is in the final year of his deal, and if Weems develops, I wonder if the Cowboys would look for a trading partner. They have invested a lot in Parnell in time and money for him to be a backup, so it would be a risk, but perhaps one worth taking. Weems had a decent offseason. Clarke gets the nod as the No. 9 guy right now, but veteran
Uche Nwaneri
could work his way into the mix.
DEFENSIVE LINE (10)
I think the Cowboys will go heavy here, especially considering what happened last year and the numbers they have thrown at the position this year. Four of them are rookies -- Lawrence, Gardner, Bishop and Coleman. I believe
Anthony Spencer
and possibly
Amobi Okoye
will start the year on the physically unable to perform list, so they don't make this 53-man roster with the idea that they join the team after the sixth game of the season. Wilson garnered the last spot over a 2013 starter,
Nick Hayden
, but there will be a few players in the mix for the final few spots, including
Ben Bass
.
LINEBACKER (7)
Carrying seven linebackers might be a little heavy, but I have special teams in mind when it comes to Will Smith. He benefits from having only two quarterbacks on the 53-man roster. The Cowboys spent the offseason telling us games are won and lost up front, so carrying an extra offensive or defensive linemen could get in this mix as well. McClain gets a spot only because of his experience. Backups of Holloman, Hitchens and Smith would be tough considering their youth, and I can see the Cowboys looking for veteran backup help around the final cut dates.
CORNERBACK (5)

Carr and Claiborne have to play exceptionally well for this defense to have a chance, and they might have to do it without much help from a consistent pass rush. Scandrick is coming off his best season, and Claiborne will have to beat him out to reclaim the starting spot. Moore can play inside and out. Mitchell showed in his limited offseason work that he can make plays. Last year's fourth-round pick,
B.W. Webb
, will have to fight for a spot. Based on his offseason work, he did not make the cut for this roster.
SAFETY (5)
Church is the only player without questions. The Cowboys are projecting the other four with their biggest bet on Wilcox. He enters camp as the starter, but he could be pushed by Heath and Hamilton. Dixon will be more of a special-teams threat if he is to make the roster. Hamilton showed some playmaking in the offseason. No
Matt Johnson
? Not right now, especially after he couldn't practice -- again -- for most of the offseason.
SPECIALISTS (3)

Perhaps
Cody Mandell
can push Jones, but Jones is the more consistent punter and has a good rapport as a holder for Bailey. Ladouceur remains one of the best long-snappers in the game. This group won't change during the summer unless there is an injury.
June, 17, 2014
6/17/14
10:30
AM ET
IRVING, Texas -- Through the organized team activities,
Dallas Cowboys
quarterback
Tony Romo
has been kept out of competitive drills as well as some individual work as he recovers from December back surgery.
Romo
With the Cowboys' minicamp starting Tuesday, Romo will continue down the same road. Romo has said recently he expects to be 100 percent within a few weeks, but that time frame comes after the Cowboys' offseason is over.
"We'll take him day-by-day like we do with all the other guys," Garrett said last week, "but I don't see it changing dramatically."
Romo has gone through walkthrough drills with the first-team offense and thrown individual routes with wide receivers, running backs and tight ends. He has not taken a snap in 11-on-11 or 7-on-7 drills. He has also sat out of the quarterback's footwork drills as the team attempts to protect him from jarring motions as much as possible.

Romo will not be the only Cowboy to likely be limited because of injury during the three-day minicamp. Wide receiver
L'Damian Washington
(shoulder), wide receiver
Devin Street
(quadriceps bruise), safety
Matt Johnson
(hamstring), linebacker
DeVonte Holloman
, linebacker
Anthony Hitchens
, defensive end
Ben Gardner
(groin), defensive tackle
Amobi Okoye
(illness), defensive end
Anthony Spencer
(knee), defensive tackle
Chris Whaley
(knee), wide receiver
Dwayne Harris
(shoulder), defensive end
George Selvie
(shoulder), defensive end
Caesar Rayford
(shoulder) have been either slowed by injury during all or part of the offseason program.
Johnson took part in just one OTA before his hamstring tightened up. Because of his history (he missed his rookie season with recurring hamstring injuries) the Cowboys have wanted to protect Johnson. He missed last season because of foot surgery.
He is hoping to take part in the minicamp in some fashion.
"I've just been making sure it's good to go," Johnson said. "I think we're being over-cautious but I feel good."
Cornerback
Terrance Mitchell
, one of the Cowboys' five seventh-round picks, will take part in team drills for the first time since the rookie minicamp in May. League rules prevented him from showing up before June 13 because Oregon had not graduated.
June, 9, 2014
6/09/14
11:30
AM ET
IRVING, Texas -- If the
Dallas Cowboys
are to break out of their 8-8 doldrums, they will need younger players to grow up in 2014.
Pete Prisco of CBS Sports
has two candidates for breakout seasons --
Travis Frederick
and
Terrance Williams
-- in his annual list.
Frederick
Williams
The Cowboys were one of four teams with more than one player. The
San Diego Chargers
had three:
D.J. Fluker
,
Melvin Ingram
,
Keenan Allen
. The
New Orleans Saints
(
Kenny Vaccaro
,
Akiem Hicks
) and
Denver Broncos
(
Montee Ball
,
Sylvester Williams
) also had two.
Here's what Prisco said about Frederick and Williams:
Travis Frederick, C, Dallas Cowboys -- When the Cowboys picked him in the first round of the 2013 draft, there were snickers. But it was the right move. He showed last season as a 16-game starter that he has a chance to be a really good center. He is smart and athletic, two musts for the position these days.
Terrance Williams, WR, Dallas Cowboys -- With
Miles Austin
now gone, this second-year player takes over as the starter opposite
Dez Bryant
. That should mean a lot of single coverage and a chance for big plays. Look for his numbers to go up dramatically from his 44 catches a year ago.
Defining how Frederick breaks out is tougher than Williams just because of the nature of his position. The Cowboys were stronger up the middle in 2013 than they had been in recent years because of Frederick. He did not miss a game as a rookie and carried himself as a veteran from the first day he arrived.
(As an aside, there is a similar feeling when it comes to this year's first-round pick,
Zack Martin
.)
For Williams, it can be a little easier to define because his statistics will be there for everybody to see. He caught 44 passes for 736 yards and five touchdowns as a rookie.
With Austin gone, Williams will be the starter opposite Bryant in 2014. The Cowboys have no reservations about Williams. They believe he will slide into that role without any issues. In coach parlance, they don't believe the game is too big for him.
He will get opportunities. Bryant will be the focal point of opposing defenses.
With Bryant catching 93 passes for 1,233 yards and 13 touchdowns in 2013, Austin caught 66 passes for 943 yards and six touchdowns as the No. 2 receiver in 16 games in 2012. The Cowboys would live with those numbers from Williams.
Cowboys' quarterbacks had 375 completions last year.
Pencil in Bryant for another 90-plus catch season.
Jason Witten
will catch 75-80 passes. The running backs will combine for 80.
Cole Beasley
should figure in that 35-45 catch range.
Dwayne Harris
and
Gavin Escobar
will have more than the 18 they combined for last year.
Devin Street
will be in that 20-30 range if things go well as well.
There will be opportunities for Williams to show 2014 will be a breakout season.
May, 28, 2014
5/28/14
2:00
PM ET
IRVING, Texas -- During the NFL draft process,
Dallas Cowboys
owner/general manager Jerry Jones and executive vice president Stephen Jones spoke to quarterback
Tony Romo
about the potential of drafting a quarterback.
The Jones family wanted Romo to know about the commitment they were making to him.
So instead of selecting quarterback
Johnny Manziel
with the 16th overall pick, the Cowboys snagged tackle/guard
Zack Martin
.
"I think you're going through, during that time, more than anything, you're excited about adding a football [player] and a guy who can help your football team," Romo said. "I think the organization has done a great job of going about the process of getting some people on the defensive and offensive lines that can help change the football game, and that's ultimately a difference … in our way that we're drafting now, and it shows we're committed to that. And that's how you win in the National Football League."
Stephen Jones said Romo didn't care if the Cowboys selected Manziel and noted Romo would beat out anybody on the roster at his position. Yet, of the nine selections in the draft, seven were defensive players.
The only offensive players snagged were fifth-round wide receiver
Devin Street
and Martin.
The draw to select Manziel was a strong one for the Cowboys, who had him ranked high on their board when the No. 16 pick came up.
"I knew what our team was hoping for in the draft, and so I think it was a great time to look at some of the top players that were available," Romo said. "And I knew we had a couple of guys up there and Zack was one of those guys, and once he was available I knew we were really excited about him. It's great that we got a guy with his ability at that spot in the draft, and I think it's going to show it's going to be a really good draft when it's all said and done."
May, 26, 2014
5/26/14
12:30
PM ET
IRVING, Texas --
Devin Street
knows how much of a difference a first impression can make.
"It's everything," said the
Dallas Cowboys
' fifth-round pick. "Just how the way you walk, how you carry yourself, how you work, being a leader, but at the end of the day it's football. I'm here because I love football."
The Cowboys don't need Street to set the world on fire as a rookie wide receiver. They hope he can be a valuable insurance policy behind
Dez Bryant
and
Terrance Williams
while filling a role along with
Dwayne Harris
and
Cole Beasley
.
The Cowboys needed another outside receiver after releasing
Miles Austin
. They did not add a veteran free agent and did not draft another receiver. In a perfect world, Street does not need to replace the Austin of Pro Bowl form, but the Austin who caught just 24 passes in 2013.
Street does not have Austin's speed and quickness, but in watching last year's film, he noticed some similarities.
"Route running," Street said. "Miles is a smart player, as well. He doesn't make a lot of mistakes. That's what I want to do, too. How he carries himself, how he works, just watching in the film room on the run plays and pass plays, he comes 100 percent with technique."
At a pre-draft workout at Pitt, wide receivers coach Derek Dooley made a quick change on one of Street's routes so he would not get off balance. He quickly aced it.
At the rookie minicamp, Street showed a savvy not often seen in rookie receivers. On a go route, Street cleanly broke away from the cornerback at the line of scrimmage. Instead of veering wide to the sideline, he remained on a straight line down the numbers to keep the corner on his heels.
That gave the quarterback the ability to throw the ball over Street's outside shoulder with room for him to make the catch without worrying about the sideline. With the ball in the air, Street was able to glide outside and make the deep catch. The cornerback was never a factor.
"You can tell he was in an NFL-type attack and understands angles, how to win one-on-one, how to find himself open in zone, and he certainly has a maturity level to how he runs routes," coach Jason Garrett said. "Very quarterback-friendly."
May, 23, 2014
5/23/14
10:00
AM ET
IRVING, Texas -- Part 1 of the Dallas Cowboys' Twitter mailbag is ready.
In it we discuss:
When Dez Bryant might sign an extension.
Lance Dunbar's roster spot with the addition of Ryan Williams.
The team's best free-agent pickup
The state of the defensive line.
The best of the undrafted receivers.
Look for Part 2 of the mailbag on Saturday.
Away we go:
May, 16, 2014
5/16/14
10:30
AM ET
IRVING, Texas – Jason Garrett did not invent the term "right kind of guy," but the
Dallas Cowboys
head coach certainly uses it a lot.
It does not mean a team full of choir boys, but leadership is part of the criteria. Of the Cowboys' nine draft picks, nine were captains on their college teams.
Zack Martin
, the first-round pick, was a two-time captain at Notre Dame.
Anthony Hitchens
(Iowa),
Devin Street
(Pittsburgh),
Ben Gardner
(Stanford) and
Ahmad Dixon
(Baylor) were captains last season.
"You want guys who are good people, certainly, but you want guys with great football character; guys who love to play, who have a passion for playing," Garrett said after the draft. "When you think about describing a lot of these defensive guys: they're all physical players, they all love contact, they love to play the game, they're well respected by their teammates and their opponents, you hear great things about them from their coaches. So those are kind of guys we want on our team.
"We're trying to build a culture. One of the great opportunities you have to build a culture is these last three days. Who are you going to bring in? I can sit here all day long telling people what I think is important in football, what we want this team to be. I tell our players that all the time. But then if we bring in players who don't really fit that, it becomes meaningless. So we feel it's important to have guys who love this game, who have a passion for this game, who want to work at this game and are just football guys. And we feel these guys are that."
May, 14, 2014
5/14/14
1:45
PM ET
IRVING, Texas -- The
Dallas Cowboys
have a rookie pool of $5.792 million to sign their nine draft picks and undrafted free agents.

Several teams have already started signing their draft picks and it is something the Cowboys could start to do at this weekend's rookie minicamp. Last year the Cowboys signed
DeVonte Holloman
,
Joseph Randle
and
B.W. Webb
in a five-day span in May. The entire draft class was signed by the end of June.
The Cowboys kick off a two-day minicamp Friday and could look to wrap up deals with picks in Rounds 4-7:
Anthony Hitchens
,
Devin Street
,
Ben Gardner
,
Will Smith
,
Ahmad Dixon
,
Ken Bishop
and
Terrance Mitchell
.
With the new collective bargaining agreement there is little negotiating involved, making the deals easy to reach conclusions. The late-round picks will receive base salaries of $420,000, $510,000, $600,000 and $690,000 on their four-year deals. All of the draft picks will receive four-year deals but the Cowboys will hold a fifth-year option on first rounder
Zack Martin
.
The Cowboys have $5.5 million in salary-cap space and will gain another $5.5 million in salary-cap space when
Miles Austin
's contract comes off the books June 2.
The extra space could help the Cowboys in securing long-term deals for
Dez Bryant
or
Tyron Smith
over the summer. Cowboys executive vice president Stephen Jones said during the draft the teams hopes to start talks with Smith's agent, "sooner rather than later."
May, 11, 2014
5/11/14
3:45
PM ET
IRVING, Texas – The
Dallas Cowboys
believe they drafted a third-round prospect despite trading their third-round pick.
They consider selecting Pittsburgh receiver
Devin Street
in the fifth round a steal.

Street had a third-round grade on the Cowboys' board, which is why they packaged their fifth-round pick (No. 158) and a seventh-rounder (No. 229) to move up a dozen spots and draft him with the 146th overall pick.
The Cowboys see the 6-foot-3, 189-pound Street, who holds Pitt's career receptions record with 202, as a pro-ready receiver. He's expected to immediately compete for the No. 3 receiver role and gives the Cowboys a legitimate option as an outside receiver if
Dez Bryant
or
Terrance Williams
gets injured.
"Very, very accomplished route runner, great hands, great length," Cowboys executive vice president Stephen Jones said. "If anything, needs to work on some of the strength a little bit. Other than that, he's played in a [pro-style] system, he knows the route tree. It will be easy for him coming in."
Street could be limited this offseason due to a shoulder injury he suffered as a Pitt senior, when he caught 51 passes for 854 yards and seven touchdowns in 10 games. That injury, which limited him to three reps of 115 pounds on the bench press at the combine, could have caused his draft stock to drop.
However, the Cowboys sent receivers coach Derek Dooley to privately work out Street on the Pitt campus. Dooley returned to Valley Ranch raving about Street and didn't stop until the Cowboys drafted him.
"It doesn't matter where you get picked; it only matters what you do when you get here," Dooley told Street during the
phone call after the Cowboys made the pick
. "Get your ass ready. You're going to get down here quickly and we're going to go to work, and you're going to put it on all those teams that passed you up.
"You see all them receivers that went ahead of you? All right, don't ever forget it, you hear me? And that needs to motivate you every day."
May, 11, 2014
5/11/14
1:00
PM ET
IRVING, Texas -- Grading drafts right after the conclusion of the selections is always tricky, but ESPN Insider Mel Kiper Jr. liked what the
Dallas Cowboys
did.
Kiper gave the Cowboys a "B."
To read all of the grades,
here are Kiper's marks

for every team, but you have to be an Insider to read it.
Here is what he wrote about the Cowboys:
Summary: Give Jerry Jones credit: I don't think it's unfair to at least be tempted by the prospect of Johnny Football with that blue star on his helmet, playing in that football theatre. But Manziel isn't making Dallas a better team in 2014, and Tony Romo -- for all the derision -- is a really good QB when he gets protection. The Dallas offensive line with Zack Martin isn't just the strength of the team, it's arguably among the top few units in the NFL. They are going to be able to run the ball. I had Martin as high as the top 10, so that's not a bad pick. I can see why Dallas added Demarcus Lawrence where it did, but a third is pricey in this draft. Devin Street addresses the depth the Cowboys really do need at WR, and they used the run of seventh-round picks to pile up some lottery tickets at need spots like safety, defensive tackle and cornerback, where Terrance Mitchell at times looked a lot better than your typical late-rounder. His 40 time didn't help, but he could stick. The Cowboys mixed in that typical moment of aggression, but in some ways they were as disciplined as any team in the draft, and they took some good shots to hit needs.
To me, it's interesting that he is high on Mitchell. He'll be a player to watch at the upcoming rookie weekend. He certainly has the size but he did not time well. He did, however, have five picks last season.
May, 10, 2014
5/10/14
7:46
PM ET
»
NFC wrap-ups
:
East
|
West
|
North
|
South
»
AFC
:
East
|
West
|
North
|
South
IRVING, Texas – A wrap-up of the
Dallas Cowboys
draft.
Click here
for a full list of Cowboys' draftees.
[+] Enlarge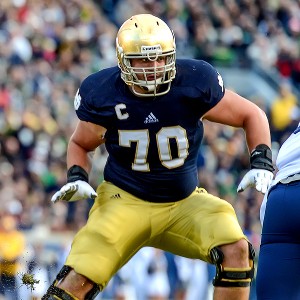 Robin Alam/Icon SMIZack Martin was the right choice for the Dallas Cowboys in the first round.
Best move:
In taking
Zack Martin
with the 16th pick in the first round with
Johnny Manziel
staring at them in the face, the Cowboys made a football decision. Bravo. It did not directly help a defense that ended last in the NFL in 2013, but indirectly it could make the defense better. If the Cowboys are better along the offensive line, they can do a better job closing out games by running the ball and the defense would be on the sidelines watching. Martin started 52 games at left tackle at Notre Dame but will move to guard, most likely for
Mackenzy Bernadeau
, this year. He is the third offensive linemen the Cowboys have drafted in the first round in the last four seasons. The Cowboys hit on tackle
Tyron Smith
(2011) and center
Travis Frederick
(2013) and if they hit on Martin, they will make Tony Romo's life much easier. Jason Garrett said teams win games up front, but he has been reluctant to run the ball and Scott Linehan's offense in Detroit was pass happy. The Cowboys do not have to become a ground-and-pound team but they will have to do a better job of finishing games with the run.

Riskiest move:
The Cowboys entered the draft knowing they needed a right defensive end. When they went with Martin in the first round, the need increased, so they were willing to overpay some by giving the
Washington Redskins
their second (47th) and third (78) picks in order to move to the 34th pick to take Boise State defensive end
Demarcus Lawrence
. With how the draft fell, they had a chance to stick at their picks and take defensive linemen anyway, but none with the elite talent they believe Lawrence has to affect the quarterback. Moving up is always dangerous. The last time the Cowboys moved up significantly in a round was in 2012 when they took
Morris Claiborne
in the first round. Through his first two seasons, the Claiborne move has not paid off.
Most surprising move:
Most of the draft experts had linebacker
Anthony Hitchens
as a late-round pick, but the Cowboys took him in the fourth round, No. 119 overall. He was Iowa's defensive MVP in 2013 and led the team in tackles for two seasons with 112. He could play inside linebacker as Sean Lee's backup and be a special teams stalwart early on. The Cowboys defense is predicated on speed and he ran a 4.7 at the scouting combine. But he was productive. He had an eye-catching 13.5 tackles for loss as a senior.
File it away:
The Cowboys came into the draft needing to find help for a defense that finished last in the NFL in 2013. The Cowboys ended up with nine picks and took seven defenders to potentially help Rod Marinelli make over the unit in 2014. Five of those picks came in the seventh round, so some expectations need to be tempered, but the Cowboys were able to find a defensive end in
Ben Gardner
, a linebacker in
Will Smith
, a safety in
Ahmad Dixon
, a defensive tackle in
Ken Bishop
and defensive back
Terrance Mitchell
. If the Cowboys can find three players to fill roles out of that group, they should be happy.