October, 24, 2014
Oct 24
9:30
AM ET
Injuries could force the
New York Giants
' defense to look a little bit different in the weeks that follow this week's bye. Defensive tackle
Cullen Jenkins
strained his right calf in Sunday's loss in Dallas. Middle linebacker
Jon Beason
might need surgery to repair the toe injury that's been limiting him since June. And injuries at cornerback could lead the Giants to bring back the three-safety look they used on their way to their most recent Super Bowl title three seasons ago.
"The game plan last week was to have
Stevie Brown
in the game with the three-safety package versus certain personnel groupings," safeties coach Dave Merritt said Tuesday. "That worked out for us, because Stevie went in and did his job and did what we asked him to do. The fact that we used to play the three-safety package a ton back in the day was because of the fact that we had three veterans who were able to play. I'm talking about Kenny Phillips,
Antrel Rolle
and Deon Grant. Right now, we feel like we've tested the waters and we have the same right now in our camp here."
[+] Enlarge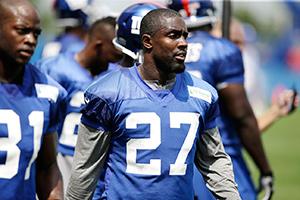 AP Photo/Seth WenigStevie Brown could see more playing time as the Giants adapt to injuries in their secondary.
The plan coming into this year was to play three cornerbacks most of the time. The team signed Walter Thurmond to play the nickel spot, but he suffered a season-ending injury in September, and
Trumaine McBride
, who took over, suffered his own season-ending injury in Week 6. So they are down to their third-string nickel cornerback,
Jayron Hosley
, and they don't seem comfortable leaning on him to the extent that they leaned on Thurmond or McBride.
Brown entered the season as a starting safety, but he lost his job in Week 4 after a poor start to the season and was replaced by
Quintin Demps
. Coaches have been pleased with the work Brown has put in since the demotion, and they believe there are situations in which it's better to have him, Demps and Rolle on the field at the same time than it is to have three cornerbacks. This arrangement could force Rolle into the nickel spot, a position he has said in the past he's willing to play but prefers not to, but Merritt said they are comfortable with Brown in there as well.
On the defensive line, Jenkins' absence for at least a few weeks leaves the Giants thin at defensive tackle. But they have had success playing defensive ends
Robert Ayers
and
Mathias Kiwanuka
at interior positions in pass-rush situations this season, and they might decide to do that more going forward to augment the defensive tackle rotation. Rookie defensive tackle
Jay Bromley
likely will be elevated to the active roster in Jenkins' absence, but there's also a chance second-year defensive end
Damontre Moore
could get more looks on the outside when Ayers and/or Kiwanuka move inside.
"Damontre needs to continue to improve and stay focused on what we're doing on first and second down," defensive line coach Robert Nunn said. "He can do it. He's a lighter body, not ideal, but he can play it. He has to stay focused and continue to improve in that area, and he will get more at-bats. He's going to get more opportunities on third down, so he just has to keep coming along and improve on first and second down. If he does that, then he's going to get those opportunities in pass-rush situations."
Moore has shown exciting ability in pass-rush situations and on special teams. But he has yet to earn the complete trust of the coaching staff as a player who can stop the run (and avoid jumping offsides).
No trust issues at linebacker, though. When Beason missed time early in the season,
Jameel McClain
filled in for him in the middle. At the time, rookie
Devon Kennard
was hurt, so
Mark Herzlich
replaced McClain on the strong side. This time, if Beason is out a while, Kennard could be the one who sees more playing time.
"Now that he's healthy, he's contributing on special teams, and last week was able to go in the game and do some good things," linebackers coach Jim Herrmann said of Kennard. "It was good to see him get out and get some game experience, because that is invaluable for a young linebacker. The other guys love him. He's got a great personality, and he wants to be great. I think we'll see some really good things out of him."
October, 22, 2014
Oct 22
9:00
AM ET
New York Giants
linebacker
Jon Beason
was in Charlotte, North Carolina, on Tuesday to once again see foot specialist Dr. Robert Anderson about his persistent toe injury. In a radio interview Tuesday, Beason said a determination would be made Wednesday about whether to finally have season-ending surgery to repair the injury, which cost him all of training camp, three full games already this season and the second half of Sunday's loss to the
Dallas Cowboys
.
Beason
"It's gotten progressively worse over the last couple of games," Beason said on WFAN radio in New York. "Right now I'd say it's 50-50. I'm still deciding if the smart thing is to go ahead and get it fixed and get ready for next season."
Beason injured his toe in the spring and sat out all of training camp with the injury. He aggravated it in Week 2 and missed three games in a row (all of which, he jokingly pointed out last week, the Giants won) before returning in Week 6 in Philadelphia. He aggravated it again Sunday, prompting the latest doctor visit.
When Beason has not been on the field,
Jameel McClain
has moved to middle linebacker to replace him and either
Devon Kennard
or
Mark Herzlich
has replaced McClain as the strongside linebacker. The Giants have at least five defensive backs on the field enough, however, that they usually only need two linebackers on the field.
Still, they made re-signing Beason a priority in the offseason due to the effect his play and leadership at middle linebacker had on them after they acquired him in a trade in 2013. So their strong preference would be to have him healthy and available for the rest of the season. They may find out Wednesday that they don't.
September, 24, 2014
Sep 24
2:30
PM ET
The
New York Giants
released their final injury report for Thursday night's game in Washington. As expected, rookie wide receiver
Odell Beckham Jr.
and rookie linebacker
Devon Kennard
, who have hamstring injuries, are officially ruled out.
Linebacker
Jon Beason
, who is trying to play through a foot injury, is listed as doubtful. Beason missed Sunday's game due to the injury but was able to do some practicing this week and hopes to be able to play at least part of the game.
Cornerback
Zack Bowman
(quad) and offensive linemen
James Brewer
(back) and
Charles Brown
(shoulder) are listed as questionable. Punter
Steve Weatherford
, who sprained his left ankle in Week 1 but hasn't missed a game, is listed as probable.
Beckham has yet to debut for the Giants after they used the No. 12 overall pick in the draft on him in May. But he was able to participate in practice Tuesday to a greater extent than he has in two months, and he's targeting the Week 5 game against the Falcons for a return. The Giants have repeatedly said, though, that they won't rush him back, so that Week 5 target is anything but set in stone.
The Giants also announced Wednesday they have signed former Raiders wide receiver Juron Criner to their practice squad and released wide receiver L'Damian Washington from it.
September, 23, 2014
Sep 23
5:15
PM ET
EAST RUTHERFORD, N.J. --
Odell Beckham Jr
. did more practice work Tuesday than he has in a long time, fueling talk that the
New York Giants
' first-round draft pick could be on the field for his NFL debut as early as the Week 5 home game against the
Atlanta Falcons
.
"That's the goal," Beckham said Tuesday. "But it's up to them."
Beckham
"Them" is the Giants' training staff, which has made it clear it won't put Beckham on the field if he's at all at risk of aggravating the hamstring injury that has held him out of action since June. But it's obvious he's getting closer, as he participated in some drills during Tuesday's practice as opposed to running around by himself on a back field while trainers watched.
"He practiced, did some individuals," Giants coach Tom Coughlin said. "It wasn't the most extensive of individuals, but he did that. His load is to increase as he goes along now."
Beckham said it's been driving him crazy not to play or practice, but that he's made peace with the idea that his time will come soon if he follows the program. The Giants' offense could use his presence as a deep threat on the outside in their preferred three-wide receiver offensive sets.
"There'll be brighter days in the future," Beckham said.
Middle linebacker
Jon Beason
was able to practice some, and it's possible he could play Thursday in spite of his foot injury.
"We look at him every morning and see how he feels and so on and so forth," Coughlin said. "He did okay today and we'll see what it's like tomorrow."
Linebacker
Devon Kennard
(hamstring) was the only Giants player who did not practice Tuesday. He said he did some running and is feeling better.
September, 10, 2014
Sep 10
7:35
PM ET
EAST RUTHERFORD, N.J. --
New York Giants
defensive end
Jason Pierre-Paul
came out of Monday night's game briefly with a neck/shoulder injury, but he returned and finished the game. The Giants had some concern that the problem might continue into this week, but so far it has not. Pierre-Paul practiced with the team in full Wednesday and said afterwards that he had no limitations.
Pierre-Paul
"I feel good," Pierre-Paul said. "I'll be out there. Full go."
Not participating in practice were wide receiver
Odell Beckham Jr
. (hamstring), offensive lineman
James Brewer
(back), defensive tackle
Markus Kuhn
(ankle), punter
Steve Weatherford
(ankle), linebacker
Devon Kennard
(hamstring) and defensive tackle
Cullen Jenkins
(hip).
The Weatherford, Kennard and Jenkins injuries all happened in Monday's game. Jenkins said he expects to play Sunday but couldn't be sure he'd practice Thursday. If he can't go Sunday, that would leave the Giants very thin at defensive tackle assuming Kuhn is still out.
Kennard said he pulled his right hamstring on the first defensive snap of the game (and of his NFL career) when he caught his cleat on the turf. He has no idea when they'll let him practice.
Weatherford got good news on his sprained ankle. He's got some torn ligaments but won't need surgery, and he's not ruling out the chance he can be on the field Sunday.
Beckham fielded some punts at the beginning of practice, which he didn't do last week, but he didn't run with them and continued to work off to the side while the team practiced.
August, 19, 2014
Aug 19
6:00
PM ET
EAST RUTHERFORD, N.J. -- For all of the very legitimate concern over the condition of
Odell Beckham Jr
.'s hamstring, the more pressing matter for the
New York Giants
with the season coming up quickly now is the state of the offensive line. The regular season begins in less than three weeks, and the Giants are still searching for the right starting-five combination of offensive linemen.
What's worse, the preseason has given them some reason to question whether they really are deeper on the line than they were during last season's meltdown.
The first-team line for Saturday's preseason game in Indianapolis was
Will Beatty
at left tackle,
Geoff Schwartz
at left guard,
J.D. Walton
at center,
Brandon Mosley
at right guard and
Justin Pugh
at right tackle. That's what it's been in practice since training camp started, and I think the Giants' ideal plan would be to feel good enough about that line to run it out there Week 1 in Detroit.
Problem is, Mosley has been inconsistent, Schwartz struggled a bit Saturday and Beatty's still recovering from (A) a broken leg and (B) a poor season, so they can't know what they have with him yet. He still needs to take practice reps off, and he did again Tuesday.
Now, the fill-in for Beatty earlier in camp was veteran
Charles Brown
, but he's got a shoulder injury now and was playing poorly even when healthy. With backup tackle
James Brewer
also hurt, the Giants tried something interesting Tuesday when Beatty had to come off the field. They moved Pugh from right tackle to left tackle, kicked Mosley out to right tackle and put rookie second-round pick
Weston Richburg
at right guard.
"They're all playing pretty much everywhere," Giants coach Tom Coughlin said. "You always attempt to be creative and flexible."
The goal is to find the best combination of five and let it play and jell together. But it seems clear at this point that the Giants don't feel they've done that yet. They could elevate Richburg, who's played both guard spots and center this camp, to starting guard in place of Mosley and put him and Schwartz on either side, really. If they ended up having to move Pugh to left tackle, they could play Schwartz at right tackle, where he has some experience, and keep Mosley and Richburg as the guards. Richburg could yet overtake Walton at center, which is the position he played in college.
What's disappointing, after a year in which they scrambled for depth on the line, is the backup situation. Brown was terrible at left tackle, and
John Jerry
has been a non-factor so far at guard. These were the veterans the Giants signed with the hope that they'd have more experience behind the starters this year than they did last year. Brewer hasn't developed and is on the roster bubble. Promising guard/center
Eric Herman
is suspended for the first four games of the season for a drug violation. Injuries to starters on the offensive line have a chance to put the Giants right back where they were when it all fell apart early last season. And in case you don't remember, that wasn't good.
Some other thoughts from Tuesday's practice:
This was a "cards" day, with time spent in preparation for Friday's preseason opponent, the Jets, specifically. So for much of practice, for example, the Giants' offense was running Jets plays. Eli Manning in the pistol, etc. And there were times when it was the defense's job to simulate Rex Ryan's exotic blitz schemes. This is the one preseason game for which the Giants devise a game plan, and it'll be interesting to see whether that helps the first-team offense look better.
Rookie linebacker Devon Kennard managed to tip and pick off a Manning pass in 7-on-7 drills while the defense was in a Jets-specific look. He's a fun player to watch in practice, though the special-teams coaches continue to work with him on technique on the coverage teams.
The Giants have tried the past couple of days to get Mario Manningham more looks on the outside at wide receiver to evaluate him and his balky knee. He does not seem to be performing at a high level. You wonder whether they will start using Victor Cruz outside more if they're not going to have Beckham to start the season, or whether they'll leave Cruz in the slot and use someone like Marcus Harris or Corey Washington on the outside.
August, 13, 2014
Aug 13
8:00
PM ET
EAST RUTHERFORD, N.J. -- A daily review of the hot topics coming out of
New York Giants
training camp:
Rookie wide receiver Odell Beckham Jr. continues to make significant progress from the hamstring injury that has held him out of practice since the first day of camp. The team's first-round pick even took a couple of snaps Wednesday in 11-on-11 drills and caught a touchdown pass on one of them. Giants coach Tom Coughlin didn't even rule out the possibility that Beckham could play in Saturday's preseason game in Indianapolis, though I have to think that's a long shot and that next Friday against the Jets is more likely.
Coughlin said left tackle Will Beatty and cornerback Trumaine McBride, who have been practicing but didn't play in the first two preseason games as part of the plan for their recoveries from offseason surgery, would play Saturday. He said to expect Beatty to play about as much as a starting offensive lineman would play in a first preseason game of the year. For comparison's sake, Geoff Schwartz and J.D. Walton played 20 snaps in the Hall of Fame Game, and right tackle Justin Pugh played 24.
Cornerback Walter Thurmond continues to dazzle, and I have to think it will be a huge relief for Giants slot receiver Victor Cruz to go up against whoever the Detroit Lions are using as a nickel cornerback Sept. 8 in Detroit. Thurmond's highlight plays Wednesday included a pass breakup on which he had tight end Larry Donnell blanketed over the middle and a stop on running back Rashad Jennings when Jennings caught a pass in the flat.
Other highlight plays: Rookie linebacker Devon Kennard knocking rookie running back Andre Williams to the ground in the backfield on a run play; Rueben Randle's acrobatic catch in the corner of the end zone against Dominique Rodgers-Cromartie in one-on-one goal-line drills; Rookie cornerback Bennett Jackson ripping the ball out of wide receiver Travis Harvey's hands at the end of a long pass play; Interceptions of Curtis Painter by Mark Herzlich and Chandler Fenner in early team drills.
Wide receiver Jerrel Jernigan was back at practice after sitting out Monday and Tuesday with a knee injury. New to the list of injured players sitting out practice was cornerback Zack Bowman (unclear what his injury was). Also sitting out were running back Peyton Hillis (ankle), tight end Xavier Grimble (hamstring), tight end Daniel Fells (knee), return man Trindon Holliday (hamstring) and defensive tackle Mike Patterson (shoulder).
Cruz, who had some knee issues in practice this week, seemed completely fine and appeared to do everything in Wednesday's relatively short practice.
Though they will continue to practice here next week as they have been, Thursday marks the final official day of Giants training camp. That means Thursday's 1:20 pm practice will be the final practice of the year that is open to the public. So take off work and come out to say hi. Tell your boss I said it was okay.
August, 13, 2014
Aug 13
4:00
PM ET
EAST RUTHERFORD, N.J. -- Never let it be said that I'm not here to serve the people. Every day of training camp, the
New York Giants
' media relations staff asks us for lists of players we'd like to speak to, and then they work on bringing those players out to us for interviews. Wednesday, I was struggling for ideas and therefore struggling to decide which players to request, and as this was happening I got this from Twitter follower Kevin Oakes:
Hey @DanGrazianoESPN could you give an update on how the LBs are doing? Kennard, Beason, McClain, Williams and any others worth mentioning?

— Kevin Oakes (@kkkevinnn) August 13, 2014
So I asked to talk to some linebackers, and I got some decent stuff.
With starting middle linebacker
Jon Beason
still
working his way back from a foot injury
suffered in the spring, the most likely Week 1 starting lineup for the Giants at linebacker is
Jameel McClain
in the middle,
Jacquian Williams
on the weak side and rookie
Devon Kennard
on the strong side.
Spencer Paysinger
could overtake Williams on the weak side, but after years of using Williams as a weakside backer in nickel situations, the Giants' coaches now say they're ready to trust him on all three downs. Once Beason returns, the most likely result is that McClain moves back to the strong side, but it's not out of the question to think Kennard could hold him off. The rookie has been impressive.
So here are some thoughts from and/or about the three men likely to be the Giants' starting linebackers on Monday, Sept. 8 in Detroit.
Jacquian Williams
It seems like a long time ago that Williams was one of the heroes of the Giants' NFC Championship Game victory over the 49ers in San Francisco, stripping the ball from return man Kyle Williams and setting up the game-winning possession in overtime. He missed six games the following season to injury and was a rotational player for the Giants in 2013. But he says he thinks back on that 2011-12 postseason for inspiration.
[+] Enlarge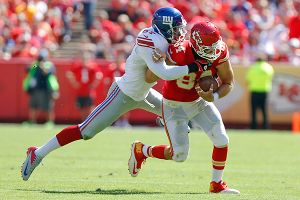 AP Photo/Ed ZurgaJacquian Williams seems ready to take on more responsibility in his fourth season.
"I remember that Super Bowl," Jacquian Williams said Wednesday. "I'm a rookie, and there's two minutes left. Two minutes left! It was a big deal. And I kind of was still trying to find myself as a rookie. You know, it's the Super Bowl. Big time. And (linebackers coach Jim Hermann) says, 'Jacquian! Jacquian! Go out there!' And I'm looking like, 'Huh?' And he's like, 'Go out there!' And that there was a big moment for me as far as knowing I definitely belong here. Even though I had had my flashes and everything throughout the year as a rookie, that was a turning point."
It has taken a while to go from fun, useful rookie to NFL starter, but Williams believes he's completed the journey and he knows what the difference is between now and then.
"Trust," Williams said. "Trust from the team, and not only the coaches, but the players. My teammates are trusting me to be in that role. They speak up for me more at times. And overall, my confidence. My personal confidence for the game, for the position. And experience."
Beason said he thinks Williams and Paysinger both have made big leaps from last season to this season.
"I really feel they're ready to contribute and take that big step to where they can be dominant linebackers in this league," Beason said. "Because they have all the intangibles, and they have the experience now, which is the most important thing. You can't expect a guy to go out there in his first couple of games starting, ever, and kill it. But last year they both made splash plays, and I think this year they're ready to be consistent."
Devon Kennard
The 174th overall pick of this year's draft -- one of two fifth-rounders the Giants had this year -- Kennard didn't seem likely to be a big-splash guy this summer. But goodness, has he been the talk of the defense since OTAs.
[+] Enlarge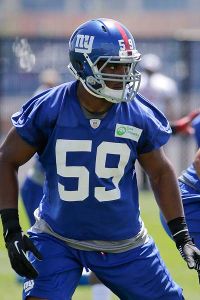 Julie Jacobson/AP PhotoThe coaching turmoil at USC might have been a blessing in disguise for Devon Kennard.
"Great rookie. Very polished, more so than anything," Beason said. "Not just his physical attributes, but the way he prepares. As a rookie, that's kind of unheard of. You don't really see a guy come in and put the time in making calls and doing those little things. Most guys, it takes them a long time. But he's polished, and he's going to help us out a lot this year, Kennard."
Beason said he thinks Kennard benefited from all of the coaching staff turnover and turmoil that happened during his time at USC. Recruited by Pete Carroll, he played most of his USC career for Lane Kiffin after Carroll left for the Seahawks, then had three different head coaches last year after the Kiffin thing fell apart and Ed Orgeron resigned before the bowl game because he didn't get the full-time job replacing him.
"I moved around a lot," Kennard said.
He has been a standup outside linebacker, a standup inside linebacker, a pass-rusher ... you name it. And being an overall student of defense has helped him get rise quickly since the draft.
"I ask a lot of questions, and I spend a lot of time in my playbook," Kennard said. "I try to understand as much as I can, and as more and more goes in, I try to keep it organized in my mind and constantly go over things so I can play as fast as I can when it's time to practice and play in games. It's a work in progress, but I'm working every day."
At this point, if something happened to McClain before Beason returned, Kennard would be the next guy they put in at middle linebacker. They already trust him with the on-field organizational responsibilities associated with that position.
Jameel McClain
"Jameel is a proven vet, very vocal, and he's going to help us out big time, especially at that Mike position, getting guys lined up," Beason said.
They didn't bring McClain out to talk to me, so that's about all I have on him. But his presence on the roster is a sign that the Giants have changed the way they look at this position. They went for cheap solutions for years. Williams, Paysinger and
Mark Herzlich
, a special-teams ace and backup linebacker, were all rookies in that same 2011 season. Of the three, Williams was the only one who was drafted, and they got him in the sixth round.
But after Beason took over as a leader on defense at a critical time last season, the Giants reconsidered their view of the value of spending resources on linebackers. They re-signed Beason, drafted Kennard and signed McClain, who provides a veteran presence they need on the field as long as Beason is on the shelf.
This position group might not be a clear strength of the team the way cornerback is. But gone are the days it stands out as a clear and damaging weakness (the way, say, tight end is). If nothing else, this year's Giants linebacker group is interesting, and offers reason to hope it might be fun.
August, 13, 2014
Aug 13
1:05
PM ET
EAST RUTHERFORD, N.J. -- Standing on the sidelines and watching practice while healing from a foot injury has been an eye-opening experience for
Jon Beason
. The
New York Giants
' middle linebacker said he's gained a greater appreciation of his coaches' perspective.
Beason
"I see how coaches can get frustrated, because you're always right," Beason said. "You've got that great vantage point. You're not tired. You have the script. You get the chance to kind of think about the play longer. So that part of it has opened my eyes, and I get where they come from, their frustration when we don't do things right."
Defensive coordinator Perry Fewell said last week that Beason has been in his ear all throughout training camp with opinions and suggestions, and that it's been a help. It's about all Beason can do right now. He broke his foot during OTAs and spends time early in practice running by himself on a back field. He tracks his progress day by day while still hoping he can be ready for the Sept. 8 season opener in Detroit.
"You try to get out there and tax it a little bit, see how it feels, and then everything is based on gauging it the next day," Beason said. "Is it really sore? Is it just a little bit sore? And then if you can have consistent days, then you know you're kind of building up a tolerance. So that's usually the process in any rehab. Toes are a little iffy, because it doesn't take much pain to have irritated feet, makes it hard to change direction, especially as a defensive player where you have to do a lot of reacting."
Beason said earlier in camp that he hoped to play in at least one of the Giants' preseason games. But there's no way he'll be ready for Saturday night's game in Indianapolis, and at this point it would be pretty surprising if he were ready to play the Aug. 22 game against the Jets. That would leave only one more preseason game -- Aug. 28 against the Patriots -- for Beason to fulfill that goal. But he's staying patient.
"It's coming along," Beason said. "We still have time. I'm just trying to listen to the staff, who I trust, and trying to listen to my body. But we are playing on Monday night (in the season opener) and it's still a little over three weeks before the game, so a lot can happen between now and then."
Jameel McClain
has been manning the middle linebacker spot in Beason's absence, with rookie
Devon Kennard
playing the strongside linebacker spot that had been slated for McClain.
August, 7, 2014
Aug 7
2:45
PM ET
EAST RUTHERFORD, N.J. --
Jon Beason
is still working his way back from a broken foot and unable to practice, but he's still a major presence at
New York Giants
training camp practices. Defensive coordinator Perry Fewell says Beason is everywhere.
"He is present," Fewell said before Thursday's practice. "He is listening to every call. He's like a microphone in my ear all the time. He's in my ear and I'm in his ear. I hear things on the field, calls on the field, and I go to him and say, 'I wish we could change that. How can we make this better?' So we're communicating all the time."
[+] Enlarge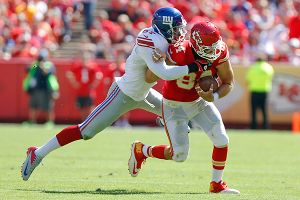 AP Photo/Ed ZurgaJacquian Williams looks healthy and poised for a breakout season after injuries slowed him the past two seasons.
Beason's arrival by trade from Carolina last season completely altered the way the Giants viewed their linebacker situation. After basically neglecting it for years, Beason's impact as a leader and a middle linebacker convinced them to invest in the position this offseason, and re-signing Beason was a top priority. They also brought in veteran
Jameel McClain
(who's taking Beason's spot in the middle while Beason heals) and spent a fifth-round pick on USC's
Devon Kennard
. Add that to holdovers
Jacquian Williams
and
Spencer Paysinger
, and linebacker has gone from a position no one around here wanted to talk about to a reason for optimism.
"I think we look good on paper because I think we're stronger at linebacker than we've been in the past," Fewell said. "Especially if Jon Beason returns, but I still like the 'backers that we have. I like Jameel McClain. I like Jacquian Williams. Devon Kennard, he's been a very pleasant surprise for us. Some of our young players, the
Spencer Adkins
kid has performed well. So we've strengthened ourselves there."
Beason has been doing more running on a side field during practice the last couple of nights, and he believes he's on track to return by Week 1. Assuming he does, he mans the middle with either McClain or rookie Kennard on the strong side. And Williams, who in the past has been a weakside linebacker in the nickel defense only because of his coverage skills, is now projected as the weakside linebacker in the base defense as well.
"I've worked hard, trained hard, studied hard, and the opportunity as a professional was there, so it's for me to take advantage of it," Williams said. "The goal is to be an every-down linebacker. I belong there, I worked for it, and it's my time."
Williams was a star for the Giants on special teams and in coverage as a linebacker on passing downs during their victory over the 49ers in the NFC championship game three seasons ago. That was his rookie season, and health issues have held him back over the past two. But he says he's healthy now, and his speed and coverage ability should allow the Giants to keep their defensive backs in their regular roles more reliably.
"I think Jacquian Williams has made great strides since his rookie year, and he's performed like he's a three-down player thus far in this camp," Fewell said. "His run fits and his confidence in his coverage ability, his knowledge of his assignments, executing his assignments with speed, coming back with feedback, knowing the other position, saying 'I knew he was supposed to be here and this was what I did,' being able to have a good football conversation about what happened on that particular play."
Such advancements by Williams have taken time, but they're a huge boost. As is the surprising performance of fifth-round pick Kennard out of USC.
"I would say he's exceeded my expectations from this standpoint," Fewell said. "Young guy who played a number of different positions at SC. Came in very mature, extremely football-smart and very poised as a young rookie. We really don't find that a whole lot. So yes, he exceeded my expectations."
Kennard could push McClain for the starting strongside job once Beason returns, or he could serve as a valuable backup at a couple of spots. It has been a long time since the Giants have felt they had depth and quality at linebacker, but they have reason to feel that way going into 2014.
July, 23, 2014
Jul 23
4:20
PM ET
[+] Enlarge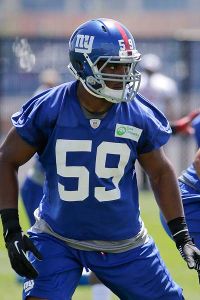 Julie Jacobson/AP PhotoThe Giants have seen great things out of rookie LB Devon Kennard through offseason team activities.
EAST RUTHERFORD, N.J. -- The
New York Giants
are desperate for one of their middle-round or late-round draft picks to turn out to be a helper. It's been way too long since that happened for them. But while it's still incredibly early, what they've seen so far from 2014 fifth-round pick
Devon Kennard
has them pretty excited.
The former USC linebacker has been working at the strongside linebacker position in early training camp practices, but he got some work at the vital middle linebacker spot in spring practices and showed an ability to rapidly and effectively pick up the responsibilities that go along with that position. With starting middle linebacker
Jon Beason
out, Kennard is likely the next option for that position behind veteran
Jameel McClain
. And after McClain was carted off the field with a foot injury Tuesday, the contingency plan was to use Kennard in the middle Wednesday. And they didn't expect the fact that he's a rookie to hold him back.
"Not at all if he can do it," linebackers coach Jim Hermann said before Wednesday's practice. "If he can handle it and get everyone lined up and understand the nuances and where he belongs, sure. He's a pretty thick kid, he can hit people, so that's good."
Kennard may be a "thick kid" physically, but he's a sharp one mentally, and that's where he's stood out in this embryonic portion of his career. He embraces the idea of playing the on-field leader role, knowing everyone's assignments and helping make sure they're carried out. And he's proud his coaches view him as such a quick study.
"I think they're definitely happy with how fast I've picked things up, but it's still a long way to go," Kennard said. "I still have a lot of things to correct from yesterday and I'm still taking steps every day to improve and to make sure I know what I need to do to keep playing at the level they expect of me."
Thing about it is, the Giants don't tend to expect much from their rookies early. If Kennard can be a major contributor on defense this year, that would be a huge bonus and make them feel very good about this particular fifth-round pick. And while the pads have yet to go on and the preseason games have yet to start, so far, so good.
"He played at USC and he played under four different coordinators there and played four different positions," Hermann said. "So I think he kind of got lost in the college shuffle a little bit. Again, we've got to go out and see him in live games, but based on what you see of him on film, he's not going to shy away from that part of it. He's calm, cool and collected. It's the speed of the game that's the question, and we'll see how he plays. But based on what we do out here, I don't think he's going to have a problem."
June, 28, 2014
Jun 28
10:00
AM ET
One last
New York Giants
Twitter mailbag before I start a too-brief summer vacation ...
@DanGrazianoESPN Expect to see more corner nickel looks compared to three safety looks due to relative depth at those positions? #nygmail

— Ryan Gallasch (@RyanGallasch) June 26, 2014
@DanGrazianoESPN
: Yeah, I think that's a fair expectation, and I think you saw the Giants lean that way last year with
Terrell Thomas
as the regular nickel corner. They signed
Walter Thurmond
to play that position, and he's as good at it as anyone in the league. And they're thin at safety with
Will Hill
suspended and released,
Stevie Brown
coming off knee surgery and
Quintin Demps
having been signed primarily to return kicks. They have been talking a lot about keeping
Antrel Rolle
at safety, rather than using him all over the field as they've done in years past, and obviously sticking with a three-cornerback look would help with that. I honestly don't see the need for the old three-safety package, especially if
Jon Beason
is back healthy at middle linebacker early in the season. It worked well during that 2011 Super Bowl season, but that year they were thin at cornerback and linebacker and deep at safety. You're right if your point is that the scheme should be based around the personnel, and right now cornerback is a Giants strength.
@DanGrazianoESPN #nygmail who are the starting LB corp if beason is out? How many wrs are they going to carry and who?

— Ibleedbigblue (@tmerritt51) June 26, 2014
@DanGrazianoESPN
: With Beason nursing a foot injury, the starting middle linebacker in training camp (and probably for Week 1) is going to be
Jameel McClain
. He projects as the starting strongside linebacker if Beason's healthy, but he's taking over in the middle while he's not.
Jacquian Williams
is the front-runner for the starting weakside linebacker spot, and the strongside position should belong to either
Spencer Paysinger
or rookie
Devon Kennard
, who impressed coaches with his minicamp performance. As for receivers, that's an interesting case. My first thought is that they keep six --
Victor Cruz
,
Rueben Randle
,
Mario Manningham
,
Odell Beckham Jr.
,
Jerrel Jernigan
and
Trindon Holliday
. But Holliday isn't really likely to factor as a receiver, as he's pretty much exclusively a kick and punt returner. So that would leave them with five real receivers (four if Manningham's knee won't let him answer the bell). That opens it up for someone like a
Marcus Harris
,
Julian Talley
or
Corey Washington
to possibly sneak onto the roster with a good camp, but that's a long shot.
@DanGrazianoESPN #nygmail why was Beatty so bad last year and will he rebound? It seems the rest of Oline will fall into place if he's good

— David Lee (@giwook11) June 20, 2014
@DanGrazianoESPN
: Based on my conversations with Giants people (and with
Will Beatty
himself) last year and this spring, I think the main reason Beatty struggled was technique. He's not a big, monstrous, mauling left tackle who relies on strength and an ability to overpower people. Beatty's success, when he's had it, has had more to do with quickness and athleticism. I was told last season while he was struggling that Beatty was playing with his hands too low, giving away leverage and hurting his ability to dictate his matchups. That sounds like an easy thing to fix, but bad habits are tough to break, and as the year went along the struggles got into Beatty's head. He admitted in December that he'd felt the weight of his free-agent contract and let the pressure get to him, and I think he was looking forward to an offseason to clear his head. The problem is that Beatty's offseason has been about recovery from that broken leg he suffered in the Week 17 game against the Redskins, and he hasn't had time to practice getting back into good habits. I agree that a Beatty rebound would have a positive ripple effect along the rest of the line, but at this point you have to consider him a major question mark, and not just because of the injury.
@DanGrazianoESPN Why did NYG let Mike Pope go? #nygmail

— Zachary Kretchmer (@1970Bing) June 20, 2014
@DanGrazianoESPN
: The firing of their longtime tight ends coach does rank among the more surprising moves of the Giants' offseason. But when they hired young Ben McAdoo as their new offensive coordinator, it was only fair to assume he'd want to bring in a few of his own coaches and help construct the staff. During those discussions, it was decided that Pope's position would be one of the ones to turn over. They moved wide receivers coach Kevin M. Gilbride (the son of the former offensive coordinator) to tight ends coach, Sean Ryan from quarterbacks coach back to wide receivers coach and hired Danny Langsdorf as the new quarterbacks coach. Pope was a Giants icon, and the only person whose name is on all four of the franchise's Super Bowl trophies. But there was an effort to get a bit younger on the coaching staff this offseason. Tight end
Adrien Robinson
spoke during OTAs about how he's felt a different kind of connection with the younger Gilbride than he did with Pope, and if that's the case with the rest of the group it might answer your question. Thanks for all of your questions. If you need me, I'm on the golf course.
June, 21, 2014
Jun 21
10:00
AM ET
You used the #nygmail hashtag on Twitter this week, and I thank you for it.
@DanGrazianoESPN who are opening day LBs #NYGmail

— Maije (@benantell) June 20, 2014
@DanGrazianoESPN: Let's assume, for the sake of this discussion, that middle linebacker Jon Beason does not make it back from his foot injury to play for the New York Giants in Week 1 in Detroit. If that is the case (as seems likely), then Jameel McClain is the front-runner to start at middle linebacker.
At this point, the starters on the outside would be Spencer Paysinger and Jacquian Williams, but rookie fifth-rounder Devon Kennard impressed coaches in the spring program and could be in the mix to start on the strong side. What's interesting to me is that linebackers coach Eric Hermann had a lot to say Thursday about the improvement Williams has shown as a weakside linebacker in the Giants' base defense. They already love him on the weak side in their nickel package due to his speed and coverage ability. But if they like him there in the base as well, Williams might be ahead of Paysinger to start there even once Beason returns and McClain moves back to the strong side. So to answer your question, I'd expect to see McClain in the middle, Williams on the weak side and either Paysinger or, if he has a big camp, Kennard on the strong side in Week 1.
@DanGrazianoESPN #nygmail. Do they believe in Nassib if god forbid Eli got hurt. #Dontwantthepainterstarting

— Ibleedbigblue (@tmerritt51) June 20, 2014
@DanGrazianoESPN: No. I mean, obviously the short answer is no at this point, because Ryan Nassib, who didn't play at all as a rookie (by design) is still a work in progress.
Giants coaches like his progress. Quarterbacks coach Danny Langsdorf on Thursday praised Nassib's intelligence and his ability to pick up the new system but said he's still got to work on his accuracy and his timing. Which is understandable, given that he's still a young quarterback who's never played in the league. It's clear they view him as the No. 2 right now behind Eli Manning -- or that they're at least giving him every chance to beat out Curtis Painter for that spot in camp. But no, if Manning got hurt, at this point the Giants would not have honest confidence in Nassib or anyone else who might replace him.
Manning costs the Giants 17 percent of their salary cap. He's the player around whom their team is built. If they don't have him, they simply won't be a remotely competitive team. Even if Nassib comes quickly in camp and becomes a viable No. 2, there's no chance that, in 2014, he offers anything close to what Manning offers as a starting NFL quarterback. All the Giants want from Nassib is continued growth and development, and their hope is that he's a decent backup/emergency option this year and maybe more down the road.
@DanGrazianoESPN giants are one injury to JPP or Jenkins and that d line will be just as bad as last years O line. You agree? #nygmail

— Hojo (@bkrupp47) June 20, 2014
@DanGrazianoESPN: I agree that the Giants' defensive line is questionable behind the starters, and that there's a chance it could be a bad defensive line. They desperately need Jason Pierre-Paul to stay healthy and dominate from the defensive end position, because honestly they're not going to get much pass rush from the other side at this point. Mathias Kiwanuka and Robert Ayers are what they are, and they're not the kinds of defensive ends who are going to whip tackles regularly and pile up sacks. And Damontre Moore is still developing.
On the inside, you mention Cullen Jenkins, and I agree he's key because he's the one guy in there who's not a question mark. Coaches were raving this week about the development defensive tackles Johnathan Hankins and Markus Kuhn have shown, and if so then that's a positive thing for them and for the Giants. But there's no way to know until they can practice in pads and play against other teams what they really have in there. To me, the Giants are hoping a lot of people -- namely, Hankins, Kuhn, Moore, Ayers and Kiwanuka -- outperform anything they've yet shown in the league in order to make them strong on the defensive line. It's not nuts to think one or two of them will, but... all of them?
@DanGrazianoESPN If season started today, who would be the 5 o-linemen? #nygmail

— Chris Burns (@chrisburnzy) June 20, 2014
@DanGrazianoESPN: The first-team offensive line in minicamp was, left to right: Charles Brown, Geoff Schwartz, J.D. Walton, Brandon Mosley, Justin Pugh. Which, no, is not good. They believe Chris Snee could play right guard if he had to right now, but he's working his way back from elbow and hip surgeries and they're taking it slowly with him. And they're also hoping Will Beatty is healthy enough to play left tackle in training camp ahead of Brown, who was signed as a backup. Rookie Weston Richburg is in a straight-up competition with Walton for the starting center spot. So it's possible that by Week 1 it's Beatty/Schwartz/Richburg/Snee/Pugh, which would look a lot better than what they ran out there this week. But as of now, that's your starting five.
Mosley's an interesting case. They like him and think his development has been hurt by injuries. But the fact that Snee and John Jerry (knee surgery) haven't been able to get on the field helped Mosley get a lot of first-team reps this spring. And that can only help him if they need to turn to him to play a starting role in camp, in the preseason or in the season.
Thanks for all of your questions. Enjoy the first weekend of summer.