August, 10, 2010
8/10/10
12:33
PM ET
By
Matt Mosley
| ESPN.com
ESPN.com NFL Power Ranking
(pre-camp): 20
ASHBURN, Va. -- It's 7:15 on a Friday evening at Redskins Park and coach Mike Shanahan has taken a short break from watching film of the morning's practice. The man who always appears to be five minutes removed from a tanning session is discussing a philosophy that's served him well over the years, but came into question when he was fired in Denver after 14 seasons and two Super Bowl titles.
Now Shanahan and his hand-picked quarterback,
Donovan McNabb
, want to prove that both of their previous employers made a mistake. We're talking about two of the most prideful men in the league, and in two separate conversations with the NFC East blog last Friday, they essentially said the same thing.
"Yeah, both of us are here to win a Super Bowl," Shanahan said. "If you're not in it to win a Super Bowl, then you need to find something else to do. I'm not ever going to comment on how things were done here before, but we had a philosophy that worked in Denver, and that's what we're going to follow."
It's worth noting that two years ago, players were hailing the unorthodox approach of Jim Zorn. He played music during practice and delivered lectures on designer jeans. He was sort of the lovable hippie -- right up until the team started losing. In '09, the Redskins became the most dysfunctional organization in professional sports. Zorn couldn't be shamed into resigning, so the Redskins simply stripped him of his dignity (and play-calling duties).
Dan Snyder hired Bruce Allen and Shanahan because he has lost so much credibility with Skins fans. Allen and Shanahan immediately began changing the culture at Redskins Park. This was a team crying out for some form of discipline, and Shanahan has delivered in spades. If a player doesn't hustle between drills in practice, Shanahan will call their names after practice and tell them to run extra sprints. He also makes sure that every player keeps his shirttail in during those sessions. Shanahan can get away with this because of those two rings.
With one hire, the Redskins are once again relevant in the NFC East. Now, let's take a closer look at their chances of making the playoffs:
THREE HOT ISSUES
[+] Enlarge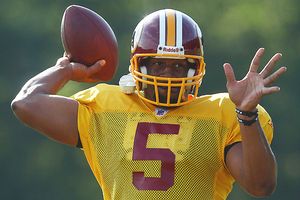 Win McNamee/Getty ImagesQuarterback Donovan McNabb is working on building a rapport with his new group of receivers.
1.
Can Donovan McNabb elevate this pedestrian group of receivers to new heights?
There's a reason that
Santana Moss
seems to have a perpetual smile on his face these days. He didn't even have time to complete routes last season because of the Redskins' woeful offensive line. Now, coaches are showing him film of the Texans'
Andre Johnson
and saying he could do similar things. McNabb invited Moss and the rest of the receivers to work out with him in Phoenix early last month, and you can already see the benefits on the playing field.
"I told them to bring their wives and girlfriends because I wanted it to be a family affair," McNabb told me. "When you're around the facility, you always feel like you're being watched. I thought it was a great opportunity for us to bond away from everyone else and start developing some chemistry."
But Moss is the only thing close to a sure thing. We're still waiting for former second-round draft picks
Devin Thomas
and
Malcolm Kelly
to show some consistency. For now, they're listed on Shanahan's depth chart as third-stringers. McNabb may have to rely on the 38-year-old
Joey Galloway
to play a significant role in the offense. The good news for Skins fans is that McNabb once took receivers such as
Freddie Mitchell
and
Todd Pinkston
to NFC title games on a regular basis.
2. When will Albert Haynesworth crack the starting lineup?
Shanahan bristled when I asked him if Haynesworth was causing a "circus," but the coach must realize that the defensive lineman has dominated the headlines. I think the players were watching closely to see how Shanahan dealt with the brooding star. Now that he's finally passed the infamous conditioning test, Haynesworth will work as a backup defensive tackle. He'll eventually start at right defensive end, but it's not going to happen overnight.
Haynesworth could be a huge part of Jim Haslett's defense if he buys into what the coach is doing. I am eager to see whether this knee issue goes away in the preseason. Haynesworth needs more game repetitions than usual because of all the time he missed. If the knee prevents him from getting on the field, it will become another distraction.
[+] Enlarge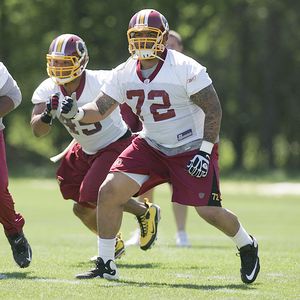 Jeff Fishbein/Icon SMIRookie tackle Trent Williams has drawn rave reviews from coaches and teammates.
3. Have the Redskins solved their issues on the offensive line?
I think a lot of this season hinges on whether three new additions to the line play well.
Jammal Brown
was a Pro Bowl player for the Saints at one point, but he hasn't played since '08. He'll have to knock off some rust while learning how to play right tackle. Rookie
Trent Williams
has a ton of ability, but he's working with a much thicker playbook now. There were questions about his work ethic at the University of Oklahoma. So far, he's said and done all the right things in Washington.
And we'll see how
Artis Hicks
performs at right guard. I always thought he was a better option than
Mike Williams
(out for the year), but this unit needs a lot of work in the preseason. McNabb will bring a lot to this team, but he can't win a lot of games if he's constantly on his back. Ask
Jason Campbell
about that.
BIGGEST SURPRISE
I was thoroughly impressed with free safety
Kareem Moore
. He was a sixth-round pick in '08 who didn't make much of an impact in his first two seasons. Now, it looks like he'll lock down a starting spot. He's had an excellent camp. He plays with a lot of confidence and he'll allow
LaRon Landry
to play closer to the line of scrimmage.
BIGGEST DISAPPOINTMENT
You knew that one of the veteran running backs would probably be out of the mix, but I didn't expect it to happen so early in the proceedings.
Willie Parker
is officially listed at the Skins' fourth-string running back. Hard to imagine him making the final roster unless there are injuries.
[+] Enlarge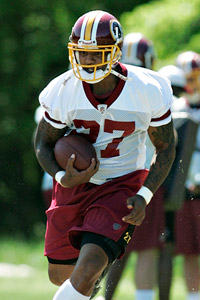 Jeff Fishbein/Icon SMIAfter recording 581 yards last season, Larry Johnson is turning in a solid camp in Washington.
OBSERVATION DECK
June, 24, 2009
6/24/09
11:00
AM ET
By
Matt Mosley
| ESPN.com
| | |
| --- | --- |
| | |
| | ESPN.com Illustration |
| | There are many memorable moments from the last 10 years to savor. |
Posted by ESPN.com's Matt Mosley
This decade has brought us some amazing moments in the NFL, many of which have been captured during ESPN.com's all-decade week. And if something remarkable happens in '09 (such as the Lions making the playoffs), we reserve the right to amend some of our results.
So far, you've read about the all-decade defensive and offensive teams for the years beginning with 2000 and ending with the '08 season. I spent a good portion of the NFL owners' meeting and my subsequent vacation trying to identify some of the most memorable characters and moments from the decade.
After consulting with coaches, scouts, media guides and fellow bloggers, I've compiled a list of things that stood out over a nine-year period. Please act responsibly as we continue to celebrate ESPN.com's all-decade week -- otherwise known as a blogger's summer oasis.
| | |
| --- | --- |
| | |
| | John David Mercer/US PRESSWIRE |
| | David Tyree's 32-yard circus catch kept the Giants' game-winning drive alive in Super Bowl XLII. |
Play of the decade: In Super Bowl XLII, New York Giants quarterback Eli Manning appeared to be going down for a sack late in the fourth quarter when he somehow escaped and hurled the ball in the general direction of reserve wide receiver David Tyree. Even with Rodney Harrison ripping at him, Tyree somehow trapped the ball against his helmet and came down with it. It was one of the greatest plays in league history -- and it gave Tyree the basis for his first book. There were a lot of memorable plays in the decade, but nothing could match the Manning-to-Tyree special.
Personnel man of the decade: Indianapolis Colts president Bill Polian is ranked pretty high, but everyone you talk to across the league mentions Scott Pioli first. Now the GM for the Kansas City Chiefs, Pioli joined Bill Belichick in building the team of the decade, the New England Patriots. According to one longtime scout, "No one in the league does a better job of scouting their own team, and Pioli was orchestrating all of that."
The Patriots have had the magic touch when it comes to reclamation projects such as Corey Dillon and Randy Moss. But much like the Baltimore Ravens, they always seem to know when it's time to say goodbye to a player. Pioli has a keen eye when it comes to projecting players in Belichick's defense. Now we'll see what he can do with the Chiefs.
Scandal of the decade: Let's stay with the Patriots on this one. The Michael Vick dogfighting story was stunning, but Spygate was bigger because it threatened the integrity of the league. There were so many different layers to the story and it cast doubt on a head coach and his team's remarkable run. Belichick is still regarded as the mad genius in New England, but his violation of league rules will have a lasting impact on his legacy -- unless you're a Patriots fan.
| | |
| --- | --- |
| | |
| | Matt Campbell/AFP/Getty Images |
| | Tom Brady's apparent fumble was overturned and the Patriots beat the Raiders 16-13 in overtime. |
Most memorable off
iciating call: We know what San Diego Chargers fans are thinking, but when thinking back over the decade, the "tuck rule game" has to be the signature call. It was Jan. 19, 2002, and it appeared Oakland Raiders cornerback Charles Woodson had just sealed a trip to the AFC title game by sacking Tom Brady and knocking the ball loose. Instead, Brady's fumble was overturned because of the little-known "tuck rule," which was quietly enacted in 1999. The rule still doesn't make a lot of sense. But it helped launch the Patriots' dynasty. Anyone remember New England's starting wide receivers in the game? That's right, David Patten and Troy Brown.
Best owner: Sort of hard not to give it to Patriots owner Bob Kraft, but let's give a lifetime achievement award to Pittsburgh Steelers co-owner Dan Rooney. After all these years, he's still perhaps the most respected voice in the room. But Kraft wins the all-decade award. He brought a fan's perspective to ownership, and that's what breathed life into the franchise. And he gave Belichick another head-coaching opportunity after a failed stint with the Cleveland Browns.
Best NFL commercial: Since Peyton Manning starred in 82.7 percent of all NFL commercials, it's hard to pass him over. His work for MasterCard stands above the rest. The one where he's doing some yoga with Brian Urlacher and Michael Strahan has stood the test of time -- at least in our minds.
Most prolific locks: The faux-hawk tried to make a comeback, but Troy Polamalu may be the most identifiable player in uniform because of his unwieldy look. Polamalu achieved it by not getting his hair cut this decade.
Funniest player: The NFL doesn't really have an answer to Charles Barkley, although Clinton Portis had a nice run a few years ago when he came up with several alter egos. Let's give it to one of Portis' teammates, tight end Chris Cooley. Occasionally he crosses the line (accidentally publishing a picture of his manhood on The Cooley Zone blog), but he's consistently funny. Still love that he walked out to midfield a couple of years ago and introduced himself to the opposing captains as "Captain Chaos." There's not enough of that type stuff going around.
Best touchdown celebration: Terrell Owens and Moss had their moments, but Chad Ochocinco is by far the best. He has played golf with the pylon (no longer allowed) and he has donned a replica Hall of Fame coat after a touchdown on "Monday Night Football."
| | |
| --- | --- |
| | |
| | AP Photo/David Kohl |
| | Chad Ochocinco had a number of the most memorable touchdown celebrations in the last 10 years. |
Best first-down celebration: No one celebrates a new set of downs like Dallas Cowboys wide receiver Roy Williams. He takes the ball and delivers an emphatic first-down signal. It's not as good as Ed Hochuli's "Guns of Navarone" approach, but Williams doesn't hold anything back.
The most troubled player award: Adam "Pacman" Jones became the poster child for Roger Goodell's tough stance on player (mis)conduct. Pacman is an "Outside the Lines" report waiting to happen.
Most feared player: Until the horse-collar rule put him out of business, former Cowboys safety Roy Williams was well on his way to winning this title. But his descent into mediocrity was steep. Rodney Harrison of the Patriots wins the award. He was regarded as a dirty player by some, but his presence definitely made receivers think twice about going across the middle. John Lynch was a feared player early in the decade, but Harrison eventually surpassed him. James Harrison is closing fast as we prepare to close the books on the decade.
Best assistant coach: It's a tie between two elder statesmen, Steelers defensive coordinator Dick LeBeau and Eagles defensive coordinator Jim Johnson. We're all pulling for Johnson as he battles cancer. He's been remarkably consistent over the years and I put him and LeBeau just barely ahead of former Bucs defensive coordinator Monte Kiffin.
December, 8, 2008
12/08/08
1:27
PM ET
By
Matt Mosley
| ESPN.com
Posted by ESPN.com's Matt Mosley
PITTSBURGH -- I've known Jason Witten pretty well for almost seven years. He was the guy who showed up at Tony Romo's apartment a couple days after the infamous Seattle bobble and dragged him to a sports bar (Dave and Buster's) in an attempt to get a sense of normalcy.
| | |
| --- | --- |
| | |
| Witten | Romo |
Witten called him every day until Romo started acting like himself again. The two players have been best friends and road-game roommates since entering the league together in 2003. And that's why Witten tapped his chest for the TV cameras to indicate that Romo's back-breaking interception was actually his fault. A few minutes later, he walked into the locker room and delivered the same message to the rest of the offense.
The two players have run that little curl pattern 500 times. Witten's supposed to read the defender and either turn inside or out. But Sunday night, he slipped at the top of the route and the ball was delivered to the waiting hands of Deshea Townsend.
Of course, Townsend is now telling everyone that defensive coordinator Dick LeBeau knew exactly where that pass was going from the moment the Cowboys lined up. But if Witten's where he's supposed to be, there's no guarantee Townsend makes the play.
Witten remained at his locker until every single reporter left. Unlike a lot of players, he wasn't looking for a back exit. As Drew Bledsoe once explained to Romo after that fateful day in Seattle, "You need to let this one hurt for a little while."
I don't think Witten will have any problem with that.
Update: Earlier I linked to a writer who accidentally attributed Patrick Crayton's quote about "Christmas coming early for the Steelers" to Jason Witten. It was Patrick Crayton who actually said those words. Thanks for bringing it to my attention.