February, 18, 2014
2/18/14
9:25
AM ET
• The Redskins won't have a tough time replacing
London Fletcher
's 2013 production; he did not have a strong season. But replacing his leadership will be difficult and whoever the Redskins sign to take over his spot must have those skills. Fletcher's replacement probably won't be the same as his predecessor, but he does need to be a leader. The Redskins may re-sign
Perry Riley
who knows the defense, but he is a quiet guy better suited as a sidekick in this area.
[+] Enlarge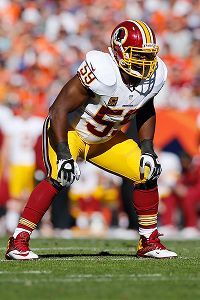 Ric Tapia/Icon SMIThe Redskins may need to look to free agency to replace London Fletcher's leadership.
• Here's what defensive coordinator Jim Haslett said on ESPN980 last week in a conversation with Doc Walker and Brian Mitchell about Fletcher: "I don't think I've ever been around a guy in 35 years that has the qualities you look for like him. When he's on the field he's outstanding. He's the smartest guy I've ever been around. When he's in the meeting room he's the ultimate guy."
• One player who has those qualities and will be a free agent?
Jon Beason
. I once spoke with someone who had worked with both Fletcher and Beason (did not coach them) and he felt Beason rated higher in preparation than even Fletcher. The problem with Beason now is that there are questions about his coverage skills. But he was very good against the run with the Giants this past season.
• Here's what Haslett told 980 about new coach Jay Gruden, who was his offensive coordinator in the United Football League, "You'll see a level-headed guy. You'll love the offense. He does multiple different things every week. He'll use our quarterback to the best of his ability. He'll take whatever they do best and use it. He's not going to find fault, he'll find what they do best."
• The Redskins will be at the scouting combine this week. I know a lot is made of 40-yard dash times, but that should only be a metric to see if a player plays as fast as he timed. There's an issue if the player looks slow on film, but fast in the 40. In that case? Stay away. Football is won with quick decisions, not with 40-yard dash times. If you're fast but make slow decisions, you'll soon be out of the league.
• After watching Buffalo's
Jairus Byrd
(a potential free agent), I was surprised to learn that he ran a 4.68 in the 40. That's not fast, but he more than compensates with knowledge and quick decisions.
• Gruden used bigger offensive linemen in Cincinnati, but that does not mean he'll necessarily look for bigger guards in the draft. The Redskins will use the same run game zone-blocking principles, though I'm sure Gruden will incorporate some of his beliefs as well. I'm sure they'll still look for some help in the interior.
• But if they did want bigger and wanted to promote from within, then this is a huge offseason for
Josh LeRibeus
. As a former third-round pick, he should be challenging for a starting job by his third season. LeRibeus had a terrible offseason in 2013 and took much of the year to return to his end-of-rookie-season form. If a team is doing a good job developing talent, then a player such as LeRibeus should be ready to play a lot more now. Yes, a lot of that is on him. If he has a good offseason, he could be a factor.
• But the way you help yourself when you need to cut players is by bumping up a young player. Otherwise, they can cut, say,
Chris Chester
and then have to find a somewhat expensive replacement. You're just spinning wheels after a while, in terms of creating cap space (which has typically been the Redskins' problem). It also limits a team's ability to then address other more costly issues.
• And,
to reiterate
, I would not take a flier on guard
Richie Incognito
. Football isn't played by choir boys, but there's a difference between being nasty and being disruptive. Incognito clearly is -- and has been -- the latter and has consistently hurt his own team. When a player's positives don't outweigh their disruptions, you let them go elsewhere.
• In watching games again from this past season, it's shocking how many tackles this defense missed –- the safeties in particular. Every team operates under the same CBA guidelines limiting the amount of contact in practices, so you can't blame that. When you consistently try to shoulder tackle or tackle too high, it sort of gets you in trouble. Or when you're just not good enough.
February, 14, 2014
2/14/14
9:30
AM ET
Washington Redskins
defensive coordinator Jim Haslett has two desires for next season: More sacks and more turnovers. If that happens, he knows what the result will be: more wins.
Haslett, speaking on ESPN980 Thursday for the first time since he was retained by the Redskins, also told Doc Walker and Brian Mitchell that improving the pass rush is a primary goal.
Haslett said that is one reason he hired Brian Baker to coach the outside linebackers (where the bulk of the pressure comes from in a 3-4 defense). Haslett sounded like a coach anticipating
Brian Orakpo
's return, too. Orakpo can be a free agent next month.
[+] Enlarge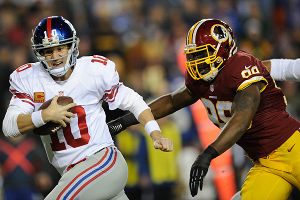 AP Photo/Nick WassDefensive coordinator Jim Haslett is expecting an improved pass rush next season, led by pending free agent Brian Orakpo.
"Can we get better? No doubt about it. I think Rak can get much better, and I know
Ryan [Kerrigan]
can get a lot better," Haslett said. "That's why we hired a coach to coach them on the rush element. We'll try to turn them loose more this year, do more with them game-wise. Don't worry so much if they lose contain, because they'll lose frickin contain half the time. Let's roll and make sure the tackles cover for them. Different things like that."
Orakpo and Kerrigan combined for 18.5 sacks this past season, which he pointed out was one less than Baltimore's duo of
Terrell Suggs
and
Elvis Dumervil
, and 3.5 less than Kansas City's tandem of
Tamba Hali
and
Justin Houston
.
Coaches often talk about pressures more than sacks (especially when the sack totals are low), but constant pressure also leads to more sacks. In 2011, with a healthy Orakpo,
Stephen Bowen
and
Adam Carriker
, the Redskins tied for 10th in the NFL with 41 sacks.
But in 2012 they finished tied for 23rd with 32, and this past season they were tied for 21st with 36.
Haslett pointed to turnovers as an area that must change. The Redskins only caused five fewer than they did in 2012 (going from 31 to 26 this past season). He dismissed yardage as a stat to measure a defense -- "That's kind of for losers," he said. (As an aside, I'll say this: Every coach I've covered will point to this stat when it suits them; every single coach. But I do agree that other stats matter, like points allowed and turnovers. They impact the game more. Yardage totals can be inflated by game situations).
"The object is to get the ball back from the offense and let them score points," Haslett said. "The offense has to control the ball and keep us off the field. Don't turn the ball over so we're on the field for 15-18 possessions like the last game of the year. And you win games. That's what we did down the stretch the year before; that's why we won seven in a row. That's our goal, we want to create more turnovers."
Haslett also said that "you'll see more of what we want to do from the standpoint of coverage."
He did not expand on that statement, but it stemmed from being asked how much more his personality would be revealed in the defense now that he's working for a coach who will stick to offense. Clearly, there was a difference of opinion in what previous head coach Mike Shanahan wanted and what Haslett wanted at times, whether it came from coverages or play calls.
"You've got to get these guys doing the same thing over and over and over to where they get good at what they do," Haslett said. "We bounced around early in the season. We had a heck of a preseason. We thought we were good, but that's preseason. It got your hopes up a little bit, but it wasn't really what we wanted to do.
"I think you'll see more of something we'll be good at. Whatever we do, we'll be good at. It doesn't make a difference what you're running ... We were in a four-man line 62 percent of the time last year anyway. But we're going to be good at what we do, and we're going to do it over and over and over until we get good at it."
January, 30, 2014
1/30/14
2:30
PM ET
As former Redskins kicker Mark Moseley drove to New York for a big day on Radio Row, the former NFL MVP discussed his role with Five Guys, the Redskins' special teams (embarrassing) and the potential elimination of the extra point (bad idea). I'll have more from our chat (about the Hall of Fame) Saturday morning.
Moseley was going to New York to promote the Optimal Wellness Challenge; he's hoping that by participating in this challenge he'll eliminate his Type 2 diabetes. Among the other NFL alumni participating: former
New York Giants
offensive linemen Bart Oates and Jim Burt and former running back Ottis Anderson.
Here's Moseley on:
His role with Five Guys:
"I'm the director of franchise development; have been since day one. I was the one who convinced them they could franchise when they only had five stores. It's been a great opportunity for me and my family. Now they have almost 1,200 stores open and I think over 30,000 employees around the country. We've grown from being a little mom-and-pop to a major player in the market."
Football preparing him for business:
"The competitive part of what I do did help, but also in learning how to handle myself and how to take defeat as well as success all came from my being an athlete all those years. And how to be around people. I'm the one who sold all the franchises. I sold all of them. It helped me to communicate and how to understand what I needed to do to get them to understand our concept and when to back off and when to push. All that comes from athletics. It really helped me be a salesperson and the drive of wanting to be successful came from being an athlete. I created my second Super Bowl here with Five Guys."
[+] Enlarge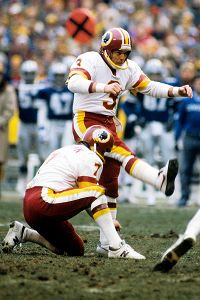 Manny Rubio/USA TODAY SportsMark Moseley won the MVP award for the 1982 season -- the only kicker to ever be nominated.
Transitioning from being a former Redskin to being a businessman:
"When I was in the travel business (17 years) I made that transition and built a successful business. When I really got into Five Guys, that's when I realized I had something to offer there, too. My first five years out of football I made more business mistakes than I made the rest of my life. I thought I could do the same thing you did in football, which was lower your head and go forward. In business there's a lot of luck and being in the right place and a lot of learning. You have to know how to accomplish those things and be patient with it. I failed at a lot of things. With Five Guys it clicked for all of us and they put together a great team."
Winning the NFL MVP 31 years ago:
"I realize now how fortunate I was. People keep asking to see the trophy but I don't have anything. They gave you nothing back then. All I got was the front page of the Washington Post -- I have it on a wall and I framed it. That's all I have. I look back now and I realize how fortunate I was because I'm the only kicker to be nominated much less to have won. There have been a lot of great kickers in the NFL. I was very fortunate. Like in business I was in the right place at the right time with a team that needed someone to help them because the offense was not jelling yet. Had I missed any one of those field goals in that stretch [two were game-winners; four other games were impacted by his success as he made 20 of 21 kicks that season) we wouldn't have been in the playoffs. That's how close it was."
The accuracy of today's kickers:
They don't kick in the elements as much, off the grass and mud. Remember how ridiculous RFK's field was? It was that way all year long …. I'll tell you what the difference is. The soccer style guys kick line drives. When I was playing, guys used to kick so high. Today they're right at it so the ball doesn't have time to move around. When I was kicking, the straight-on guys got the ball up so fast that the elements had more time to play with the ball so it affected a lot of kicks. Soccer guys hit it with so much power it doesn't move until toward the end when it loses some momentum. Ours would start moving immediately so you really had to play the elements. Today they kick right through everything.
Straight-ahead kickers:
I would like to see how they would match up. I matched up well with the soccer guys the last five years of my career. I took a lot of pride in staying in the game even though I was the only straight-on kicker. That's why my shoe and my helmet are in the Hall of Fame.
Eliminating extra points:
Anything you change as far as special teams, you change the dynamic of the game. Even though that extra point is made 99 percent of the time. If you go back and look where that point is missed, it usually haunts that team. There are several of them every year and it has an effect. Football is a lot like chess and if you take something out of the chess game it changes the whole way to play the game. It's the same thing as starting on the [25] and not having kickoffs. They did that in the Pro Bowl and I thought it was weird. You didn't have that little hope that the kickoff might get returned and it eliminates a scoring opportunity for a team.
The Redskins' special teams:
It was embarrassing to us. The Redskins always had great special teams and to drop off like they did this year was pathetic and embarrassing. Every guy that ever played special teams for the
Washington Redskins
was embarrassed. I've had several conversations with Doc Walker and Otis Wonsley and guys I played with and they just cringed when they saw the punt team cover because they did stuff you learn not to do when you're in high school, how to cover and stay in your lane on kickoffs and how to recognize pressure so you know when to block. These guys were oblivious to those things. It was terrible.
December, 6, 2013
12/06/13
9:35
AM ET
Former Washington Redskins tight end Chris Cooley, less than a year removed from his last game, hasn't been shy about expressing his opinions on ESPN980 every day or during the team's broadcasts
.
He discusses his job and how he'd like to be the next Sonny Jurgensen. Saturday: His thoughts on Kyle Shanahan's offense, and the decision that must be made on Mike Shanahan.
You've been honest about your thoughts on the team. Have you received any negative feedback?
[+] Enlarge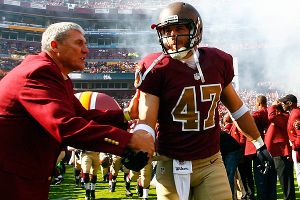 Geoff Burke/USA TODAY SportsFormer Redskins tight end Chris Cooley misses his playing days, but says he's enjoying his current role as a broadcaster for the team's radio network.
Chris Cooley:
I've been really interested in what feedback I would get, and it hasn't been negative. The one awkward spot was when we talked about coach [Mike] Shanahan two weeks ago and [Washington Post writer Dan Steinberg]
printed it
, and I was pretty negative. But it was radio and I apologized to him. I think Mike's a friend. He's a guy I would hang out with when I leave the park. I like him. I passed judgment over the air that was a little harsh and I know it upset him, not from a professional aspect, because he has to deal with that, but because we're friends. But I haven't had too much negative response. ... I started doing film breakdowns so I can say whatever I want to say if it's real. I talked to Trent Dilfer about three weeks ago, and that's the thing he mentioned is you have candid points about things that are really there and people will call you and tell you they're mad you said things, but they can't dislike you, because I can show you what I'm seeing.
A lot of guys in your spot don't take the time to do all that work. Players also have to know you know what you're talking about.
Cooley:
I'm also the first person to say someone did a phenomenal job. I want to be the guy that people say, 'We want him to say good things about us, because if he does it's real, and if he says bad things it's his job.' Two weeks ago we did that film study and I said
Logan Paulsen
played at a D level. I thought he played terrible. The next week he was my player of the game. It's because I graded the film and looked at impact plays versus negative plays, and he was the best on offense. … My job is to be judgmental on how you play on the field and what's going on in the locker room. I'll never personally attack a player.
How did you react to this when you were a player?
Cooley:
[Doc Walker is] pretty hard on guys, especially in games. Over the last couple weeks I sat back and wondered, how many times did Doc talk trash about me? When I say I don't look at a lot of stuff for the most part, that's true. I didn't know if Doc said anything about me. I was more focused on what I was doing and needed to do than what someone said about me. Some players are different. But I've always looked at it like the media has a job to do and they get paid to do, and we're part of that job. I have to respect your profession and help you with what you need, and understand your story is just as important to you as my play was to me.
Are you enjoying this?
Cooley:
At first, no. At first I thought it was tough and I was really busy. I had to get to the point where I had to say no to a lot of things, to TV stuff and a lot of events. All stuff I like to do, but when you put it all together and you have a hundred of them, I didn't like it. Over the last month I do it under the umbrella of my job on radio, the game, the three TV stations I do, and my life. Now I love it. I'm at the Park talking football to assistant coaches. The biggest thing for me is I love the Redskins, and that's super cliché. They gave me so many opportunities to be what I am in life. All I want is for them to have success. I want to be part of that success for as much as I can for as long as I can. … It's a really cool job. Over the last three or four years I started to enjoy the game more than I did, and appreciate the game for what it is. That's why I'm able to do the job the way I am. I watched a lot of film like a coach and spent time learning the offense like a coach and quarterback. That film thing is something I always do, and something we did really well. I got so much good feedback, and then I came home and my girlfriend said, 'I tried to listen, but it was so bad.' I'm like a football nerd. But if you don't get it, it's like, 'Whoa, he's getting way over the top.'
What do you ultimately want to do?
Cooley:
My goal is to be Sonny [Jurgensen]. Sonny had access to the team for a long time. He's a guy people look up to and respect. He travels to every game. He gets paid well. He loves his life. Let's say two or three years from now someone says we want you to call games. That might be something hard to turn down, but it's not a goal of mine. My goal is to be here. My life is ideal right now. The only thing I miss is playing. I watch games and I think I could do [stuff] and I think I miss playing. I'll get over that, and it's not like every day I wake up and wish I was playing. But I do miss being part of the team, I miss the adrenaline, miss that feeling of excitement when you do really well. You just don't get that when you do this job. ... I talk to so many [ex-players] who say, 'I work for this company now where I sell [stuff] and I just go to work.' I miss that feeling of everyone saying you did the best job ever. To some extent I still get it. I now realize If I prepare and do a really good job then I do get some of that.