August, 18, 2012
8/18/12
11:17
PM ET
The good postgame news for the
New York Giants
following their
26-3 preseason victory
over the Jets is that starting running back
Ahmad Bradshaw
's hand seems OK. The Giants took X-rays that came back negative, and Bradshaw told reporters after the game that he had a cyst on his hand that burst when he hit it on someone's helmet. I do not know why a cyst bursting would require an X-ray, but I am not a doctor. Upshot appears to be that Bradshaw will be fine, which is significant for a Giants team whose running game still needs work.


The Giants finished 32nd in the league in rush offense in the regular season last year, mainly because of a line that couldn't get any push forward in the run game. That was on display again Saturday night, as neither Bradshaw nor
D.J. Ware
nor
Andre Brown
nor
David Wilson
could find a hole all night. The Giants finished with 58 yards on 32 carries, which is dreadful. Now, rush defense appears to be one of the few things the Jets do well, so that might have had something to do with it. But the concern with the Giants when they struggle is that they get physically handled in the trenches. The offensive line struggled with that last year and has so far in this preseason.
Now, that intro breaks my general rule about trying to open with a positive in these preseason game reviews. But I thought Bradshaw was the biggest news of the night, and in fairness it is a positive that his hand is not broken. And there are a ton of Giants positives in the remainder of my review of what I saw Saturday night:
1. The defensive line looks as though it will be just fine.
Even with
Justin Tuck
leaving early with a neck injury (he also said he was fine), the Giants' pass rush completely abused
Wayne Hunter
and an overmatched Jets offensive line.
Jason Pierre-Paul
and reserve defensive end
Adewale Ojomo
each had two sacks and the Giants had seven as a team to go with their nine quarterback hits and nine tackles for loss. But what I thought was most impressive while the first-team defense was in there was the performance of starting defensive tackles
Linval Joseph
and
Rocky Bernard
, who forced the issue in the middle of the line and limited the Jets on the ground as well. The Giants are banged up at defensive tackle with
Chris Canty
and
Marvin Austin
on the shelf, but Bernard and Joseph played as though they didn't want anyone to worry.
2. Eli Manning likes throwing to Victor Cruz.
Manning didn't do a lot to help the Giants find their No. 3 wide receiver. Five of his seven completions were caught by Cruz, and while that was fun for Giants fans to watch, everybody already knew that hookup worked.
Ramses Barden
did drop one Manning pass early on, which didn't help his case. Overall, Manning had a poor night, completing 7 of 14 for 62 yards and an ugly overthrow interception. But he's obviously the least of their worries.
3. As for those No. 3 receiver candidates ...
Rookie
Rueben Randle
made the best catch of the night, a leaping 49-yarder from
David Carr
. But it was his only catch of the game.
Jerrel Jernigan
caught two passes for 26 yards,
Domenik Hixon
one for four yards and Barden was shut out. The buzz during the week was about a Manning quote that said they could rotate guys into that role and into situations that maximize their different strengths, and that's a reasonable way to handle the situation. But I still think Barden's going to have to grab that role if he wants to make the team. The other guys help on special teams.
4. Chase Blackburn's probably safe for a while.
Blackburn and
Kenny Phillips
combined to fill a gap and make a nice stop on
Shonn Greene
on a second-down run. Later in the game,
Mark Herzlich
suffered a hip pointer. Blackburn's the starting middle linebacker for now, and Herzlich's going to have to come and take the job from him. Blackburn hasn't done anything to lose it, and now Herzlich's hurt.
Keith Rivers
, by the way, looked active on the outside, starting in place of an injured
Michael Boley
.
5. Got to like Jayron Hosley.
The rookie cornerback was a star of the game on defense and on special teams, where he returned an interception 77 yards for a touchdown. Reports from the postgame locker room say Hosley had his foot in a walking boot, so it seems as though he got injured, too. Would be a shame if he had to miss time. It looks as though the Giants want to use him a lot, and other than last week's muffed punt, everything he's done on the field has made him look like a very useful guy.
6. Wilson does show something.
The rookie running back out of Virginia Tech was a first-round pick for a reason. You can see, when he gets room to run, what he brings in terms of explosiveness. I believe he'll be a good player for the Giants. He even looked good in blitz pickup once he got into the game. But this national perception that he's the sure-thing backup or some sort of threat to take carries away from Bradshaw has gotten out of hand. He's clearly fourth on the running-back depth chart right now, and Ware has earned that No. 2 spot. Wilson will develop, maybe quickly, and likely be an asset for the Giants down the road. But he has developing to do, and there's nothing wrong with that. It's kind of how the Giants roll.
7. Will Hill.
He's getting to be a fun story, playing well at safety and coming up with a sack of
Tim Tebow
. Could be a nice latent-talent find by the Giants' front office, a la Herzlich and of course Cruz.
August, 6, 2011
8/06/11
10:25
PM ET
If there's a team that's had a worse couple of post-lockout weeks than the
New York Giants
have had, I can't find one. The latest round of lousy news hit Saturday night with the announcement that first-round draft pick
Prince Amukamara
had
broken a bone in his left foot
and would need surgery. The team says he's out indefinitely, but you have to think this is going to cost the rookie (who just signed his contract two days ago) at least two months, after which he'll have to play on a surgically repaired foot with a screw in it.
Amukamara, like all 2011 rookies who missed out on minicamps and OTAs because of the lockout, was already going to have a tough time getting up to speed, and this sets him back further.
[+] Enlarge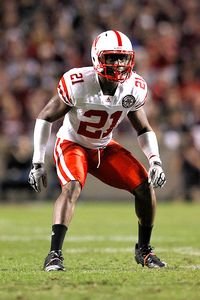 Aaron M. Sprecher/Getty ImagesPrince Amukamara, who was the 19th pick in April's draft, has a broken bone in his left foot.
Now, sure, the Giants can absorb a hit at cornerback. They still have
Terrell Thomas
,
Corey Webster
and
Aaron Ross
at the position. But with reserve
Bruce Johnson
having already blown out his Achilles earlier in the week, they're much thinner there than they planned to be. Amukamara was the 19th overall pick in the draft, and surely a big part of the Giants' plans for this season.
The Giants also announced that
Ben Patrick
, the tight end they signed earlier this week, has decided he no longer wants to play football and would be placed on the reserve/retired list. You'll remember Patrick as the tight end the Giants signed shortly before their own starter,
Kevin Boss
, left to sign with the Raiders. Patrick apparently was looking forward to playing with Boss and didn't want to be on the team if he wasn't.
So that's two cornerbacks and two tight ends the Giants have lost in a span of about three days, and that'd be rough for any team. But the Giants were already having a pretty rough go of things, as salary-cap concerns have impaired their ability to add outside free agents of significance and hurt them in their efforts to sign their own. They managed to bring back running back
Ahmad Bradshaw
on their terms when he ran out of options, and they got
Mathias Kiwanuka
to return on a team-favorable deal in part because of the injury from which he's recovering. But they lost Boss and still haven't re-signed
Steve Smith
(who's also recovering from injury and likely won't be ready for the start of the season even if he does re-sign). Boss and Smith have been two of
Eli Manning
's most reliable targets in the passing game over the past two seasons, and to this point it's tough to imagine
Domenik Hixon
,
Ramses Barden
or
Travis Beckum
as capable replacements.
Oh, and there's still the
Osi Umenyiora
contract dispute. The disgruntled defensive end still isn't practicing as he continues to demand either a trade or a new contract and the team continues to insist he play for the contract he currently has.
If you want to be optimistic, you can say that maybe the Giants are getting all of their rotten luck out of the way early and maybe not much else will go wrong the rest of the way. But considering how few names of potential consequence remain on the free-agent market for a team that's missed the playoffs each of the past two seasons, it's hard to see how the Giants recover from all of the losses they've sustained since free agency started.