January, 29, 2014
Jan 29
12:00
PM ET
IRVING, Texas -- When
Dallas Cowboys
coach Jason Garrett talks to his players for the first time, he tells them to be brief and boring with the media.
It's something the coach has mastered, although he is more forthcoming when the television lights go off.
Hatcher
For a team that has had colorful characters since forever, from Don Meredith to Thomas "Hollywood" Henderson to Michael Irvin and Deion Sanders, the current version of the Cowboys lacks a true trash talker.
Irvin could verbally taunt defensive backs with the best of them. Sanders could do the same with wide receivers. They felt they were the best, and they let everybody know about it.
Dez Bryant
might be viewed as the closest, but he does not instigate the talk. He reacts to it. And as we found out after the
Detroit Lions
game, his actions on the sideline are not always as dastardly as they come off.
When the Cowboys played the
New York Giants
at MetLife Stadium in 2013, they listened to their NFC East rivals chirp all week.
Jason Pierre-Paul
said "blood would be shed."
Antrel Rolle
said the game was the Giants Super Bowl.
Terrell Thomas
guaranteed a victory.
And the Cowboys won 24-21.
The Cowboys talking came after the game, which is just how Garrett would want it.
Jason Hatcher
spread fake Vampire blood on his face.
"I just finished eating a Giant," said Hatcher, who had two sacks of
Eli Manning
. "Y'all didn't see me out there? That's some leftover blood. They said blood is going to be shed, right?"
Later he added, "Action speaks louder than words, so we went out there and did what we were supposed to do tonight. They talked the talk. They had to back it up, and they didn't. We came out with the victory. We came into their house and took it from them."
December, 7, 2010
12/07/10
10:59
AM ET
By
Matt Mosley
| ESPN.com
Let's take a look at what folks from across the country wrote about the passing of former Dallas Cowboys quarterback Don Meredith:
December, 6, 2010
12/06/10
6:01
PM ET
By
Matt Mosley
| ESPN.com
ESPN will have tributes to the great Dallas Cowboys quarterback Don Meredith during "Monday Night Countdown" and at halftime of the game tonight. Here's what a few ESPN personalities had to say about Meredith, who died at age 72.

Ron Jaworski: "I had the pleasure of meeting Don a few times. He was a guy I admired as much as anyone, both as a player and as an analyst. His great work inspired me to always be prepared and to have fun doing it. He loved what he did and it always showed. We're going to miss him."

Jon Gruden: "I used to sneak downstairs and watch Don and "Monday Night Football" when I was supposed to be asleep in bed growing up. He was special. Those crews had a lot of fun together and I always loved hearing him sing, 'Turn out the lights, the party's over.'"

Chris Berman: "Don Meredith was a television pioneer who made pro football real, even for non-football fans. I can't remember watching a "Monday Night Football" telecast, and I've seen a few, where Dandy Don failed to make me smile."
December, 6, 2010
12/06/10
12:22
PM ET
By
Matt Mosley
| ESPN.com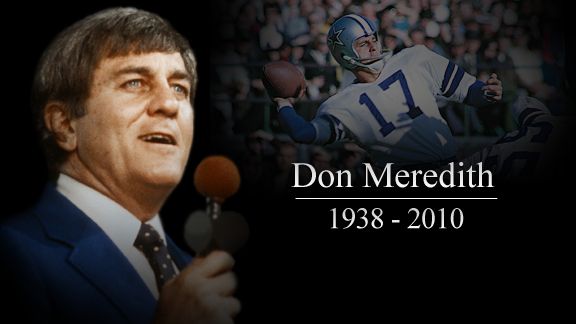 ESPN.com IllustrationFormer Cowboys QB Don Meredith, an original member of ABC's "Monday Night Football" booth along with Howard Cosell, died Sunday in Santa Fe, N.M. He was 72.
The Dallas Cowboys' organization has had some sad days over the years, but Monday has to rank near the top. Probably the most beloved player in the history of the franchise, quarterback Don Meredith
died Sunday at the age of 72.
I never had the opportunity to meet Meredith, but it wasn't for a lack of trying. He lived his life in the spotlight as a star quarterback at SMU and then as the quarterback of the Cowboys under coach Tom Landry in the early days of the organization. He then became one of the more celebrated TV analysts in the country with his work on ABC's "Monday Night Football." He was actually more of an entertainer than an analyst, and he was the perfect complement to Howard Cosell's acerbic approach in the booth.
When Meredith left "Monday Night Football" in 1984, he pretty much disappeared from the public eye. He split time between his ranch in Santa Fe, N.M., and a home in Palm Springs, Calif., and by all accounts, he simply wanted to live out his life in private. My great friend Michael Granberry from the Dallas Morning News grew up watching Meredith at the Cotton Bowl in Dallas and he interviewed him in 1982. I've listened to the tapes of that interview before and it was fascinating to hear Meredith
talking about playing the Cleveland Browns
two days after President Kennedy was assassinated in Dallas.
Meredith told Granberry that players heard a haunting sound as they made their way through the visiting dugout at Cleveland's Municipal Stadium onto the field Nov. 24, 1963. They soon realized it was the pounding footsteps of 400 servicemen paying tribute to President Kennedy.
"Here we come out, the Dallas Cowboys, with our stars on our hats," Meredith told Granberry, then a reporter for the Los Angeles Times. "And it was like going to the lions with the Christians."
Even though he spent the past 25 years away from the spotlight, Meredith's former teammates never stopped trying to get him to show up for reunions. And on the few occasions that he'd give in, it was like a rock star coming to town. The fact that Meredith had an unbelievable sense of humor and immense talent didn't prevent him from taking a beating from the media during his years with the Cowboys. Gary Cartwright and the late Bud Shrake, who both had remarkable careers with newspapers and magazines, covered those Cowboys teams in the 1960s. It was a time when writers and players could be friends, in part, because there wasn't such a huge divide in salaries. But Cartwright told me once that his friendship with Meredith was compromised when he led his column in the Dallas Times Herald the day after a Cowboys loss with the following sentences:
"The Four Horsemen rode again Sunday in the Cotton Bowl. You remember their names: Death, Famine, Pestilence and Meredith."
Despite his success in television, some folks suggest that Meredith never recovered from all the criticism he took as the face of the Cowboys during those years. I've heard it told that he was devastated that Landry didn't try harder to talk him out of retiring in 1968. But no matter how Meredith felt about his career, there's no doubt that he touched thousands of lives as a player and broadcaster.
Roger Staubach and Troy Aikman are certainly the best quarterbacks in the history of the franchise. But I don't think either one of those guys will argue with the statement that Meredith will always be the most beloved. There are a lot of Cowboys fans of a certain age today who will have trouble fighting back the tears.
This is a profound loss to the organization. And even those of us who never had the pleasure of knowing Don Meredith will miss him.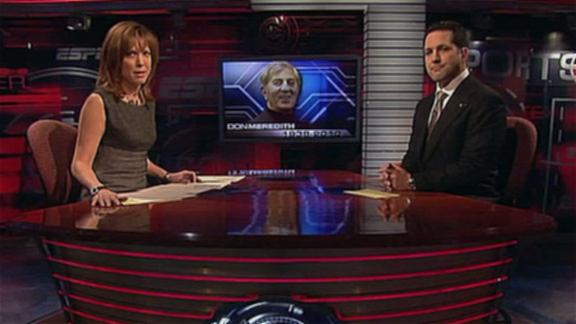 December, 6, 2010
12/06/10
10:49
AM ET
By
ESPN.com staff
| ESPN.com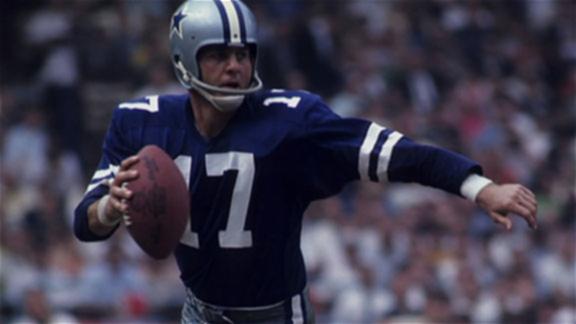 Don Meredith, one of the most recognizable figures of the early
Dallas Cowboys
and an original member of ABC's "Monday Night Football" broadcast team,
died Sunday
. He was 72.
August, 7, 2009
8/07/09
3:30
PM ET
By
Matt Mosley
| ESPN.com
Posted by ESPN.com's Matt Mosley
| | |
| --- | --- |
| | |
| | AP Photo |
| | Bob Hayes redefined the wide receiver position. |
SAN ANTONIO -- As the Cowboys continue to prepare for the 2009 season, one of the club's greatest players will take his rightful place in the Pro Football Hall of Fame on Saturday. It's unfortunate the late Bob Hayes isn't around to slip on the famed gold jacket, but his legacy endures in the league.
In fact, the man who presented Hayes before the Hall's selection panel last February, Rick "Goose" Gosselin of the Dallas Morning News, wrote recently that Hayes almost single-handedly introduced the league to the "speed receiver." When Hayes won the gold medal in the 100-meter dash at the 1964 Tokyo Olympics, he earned the "Fastest Man in the World" title. Cowboys director of scouting Gil Brandt had already started drafting players who excelled in sports other than football, and that's why Hayes was a seventh-round pick in 1964.
On Friday, I tracked down Hayes' former teammate and good friend Walt Garrison. The now 64-year-old Garrison, who lives on a ranch in Argyle, Texas, joined the Cowboys a year after Hayes and Dan Reeves showed up on the scene. Garrison missed his first training camp in 1966 because of an All-Star game, but he distinctly remembers watching Hayes during the 1967 camp.
"We were all running 40-yard dash times of 4.5, 4.6 and 4.7," said Garrison. "Bob goes out and runs a 4.3 -- and he never took his sweats off. I thought, 'what in the hell have I gotten into?'
Garrison chuckled when he said Hayes "couldn't catch a cold in a blizzard" early in his NFL career, but said the receiver worked hard to improve his hands. And unlike some players who came from other sports, Garrison said Hayes wasn't afraid to go across the middle. Of course, his favorite thing to do was sprint past everyone so quarterback Don Meredith could air it out. Garrison said he recalls Hayes catching a touchdown pass behind Giants Pro Bowl defensive back Carl "Spider" Lockhart, a speedster in his own right, in the late 1960s.
2009 Hall of Fame Induction Coverage
Saturday in Canton, Ohio, six men will be hailed as the latest members of the Pro Football Hall of Fame. Bruce Smith, Rod Woodson, Ralph Wilson, Randall McDaniel, and posthumous honorees Derrick Thomas and Bob Hayes form the Class of 2009. The ceremonies will air live, beginning at 7 p.m. ET, on ESPN and ESPNHD. Follow ESPN.com's coverage.

• Our future HOF nominees: Story | Podcast


• Chat: Hall of Fame inductee Rod Woodson
• Chat: Hall of Famer Warren Moon
• Wickersham: Wilson valued for impact
• Scouts Inc.: Top 5 CBs in the NFL today


• Walker: Is Rod Woodson the best CB ever?
• Graham: Bruce Smith, Sackmaster
• Blogs: More Hall of Fame coverage

"Someone asked Bob if he was worried Spider was going to catch him, and he said, 'Nah, he only runs a 9.3 [in the 100]."
Like so many of Hayes' former teammates, Garrison hates that the receiver won't be there in person Saturday. Garrison said he was thrilled when Hayes got in because of the lasting impact he's had on the game.
"When I think about guys like Lawrence Taylor and Bob Hayes, I'm thinking about players who changed the way the game is played," said Garrison. "One guy couldn't cover him. No one could play man-to-man coverage against him, and that's why he basically caused zone coverage."
As a rookie, Garrison said he remembers Hayes playing cards a lot with Cornell Green and Jethro Pugh. He said they asked him to join them for a game called "Tonk" one time.
"It cost me $150 to learn how to play," Garrison said.
Hayes should have been in the Hall a long time ago, but it is great that it finally happened. Garrison said his former teammates will all be tuned in tomorrow for a "great, great occasion."