April, 16, 2012
4/16/12
4:17
PM ET
A little more than a month from now, on May 19,
London Fletcher
will celebrate his 37th birthday. This is a high number for an NFL linebacker. Indeed, according to ESPN's research department, there are only 14 players at any position who are older than Fletcher and currently occupy space on NFL rosters. Eight of those 14 are kickers, one is a punter, one (
Charlie Batch
) is a backup quarterback who almost never plays and one (
Patrick Mannelly
) is a long snapper. The only non-special teams players older than Fletcher who still get get regular playing time are Tampa Bay's
Ronde Barber
, Green Bay's
Donald Driver
and Baltimore's
Ray Lewis
.
If you knew nothing else besides Fletcher's age, he would seem an odd fit with a
Washington Redskins
team that's looking ahead, signing younger free agents on offense, about to entrust its next decade to a rookie quarterback.
But the Redskins know better. They know all of the reasons Fletcher is the worthy exception to their plan to get younger. They know this is a man who has finished in the top seven in the league in tackles for eight straight years, who's in better shape in his late 30s than anyone in the locker room, who has played in 224 games since entering the league without ever missing one.
They know Fletcher is a person and a player who sets the right kinds of examples on the field and off for teammates young and old. Who plays hard on every single play and, without barking or bellowing or calling attention to himself but simply by the mere and apparent fact of his own effort, encourages others to do the same. They know he's a leader to whom other players can go to seek counsel on matters related to football as well as matters related to non-football life.
The Redskins remember this time last year, when the players were locked out and Fletcher was calling teammates, organizing player workouts, scouting high school fields to see if they would hold up well enough or if he'd be putting his men at too great a risk of injury by practicing on them. They remember the stories of how he scribbled down a few of Jim Haslett's 3-4 defense plays on a piece of paper and stuffed it in his back pocket so he could call out specific formations and assignments during those loosely organized workouts.
They know, from having watched it up close, that Fletcher believes in what the coaching staff is trying to do. They have seen him embrace the change from the 4-3 to the 3-4 -- thrive in it personally while he helped teach it and sell it to holdovers and newcomers alike. They believe the development of younger linebackers such as
Perry Riley
,
Brian Orakpo
and
Ryan Kerrigan
has something to do with the proximity those players have had to Fletcher in the locker room and on the practice field. Mike Shanahan views Fletcher as an extra coach -- someone who's so in tune with the program and so commands the respect of his teammates that he alleviates some of the responsibilities of the men on the coaching staff. He makes their job easier.
Fletcher matters to the Redskins. He wants to be a Redskin. He has become the captain, the leader and in a lot of ways the face of the franchise. He wants to be in Washington when it pays off -- when all of the lean years end and the Redskins contend again. The Redskins want him around their rookie quarterback -- be it
Robert Griffin III
or
Andrew Luck
-- and the young receivers they signed. They want him to help corral all of the new members of their secondary and get the best out of them.
Fletcher is going to be 37 years old next month, and if that's all you were looking at then a two-year deal doesn't make sense. But if you've been watching and experiencing his career with the Redskins, you'd know it was a no-brainer. That's how the Redskins felt, and it's a huge relief to them and their fans that he's back in the fold.
October, 14, 2010
10/14/10
3:08
PM ET
By
Matt Mosley
| ESPN.com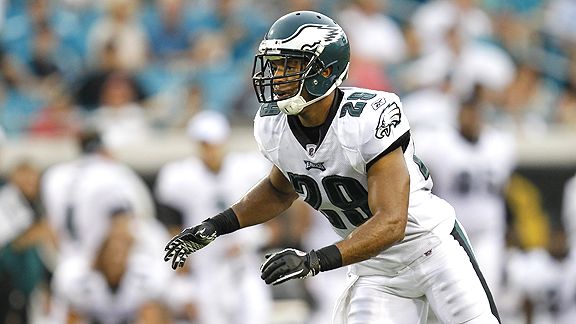 AP Photo/Brian GarfinkelRookie starting safety Nate Allen is making a smooth transition to the NFL for Philadelphia.
The
Philadelphia Eagles
gambled and lost when they allowed
Brian Dawkins
to walk following the '08 season. An organization that had the reputation of knowing when to fold'em with veteran stars was exposed at Dawkins' old position in '09, which helped contribute to a first-round exit in the playoffs.
The Eagles responded by selecting free safety
Nate Allen
with the 37th overall pick in the draft. No matter what we heard about former Colts cornerback
Marlin Jackson
, this was Allen's starting job to lose from the start. Oh, and that 37th pick just happened to be the compensation from the
Washington Redskins
in the historic
Donovan McNabb
trade.
Fortunately for the Eagles, Allen seemed almost amused by all the McNabb talk. He quickly bought into defensive coordinator
Sean McDermott
's philosophy that he was "1/11th" of the defense and didn't need to be a hero.
Allen, the former University of South Florida star who grew up in the Land of
Deion Sanders
(Fort Myers), has quickly carved out his own reputation as a playmaker in the Eagles defense. He was named the NFC's Defensive Rookie of the Month for September and he now has three interceptions through only five games. The last Eagles rookie to have three interceptions in a season was none other than Dawkins in 1996. And to thicken the plot, Allen intercepted McNabb in the second half of the Eagles' loss.
"I didn't really think about it when we were on the field," said Allen. "But when I got to the locker room and the media started talking about it, it was pretty cool."
Everything about this former high school quarterback seems pretty cool. He looked the part of an NFL starter from his first day on campus. He told me via phone Thursday that being baptized by fire against a loaded
Green Bay Packers
offense in Week 1 helped speed the maturation process.
"Seeing
Aaron Rodgers
, [Greg] Jennings,
Jermichael Finley
and
Donald Driver
on the same field was one of those early wake-up calls," said Allen. "These are some of the top guys in the league we're talking about."
[+] Enlarge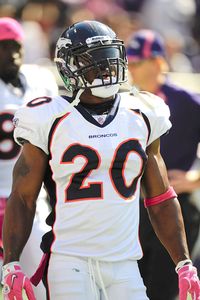 AP Photo/Jim MahoneyIn 2009, the Eagles missed the presence of Pro Bowl safety Brian Dawkins, who is now with Denver.
Allen has never met or talked to Dawkins, but he's studied him for years. Deion Sanders,
Barry Sanders
,
Emmitt Smith
and Dawkins were his favorite NFL players. And when asked what he liked about Dawkins' game, Allen sounded like a kid.
"I can't remember which game, but Dawkins picked up a receiver and suplexed him on the sideline," said Allen. "And when they were playing the Giants one time, he dove to tackle a receiver on the sideline and it looked like he was flying. He did a lot of things like that. He was a beast."
For the record, I think Allen was referring to a suplex that Dawkins put on former Redskins receiver
James Thrash
based on my exhaustive Google research. Eagles fans are hoping Allen can carry on that tradition. Veteran safety
Quintin Mikell
was asked to do too much last season while lining up next to rookies. You can tell that he's much more comfortable this season.
"He's been my guy," Allen said of Mikell. "He always has the answer when something comes up, and he's made this transition so much easier."
Allen's teammates at South Florida called him "Golden Boy" because he was one of the only players who avoided the fiery head coach Jim Leavitt's ire (Leavitt was eventually fired for allegedly striking a player). I don't think Allen's reached that status with Andy Reid, but he might be headed that way.
"They said I was the coach's favorite," Allen said sheepishly. "I thought I got my fair share of criticism, but my teammates didn't agree with me."
Allen attributes his maturity to his parents, Jackie and Darlene Allen. Jackie, 6-8 according to his son, played professional basketball in France and now coaches basketball and heads up security at a middle school in Fort Myers. Darlene is a business and typing teacher at Allen's alma mater, Cape Coral High School.
"I was raised in a Christian home and I was taught to put the Lord first in everything," said Allen. "They told me to know what my priorities were from an early age."
Allen writes his favorite Bible verse, Philippians 4:13, on his wrist tape before every game. But Allen actually carries two good books with him on road trips. Folks in the Eagles organization have said it's almost comical how often Allen studies his playbook.
"I'd go back to my room during training camp at 9 [p.m.] or 9:30 and try to study until 11," he said. "It's pretty remarkable how complex it is compared to what we did in college, so I needed to put in the time."
And so far, final exams are going pretty well.
September, 22, 2008
9/22/08
2:09
AM ET
By
Matt Mosley
| ESPN.com
Posted by ESPN.com's Matt Mosley
GREEN BAY, Wis. -- We can finally put to bed one of the flimsiest pregame storylines in recent memory. People who I know in the business, some with solid credentials, honestly thought the Cowboys would lose to the Packers because they'd never won at historic Lambeau Field.
| | |
| --- | --- |
| | |
| | Tom Hauck/Getty Images |
| | Cowboys receiver Miles Austin's 50-yard touchdown catch pretty much iced the game for Dallas. |
Never mind the fact that the last championship-caliber team to roll through here played the Packers in the 1967 Ice Bowl. By my count, Sunday's wind chill was approximately 91 degrees higher than that fateful December day, and only a handful of players in the Cowboys' locker room could tell you the score of that game.
On Sunday night, the Cowboys put a halt to the Aaron Rodgers coronation, and pounded the Packers, 27-16. I guess you could say that Green Bay was in the game for a half, but you never really got that sense as drive after drive ended with field goals instead of touchdowns.
As I waited in a narrow hall just outside the visiting locker room, Cowboys defenders attempted to be diplomatic about Rodgers' third start. But linebacker Kevin Burnett finally summed it up neatly.
"He's not going to stay back there long," Burnett said. "It's 1-2-3, first read, second, start running. We did a pretty good job on him."
Rodgers was 22 of 39 for 290 yards, but a lot of those yards came after the game was decided. Once the Packers fell behind 20-9 in the third quarter, they abandoned the run and became one-dimensional.
On this night, the Packers looked nothing like the team that played in the NFC title game. Or perhaps the Cowboys are actually this good. They can win a road game against an alleged NFC contender when their star quarterback isn't close to sharp in the first half.
You get the get the feeling the Cowboys desperately want to fast forward to December, which has also served as their football purgatory. And that's exactly what Burnett talked about after the game.
"All this is well and good, but we wish we could throw all this aside and just go to the playoffs," he said. "All of this means nothing if we don't win a Super Bowl. I think we're becoming greedy players."
You might think ending a losing streak at Lambeau and beating last year's NFC runner-up might be cause for celebration. But that wasn't case at all. Now, allow me to make several somewhat bold opinions based on Sunday's game:
1. I don't think anyone in the organization is second-guessing the pick of Felix Jones over Rashard Mendenhall in the first round. He's the first player in Cowboys history to score a touchdown in each his first three games. He's the perfect complement to the battering ram known as Marion Barber.
With the Cowboys trailing, 6-3, midway through the second quarter, Jones came in to spell Barber. He took a handoff, bounced it outside to the left and raced 60 yards for a touchdown. Tight end Jason Witten did a superb job of sealing off defensive end Cullen Jenkins on the play. Jones has already given the Cowboys something they didn't have in Julius Jones, who faded after a breakout rookie season. Barber can break a defense's will with his punishing style and then Jones brings a completely different style.
Jones and Barber combined for 218 yards rushing behind one of the most dominating offensive lines in the league. Pro Bowl right guard Leonard Davis may have said it best.
"I never pay attention to who's in there," he said. "But every time the rookie comes in, I know we're jogging way down the field to greet him."
2. The legend of Miles Austin continues to grow. On a night when Terrell Owens had two catches for 17 yards, Austin finished with two catches for 115 yards and a touchdown. He was on his way to becoming the team's third receiver before a knee injury knocked him out during the preseason. Instead of pouting, he launched himself into rehab and was able to return for Monday's win against the Eagles.
On his second huge catch of the evening, he looked more like a 10-year vet than the fourth-year player that he is. When Romo heaved a throw down the sideline, Austin said he "stacked" the defenders.
What that means is that he made sure the players were on his hip (like boxing out in basketball) and then at the last second, he exploded up the field to gain separation and catch the ball. The former Monmouth (N.J.) University player told me the last bombs he caught were against Sacred Heart and LaSalle.
When he showed up at Valley Ranch four years ago, he said he had no clue if he belonged. But in time, cornerbacks Terence Newman and Anthony Henry told him he belonged. He said the positive feedback did wonders for him, and he finally started to believe that a career in the league was a possibility.
Austin said he'd thought about dunking the ball if he ever arrived in the end zone, but he opted for "running around like a chicken with my head cut off."
3. On a night when he had to be frustrated by his lack of production, T.O. actually made two big plays. When Romo threw an ill-advised interception in the end zone late in the fourth quarter, it was T.O. who raced down safety Nick Collins from behind after a 61-yard return. The Packers only managed a field goal on the drive.
And on Jones' 60-yard touchdown, it was T.O. who caught and passed him before escorting him the last several yards.
4. It was interesting to watch Packers Pro Bowl receiver Donald Driver chase down Cowboys cornerback Adam Jones all the way across the field after the game to give him a hug. He whispered several words in Jones' ear and then jogged off to the Packers' locker room. Jones had another interesting night. He caused a Ryan Grant fumble early in the first quarter and then recovered it before racing 21 yards to the Green Bay 14-yard line. The play set up the Cowboys' first score.
In the third quarter, Jones gave up a 50-yard pass to Driver. The Cowboys appeared to be in zone coverage, but Jones didn't really pass Driver off to safety Ken Hamlin. He obviously has a ton of ability, but he's been beaten on deep balls in consecutive games.