February, 28, 2013
2/28/13
1:00
PM ET
In recent years, the
New York Giants
' strategy on the offensive line has been to kind of get by. They have managed to succeed without making the line one of their high-priority elements, trusting quarterback
Eli Manning
to help out his line with his quick release, his daring and his decision-making. Their heaviest investment on the line has been in right guard
Chris Snee
, a 31-year-old former second-round pick who's entering the fifth year of a six-year, $43.5 million contract. Their center,
David Baas
, was a free-agent signing two years ago but is also 31 and hasn't lived up to billing. Though both Baas and Snee were very high second-round picks, the Giants do not have a first-round offensive lineman on the roster.
[+] Enlarge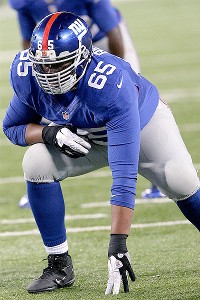 Richard A. Brightly/Icon SMIRe-signing left tackle Will Beatty marks the first step in the Giants' offseason program.
This is why Giants fans should welcome Wednesday's news that left tackle
Will Beatty
signed a five-year deal with the team before he had a chance to hit the open market. Not because Beatty is the second coming of
Jonathan Ogden
, but because of what it says about the Giants' current priorities. For some time, they have needed to get younger on the line -- to commit to a plan for their offensive line in the next several years while Manning is still in his prime and they retain a strong chance to be perennial playoff contenders. Other than signing Baas, they haven't done much to indicate they view this as a big deal. Until Wednesday, that is, when they committed to Beatty as their franchise left tackle and sent a clear signal that the offensive line ranks among their top offseason priorities.
It simply has to. Left guard
Kevin Boothe
-- a former sixth-round pick and waiver pickup -- is eligible for unrestricted free agency. They'll probably re-sign him, but if they don't, they have a hole to fill there. Baas hasn't played up to expectations in his two years in New York. Long one of the best in the league at his position, Snee has shown understandable signs of wear and decline the past two seasons. And their right tackle right now is
David Diehl
, a decorated veteran who's tough and versatile and devoted to the team but turns 33 in September and didn't play well last year. Diehl could be a salary-cap cut, which would leave right tackle in the shaky hands of
James Brewer
, a 2011 fourth-round pick who also may be their backup left guard option if Boothe leaves.
Giants GM Jerry Reese may not view every one of these items as pressing 2013 issues. But each is at least a sign of an issue to come. And taken together, they represent an issue Reese has no choice but to address if he intends to keep Manning upright through his early 30s. So the Beatty deal became a smart and essential first step in the Giants' offseason program. That line needs a long-term anchor, and Beatty right now looks like the best bet. A late-second-round pick in 2009, Beatty showed in 2012 that he could play like a franchise left tackle. The Giants will now work to make sure he continues to develop along those lines, stays healthy and establishes the year-to-year consistency that will make this deal look good.
But it has to be the first step in the Giants' offensive line plan. They need to get another player or two whom they can set along a similar developmental track as a long-term piece of reliable furniture. Maybe they draft someone in the first round. Maybe they make a big play for a young stud free agent like an
Andre Smith
or a
Louis Vasquez
, or a potential up-and-comer like a
Donald Thomas
. Who knows? Maybe Brewer progresses as Beatty did and they have a couple of bookend tackles in a couple of years that they drafted and developed themselves.
Whatever the answers end up being for the Giants on the offensive line, they're going to have to find them. Sooner or later, they're not going to be able to get by with midround picks and aging veterans. It has worked for them to this point, yes, but there are too many question marks, present and future, on the line to keep ignoring. That's why the best part of the Beatty deal for Giants fans is that it may just signal a crucial and overdue shift in priorities.
February, 27, 2013
2/27/13
1:46
PM ET
We have a running Insider feature called "Offseason Playbook," and
the latest one

looks at the
Dallas Cowboys
. Gary Horton and Field Yates break down the team's offensive and defensive philosophies and biggest offseason needs, and it's a pretty comprehensive look at the Cowboys' situation. I agree that offensive line remains Dallas' biggest need ahead of defensive line, for example, and I think safety and running back are good calls for needs No. 3 and 4.

But what caught my eye was the part at the end where they take a look at a key free-agent move they think the team should make. The name they pick for the Cowboys is the ultra-realistic name of unrestricted free-agent guard
Donald Thomas
:
The salary-cap woes of the Cowboys are no secret, so don't count on Dallas making a string of splashy free-agent signings. What the team needs to do is target value signings, and Thomas, buried on the New England Patriots' depth chart at guard behind Logan Mankins and Dan Connolly, is a starting-level player who won't break the bank on the open market. The Cowboys could stand to upgrade at right guard in particular, where Mackenzy Bernadeau struggled in 2012.

Thomas, a 27-year-old four-year veteran, is an effective run-blocker who also would improve the Cowboys' protection of Romo. He's a smart, developing interior linemen who also offers value as an emergency center. While Anthony Spencer is the biggest free agent the Cowboys have this offseason, it will take cap maneuvering to sign him to the high-priced deal he is currently seeking. A possible contract extension for Tony Romo could free up some space for Dallas, but with the Cowboys' current spending limits, Thomas is the type of player Dallas needs to pursue, and he's a player who can start right away.
Now, the idea of signing another unheralded free-agent guard a year after they brought in Bernadeau and
Nate Livings
may sound like plowing the same old ground. But the premise here is what I like -- the idea that whatever solutions the Cowboys are able to find on this year's market or even in this year's draft aren't going to be big, exciting names but rather strategically targeted pieces that fit their needs well. They are going to have to be smart and minimize their chances of mistakes.
The issue is whether you can trust the Cowboys to operate that way. They claimed they were working to do that last year in the free-agent market and did so with mixed results. With limited cap room and many needs on both lines and elsewhere, this is going to have to be a surgically successful offseason for the Cowboys if they're to build a 2013 playoff contender. Whoever they sign, it's not likely to be someone of whom you've heard very much.