December, 4, 2013
Dec 4
4:00
PM ET
PHILADELPHIA --
Donnie Jones
is glad he didn't find a desk job, and so are the
Philadelphia Eagles
.
Jones
The punter, who has won NFC special teams player of the week for each of his last two performances, was released by the
Seattle Seahawks
in 2005. Jones figured his NFL career was over after one season.
"I didn't play very well," Jones said Wednesday. "I had a 32-yard net. The last game I played was just awful. They put me on the practice squad. Two days before camp, going into the 2005 season, that's when I got cut. I thought I was done. I easily could have been out of the league."
Jones majored in finance at LSU, so he started calling people, looking for a job in the real world.
"One guy I talked to in New York, he told me he was basically living in a box, making nothing," Jones said. "But I was looking at all options. The last game I played, I got booed out of the stadium. People were telling me I belonged behind a desk, in a day job. So I got on the phone and started calling."
It was another LSU contact, a guy named Nick Saban, who helped Jones find work. Saban was coaching the
Miami Dolphins
at the time and signed his former punter. Early in the season, Dolphins veteran
Matt Turk
was injured and Jones had a job for the next two years.
He went on to five years in St. Louis before spending the 2012 season with the
Houston Texans
.
It was last year when Jones learned the rugby-style kick that has helped him elevate his game. Ironically, he learned it from the father of punter Brad Wing.
"I remember his dad saying, 'I don't know how long I can help you, because some day Brad might be your competition,'" Jones said.
Sure enough, Jones signed with the Eagles in the offseason and they brought Brad Wing in to compete for the job.
The rugby punt, which involves making contact with the end of the ball, has allowed Jones more control. It is a key factor in helping him drop punts inside the 20-yard line.
"More and more guys were starting to do it," Jones said. "It took a little while. It's been a huge asset for us."
Jones dropped seven punts inside the 20 Sunday against Arizona. Two weeks earlier, against Washington, his 70-yard punt helped the Eagles defense protect a 24-16 lead late in the fourth quarter.
Jones was named punter of the week for both efforts by ESPN's Mark Simon, who rates NFL punters every week. Simon took up the cause in order to focus on an often overlooked position. Jones' play has been impossible to overlook during the Eagles' four-game winning streak.
"Donnie putting it inside the 20 is really unbelievable," Eagles defensive coordinator Bill Davis said. "He's as big of a reason for us to have some success defensively as anybody."
November, 18, 2013
Nov 18
9:25
AM ET
A review of four hot issues following the
Washington Redskins
'
24-16 loss
to the
Philadelphia Eagles
:
Ref-gate:
The NFL will look into left tackle
Trent Williams
' allegations that umpire Roy Ellison called him a "garbage-ass, disrepectful m-----f-----" Sunday, which teammates corroborated. If that's indeed what Ellison said, it's beyond uncalled for by someone in his position. But for the Redskins, the conversation should not shift away from why they're 3-7 and where they might be headed. The problem with their season has not been officiating, it has been their own play. In fact, Washington had only four penalties Sunday compared to nine for the Eagles. And for the season, Washington is averaging 6.1 penalties per game compared to 7.2 in 2012. Some bad calls? Yes. Missed calls? Absolutely (See: Dallas). I've also seen
David Amerson
get away with what looked like holds or pass interference penalties. Williams' accusations are serious, but when adding up reasons for their bad record, officiating is far down on the list. Good teams overcome obstacles.
[+] Enlarge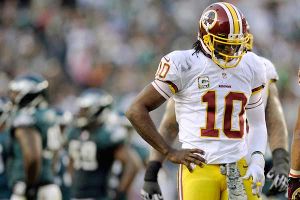 Michael Perez/AP PhotoRedskins QB Robert Griffin III is still maturing as a passer, even during a Week 11 loss at Philadelphia.
Return game:
The Redskins used
Nick Williams
on punt returns Sunday and nothing changed. He muffed one punt and failed to field another that led to a 15-yard roll to the Washington 4-yard line. Williams was playing for a punt to the other side of the field, so he was aligned on his left hash (with the ball on the right hash). When the ball was snapped and as punter
Donnie Jones
started to angle the other way, Williams drifted to his left, anticipating a punt to that side. Williams said he handled it the right way, but it still begs the question: Would a more experienced returner have handled it differently -- not drift so soon -- and saved those 15 yards? Regardless, the return game looked a lot like it had all season. Williams will get more chances and you can't draw conclusions after his first game in the NFL; but at some point the return game needs to provide a spark.
Griffin's passing:
One week
Robert Griffin III
looks as if he's maturing as a passer (Chicago, San Diego, Minnesota). The next week he looks bad (Denver, Philadelphia). The reality is that Griffin is an inexperienced passer and any legitimate improvement won't come until next season. It's not just about making reads; it's about going through progressions at a certain pace and maintaining your mechanics. Things that are tough to work on during the season. He was bad from the pocket Sunday and his big plays occurred when he could get outside of it -- the touchdown passes to
Darrel Young
and
Aldrick Robinson
.
Second chance:
Former starters
Josh Morgan
and
Fred Davis
were inactive Sunday -- for Morgan it was the first time. Neither is happy with their situation, but both might get another opportunity because of injuries.
Leonard Hankerson
is undergoing an MRI Monday to determine the extent of a possible LCL injury to his left knee. If he has to miss time, then Morgan would return to the lineup at the Z position. But he needs to be a lot more productive than he had been in the first nine games (19 targets, 11 catches, 124 yards). Yes, he didn't play as much, though he also didn't do enough to maintain his grip on the starting job. Davis lost his job as much because of the emergence of rookie
Jordan Reed
as anything; a sprained ankle didn't help, either. But Reed now has a concussion and his status for Monday's game versus San Francisco won't be known until later in the week. It could provide Davis an opportunity to remind everyone that only a year ago he was a good receiving tight end.
November, 17, 2013
Nov 17
9:04
PM ET
PHILADELPHIA -- Nobody had to take a bigger
leap of faith in Chip Kelly
than
Philadelphia Eagles
veteran
Trent Cole
.
The new offensive system has generated huge numbers for the stars on that side of the ball. The new defensive system meant a humbling change of role for the team's best-known defensive player.
Cole went to two Pro Bowls and amassed 71 career sacks as a defensive end. In new coordinator Bill Davis' 3-4 defense, he plays outside linebacker. It is a very different position with different responsibilities. Cole had just one sack going into Sunday's
24-16 victory
against Washington. He got to
Robert Griffin
III for two sacks.
"I know everybody is tracking Trent with his number of sacks," Davis said, "but it's not how we track it. We know all season that Trent has had that consistent pressure and put stress on the quarterbacks and tackles he's going against. It's nice to see him get rewarded with the sacks, but that's not how we judge him."
"Sacks are fun," Cole said. "They're going to come. But I just want to make sure we do our job."
Cole left the game briefly and was evaluated for a concussion. He was cleared to play and said he felt fine afterward.
-- The Eagles were happy to end their home losing streak at 10 games. They were especially happy that they won't have to answer any more questions about it.
"It's good that we got that off our back," linebacker
Connor Barwin
said. "It's really good because we have three out of our next four at home."
"It's a weight off our shoulders," wide receiver
Riley Cooper
said. "Finally get a win at home and give our fans something to cheer about."
"We wanted to win this one badly in front of our fans," wide receiver
Jason Avant
said, "which is why we came out and played the way we did. We kind of scared them [with Washington's near comeback], but you should appreciate those types of things because it's worth the price of admission."
That's one way to look at it.
-- The television broadcast caught Cooper apparently bickering with
LeSean McCoy
late in the game. Cooper told reporters he was actually mediating between McCoy and wide receiver
DeSean Jackson
. Running backs coach
Duce Staley
stepped in as well.
-- Punter
Donnie Jones
had a standout game -- a team record with a 50.7 net average -- but his 70-yard punt in the fourth quarter came at a crucial juncture.
The Eagles, who ran out the clock with a nine minute, 32 second drive last week in Green Bay, got the ball with 5:52 left and a 24-16 lead to protect. On third-and-4, quarterback
Nick Foles
ran to his right and was tripped up by cornerback
Josh Wilson
.
The officials spotted the ball, measured and award the Eagles a first down. Washington coach Mike Shanahan challenged the spot and won. The Eagles were forced to punt from their own 26. Jones boomed it over the head of return man
Nick Williams
and the ball rolled out of bounds at the 4.
"It was huge," Kelly said. "To make them go that far, to get us out of that situation we were in. For our special teams to contribute like that, that's what it takes. To win a division, you have to play well in all three phases. I thought that punt was huge for us."
November, 17, 2013
Nov 17
6:00
PM ET
PHILADELPHIA -- Seen and heard in the
Philadelphia Eagles
' locker room after their
24-16 victory
over Washington on Sunday at Lincoln Financial Field.
McCoy
Nick Foles and LeSean McCoy are OK.
McCoy, the NFL's leading rusher, left the game late in the first half with a hamstring injury. He returned for the second half. McCoy said it felt like the hamstring "gave out" but after moving around a bit, it felt fine.
Foles took a hit after throwing a pass earlier on the same drive. He kept shaking out his right arm and shrugging his shoulder. He said it was a little sore, but all the gesticulating was just to keep it loose. "I thought he was trying to get the fans into the game," coach Chip Kelly said.
That's a lot of grass.
That's how Buddy Ryan described
Randall Cunningham
's surprise quick kicks. Cunningham once punted the ball 91 yards in the Meadowlands.
Donnie Jones
' 70-yard punt in the fourth quarter was the Eagles' longest punt since Cunningham hit one 80 yards in 1994. It rolled out of bounds at the Washington 4-yard line.
"That was huge," linebacker
Connor Barwin
said. "That was like having a 12th man playing defense for us."
Cincinnati in the house.
Barwin had a huge sack inside the 10-yard line, forcing
Robert Griffin
III to fumble.
Trent Cole
had two sacks.
Brent Celek
had a 42-yard catch to set up a touchdown.
Jason Kelce
anchored the offensive line. All four played at the University of Cincinnati.
"It was a great day for the Bearcats," Barwin shouted as Cole answered reporters' questions.
"Go, Bearcats," Cole responded.
So much for the Oregon East rep Kelly's team was developing.
November, 6, 2013
Nov 6
9:00
AM ET
PHILADELPHIA -- The curiosity factor about Chip Kelly and the Eagles was off the charts. Would the innovative Oregon coach take the NFL by storm? Would he be another Steve Spurrier or Bobby Petrino, crashing hard at the next level? Somewhere in the middle?
We can safely rule out the first possibility. Kelly has plenty of time to be a successful NFL coach, but you only get one chance to storm the beaches, and Kelly's moment has passed. After one heart-pounding half on "Monday Night Football" at Washington, the Eagles have been good, bad and mediocre. But a 4-5 record (0-4 at home) is, by definition, not taking the league by storm.
Forgetting the expectations and the hype, and remembering that this was a 4-12 team last year with a muddied quarterback situation, here are the midterm grades for Kelly and his Eagles.
October, 9, 2013
Oct 9
3:40
PM ET
PHILADELPHIA -- Quarterback
Michael Vick
was limited in practice Wednesday, according to the Eagles' official injury report. But Vick did more than he had Tuesday, including some work in 7-on-7 drills, and told reporters his sore hamstring was "loosening" up.
Other Eagles still talked as if they expected backup
Nick Foles
to start in Tampa Sunday, but head coach Chip Kelly maintained that he could go with Vick at the last minute if he is cleared medically.
"We'll see how he is and we'll adjust accordingly," Kelly said.
Kelly said Vick and safety
Patrick Chung
were "the two guys we have to keep an eye on this week," but five other players were listed on the injury report.
Chung (shoulder), linebacker
Connor Barwin
(knee) and left tackle
Jason Peters
(finger) participated fully in practice, according to the report. Cornerback
Brandon Boykin
(groin), punter
Donnie Jones
(left foot) and running back
Chris Polk
(ankle) were limited.
Boykin is the most interesting name on the list. Reporters asked Kelly and defensive coordinator Bill Davis about their inclination to get the nickel corner more playing time. Both said Boykin is thriving in his role.
It also may be that the 5-foot-10, 185-pound Boykin is already taking as much punishment as his body can absorb. Boykin was on the injury report last week with a bruised shoulder. This week, it's a groin pull.
As for Chung, it will be interesting to see how Davis reintegrates the veteran safety. The secondary looked much better against the Giants, and players talked about the importance of improved communication and familiarity with each other. Chances are, Chung,
Nate Allen
and
Earl Wolff
will continue to rotate at safety.
Chung is also the backup nickel corner, so he could see time there if Boykin is limited or aggravates his injury.
April, 5, 2013
Apr 5
12:00
PM ET
»
NFC Eight in the Box
:
East
|
West
|
North
|
South
»
AFC
:
East
|
West
|
North
|
South
A look at the top under-the-radar move made by each NFC East team thus far this offseason:
Dallas Cowboys:
Cutting safety
Gerald Sensabaugh
.

This move was significant in a couple of ways. Its most immediate impact was that it created enough salary-cap room to allow the Cowboys, later that same day, to designate defensive end
Anthony Spencer
as their franchise player for the second year in a row. Spencer still stands as the team's most significant "free-agent acquisition," and franchising him left the Cowboys with very little room under the cap for the ensuing few weeks. Although it helped the Cowboys cross starting defensive end off of their offseason shopping list, it left safety as a position of some concern. The projected starters right now are
Barry Church
, who's coming off injury, and
Matt Johnson
, a second-year man who didn't play at all as a rookie. They signed veteran
Will Allen
for depth, but it's a position they might have to address early in the draft as well.
New York Giants:
Signing defensive tackle
Cullen Jenkins
.

Jenkins was part of the colossal disappointment that was the past two seasons in Philadelphia, but he's a veteran with something left who should make a contribution in New York in a few ways. He has experience at defensive end as well as tackle, so he'll fit in when the Giants decide to use those packages that load up the line with pass-rushers. The Giants like to lean on high-character veterans to help develop young players, and Jenkins can fill that role for someone like
Marvin Austin
. And with the way the Giants rotate linemen, they should be able to keep Jenkins fresh. After cutting
Chris Canty
, the Giants needed to add depth on the defensive line, and Jenkins was a smart pickup after the Eagles cut him just before free agency opened.
Philadelphia Eagles:
Trading for wide receiver
Arrelious Benn
.

I have no idea whether Benn will make an impact for the Eagles as a wide receiver. Injury problems his first three years in the league led Tampa Bay to give up on him and deal him to the Eagles for basically nothing. And he's behind starters
DeSean Jackson
and
Jeremy Maclin
, among others, on the depth chart. But he's also just 24 years old and was a second-round draft pick only three years ago, so there is some untapped potential there. If he can get on the field in the offense, he's got enough size to offer something the Eagles' starting wideouts don't. Regardless, the move was significant as part of a clear mission by new coach Chip Kelly and GM Howie Roseman to improve the Eagles' disappointing special-teams units. Benn has experience as a return man and in kick coverage, and should help there right away. Along with the signing of linebacker
Jason Phillips
and punter
Donnie Jones
, and the re-signing of
Colt Anderson
, Benn is part of a special-teams overhaul.
Washington Redskins:
Re-signing fullback
Darrel Young

Except on the rare occasions when he catches a pass or powers into the end zone for a short touchdown, Young doesn't get noticed much, but he's a critical part of a Redskins running game that ranked No. 1 in the league in 2012. That run game is likely to be even more important than it was last season while starting quarterback
Robert Griffin III
recovers from offseason knee surgery, and the Redskins' ability to retain Young and keep their offensive line intact will benefit tailback
Alfred Morris
greatly in his second season.
March, 26, 2013
Mar 26
8:00
AM ET
Punter links, cornerback links, draft links ... we got em all. Links ahoy!
New York Giants
Ohm Youngmisuk's reaction to the Giants' re-signing of Kevin Boothe is
multi-faceted
. He believes James Brewer should get the shot at right tackle with David Diehl remaining on the team as a versatile offensive line backup. He thinks it becomes less necessary in the Giants' minds to draft an offensive lineman early (though he still thinks they should). And he thinks the two biggest contract issues the Giants face now are those of their two starting wide receivers. I think Youngmisuk's got it all just about right.
Giants defensive lineman Shaun Rogers had about
$500,000 worth of jewelry stolen
while he was staying at a very nice South Beach hotel. That stinks.
Philadelphia Eagles
The Eagles were not a good punting team in 2012, so they went out and
upgraded at punter
, bringing in two-time all-pro punter Donnie Jones and saying good-bye to Mat McBriar. Not a lot to say on this. If the guy punts well, it's a good move. If not, they'll go get another punter.
Victor Butler couldn't crack the lineup in Dallas as a 3-4 outside linebacker behind DeMarcus Ware and Anthony Spencer and there doesn't appear to be room for him in the Cowboys' new 4-3 scheme. So the free agent is out looking for a new team, and his
next stop is in Philadelphia
. Can't have too many pass-rushers, they tell me.
Washington Redskins
Speaking of visits, free-agent cornerback Antoine Winfield, who had a fine year for the Vikings in 2012 but is turning 36 in June and got cut because it's a hard, cruel world out there in the NFL, is
visiting the Redskins
. Winfield would be a tremendous fit for the Redskins as a one-year stopgap at cornerback while they continue to try not to let their salary-cap penalty problem affect any future seasons. We shall see if they can fit him in the budget. My sense on E.J. Biggers, who signed last week, is that he's more of a No. 3 cornerback, which they also need.
Oh, and in case you're sitting there thinking to yourself, "I'd really like to see some pictures of Robert Griffin III with an elephant and other assorted circus performers,"
here
.
Dallas Cowboys
Talent has never been the question with Dez Bryant. Maturity and understanding of the importance of his character off the field have. But as Calvin Watkins writes,
those things may be coming into focus
for Bryant at age 24. I mean, he's still only 24.
We have discussed the ways in which the Cowboys' switch to a 4-3 defensive front under Monte Kiffin should benefit middle linebacker Sean Lee and defensive tackle Jay Ratliff, but
here's a smart look
at the way in which it should lead to big-play opportunities for weakside linebacker Bruce Carter.